Remembering Neil Peart
By David Stanoch with Chris Stankee, Don Lombardi, Rob Wallis, Aldo Mazza, Joe Bergamini, Rob Shanahan, Peter Erskine, and John Good, Percussive Notes, Vol 59 Num 2, April 2020, transcribed by John Patuto
---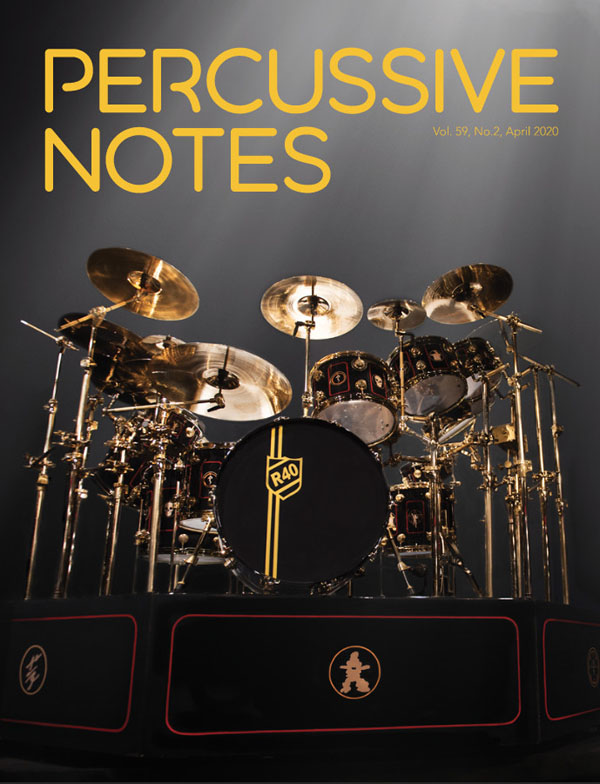 When news broke on Friday, Jan. 10, 2020, of Neil Peart's passing, it's no exaggeration to say the information sent a shock wave around the globe, and it was apparent from what is still a daily, torrential outpouring of sorrow and love that a legend has passed into eternity. Most Rush fans knew Neil had retired and the band had stopped touring. Many held onto the hope that the band might someday return to the stage, but only a close circle of family and friends knew of the very private and brave battle Neil was facing behind the scenes with cancer.
Loss compels us to face and reflect on what is most important about the people who impact our lives. Neil's passing proved that Rush had the kind of star power and audience that gave Peart great impact on many, many souls he never met in addition to a decidedly strong impact on those close to him. The lyrics he wrote brought comfort and happiness to so many, particularly those cast as "outsiders among us; his drumming inspired a legion of devoted followers over a few generations, and the books he wrote gave us an insight into the character of a man who gave everything of himself in pursuit of a meaningful life through great tragedy as well as great triumph. Our hearts go out to his loved ones, friends, and fans. He was one of a kind.
As tributes to the man and his work continue to stream in from all corners of the globe, we dedicate our tribute to Neil Peart to the spirit of his humanity and humility, hopefully with all of the great respect he is due, by offering an intimate look into his character as told by a handful of his friends from within our industry who enjoyed the type of personal relationship with Neil that is only possible "behind-the-scenes." Enjoy.
---
Chris Stankee
Global Artist Relations Director, Sabian Cymbals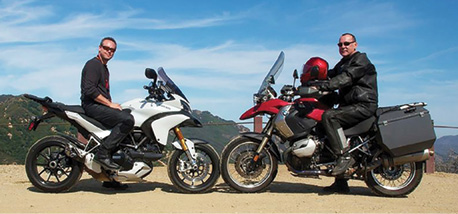 My friend Neil wasn't a drummer and lyricist. He was an artist who played drums and wrote. Always trying to connect the dots between the two, his approach to playing was always with both crafts in mind. One feeds and improves the other. The ideas had to be interesting and complete. His phrasing was punctuated and framed end to end, always striving to make a coherent statement. He transformed rudiments into light and shadow and composed emotion that genuinely touched people. His execution was precise, powerful, and always under control. All good things combined to create soaring masterpieces of drum composition. As simple as one open hi-hat note carefully placed and replaced in the verses of "Tom Sawyer." As complex as the tapestry that is "La Villa Strangiato." Or the massive cascade of tom fills we love him for, like the one at the end of "Natural Science." He left us a treasure of ideas and a legacy we can all share.
---
Don Lombardi
Founder and President, Drum Workshop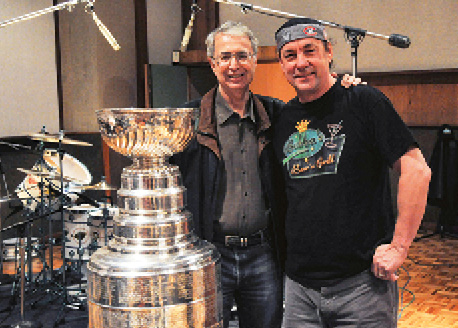 The loss of Neil Peart was, of course, devastating to me and the entire drumming community. Listening to Neil in my early years and then becoming friends was a true blessing.
Most interesting was as a friend, when hanging out, one would completely forget that you were there with a drumming icon. He was just a guy having a good time, wanting to meet other drummers, and always looking forward to seeing any Buddy Rich clips I might have. In getting to know Neil, we heard from Rush management that he was looking for a new drum sound and checking out different companies, so we sent a loaner kit. Management was quite specific that all negotiations would go through them as to Neil's wishes. Then next thing I know, John Good comes into my office and said, "Guess who I've talked to for an hour? Neil Peart." Shortly thereafter Neil came to visit, and there was never any management involved; it was always person to person with Neil, which is the way he was with everything.
He was not only a friend to me, but a friend to the entire drumming community. He will always be missed, but the iconic drum fills will live on.
---
Rob Wallis
President/CEO, Hudson Music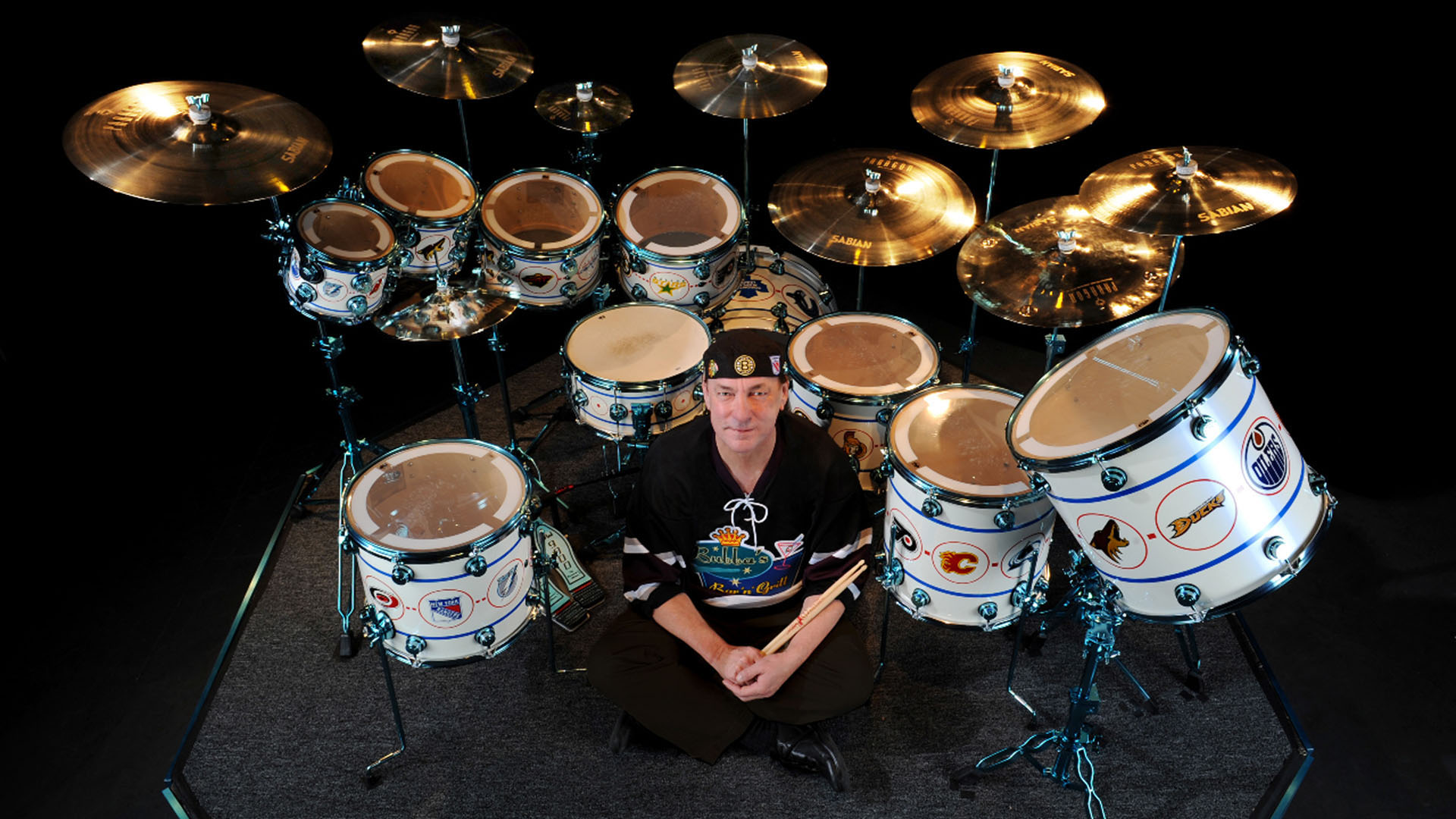 Neil was the closest to a renaissance man of anyone I've ever met. We all knew about his drumming, his lyric writing, his books about bicycling, and his love of riding his BMW motorcycle all over the world, but there were a range of interests and practices he had that surprised me - though, in retrospect, they probably shouldn't have.
On the first morning we were working in the studio on the Work In Progress video, we were looking out for Neil and saw him approaching in the distance, climbing his way through the freshly fallen snow in the mountains of Woodstock, New York. He was wearing snow shoes, and watching him make his way to "work," it suddenly became clear why he had been so excited to work at Bearsville Studio (where the closing segment from The Band's The Last Waltz movie was shot) in the Catskill Mountains in the dead of winter.
During another shoot, Neil suggested we videotape him from the shore while he rowed a small boat in the middle of a lake. He thought he could wear a wireless mic while freestyle talking about some of the conceptual ideas that he wanted to include in the video. We always tried to give Neil's ideas a shot and they always worked!
Evidence of Neil's love of nature and riding could be found on his road cases stacked up backstage. They were covered in funny stickers from National Parks all over the United States, and he loved talking about each one and each trip. He definitely saw more of America than any native-born American I'd ever met. With his photographic memory, he could recall great stories and the most minute details from anywhere along his travels.
For the last project we did together, Neil wanted to film in Death Valley National Park, and for three days we traveled the park to find the most interesting locations. From Bad Water Basin (the lowest elevation in North America) to Dante's Peak (5,500 feet high), if it involved nature, Neil was in. He loved seeing the world and experiencing everything. For three days we slept in a bare cabin (keeping an eye out for rattlesnakes) and ate in places barely better than a truck stop (Death Valley is not known for its cuisine). When we were on our way up to Dante's Peak, the temperature at the base of the mountain was comfortable, but the higher we went up (almost a mile high) the lower it dropped until we noticed ice on the side of the road. Neil rode up on his motorcycle, and we spent a few hours filming him speaking. As the sun started setting, the temperature started to plummet to the point where the road began to ice and the driving conditions were a bit scary. We followed Neil down in our car, all the while having terrifying visions of following a bend in the road to find Neil and his bike sprawled out on the ice. It was only when we got back to our cabin and found Neil there safe and sound that we were able to relax. Neil was unfazed.
Neil also loved speed and driving race cars, and he had an amazing collection of classic/fast sports cars (almost all silver in color). His first collector car was a 1964 Aston Martin DB4 - the James Bond car - and he was so proud of it. He told me about driving it to San Francisco to the top-certified Aston Martin mechanic on the West Coast. And then there was also the time that the car broke down outside L.A. and he had to wait in the middle of a six-lane highway for an hour until the tow truck showed up.
Once Rush stopped touring, Neil told me how happy he was going to his daughter's school and reading to her class every week, followed by spending a few hours a week filing books in her school library. He was so happy being home and being a Dad.
It is difficult to express the impact Neil has had on my life. His passing leaves a huge hole for me - for all of us. It is still difficult to process. For now, all I can say is, "See you down the road..."
---
Aldo Mazza
Founder, KOSA Music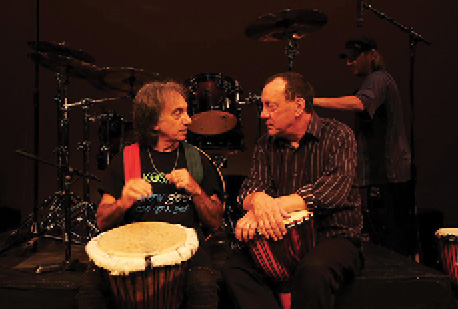 I first met Neil backstage following a Rush concert in Montreal. A musician friend of mine, Aldo Nova, with whom I was working on several recording projects in Montreal, invited me to see the concert between sessions as a distraction and break from our late nights and long days of productions. From the first moment Neil and I engaged in a conversation, I was immediately struck by the level of intellectual depth that he possessed. As we engaged in very interesting and varied topics, we became instant friends with lots of common interests and philosophies.
I never forgot this first encounter with Neil. I was totally impressed not only by the incredible music and complex drumming of this genius but the fact that if one did not know Neil was a drummer, he would easily be mistaken for a Harvard University professor of Literature or Philosophy. We often discussed the idea of "following your dream" or "finding your path, and we both agreed that when you have an idea in mind and really want to do it, you should not be just wishing. It then becomes a matter of getting out of any comfort zone and just going out there and doing it - going for it relentlessly.
Neil had very strong family values and incredible work ethics. He always made sure his work did not sacrifice his relationships with either friends or his family, and he worked hard at trying to keep a sane balance. When we spoke of his drumming and percussion interests, I was under the impression that he had studied percussion and then just adapted his knowledge and ideas to his drumming in Rush. I was amazed by his insatiable hunger for knowledge and curiosity for musical genres and exploration. He was, in fact, I learned, not a trained percussionist, but rather took upon himself to learn and emulate all he enjoyed in percussion.
Over the years, I came to the conclusion that he was a master orchestrator of sorts. He created and performed as would a classical percussionist and composer, creating well researched and complex orchestral parts similar to what Edgar Varèse did. He also then performed all these massive orchestrations on drum set and classical percussion instruments with not only precision but with meticulous dynamics, nuance, and extreme attention akin to a classical music performer. Neil was always curious and listened to all kinds of music from jazz to classical contemporary, and he often went to support other musicians in concert with open curiosity.
At one point, I proposed that it would be really fun doing a concert with Neil Peart and Répercussion - an unlikely mix of drums and percussion, and one that surely would challenge all of us but had the potential of being a lot of fun. At first Neil was not seeing what I was seeing in this collaboration, but then he quietly came to see a concert in Toronto with some Toronto percussionist friends. Several days later I received a message from an excited Neil saying that he had attended our concert and "did not want to disturb us by coming backstage afterwards." He went on to say, "Now I understand what your vision was for our collaboration, but I propose we record an album first rather than concentrate on a concert." I was so happy that we could finally do something so different and musically fun, and with Neil's artistic level, it would have been a major creation for all of us.
Unfortunately, not long after and in a short period, Neil experienced his personal tragedy, losing both his daughter and his wife. When his management called to give me the news of all this and confirming that Neil was basically getting on his motorcycle and dropping basically everything including Rush, I was in a state of massive shock and deep sadness for a man who cared so much about everything, and for a man who gave so much.
Some years later when we began communicating again, I never brought up that part of our history but rather focused on my sincere belief that Neil was the ultimate example of an artist who was an icon and could inspire many. He showed his relentless search for self-improvement and thus showed us all that we all still had much to learn as he did on his own journey. It seemed that he was never really quite comfortable just improvising, and thus he took it upon himself to study the art and refresh his approaches. He went on to study with such great musicians as Freddy Gruber and Peter Erskine and continued his place as the "ultimate student." I felt very strongly about Neil's ability to inspire and his role as a positive musical role model for the next generations of drummers. I continued suggesting that he should be out there in situations where he could be a force of inspiration for any student of music and also proving that one can be academically advanced, have a balanced family life, be a nice and good person, be excellent in your music, and succeed. He was the model, countering those who think that all those attributes don't mix. Here was a man who was well-educated, had well researched opinions, and was able to speak about so many varied topics.
In 2011, Neil agreed to come to the KOSA Workshop, Camp and Festival to do just that - inspire our campers. We agreed it would be a total surprise and completely unannounced, and knowing that Neil was such a private person who did not like attention, I promised complete anonymity. After he remarried and had a child, Neil relocated to Los Angeles but still kept his house in the Laurentians north of Montreal (from the years of Rush recording at the famous Le Studio in Morin heights), which he would visit occasionally. Weeks before, we planned this guest surprise and, originally, we were just going to talk, take questions, and interact with the KOSA participants, and I thought this will be great because I could keep the secret. We had it all mapped out: he was going to drive in from Quebec the night before, check into the local hotel under a fictitious name, and then he would drive to the campus while we all would be sitting ready for our first class. But then days before Neil wrote me saying...
As suggested, I am perfectly happy to sit with you and discuss whatever comes up, then take a few questions from the students. If there is an opportunity for any ensemble playing - an impromptu drum ensemble - I would be agreeable. (I want to play djembe!) Let me know what you're thinking.

Looking forward to it!

NEP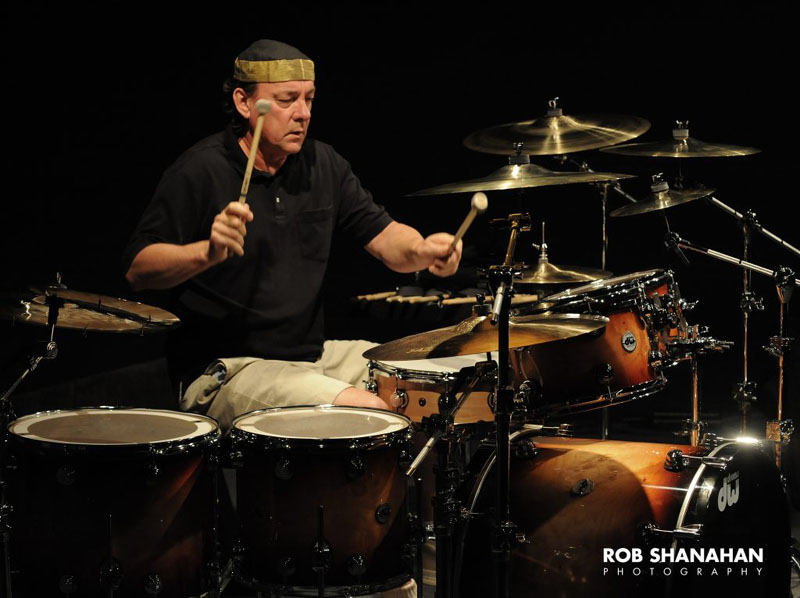 Well, I now had to find a way to get the tech team involved to set up the needed gear without any possibility of "breach of my secrecy promise." I also had to think of how to prepare something for Neil to jam with us on drum set and djembe. I asked some of our faculty members to rehearse an African ensemble piece in preparation for our surprise guest to join in. Even our tech team only found out about it on the morning of when they had to scramble to set up according to my diagram: a DW drum set - a replica of his practice kit back stage on his tours - as well as djembes, bells, and dun-duns.
Neil arrived backstage alone an hour or so before the "class" would begin, and I went over my idea of what we prepared musically for him, what djembe parts he would play, and the basic map of our day with him. Once the participants were all seated around the instruments in a masterclass format, I announced our special guest and watched the level of excitement and joy in the room rise and hit like a summer whirlwind. Everyone was smiling, and a number of the participants actually broke into joyous tears. The stage was full of such positive energy that one could figuratively bottle it! Neil and I talked, exchanged ideas and thoughts; Neil interacted with the participants, answering questions like sitting around a campfire far away. Then Neil said, "Aldo, let's play," and play we did! It was pure magic and indescribable joy. We filmed the whole session, and nobody wanted to stop! On our pre-established cue we finished the music, and everyone jumped up clapping, showing how much they enjoyed the wonderful moment.
One of our participants, measuring about six feet, gave me a huge bear hug and lifted me several feet into the air saying, "Thank you, Aldo. Never in my wildest dreams did I imagine I would meet my ultimate drum hero and experience being in the room with Neil Peart himself. You made my day, and I am changed for life!"
That experience, in a nutshell, summarizes how people feel/felt about Neil Peart. He had a tremendous impact on many people not only because of his craft as a songwriter, musician and drummer but the level of humility he projected was deep and sincere - and infectious.
Before leaving the camp, Neil said to me, "Let's do this again." He had mentioned to me that he really enjoyed taking the role as "the student," and in fact he had an idea to film a series of lessons where he was the student with some masters. I asked Neil if he had ever been to Cuba. He replied that he hadn't, so I proposed to him that we could continue the fun in our KOSA Cuba Workshop in Havana and Fiesta del Tambor, where he could come with his young family, enjoy the culture, share some of his drumming with the Cuban drummers, who definitely knew his work, and then be a "student" of Cuban drumming with some masters. We could video the sessions and make it part of his idea of "the student in residence" series. This would also fulfill my mission of getting Neil to continue to inspire in the KOSA environment and beyond.
I always felt that he had created some very important work, and I was personally gratified by his genuine interest in people, his respectfulness, drumming, in sharing knowledge, and helping make the world a better place. I thanked him for coming to KOSA and giving such inspiration to all those in attendance. He responded...
Thanks, Aldo! your words mean a lot. As I said in the speech, "The praise of the praiseworthy."
We began planning for Neil to come to KOSA Cuba. In the fall of that year, Neil invited me to meet with him in Toronto while the band was recording what was to become their last studio album We discussed the possible scenarios and details of how we were going to prepare his coming to Cuba. I mentioned we could keep it as a surprise if he wished, but he responded to my great surprise that actually we should promote it properly and with his name as a guest artist. I was suspecting a new era of Neil's journey where he would come out more publicly to share his ideas and be more present in the community.
From his home north of Montreal, Neil wrote...
Hello Aldo,

I am continuing to enjoy the peaceful splendour of this magical environment. Sunny days, rainy days - it doesn't matter. I love them all.

As I mentioned to you, I hadn't been here in summer since 2008, and this is also the first time I have been able to introduce my two-year-old daughter, Olivia, to this part of her half-Canadian heritage.



Attached is a "testimonial" I worked up: I hope it's not too long-winded for you, but it was a story I wanted to tell. (See Neil's So Many Smiles At KOSA, October 2011.) And I could have said much more, had I not been - like you - determined to make it the "short version!" Nothing about the wonderful drive there and back, for example, over all of those idyllic little roads, and the ferry crossing on Lake Champlain, the glorious midsummer weather - all the sort of "traveler's tales" I love to write.

And yes, let's continue the conversation about Cuba. I am very interested in taking part in any way you think would be worthwhile. (Carrie is also very interested in traveling there, so you have an ally in my camp!)

My best to you and Jolan,

NEP
We never managed to have Neil join us in Cuba, as the Rush album took more time in the production, then the consequent tour, then Rush went on another major tour for a second time.
I remember seeing Neil in concert in Montreal on that second tour, which, as I recall, was musically magnificent, but when we met in the afternoon after sound check, I did see a very fatigued Neil and I am sure those two-to three-hour high-intensive and high-octane and physically demanding performances must have presented a challenge.
Neil Peart was a one of a kind. He always loved his music and his family and his incredible tenacity to supercede himself and accept no obstacle placed in his way. He always told me he was a slow learner, but he had the necessary tenacity to achieve all and in perfection. Neil left an incredible legacy in his writing and his drumming. To those of us who were fortunate enough to share his friendship, he was monumental yet humble and kind.
In conclusion, I would like to quote Neil's own words in the eulogy he wrote for his mentor, Freddy Gruber. "He will be missed, but he is not gone."
---
Joe Bergamini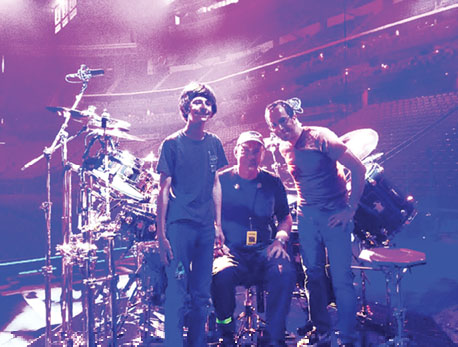 Since Neil's passing, I've been asked to write about my work and friendship with him in a few places. My eulogy to him appears on the Hudson Music website. Regarding my work with him on the Taking Center Stage DVD and book, you can find a detailed story of how Rob Wallis introduced me to Neil and a play-by-play recounting of working with him in Los Angeles, Death Valley, and New York on the project. I won't retell any of those stories here. Instead, I'd like to share a couple special memories.
I can clearly remember my dad taking me to Madison Square Garden to see Rush on the Grace Under Pressure tour. We had nosebleed seats in the very last row of the upper deck, but that didn't matter to me. I could hardly believe I was actually looking down at Neil in the flesh. By that time, I had become a bonafide Rush freak, practicing along to their songs every day, studying the parts carefully on my cassette tapes and albums, wearing out my VHS copy of the Exit... Stage Left video, and seeking out every interview and transcription I could find that documented Neil's work. I had read enough about Neil to know that fans made him uncomfortable, but nevertheless I dreamed of meeting him. As my career developed, I met many of my favorite drummers, but Neil's privacy always kept him away from the normal places where the drum community would gather, like PASIC.
When Rob Wallis and Paul Seigel asked if I would write a proposal for Neil for a possible project, I could hardly believe it. At first, Rob would communicate with Neil and relay his general feelings to me (I was not allowed to see his email address or any other info). He also told Neil about my work on Broadway, my work as a writer and educator, and what I'd done for Hudson - in addition to the fact that I was a huge fan of his playing. When Neil became interested enough in the project and it was suggested that I meet him to make sure he'd be comfortable working together, I was nervous, mainly because the project would be riding on it. In the end, it couldn't have worked out better. Neil was deeply appreciative of the fact that I loved his work and that it influenced me to follow in his life's calling. I felt he enjoyed indulging my questions about Rush, showing me his drum set, and talking to me about the challenges of performing. He always treated me as a peer, which still kind of blows my mind.
Anytime I would visit L.A. in the last several years, I would tell Neil I was coming to town, and on most of those visits he'd make time to meet me for lunch at his hallowed "Bubba Cave." This was an "undisclosed location in the middle of downtown L.A. (right off the 405) where Neil kept his car collection (with his success and means, he loved old sports cars and bought a few), and had a space to write and entertain a few friends. In the Cave, we'd talk about life, drumming, family, and most anything else that came up. He was one of the most intelligent people I have ever met, and he remembered everything. In 2018, I was hanging with Neil at the Cave while in town to do a gig with the Doo-Wop Project, and mentioned we'd be playing in Vancouver a couple months later. Neil said, "My brother Danny lives in Vancouver, maybe he'd like to see the show." Of course, I responded that I'd be happy to get Danny and his wife tickets, and we moved on to other conversation.
Six weeks or so later, I received an email from Neil asking if I'd be able to get Danny a pair of tickets to the show. I was thrilled to finally be able to something small like this for Neil. He gave me his brother's phone number, and on the night of the show, I met Danny and his wife Janette before the show. They were lovely people, and Danny, a poet, brought me a signed copy of his latest book, which had the inscription, "To Joe, with thanks for your friendship with brother N.E.P." (Danny's poetry is wonderful; I highly recommend it.) During the course of conversation, Danny remarked that he was really excited, because this had never happened before. "What do you mean?' I asked. "This is the first time Neil put us in touch with one of his drummer friends to see one of their shows. We've only been guests at Rush shows." As we parted and I walked backstage, I suddenly found myself near tears. I guess in that moment I understood that the seemingly small act of asking if I'd host Danny and Janette expressed Neil's complete trust in me as a friend. Words fail me in expressing the feeling of holding that trust.
Hanging with Neil was always special, but nothing compared (for me, at least) of being his guest at a Rush show, and the final time I had that privilege was on his final tour. It was a night I will remember with great fondness for the rest of my life. Over the years I knew Neil, it became apparent to me that I had to stop asking to bring my friends to meet him. (There were a couple times that Neil asked me whether he should meet someone, like before the day I brought Dom Famularo to meet him, but that was coming from his end.) Whatever my feelings or thoughts about his extreme privacy, they weren't for me to change, and I respected his wishes. So it was extra special to me that he finally allowed me one person to bring along to meet him: my son Nicholas.
Nicholas and I spent some time with Neil at his final performance in New Jersey, at the Prudential Center on the R40 tour. Anyone who has seen a Rush concert knows that Neil would immediately run out of the hall to be whisked away on his bus, so when he hosted friends at shows it was before soundcheck. Over the years, I had noticed that Neil had very few friends that he'd allow backstage. He just had a limit on how many people he could interact with and still be comfortable. For instance, at one Madison Square Garden show, Neil happily provided great seats for me, my brother Steve, and brothers-in-law John and Derek, but he wouldn't meet any of them: he already had his small handful of guests chosen.
On this night, my son and I were his only guests. I always loved the feeling of walking out onto the Rush stage and getting a chance to admire and sit behind the drum set of my hero, I'd suddenly turn into a gleeful 13-year-old again (and I am sure Neil knew it). Except tonight, it was my son, now also a Rush fan, sitting behind the kit and getting a little tour of it from Neil himself. It was like watching a dream unfold before my eyes. One of those "frozen moments" I carry around with me is Neil escorting my son off his drum riser, handing him a pair of sticks, patting him on the head, and saying, "Enjoy yourself, Nicholas." We said goodbye and then went out into the house to watch the soundcheck, which was a nearly-private five-song Rush concert from the band.
Even had he lived to a ripe old age, there is no way I could have ever repaid all the inspiration Neil gave to me as a drummer or the gratitude I still feel for his friendship and trust. I only hope he knew how much I appreciated it.
---
Rob Shanahan
Drummer/Chief Photographer, Yamaha Music/Personal Photographer, Ringo Starr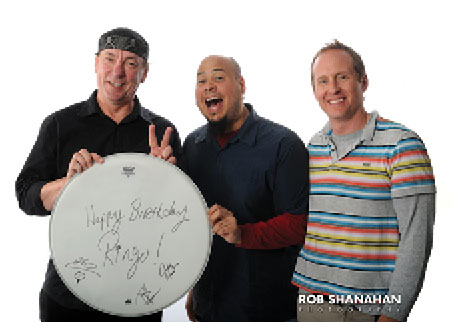 My journey with Neil began the moment he first appeared on my radar, around 1976. I was 10 years old and was just starting to play the drums. In 1981, I bought Moving Pictures and off I went. Years later, I finally got the call to photograph him around 2005.
When meeting and working with icons for the first time, it's a combination of complete bliss and sheer terror. I arrived early to set up and prepare. He soon walked in asking, "Whose '56 Chevy is parked outside?" It was mine, and this was the immediate ice breaker I needed. We went outside to check out his '69 Jaguar, which was parked next to my car. Then it was just two guys talking cars. Neil was completely unassuming, generous, and incredibly mild mannered. We found out we had a lot in common: our mutual love of photography, writing, traveling, cars, nature, and hockey!
I remember him telling me in great detail about watching a bird build a nest in a tree outside his window. And the more he watched, the more intrigued he became. It became an obsession. He watched this nest for a week as the mother built the nest, laid her eggs, and fed the baby birds, until they eventually flew away. It was a moving story about a small bird told by a big man with an incredibly rich baritone voice. He would write about stuff like this all the time on his web blog. That was the beginning.
A few years ago, when my dad was visiting from Minnesota, I brought him along to my photo shoots for a few weeks. It was really cool introducing my idols to my dad, who bought me my first drum kit. One of them was with Neil, who was extremely kind and gracious. My dad watched in amazement as Neil played this incredible drum groove with mallets on a 5-piece DW drum kit. Neil later wrote about it on his web blog, titled "Autumn Serenade." My dad has some of this session on video!
I did maybe eight or so photo shoots with Neil and, over time, you get a feel for the artists you work with and how they like to do things. With Neil, I'd have everything ready to go by the time he arrived, and usually shoot less than 30 photographs - sometimes just 10 or less. I'd know right away when I'd have "the shot," and Neil really appreciated that. Most of the time we were talking about our latest car adventure, or a new camera, or his latest and greatest drum kit.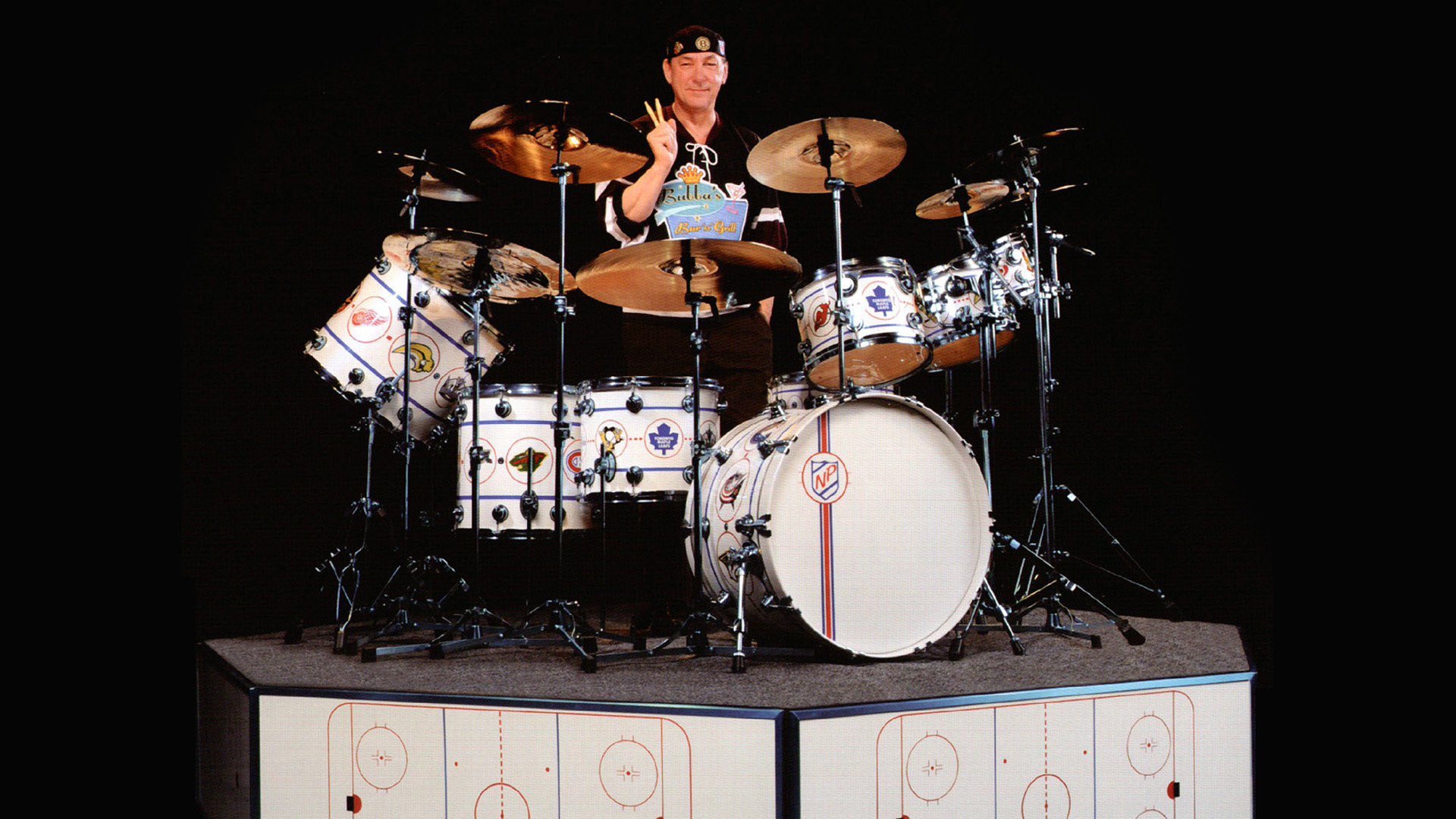 One particularly cool shoot was Neil with his hockey-themed drum set. DW created one hell of an amazing drum kit. I'm a big hockey fan. One of my best friends is Luc Robitaille (NHL All Star and now LA Kings president), and I know what that kit meant to Neil, to the hockey world, and to DW. It was an incredible honor for me to do that shoot. Years later, when I was on tour with Supertramp singer Roger Hodgson I had a day off in Toronto, so my wife flew in and we walked the city. Of course, when in Toronto you have to visit the Hockey Hall of Fame. And to my surprise, there on display was the drum kit and a huge print of my photo with Neil on the wall behind. It was an incredible feeling to see my work with one of my idols in the Hall of Fame.
I'd also visit Neil when he was rehearsing at DW for the next tour. A few DW guys and I would sit outside the Drum Channel production studio where he'd rehearse and just listen. He'd play along to the songs, but the music was in his in-ear monitors, so we would only hear the drums. It was bliss.
Perhaps my favorite memory of Neil was when I asked him if he'd write something for my book Volume 1. He did and it's beautiful. It was very gracious of him.
Every second with him was memorable and a complete honor. On the last tour, when Rush was in the Twin Cities, I reached out to Neil to ask if he was doing a meet and greet. My brother TJ, also a drummer, was dying to meet him. He said he doesn't do meet and greets but asked if my brother would like a ticket "upgrade." So, Neil had tickets at will-call for my brother, who enjoyed the show from 10th row dead center on the floor. That was Neil. What a guy.
I will miss my friend, and I'll always remember how this gentle giant of a man taught me that humility and finding your place of Zen is the ultimate reward. We are all humans, and being kind to one another, being open to the world, and just being present, is extremely powerful and the secret to wonderful things.
---
Peter Erskine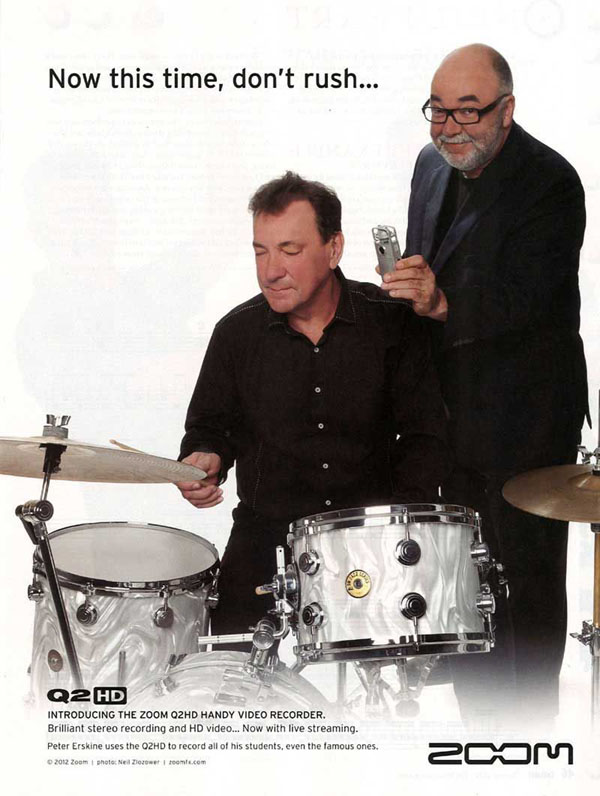 Editor's Note: Peter Erskine needs no introduction to our readers. He is iconic for his decades of work as a top-level performer, educator, and author. Along the way he has mentored countless players, including myself, whom I know firsthand have benefitted from his wisdom, experience, and insight to become more confident and more musical drummers. Among his students in the mid-2000s was Neil Peart, who sought Peter out ahead of a 2008 Buddy Rich Memorial Concert they both shared billing on as guest performers along with Terry Bozzio, Efrain Toro, John Blackwell, Tommy Igoe, and Chad Smith. Through those lessons these gentlemen developed a friendship you will learn more about from Peter below. In my request to him to share a more personal side of Neil, Peter made a decision he was reluctant to do - share personal correspondence between himself and Neil that recalls the writings of pen-pals from another era, sharing their love for drums, drummers, and drumming, and simply enjoying the journey together. Enjoy the following, and thank you Peter for sharing such a personal gift with us for the ages. Your generosity will be greatly appreciated by us all, I'm certain. - David Stanoch
Shared correspondence, drummer-to-drummer
Since the untimely death of Neil Peart, various media outlets have reached out to a number of his friends and colleagues. At last count, I had already written two tribute pieces and done three or four interviews when PAS Percussive Notes Drum Set Editor David Stanoch asked me to pen something for the society's journal. Dave suggested that I might want to submit something of an intimate nature, calculating that I might have held back a bit for Drumhead and Modern Drummer.
Following are notes that Neil and I emailed to each other.
Now that I'm back in this drummer's "natural role," pounding it out with the band, I have wanted to share with you the growth I have noticed in my playing lately, much of it stemming from the work I did in 2008 under your direction. Among several changes, one obvious difference has been switching to sloshy 14-inch hi-hats, and - as you said - once I got used to it, not only does it seem completely natural and comfortable, but it gives my riding on the hats a whole new "sensibility." Controlling the motion of the loose cymbals requires greater attention to both "touch" and tempo, and results in a change that is more subtle - a deeper groove. I am finding a fresh delight in that aspect applied to some of the older songs. So thank you for all that.

(Incidentally, the climax to my solo this tour is going to be improvisation around sampled horn shots from my performance of "Love For Sale, climaxing with me playing along with the final shout chorus - so that will be fun.)

Now I am inspired to hope that I will have a period of time next year when I could take up my studies with you again, as Freddie would say, "take it to another level." I know I have more to learn in that direction, especially regarding "The Holy Swing," and it would be great if I (and you) can find the time to do that.

NEP
Neil,
Your ride beat has a lovely lilt to it. The legato (swung) eighth notes felt perfect as you were playing on the ride. I am very proud of you!
And very grateful for your friendship. Your buddy
Pete
Aw. ya big lug - ya made me blush!

But thank you - especially because I wasn't trying to impress you, just "posing" for the photo. It was a fun experience...

I am hoping to see Jack De Johnette play later this week - that should be humbling!

Best always,

NEP
"I am hoping to see Jack De Johnette play later this week - that should be humbling" for us all mere mortals! Especially because I wasn't trying to impress you "and that's why it swung."
Our correspondence was not so much the writing of original thoughts. Neil and I were freely borrowing from all of the drum lore we could think of, and from everyone in our network of drumming buddies - like sharing directions to that fabulous diner just over the horizon. (That's not original, either. Neil came up with the Bubba's Bar & Grill metaphor and that nom de plume. In any event, we gleefully tapped into the DRUMMER THING for much of our correspondence.
And so, I'll borrow from something I wrote for Modern Drummer because it delves exactly into that DRUMMER THING: "Neil's homework consisted primarily of listening to recordings I had chosen for him and then practicing the hi-hat. As he was getting ready to go out on tour with Rush, I asked him what his backstage warm-up set consisted of: was it an entire drumset? ("yes") A "big drumset? ("yes") "Well." I said, "your crew's gonna love me... I'm suggesting that you get rid of all of that and just have a drum throne and a hi-hat so you can really focus on this. Okay, a practice pad, too." I'm not sure that he followed my advice on that, but he did spend a lot of time working on his hi-hat technique - not for anything fancy, just to get better-acquainted with the art and feel of opening the hat a bit just before the swung eighth note would be played. His years of not playing jazz pretty much solidified his habit of opening up the hat for beats 1 and 3, a kind of binary rock thing, I guess. To be honest, I am not certain that Neil ever fully 'got' the jazz hi-hat thing. What he got, I hope, was the confidence to go out there and have fun playing it. Note: the trial by fire of playing a Buddy Rich chart can be anything but fun. Now, maybe I'm a lousy teacher, but I do know that these lessons (which touched on things other than/in addition to the hi-hat) did manage to open him up to being more in the moment with his drumming. He told me so, and I believe him."
And, now, back to another email exchange:
Neil,
Just a short note to say "Bravo" and thanks for the Clockwork Angels CD. You sound great on the album! Please give the others my compliments and best regards,

I'm now officially a Rush fan.
And thanks for your kind note, very much appreciated. Hope you're enjoying a great summer!

Peter
Thank you so much for that note - it gave me a big smile!

I have just finished my rehearsals at DC (Drum Channel) and feel good about being ready for "new adventures". Those will begin next week, with band rehearsals in Toronto, then with the tour launching in September.

This time my former marathon-length solo will be divided into two - in the first set, an old-school, all-acoustic venture with classic rudiments and solo stylings, then in the second set a more textural, electronic, and melodic outing.

And... both of them will start out completely improvised. (I say "start out" because inevitably you fall into themes and patterns you like, but that's okay - and within the "spirit of exploration.") So that's huge.

Also, I had the realization in the past week or so, as the playing started to come together, that these days, I am playing the way I always wanted to play. Meaning that for all these 47 years I have been working toward this combination of technique, power, and feel - "chops and groove." That's a nice feeling.

Shame it took so long! But...

Best to you and Mutsy!

NEP
Neil,
Interesting... I just wrote to Ralph Humphrey (yesterday):
Ralph

It was your ability to control the fire with your tremendous execution and inspired fills and interplay that really lit up not just the band but a lightbulb inside my brain that showed me the way... I learned a lot from you!

Part of the big reason I play with more control now is, in great part, thanks to you. I still struggle to get the balance to be where I really want it, in terms of consistency throughout all playing situations, but it's a lofty goal and helps keep me focused when I'm working on something. That elusive "take" We get better as we get older, I suppose, and it's also the thing that helps to keep us young and in the game.

Honored the be on the same path as you, thanks for showing the way.

Peter
On Jul 19, 2012 at 3:41 PM, Ralph Humphrey wrote:
Peter,

Thank you for the thank you. I gotta say that there is no project or performance that you have ever done that has disappointed me. In fact, you remain one of my all-time favorite musicians, one who happens to play the drums quite well I use you as an example in class fairly constantly, regardless of group or style. Lately, it was you and the other Weather Report drummers that I was featuring. You don't play like that anymore. You were a young, on fire whipper-snapper for sure.
So, see? We're all looking for the same thing, all of us just doing the best we can.
I'm proud of you and happy for your discoveries... and you're having fun, playing the way you've always wanted to play.
It's a good feeling, isn't it?
Peter
I broke the promise to myself not to release/reveal our correspondence. Neil was a generous man, and I like to think that he would approve of some of the chronicle of his drumming odyssey being made available for the possible benefit of other drummers. He was that kind of guy: truly a generous soul.
"Terminat hora diem; terminat auctor opus."
"The hour finishes the day; the author finishes his work."
---
John Good
Vice President of Operations, Drum Workshop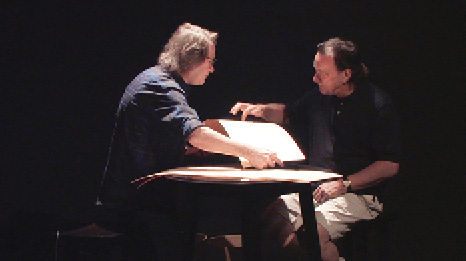 Editor's Note: It's always a pleasure to spend time with John Good. Known for his tireless dedication to experimenting with woods from around the world to create new and different sounds for drums and drummers, has earned the nickname "The Wood Whisperer" and was in fact given that nickname by Neil Peart.
We first discussed the passing of John's dear friend underneath a solemn bottle of Neil's favorite Macallan Scotch, placed on a mantle above us, as part of a tribute, in front of a large portrait of Neil at DW's NAMM convention showroom in January. We continued that conversation for several hours over the phone in February during the 2020 Academy Awards broadcast. We enjoyed a thoughtful and absorbing chat which, at John's request, I will recount for you. For him, chatting flows more easily than writing down his thoughts. As editor, I will do my best to hit the highlights of our discussion. - David Stanoch
John kindly told me some stories that were deeply personal and "too soon" to share out of respect for his friend. John was part of a close-knit group of friends who were aware of Neil's situation. I believe carrying such a burden is truly difficult, but John respected Neil and his family's privacy throughout Neil's illness, like a true friend would. John, and all who knew and supported the Peart family, have my greatest respect.
John intimated that he was more a fan of Neil himself than Rush as a band which is not to say he wasn't a fan of the band, just more of the man. He spoke with absolute wonder and respect in his voice about his admiration for many things he grew to learn about Neil.
One story in particular that stood out was how Neil would block out rehearsal space at Drum Workshop for three weeks before Rush as a whole would go into tour rehearsals. John's deep respect for Neil's commitment was unquestionable. "I know a lot of rock stars," John said, "But I never saw anyone else do that! Neil would practice so long some days we gave him a key to the place to show himself out and lock up!"
And then there was the subject of the exotic Romanian oak river wood extracted from the Carpathian Mountains. John journeyed to the other side of the world to obtain this wood, specifically to construct Neil's spectacular R40 drum set. Today this kit is proudly displayed in our PAS Rhythm! Discovery Center museum in Indianapolis (see cover photo). This is the same kit that Neil wrote about in the R40 Tour Book:
"These R40 drums are a time machine that spans an incredible fifteen hundred years. Around 500 CE was the beginning of the Dark Ages in Central Europe, when the Roman Empire was crumbling and overrun by...what sounds like a bunch of heavy-metal bands - the Visigoths, the Ostrogoths, the Vandals, the Byzantines, the Saxons, the Bulgars, the Huns.

Meanwhile, along the banks of the Olt River in present-day Romania, a mighty oak tree toppled into the water and was gradually buried in silt. Centuries, generations, and historical epochs passed, while that oak's wood gathered supernatural density from the pressure of its airless tomb.

In 2014 that log was raised, and its wood was acquired by Drum Workshop. I tried a few prototype shells, and knew I wanted my new drums made from that log - the wood offered exceptional tonality and projection."
As impressive as all of that sounds, what has impressed John to this day - with, I might add, a true sense of awe - is that he first heard this enthusiastically expounded litany of historical enumeration in conversation right off the top of Neil's head. When they were first discussing the idea of building the kit, John was truly struck by what a legitimate historian Neil was.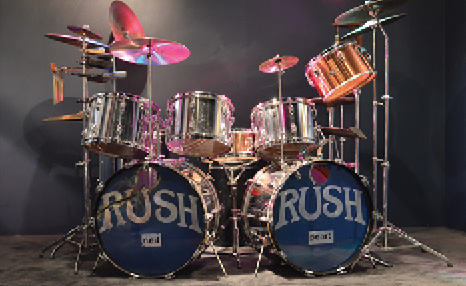 John shared a bit of the last day he and Don Lombardi spent with Neil, just a few weeks before his passing. They went to visit him in Culver City, where Neil stored his classic car collection. One note Rush fans would enjoy was learning that all of Neil's cars sport the same finish - a Chrome-plated metallic one, just like his classic "Chromey" drum set!
At one point, John said he asked Neil how he was spending his days. Being too ill to drive, Neil explained his driver would pick him up in Santa Monica and drop him off at the storage facility. When Neil was done for the day, he'd summon the driver to return him home.
"It takes three to get there and three to get home," Neil said.
"Three what?" John asked. "Songs," Neil replied. "Three songs!"
"Oh," John responded and, after a bit of thought, asked Neil, "So what songs do you listen to?"
"Rush songs!" Neil answered, laughing. "You have to understand, I spent years crafting and playing my parts and never really got to listen to the music away from that point of view, Neil explained, adding with a twinkle in his eye, "I think we were really pretty good!"
I wish I could express in writing the love I heard in John's voice in relaying his reply to his dear friend: "Yeah, pal-y. Yeah, you were."
John also spoke with great humility about a book that inspired Neil to write. Available for free at the DW website, John's book is called The Book of Plies. It outlines in loving detail John's inspired journey around the world to gather the different types of wood used in his construction of DW drums. It offers great insight into all facets of that construction. He carefully details everything from the type of wood used all the way down to the glue he selected and how the bearing edges are cut.
The title is a pun from John's days as a drum tech where the road manager would hand the crew a book with daily information details such as meeting points and times. The book's information was rarely correct, and thusly coined The Book of Lies.
While working on the book, John asked if Neil would write the foreword. Neil's initial response was somewhat terse, because he was so busy. But he later responded to John, "Let me see what I can do." What came back from Neil just 20 minutes later blew John away, and I thank him for allowing me to reprint that foreword here for all to enjoy. It seems fitting to close with Neil in his own words. And, as John emphasized, what deeply insightful and remarkable words they truly are; especially to be so off the cuff. I hope they serve as comfort to all. Even though Neil Peart is gone, we can always celebrate that he was here.
Humans have our growth rings, too, and we measure those years, those triumphs and ordeals, in music. The songs of our youth, of our courtships, of our good and bad times, remain alive to us for life. Music interweaves tightly into our memories, its rhythms and harmonies conveying so much that we lack words for - a kind of spiritual energy, dreamlike, emotional, and so ingrained that hearing a fugitive melody can instantly transport us back to another time and place.

Throughout human history, music has been at the heart of religious worship and celebration. From caves to cathedral, sacred groves to revival tents, communal music has the power to bring people together - to inspire and reinforce their shared beliefs. Music is in our DNA, music is in our veins, music is in our growth rings.

First there was a drum, maybe just a hollow log. A stick of wood banging on it carried messages a long way - that was the original "talking drum." In earliest times, before there was metal, all instruments would have been wooden, with enhancements of animal skin, bone, and intestine.

In our modern world of synthetic materials and robotics, the time-honored marriage of art and nature lives on in the crafting of fine musical instruments. Choice woods and other elements are selected and artfully formed, with techniques both ancient and modern, into what will become human voices - deceptive simple chambers of tonality and resonance that will carry ideas and emotions into the deepest spirit-worlds of song and story.

A fallen tree rises again - lives again. Where once it gave shade now it gives light. Artists work with their instruments to create a story that will mark their own place in the world, and maybe, if they are excellent and fortunate, they will leave a mark on that world of their own. To be measure and counted among our growth rings.

Neil Peart, 2017
---
In Memoriam: Neil PeartBy Rick Mattingly
Back in the 1980s, before email, Neil Peart preferred writing letters to talking on the phone. Being that he was the one who wrote the lyrics to Rush's songs, it made sense that he valued the written word. I received some of his letters when I was an editor at Modern Drummer magazine, during a time when we were coordinating a contest in which the winner would receive one of Neil's old drum sets. I especially remember the first letter; at the top, where one would typically put something along the lines of "October 28, 198_," he wrote, "A rainy, leafy night in Toronto." His letters, like his lyrics, were filled with poetic imagery.
In my dealings with Neil, which, in addition to his letters did, in fact, include a couple of phone calls and meeting him backstage after a Rush concert at Madison Square Garden, he always reminded me of jazz and classical musicians I knew. He seemed to have little interest in being a "rock star," even though his drumming put him among the highest echelon of rock royalty. He was in it for the music, not the lifestyle. "Even as a kid, I never wanted to be famous," Peart told the Toronto Star. "I wanted to be good." His lyrics to "The Spirit of Radio" reflected that attitude: "One likes to believe / In the freedom of music / But glittering prizes / And endless compromises / Shatter the illusion / Of integrity."
When the Steve Morse Band toured with Rush during the 1985/'86 Power Windows tour, drummer Rod Morgenstein got to know Neil. Rod recalled that Neil didn't engage in the typical small talk that usually goes on before and after shows. As an example, one night when Rod sat next to Peart at dinner, Neil turned to him and said, "Have you ever considered how different languages affect the world dynamic?" Rod admitted that he hadn't. But Neil had.
Rod described a typical day for Peart on the road: "A typical show day often consists of travel, sound checks, meet and greets, interviews, the performance, followed by more meet and greets," Rod explained." A typical show day for Neil Peart on the Power Windowstour would usually begin in the wee hours of morning, as Neil would journey on his bicycle from the previous city (assuming said previous city was within 150 miles of the next gig). Neil would often be on his bike for hours, arriving in time for Rush's sound check. Directly after sound check, he would have dinner, immediately followed by a one-hour conversational French language lesson with a local French-speaking tutor. Neil would then proceed to a private practice room and warm up on a small drum kit prior to the band's two-hour concert."
Neil Ellwood Peart was born on September 12, 1952, in Hamilton, Ontario, Canada. After taking piano lessons, he started drumming at age 15, greatly inspired by The Who's drummer, Keith Moon. For years, Neil wore around his neck a chain with a piece of a cymbal Moon shattered at a Toronto concert. At age 18 Peart moved to England to pursue a music career, but after 18 months he returned to Canada where he worked for his father selling tractor parts and playing in local bands.
He joined rock trio Rush in 1974. The group started as a blues-rock band in 1968, but evolved into a progressive group that incorporated elements of heavy metal and punk. Peart used an extensive drum set that completely surrounded him and included melodic and synthesized percussion instruments along with the usual drums and cymbals, and his intricate solos were highlights of Rush concerts.
Many considered Neil to be the world's best rock drummer, and he was honored in the Modern Drummer Readers Poll 38 times. Nevertheless, in the '90s Peart took lessons from Freddie Gruber and Peter Erskine, and he credited them with helping him develop a more fluid approach and a deeper groove. "What is a master but a master student?" Peart told Rolling Stone in 2012. "There's a responsibility on you to keep getting better."
In addition to his drumming, Peart wrote the lyrics to Rush songs, inspired by science fiction, classical mythology, philosophy, and literary works. The title of Rush's 1984 album, Grace Under Pressure, was taken from Ernest Hemingway. Peart was also the author of several books, including 1996's The Masked Rider: Cycling in West Africa, which chronicled a 1988 bicycle tour in Cameroon. After Peart's 19-year-old daughter, Selena, was killed in a car crash in 1997, followed a year later by the death of Peart's wife from cancer, Neil took a 14-month motorcycle trip from Canada to Central America, after which he documented his travels and sense of loss in the book Ghost Rider.
In the 1990s, Peart produced two tribute albums to jazz legend Buddy Rich, titled Burning for Buddy, which featured such drummers as Bill Bruford, Billy Cobham, Kenny Aronoff, Rod Morgenstein, Simon Phillips, Steve Smith, Max Roach, Joe Morello, Ed Shaughnessy, Steve Gadd, and Peart, among others, playing tunes associated with Rich and backed by a big band made up of Rich alumni.
During Peart's time with Rush, the band released over 20 albums, 14 of which went platinum. According to the Recording Industry Association of America, Rush's album sales put them third behind the Beatles and the Rolling Stones for the most consecutive gold or platinum certifications by a rock band. The group's best-known album was 1981's Moving Pictures, which reached No. 3 on the Billboard album chart and sold nearly 5 million copies. That album included some of Rush's best-known songs, including "Tom Sawyer," "YYZ," and "Limelight." Rush disbanded in 2015.
When Rush was inducted into the Rock and Roll Hall of Fame in 2013, Peart said, "The highest purpose of art is to inspire; what else can you do for anyone but inspire them? It's gratifying to think of us having inspired these youngsters to pick up a pair of drumsticks, a guitar, and a rhyming dictionary and torment their parents as we tormented ours."
Peart died in Santa Monica, California on January 7, 2020, of brain cancer.