A Tribute to Rush's Incomparable Drum Icon: Neil Peart (1952-2020)
MD pays tribute to the man who gave us inspiration, joy, pride, direction, and so very much more
Modern Drummer, Volume 44, Number 5, May 2020, transcribed by John Patuto
---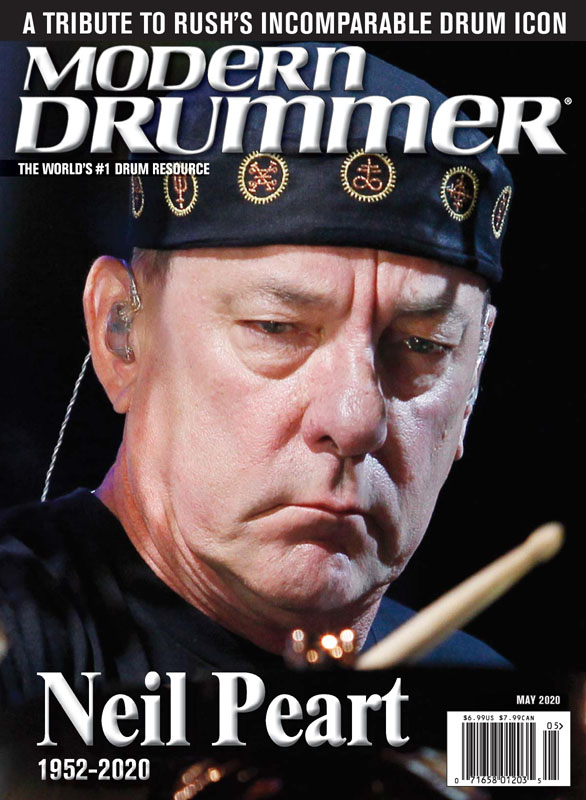 CONTENTS
- An Editor's Overview: In His Image
- Reader's Platform: A Life Changed Forever
- Neil Peart Tribute
- Neil Peart on Record
- The Evolution of a Live Rig
- Neil Peart, Writer
- Remembering Neil
- Tributes
In His Image
Role models are a tricky thing. If we're to make our way through life successfully, it's immensely helpful to identify people who have figured it all out. But when you reach a certain age, you realize that "figuring it all out" is a chimera, an unachievable desire that only a narcissist or a lunatic would dare claim. And we begin to perceive what it truly means to be human. We realize that the goal shouldn't be perfection, but rather improvement-of our art, our relationships, our understanding of ourselves. And we come to understand that it's through well-honed skills, hard-earned wisdom, and strength of character that any of us manages to survive in the face of barriers both internal and external, and do it with our humanity intact.
As I write this, a month after Neil Peart's passing, it's strange to say, but his drumming is not at the front of my mind. His humanity is.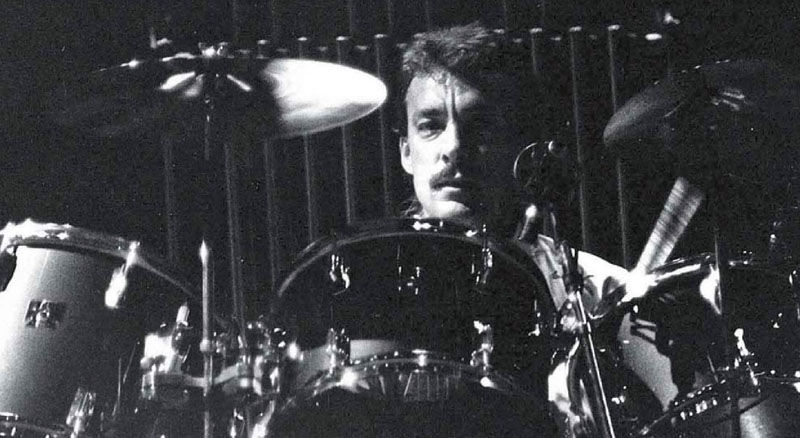 Neil was not a magician; he made no effort to mask or hide his rhythmic charms. I agree with those who've suggested that one of the reasons he was so popular was that his drumming ideas were complex enough to intrigue us, but not so beyond our comprehension that we could never imagine figuring them out. They were a gift to us, and a true gift is something that a person can use.
Neil was not a show-off; as active as his playing was, it never overwhelmed the music. "Less is more" was a nonsensical concept to him, at least as some sort of general guideline. (How could you grow up loving Keith Moon and buy into that kind of gobbledygook?) No, he understood that a desire to excite, to entertain, to astound was perfectly human. "Look!" he appeared to shout from behind the drums, "look at this amazing thing I discovered!" Not, "Look at me," but "Look at this." It's not a subtle difference.
And Neil was not a guru. It's a cliché because it's true: The more we learn, the less we know, and Neil seemed obsessed with learning. Moreover, he was not stingy with what he discovered. Those seven books he wrote are not short. And those eighteen albums' worth of lyrics? So many ideas, so much imagery...so many questions! These were not the ramblings of someone who'd "figured it all out." And yet, the confidence with which he shared his ideas-musical, philosophical, interpersonal-was astounding. That confidence, however, was not born from arrogance, but from the knowledge that he put the time and work in to communicate them as clearly and poetically as possible.
Is there a more human activity than to strike an object and marvel at the sound it throws back at us? Is there a more human desire than to tap the shoulder of the person next to us and say, "Hey, listen to this"? Is there a more human pursuit than to keep on hitting that object until you no longer can, because you know that there's no end to the joy it brings you and your fellow man?
And if we believe these things, and want them for ourselves, is there a greater role model than Neil Peart?
Adam Budofsky
Editorial Director
---
A Life Changed Forever
Modern Drummer readers immediately shared their heartfelt feelings with us when they heard about the passing of drumming icon Neil Peart. One particular letter stood out for us. We think it speaks for a great many of his fans.
Have you ever experienced a moment when you realize your life has changed? A moment that you will forever remember for the rest of your life? Something where you know, right then and there, that your life will never be the same again? A true defining moment. That is what happened when I heard my first Rush song, and the drumming of Neil Peart.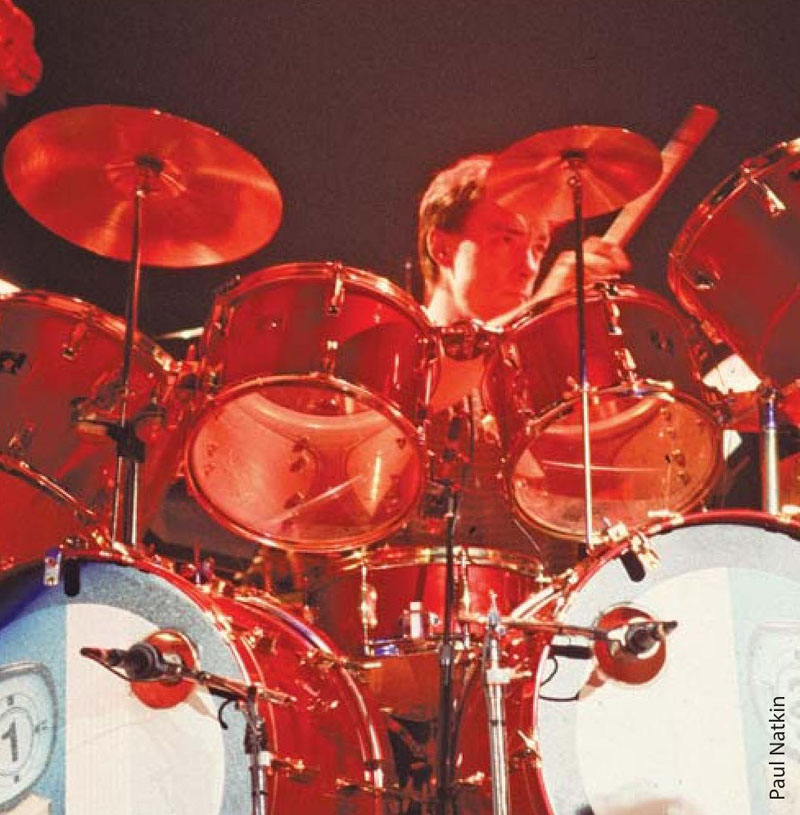 It was during the Christmas break of 1982. I was riding on a high-school bus, returning from one of my first winter track meets. This was an incredible transitional time in my young life. Having been brutally bullied from third grade on, my life was just starting to normalize in high school. For the first time I was part of a school team, and though I had yet to forge strong friendships, I was making acquaintances, and for the first time people were actually cheering for me when I ran races. This was a far cry from being jeered, or worse.
The 1980s were the age of the boom box-huge portable stereos-and we were allowed to bring them to track meets. Blasting them at the back of the bus was a sacred teenage ritual of the time.
I was sitting midway in the bus, lamenting a less than stellar performance in the JV heat of the mile, when something caught my ear. The sound was coming from the boom box owned by Paul Quandt, who was sitting with his friend Rory Martin. The two were "copiloting" the device, the largest in the high school I think, which earned them the seat of honor, i.e., the last seat on the bus. You know, where the cool kids sat.
The song was "The Camera Eye," and by the time it was over, I knew my life had somehow changed. Musically the song was unlike anything I had ever heard. It was the exact opposite of the pop songs of the day. It was over ten minutes long, contained more shifts in tempo than I could keep track of, was sung with a voice that threatened to crack the windows of the bus, and had drum rolls that seemed to move through hyperspace.
Before it ended, I had moved to the back of the bus, a location I had once feared. Somehow I knew it was okay, since I was coming to partake in the music being offered. By the time it was over, the guys (I don't remember any girls back there) were cracking jokes at my newly discovered "air drumming" skills. But this was also different. I inherently knew they were laughing with me, not at me. I also wasn't the only one air drumming that night.
This turned out to be the start of me becoming friends with upperclassmen, and put me on a path to actual friendships for the first time since moving to my mother's hometown six years earlier. Not only did the music and drums affect me, but through the years, Peart's lyrics spoke to me in a way I never thought music could. Within a year, I would go to my first Rush concert with these people (Dave and Ron), and the love of that band would be a common bond with my college and lifelong friends. The best man at my wedding, Keith, and our friends Todd, Jay, Kevin, Pat, Ken, and more all went to Rush concerts together.
In fact, my first Rush concert was in 1984 (the Grace Under Pressure tour) and I never missed a tour after that, concluding with the R40 tour in 2015, Rush's last. Along the way I graduated from air drums (my mother would not allow drums in her house) to drumming magazines, catalogs, buckets, and more. When I graduated with a master's degree, my wife agreed it was time for a drumkit. Though I've never played in a band, I've introduced countless people to drums. In fact, I introduced my nephew at the ripe old age of one. Three pictures that tell the story are one of him at age one on my lap at the drums; one of him at his first Rush concert with me (Clockwork Angels tour), and one of him winning a statewide award for drumming during his senior year in high school. He continues to play, and lord knows he's far better than me.
Thirty-eight years ago I was discouraged and alone, but to quote another Canadian musician, Rik Emmett from Triumph (who were greatly influenced by Rush), "Music holds the secret, to know it can make you whole."* My life changed that cold, bleak winter night, and Neil Peart has touched every part of my life since then, and only in the most positive of ways.
Neil Peart died on January 7, 2020, and a small part of me died as well. I know many who feel the same. I am left with the gift of thirty-seven years of original music that continues to enrich my life to this day. And as Neil wrote so eloquently years ago...
Everyone would gather
On the twenty-fourth of May
Sitting in the sand
To watch the fireworks display
Dancing fires on the beach
Singing songs together
Though it's just a memory
Some memories last forever

Al Prescott
Westford, Massachusetts
---
Neil Peart Tribute
Neil Peart, the longtime drumme and primary lyricist for the semina prog band Rush, passed away o January 7 after a several-year battl with brain cancer. He is survived b his wife, Carrie Nuttall, his daughter, Olivi Louise Peart, and hundreds of thousands o fans who reacted in utter shock when th news was made public several days later.
Peart experienced immeasurable success throughout his forty-plus-year tenure with Rush. The group released dozens of gold and platinum albums, was inducted into the American Rock and Roll Hall of Fame and the Canadian Music Hall of Fame, and received numerous Grammy nominations and Juno music awards. In 1983, at the age of thirty, Peart became the youngest drummer to be inducted into the Modern Drummer Readers Poll Hall of Fame. And in 2014, a survey of MD readers, editors, and professional drummers ranked Peart third among the fifty greatest players of all time-behind only Buddy Rich and Led Zeppelin's John Bonham.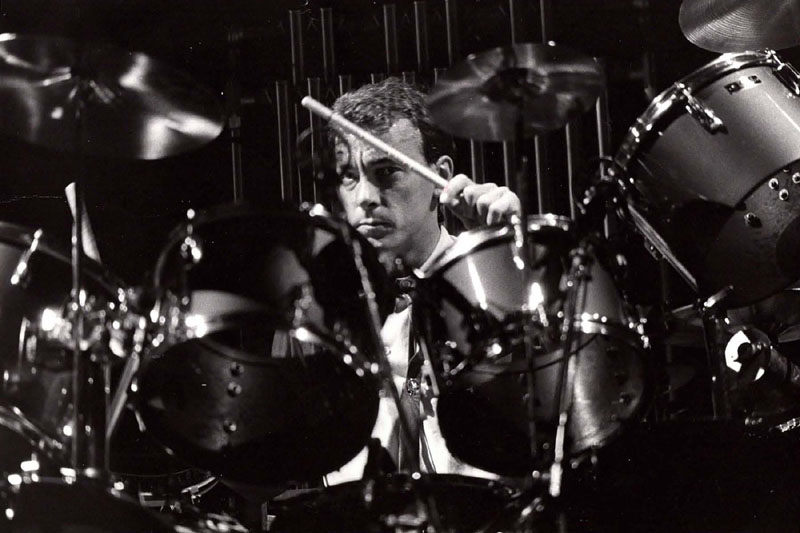 It's easy to see why Peart ranks so highly among the legends. His playing on Rush songs like "Freewill," "Limelight," and "Subdivisions" inspired generations of drummers to pick up the sticks. He was a master at making odd time signatures feel right at home on an FM dial. And while Peart didn't invent the rock drum solo, he certainly refined and expanded the art over the years touring with Rush. Devotees pore over the evolution of "the Professor's" elaborate live drum setups. And even those who've never sat down at a kit found themselves air-drumming to Peart's parts.
Peart was born on September 12, 1952, in Hamilton, Ontario, Canada. He started playing drums as a child after picking up a pair of chopsticks and banging on his sister's playpen. When he was thirteen his parents enrolled him in drum lessons. At eighteen he moved to England to pursue music, but left two years later to return to Toronto. In 1974, after playing part-time in various local bands, Peart auditioned for Rush. The next forty years yielded dozens of albums, live performance videos, sold-out shows, and tens of millions of albums sold. The drummer took a hiatus from the group after tragically losing his first daughter, Selena, in 1997, and then his first wife, Jacqueline, in 1998. Peart returned to the band in 2002 after remarrying, and continued playing until his retirement in 2015.
An avid motorcyclist, Peart was known to ride his bike alongside the Rush tour bus from venue to venue, and the drummer's passion for literature inspired him to author seven nonfiction books about his travels and life. In 1994 he produced a tribute album to Buddy Rich, Burning for Buddy (a second volume came out in 1997), and throughout his career he contributed to numerous educational books and DVDs. With Rush, Peart's philanthropic pursuits included fighting cancer and other diseases, advocating for human rights, and raising funds for disaster relief and music education.
Peart's deep and thorough insight into drumming and life in general has graced the pages of MD dozens of times since he first appeared on the magazine's cover, in 1980. So perhaps it's no surprise to find, in a 1984 MD feature, this response to a question about what he thought his purpose in life was: "You can ask those questions, but what's the point? The point is I'm here and making the best use of it. Why am I spending my life in this particular manner? Most times that tends to be a combination of circumstances and drive. The fact that I wanted to be a successful drummer was by no means a guarantee that I was going to be. But circumstances happened to rule that I turned out to be one."
To honor Neil Peart's musical contributions-and the outsized influence he had on so many people, in so many forms-we begin by examining the music he made with the progressive-rock band Rush, pointing out highlight moments on each and every studio album they recorded with him, from their 1975 sophomore set, Fly by Night, through 2012's Clockwork Angels
Later we trace the evolution of his famous drumsets via several of Rush's iconic live albums, and then survey the popular books he wrote during his lifetime, a "side career" that Neil took to with the same energy and thoughtfulness that he approached his playing and...well...everything else that interested him throughout in life.
Finally, we hear from the pro drummers: some household names, others less famous, but all profoundly influenced by their exposure to Peart's life's work. All have a unique tale to tell, but also share with their peers an utter respect not only for Neil's artistic accomplishments, but for his humanity, and the role that he reluctantly yet brilliantly played as representative to the world of the power and glory of drumming.
---
Neil Peart on Record
Ilya Stemkovsky
Rush came to prominence in the mid-1970s and quickly rewrote the rock music rulebook. Marrying the expansive concepts of the great British progressive-rock bands to a decidedly North American hard-rock aesthetic, Rush initially focused on complex song structures and instrumental pyrotechnics, in the process raising the performance bar for rock musicians and blowing the minds of their followers.
By the early '80s, influenced by the sounds of new wave and other contemporary styles, Rush tightened their arrangements, wrote progressively stronger hooks and melodies, and incorporated more contemporary musical elements, all the while continuing to up the rhythmic ante. This unusual recipe found a welcoming audience on FM radio with slick yet sophisticated releases like 1980's Permanent Waves (featuring their breakout track "The Spirit of Radio"), '81's Moving Pictures ("Tom Sawyer," "Limelight"), and '82's Signals ("Subdivisions," "New World Man").
Through a series of classic records featuring brilliant, cerebral, and yes, busy drumming, Neil Peart ascended to the throne, inarguably becoming the most popular drummer on the planet. Importantly, each new Rush album documented the creative progression of a drummer who never stopped challenging himself-and, by extension, us. Here we trace that progression by homing in on Peart's work on each of the band's studio albums. Strap yourself in: it's going to be quite a ride.

Fly by Night (1975)
The blueprint for all future Rush albums was created here. Distancing themselves from the Zeppelin-infused riff age of their debut, and making a key line-up change with Neil Peart replacing John Rutsey behind the kit, Rush storm out of the gate with "Anthem." It was obvious these guys meant business, with odd meters, in-your-face vocals, and virtuosic musicianship taken up a level with Peart's precision and aggression. The drummer fills every space of "By-Tor and the Snow Dog" with...well...fills-32nd-note tom rolls, hi-hat jabs, and all manners of outrageous playing set to "destroy" mode. But even early on, Peart knew how to simply lay it down for maximum effect and support, as in the chugging hi-hat 16ths on "In the End." The meticulously crafted, multilimbed drum parts and greater laser-like execution would come later as the scope of the band's writing became more complex. But it was on this record, released with little fanfare in the mid-1970s, where the bar was set, soon to be bested with regular frequency. And in Peart, a Canadian kid still in his early twenties, a star was born.

Caress of Steel (1975)
Picking up where Fly by Night left off less than a year later, Caress of Steel showcases a band more assured after constant touring. "Bastille Day" finds Peart at his most driving and propulsive, working his ride underneath a powerful guitar progression, and the much-derided "I Think I'm Going Bald" still pleases with a cool, pre-disco, off beat hi-hat part. There's even an almost funky drum intro to "Lakeside Park" followed by a straight-8ths groove with Peart leaving out the backbeat of 2. But it's on the twenty-minute "The Fountain of Lamneth" where the band's creative ambitions (some would say indulgence) would mix perfectly with their growing musicianship. And though their progressive counterparts had been making multimovement compositions in England for years at that point, Rush jumped into the fray on "Lamneth" with the band's most involved arrangement to date. In the "Didacts and Narpets" section, Peart solos in and around his toms, ripping flams and huge crashes in a burst of energy, another sign of what was to come in the form of lengthy drum showcases in concert. The side-long track intrigued, but the sections sounded thrown together, not quite a unified whole. That would come with the next album.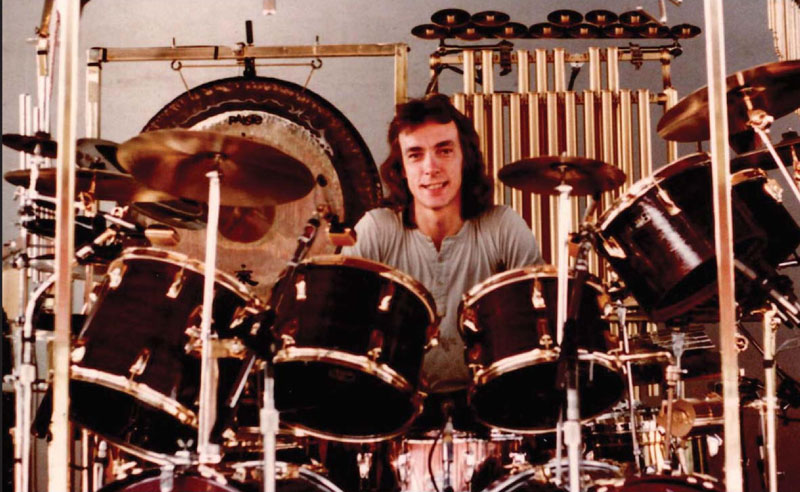 2112 (1976)
Rush's commercial breakthrough came with the unlikely record 2112, after the band ignored record company pressure for something more palatable by continuing their extended-form compositional adventures with the twenty-minute, sidelong title track. The road made Rush a commanding, well-oiled machine by 1976, and the different sections making up "2112" highlight all the band's strengths, from brilliant guitar and bass proficiency to the fully realized sound Peart had cultivated by this juncture in his career. Check out the chorus of "The Temples of Syrinx" for Peart's simple, kick-heavy pattern, and the wild, 6/8 section in the "Grand Finale" section for a taste of the drummer going toe to toe with Lifeson during more guitar solo madness. But the rest of the album is equally impressive, as Peart trucks through "A Passage to Bangkok" with sloshy hats in between roundhouse fills, pseudo-shuffles his way through the verses of "The Twilight Zone," throws in some nifty kick syncopations in "Lessons," and executes the cleanest cymbal chokes in "Something for Nothing." The record would raise the band's profile and earn them an audience of devotees who would study the liner notes and come to the gigs, but Rush was only getting started.

A Farewell to Kings (1977)
The success of 2112 allowed Rush to go musically where they wished, and where they went was into the stratosphere. The band's "middle period" begins loosely here, with an added focus on melodic songwriting that would lead to a radio hit with "Closer to the Heart" and the increased use of synthesizers rounding out the group's sound. Peart was now using an arsenal of orchestra bells, temple blocks, and chimes along with developing an even greater dexterity and technical prowess behind the kit. On the epic "Xanadu," Peart kills with a two-handed hi-hat assault, interjecting with striking snare hits, and plays the softest snare doubles on the subtler chorus of "Cinderella Man." And as "Tomorrow Never Knows" signaled a change in direction for the Fab Four, "Cygnus X-1" points the telescope towards Rush's future. The trio grooves hard together, Peart moving from one idea to the next, an odd-time splash beat here, another dark crooked waltz there, the recording more pronounced and immediate. The track's finale includes the daring 11/8 Peart tour-de-force, before he evens it out underneath the most crazed vocals of Lee's career. The band still rocked, but they were racing headlong into a new form of progressive rock.

Hemispheres (1978)
Often cited as the high-water mark for this period of the band's career, Hemispheres opens with another side-long masterpiece, "Cygnus X-1 Book 2: Hemispheres," and now there truly is no manual. The music is yet more complex and demanding; Peart hammers home a martial rhythm with hip, left-hand snare work, and weaves in and out of 7/8 and 6/8 passages with flair, eventually moving into yet another hard-hitting disco hi-hats section near the end of the piece. Peart is on a tear throughout, floating atop a 5/4 figure in "The Trees" with an over-the-bar-line-quarter-note ride bell and a snare he keeps stating on the "1," then opening up on the cymbal for tension release. On "La Villa Strangiato (An Exercise in Self- Indulgence)," the band works through several instrumental sections that allow each player to really shine. Check out the way Peart flips the beat on the atmospheric 7/8 guitar solo, the drummer building drama with each passing bar, before bringing in a "Sing Sing Sing"-style floor tom pattern and some swinging by way of Canada. Rush was having fun writing deadly serious music, and the band would quickly change direction again. Perhaps returning to the radio wasn't such a bad idea.

Permanent Waves (1980)
Released in January 1980, Permanent Waves not only ushered in a new decade but also solidified Rush as a commercially viable entity, with increased record sales and concert revenue. Sure, the songs were shorter, but they were no less inventive than what came before. The band just squeezed those ideas into a tighter framework. By now, Peart had the ear of the drumming world, and his attention to detail combined with his focused power made him a major influence on many musicians. Just check out the number of different parts he whips out during "The Spirit of Radio," from that dancing ride bell thing he'd return to time and again over the next few decades, to a newfound infatuation with reggae beats. Peart is smooth as silk in the middle 6/8 guitar solo section of "Freewill," and he brings a tireless array of blazing fills and his toughest 16th-note groove yet to one of the band's last long-form, multimovement compositions, "Natural Science." These songs are still heard on FM radio today, and Peart's "more is more" approach on them continues to be studied by aspiring rock drummers serious about their craft. But what the band delivered next would make them, and Peart, legends.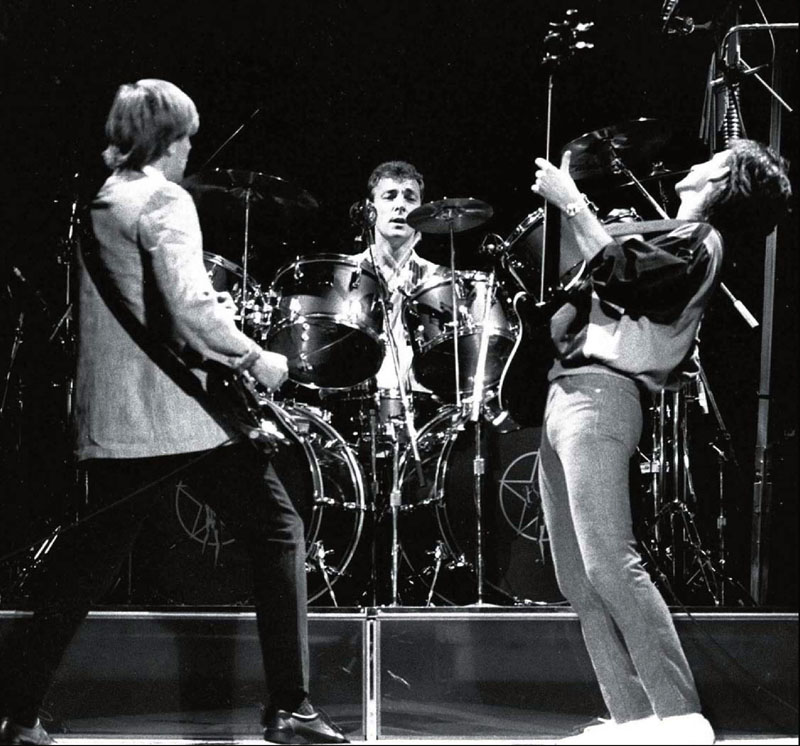 Moving Pictures (1981)
Regarded by Rush fans and prog aficionados alike as the band's masterwork, Moving Pictures brilliantly combined their fully realized penchant for melodic hooks with prodigious playing leaps and bounds beyond the group's early-'70s roots. And it sounds like it was recorded yesterday.
Opener "Tom Sawyer" became a signature song, a demanding workout of shapeshifting perfection, a performance for the ages. But check out how Peart toys with time on "YYZ," navigating the Morse Code 5/4 with scalpel-like exactitude, dropping off-beat kicks in a call-and-response with his hands. On tracks like "The Camera Eye," Peart shares space with synthesizers, which grew louder in the mix, anchored the arrangements, and helped the overall sound have even more weight. But Rush was a power trio at heart, and the hard-hitting "Limelight" finds Peart balancing between start/stop verses and some fancy ride work during a wicked Lifeson guitar break. Peart leans heavy into his hats on "Red Barchetta" and lays down one of his signature spacious tom patterns in "Witch Hunt," a compositional drum approach that would be revisited often throughout the 1980s. Rush had released its most popular and arguably most accomplished record to date, but the pace, and imagination, would not stop there.

Signals (1982)
By the time of 1982's Signals, Rush was firing on all cylinders, existing in a brutal cycle of album/tour/album/tour that somehow still managed to yield fresh material and novel musicianship. This was the last record with longtime producer Terry Brown, and the band allowed current music to influence their sound. The Police-inspired, new-wave reggae flavors crept in for their highest-charting U.S. single, "New World Man," on which Peart alternates between hip, upstroke doubles and sizzling openings on the hi-hat. Though recorded at the same Toronto studio as the band's previous two records, Signals boasts Peart's thickest and crispiest drum tone to that point, even while synthesizers became a crucial fourth voice. Peart highlights abound, from the off beat China pattern ending "Subdivisions," to the double-time rock urgency of "The Analog Kid," to the grooving, four-on-the-floor dotted gallop in "Digital Man." Rush was now bringing intelligent but catchy rock music to the masses, and Peart played nightly to a sea of air drummers showing him love. He also began to appear in drumming publications as the guy. The next, keyboard-heavy phase in the band's career begins loosely here, and 2112, released a mere six years prior, seemed like the creation of an entirely different band.

Grace Under Pressure (1984)
Rush returned in 1984 with a new collection of songs featuring a bit more Lifeson guitar than was on Signals, as evidenced by the aggressive rock of "Afterimage" and "Between the Wheels," both with heavy off-beat cymbal work from Peart that gets the head bobbing. Some electronic drums can be heard on "Red Sector A," and the ska-like "The Enemy Within" gets a healthy dose of Peart fills that blur the "1." The drummer lays down a flam-laden snare groove on "The Body Electric," accenting with a kick-and-toms syncopation to deceive the ear, before moving to a two-handed hi-hat accompaniment underneath a guitar solo. And even though Rush was all over the airwaves at this point, they still composed using tons of different odd times, and Peart is fierce in the 5/4 verses of "Kid Gloves" and the back and forth between seven and six in "Distant Early Warning." Peart and Lee were also by now one mind, locking in together on fills that were written out but sounded improvised. The band continued a relentless touring schedule, and their growing songbook meant that some earlier material was retired from the stage. Ten years in, and the future was still bright.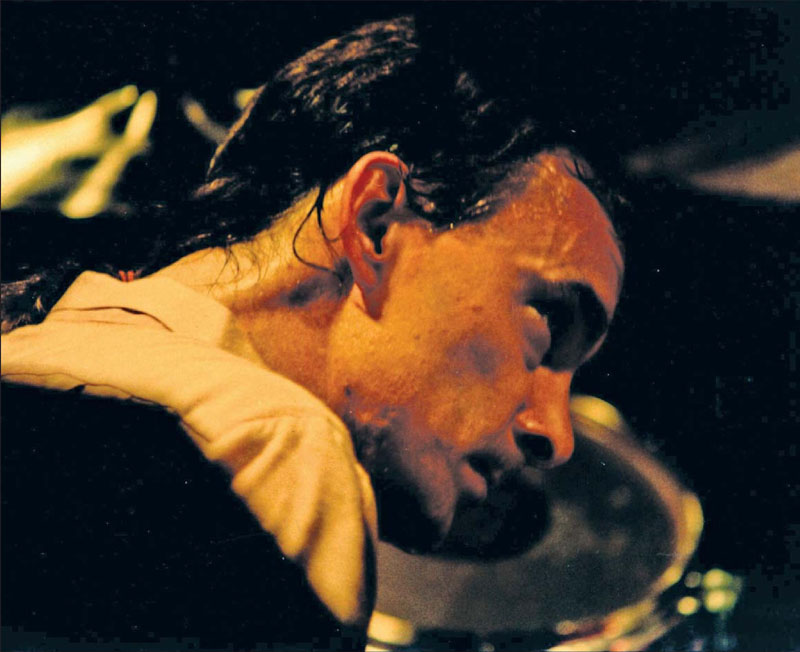 Power Windows (1985)
1985's Power Windows, often maligned by fans for being too slick, too synth heavy, and too poppy, is nonetheless another excellent outing for a band whose well was not running dry but simply changing flavors. This wasn't the progressive rock of the 1970s any longer, but careful listening shows inventive arrangements on complex songs that were difficult to play and not so easy on the brain. Check out one of the later verses of "The Big Money," where Peart opens his hats in and around a snare backbeat, or the song's dramatic coda containing the drummer's tasty snare rolls. Keyboard sequencing is a major characteristic of tracks like "Grand Designs" and "Middletown Dreams," but there's no shortage of rhythmic fun coming from the drums, and no shortage of over-the-top fills. The middle section of "Marathon" is mid-'80s Peart at his best, crushing a two-chord 7/8 progression with snare injections and tension building. And "Mystic Rhythms" is all moody toms and percussive samples, with Peart sounding like he's got another limb. The old faithful might have cried "Where's the guitar?" but Rush, along with the ever-changing Peart, was already onto the next thing.

Hold Your Fire (1987)
Never ones to rest, by 1987 Rush still had settled into the comfort of more concise and palatable songwriting, but the quality of their output remained at a high level, and their albums were still automatic blind buys for musicians, especially drummers. "Force Ten," the up-tempo rocker opening Hold Your Fire, grabs your attention with Peart's chugging snare. Later he ornaments the atmospherics with simple, accented hi-hat work that eventually moves over to the snare. The sharper edges of Rush's music were being rounded off in an eff ort for greater accessibility, but these guys were still players, and the ping pong-like tom and cymbal pattern in the first chorus of "Time Stand Still" was still unlike anything else on the radio, or by this point, MTV. Check out the instrumental section in "Mission," with its ultra-tight Peart and Lee unison licks, and the seismic drum breaks following the guitar solo in "Turn the Page." Peart was doing his unique thing all over Rush's version of pop music, as he delved deeper into composing machine-like parts by incorporating all the random elements of his kit, filtered through his own sense of groove and swing. The wild-eyed abandon of a decade past was now in the rearview mirror.

Presto (1989)
A transition period was upon Rush by 1989, as their movement away from keyboard dominance began in earnest. Maturity and discipline were also now the tools employed by Peart, the master craftsman, and his deliberate straighter rock parts in tunes like "The Pass" was the work of a thinking drummer playing for the song. But there's everything from jazzy snare ghosting in "Show Don't Tell" to hypnotic African rhythms in "Scars," which would later appear in some form during Peart's showstopping live drum solos. Dig his four-on-the-floor kick plus off beat splash groove in "Superconductor" and his strong, dynamic approach alternating between the softer ballad-like parts and tom-heavy sections of "Available Light." With synths being tucked away subtly, more space emerged in the group's sound, but no player filled the gaps with excessive fills or licks. Peart, specifically, emerged as a grand supporter of the vocals, the bigger picture. Dated only by its digital, wet sheen, which was the norm for much rock music from this era, Presto did manage to chart several singles and return the band to a more pronounced power trio sound. As a new decade approached, Rush was securely in the lead pack.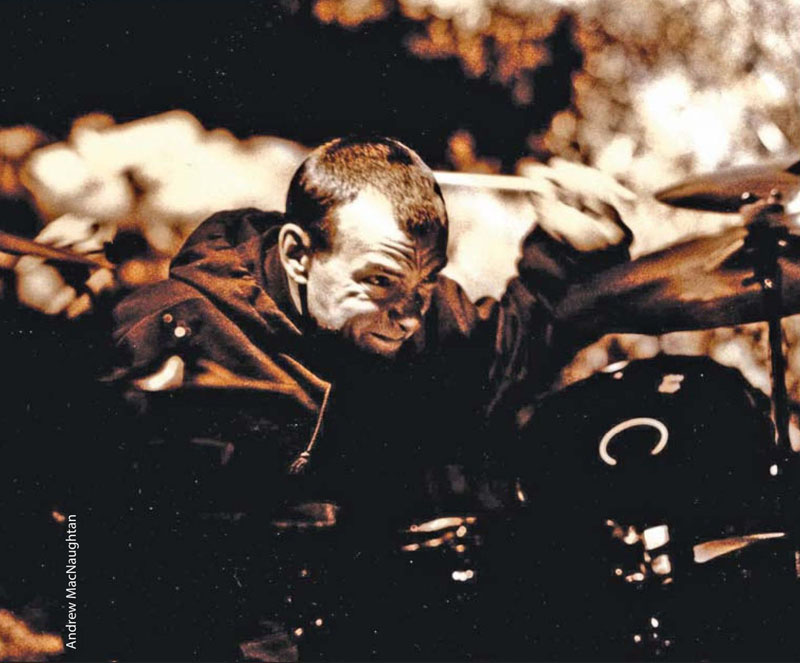 Roll the Bones (1991)
As the 1990s commenced, Rush were veterans in a music business that had chewed up lesser bands unable to adapt to changing tastes. Peart, Lifeson, and Lee continued their commitment to organic music-making, and the songs making up 1991's Roll the Bones were Rush's usual assortment of pop-infused hard rock, with occasional prog tendencies. But labels never really applied to Rush, so the record contains everything from funky jams with rapping ("Roll the Bones") to kinetic, midtempo rockers ("Face Up"). Peart lays down a solid side-stick pulse in "Dreamline" and brings things down to a whisper with a softer ride cymbal in "Ghost of a Chance." Check out some of the licks Peart plays in the instrumental "Where's My Thing?" including a thunderous toms/double bass fill and a lightning-quick accented snare roll in a measure of 6/4. On "Bravado," Peart builds the part from the ground up, starting with an insistent kick and layering toms and snare on top, until the last chorus, where he's working all the cymbals and drums, achieving a completeness that makes the track whole. There was a wind blowing from the Pacific Northwest, but Rush was anchored in, holding ground, and ready to turn up.

Counterparts (1993)
By 1993, that Seattle wind had turned into a hurricane, and the unifying factor for all those West Coast "grunge" bands was their undeniable heaviness. Not to be outdone, Rush delivered the heaviest record of their career, and Peart's drums were firmly assigned with the task of bringing the weighty stuff . The tone of his kit was deeper, darker, and fuller, and this time Peart brought a fully realized "less is more" understanding to his written parts. Sure, there were drum fills, but songs like "Stick It Out" and "Cut to the Chase" came at you with a fury not heard since the band's earliest days. Still, this was Rush, and "boring" was not on the agenda. That ride bell gets a workout on "Animate," and there are slick kick drum doubles on the instrumental "Leave That Thing Alone" that are basic but perfectly placed. Check out the third chorus groove of "Nobody's Hero," where Peart syncopates his snare hit and ends the phrase with a floor tom backbeat, à la Steve Gadd. The band must have done something right, because Counterparts reached #2 on the Billboard Albums chart. And for Peart, a break between records would allow time for reinvention.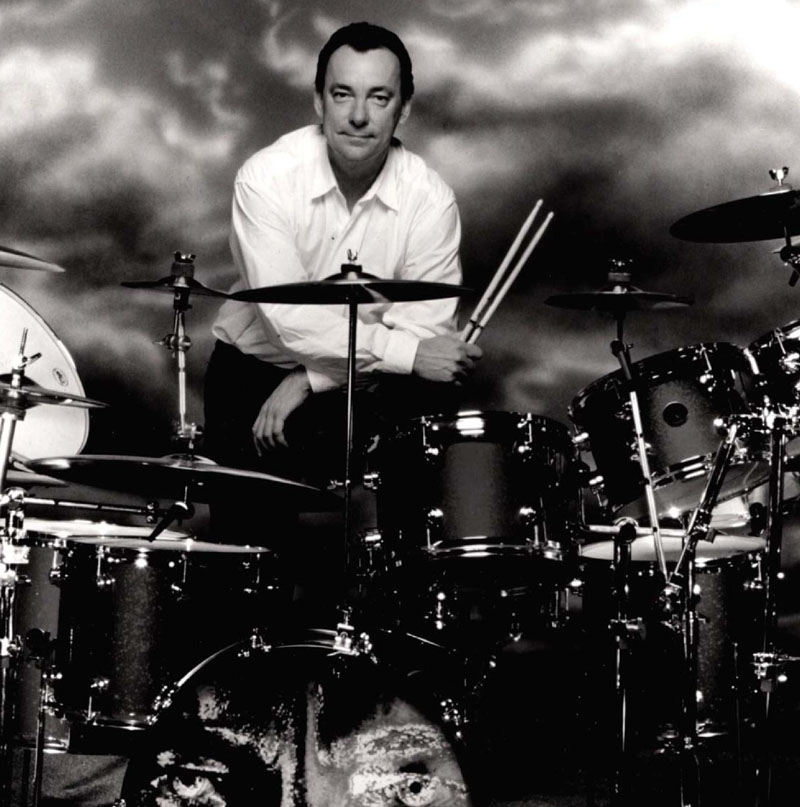 Test for Echo (1996)
By the mid '90s the members of Rush had families and other commitments, and they no longer needed to work at the breakneck pace of the past two decades. When the band reconvened for 1996's Test for Echo, it followed a period where Peart wanted to revamp his playing with help from instructional guru Freddie Gruber. And revamp they did, modifying Peart's grip, posture, drum and cymbal placement, and approach. The resulting record might not sound exactly like Peart was a new man, but the conviction with which he played was never greater. It was all about flow now, from the triplet feel of "Time and Motion" to the big spaces left in "Resist." Peart throws in some polyrhythmic cymbal hits in "Driven" and continues his heavy and intense drumming on the aggressive verses in "Virtuality." The recording, it should be noted, was big but clear, the mix bringing out all the nuances of Peart's kit. The instrumental "Limbo" is made up of different parts Peart experimented with in the studio, beats with no home eventually stitched together in the final product. This looseness was new for the band, but the results satisfied them internally. Little did anyone know it would be six years before Rush returned to the studio.

Vapor Trails (2002)
Following the Test for Echo tour in 1997, Peart endured personal tragedies that sidelined the band until they returned in 2002. After having filtered their creative process through a variety of popular music trends over the previous thirty years, Rush decided to take a different approach with their newest record: post melody. It's not that there are no hooks in the tunes-it's just the obtuse nature of the material was yet another direction for a band always searching. Regardless, Peart comes out throwing haymakers with the pummeling double bass assault in "One Little Victory," effectively dispelling any fear that he would be rusty after a long layoff . He flips the beat with some downbeat snare trickery on the chorus of "Earthshine," and spices up the verses of "Ceiling Unlimited" with simple little tom fills, breaking up the straightness of the basic groove just enough without being overbearing. As the millennium turned, Peart's parts were still carefully orchestrated, but his studies with jazzers and the inevitable maturity that comes to musicians who've been at it a while allowed him to become more improvisational, or at least sound that way. Of note: the negative reaction to the compressed muddiness of the original Vapor Trails caused Rush to release a clearer, remixed version.

Snakes & Arrows (2007)
Another five years would pass until Rush dropped original material (a covers disc, Feedback, came in 2004), and the results showed clearly that these guys were still not coasting. The band continued to write hard rock music with equal parts dynamic shade and riff muscle, and Peart still played with the conviction of an unknown out to prove himself. Check out the end of "Far Cry," with Peart soloing over the staccato rhythm with some rumbling toms, and the quarter-note China and double-bass groove opening "Armor and Sword." There are multiple instrumentals here, and Peart gives each something different, from the snares-off tom pattern in "The Main Monkey Business" to the bass and drum breaks in "Malignant Narcissism," echoing "YYZ" from Moving Pictures. Peart alternates between the 3/4 and 4/4 in "Workin' Them Angels" with little fuss, taking his time, letting things breathe. And if an old(er) dog could learn new tricks, this breathing space that permeated Peart's late-career drumming was a good one.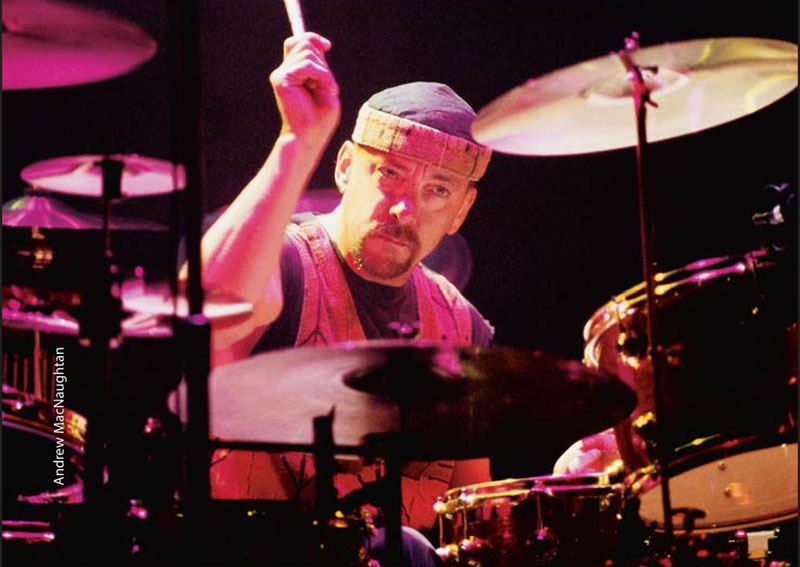 Clockwork Angels (2012)
Fans waited a half decade before another Rush studio record appeared, and longtime listeners were rewarded with one of the band's strongest eff orts in years. The members of Rush were now living legends, and they had nothing to prove. Peart was now the elder statesman, the wise Zen master who had a lifetime of innovation behind him, but whose thirst for the new still informed his approach. And, oh yeah, he was still hitting harder than metal dudes half his age.
"Caravan" is Peart bulldozing his way through everything, all lip-curling snarl and attitude, while the 6/8 title track moves from double-handed hi-hat parts to big toms. Old-school Rush heads will also notice a nod back to 1975's "Bastille Day" on "Headlong Flight," complete with unison bass and drum hits and similar guitar drive. Check out the track's cool snare intro and initial pattern. Elsewhere, Peart attacks his parts with intricacy and attention, but as always, plays the role of the anchor his bandmates can rely on.
With Peart's passing, Clockwork Angels became Rush's final studio statement, and with it they and Neil went out on top.
---
The Evolution of a Live Rig
By Ilya Stemkovsky
Neil Peart played a number of different kits during his forty years of touring with Rush. Here we discuss the major evolutionary changes his kit went through by focusing on the setups he sported during the first three, classic Rush live albums plus the unique approach he took during their R40 tour.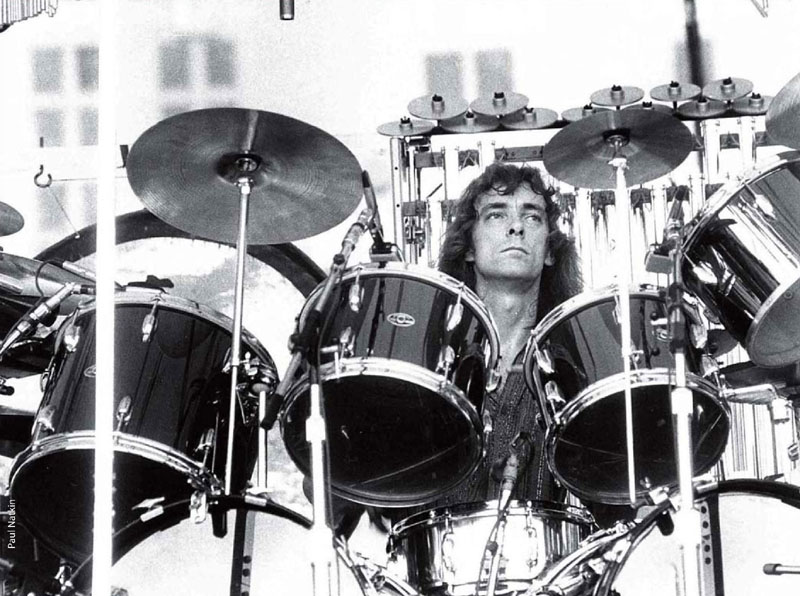 All the World's a Stage (1976)
The 2112 album gave Rush their first taste of success, and their newfound fans were willing to go wherever the band took them. Recorded in their hometown of Toronto in 1976, All the World's a Stage is maximum rock 'n' roll; Rush is running their involved tunes with an accuracy and ferocity many veteran acts couldn't approach. Peart's parts aren't yet written in stone, and he's able to really rock out on tracks like "In the End" and "Something for Nothing," whipping out tidal wave tom rolls and go-for-broke cymbal crashes. Geddy Lee introduces Peart as "the Professor" before the drum solo inside "Working Man/Finding My Way," and all the flavors he'd return to time and time again are already present, from the sprightly rudimental snare work to those melodic cowbell phrases. This earliest live document proved Rush were a force to be reckoned with in the concert arena, and it capped off the first phase in what would be a long career. By the time they released another live set, Rush would be internationally championed rock royalty, and their stage work would achieve a new level of authority.
The kit Neil used during the concerts documented on All the World's a Stage was a maple-shell Slingerland with a chrome finish, lovingly referred to as "Chromey." Prominently displayed on the album cover, this seven-up, one-down layout had certain unique characteristics that would not carry over to later setups.
The four concert-tom sizes lasted through several subsequent tours, but the three main toms in front of Neil were a bit smaller than ones he eventually would employ. For a drummer who played lots of long and involved fills, it's interesting that Neil only used one floor tom during this era, and would do so until later adding a timpani to his right for color.
Of note was Neil's reliance on his Slingerland Artist snare drum, referred to as "Old Faithful," which would grace many future studio recordings and live shows. Neil played Zildjian cymbals for a long time, and the basic setup here would remain the same for years, with 13" hi-hats, two crashes to his left, a splash in front, and a crash, splash, and ride configuration to his right side. China cymbals were not yet present during this time, and Neil's percussion was minimal, including a small array of orchestra bells, cowbells, and wind chimes. Promark 747 Rock model sticks and Ludwig Speed King pedals rounded out the equipment.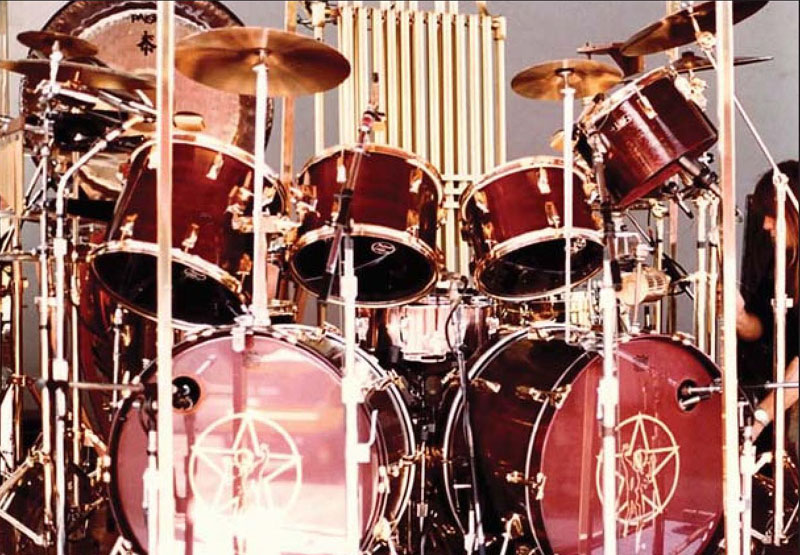 Exit...Stage Left (1981)
Recorded during tours supporting 1980's Permanent Waves and 1981's Moving Pictures, Exit...Stage Left presents Rush at the height of its powers, at the crucial intersection where their most ambitious material meets their newfound superstardom. All three musicians play with an increased level of assuredness-check Rush's touring itinerary from this era for an eye-popping amount of road work-and Peart's drumming in particular has developed a razor-sharp edge honed over time. Where the raw All the World's a Stage clobbered the listener with a hard rock approach that owed much to Peart influences like the Who's Keith Moon and King Crimson's Michael Giles, here the drummer further shows off the refinements featured in his recent studio work. Peart weaves in and out of the twisting "Jacob's Ladder" with confidence, while album gems like "A Passage to Bangkok" truly crackle with life on an airtight recording with very little crowd noise. Epic studio showcases like "Xanadu" are imbued with the taut quality of the band's current work, as was Peart's solo in "YYZ," which underwent fi ne-tuning and became a real Rush concert highlight. If their first live album was an opening salvo of energy and chops, Exit... was Rush finding its concert sound, with Peart leading the way.
Exit...Stage Left saw Neil's switch to Tama drums, with the 1980 and 1981 tours featured on the album presenting a few significant changes to the equipment. The Tama Superstar kit in custom Rosewood finish was "vibrafibed," with the inside of the shells treated with a thin coat of fiberglass, and the bass drums went up a size to 24". Neil would also add timpani, brass timbales, and, later, Tama gong bass drums. The "Old Faithful" 5.5x14 Slingerland snare was retained, however. In the April/May 1980 issue of Modern Drummer, Neil says of the drum, "Every other snare I've had chokes somewhere, either very quietly or if you hit it too hard. This one never chokes. You can play it very delicately or you can pound it to death. It always produces a very clean, very crisp sound. It has a lot of power, which I didn't expect from a wooden drum."
Neil used head models made by a variety of manufacturers, including Remo Clear Dots on his snare and bass drums, Ludwig Silver Dots on his concert toms, and Evans heads on his rack and floor toms. As Rush's music grew more expansive, so did Neil's percussion setup, by now including crotales, tubular bells, and temple blocks in addition to what was already present earlier. Brass-plated Tama hardware was a final detail.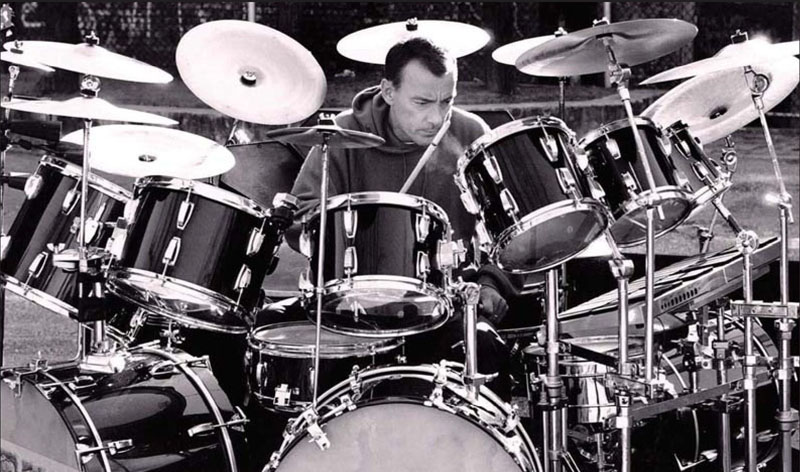 A Show of Hands (1989)
The last of Rush's "classic era" live offerings was assembled using shows mostly from the Hold Your Fire tour of 1988, and while the resulting sound and setlist varies greatly from their first two concert discs, this is still Rush bringing their A game to fans who couldn't get enough. Featuring Peart's self-actualized mastery of combining his acoustic drums with an electronic kit and percussion, the noise Rush made with three guys onstage was huge. The drummer's verve on dynamic tracks like "Marathon" and "Manhattan Project" is a marvel to hear, his parts formulated as if by a machine to be performed by a machine, and the mix has an almost too-perfect, antiseptic studio quality. Peart, though, is very human, and here he combines flawlessness with a bead of sweat. Peart's drum solo, "The Rhythm Method," further advances on previously developed accented snare work with the addition of electronic marimba and triggered horn hits. There would be many more tours yielding more live recordings, but none more essential than these first three.
For the 1988 Hold Your Fire tour that provided the majority of performances on A Show of Hands, Neil once again chose to make a change in drum manufacturer, this time settling on a set of Ludwig Super Classics in a white/pink sparkle finish. The "Vibrafibing" process returned, and most of the concert toms were replaced with double-headed drums for uniformity. The big leap from the Exit...Stage Left setup was the prominent addition of electronics. A MalletKAT controller, which now allowed Neil to recreate many of the percussion sounds like temple blocks, was added to the Simmons electronic modules he'd introduced a few years earlier. Also present were Yamaha MIDI controllers, Akai samplers, and a swanky rotating drum riser.
"The song 'Mission' had a syncopated marimba, bass guitar, and snare drum solo," Neil told MD in his December 1989 cover story. "I originally recorded the snare and overdubbed the marimba. Live, I assigned both the snare and marimba sound to the same pad-so I can have both sounds! Through the wonder of electronics, I was able to manipulate the pitches of the temple blocks on 'Time Stand Still,' so I got the sound I heard in my head." Neil was now surrounded 360 degrees by toys of all sorts, and he was able to reproduce the band's increasingly electronic-oriented sounds faithfully in the concert space.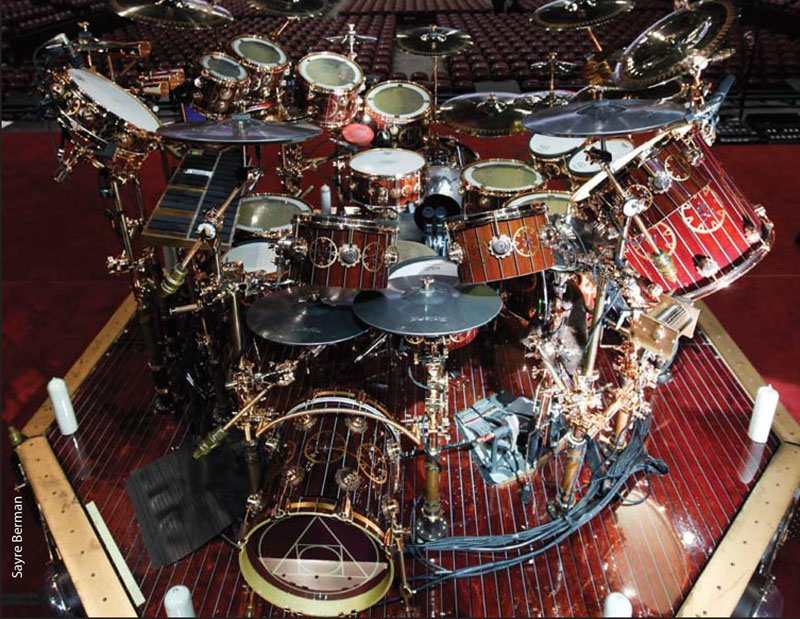 R40 Live (2015)
Rush embarked on their final tour knowing full well that it would be a summation of all the group had achieved and then some. Documenting the Peart/Lifeson/Lee trio's fortieth year together, R40 Live, recorded in 2015, again in their hometown of Toronto, boasted a unique setlist that worked backwards chronologically. Beginning with Peart's hammering tom work on "The Anarchist" and double kick flourishes in "Far Cry," this was the band proving that their latest material was as strong as the stuff they put out during their classic period, and that Peart was still up to the challenge of creating imaginative drum parts. For the second set, Peart switched from his modern kit to a replica drumset he'd played in the late 1970s, and he rips on deep fan wish list numbers like "Natural Science" and "Hemispheres" with still-brilliant technical prowess and trademark power. Before the show concludes with the band's early riff songs like "What You're Doing," we hear Peart swim in the odd-time sea of rarities like "Losing It" with the maturity of a player with years at the game. Not merely a nostalgia cash-grab, R40 Live showcases a still-able band, and puts an exclamation point on an incredible career.
For the R40 tour, Neil pulled out all the stops, adopting a more-is-more attitude by featuring not one but two full kits used throughout the course of the unique, "backwards in time" performance. The set list would begin with Rush's recent repertoire, as Neil would play the "modern kit," a beautiful DW Black Pearl-finish monster made from a 1,500-year-old Romanian River Oak tree.
"The first kit in the first set is evolved as an instrument of perfect comfort," Neil said in the January 2016 issue of MD. "I can play it with my eyes closed. The musicality through the cymbals and the toms. Everything is carefully chosen and put where it should be. I tell people, don't look at those 47 drums. It's a four-drum setup. Look at the middle, everything spins off from there."
Rounding things out were assorted Sabian Paragon cymbals, various electronics including Roland V-Drums and MalletKATs, and Ableton Live running on a MacBook Pro. The hardware was even gold-plated. But the great surprise was a totally separate second kit, nicknamed "El Darko," used later in the show for all the material from Moving Pictures and before. This was a DW replica of Peart's classic Slingerland kit from the late 1970s, and it featured two bass drums as well as four "open" concert toms used for the first time since the mid-'80s Power Windows Tama kit. This black chrome-finish beast, also made from that 1,500-year-old tree, sounded great, but was tougher to tame for the older, wiser Peart.
In the 2016 MD piece, Neil shared, "I had the notion that, wouldn't it be great if instead of having the rotating set I've had for years that kind of contrasts the acoustic and electronic drums, I went to a whole second drumset. I always say this about old cars and old motorcycles, I love them, and old drums, I love them, but new ones are better. The ergonomics of it all [were tough]. I used to make everything so close and under me. But it was counterintuitive thinking. I used to think the closer it is, the more power I can get on it, but that's not true. You have to get it the right distance. Close or near doesn't matter. And the way the set list works out, I had to solo on that set.
"I'd much rather solo on my modern set in every sense," Peart went on, "musically and physically. But there are cool things as well. I used to have timbales on my left side and I got those again, and playing two bass drums again was fun."
Neil and Rush went out on the highest of notes, giving fans a concert experience filled with music spanning the band's entire career, still played at peak level. Peart would hang up the sticks and put down the pen with no regrets.
---
The Story Of Chromey
In 1987, Modern Drummer held a contest where entrants were instructed to send in a two-minute, unaccompanied drum solo on cassette, to be judged by none other than Neil Peart himself. The 1,776 entries received were whittled down by MD's editors to 46, from which Peart chose the winners. And the prize? It sounds too good to be true, but the three top winners would each receive a kit that Peart had recorded with and used in live performances throughout Rush's career. (Unable to keep his winners to three, Neil asked his cymbal company at the time, Zildjian, to put together a fourth prize package, a set of new cymbals.)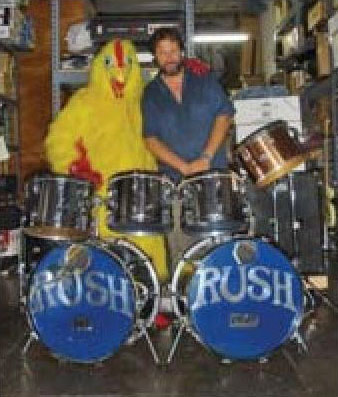 Perhaps Neil's most famous kit, the Slingerland Chrome set he used on the recordings and tours for Fly by Night, Caress of Steel, 2112, and All the World's a Stage-yes, the drums on the cover of that seminal live album-were won by a drummer named Mark Feldman. Now cut to sometime in 2009, and MD photographer John Fell, who at the time was a partner in Brooklyn music store Main Drag Music, was visited by Feldman, who wanted to sell the kit on consignment. Fell, who'd worked in museums prior to entering drum retail and repair, discussed with his colleagues what to do with the kit and how to sell it. "The enemy of conservation is restoration," says Fell. "But since we were selling it, we decided to keep it as is-not even conserve it, let alone restore it. It was even in Neil's tuning."
There was a long, intense eBay auction, which resulted in some Rush fans asking to see and touch the kit, and the store decided that it needed to be put on display. In one particularly odd wrinkle to the story, Fell received multiple phone calls from an anonymous shadow figure calling himself "the High Priest from the Temple of Syrinx," who insisted that the kit wasn't authentic. The bidding price froze at $2,112 (of course), and then $21,012, and the drums eventually sold for around $25,000.
And who showed up to pick up the kit? A collector named Dean Bobisud, who drove all the way from Chicago. "He owned a pizzeria, and he sold a Corvette to do this," says Fell. "He was a serious Rush fanatic, with a shrine of Peart's sticks and guitar picks. He arrived in a van with a bunch of matching drum bags, and was very excited. He even put a chicken suit on for the photo-the actual chicken suit that Rush's crew used onstage during their tours. They'd have rotisserie chickens turning onstage, and techs wearing these suits would come out and baste them." The kit was eventually restored and has since made the showcase rounds, as documented on the internet.
It seems that, indeed, all the world's a stage, and some of us are merely players... wearing chicken suits.
---
Neil Peart, Writer
By Ilya Stemkovsky
It would make sense that Neil Peart's forays into prose writing would be of a remarkably high standard, not only because he was such a brilliant lyricist, but because he was such an able craftsman. Like his meticulously constructed drum parts, Peart's books are the work of an artist paying close attention to detail while he composes something to make you think and also feel.
That word, "compositional," which is so often used to describe Neil Peart the drummer, also applies to his written word outside of the songs he wrote for Rush. A quick internet image search of the band in the 1970s will yield multiple photos of Peart's face buried in a book of some sort, and aside from his own pure enjoyment, it was years of study of countless writers that led the drummer/lyricist to eventually try his hand at becoming an author.
And if Peart's songs tackled everything from fantasy to technology to religion to relationships, and everything in between, his seven books, inspired mostly by his adventurous excursions by bicycle and motorcycle between Rush tours, paint the picture of a more or less independent inland traveler, all-too-human, dealing with life's mysteries and tragedies and beauty. For those looking to go beyond the lyric sheet, below is a quick guide to the Professor's excellent output of books.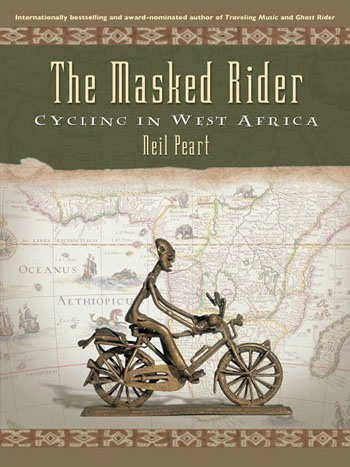 The Masked Rider: Cycling in West Africa (1996)
Peart on a 1988 bicycle tour through Cameroon. This travel memoir describes the journey and his experiences, from contracting dysentery to a confrontation with an armed soldier to navigating dirt roads off the beaten path. Peart explores his own emotions along the way, the different "masks" that he discovers he wears. And though he always had a reputation of being fiercely private, it's in his books where you get to see what he was like in his personal life.
An excerpt from The Masked Rider: "I am sometimes overly concerned about people who don't really matter to me emotionally. For example, I would rather be early for an appointment and have to wait myself than inconvenience anyone else (though I naively expect the same consideration in return). But at the other extreme, I am jealous of my time and work, and am sometimes short even with friends when a phone call interrupts me in the middle of something 'important'-when it's not convenient to speak with them."
There's history, culture, interesting people, all told in a likeable first-person narrative style that puts you in that sub-Saharan country you've only seen in National Geographic, but now your favorite drummer was there and reporting back.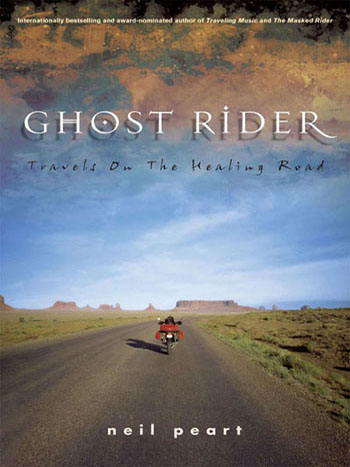 Ghost Rider: Travels on the Healing Road (2002)
In a ten-month period spanning 1997 and 1998, Peart lost both his nineteen-year-old daughter in a car accident and his wife to cancer. Faced with overwhelming sadness and isolated from the world in his Canadian home on the lake, he was left without direction. Neil told his Rush bandmates that he was "retired." Early in the book, Peart writes, "I was going. I still didn't know where (Alaska? Mexico? Patagonia?), or for how long (two months? four months? a year?), but I knew I had to go. My life depended on it."
This memoir tells of the sense of devastation that led Peart on a year-long, 55,000-mile journey by motorcycle across much of North America, down through Mexico to Belize, and back again to Quebec. It's personal, heartbreaking, funny, and tragic at the same time, a journey from grief to healing during which our hero is constantly reminded about his losses, but where he triumphs in the end. Like with his previous book, if you didn't know Peart personally, you will feel like you did after reading this one.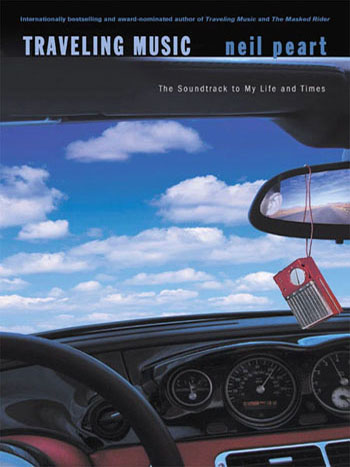 Traveling Music: Playing Back the Soundtrack to My Life and Times (2004)
This time Peart's vehicle of choice is a car, as he drives his BMW from Los Angeles to Big Bend National Park in Southwest Texas while acting as his own DJ. Traveling Music is nicely autobiographical, as Peart reminisces about his upbringing and inspirations before joining Rush and shares his thoughts about everything from Frank Sinatra to Linkin Park to Radiohead. You get the sense of being in the passenger seat with Neil, and lines in Rush's "Red Barchetta" come to mind: "Wind in my hair, shifting and drifting, mechanical music, adrenaline surge." Ever wanted to know what Peart thought about Manu Katché's drumming or Jeff Buckley's Grace? Look no further.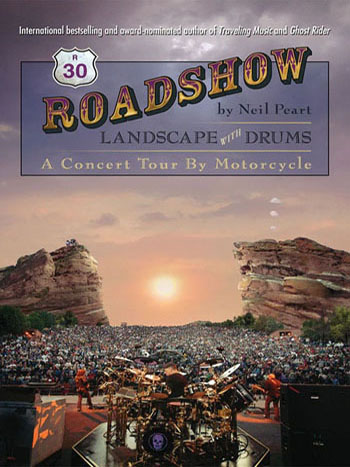 Roadshow: Landscape with Drums: A Concert Tour by Motorcycle (2006)
In 2004 Rush embarked on its 30th-anniversary R30 tour, and Peart traveled between shows by motorcycle, chronicling his journey and delivering with a sharp eye and great care almost everything you'd want to know as a fan of the band. Roadshow acts as a behind-the-scenes memoir, and as a travelogue, and it details the challenges of big-time rock touring. No, Peart didn't like touring. No, he didn't really love meeting fans. He certainly didn't want to see us air-drum to "Tom Sawyer" if we met him at a diner. But his reflections are always touching and poignant, and we get an inside look at Peart's constant strive for perfection. It might sound perfect to you, out there in section 300, but it's interesting to read how critical the man behind the kit is of himself.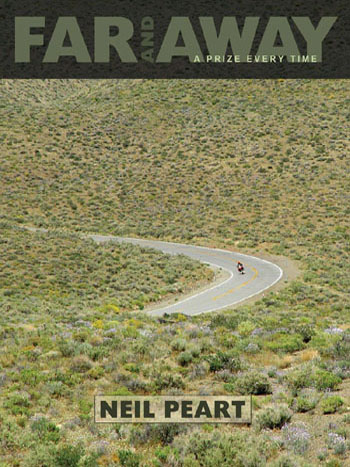 Far and Away: A Prize Every Time (2011)
Following in the tradition of Ghost Rider and Traveling Music, the twenty-two "open letter"-format stories making up Far and Away originally appeared as blog posts on Peart's website, NeilPeart.net. He shares his experiences as he travels along the back roads of North America, Europe, and South America, in journeys that span almost four years. There are observations about nature, the birth of his daughter, and learning from Freddie Gruber and Peter Erskine.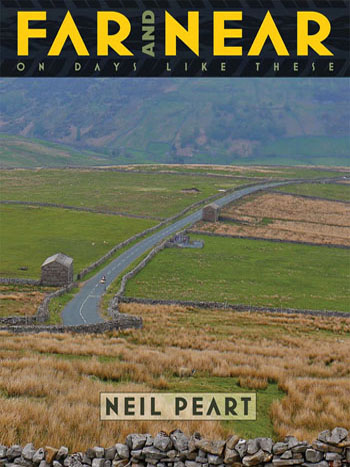 Far and Near: On Days Like These (2014)
More stories gathered from Peart's website. In this second volume of a trilogy of books, the voice in Far and Near "still aims at the feeling that someone you know took the time and care to write the best letter he could-to share his life, work, and travels." Peart writes of outdoor life, receiving honors, and drumming, drumming, drumming. Another look into the inner workings of Peart's ever-inquisitive mind.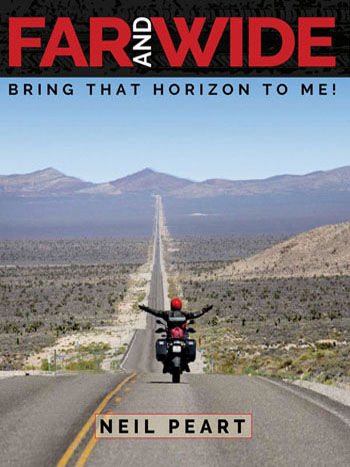 Far and Wide: Bring That Horizon to Me! (2016)
The third and final book in the trilogy follows the R40 tour, Rush's last, and Peart reflects on five decades of drumming with an eye on the finish line. There's more insightfulness and humor sprinkled throughout, and even before Peart's retirement from touring and subsequent untimely death in 2020, there was a definitive sense of closure to the book. The last chapter ends with the band's final bow after their final song of their final show. Collectively, all of Peart's travel books are really an Odyssey. He's our Ulysses, and we were along for the ride.
---
Remembering Neil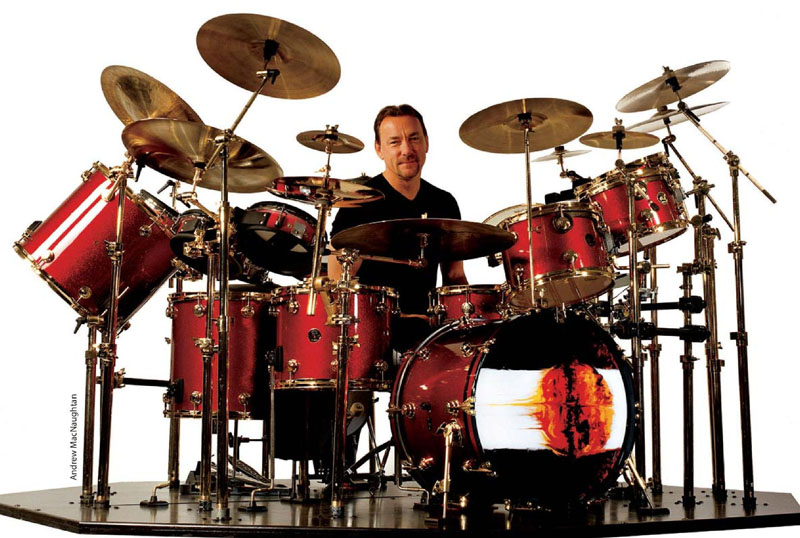 To truly have your own voice on an instrument is one of the greatest achievements a musician can have, and Neil Peart had just that. He also had his own voice as an author and lyricist who was a master storyteller, an architect of dreams, a teacher, a sage, an explorer-and I think the outpouring of grief that was experienced at the news of his passing went beyond just the loss of a fellow drummer. We "knew" him through his written words, whether it be from the music or his non-fiction work. The loss of his person was felt on a profound level. He inspired millions as a wordsmith extraordinaire, and his playing "just sounded cool." And by that I mean, you can't just decide to be cool. Cool is. Or it isn't. And his playing was cool and spoke to musicians and the layman alike. The Rush records were always mixed with the drums equal in the blend-you never had to listen while squinting from the edge of your seat to decipher what he was doing through a cacophony of reverb or a wall of other instruments. His playing, like it or not, spoke with the clarity of his written words.
I only met him once. We were working right next to each other at Ocean Way in Los Angeles. He was recording the "Hockey Night in Canada" theme and I was recording with Brian Wilson on his Gershwin record. Sabian's Chris Stankee pulled me next door to meet him, and there was a full big band and a film crew, along with the actual Stanley Cup trophy. I found him to be kind, engaging, and warm. After a while he was asking me all the questions in our conversation-about what I was doing, what it was like working with Brian Wilson, and whatever else was coming up in my schedule.
One of the definitions of the word "gentleman" is someone who makes you feel at ease, accepted, and in good company. Neil was a gentleman indeed. I wish I would have had the chance for another encounter with him, but I'm grateful for the lovely one that I had. I wish he would have been able to enjoy his retirement, especially after living through such unimaginable tragedy. He was an important figure during my school years in real time '76 to '82, basically 2112 through Signals. Moving Pictures and Signals can catapult me back to junior high school in my mind more powerfully than a photograph. I think many of us feel that way, and his contributions to music and literature will live within us all.
Todd Sucherman (Styx, sessions)
---
The first big concert I ever attended was Rush during their Roll the Bones tour. It was the first time I saw a band in an arena, and it was the first time I ever saw a live drum solo. Needless to say, it blew me away. It sparked a lifelong flame that I've carried through my career to this day. Neil was one of my absolute biggest influences, and his drumming inspired so much of how I've developed as a drummer. He was and will always be a pillar of this fantastic drumming community for countless reasons. But one specific reason in my mind is that he was and will always be at the center of so many conversations between drummers-and non-drummers-of all ages, all skill levels, and all styles of music. He brought people together because of drumming and helped them fall in love with this incredible instrument. Neil Peart was the "gateway drummer" for me and many others, and he'll continue to be that kind of legend for the rest of time.
Matt Halpern (Periphery)
---
My first concert was Rush at the Cow Palace in San Francisco, 1980, on the Permanent Waves tour. I was twelve. My older brother had first played me 2112 and A Farewell to Kings when I was ten. It was "Xanadu" that got its hooks in me first. Neil's multi-percussion sound world and his effortless odd time signatures fascinated me. It was so cinematic. His lyrics were the script. Lying on the floor listening to it in the dark or staring at the gatefold sleeves had a profound impact on my life that I would only come to realize much later, when I transitioned from being a drummer in a band, living in the limelight, to being a film composer. Once-mystical devices like the vibraslap, crotales, temple blocks, orchestra chimes, and tubular bells now play an everyday role in my film music.
As a high school sophomore, I was given an English assignment to write and send a business letter to any business that interested me. Since the only business I cared about was drumming, I wrote to Neil Peart and sent it in care of Modern Drummer. I wasn't expecting a reply, but there in my mailbox right around Christmas vacation 1982, roughly nine months later, a postcard from Neil arrived. I couldn't believe it! I stood by the mailbox in disbelief, reading and rereading Neil's handwritten responses to my questions. I must have read it a hundred times that day. I promptly wrote him back, and again nine months or so later he replied with another handwritten postcard! In both incidences Neil stressed to find and be myself. To "try and do everything, and find out what you do best!" Obviously, based on my questions, I was trying to imitate him. I was fourteen and had no idea who I was. I wanted to sound like him, but it hit me and it stuck, perhaps because he underlined the word "you." It may have taken me a while to find my own voice (still in progress), and I certainly borrowed from Neil along the way, but that was the best career advice I was ever given. I have never forgotten it. I pass it along to any hungry musician that asks me for advice.
The inspiration, compassion, and personal encouragement that Neil so graciously gave to a fourteen-year-old kid from rural Northern California has helped fuel my passion for music and quest for originality to this day.
Thank you, Neil Peart. You will forever be in my heart, in my hands, in my feet, and in my ears. Rest in peace.
Brian Reitzell (film composer, percussionist)
---
My world changed the day I heard Neil for the first time. My cousin played Exit...Stage Left for me when I was twelve or so, and when I heard the drum solo on "YYZ" my wheels turned so hard that it felt like my brain melted on the spot. I wanted to sound like Neil. I wanted to play the same drumset like Neil. I wanted to be Neil. I know I'm the norm rather than the exception, as Rush left their indelible mark on so many fans and musicians through the years-especially drummers-because of their talent, originality, and world-class musicianship.
It was hard for me to get out of my Rush/Neil phase. I couldn't get enough of the music and the drumming. My playing has changed and evolved a lot through the years, but I still find myself channeling his wit, smarts, and compositional skills on the kit. He left me a huge gift, and I will forever be thankful for it. He might be gone, but he's surely not forgotten.
Antonio Sánchez (Migration/Bad Hombre)
---
In 1981 I was a brand-new drummer. My ears were searching for inspiration. I had heard "The Spirit of Radio," but it was still a bit of an underground thing here in L.A. Seemingly out of nowhere Moving Pictures dropped, and like most drummers I was flabbergasted. Brave, technically challenging, musically beautiful, sonically delightful, this record changed the game. I was already a fan of Phil Collins, so odd meter wasn't new, but this was different. It felt comfortable. Every day in the bedroom, testing my mother's patience, I worked on "YYZ," "Tom Sawyer," "Red Barchetta," and "Limelight." Not sure why I needed to know these songs, but determined all the same. Then one day I was asked, almost forced, to play at my junior-high talent show. I accepted, but it's as if my classmates chose the song. It had to be "Tom Sawyer." If you can play "Tom Sawyer" then you're a pro. Never mind the gigs I was already doing. I was being put to the test. Play it I did, and the kids loved it. There is something about playing in front of your friends that can play games with your nerves.
Neil set the bar so high, it seemed or seems unreachable, but he did it with grace and humility just to give us hope. Now with a career entrenched in the progressive-rock scene, I understand why I had to know those songs. I was in school with the Professor.
Jimmy Keegan (Pattern-Seeking Animals)
---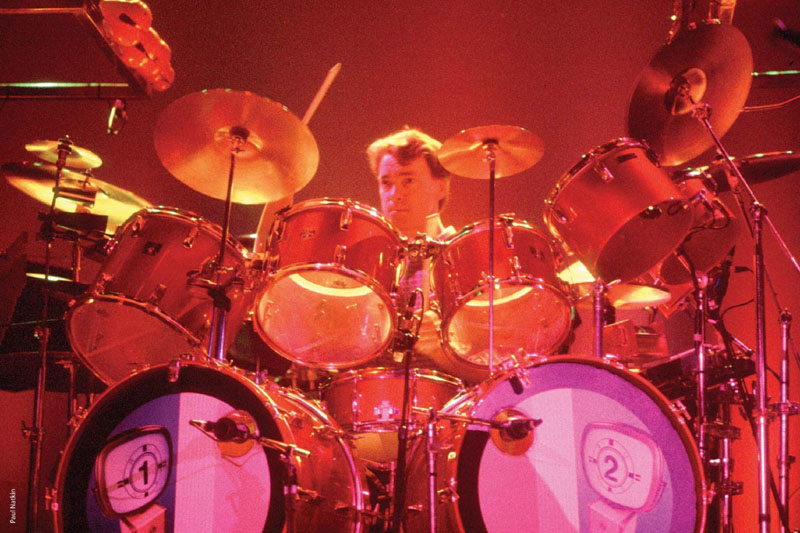 One of my earliest memories is drumming to "Tom Sawyer" on the seats of my mom's car on the way to daycare. Even as an eight-year-old, it was apparent to me that Neil's drumming was something special, powerful. He was the spark that lit a lifelong fire for the drums and music. I'm not alone in this realization. That young boy from Iowa could never have imagined the friendship to come with Neil Peart. He shared his adventures motorcycling, sailing, touring, and drumming. Every day ended with a Macallan and lots of laughter. More than all this, Bubba was there for me when my own dad died of cancer. He brought me In-n-Out after I got creamed on my motorcycle. He'd meet with Make-a-Wish kids in secret, play drums with them, and take them for milkshakes. He was that kind of dude. Extraordinarily kind, even after the universe took everything from him. He left our world a better place than he found it.
The measure of a life is a measure of love and respect,
So hard to earn so easily burned
In the fullness of time,
A garden to nurture and protect
(It's a measure of a life)
The treasure of a life is a measure of love and respect,
The way you live, the gifts that you give
In the fullness of time,
It's the only return that you expect
Neil wrote these lyrics for the last song on the last Rush album. To the last...you measure up, Bubba.
Chris Stankee (director of artist relations, Sabian)
---
During the last three and a half years, Neil faced this aggressive brain cancer bravely, philosophically, and with his customary humor, sometimes light and occasionally dark-all very characteristic of him, even given the serious situation and the odds handed to him at the time of the diagnosis and subsequent surgery. But he fought it.
His tenacious approach to life served him well during these last years, and although he primarily kept his own counsel, he retained his dignity, warmth, compassion, understanding, and generous, deeply inquisitive nature, which never deserted him. He was cogent right up until the end, and miraculously, he really had no pain-a blessing for which we were all profoundly grateful.
The outpouring of love, respect, and appreciation from every imaginable quarter for this beautiful man and extraordinary, singular talent, graced with a mind like no one I have ever met, is touching beyond words. To those that had to guard and hold onto this information closely for three and a half years, for obvious and protective reasons-his wife, Carrie, daughter, Olivia, his loving family, bandmates, friends, and colleagues-they have my undying admiration.
Apart from his deeply gifted, genius talent and prolific output, which he brilliantly displayed through music, lyric, and prose writing, and that staggering storehouse of knowledge across an array of subjects in multiple fields, he remained a kind, gentle, considerate, and modest soul and a consummate gentleman. I think I speak for all, known and unknown to him, to say he will be deeply missed, eternally loved, appreciated, and remembered for his many invaluable contributions to music, art, and the written word. Those will be forever celebrated.
Thank you, my dear friend, for passing this way. We are all richer for your presence and light in our lives.
Doane Perry
---
It's extremely hard to put into words exactly how much Neil Peart meant to me as a fan, a drummer, and lastly a friend. It's even harder now, as I write this on the heels of yet another stellar drummer, major NP fan, and good friend Sean Reinert's passing, one week after Neil's. So this piece is written also with Sean in mind, because Sean influenced tons of up-and-coming metal drummers, the way Neil touched us as players a few decades prior. And both men were stellar human beings and kind souls who I miss very much as I type this, trying to hold the tears back.
Neil Peart is my favorite drummer and always will be, and my first-ever contact with him was when I wrote him a fan letter in care of Modern Drummer back in 1985, which was a kind of secret way to contact the ever elusive NP that some of us heard about as kids in the '80s. I was lucky; he got my letter and returned a postcard packed with all the answers to my questions, and he wished me "all the best." The fifteen-year-old kid sat in his driveway-actually it's still my driveway-looking at "the Golden Ticket": "Oh, I can't wait to show all the drummers in band tomorrow," I gloated, and boy did I. That postcard sat on my dresser for about three years before I went off to Berklee, and I sealed it in a photo album for preservation.
Many years later, after I became a "known" drummer, I had mentioned to drum tech Lorne Wheaton at a NAMM party in 2006 or 2007 that I would really love to meet his boss, if it was at all possible, and he told me, "Next time we come through, text me. Don't worry, he knows who you are." "What! Neil knows who I am?" "Yes, dude, trust me, he knows who you are!" I was floating on air just knowing the fact that maybe I might have been on his radar. The next time Rush came through town, thanks to Lorne and Rob and Paul from Hudson Music, I was in the dressing room, with my wife, shaking hands with "The Professor." (Here come those tears....)
It was the moment I'd waited my entire life for. Mike Portnoy had told me a few hours prior, "Don't talk about drums unless he does first," but I knew this very important tidbit of info going into the meeting. So did Neil talk about drums? Not only did he talk about drums, he showed me what he was working on with Peter Erskine at the time on his practice kit. This is when he's supposed to be warming up, but no, he's taking that precious time before his show to show me what he's working on. Blew my mind, still does just talking about it. After that I pulled out my Slingerland Artist model snare for him to sign, and he goes, "I used to play one just like this." "Yes, sir, I know, that's why I have one!"
It was one of the greatest days of my life, and every tour after that he always took care of me with tickets and passes for any show I could make it to. Even when I was on the road, he would extend the invite down to my wife and family. I was now in the "inner circle."
On another tour, we sat in his dressing room discussing his book Road Show and the death of Dimebag Darrell from Pantera, whom he writes about in that book. Neil never knew that I was on that tour with Dime and Vinnie up until a day prior to the shooting, and he knew how much talking about this was kind of upsetting to me, because obviously he knew I might not be sitting there talking to him if that had happened a day or two prior. He put his giant hand on my shoulder and said, "Let's talk about something else." He knew he'd struck a nerve, and he wanted our meeting to be a happy one. I told him I was very happy he wrote about my friend, and I told him how much his friendship meant to me. I never once said to him, "Dude, you're my favorite drummer." I didn't have to. When we left him to do his warm-ups, I thanked him as usual, went to shake his hand, and then he brought me in for the "Bubba hug."
The last time I spoke with him was over the summer. Michael (Neil's longtime right hand man) had called me to ask a few questions about something, and I said, "Hey, is Bubba with you?" and he goes, 'Yeah. he's in the other room." I just told him, "Give him a hug for me." A few minutes later the text "big hug back" came in. That's how I want to remember my hero-not because he was one of the greatest ever to pick up sticks, but because he was a genuine, awesome guy.
Jason Bittner (Overkill, Shadows Fall)
---
I can't think of a drummer that had a bigger influence on me than Neil Peart. As a kid I was fascinated by his equipment and setup onstage. Of course my first drumset had to be red as well; that was the color that Neil's drums were. I strived to make my kit bigger and bigger, until I actually had to routinely schlep my drums to rehearsals and shows. At that point my kit got smaller and smaller.
If I think about the thing that I learned the most from Neil, it was that the drums were a compositional element. The drum part mattered as much as any of the other instruments. But it didn't hold that weight automatically; you had to make it count. There was a heavy responsibility on the player to hear that call and then meet the challenge of making your part worthy of the music you were contributing to. Neil reminded us that we are not the "time keepers," we are songwriters. We just happen to be sitting in back, behind the drums, when we compose.
Chris Prescott (Pinback)
---
A good friend in high school named Mark Casey once gifted me every Rush album (on vinyl) from Rush to A Show of Hands. That's fifteen records! At the time, Mark and I were in a punk-rock band together, but he said, "I see that you're getting serious about the drums. Check this guy out!" The songs were fascinatingly long, and complex, with multiple time signatures. But still, everything made sense. Neil Peart's drum parts were remarkably well thought out. The sounds were crisp. The patterns were super creative. Then I got a chance to see the band live on the Presto tour. Neil pulled off every single note without a hiccup. And as I looked around, I found myself sitting in an arena filled with fans air-drumming all the signature fills, accents, and breaks.
Shall we take a moment to talk about Neil's lyric writing? Unique and intelligent! For a teenage listener trying to find his or her way in life, "Subdivisions," "Freewill," and "The Spirit of Radio" were such thoughtful masterpieces.
Although Neil and I endorsed many of the same drum/cymbal/head companies, I regretfully never got to know him. I always felt an urge to respect his privacy, which I was told was an essential part of him. But from what I've been told by close colleagues, Neil was one of the kindest, most humble people in our drumming community. He was also a total legend. While we strive to make ripples in the world of music, Neil Peart was a massive shockwave. Thank you for everything, Neil.
Brendan Buckley (Shakira, Perry Farrell, Tegan & Sara)
---
There are two events in my life that led me to choose drumming as a career. First, seeing Gregg Bissonette give a drum clinic in January of 1989, and second, seeing Rush on the Presto tour on June 22, 1990. I will never forget the feeling that these two events gave me at twelve and fourteen years old. They were both overwhelming experiences, and I remember after both saying to myself, "That's it. I want to do that for the rest of my life. I want to be those guys." The Rush show sealed the deal for me.
I became completely obsessed with Rush, learning every note of every tape, wallpapering my room with posters, getting all of the tour books, pins, and patches, constantly writing down all of the albums in chronological order anywhere I could-usually on friends' notebooks. To me there is absolutely nothing in the world like seeing them live. (I got into Frank Zappa around the same time, but sadly, was never able to see him live.) I was lucky enough to see Rush live twenty-four times, and each one was a truly magical experience. I get goosebumps even thinking about going to see them.
Like so many others, Neil's influence runs deep to the core of who I am. I would not have become a professional musician if it were not for Neil's profound influence on me. Which means I would not have gone to Indiana University, where I studied music. Which means I would not have met my wife, possibly not become a father, and probably not live in Los Angeles. My life revolved around Rush and Frank. RIP, Neil, and my deepest condolences to his family and friends.
Ryan Brown (Dweezil Zappa)
---
Neil changed the world of drumming forever. What an amazing player; what a fantastic band. He was a good friend and an incredible man. We used to play double drums at my house, and I remember asking him one day, "What do you feel like jammin' on today?" He replied, "Can we just focus on playing in 3/4?" So, we played tunes that were jazz waltzes in all the tempos we could think of, and we traded and had a blast expanding vocabulary in 3/4. He was always wanting to push himself and further his knowledge...he had such a strong passion for playing drums.
Even though he had never met my dad, Bud Bissonette, Neil showed up at his memorial service because he knew we had such a close father/son relationship. That always meant the world to me. That's the kind of guy Neil was. Neil was a wonderful human.
Gregg Bissonette (Ringo Starr & His All-Starr Band)
---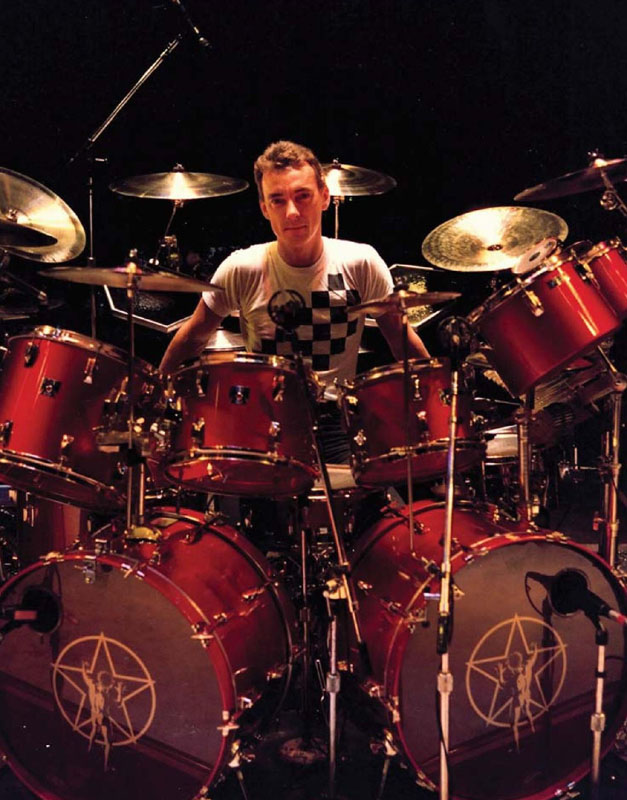 I did not anticipate the depth with which the news of Neil Peart's passing would affect me so profoundly. I met Neil in 1985, when the Steve Morse Band was invited to tour with Rush during the band's Power Windows tour.
Throughout my life, I have met quite a few incredibly talented individuals. However, Neil-his musical prowess being a given-was of a different ilk; a breed of human being whose talents, skills, abilities, and passions spanned a vast and varied spectrum that at times, to me, appeared beyond comprehension. Drummer, lyricist, author, philosopher, bicyclist, motorcyclist, cross-country skier, sailor, mountain climber were all part of his mantra of living life to its fullest. To choose just one of these endeavors, Neil didn't just hop on his bicycle for a thirty-minute cardio workout; on the '85/'86 Power Windows tour, if the next gig was within 150 miles, he would wake up at the crack of dawn and ride his bicycle for upwards of eight hours. And on a three-week break in the tour, he flew halfway around the world to ride his bike through remote parts of China for three weeks, only to return home to create one of his first literary works, chronicling this lifechanging journey.
Neil Peart should be an inspiration to us all, constantly reminding us just how precious life is, and how limitless the number of incredible experiences and challenges await us if we so choose. To know him only as the drummer and lyricist of Rush-an amazing accomplishment in and of itself-is to barely scratch the surface of this brilliant, driven, curious, multifaceted, genuine man. I am forever thankful for having had the opportunity to know Neil and to be eternally inspired by his passion and zest for life.
Rod Morgenstein (Winger, Dixie Dregs)
---
I heard 2112 or All the World's a Stage at a friend's house, in his basement, and I was immediately drawn to his turntable. I remember sticking my head between the speakers and being transformed to this totally different place of drumming, of music-just a different musical landscape. At the time, I was playing in bands and taking drum lessons, and at the school that I was in they would put together different bands, and I was in a band with these teenage kids, playing Ventures and Beatles covers, nothing too challenging. But as I discovered different drumming and styles, I immediately adapted to that way. So when Neil entered my life, I started what I would call my drumming vocabulary. It expanded because of him. Things that I would call drum hooks...when Neil played "The Spirit of Radio," I remember listening to the beginning section and how he and Geddy entered the song, and thought it was the greatest thing I'd ever heard. This was drumming that I'd never heard before. And for me, on every Rush album he totally took it up again. Take a song like "Freewill" [from Permanent Waves]. Man, the drumming on that, it's just beautiful the way he approaches it. Each verse, each chorus, he totally mapped it out for the drummer listening. And then you take the next album, which was Moving Pictures, where he totally stepped it up again, and probably created air drumming on that record with "Tom Sawyer." When that fill comes, it's like, What the hell? And he sticks in this cymbal crash in between the tom fill that was just totally unexpected. It's just beautiful. To this day I'm still inspired by Neil, by Rush. His passing hit me the hardest. He is, to me, the greatest.
Charlie Benante (Anthrax)
---
In 1993 Neil Peart called me to play on Burning for Buddy, an album and video project he produced that was a tribute to Buddy Rich. We had both played with the Buddy Rich Big Band in 1991 at a concert in New York City. It is well documented how Neil decided to follow that up with a larger project based on Buddy Rich's legacy.
During the Burning for Buddy sessions Neil approached me and very politely asked me what I had done to improve my drumming so much since we first met in 1985, when we both played on bassist Jeff Berlin's first solo album, Champion. I replied, "I've been studying with Freddie Gruber," who I considered my drum guru. Neil immediately wanted to meet Freddie. Shortly after, I introduced them to each other, and they hit it off famously. Neil took his lessons with Freddie very seriously, and he and Freddie became fast friends.
I saw Rush live a number of times and was always blown away by the band, the music, the presentation, and Neil's creative and compositional drumming. When Neil retired from touring in 2015, I was moved to tears when I read his Modern Drummer interview and how drumming had taken such a toll on his body. I'm sure it had to have been difficult to make that decision-to walk away when he did.
I knew Neil as a man of great humility, intelligence, and humor. His drumming has inspired generations and I'm sure will continue to inspire and inform drummers of the future. I am grateful to have known Neil Peart. He is already missed.
Steve Smith (Journey, Vital Information)
---
I sadly never got to meet Neil. In the late '80s, early '90s Neil would fly out Freddie Gruber from California to New York City and pay him crazy money to spend a week with him to work on drum things. During a few of those one-week visits Freddie would call me and ask if I was playing in town because he wanted to bring Neil down. The timing never worked. Sadly, I was either on the road or not working in New York that week.
Freddie and Neil loved each other. He would always talk about how much Neil loved jazz. That wasn't hard to believe, because while Neil played mostly rock language, it was obvious that he thought like a jazz musician, because he spent so much time going beyond just playing a beat with typical fills. Neil was always taking every section of a tune and arranging the concept and musical decisions and choosing atypical grooves and fills for the constantly moving and changing sections of Rush's music. I know from talking to many of Neil's friends, like Freddie, Terry Bozzio, Don Lombardi, and others, that he was, with all his success and status, a completely humble and sweet guy who loved everybody and had so much respect and love for music and musicians of every style. I will always wish that the timing had worked out, because I am sure it would have been a time I would have always remembered.
Much love, Neil.
Gerry Gibbs
---
I bought Moving Pictures in 1980, after hearing "Limelight" on the radio. Neil's entrance to this song alone was worth the price of the record. The songs were like no other rock songs that I'd heard. The clean, fat sound of the recording was as appealing as the songs themselves. And Neil's playing was infused with an intoxicating combination of sophistication, impeccable execution, and a decidedly rockin' feel. Neil Peart and Rush changed rock music forever. No band that I know of, before or since, has created such sophisticated and literary yet visceral and anthemic rock music.
Dave DiCenso (independent, Josh Groban)
---
Neil Peart was to my generation what Ringo Starr was to the previous one. He influenced countless people to play the drums, setting the bar incredibly high. Many of us would race home from school to learn his parts and play along with Rush records.
In addition to the incredible drumming and lyrics, I've always had great admiration and respect for his quest to improve. When Neil began studying with Freddie Gruber in the early to mid '90s, he'd already been inducted to the Modern Drummer Hall of Fame and would easily go down as one of the greats, even if he never touched a stick again. He later took lessons with Peter Erskine. As an educator, what a wonderful thing for me to present this to students as inspiration. Never stop growing.
Much has been made about his privacy over the years. I never considered that as something negative. I feel it helped to provide much introspection and contemplation that led to his fantastic lyrics. He also expressed himself vehemently in his books.
I had the opportunity to sit behind his kit during the Snakes and Arrows tour. A buddy of mine was good friends with Rush's monitor engineer, and we were there for soundcheck, etc. There's a scene in the movie Field of Dreams where James Earl Jones has the opportunity to go into the field where all of the baseball players came from. He first approaches the field with giddy hesitancy because it's a sacred place. That's how I felt when climbing into Neil's space. I never felt that way sitting behind anyone else's drumset. There was mystery, greatness, history-just like him.
Resilient. Craftsman. Renaissance man. Macallan. Author. Father. These are some of the ways I will remember him. RIP, Professor.
Jeremy Hummel (Into the Spin, DrumTip)
---
Neil Peart's passing creates a vacuum in the drumming community. We have lost one of the greatest minds of our instrument; a genius that inspired so many to go forward, to push the limits of one's creativity, to not settle for average.
I can safely say that if it weren't for Neil, I would not have even begun to play drums. He was my very first inspiration, the type of inspiration that makes a fifteen-year-old kid in Brazil who just listened to Moving Pictures for the very first time go crazy imagining what can be done on this incredible instrument we are lucky to play. So many musicians nowadays have him to thank for.
Neil also gifted us with a different, fascinating side of his personality when writing lyrics for Rush, and in his books, where we get a view into his motorcycle adventures. If that weren't enough, one can also draw endless inspiration from his resilient personality while going through some of life's most traumatic moments, such as the loss of a wife and daughter.
I perfectly remember being in the first row at Maracanã Stadium in Rio de Janeiro, watching their Rush in Rio performance in the early 2000s. That moment marked me forever, and I never looked back. A few years later, I made a move to the U.S. to pursue music full time, a lot of it fueled by Neil and how humble and hardworking he was. Thank you, Neil, for all that you did. Heaven is much richer now. Rest in peace.
Bruno Esrubilsky (Mitski, independent)
---
Like so many other preteen, misfit drummers "living on the fringes of the city" during the 1970s and '80s, I idolized Neil Peart. Every other kid like me felt the same way, and we constantly compared notes: "Can you play 'Tom Sawyer' yet?"..."Which is your favorite Neil solo, 'Working Man' or 'YYZ'?"...etc.
But he meant so much more than that in retrospect. Our fascination with Rush music and Neil's unique drumming kept us out of trouble and focused on emulating him in every way, trying to nail his fills, and even analyzing his lyrics. He brought so much joy, diligence, ambition, motivation, and musical/rhythmic curiosity to young, aspiring drummers. When I think about it now, copying his parts perfectly was never the most important, impossible goal that I made it out to be then. The process of trying sparked my own ideas and was of even greater value. I became my own drummer while trying to become him!
I know I'm not alone with that sentiment, and that's a beautiful legacy. Rest in peace, Master Neil.
Bob D'Amico (Sebadoh, the Fiery Furnaces)
---
What can I say about Neil Peart's drumming that hasn't been said yet? A groundbreaking, massively influential, outstanding, virtuosic, contemporary, inspirational prog-rock master at the top of his work! No question, and maximum respect for that-but to me personally he was much more than that. Any time I've listened to his interviews, that incredibly intelligent, reserved appearance, the choice of words, the kindness, modesty, message, humorous storytelling, and kind personality mesmerized me. He made me feel proud to be a drummer! Through my super-intelligent late father-who was a lawyer-I've always been a great fan of literature, and Neil, as the lyricist of Rush, has truly been the master of words as well as the drums-my two favorite things on planet Earth!
The other thing that greatly resonated with me over twenty years ago was the fact that someone of his caliber, career, fame, fortune, and reputation started taking drum lessons from drum guru Freddie Gruber in L.A. This kind of respect, "eagerness to learn" attitude, hunger for knowledge, modesty, and dedication to the art form of drumming is something that'll forever inspire me, and I believe this is truly something we can all learn from. This inspiration to me personally means much more than trying to learn or copy his drum beats, licks, and grooves. Thank you, Professor. May you rest in peace.
Gabor "Gabs" Dornyei (independent)
---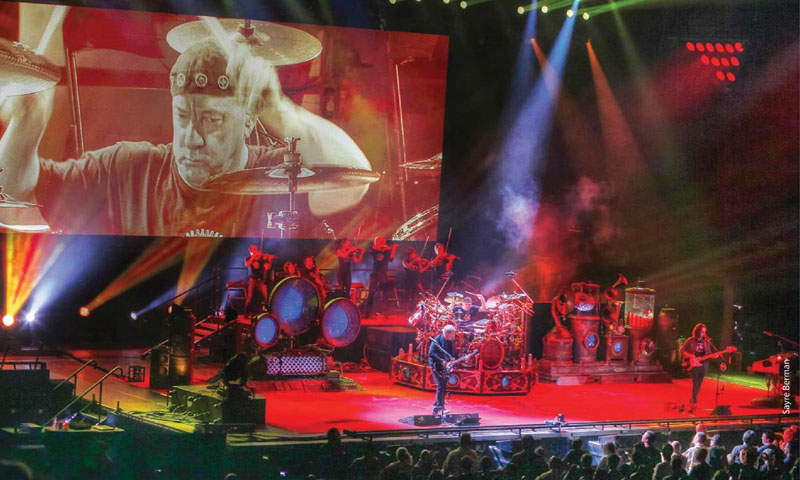 Shortly after I began my association with DW (which lasted from 2006 to 2015), Don Lombardi-the founder of DW as well as the Drum Channel-put me in touch with Neil Peart. Neil, who had been studying with Freddie Gruber, was looking for a jazz drumming mentor who could help him with some specific things related to an upcoming Buddy Rich Memorial Concert performance (which took place in 2008). Neil was not the first rock drummer to come knocking on my door by way of Oxnard (the home of DW), but he was certainly the most serious as well as the most famous. He was ready to get to work.
I treated Neil in pretty much the same way I would treat any student, allowing for his schedule to determine the frequency of our get-togethers but not allowing anything about his fame to get in the way of his learning. And he brought only humility plus keen attention to our first and every subsequent lesson. He wanted me to show him some things and I happily obliged.
Neil was very self-aware and knew that the relatively limited instruction he received during his formative years (limited in the sense that he began working well before he'd had an opportunity to do something like study at a conservatory...then again, how many rock drummers study at a conservatory? Quiet down and that will be enough from you for now, Mr. Aronoff ) did not provide him with the same set of tools that his drumming heroes Gene Krupa and Buddy Rich enjoyed. As I understood it, Neil was self-taught for the most part, and he did not spend much time in the jazz universe.
Neil's homework consisted primarily of listening to recordings I had chosen for him and then practicing the hi-hat. As he was getting ready to go out on tour with Rush, I asked him what his backstage warm-up set consisted of: Was it an entire drumset? ("Yes.") A big drumset? ("Yes.") "Well," I said, "your crew's gonna love me...I'm suggesting that you get rid of all of that and just have a drum throne and a hi-hat so you can really focus on this. Okay, a practice pad, too." I'm not sure that he followed my advice on that, but he did spend a lot of time working on his hi-hat technique...not for anything fancy, just to get better-acquainted with the art and feel of opening the hat a bit just before the swung 8th note would be played. His years of not playing jazz pretty much solidified his habit of opening up the hat for beats 1 and 3, a kind of binary rock thing, I guess. To be honest, I am not certain that Neil ever fully "got" the jazz hi-hat thing. What he got, I hope, was the confidence to go out there and have fun playing it. Note: the trial by fire of playing a Buddy Rich chart can be anything but fun. Now, maybe I'm a lousy teacher. But I do know that these lessons (which touched on things other than/in addition to the hi-hat) did manage to open him up to being more in the moment with his drumming. He told me so, and I believe him.
We wrote to each other in bursts of inspired communication, always followed by silence. I so enjoyed our correspondence. I don't want to betray anything that he confided or wrote to me, but the following will reflect the genial tone of our missives to one another:
November 5, 2009, 3:43 A.M.
Hello Peter,

I hope all's well with you and Mutsy.
I have just posted a new story on neilpeart.net with some thoughts on drumming I hope you might appreciate.
Hope to see you sometime soon!

NEP
The link to the piece is not active now, but I recall that he recounted our lessons in some detail and was very generous with his kind mention and praise of me. It was titled "Autumn Serenade."
I replied:
You're a good man, Neil.
Thank you for that Autumn Serenade.
(in return, a haiku for you, being sent from the delightful city of Helsinki)

Went for a walk here.
The calendar says Autumn.
My ears say "Winter."

Peter
Much has and will be written about Neil. Many drummers will talk about the influence he had upon their drumming. Neil had a very big influence on me, but it was not so much related to my drumming. It was more of a life thing. I'm improvising here, kindly bear with me....
Neil enjoyed great fame and adulation. He worked tremendously hard to achieve all of that. Neil reveled in the work process and did not take a moment of it for granted. How many of us can play an extended solo piece-in the midst of a mind-bendingly complex series of songs where intricacies abound, most of them at full throttle-and not only hold the attention of a stadium full of people but thrill them as well? I know that I can't. Yet, he filled his days with the reading of books and devouring thousands of miles on the open road with his motorcycle. I guess that, in the process of testing himself, he wanted to learn how much a man can explore and endure. He experienced and he lived life, and he knew that the only meaningful way to do that was to do it. To put in the work. To set out.
And, thanks to meeting him, he indirectly encouraged me to emulate his fearlessness of experience. For me, it was with a word processor and a camera, not a hi-hat or a Harley-Davidson. He encouraged me to express myself on the page. I'm enjoying the journey. I wrote a book (No Beethoven), and he penned a gracious quote for the back of the book. Thanks for that and more, Neil.
As you might imagine, I think of him often. His death came far too soon. His work and his inspiration will live on.
Peter Erskine
---
As an exponent of reggae music, I have always been paying close attention to the pioneers of the genre. However, after in-depth research, Neil Peart made me realize that I had to think out of the box, and that there is much more to learn. His approach was not just a mere, "set up, play for a few hours, get paid, leave, and repeat the routine tomorrow." No! It was in fact a lifestyle for him.
Neil viewed the drums as much more than an instrument. He had a dream kit, a setup that blew everyone's mind. That's where I'd say the term "office" was derived. His methodology of drumming was conversational rather than a monologue. He engaged his audience and gave them an experience. By himself he was a complete band; however, this does not take away from the fact that he complements the band immaculately and his fellow musicians are just as present. He took the risk of reinventing himself after thirty years, when many would have gotten complacent. It was an indication that no matter your level, you should never stop learning, and that there are endless opportunities to become a better you.
Certainly he has impacted the lives of drummers with confidence around the kit. Additionally as drummers we are not shadows; we represent the backbone. Another lesson is that there is an area for all, from the simplest of drummers to the "beasts."
Neil, I will continue to engage my audience and value them for turning up for the experience. I will not be confined by the rules but rather think out of the proverbial box. I will continue to reinvent myself. Thanks for sharing your gift with the world. You have certainly left an indelible mark.
Courtney "Bam" Diedrick (Damian Marley, Playing for Change, I-Taweh)
---
Just the fact that Neil Peart appeared on more covers of Modern Drummer than any other drummer shows his importance in the drumming community. I have never seen such commotion in the media and on social media-all musicians and bands, without exception, were in shock with his sudden departure. He definitely set a new standard of excellence for decades to come, and all drummers, no matter what their style, respect everything he has done for our class. He will always be a unanimous favorite among us.
His work continually evolved over each of Rush's albums and has influenced at least four generations-and he will undoubtedly continue to be admired. What always caught my attention was his construction of groove patterns. Each time he repeated a part, he would add a new layer, progressing the original idea with an added variation-this was a very strong and clear element of his style.
Countless times, he reinvented himself with new musical concepts, too. Right in the middle of a successful career, he returned to study with Freddie Gruber. This showed that everyone, even the greats, can continue to study and learn new things-a lesson in humility from one who never left the top.
All virtuous drummers, at some point in their careers, were influenced by Neil Peart. My own groove construction was based on Neil Peart's style. The best example of that is my "PsychOctopus" drum solo. Immortalized on the 2011 Modern Drummer Festival DVD, it was totally inspired by Neil's solo "The Rhythm Method," from the album A Show of Hands. I have always made a point of making this clear to everyone who listened, and if this solo becomes a classic within my own repertoire, I am forever grateful to the peerless Neil Peart for the inspiration.
Aquiles Priester (Tony MacAlpine, W.A.S.P.)
---
Though I'd heard Rush on my local rock stations, I became convinced of the band's brilliance after the release of their Permanent Waves album. I couldn't put this record to the side, captivated from beginning to end by the production, mix, songs, solos, individual parts, and especially the drums. The release of their follow-up record, Moving Pictures, solidified the band's stamp on my musical consciousness and vocabulary. Only in my early teens at this time, I'd question myself in my approach to all things drumming based on Neil Peart's recordings and interviews.
I had always wondered how Neil got that hi-hat tone, crispness, and explosiveness. Well, in a Modern Drummer interview in the early '80s he mentioned what he used: a 13" Zildjiian Quick Beat top and a 13" New Beat bottom. I got that combo the first chance I got.
He mentioned his stick choice in an interview as well, Promark 747s. The same pair of sticks my father put in my hands when I began drumming. I silently felt proud that Neil preferred this stick, too. I would also later have a similar feeling about us both being DW artists.
Other things that drew me into his playing: His ride work. That playing up on the bell reminded me of the patterns Lloyd Knibb would play with the Skatalites, but applying it to some banging out and sophisticated rock music. And it was clean, articulate, and purposefully placed, like everything else he did.
He'd squeeze in full-on jazz chops in a way that was unlike anyone else at the time. He also sent me on a mission with classical/drum corps style snare work that was well constructed and executed.
Some of the funkiest drummers I know went in on "Tom Sawyer" because the groove was undeniable. "YYZ" was on everybody's list, too. His fills were so tasty that everybody had to learn them all, along with their sequence.
The way he'd play odd time signatures gave me grief, but he made them feel as normal as 4/4.
The fact that he also played the marimba, bells, and other percussion but also wrote mind-expanding lyrics blew my mind.
My brother Norwood Fisher (bassist), Kendall Jones (original guitar player for Fishbone), and I even started our own progressive-rock band. We were super influenced by Rush, and I got to try all of that "what would Neil do?" stuff. Those four-stroke rolls are still one of my go-to licks, among other great things I got from listening so attentively to the work of the great Neil Peart.
Highlight: Standing behind him off stage but with a clear view at a festival in Canada. Educational to say the least. Truly,
Phillip Fisher (Fishbone)
---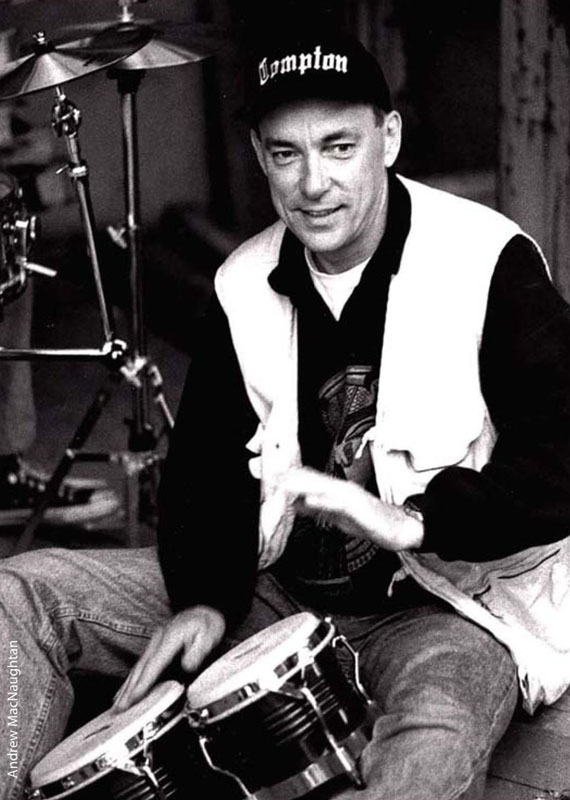 In 1986, someone played me Neil Peart's legendary drum solo on Exit...Stage Left. I was instantly captivated by the energy, musicality, sound, and technique I heard in that solo, and it helped set me on my lifelong drumming journey. I spent much of my time from the age of twelve to seventeen listening to Rush and learning to play Neil's drum parts. This turned out to be a fruitful course of study, helping me in particular to develop a strong sense of four-limb independence, which continues to serve me well as a jazz drummer.
I saw Rush live thirty-three times between 1987 and their final tour in 2015. In concert, Neil had a nearly unparalleled ability to not only play all of his carefully composed parts accurately, but with incredible clarity and projection-every note was crystal clear, even at the back of a giant arena.
I continue to listen to Rush regularly to this day, and I'm always discovering new things in their music. Although I make my living playing music quite different from Rush's, Neil Peart remains my biggest influence and favorite drummer-my number one. Thank you, Neil.
Paul Wells (Curtis Stigers, Vince Giordano)
---
I've long thought that Neil Peart was the Escoffier of the drums. One of the most famous chefs of all time, Auguste Escoffier's approach to French haute cuisine was shaped by his time spent in the military. In Escoffier's "brigade de cuisine" approach, every member of the kitchen staff had a highly curated role and was expected to execute their contribution to each dish with militaristic precision. As a result, when we dine at a high-caliber restaurant in 2020, dishes arrive with consistency and precision, crafted thoughtfully, executed with impeccably high standards.
So too with Neil's drumming. Those larger-than-life, highly air-drummable fills at the end of the guitar solo of "Tom Sawyer"? He played them in London in 1983 exactly the same way that he played them in Concord, New Hampshire, in 1990. That syncopated 16th-note ride cymbal pattern in "Red Barchetta"? Same in Flagstaff, Arizona, in 1987 as in Brazil in 2002. The intro fill in "Limelight" after Alex Lifeson's opening guitar arpeggio? Same in...okay, you get the point.
Consistency. Intentionality. Night. After. Night. Sticking the landings. Landing the stickings. Serving the audience with the highest of quality. The deliberate similitude in Neil's execution was a feature, not a bug. Thank you, Neil.
Mark Stepro (Butch Walker, Brett Dennen)
---
Neil showed us how to make the drums work on every level. His tweaking of sounds, toms, and combining the pads with the drumheads and forming a unique style-he kept always changing with time and being the best drummer he could be at each moment. Today we study his recordings, we watch his videos, and we still learn with every lesson he left behind. To that you add his skills as a writer, and you get a master at his craft. We drummers now are left with this huge library of ideas, styles, and motivation from one of the greats.
Frank Amente (iLe, Baterisma, Calle 13)
---
Neil compared the physicality of drumming to that of an athlete. I think the best athletes are students of the game-constantly observing details and subtleties in order to continue to grow, excel, and stand above the rest. As a drummer and former athlete, I consider Neil a superior student of the game. He pulled inspiration from those musicians he admired and took ideas and execution to levels most of us only dream of achieving. Supremely technical, musical, and creative, his mark on the community is immeasurable.
Dena Tauriello (independent, Broadway's Little Shop of Horrors)
---
Never have I been aware of someone with such a dedication to their craft that, even in his forties, while already considered by many for decades to be one of the absolute best to ever pick up two sticks, he took drum lessons again to expand that craft. For me, that's huge. Not as huge, though, as hearing "Tom Sawyer" on the radio for the first time at age seven and being drawn into the world of Rush and, as a drummer, Neil Peart in particular. I would have to count him more as an inspiration than an influence, because his level was so far beyond anything I have thus far been able to approach. But many, many hours of my life have been spent trying to learn his licks and fills. Every once in a while, someone comes along who changes the game completely, and Neil Peart was one of the few that unquestionably changed the way the instrument that we all love was perceived and approached going forward. Rest in power, Professor!
Kliph Scurlock (Gruff Rhys)
---
As a young drummer I was in awe of Neil Peart's technical prowess and the amount of drums he played-wow! But what resonates most with me is that he was not just the drummer for Rush; he wrote the lyrics and was the driving force of the band. And from what I've heard, he was also an extremely kind person. He elevated drummers as people and demonstrated that they do more than just play amazing fills. They are also intellectual, and he made that cool. What an inspiration for other drummers and musicians. He strived to always be the best he could possibly be and was constantly learning more about drumming.
Kevin March (Guided by Voices)
---
There's something about Rush that drummers tend to gravitate towards. For me it was a way to test and expand my own skills against one of the greats. At some point my taste in music changed considerably, but I was always drawn back to listen to Neil's remarkable drumming. Precise, well-considered, and executed with ferocious intensity, which is clearly a mirror of the kind of person he was. Thank you, Neil.
Ira Elliot (Nada Surf)
---
Neil Peart was a force on the drumkit. As a kid growing up in Baltimore, Rush was played faithfully on the local hard-rock radio station. How did he play like that? I still don't know the answer, but it certainly sounds cool.
Tim Kuhl (solo artist, Margaret Glaspy)
---
Ritualistically playing through Moving Pictures as an eleven-year-old boy introduced me to the musical excitement I'd chase for the rest of my life. Neil invented me. Hitting the last third of "Red Barchetta," feeling like I was in a speeding car, seeing the landscape rush by, it converted me-made me want to be a musician. Thanks, Neil! Much love to you on your way.
Matt Johnson (Jade Bird, St. Vincent, Rufus Wainwright)
---
Neil Peart was such a monumental figure. His knowledge of the instrument was invaluable, and his willingness to share spoke greatly of the kind of individual he was. He will live forever through his musical contributions.
Chaun Horton (Alice Smith/Nate Mercereau)
---
I grew up playing jazz music around my grandfather. At the age of ten, I was introduced to Rush. Neil's drumming captivated me. I didn't realize it at the time, but Neil was the bridge for me between rock drumming and fusion/jazz, where drums are more deeply involved in the song presentation. Many aspects of Neil's playing permeated my musical development: his creation of "contra" melodic ride crown patterns made a second melody to the music; the use of orchestra and electronic tones added to the kit; and Neil's use of crashes in the middle of tom fills. He used these stabbing kick/cymbal punches in a new and deliberate way. After many years of playing, I can still hear where his influence shows up in a way that makes me think about the composition with more reverence. His poetic and lyrical mastery played a huge role in his drumming, connecting drumming with the composition, similar to how jazz drumming uses melody parts. I barely knew the lyrics to the songs I was playing with bands, while Neil was writing all of his!
I met Neil through Freddie Gruber. We were studying with him at the same time. He was a man of precision and diligence, in everything he did. Rush's shows were displays of how to give back to fans, always providing more than what was expected. I was at Neil's second-to-last show on the R40 tour in Irvine, California. It was the best concert I've ever seen and a fitting finale to an amazing career. Neil will rest alongside the greatest to play this instrument. His memory will live on for many reasons, none the least of which is best described as: Excellence. Bravo, Neil! Thank you. RIP.
Russ Miller (Andrea Bocelli, American Idol)
---
Tom Sawyer was just a book by Mark Twain until Neil Peart got ahold of it.
I was in college when Moving Pictures dropped, and after that, in a way, Rush was over for me. I so loved that album. They trimmed their excess, crafting some amazingly memorable songs complete with all the energy and element of surprise that made them Rush. I also distinctly remember the presence of the instruments on that LP. It introduced a new level of high-fidelity to our stereo systems and our ears. It was like being in the room with the band! For me it was their apex. I caught the Moving Pictures tour and was swept into the tribal joy of air-drumming along with Neil Peart in an arena full of the devoted. Big fun!
I think Neil was the harbinger of a new breed of rock drummers not directly influenced by jazz/swing-based music, as were the first generations of rock drummers from the 1950s and 1960s. Besides the jazz/rock fusion of Billy Cobham's work with the Mahavishnu Orchestra, which was undeniably influential in fueling Neil's imagination, jazz was not originally a component of his approach. But, from a different direction, his approach to drumming was as forward thinking as Max Roach's was-putting the drums out front and adding to the vocabulary of the multi-percussion kit. He was able, in the space of the trio setting Rush employed, to create compositional parts beyond beats and-like Elvin did improvisationally with Coltrane-made the drums an equal voice in the music. And, like Buddy Rich, Neil too greatly inspired generations of drummers with his mindful, whirlwind approach to drumming. I couldn't help but notice that Neil passed on January 10, the same day Max Roach was born in 1924. Coincidence? Each possessed formidable imagination, leaving an indelible mark on our instrument and music as a whole. Let's make it a celebration day.
David Stanoch (David Stanoch School of Drumming, Percussive Notes)
---
It's no secret that Neil Peart is one of the most influential drummers and lyricists of all time. You cannot listen to a Rush song and not break a sweat air-drumming to his perfectly calculated parts.
Neil made lead singers want to be drummers, made guitarists want to trade picks for sticks, and inspired everyone to learn his beats note for note. He elevated the game to make drummers strive to get better and be more creative behind the kit. He showed us all how to step outside the box and make the most complicated licks seem so musical and perfect-you can't imagine them played any other way.
We've lost a legend, an innovator, a hero, and an icon. His imagination and creativity brought out the drummer in all of us. Neil's musicianship will continue to inspire generations to come, and his legacy will be untouchable for the rest of time.
RIP Neal Peart
Tucker Rule (Thursday, Frank Iero and the Future Violents)
---
Air-drumming to "Subdivisions" as I type... the first time I read about Neil Peart was in an interview with hero Brad Wilk from the November 1996 issue of Modern Drummer-the year I started playing. Peart's drumming blew me away, with equal parts precision, power, fearlessness, and finesse, and it still had room to deliver joy. Thank you, King Neil. Your compositions, lyrics, discipline, and curiosity will forever inspire my drumming, writing, and productions.
Elliot Jacobson (Ingrid Michaelson, Elle King, sessions)
---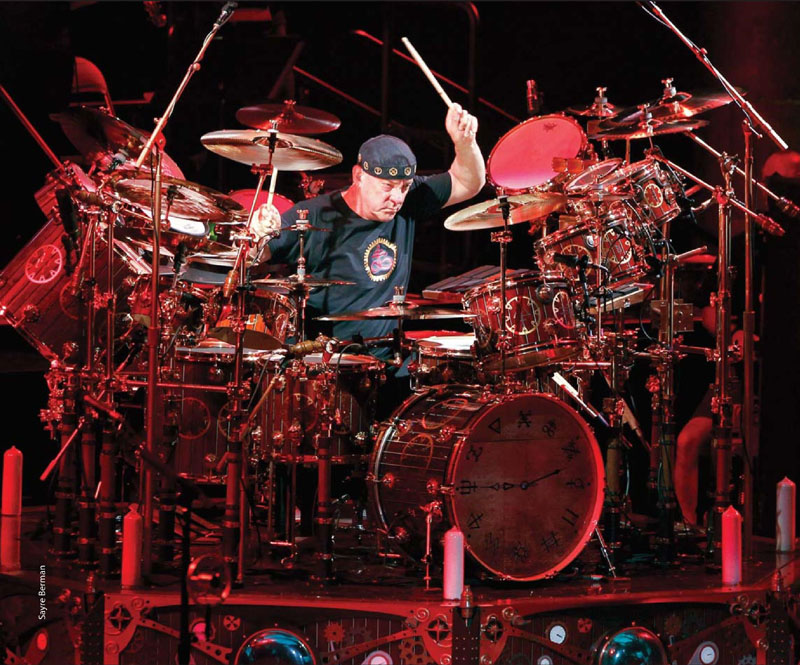 My drumming path was forever changed after hearing my first Rush song-"Tom Sawyer," naturally. That inherent eight-bar drum break is practically a right of passage for a drummer to learn. This was also probably the first time I ever tried to play an odd meter. I was hooked and went out and accrued every album (on cassette or vinyl) I could find. Moreover, my mind was blown when I found out that the drummer wrote all the lyrics. I remember going as far as to pick up a copy of Ayn Rand's The Fountainhead because Peart attributed some of his lyrical content to her philosophical ideas.
The first time I saw Rush play, I couldn't believe that every person as far as I could see was air-drumming along the entire night. Neil's drum parts were always creative, memorable, and melodic. He was always pushing the envelope, from augmenting the timbres of his kit with tubular bells, crotales, woodblocks, and a glockenspiel, to adding a full electronic kit, which would sometimes rotate mid-song at a live show. After an already successful thirty-year career, Neil completely changed the way he physically and mentally approached the drums after taking lessons with Freddie Gruber. His constant search for knowledge, experience, and growth was quite inspiring.
Thank you, Neil.
Joe Tomino (Dub Trio, Birth, Yellowstone Apocalypse)
---
Sometimes you don't choose your influences. Sometimes they choose you. When I was younger, I would name Billy Cobham, Terry Bozzio, Art Blakey, Buddy Rich, and maybe Tony Williams as my influences, but as an autodidact, I could only pretend to play like them. I almost never cited Neil, even though if I were to be honest with myself, I probably sounded more like him than the other gentlemen.
The fact is, for what I was doing at the time, my playing was probably far more informed by Neil than any of my proclaimed heroes. I never owned any Rush albums, but they were in heavy rotation in the record store I worked in as a teen. I also saw them in concert back then, and I knew I was there to see and hear something exceptional.
I remember conversing with Greg Ginn from Black Flag back in the day about Neil. We both dug how he played a terrific chunky groove and gave each note its full value.
I felt for Neil as he dealt with a great deal of adversity and tragedy later in his life. It really hit home for me when his health issues became too much for him to continue. As a drummer, the most athletic of instrumentalists, it has forced me to examine my own limitations and fears as I get older.
Neil Peart did more than affect the way I play; he changed the face of modern rock drumming and bucked the stereotype of the "dumb drummer." I will always be grateful.
Sim Cain (Rollins Band, John Zorn, Dean Ween Group)
---
I was just a wee one when I first heard of Neil Peart.
I didn't know up or down regarding music, but what stands out to me now is that I knew of him before I knew of Rush.
While I flailed around trying to be the next Tony Hawk, I had some friends come by with tapes to put in the boom box. At the same time a kid down the road that did the BMX thing, not the skating thing, got a sweet drumkit from his folks. He was hell bent on learning everything Rush.
"Dude...like...seriously, dude...you gotta check this out."
I didn't start out wanting to play drums. I wanted to play guitar like Dave Mustaine: off the rails and seemingly seconds from death.
At the time good music elicited flight or fight.
Kill or be killed.
Rush didn't quite fit in, but Neil did.
Details sketch a quick picture, but Neil did not.
What the hell are they talking about in their songs? Temples?
That was a bit odd to my skater brain, but it was-and is, and will always be-absolutely impossible to not appreciate the musicianship on all parts.
I never had the pleasure of meeting Neil, and to some extent I'm glad I didn't. I've met many of my heroes, and I cherish those experiences, but there is something to be said about maintaining a hero.
To have not known the band at the time, Neil will always be the man before the band.
Alone he defined and continues to define the drummer's role. His outreach, as described above, is second to none and indefinable. In many ways he challenged me, and in many ways he showed me how.
Thank you, Neil.
Chris Adler
---
I was not prepared for this. Not for how suddenly the news hit-a short bulletin out of the blue on a Friday afternoon. How could this have happened? We were just getting used to the idea of him being retired, adjusting to the fact that there wouldn't be another tour next year. It was trouble enough trying to figure how the drum universe was going to manage without that dependable benchmark against which all else could be measured.
No, I was not prepared for this. Instead, I had been wondering, what's next for him? What will he morph into...as a creative force, as a writer, as a husband, as a father? I was not prepared for the second act to be cut short.
Most of all, I wasn't prepared for how deeply the news would impact me. I can't say I was always the biggest fan. Since I first became aware of him in 1979, there had been periods of infatuation, periods of obsession, and periods where my focus was elsewhere. Over the years and decades, he had come and gone from the forefront of my "drummer's mind." And yet, since 1979, he had always been there-a consistent, continuous, creative force in drumming and music. Saying something important with each record, each book, each DVD. And whether we considered ourselves fans or not, we could all agree that he stood for something-always presenting his art with an integrity as strong as his talent. We could all agree on that, and so we were not prepared when he was suddenly taken from us.
In my book The Ultimate History of Rock 'n' Roll Drumming, I made the case that with the death of John Bonham in 1980, Neil Peart picked up the mantle of "world's greatest" and never really put it down. Like Bonham, Peart's life was the stuff of legend-complete with epic triumphs and horrific tragedies. At the center of it all, however, remained the most normal of men. An intensely private person, one who never cared for spectacle.
And so, as he had handled all that life presented him (both the glorious and the tragic), so he handled the "event" of his passing-out of the spotlight and with great humility. And yet no one can deny that Neil Peart was a towering presence. A teacher to us all, in one way or another.
I was not prepared for any of this, and now I feel a very big void in my heart. Rest in peace, good sir. You truly made a difference in the world.
Daniel Glass (Royal Crown Revue, Brian Setzer)
---
Neil is gone, but not really. His influence spreads far and wide as the Ghost Rider lives on in the hearts and minds of drummers and air-drummers now and well into the future. RIP, buddy. Thanks for endless inspiration.
Pat Mastelotto (King Crimson, ORk, Stick Men)
---
Neil was the finest-tuned human being on earth and vibrated at a higher level than us mortals. Perfect drum parts with ever-evolving musical patterns. His lyrics were thoughtful and danced with the phrasing of a hand percussionist. Fitting altogether like an MC Escher mystifying masterpiece. Albert Einstein + Bruce Lee + Shakespeare = Neil Peart. We miss you.
Stephen Perkins
---
Although I was shocked and deeply saddened to hear of Neil's passing, it was also truly heartening to see the immense impact he had on so many musicians and listeners. The things he did for drumming, for the drumming community, and for the style of music he was known for, were invaluable lifelong contributions that helped advance an art form we all love, and that's the kind of legacy only a select group of musicians ever attain.
Paul Wertico (Wertico, Cain and Gray, educator, author)
---
Neil was a generational talent. He was my Buddy Rich. A legend. He influenced the world of music, not just one genre. To say he's left a lasting legacy is a huge understatement.
Keio Stroud (Big and Rich, Nashville sessions)
---
Not only was Neil Peart your favorite drummer's favorite drummer, but he was the favorite drummer of your mechanic, math teacher, and uncle. He elevated the role of the drummer far beyond being just a time keeper.
Gunnar Olsen (Bruce Springsteen, Mother Feather, Big Data)
---
Neil Peart was and still is an inspiration for me to live more fully, think more freely, and practice more creativity. Thank you, Neil Peart.
Jeff Sipe
---
Neil taught me how to create musical parts, develop musical fills, play in odd times, and explore sound palettes and rhythm. What an incredible foundation his style laid out for young drummers, even beyond his incredible chops. I was able to spend about twenty minutes with him one time up at the DW factory. It was an amazing experience to speak to him as a peer and be treated with such respect by one of my biggest childhood heroes.
Blair Sinta (Alanis Morissette, Chris Cornell, Melissa Etheridge)
---
Peart's fully blossomed creativity in his drum parts and lyrics was so fully supported by his work ethic. This generous approach shared his passionate voice with us all.
Billy Ward (Chris Shinn)
---
Neil Peart's contribution to the drumming industry remains unparalleled.
Horacio Hernandez
---
Neil was a legend! Not just in the drummer world, but for all musicians. Who didn't want to be like Neil-a pillar of the rock community, whose incredible talent has influenced so many others. His work will continue to inspire for generations. Rest well, Neil!
Jerry Pentecost (Old Crow Medicine Show, Brent Cobb)
---
Neil was an icon who influenced so many people to push boundaries and be different. His work on the drums went beyond the music, and his mark will always be remembered by generations. He was truly legendary.
Anup Sastry (independent)
---
As a young boy learning a new language and dealing with a new culture in my new country of America, my parents saw the kernel of drumming in me. A few years later, they bought me a drumset and got MTV. When I saw the video for Exit...Stage Left, I was hooked. I felt his lyrics were speaking to me. Bands, tours, and CDs followed. Fast forward thirty-eight years, I truly can say that without Neil's influence on my life, I would not be a practicing physician today. Thank you. RIP, dearest Neil. You are missed.
Asif Khan (Modern Drummer contributor)
---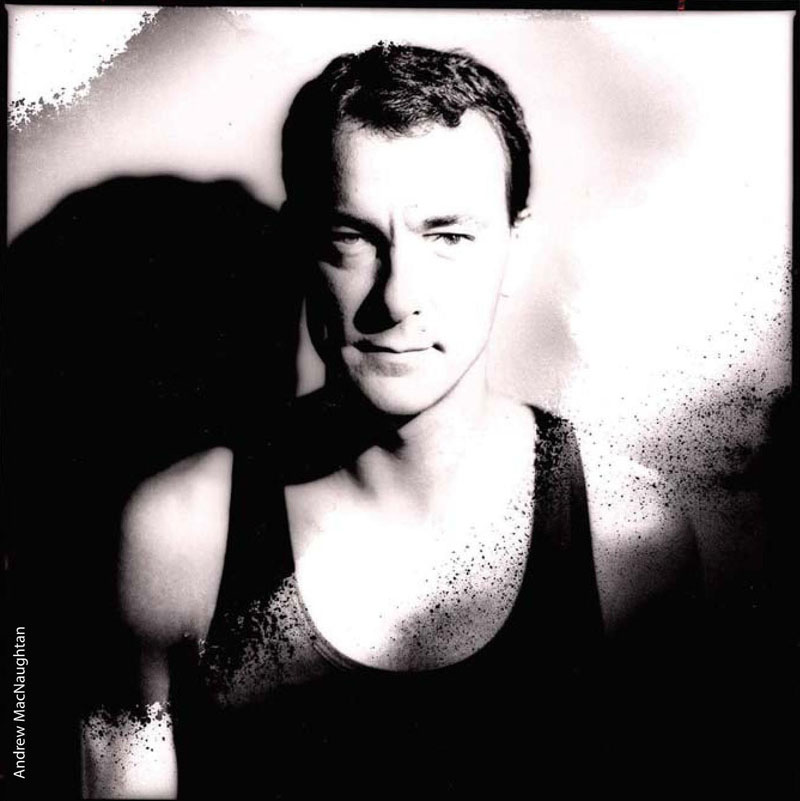 When it came to millions of music enthusiasts, Neil was a household name. It's no small feat to create a sonic signature that was instantly recognizable the world over for generations of musicians and fans. Thank you, Neil, for your contributions to drumming and the world of music for many years to come.
Rich Redmond (Jason Aldean, sessions, educator)
---
I don't think there's a single drummer, me included, whose life has not been touched and influenced by the unbounded creativity and positive musical energy of Neil Peart. Besides his massive contribution to the world of rock drumming, it is beyond admirable that he felt humble and human enough to continue studying with some of the jazz icons of the time. We have so much to learn from drumming legends like this. To continue through decades with a love and passion for the instrument is a true testament to greatness. His vision will be sorely missed across our whole planet.
Pete Lockett (independent)
---
As a budding young drummer in the '70s, I vividly remember the first time I dropped the needle on All the World's a Stage. A high school classmate loaned me the LP and urged me, "Check this drummer out!" Hearing Neil Peart for the first time was nothing short of a revelation. The precision of his meticulously arranged and executed parts, the signature cascading tom fills, and a seemingly effortless navigation of odd times-all within a new, heavier, guitar-based paradigm of progressive rock. And he wrote the lyrics! This was unlike anything or anyone I had heard before. In an instant, a seismic shift occurred in what I thought I knew about rock drumming and what a drummer could do.
Shortly thereafter, like many drummers of my generation, my kit suddenly grew another kick drum and multiple toms. The mission was laid out plain and simple: try to play like Neil! Easier said than done, I soon came to find out. But we all tried-oh, how we tried. His books were a window into his life of music, travel, and adventure. Even after living through unimaginable tragedy, his message to us seemed to be, "Be the best you can be and live your best life." For that, and all the drumming inspiration, I thank you, Professor!
Billy Orrico (Angel)
---
"How many drummers does it take to change a light bulb? Three-one to do it and two to talk about how much better Neil Peart would have done it." These jokes exist for a reason. We lost a deep thinker and the world's favorite drummer. Rest easy, Neil.
Navene Koperweis (Entheos)
---
While serving as an editor at MD in the 1980s, I received a letter from Neil regarding a contest we were administering in which the winner would be rewarded with one of Neil's old drumsets. At the top of the letter, where one would usually write the date, Neil wrote, "A rainy, leafy night in Toronto." It was October, and those few words beautifully captured the autumn season. As was obvious in his lyrics, Neil was a master at painting pictures with words.
Rick Mattingly (Modern Drummer features editor, 1982-89)
---
Neil Peart was about commitment and about sharing. After he'd penned lyrics for a song and chosen drums and what to play on them, he involved his constituency in the reasons for his decisions. Fans knew each note, phrase, and sound he uttered and how integral each was in spurring a song to its conclusion. Neil plotted out each drum, cymbal, and percussion instrument for good reason. As a result, many drummers took a second look at the nooks and crannies of the instrument-and at the drum and cymbal brands pursuant to Neil's well-publicized shifts every decade or two. The drum industry is a richer place for his presence.
Neil came up in an era where "playing for the song" often meant stripping down drum parts to basics. Neil begged to differ. He didn't toss off drumming and lyrics. He composed his parts, sweating the details that spurred songs forward, and he was proud to play them night to night as written. Without his ceaseless efforts, there would be no Rush.
T Bruce Wittet (independent performer, Modern Drummer contributor)
---
Besides being a sad and staggering loss to drumming, Neil Peart's passing is an equally sad loss of one of rock's most literate lyricists-and a talented writer of prose as well. In fact, Neil was as proficient with his pen as with his sticks, which is saying something. I had the great pleasure of editing some of the articles he wrote for Modern Drummer, and I got to know him a bit in that way. We only met in person a few times, and he was a gracious gentleman on each occasion-with a typically dry, witty Canadian sense of humor.
While many of Neil's fans have cited their favorite performance of his with Rush, my favorite of his performances was in a radically different setting. As a devotee of Buddy Rich, Neil was instrumental in making the Burning for Buddy tribute album and concerts a reality. And it was at one of those concerts that I saw him play. He was on a small drumkit, playing with a big band instead of a progressive-rock trio. He was obviously out of his element, and very likely uncomfortable. But he still had the courage to put himself "out there" in front of a room packed with critical drummers. He had always had my admiration as a drummer, but that night he earned my everlasting respect as a human being.
Rick Van Horn (Modern Drummer managing editor, 1983-2008)
---
Neil's passing affected drummers from across the globe, and will leave us with years of his presence as a master musician, accomplished author, and eloquent lyricist. Known the world over for his percussive innovations within the forum of Rush, Neil is indisputably the most influential drummer ever to come out of Canada.
We salute him.
Ralph Angelillo (Montreal Drum Fest and the Ralph Angelillo International Drum Fest)
---
It's hard for me to overstate the impact that Neil Peart has had on my life. I play the drums because of him, and, incredibly, I was able to work with him and share a friendship with him.
When I was thirteen, I heard "Subdivisions" on the radio, and was inspired to play the drums. Soon my dream was to be a professional drummer like Neil. His intellect and creativity seem to jump right out of the speakers and affected me deeply, like so many others of my generation. My imagination was utterly captured, and I studied everything about Neil and Rush until it was part of me. I went to see Rush dozens of times, memorized the drum parts, and even joined a Rush tribute band.
That part of my story probably sounds a lot like thousands of other guys my age. Then, in 2008, Rob Wallis told me that Neil might be interested in working on a new project with Hudson Music, and I was asked to write a proposal for Neil. My excitement and nervousness aside, I was able to craft something that engaged him, and soon I was brought by Rob to meet him, and then we created the Taking Center Stage DVD together. After that, Neil indulged my desire to create a companion book, which was, quite literally, a dream come true.
Eventually, Neil and I became friends, and I gained his trust-a gift he guarded very, very closely. For all those who longed to meet him, I can tell you that he was a wonderful person, everything you'd imagine. With every trip to L.A., I'd ask Neil to have lunch, and make the journey to the Hallowed Bubba Cave to hang and talk about life and drums. And every time I'd pinch myself a little, sitting there with my hero.
My hero became my friend, and my friend dealt with a lot of pain and tragedy in his life. For that, my heart is broken. I will forever treasure the inspiration he gave me and the time I got to spend with him.
Joe Bergamini (Hudson Music)
---
What can anyone say that hasn't already been said about such an iconic, world-class musician? I guess the only thing left to say is what Neil meant to me personally. I first noticed Neil when Hemispheres came out. A friend suggested I check out the band, knowing I was a fan of metal, prog, and fusion music played by drummers with huge drumsets. When I saw a picture of Neil's kit for the very first time, I knew I was onto something. Needless to say, when I put the album on, Neil and the band did not disappoint! I was immediately drawn to his creativity and clever use of "all things percussion" on his kit. I thought, "Finally, a drummer with a big-ass kit that actually plays it all!"
Like many, I've followed the band throughout the last thirty-plus years. While certain musical periods are more appealing to me than others, there was no denying Neil was an incredibly influential drummer to the masses. In the early '90s, I remember asking the Zildjian folks who the most popular drummer on their roster was. I was expecting Vinnie, Dennis, Dave, or some other drumming icon easily recognized by a single name. Their answer: "Neil." I said, "Uh... Neil?" "Yeah, it's Neil-Neil Peart." I didn't quite expect that at the time. I was told, "If you add up all of the fan mail we get from every other artist combined, Neil's mail is a hundred times more!" I was blindsided. But at the same time, enlightened. Today I can't think of any drummer since Gene Krupa who has popularized drumming and captivated the masses as much. Thank you, Neil, for elevating the art form and broadening the spectrum. Hope you're playing a duo with Gene up there! Thanks for the memories of a lifetime.
Terry Bissette (vice president, retail sales, Maxwell Drum Group)
---
With an unwavering commitment to musical, rhythmic, and lyrical innovation and excellence, and an unabashed cynical attitude toward the mainstream music media in the face of radio-friendly rejection, Peart was an unstoppable intellectual force of nature, lyrically and rhythmically deep within his massive orchestral universe. "The Professor" left no artistic stone unturned. There will never be another like Peart to expand the rhythmic and musical boundaries of rock music so vastly.
"Tom Sawyer" will forever remain Peart's air-drumming epitaph. Neil unknowingly set the bar so high that it will take years to unravel and dissect just how deeply his musical impact will be on the future drummer/percussionist/lyricist. His majestic solos were ever-evolving, rhythmical, sculptured masterpieces. He was a prolific composer in every sense; everything had an artistic purpose.
I witnessed Rush on Peart's first tour with the band. He commanded the audience's attention with his relentless, fearless approach to drumming. With each tour, he became more focused and more artistic behind the kit. The last time I saw Neil was the R30 tour. His technique was flawless, and his approach was fresh and playful. His solo was the most improvisational that I had ever heard. There was a sense of accomplished freedom in his playing. It made me smile to think, He's done it all and now he's having fun, with nothing left to prove. Neil Peart's well-documented legacy and uncompromising body of work will forever be the standard by which artistic rock drumming will be measured.
Mike Haid (Modern Drummer contributor)
---
The first project I worked on with Neil was in 1991 for a video release of a Buddy Rich Tribute Show, and Neil was one of several drummers there to perform Buddy's music. At the time, I knew Neil was popular, but I didn't expect to see a line that ran several blocks down 8th Ave. in New York City. Almost everyone on that line was there to see Neil.
Over nearly twenty-five years of producing Neil's educational videos and books, I got to know him fairly well. Yes, we all know the power of his drumming, but if you asked me to sum up Neil in just one word, it would have to be integrity.
It ran through every aspect of his being. His fans heard and saw his mastery at the drumkit, but what they didn't get to see was Neil's dedication to everything he touched. Working on his projects with DCI Music Video and Hudson Music, two of my labels, he was involved in every aspect of the product, from inception through editing, audio mixing, art design, all the way down to the quality of the paper we used for the packaging. And of course he was always right.
Neil had an old-school work ethic, and when he found people of similar mind, he stayed with them. He expected everyone to work and care as much as he did. And working with him elevated everyone's game. Neil used to say that collaborating was like a 1+1=3.
He enjoyed selecting locations for our work, like filming our first project, A Work in Progress, at Bearsville Studio in Woodstock, New York, so he could snowshoe to and from his cabin on the studio grounds each day. For another project he had us film him in a row boat on a lake for some of the dialog sections, and for his last project, Taking Center Stage, we filmed him in Death Valley National Park, at Dante's Peak, as he rode his motorcycle up the mountain in an winter storm.
I came to learn of Neil's intellect, infallible memory, rock-solid honesty, personal loyalty, and incredible kindness. Many of these acts of kindness were done away from the spotlight, as Neil was a deeply private person. He could have easily embraced the rock star life...he didn't.
The outpouring on social media of people sharing their stores about Neil's generosity of spirit has been remarkable but not surprising: how he sent autographs to young fans who wrote him letters; how he mailed cards or letters or made calls of support to comfort people at times of need or grief; how he was generous with words of encouragement to friends, fans, and folks he'd never met. He used to tell me what a hard time he had saying "no" when people asked for something.
It is difficult to express the impact Neil has made on the lives of so many. He taught us about so many things, and his passing will leave a huge hole. It is still difficult to process. For now, all I can say is, "Thank you...and I'll see you down the road."
Rob Wallis (Hudson Music)
---
Being a fan of Neil's band, I always respected the group's musical and technical prowess, but I truly had no idea that Neil was not your stereotypical "rock star drummer with an attitude" until I met him backstage face to face some thirty years ago. His high intellectual level and great humility struck me like lightning, and we became instant friends.
Since that first encounter, I was lucky enough to share many conversations with him about being a lifelong learner and pushing musical boundaries. The latter point was where we shared a common passion with our groups: he being wildly successful in doing this with Rush and I being also able to break the traditional boundaries in music with my own group of over forty years, Repercussion. Neil was a fan of Repercussion (which was quite astonishing and flattering to me!), and after watching my group play in Toronto, he suggested that we record an album together. As fate would have it, 1997 turned out to be a life-shattering year for Neil, and the album never was realized.
Fast forward to one day in 2011, when Neil communicated to me that, since he would be in my neck of the woods, he would love to come out and make an appearance at KoSA. Nothing was really planned (except filming it); he just came onstage in front of our very emotional participants, and we just resumed one of our great conversations "live," and then played music together like we were just jamming like crazy high school children. That day will be etched in my mind (and the mind of many) forever. The best thing was the email I received after, in which Neil said, "I smiled the whole way home in the Laurentians," and then asked, "When can we do this again?"
Aldo Mazza (KoSA)
---
Of course I knew who Neil was when I was growing up, and I certainly realized his gift and influence. His impact on music is forever indisputable. But my deeper appreciation for him came later, when seeing firsthand how strongly he loved his family and his friends. His family truly was his core. And friendship was not a casual thing to him. If you were his real friend, he wanted to spend time with you-and not just once in a while, but all the time. Time was very important to Neil, and he gave it generously to those he loved. As intensely as the whole world admired him, he trusted and cherished his friends and family like gold. Even if he didn't know someone at all, he had a way of making them feel comfortable in the presence of a giant. When he spoke, with just one sentence from his smooth, mellow voice, you could immediately sense everything he was about: a man of honesty, intelligence, warmth, introspection, and hilariously quick wit. We are all fortunate to have lived during a time when he was here.
Juels Thomas (Drum Workshop education and events manager)
---
The loss of Neil Peart was devastating on two levels-as a friend and as a drumming icon. The more you got to know Neil, the more you felt he was truly a regular guy whose passion and work ethic left an unforgettable mark on drummers of today and the future. He spent weeks at the Drum Channel studio preparing before each tour and would always ask me who might be coming around. He was as excited to meet other drummers as they were to meet him. Going from stadium to stadium on his motorcycle, often staying at a local motel along the way and working out at the local YMCA, was Neil. He would always tell me an important thing for him was to always be prepared. The last thing he said to me as we hugged goodbye was, "Don, we did it and we did it the right way." When you were with Neil, that was the only way it would be.
Don Lombardi (founder, Drum Workshop)
---
Tributes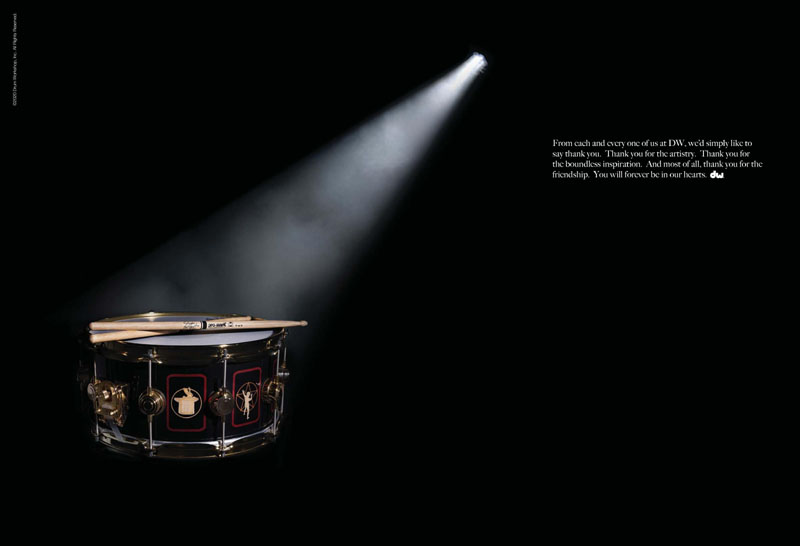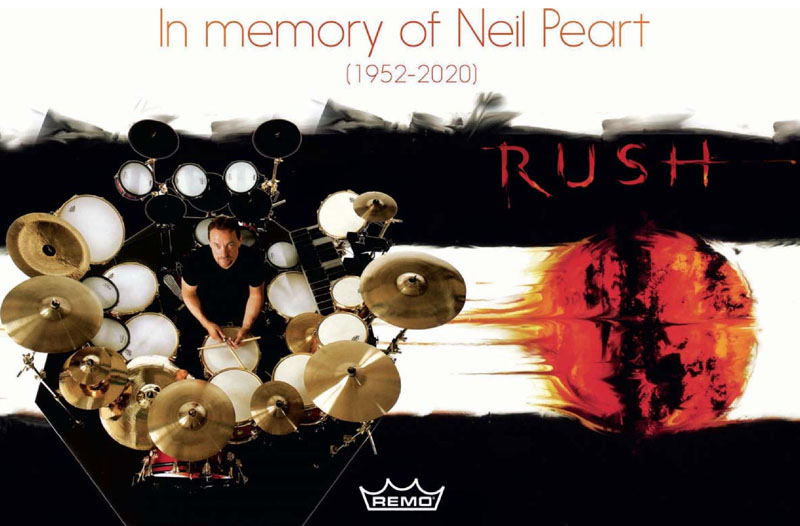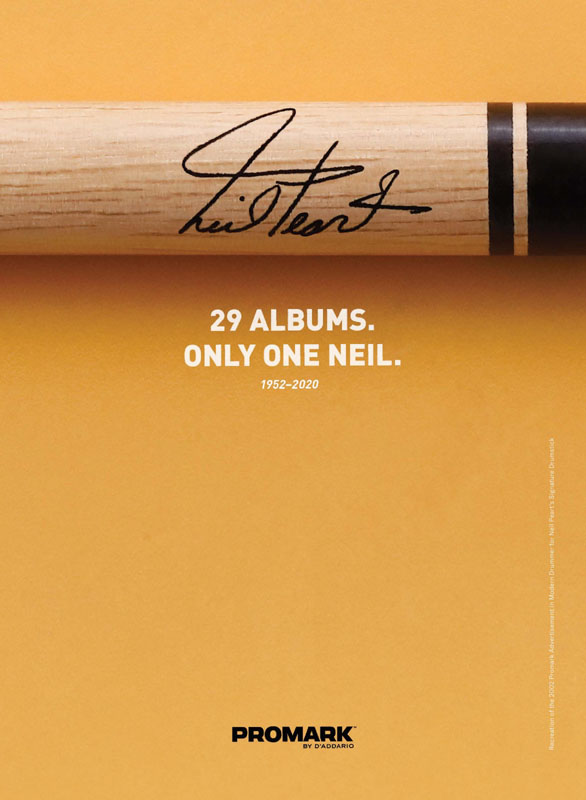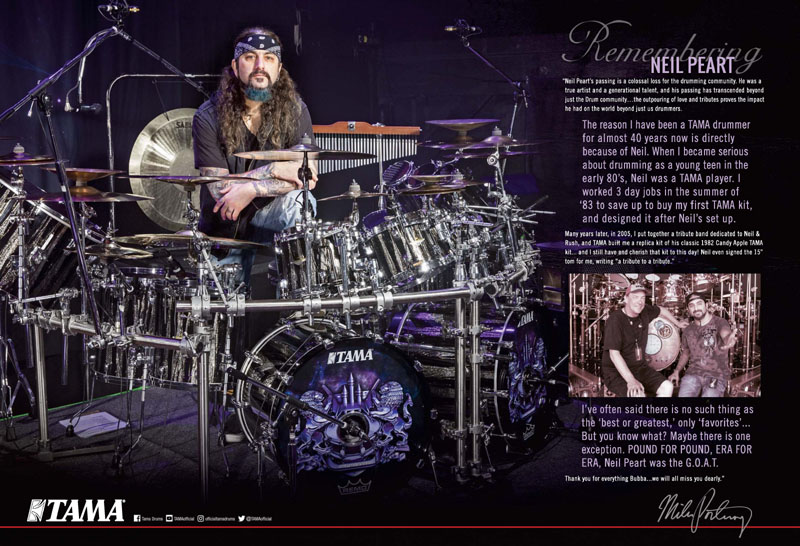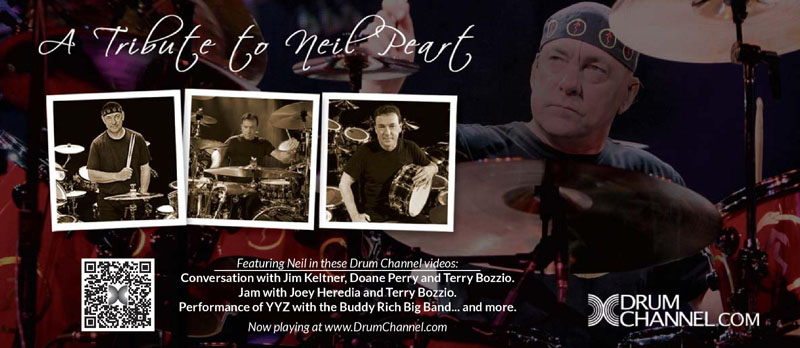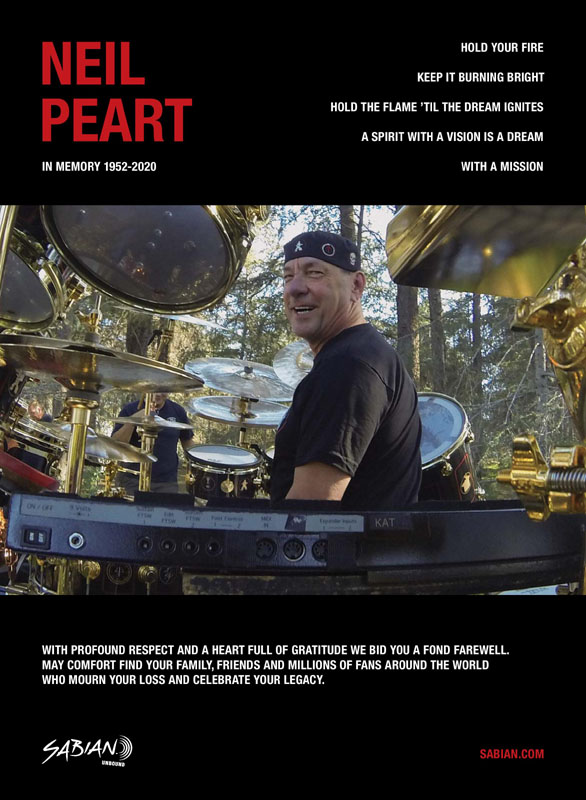 ---
Rest in Peace, Neil