Introduction to Rush Gigs: Found On The Studio Walls And In Concert Halls
By Ray Wawrzyniak, December 1, 2021, Showtech/SRO/YYZ/RocHedz
---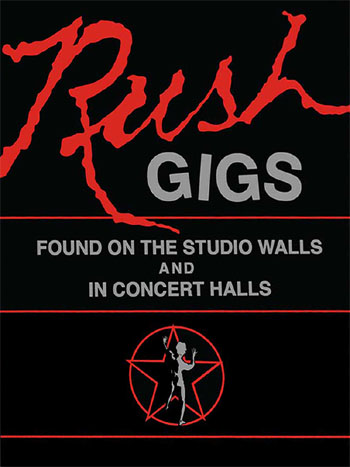 The countdown toward an upcoming Rush concert was an exciting time for any Rush fan. Local rock radio stations would feature extended sets, dedicated to Rush music only, in the days and weeks leading up to a show. Often, interviews with Geddy, Alex, and/or Neil would also be broadcast on those same stations, heightening the excitement for the forthcoming show.
In addition, magazines and newspapers would promote an approaching show, or tour, with full page color advertisements that served to fuel that pre-show frenzy. Occasionally, promoters would use a larger, poster-sized canvas to advertise an upcoming gig. These concert ads, or concert posters, contributed to the buzz leading up to a Rush concert. As was the case with a ticket stub, or tour book, or concert t-shirt, these gig posters inevitably became keepsakes for fans who wanted something tangible to commemorate the experience of a live Rush show. While you, like I, may have kept and cherished your collection of Rush concert ticket stubs, tour books, or t-shirts, you may not have been able to secure the gig poster that promoted your first show, or your favorite show, or your final Rush show.
Thankfully, so many of those very gig posters, or gig-specific ads, have been kept over the years and are now collected in this very book, Rush Gigs: Found On The Studio Walls And In Concert Halls. Now, you can revisit the gig poster you saw hanging in your local shopping mall, in your favorite record store, or outside the venue, which helped to promote a benchmark show in your Rush concert-going career.
The show comes back to you as you flip the pages of this incredible collection. As you stare at the poster of the concert you may have seen at the Hammersmith Odeon in 1977, you can't help but immediately be reminded of the Rush music that echoed throughout that storied venue. You can harken back to the aroma inside the building, or the thrill you felt as the lights went down and the band took the stage. Or, looking over the gig poster that promoted the band's stop in Dusseldorf in 1983, you might instantly recall the setlist played on that tour, the seats from which you enjoyed the evening's festivities, or the friends who joined you. Staring at the gig poster that advertises their first show with Neil, in 1974, you can't help but wonder, too, if those in attendance that night were aware of how fortunate they were to be witnessing such a historic event.
Included here, too, is the gig poster that promoted Rush's appearance at the memorably massive SARS show in their hometown of Toronto in the summer of 2003. While you can use the poster of that concert to engage in the obligatory reminiscing, you can also use it to prove to your friends that yes, there was, in fact, a show that featured Rush on the same bill as AC/DC, The Rolling Stones, and - Justin Timberlake!
These concert posters and ads remind you of some of the notable bands - and the long-lost bands - that had the honor of opening a Rush show, or perhaps opened every show on an entire leg of a tour. Marvel at bills that included the likes of Marillion, Steve Morse, UFO, or Primus as the opening act. Perhaps no other opening act was more notable, though, than the one who opened the show on December 28th, 1976: the one and only...Santa Claus?!
On the other hand, you may look at a gig poster found here and wonder what became of other opening acts that shared the bill with Rush, such as Tyla Gang, Reign, or Wild Horses. Or why, in fact, did Rush open for... The New York Dolls?!
Some graphic designers seemingly took advantage of their creative freedom, too, when designing some of the posters and ads found sprawled across these pages. While various gig posters predominantly featured the iconographic and inspiring images that were the brainchild of Rush artistic collaborator Hugh Syme, other posters found here demonstrated a more...shall we say, daring approach. Perhaps there is no greater example of a bold approach than the band's December 3rd, 1978 show poster in Toledo, Ohio, which features, apropos of absolutely nothing, a crudely drawn naked woman.
What's notable, too, are the prices Rush fans once paid to see Geddy, Alex, and Neil perform live. It's not uncommon in late 2021 to pay in excess of two hundred dollars to see a band or artist perform live. Gig posters found here at your fingertips remind you that before we all became used to paying top dollar to see Rush perform live, there were, in fact, shows for which we had to pay a mere three dollars...or four dollars...or five dollars for the thrill of seeing the band live, onstage.
While looking through this incredible collection, one of Neil's lyrics seemed to resonate quite profoundly. In "Mission", from Hold Your Fire, Neil wrote, "We each pay a fabulous price, for our visions of paradise..." That lyric was recalled while looking at a gig poster that advertised an exhausting run of dates the band played in September of '77. That same lyric echoed once again moments later while studying another epic string of dates on a gig poster from 1978, and then another from 1979, and yet another from 1980. Certainly, Geddy, Alex, and Neil's talent, drive, and integrity were characteristics that contributed to their long and successful career. But looking at the gig posters and ads just referenced, and considering the sheer number of dates the band played, one can't help but conclude that their physical stamina had to have been put to the test multiple times over the course of a forty-plus year career. While news of the band's retirement was likely a difficult pill to swallow for their legions of fans, Rush and their crew most definitely paid a "fabulous price" while playing as many dates as they did in a month, or in a calendar year, or during a particular tour. Looking through this book and staring at date after date after date, year after year after year, you will likely conclude that a lifetime spent on the road, away from home, brought them a retirement that was certainly well-deserved.
You and I, and our fellow Rush fans worldwide, undoubtedly miss the thrill of seeing Rush perform live. While we have the LPs and DVDs to help us fill that void, "Rush Gigs" offers us the opportunity, seemingly, to "live it all again". The posters, tickets, and ads presented here remind us of the unparalleled excitement of seeing Rush live onstage. I'm sure the memories will come flooding back to you, as they did for me.
Ray Wawrzyniak, Fall, 2021