The African Drum
Tanzania - Kilimanjaro - Kenya, September 1987
By Neil Peart, 205 pages, limited edition of 100 copies privately published by The Cumberland Press in 1988, the first two pages, transcribed by "GeddyOnDime"
---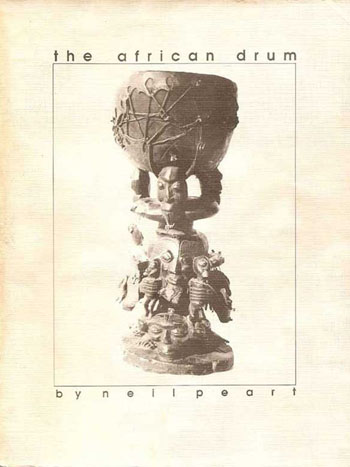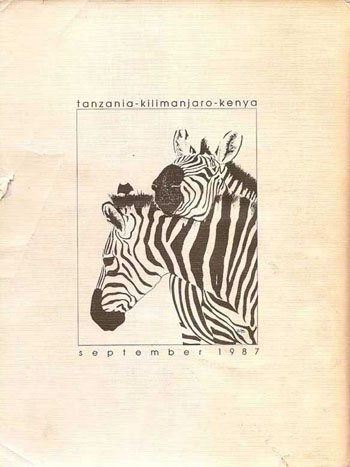 Through the thick warm blanket of tropical night, I walked across the runway to reboard the KLM jet in Dar es Salaam. It was still very dark on the grounds but so near the Equator sunrise is a swift performance. By the time the plane was in the air I could see light spreading from the east.
And suddenly I could see it. Rising through the mass of grey clouds, the two peaks of Kilimanjaro stood out dark and solid. The jagged tooth of Mawenzi, and the wide, snow-capped bulk of the main peak-Kibo. I felt a thrill of excitement, with my eyes fixed upon this mystic and majestic vision.
Three weeks from now I hoped to be standing right there, on the highest point of all Africa-the snows of Kilimanjaro.
1 - into africa
Kilimanjaro International Airport, Tanzania. Wet black runway, red earth and brown grass. Grey terminal building, grey-green trees and pale sky. Brown hills stood in the distance under low clouds. The crowd of weary passengers streamed into the modern terminal, and formed into the inevitable shuffling lines to face the formalities. After checking your passport and vaccination certificate, they send you over to the bank to change the obligatory fifty US dollars into Tanzanian shillings (the special "Extortion Tax"). I returned with a bulky envelope weighing a good five pounds, most of my 3400 shillings conveniently in coins.
It's only after you have fulfilled this requirement that your passport is returned, so the situation soon became chaotic with another formless line crowding opposite those still waiting in the first line. There were some who had come just for the Kilimanjaro climb, and didn't have enough money to change, and others who were being hassled over various immigration difficulties. Voices were raised, demanding attention, protesting and arguing, but the local officials remained stern and unruffled.
Finally wriggling through the bureaucratic net, I stood by the luggage conveyor and waited for my backpack to come out. This is always a nervous moment on a journey like this, but eventually it arrived, the last piece to appear. A big blue backpack with a sleeping bag strapped to the top, and one of those foam sleeping pads strapped to the side. After hearing a few horror stories of people being stranded in some desolate place, I had decided to remain as mobile and self-contained as possible, thinking that it would be better to have luggage that I could just put on my back and go with.
As I walked out through the doors I could see a big pink truck out in the parking lot, which I remembered from the brochures. This had to be from the Tracks company, with whom I would be traveling. As I walked toward it a young woman approached me and asked if I was traveling with Tracks, and when I replied that I was, she checked me off on a list and we waited for the others to arrive.
"I wasn't sure about you, you walked out like you knew where you were going!", she said to me, and introduced herself as Val. Her accent told me she was Australian.
"Oh, I recognized that pink truck from the pictures in the brochure."
She laughed. "Did you meet any of the rest of the group coming from London?"
"No, I flew in from Montreal, and just joined this flight in Amsterdam."
I looked eagerly around me- at Africa- out to the open bush country which began just beyond the parking lot.
"Are you excited?"
She must have seen it on my face, and I was happy to admit I certainly was. I can't recall now if I was that excited on first arriving in China, I was probably just too tired, but now I was truly on edge with anticipation.
One by one another four or five of my "fellow travelers" appeared, were duly checked off on the list, and we were led out to the truck for the drive into Arusha.
Like most of the big safari trucks I would see, it was a four-wheel-drive English Bedford, with the box on the back converted into a passenger compartment. It was certainly equipped for the wilderness, with a winch, towing hooks, a spare driveshaft bolted to the side of the chassis, spare sets of springs, long stamped-metal "traction mats" to lay over muddy ground, a spare wheel on the front, huge fuel and water tanks underneath, and shovels, axes, tools and spare bits and pieces everywhere. There was even a vise welded to the front bumper for emergency repairs. Atop the cab was a heavy steel rack for the tents, and a caged-in compartment in the back for the luggage.
Inside, it was rather like an open-air bus, a row of seats facing to the rear and three rows facing front wards. The driver recommended we leave one of the side curtains down for now, as it was a cool and windy morning. With them raised you not only had a good view, but were right out in the view!
It was a fairly rough ride, the roads paved but not particularly flat. The passing landscape started out very arid near the airport, with dried-up brown cornstalks lying on the ground, but gradually became greener and more lush as we rose higher. We passed some coffee fields and pretty tropical vegetation, but most interesting of course were the people. Some of them were dressed in very colorful traditional clothes, while others wore the more usual international costume of T-shirts and shorts.
As we got closer to the town of Arusha everything became uniformly green and lush, looking like the rainy side of the Caribbean islands. Here in the shadow of Mount Meru there is plenty of rain all year round, making it an especially beautiful and fertile oasis amid the surrounding dry plains. There were many broad-leafed banana trees lining the road here.
The Hotel 77 looked quite promising, a spread of low bungalows among brilliant tropical flowers and shrubs. I learned that it had been built for a United Nations convention in 1977 (hence the name), and was part of a complex of hotels and convention centres which had been built at the time, and must remain largely unused since.
This was to be the meeting point for the seventeen people on this trip, some of them arriving from Europe and some from other parts of Africa. Once we were checked in, the five of us who had arrived together agreed to take a walk into town and have a look around. I was trying hard to put names and faces together, to get over that initial awkwardness of a group of strangers being thrown together. At least knowing their names seems to make all the difference.
We walked south along the dirt footpath at the side of the road, Mount Meru swaddled in clouds behind us, then turned right at the main road into town. We passed a row of surprisingly big, somewhat decaying houses set in large tree-shaded properties. One would imagine these impressive estates must have been left over from the colonial days. Tanzania, then Tanganyika, was a German territory from 1885 until the end of World War 1, when it was mandated to Britain by the League of Nations. The country became independent in 1961, then amalgamated with the islands of Zanzibar and Pemba in 1963, to become Tanzania. (I'd always wondered what happened to Tanganyika!) [...end page 2]