The African Drum
Tanzania - Kilimanjaro - Kenya, September 1987
By Neil Peart, 205 pages, limited edition of 100 copies privately published by The Cumberland Press in 1988, part one of three transcribed by John Patuto
---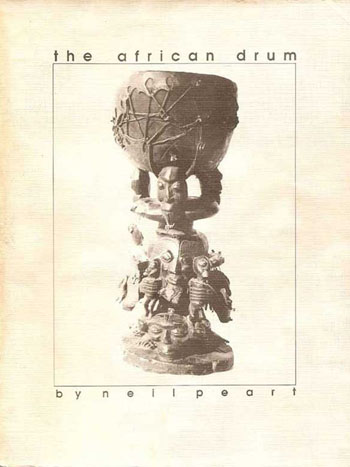 part one - tanzania
Mumagari onaga unene.
He who travels sees great things.
(Kikuyu Proverb)
Etejo opa olnojine, "Mme kamunkyak oshi, keju maitagol."
The hyena once said: "I am not lucky, but I'm always on the move".
(Maasai Wisdom)
Through the thick warm blanket of tropical night, I walked across the runway to reboard the KLM jet in Dar es Salaam. It was still very dark on the ground, but so near the Equator sunrise is a swift performance. By the time the plane was in the air I could see light spreading from the east. And suddenly I could see it. Rising through the mass of grey clouds, the two peaks of Kilimanjaro stood out dark and solid. The jagged tooth of Mawenzi, and the wide, snow-capped bulk of the main peak- Kibo. I felt a thrill of excitement, with my eyes fixed upon this mystic and majestic vision. Three weeks from now I hoped to be standing right there, on the highest point of all Africa- the snows Kilimanjaro.
---
1- into africa
Kilimanjaro International Airport, Tanzania. Wet black runway, red earth and brown grass. Grey terminal building, grey-green trees and pale sky. Brown hills stood in the distance under low clouds. The crowd of weary passengers streamed into the modern terminal, and formed into the inevitable shuffling lines to face the formalities. After checking your passport and vaccination certificate, they send you over to the bank to change the obligatory fifty US dollars into Tanzanian shillings (the special "Extortion Tax"). I returned with a bulky envelope weighing a good five pounds, most of my 3400 shillings conveniently in coins.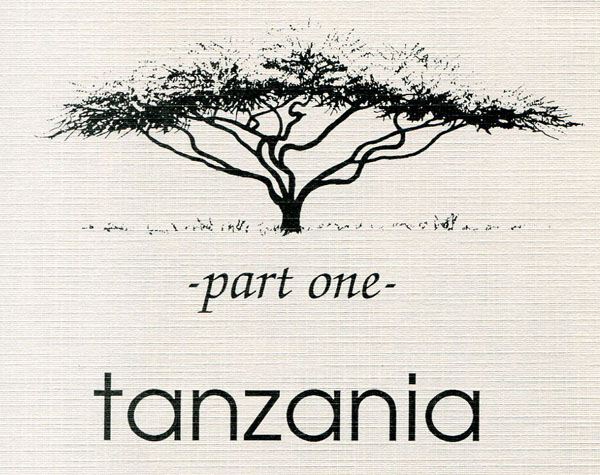 It's only after you have fulfilled this requirement that your passport is returned, so the situation soon became chaotic with another formless line crowding opposite those still waiting in the first line. There were some who had come just for the Kilimanjaro climb, and didn't have enough money to change, and others who were being hassled over various immigration difficulties. Voices were raised, demanding attention, protesting and arguing, but the local officials remained stern and unruffled.
Finally wriggling through the bureaucratic net, I stood by the luggage conveyor and waited for my backpack to come out. This is always a nervous moment on a journey like this, but eventually it arrived, the last piece to appear. A big blue backpack with a sleeping bag strapped to the top, and one of those foam sleeping pads strapped to the side. After hearing a few horror stories of people being stranded in some desolate place, I had decided to remain as mobile and self-contained as possible, thinking that it would be better to have luggage that I could just put on my back and go with.
As I walked out through the doors I could see a big pink truck out in the parking lot, which I remembered from the brochures. This had to be from the Tracks company, with whom I would be traveling. As I walked toward it a young woman approached me and asked if I was traveling with Tracks, and when I replied that I was, she checked me off on a list and we waited for the others to arrive.
"I wasn't sure about you, you walked out like you knew where you were going!", she said to me, and introduced herself as Val. Her accent told me she was Australian.
"Oh, I recognized that pink truck from the pictures in the brochure."
She laughed. "Did you meet any of the rest of the group coming from London?"
"No I flew in from Montreal, and just joined this flight in Amsterdam"
I looked eagerly around me- at Africa- out to the open bush country which began just beyond the parking lot.
"Are you excited?"
She must have seen it on my face, and I was happy to admit I certainly was. I can't recall now if I was that excited on first arriving in China, I was probably just too tired, but now I was truly on edge with anticipation.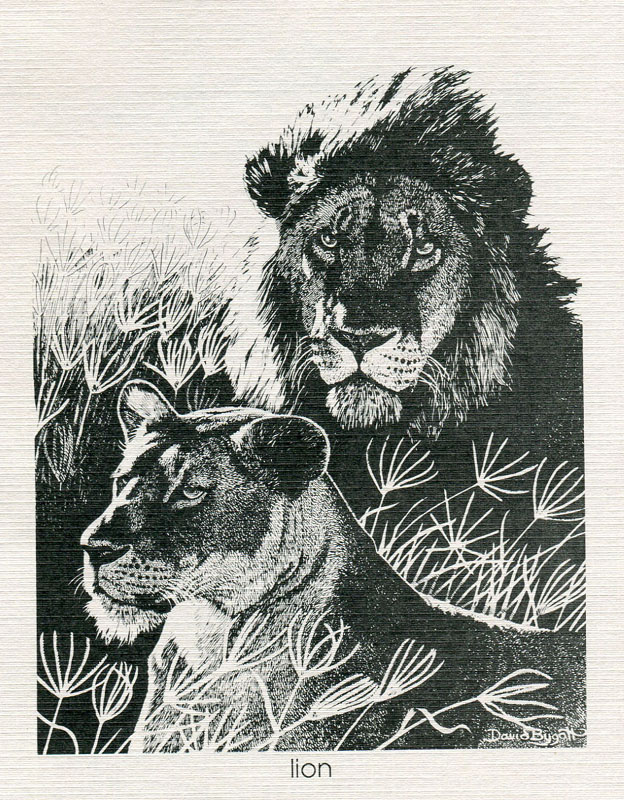 One by one another four or five of my "fellow travelers" appeared, were duly checked off on the list, and we were led out to the truck for the drive into Arusha.
Like most of the big safari trucks I would see, it was a four-wheel-drive English Bedford, with the box on the back converted into a passenger compartment. It was certainly equipped for the wilderness, with a winch, towing hooks, a spare driveshaft bolted to the side of the chassis, spare sets of springs, long stamped-metal "traction mats" to lay over muddy ground, a spare wheel on the front, huge fuel and water tanks underneath, and shovels, axes, tools and spare bits and pieces everywhere. There was even a vise welded to the front bumper for emergency repairs. Atop the cab was a heavy steel rack for the tents, and a caged-in compartment in the back for the luggage.
Inside, it was rather like an open-air bus, a row of seats facing to the rear and three rows facing frontwards. The driver recommended we leave one of the side curtains down for now, as it was a cool and windy morning. With them raised you not only had a good view, but were right out in the view!
It was a fairly rough ride, the roads paved but not particularly flat. The passing landscape started out very arid near the airport, with dried-up brown cornstalks lying on the ground, but gradually became greener and more lush as we rose higher. We passed some coffee fields and pretty tropical vegetation, but most interesting of course were the people. Some of them were dressed in very colorful traditional clothes, while others wore the more usual international costume of T-shirts and shorts.
As we got closer to the town of Arusha everything became uniformly green and lush, looking like the rainy side of the Caribbean islands. Here in the shadow of Mount Meru there is plenty of rain all year round, making it an especially beautiful and fertile oasis amid the surrounding dry plains. There were many broad-leafed banana trees lining the road here.
The Hotel 77 looked quite promising, a spread of low bungalows among brilliant tropical flowers and shrubs. I learned that it had been built for a United Nations convention in 1977 (hence the name), and was part of a complex of hotels and convention centres which had been built at the time, and must remain largely unused since.
This was to be the meeting point for the seventeen people on this trip, some of them arriving from Europe and some from other parts of Africa. Once we were checked in, the five of us who had arrived together agreed to take a walk into town and have a look around. I was trying hard to put names and faces together, to get over that initial awkwardness of a group of strangers being thrown together. At least knowing their names seems to make all the difference.
We walked south along the dirt footpath at the side of the road, Mount Meru swaddled in clouds behind us, then turned right at the main road into town. We passed a row of surprisingly big, somewhat decaying houses set in large tree-shaded properties. One would imagine these impressive estates must have been left over from the colonial days. Tanzania, then Tanganyika, was a German territory from 1885 until the end of World War 1, when it was mandated to Britain by the League of Nations. The country became independent in 1961, then amalgamated with the islands of Zanzibar and Pemba in 1963, to become Tanzania. (I'd always wondered what happened to Tanganyika!)
Passing the New Arusha Hotel, a Ford agency and a gas station, we walked into the main square of town, shops and businesses lining both sides of the street. Some of our group were interested in carvings, and we took a look in a few of the shops, most of them run by Indians. Apart from those catering to tourists, the shop windows were like those in many Third World towns; a bit of this, a bit of that, and not much of anything!
All of us had been told that bargaining was the order of the day here, and never to pay the price asked for anything, but the first time one of us tried to bargain for a carving he was interested in he was told: "We don't bargain here". Oh.
We walked into the coffee shop at the New Arusha for some lunch. Along with an egg sandwich and a Coke, I was encouraged by the others to try an Indian snack which they pronounced 'samosa', but seems to be spelt, among variations, 'sambusa'. They were delicious, a spicy meat-filled dumpling which would become a popular "junk food" on the trip.
After returning to the Hotel 77 for a couple of hours sleep, I set out alone in the late afternoon for another walk into town. It was a beautiful evening, the sky was clear by now, and the trees cast long shadows across the road. Meru was still crowned in clouds behind me. It was cool enough to wear a sweatshirt, as the altitude here is over 5000', and I noticed that most of the people I passed were dressed in western clothes, though there were still quite a few wearing more exotic traditional clothes.
I noticed several people sitting along the side of the road tending small fires, roasting ears of corn which they offered for sale to the passersby who were moving in slow motion on this peaceful Sunday evening. Arusha is not a big town, only about 100,000 people, but since Tanzania is not a very urbanized country it still counts as a major city. In a country of something over twenty million, even Dar es Salaam as the largest city has only about a million people.
It was strange to notice that even in a place like this where westerners have been coming in considerable numbers for the last hundred years or so, they still look at you strangely and stare as if at an oddity. I saw that the "Elite Cinema" was showing a double feature of Shoot with Cliff Robertson and King Solomon's Mines.
Evidence of friendly relations with China is apparent here. I passed a couple of sidewalk merchants hawking the color magazine called China, a publication of the Chinese government, in several languages, and I looked in the window of a bookstore which had whole racks full of very obscure, esoteric-looking Chinese books in English. (Who on earth buys them?) They also offered a large selection of books in Swahili, which has become the official language of many East African countries, being a hybrid of Bantu, Arab and later European influences.
The traffic is mainly pedestrian, with the occasional car and even less-frequent bicycles. What bicycles you see are usually Chinese models, that heavy old one-speed Raleigh replica with a single brake lever across the handlebars. As to the cars, most of them seemed to be Peugeots, but of course there were several Land Rovers and Toyota Land Cruisers. I also saw one posh-looking Range Rover, and a few Mercedes-Benz cars.
There are an amazing number of safari companies around town, perhaps twenty or more offering different trips around the abundant game parks in the area. It would probably not be hard just to arrive here and make your arrangements on the spot. I was approached by a few young western people looking for others with whom to form a safari group, sharing the expenses of hiring a Land Rover or minibus.
It's facile to draw comparisons between places, but the look of the streets and the buildings, and of course the way the people look, definitely put me in mind of the Caribbean islands, while the atmosphere of the smoky fires and roasting corn along the roadside, and the small-time entrepreneurs selling nuts and candy was reminiscent of rural China.
As Idi Amin brought sharply into the world's focus, there is a gulf between the Indian and African populations of East Africa. Apparently the Indians were first brought here as cheap labor to work on the railroad, like the Chinese in America, and then stayed to become successful traders and merchants. They were among the first traders to bravely penetrate inland from the coast, and they have played a large- if silent- part in building the economies of East African countries. Like the Jews have been (are) in Europe, they seem to be used as a kind of scapegoat, being resented as much for their insularity as for their prosperity. The book North of South by the Trinidad-born writer of Indian descent, Shiva Naipaul, paints an interesting picture of this syndrome, and the so-called "Asians" being used as a buffer between Black and White- a meeting ground of mutual resentment and distrust.
As I walked along pondering these things, I saw an interesting incident. An older African man stopped his car at the side of the road, and went running over to warmly greet an elderly Indian man. They lit up to see each other, shook hands eagerly and spoke together for a few minutes with obvious warmth and concern in their faces. It was a beautiful thing to see.
There is also a fairly large Arab presence in East Africa, going back hundreds of years to a vast trading network, mainly along the coast and in Zanzibar, but stretching inland in search of ivory, and later, the shameful raw materials of slavery. I passed a mosque just as the people were coming out, everyone dressed in black and the women with heads and faces covered. A carload of them passed me, a whole family in sombre black, but with a brightly-colored flower of an African girl in the back who must have been the children's "nanny".
I walked back to the hotel with the sun almost down now, and the clouds at last clearing from the peak of Mount Meru. I met a few more of the group in the bar, as we gathered for our first dinner together in the hotel restaurant.
It was getting hopeless trying to connect sixteen new names and faces, but I knew about five of the group now. Just to make it more confusing, we even had a pair of twins, Heather and Barbara, red-haired and freckled farm girls from western Australia. At dinner I also met Alan, a young Scottish doctor, and his wife Carol, a nurse, who had missed their flight from London and had had to fly into Nairobi, then take a crowded taxi for the four-hour drive here. That made an adventurous start for their holiday.
I was fortunate to find myself sitting at the table beside Val and her eleven-year-old son Joe, as they carried on an interesting and informative conversation through dinner about the place, the people and the animals. They have an interesting story of their own.
Val decided to come to Africa from her native Australia shortly after her fortieth birthday, and sold her house and just took off with Joe. She had been a social worker, and was getting "burned out" on other people's problems, she told me. As the months passed without finding work, even cheap lodgings began to drain her savings, and they lived for five months in a Nairobi dormitory with seven hundred other transients. It's hard to imagine the discomfort, lack of privacy and sheer tedium of living that long under those conditions, and the constant, fruitless search for work made ever more urgent by their dwindling resources.
But she finally got a job as what is called a "courier" for the Tracks company, meeting the people at the airport, making the campsite reservations, organizing the crew and supplies- and listening to the complaints! But they seemed to enjoy their lives here, and had a nice house to live in which was provided by the company.
Joe told us that he hadn't been to school for over a year, as he was on a waiting list for the public school, as opposed to the alternative of paying ten thousand dollars to go to the American school. Wow! He had tried a correspondence course, but understandably it hadn't worked out too well. It would take a lot of discipline from within or without to make that work, without even the camaraderie of other children to leaven the task of learning. (I learned later that it was also Val's lack of proper residency papers that made it difficult for Joe to go to school!)
One could imagine that spending over a year living in Tanzania would be an education in itself, and that was certainly true. A bright-eyed, intelligent and articulate boy, Joe entertained us with stories about the wild animals, the natives, the lack of entertainment, and everyday life in Tanzania. He could speak Swahili very well, and conversed freely with the waiters and the young men who would be our driver and cook.
Val stood up after dinner to give us the "welcoming speech", explaining the nature of the trip to us, and what our responsibilities would be. We were asked to help with loading and unloading the truck each day, to set up and tear down our own tents, and to wash our own dishes. The three members of our crew would look after the driving and the preparation and cooking of the food. Fair enough. After all, we chose this kind of trip to get involved.
As I walked back to my room through the darkness of my first night in Africa, I watched a crescent moon moving in and out of the clouds, a few stars shining through as well. It was quite cool and I felt a few drops of rain coming down. I shivered and walked faster along the dimly lighted pathway.
Iyiolo eninuaa kake miyiolo enilo.
You know where you are coming from but not where you are going.
(Maasai Wisdom)
---
2- ngorongoro crater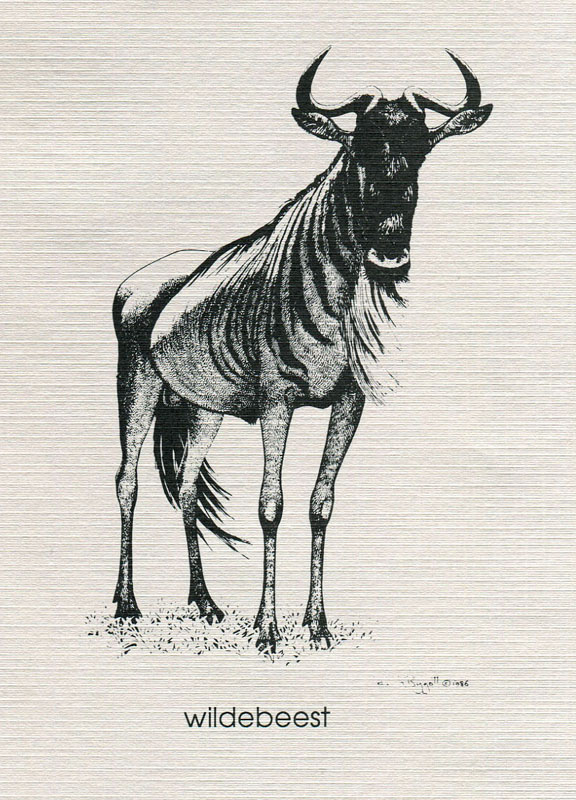 Having crossed six or seven time zones in a day, my inner clock was pretty confused. Even though I got to sleep early, I was awake by 2:30 in the morning and began reading the book I'd started on the plane, Herman Wouk's tragicomic Don't Stop the Carnival, about "real" life in a Caribbean resort. Coming to the end of it, and still wide-awake, I decided just to stay up until breakfast time, and started on The Moon And Sixpence, Somerset Maugham's fictionalization of the life of Paul Gauguin. I had read it years ago, before I even knew who Paul Gauguin was, and since I had become so engrossed in his work lately I had wanted to read it again.
When the sun came up I got out of bed, enjoyed the last hot shower I would have for a while, and put my pack together again.
It was a cool and overcast morning as I walked over to the main building, my heavy backpack pressing me into the ground. In the cold morning light you could see that the Hotel 77 was not aging gracefully. After only ten years the concrete was starting to crumble, and was badly water-stained.
Although many of the others had spoken of being on the truck for its 8:30 run into town, only Janne was in the dining room, and I invited myself to join her for breakfast. Janne was a big burly Australian lady, perhaps in her early forties, and was one of the Australians on the trip. She had been in Africa for about a month already, traveling in Botswana, Zimbabwe and visiting Victoria Falls. She told me she had also traveled widely in Canada, including a camping trip up into the Yukon and around Alaska. So she made good conversation. We were surprised to find that the morning coffee was instant, after all the coffee fields we had seen on the way in.
It would be interesting learning everyone's stories, how they came to be here and what occupations gave them the "disposable income", as people say, to be able to make a trip like this. Especially someone like Janne, who obviously had a couple of months of freedom and the savings to pay for it.
Four or five of us were waiting for the truck when it finally showed up around nine. We were to learn the nature of "African Standard Time", and not to take stated hours too literally! The American journalist David Lamb spent eight years as a correspondent for the Los Angeles Times in Africa, and in his book The Africans he writes eloquently of this fundamentally different world-view: "you quickly realize that all those things you learned in the west about punctuality, efficiency and rational thought processes don't have much to do with Africa. Africa can only be explained in terms of Africa", and quotes an anonymous proverb:
"In Africa the clock is always at five minutes to twelve."
We were let off at the Clock Tower- which is, rather ironically the main crossroads of Arusha- while the truck went off to collect fresh provisions. Some people walked across to the post office, Janne was off on a quest for English cigarettes, and I was hoping to find some field guides to the birds and animals of East Africa. Val and Joe had told me of a kiosk in the New Arusha Hotel that should have some.
I went inside the bookstore l had looked at yesterday, and found that not just some, but most of the books were from China; Recollections of West Hunan, Yunan Travelogue, A Small Town Called Hibiscus, China and The World (including "China on Disarmament", "Chou En-Lai the Diplomat, "US Policy Towards Taiwan", and "West European Countries and Their Foreign Policies), The Taiping Revolution, and my personal favorite: China Today From Youth To Retirement; ("A Lost Or Hopeful Generation", "Marriage And Divorce Today", and "Growing Old And Gaining Respect"). I love that "lost generation" reference; how very literary! But they must just send crates and crates of English language books over from China, in a strange and futile kind of foreign "aid"- who reads them?
The only western book I saw in the whole store was a dusty pile of lurid purple copies of Goodbye Columbus. Since I've enjoyed some of Philip Roth's later books and had never read this one, I picked up a copy, figuring it would make an interesting souvenir.
It was strange to see the car dealers, Ford, Renault and Peugeot, with their showrooms absolutely empty but for one old tractor in the Ford window. This was a good indication of the shortage both of goods and the money with which to buy them.
There was quite a lot more hustle and bustle around Arusha on a Monday morning than there had been on Sunday. I learned that the black market in East Africa is very active in foreign exchange, offering rates up to double the official one, and I was approached several times by young men with "Change money? Change money?". But of course it's highly illegal, and since you're supposed to declare all your foreign currency at the border, and must carry a receipt to account for all your exchanges, you'd have to smuggle money in to be able to use their services.
I found the kiosk in the New Arusha Hotel, and sure enough, the old fellow had what I wanted, The Field Guide to the National Parks of East Africa, among his meagre stock of scruffy, mostly second-hand novels. The only problem was that he was asking an outrageous price for it. Twenty-five hundred shillings- that's almost fifty Canadian dollars!
Remembering the advice about bargaining for everything, I offered half of what he asked, but he just shook his head no. "Maybe in Kenya you can get it for less, but it costs more to get everything here". So I offered a little more and still he firmly refused.
Well, I knew I really wanted to have the book, in it were pictures and information on most of the birds and animals we'd be seeing. And this- this- pirate had the market cornered, so I pulled out my wallet- only to find I was five hundred shillings short of the asking price.
I asked at the front desk if they would change a traveler's cheque for me, but they would only change money for their guests, and sent me across the street to the bank. This was to be an education and an adventure. It was a fairly large building, but there were at least a hundred people in there milling around the tellers' windows. I found that the foreign exchange desk was off to the side, and joined a small group of conspicuously pale people in that lineup.
When I finally got to the front, I had watched and was familiar with the routine. I filled out a couple of forms, and handed them to the lady behind the counter, along with my foreign exchange receipt, my passport and the signed traveler's cheque. Then they were sent off to sit for a while on another desk, eventually to be stamped without interest and returned, and shuffled to yet another desk. Eventually the pile of papers is returned to you, and you're sent to a teller to actually (and finally) receive your money.
I went to the indicated teller and stood behind a couple of young men, one of whom seemed to be discussing an urgent matter with the young woman behind the counter. I waited impatiently for them to finish their transaction. Suddenly she was holding out her hand for my papers, while continuing to talk to the one young man in a rapid-fire delivery, and passed a big bundle of Tanzanian shillings past the two of them and into my hands. I thought this rather strange, but after spending the last forty minutes doing all of this I just wanted to get away. As I counted the impressive-looking stack of notes, trying to calculate if the exchange was right, and then finally gave up on it and turned to go, she never once had to interrupt her conversation. Bureaucratic efficiency in action.
Now I was running late, as it was after ten o'clock, the announced departure time. I hurried across the street and pain the ransom for the field guide, then walked rapidly back toward the hotel. I kept looking over my shoulder and hoping to see the big pink truck on its way back, to know that it was late- and I wasn't. It would be terrible to get there and see the whole group sitting in the truck waiting for me- on the first day too!
But I needn't have worried. I'd forgotten- we're on "African Time" now. You poor fool, don't take a silly thing like time too seriously!
There's sunrise, and there's sunset, and then there's all the time in between. That's all.
It was more than an hour later, well after eleven, before we were finally aboard the truck, to receive a little more advice from Stewart, the young Englishman who was "Operations Manager" for Tracks. I gather it was his job to basically keep the trucks running, and repair abuses they suffered on safari.
There was a buzzer in the back of the truck which communicated with the cab, and he told us how to press it once to stop for photos or whatever, twice to go again, and three times for an emergency toilet stop, A shovel- The Shovel- was provided for the digging of personal latrines. We were advised not to wander away from the truck for this purpose, nor to wander away from our tents during the night- for any purpose. He told us an amusing but probably apocryphal story of someone running out from behind a bush with their trousers around their ankles, having been "unseated" by a passing lion.
We drove out of Arusha on the Uhuru Road, seeing another side of life in the town. Away from the faded charm of the colonial houses, and the rows of shops around the centre of now we passed through a crowded area of corrugated metal shacks, some with signs advertising "Hotel". This was confusing at first, until I learned that "hotel" means "bar" and "lodgings" means "hotel". Okay.
Both sides of the road were a pageant of people, buses, dogs, goats wrecked cars (stationary and still moving), women carrying great baskets on their heads, men in native dress with their walking sticks, and others lounging in doorways and against the walls. It reminded me of something young Joe had said at dinner last night, that if the women of Tanzania laid down their tools and burdens the whole country would fall to pieces.
As we left the town we also passed out of the rainshadow of Mount Meru the sun was shining now and the country became dry and dusty. We passed a few coffee farms, and some fields of dried-up corn stalks, then were upon a flat plain of brown and yellow grass with rounded hills in the distance. There were only occasional flat-topped acacia trees, cacti and thorn bushes now.
The paved road lasted about forty-miles, then we were into wilder country. Instead of goats and cattle we were seeing ostriches and zebras- our first wildlife. A huge male ostrich cavorted before his chosen hen, white wing feathers dipping back and forth in an impressive mating dance. I hadn't imagined these exotic creatures to be so plentiful, but they are one of the commonly seen wild animals. Now we were intently watching the passing landscape, and were rewarded by seeing a herd of Wildebeest, more zebras, Impalas, Secretary Birds and a giraffe. We watched many hawks and vultures circling high overhead.
It was already starting to feel like a trip back in time. These were the plains across which our earliest ancestors walked, and to the eye at least, nothing has changed. I couldn't help but think back in time, and I felt a kind of "atavistic homesickness". We passed a strikingly arrayed group of warriors, all dressed in black robes, their faces wildly painted with white stripes, and black feathered headdresses wafting out behind them. Unfortunately though, in reality the costumes were probably in hope of earning a few shillings by posing for photographs.
Apart from the characteristic acacia trees of the plains, there were also many of the majestic Baobab trees, dormant now in the dry season, their impossibly thick trunks full of spongy material which stores water for the dry months. I learned from one of the twins, Heather- or was it Barbara?- that these unusual trees are also found in northwestern Australia, and since they are often hollow, there is a famous one there that was used as a jail- naughty people were simply locked up inside the tree for the night.
Barbara- or was it Heather?- was also telling me that their family farm in Australia is 11,000 acres, of which 3000 are planted in wheat. That is a big farm, and it sounds as if they have a good life there, remote but self-contained. They first met Janne and Cheryl, the other Australian girls, on a camping trip in the Yukon and Alaska, and they had all decided to share this trip as well.
Anywhere the bare trees were tall enough we would see long wooden cylinders hanging from high branches. These were a source of mystery and much speculation among us. My best theory at the time was that they were for drying meat, to keep the animals away, but I later learned that they were in fact beehives.
Around midday we pulled off the road and parked on the plains, among the dry brown grass and small thorn trees. The crew put together a light lunch with a nice salad, along with the "Dettol Ritual"- a bowl with a solution of the disinfectant Dettol in which we were to rinse our hands before meals. Thus our food would always be "flavor-enhanced" with the wonderful scent of disinfectant. Alan and Carol, doctor and nurse, laughed at this idea, saying that you'd have to soak your hands for several minutes in a very strong solution for it to do any good, but we all went along with it. You can't argue with rituals.
A group of children materialized out of the thorns and dry grass, leaving their herds of cattle and goats to stare at us for a while. We had learned to say "Jambo" ("hello", or "how are you?"), but that was as far as our communications could go. They just stood there silently and looked at us, not moving until we drove away again.
Later in the afternoon we made the long, steep climb up the wall of the Rift Valley. It was about two thousand feet high here, up a rocky dirt road winding back and forth across it. We labored upward, with baboons wandering along the dusty road beside us, then crossed a fertile plateau to the entrance of the Ngorongoro Crater Park. We had gained a lot of altitude already, and it was fertile and lush once again. By the time we climbed up even higher, to the rim of the crater, we were at eight or nine thousand feet, and were surrounded by rich and tangled greenery. We stopped on the road to gather some firewood, and enjoyed a fabulous view back over the plateau in the dwindling light.
It was dark by the time we arrived at our campsite, Simba Camp, (simba means lion in Swahili- great!) and we helped to unload the tents and baggage. It was a challenge trying to set up unfamiliar tents in the dark, but we stood around shining our flashlights on our cook, Emmanuel, as he demonstrated with one, and then we went off to try our luck with the others.
A linguistic note: to everyone else on the trip a flashlight was a "torch", and a "zee-bra" was a "ze-bra", and, being the only North American, for the sake of "standardizing communication" I soon found myself bending to these terms.
People seemed to separate into tent-sharing units without discussion, and we found that there were two tents to be shared between three single men. One of them was Geoff, a six-foot-six New Zealander, so Simon and I agreed to share one tent, and let the over-sized Geoff have one of his own. The three of us became good friends almost immediately, and Simon turned out to be a great person to share a tent- and an adventure- with. Once again, as in China, I had thrown myself into the middle of a group of strangers and come up lucky.
Simon is a squarely built, compact man, with a round expressive Welsh face haloed with short dark hair, and an active, if somewhat droll, sense of humor. A seemingly confirmed bachelor, he's young for his age- mid-forties- and keeps himself in good shape with cricket and rugby. Simon is the best kind of Englishman, one who has traveled widely enough to gain an open mind. (Well, mostly open- he didn't always agree with me!)
In his youth he had spent a year or so in Norway as a lumberjack, living out in the remote forest with an older Norwegian woodsman, each unable to speak the other's language. He has also spent a lot of time in the US, traveling around the "real America" by bus, and making friends while visiting quite a few different parts of the country. Thus he is blessedly free of the anti-American paranoia which afflicts so many of his countrypeople; the complete contempt for two hundred million people they've never met and the vast and beautiful land they've never seen. (Except on television of course.)
The darkness was soon a mass of shadowy activity, lit now by a fire as well as by truck's spotlight. The tents were soon up, and everyone was struggling against the greater obstacle of the camp beds, trying to sort the mysterious struts into their proper shape. One of each pair of happy campers would be shining a flashlight (torch) on the bits and pieces while the other tried to assemble them with force and bad words. I shared a bit of my whisky with Simon and Geoff, from a flask of Chivas Regal I had brought for just such "emergencies".
It was cool in the night at this altitude, so I put on a sweatshirt and jacket and joined the rest of the group shivering by the fire. After the baptismal Dettol ritual, we enjoyed a welcome spaghetti dinner. Alan and Carol aroused some jocular comments with their "torches" mounted on their heads, but I'm sure they found them very useful- and they had the advantage of being able to see their food!
Taking a cup of hot black coffee, I wandered away from the light to look at the stars and talk to my tape recorder. I was evolving a good system of keeping written notes when I was with the group, and recording them when I could get away by myself. I looked up to the clear black sky and a bright crescent moon, with the Milky Way stretching across the heavens.
Still out of sync with the time changes, I slept for a few hours and then was awake most the night. I lay there in the utter darkness, uncomfortable on the confining camp bed, and resolved in future just to sleep on the ground with my foam pad- at least I'd be able to roll over!
Every once in a while my pulse quickened to hear the roar of lions from down in the crater, and what must have been the eerie wailing of hyenas. It was a bit spooky, and I had to reflect on how cool I'd be able to be if I heard something big snuffling right outside the tent. Could I just lie there and wait for it to go away? Simon got up in the night to relieve himself, and remembering Stewarts warning about wandering away from the camp, he just knelt at the door of the tent.
Ukenda chooni na giza basi shetani atakupiga kofi.
If you go to the lavatory in the dark, the devil will give you a box on the ears.
(Swahili Superstition)
---
3- game drive
"To depart on a safari is not only a physical act, it is also a gesture.
You leave behind the worries, the strains, the irritations of life among people under pressure,
and enter the world of creatures who are pressed into no moulds, but have only to be themselves. . ."
Elspeth Huxley
The Mottled Lizard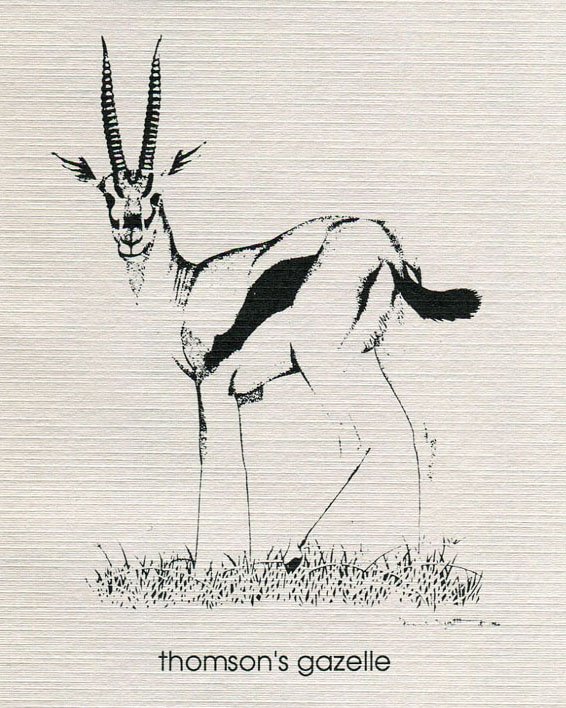 At 5:30 AM most of the group was up and about, though it was still very dark, and surprising cold. The spotlight from the truck was diffused into a wash of light by the thick damp air, and shapeless figures moved in the shadows. The solid beams of flashlights moved across the dark grass as we took down the tents and packed up our things, like gypsies stealing away in the night. As we finished packing and began to huddle around the fire I got a great picture of Simon emerging out of the foggy darkness, a yellow waterproof poncho reaching down to his bare knees, and The Shovel over his shoulder.
Everyone was talking about the sounds of the night : "Did you hear the lions?", "Did you hear the hyenas?" One of the girls, I think it was Simon's friend Kathy, told us that she had been outside during the night, and had turned around to see the stripes of a zebra in the moonlight, right there in camp. The crew also told us there had been some hyenas through camp in the night. Wow!
There was some grumbling about other sounds of the night as well. There are no secrets between the thin walls of neighboring tents. Apparently Janne was a loud and frequent snorer, and her experienced traveling companion Cheryl has learned to sleep with earplugs. Their neighbors however, were not so well-equipped. And the two young Englishmen, Ross and Grahame, also took it in turns to add to the chorus of the African night, and they all took some good-natured ribbing. This would become a regular morning litany, recounting the concerts of the night before.
There was fresh fruit, bread, margarine and jam laid out on the folding table, and Emmanuel sat on a stone by the fire breaking eggs into the big frying pan. Coffee and hot water for tea were in metal pots on the large square grill which stood over the fire. It was funny to see the Australian girls sharing a jar of Vegemite, and Cheryl gave lessons in making toast on a fork over an open fire. It's a demanding art- attested to by the number of broken slices of bread which collected in the ashes. I moved as close to the heat of the fire as I could, hands around a mug of hot coffee, amazed at how cold it was- I mean this is supposed to be equatorial Africa- but of course here on the crater rim we were at almost 8000' of altitude.
With breakfast over, the tents heaved up to the rack over the cab, and everything loaded into the back of the truck, it was noted that one of the rear tires was a little on the flat side. So we stood around and shivered a while longer while the crew tried to get it off and change it. They couldn't get the jack to raise the truck high enough to get the wheel off, and ended up digging a hole under it.
Of course, we were all eager to get out and see some animals, and eventually we were driving off into the fog, even colder now moving through the chill air in the open truck, and the scats were covered with heavy condensation. Beside the narrow dirt road we could make out the trees, eerie as they appeared out of the fog, moss hanging from their branches. We all caught our breath as we sighted three elephants slowly foraging among them.
We stopped at a group of buildings to pick up our guide for the day, then finally headed down into the crater. The Ngorongoro Crater, more correctly called a caldera, is the largest and most perfect in the world. About nine miles in diameter, its walls form a circle some two and a half thousand feet high. The whole area comprises a game park, the floor of the crater stretching over a hundred square miles, and providing many natural environments for the thousands of animals which are protected there.
We couldn't see much as we started down the steep one-lane track, which was perhaps just as well as we wound dangerously down this precipitous dirt road. But as we descended below the clouds which lingered on the rim, this amazing vision began to clear. In the middle of the walled circle of brown grasslands was a blue lake, perhaps three miles long, and thin lines of greenery across the savanna indicated the nourishing moisture of small rivers. There are also two areas of acacia forest, to add to the great variety of habitats. The remains of a wrecked truck near the bottom graphically illustrated the dangers of the descent.
As we drove out onto the crater floor, the first thing we saw, to our great excitement, was a pair of lions, male and female, walking slowly through the short grass. The truck came to a stop and the engine was switched off, as we took turns moving to the left side for pictures, and tried to stifle the 'oohs' and 'aahs' of excitement. Suddenly the male climbed atop the female and started mating energetically, oblivious to or perhaps contemptuous of our presence. As the short performance ended, and the pair continued walking calmly along, our guide told us that they would be back at it every fifteen minutes or so.
"Really", said Simon, "what takes him so long?"
Vast herds of Wildebeest, mixing with smaller numbers of zebras and the huge African Buffalo, stretched across the plains, and there were many herds of different kinds of antelope; Grant's Gazelles, Thomson's Gazelles, Kongoni, and the largest of them all, the Eland. The shy and bizarre-looking Warthogs went trotting away as we approached, their tails in the air like radio antennae. There was such an exciting variety and abundance of wildlife, and we were busy spotting new ones, taking photos, consulting the field guides for identification, and just looking around in wonder.
We stopped on the shore of the lake to marvel at the vast numbers of flamingos, living on tie algae formed by the alkaline lake. A small flock of white Sacred Ibis flew overhead, their black necks outstretched, and the noble Crowned Crane made a beautiful sight, with the straw-colored tiara which gives it its name. At the "hippo pool" we could see their shiny backs, and occasionally pink nostrils and ears, but they remained cool and discreet beneath the surface.
One of the best sights of all was a whole family of hyenas sunning themselves around a complex of burrows. The adults stood a lazy guard, while the pups played and fought between them. Whenever the very small ones would pop their heads out of the holes, they would be pushed back down again by the older pups, acting as playful but firm babysitters. We were learning how to be silent now, or at least to be excited in whispers, and we sat and watched them for about fifteen minutes, fascinated to be witness to this domestic scene.
Our guide promised to find us a Black Rhinoceros, perhaps the rarest of all animals these days, having suffered so much from the depredations of poachers. I was astonished to learn that in the last ten years, some ninety percent of the rhinos have been wiped out, all for the sake of their horns. All this unbelievably irresponsible slaughter, just so a Yemeni can display his manhood with a rhino-horn dagger handle, or some Oriental can bolster his with a spurious aphrodisiac. In the game park offices I saw many gruesome pictures of rhinos and elephants which had been killed by poachers, untouched except for a bloody gash where the horn or the tusks used to be. Very sad. In fact more than that- maddening.
Near a reedy area there were a couple of Land Rovers already parked, one of them with a camera on a tripod perched on the roof. Most of the smaller safari vehicles have removable roof panels, which make for excellent game viewing or photography. In our big tall truck, we could just hang out of the open sides- or clamber up on the framework of the tarpaulin roof for something really special. We stopped beside the Land Rovers, and followed their camera lenses and binoculars to a black shape among the reeds.
Through the glasses you could just make out the line of a dark back sloping to a large head, and that tragic horn protruding up and back. Though we watched fixedly for quite some time, he wasn't moving, and that was all we would see of this rhino. But even that was fortunate enough, as in my whole time in Africa I never saw another, which is not surprising as there are reckoned to be less than a thousand left, and those must be particularly wary and evasive to have survived the greedy poachers.
As we moved across the crater floor once more we saw another rare sight, a Bat-Eared Fox trotting along the dusty track. This is the only fox native to Africa, and since these animals are normally nocturnal it is unusual to see one abroad in daylight. We approached one of the acacia woodlands, and spied a couple of elephants browsing among the trees. Just beyond the woods we stopped in an open clearing for lunch.
We learned that this was the spot where we would have camped last night, had we made it to the crater earlier. One could see why they chose not to drive down that road in the dark, but how fantastic it would have been to have awakened this morning in the middle of this world of wonders. If we had left Arusha on time we would surely have made it. It was a nice campsite, with outhouses and running water- and what a setting! The crater is like a vast amphitheatre, with its green walls stretching around the horizon, and a complex and beautiful chain of life within.
While the crew prepared lunch we laid around in the dry grass, feeling the hot sun finally draining the last of the morning chill from our bodies. Layers of clothing and long pants were coming off now. The heat shimmered on the plain as you looked out, blurring the figures of a huge herd of Wildebeest. Apparently the only animal which doesn't live in the crater is the giraffe, as the crater walls are too steep for its ungainly body to negotiate.
The steepness of those crater walls became a subject of close scrutiny for us, as our truck began the arduous ascent up the exit road. Once again a single-lane dirt track, it zigzagged up the half-mile wall of the crater in only about four switchbacks, so it was extremely steep. The truck strained in low gear, climbing slowly upward as the crater floor receded below us. To look down, over the side was to look into space.
What a test of driving skill for our driver- and what a test of nerves for the passengers! There was one switchback where a rock all prevented us making it in one turn, and we nervously as he backed up to the edge of the road, where a sheer drop of a couple of thousand feet fell away behind us. We looked at each other questioningly, eyebrows raised and I was glad to be sitting on the outside- mentally preparing to leap out! Even the guide, who must have made this climb dozens of times, grinned a little nervously in the back of the truck. I couldn't help but picture the twisted wreck we had seen on the way down. I watched the orange and grey Agama lizards scampering on the rock face, inches from the side of the truck. We all drew a deep breath when we emerged into the rain forest at the top of the crater. Now that was adventure!
As we reached the cluster of buildings once more to drop off our guide, Geoff and I put together a tip for him, and Geoff delivered an eloquent speech of thanks on behalf of all of us. I mentioned before that he is a big fellow, six-foot-six, 250 pounds, and his legs make mine look like toothpicks. Though he mightn't thank me for it he looks like James Arness in the old Gunsmoke TV series. In spite of his stature, he is one of the "gentle giant" breed, a soft-spoken New Zealander in his mid-thirties, and one of the truly nicest people I have ever met. With touching and almost naive sincerity, he said that it had been one of the greatest days of his seeing all of those animals in the wild, and I found that he was expressing my own inner excitement, which I would probably have been too self-conscious to state. Bravo Geoff.
We stopped at an outlook on the top, looking over the bright floor of the crater to one side and down to the dark green plateau on the other. There was a memorial there to several people who had died in the service of the wildlife. One killed in a plane crash in the Serengeti, one killed by a rhino attack, but saddest of all were the last several names on the list- all killed by poachers. What punishment could possibly fit these inhuman criminals? (Their own extinction might be a start!)
We were soon out of the humid lushness of the crater forests, continuing downhill past barren yellow hills, sometimes with a crown of green at the top where the moisture collected. After an area of rocks and thorny scrub, we were back on the bare and dusty plains. It was all on such an incredibly vast scale, mile after mile of dry savanna, yellow-brown and featureless, unbroken even by the usual thorn trees. A thick cloud of dust billowed behind the truck, soon covering us and all our possessions with a layer of grit. We passed many herds of the attractive little Thomson's Gazelles, with their long delicate horns, and trim brown bodies marked by the characteristic black side-stripe.
Leafless, dead-looking thorn trees sometimes clustered around a dry rocky riverbed, and there we would see a few giraffes and baboons. An occasional hyena loped across the plains, and I loved to see the pretty black and grey Secretary Birds stalking their prey in the grass. It is the only bird of prey which doesn't hunt from the air, but simply by walking around. In fact they seem to fly only reluctantly, striding around on their long legs and picking snakes and rodents out of the grass.
Late in the afternoon we arrived at the gate of Serengeti National Park, and while the driver went into the office to register, we were relieved to climb down from the truck and stretch for a few minutes. I say "relieved" advisedly, as being bounced around on the rough roads is tiring, and hard on the bladder. We were up on a small hill here, and there were several large boulders and acacia trees forming an island on the featureless plain we had been crossing for hours.
We watched a pair of giraffes browsing in the nearby trees, when suddenly a big hyena walked out and lay down in the sun, maybe thirty yards from where we stood. Even without binoculars you could count his spots. The giraffes watched him closely, as did we, to see what this sneaky fellow was up to. But it was a three-way standoff, with the giraffes, the hyena and us all watching each other warily.
I think that hyenas have been the victims of bad press. Seeing them in the wild, especially that family at Ngorongoro, really gave me an affection for these much-maligned animals. I find them quite attractive to look at, muscular and purposeful-looking, and their voices in the night are as eerie and haunting as the song of the loon. Their reputation as scavengers is largely undeserved, as they are reputed to be excellent hunters, often having their prey stolen away by lions.
With all of the wildlife programs I have watched about it over the years, it was almost like a pilgrimage to be visiting the fabled Serengeti Plain. As the truck got underway again I stared around me fascinated. It began like the golden-brown grasslands we had been crossing all day, but soon a series of rocky outcroppings appeared, jutting out of the savanna here and there in fantastic shapes. The effect was like a supernatural version of the stone icons which the Inuit build in the Arctic.
These mystical towers which dot the limitless plain are called kopjes (silent "j"), and as I learned from one of those nature programs, form a complete little ecosystem of their own. Birds, small mammals and reptiles all make their homes there, and predators use them as a lookout post from which to survey the plains.
The park itself is impossibly vast, over five thousand square miles, and our campsite was near the centre. So it was still a couple of hours' drive, with only a brief stop at a dry riverbed to collect some firewood. I climbed back into the truck covered with burrs and thorns from the tangled undergrowth. We watched the sun setting above the open country, shining in and out of the brilliantly-colored clouds.
It was beginning to seem like a long day, exciting but tiring, and we were glad to finally arrive at our campsite. The fire of a neighboring group of campers offered a welcome suggestion of security in this wild place. A couple of times a blur of motion crossed the ground in the path of our headlights. These were the Banded Mongoose, we decided after some discussion and a consultation in the field guide.
Once again we set up our tents in the dark, though this time with some familiarity. Simon and I had a passion for "organization" in common, and we had it down to a system, where he would stake out the pegs while I assembled the struts, and then I would erect the centre pole and the fly sheet while he wrestled with the camp bed. We had even tried to introduce a rotation system for the truck, so everyone would be in a different seat every day, but it was only half-heartedly adopted. Some people just seem to resist "organization" of any kind- even in the interest of fairness!
By the time everyone was "moved in", Emmanuel had supper almost ready, and gathered around the fire on the little folding campstools to enjoy a welcome meal. (Avec le parfum de Dettol, naturellement!) Conversations began to spread among all these new acquaintances, the shared experiences of the last two days already drawing a bond between us. I really had lucked into a special group of people here. Even with a few couples among mostly single people, a mix of several nationalities, and the Australian girls who had traveled together before, there was no "cliquishness". Everyone mixed pretty freely, and by the end of the week there was hardly anyone in the group with whom I didn't have at least one really good conversation. And with Simon- I had a lot. We really struck up a rare friendship.
And though he would blush to hear it, he's a great person. He claims he has never married because of a dark side to his nature, and that he can be "a right miserable bastard" when the mood strikes him. But I never knew him to be other than good-natured, cheerful, vocal, funny- and sometimes vulgar- but also thoughtful, intelligent and well-informed. He possesses two qualities which endear a person to me. One; and perhaps greatest in all estimation of my Fellow Man, he makes me laugh! And two; he loves to talk about any number of interesting subjects, full of opinions with the knowledge to back them up, and full of a real love for the world and delight in life. He works as a Systems Analyst, which explains his love of organization. For mine I offer no excuse.
The senior members of our group were Ray and Day (short for Daisy), who were both in their late sixties. Ray is Australian, and Day was born in New Zealand. They were truly a sweet old couple, warm and solicitous to each other and to everyone else, always bright-eyed and enthusiastic, and uncomplaining about the discomforts of bouncing around in the hot dusty truck all day, lugging tents around and setting them up, and sleeping in those horrible camp beds. It was sobering to realize they had children older than me.
A few clouds drifted slowly across the dark sky, black masses passing over the stars and a bright half moon. The beacon of flames and smoke from our fire was mirrored by that of our neighbors, perhaps fifty yards away. All else was impenetrable darkness. As we sat or stood in groups around the fire, drinks were shared from Duty Free bottles of whisky and brandy, and the talking went on for hours.
Simon and I stood with Ray and Day for a while, as they told some good stories from their long and interesting life together. Ray is a veteran of World War Two, and I believe they actually met and were married in England during the war. Day told a long story of returning to New Zealand for her class reunion, full of calamities and farce, and they told us of a hiking trip they had taken in the mountains of New Zealand some years ago.
Then I fell into a good conversation with Geoff, Simon and his friend Kathy, who is an English lady, a few years younger than Simon, who works as a draftswoman in the field of Industrial Design. As they knew what I do for a living, the conversation eventually turned to music. Naturally enough, people are very interested in the workings of the maverick demimonde of the music business, an interest which I understand because I am too. Being uncomfortable with the "fantasy" aspect of the public perception, I am always glad to explain the reality of it, as an art and as a business (and ever the twain shall meet!)
As often happens, I was caught up in a discussion of the "morality" of music. This is a dangerous subject to let me get started on, as it is something I take seriously. In explaining how I see my own work, songwriting as an expression of thoughts and feelings I care about, music as a reflection of craftsmanship and informed taste, I wandered into an explanation of the "cheaters"- those who "play down" to their audience, calculating everything they do to the lowest common denominator of public acceptance. It probably got started by someone mentioning someone (an "entertainer" most likely, as opposed to a musician) for whom I have no respect, forcing me to explain why! (Yeah.)
It was a strange subject to be expounding upon before a fire in the middle of the Serengeti Plain, under the African night sky, but expound I did:
"There are all kinds of "tricks" which a musician can use, both in songwriting and performance. As a simple example, there are certain chord progressions which will trigger broad emotions of, say, sadness, and certain easy clichés which will ensure an audience response, whether to dance, tap their feet, bang their heads, feel happy or angry or sad. But of course these are shallow things, and draw only shallow responses. That's one reason why there are so many bands who appear and disappear like shooting stars, either they run out of "tricks", they aren't smart enough to figure them out again, or they start to believe those who tell them how great they are, in preference to facing the, ah- unattractive truth."
And I went on fearlessly into the even darker realms of taste:
"Well you know, one thing that really bothers me is that people set themselves up, every one, as experts on music. Only in the- what would you call them?- "entertainment arts" [loathsome expression], like music, TV, movies, do people really believe that they know what's good or bad. People don't think their opinions are equal to the knowledge of, say, a doctor or a scientist, but you can't say: 'Look, I've been studying and playing music for over twenty years, I know something about it'. That doesn't mean a thing. But again, as in any profession, when someone becomes successful by what you consider to be dishonest means, you resent it. Or I do, anyway."
And on and on I rambled, now orating on the subject of "quality":
"And it's never a question of "I like this", or "I don't like that". It's not an expression of their personal taste. It's always this song or this artist is good, that one is bad. So it's a qualitative judgement, and an accepted truth. The thing you like is good, the thing you don't like is bad. And, (I laughed), like other notorious things which everybody has, you can't argue with opinions!
"But I have learned that there is music which I might like but I know isn't very good, like some infectious little pop songs, and there is music which I know, by objective measures of quality, like some classical music, is very good but doesn't move me. So I think there's a big difference between taste and quality.
"Even some professionals, musicians and critics, fail to acknowledge this distinction, denying any 'objective criteria'. Bollocks! People who care about music know the difference. Even the great Duke Ellington said it: 'There are only two kinds of music. Good music and bad music.'"
Everyone was asleep.
Ejo tunani shaat ena naa torrono ena, kake meeta enayiolo te pokira.
A man says this is good and that is bad but he knows nothing of the two.
(Maasai Wisdom)
---
4- sunrise on the serengeti
"The distant roar of a waking lion rolls against the stillness of the night, and we listen. It is the voice of Africa bringing memories that do not exist in our minds or in our hearts- perhaps not even in our blood. It is out of time, but it is there, and it spans a chasm whose other side we cannot see."
Beryl Markham
West With The Night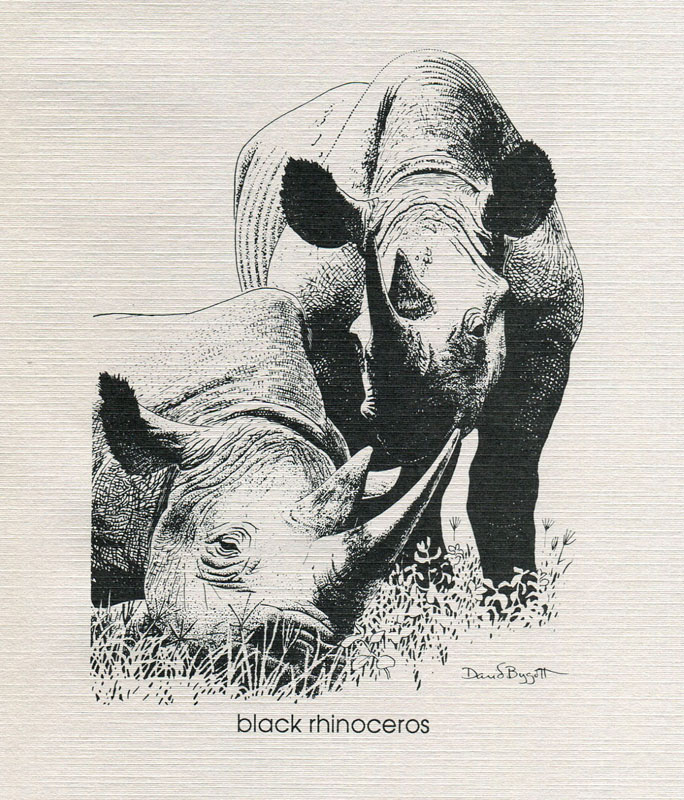 Sometime in the night I heard the tearing sound of Velcro, which fastened the door of our tent together. Through the fog of sleep I remember thinking: "Damn, I've put my foot through the door. Now something's going to come along and bite it off". I sat up and saw the shadow of Simon returning from an "outdoor visit", just refastening the tent flap. Sigh- it had only been that. The phosphorescent dial of my watch said 4:30, but I was quite awake now, and we both just lay there quietly for a while. The sound of hunting lions, that coughing kind of bark I'd read about, could be heard from time to time, and the occasional "whoop" of a hyena.
Eventually we began talking in low voices, and about 5:00 banging and shuffling noises could be heard from the neighboring camp. I thought perhaps baboons were running around over there, tearing things up, but it turned out to be their crew preparing breakfast. Soon Geoff's big voice was calling over to us from his tent, and there was a bit of talking and laughing among us.
Suddenly the voice of an American woman was heard just outside our tent: "Excuse me, could you keep it down a bit over here? It's 5:30 in the morning and you've woken us up." We apologized sheepishly, but it was rather ironic with all the noise their crew had been making, and the rattling diesel of their truck warming up, plus the fact that the rest of their group was already up having breakfast. But we tried to feel contrite.
Our group was stirring early as well, and it was a fresh and beautiful Morning. The sun wasn't quite over the horizon, but a soft light was spreading across the land, showing us our surroundings for the first time. We were in the middle of, well, nowhere! The brown plain of short acacia scrub stretched forever, the colorless country making the sky seem an even more vivid blue. It was cool and still, and as the sun inched upward the long shadows of a few stunted grey trees stretched across the dry earth.
I walked over to the fire which our crew already had burning warmly, and wished good morning to Ray and Day, up early and cheery as ever, and to the quiet English couple, Lain and Alison. Lain was often a good source of knowledge on the flora and fauna, as he had traveled in Kenya before. As people gathered around the fire for coffee and tea, some wandering back from the nearby outhouses, I mentioned to Kathy about our American visitor this morning, and how strange it was that she had complained about us, with all the noise that was coming from their camp. Kathy said that she had heard us talking as well, especially Geoff's big voice. I laughed, saying: "Well, Geoff may have the biggest voice, but Simon certainly has the busiest!" Being a friend of Simon's, she could appreciate the truth- and humor- of that.
During breakfast we were amused by the baboons, who waited to attack the garbage as soon as it was thrown into the big steel drums. A whole troop of them gathered around, and the braver ones warily climbed up on the edge and dug for the good bits. One of the bigger ones was squatting there with a tasty morsel in his hands, keeping the others away, when a fast little guy ran past and snatched it out of his hands, running into the bush squealing with fright as the big one gave chase.
By about 7:30 we too were aboard our truck and off down the narrow dirt track across the plains. How excited I was a game drive on the Serengeti Plain, all those nature programs on TV coming to life around me. I heard echoes of Marlon Perkins, David Attenborough, Lorne Greene, William Conrad...
We first had to stop at the park offices to pick up our official guide, a formality which at first I thought to be simply a "make work" program, but it turned out to be a very valuable service. These people really know where the animals are to be found, with a network to keep each other up to date on their movements. Our guide in particular was eager to make sure we saw everything we wanted to- even if he had to break a few rules in the process.
As we waited at the office, I took a walk around the nearby cluster of boulders, curious about some small mammals I saw scurrying there. They turned out to be something called a Rock Hyrax, a small rabbit-sized animal which amazingly is considered to be the nearest living relative to the elephant! We laughed in disbelief when lain told us this, but apparently they do share some unique anatomical features in common (teeth, toe nails, etc.), and they and their cousins the Tree Hyraxes were very plentiful here.
Our first stop was at a hippo pool, where once again these huge animals were completely submerged, only pink nostrils and ears, and an occasional dark grey back visible. I hoped to see one out of the water one of these days- I'd really like to see a whole hippo! Small parasite-eating birds, the Red-billed Oxpecker, flitted fussily around their symbiotic friends.
We drove along a track which paralleled a river bed, stopping to watch and photograph several lions dozing in the longer grass here. Though they looked lazy and impassive, there was no mistaking their nobility and power, they were surprisingly big, and their tawny coats were stretched taut over muscles like coiled springs.
Giraffes were plentiful, browsing in nearby trees or trotting with their rhythmic grace across the horizon. There is something essentially friendly and comfortable about the way giraffes look, though this too is deceptive, as I learned that they can kill a lion with a well-placed kick!
There were herds of Wildebeest and zebras, and many kinds of antelopes, including our old friends the Thomson's Gazelles, perpetually wagging their short tails. These were so numerous everywhere we went that it became a joke among us, pretending to be excited to see them, and they soon became a kind of mascot for us. We also spotted a couple of the shy little dikdiks, the smallest of the antelopes, which are about the size of a baby goat.
We stopped near a group of people in a Land Rover, their binoculars and powerful camera lenses focused on a large thickly-leaved tree. As our engine was shut down, I scanned the tree with my own glasses, slowly searching the dark foliage, and was rewarded at the sight of a spotted tail hanging down from a thick branch. "A leopard!", I whispered excitedly.
There was a chorus of "Where?", "Where?"
"In the tree."
"Which tree?"
"Just there, follow that branch up to the right. You see the tail hanging down?"
"Yeah, yeah- I've got it."
"Where? I still can't see it."
Well, it wasn't much of the leopard, but it was one. (Stuffed, somebody said.) And as we drove on a bit further we got lucky once again. This time we could see the four paws hanging down, and the vague shadow of a large powerful body. We knew how rare it was to spot these nocturnal hunters in the daytime, and felt appropriately excited and fortunate.
The leopard also completed our quest for the so-called "Big Five" animals, the elephant, rhino, lion, leopard and buffalo. I had wondered about this grouping, as they were not the biggest in size, but I learned that the name of this elite club refers to their danger to man; these are the five animals most likely to cause you grievous bodily injury if given the opportunity.
We had another exciting moment as we drove onto the open plains, and a cheetah went running away from our approaching truck, leaving his kill behind. I could just see him through the binoculars, stopping to look balefully back at us from a hundred yards or so away. A flock of White-backed Vultures was clustered over the unfortunate antelope within seconds, and, though it was against the park rules, our guide allowed us to drive across the plain up close to them. The vultures were undisturbed by our presence, and about twenty of them huddled around, pushing their way in and tearing at the flesh. A Tawny Eagle stood near them, looking majestically aloof but obviously hopeful for a share of the spoils. But he was hopelessly outnumbered, and probably too proud to fight with these lowlife scavengers.
Simon, the old softy, felt bad that we had deprived the cheetah of a hard-won meal, and we all hoped that it would return and chase off the scavengers as we drove away. I'm sure it would have. I was also hoping that this distant individual would not be the only one we would see, as they were one of the most fascinating of all the animals to me. Beautiful to look at; long, slender and graceful in movement; they are the swiftest of animals, able to run at 60 or 70 miles an hour to chase down the antelopes upon which they feed. This purposeful grace is the paragon of form and function, and it soon became my favorite of the big cats. Simon agreed with me on that, but surprisingly, he claimed not to be impressed with the lions. It must have been that mating performance that so disillusioned him!
It was only a few minutes later when our guide again led us off the road, and up to a lone thorn bush on the sun-baked plain. As we slowly circled it we could see a yellowish, black-spotted shape beneath it- another cheetah! We were able to get quite close to have a good look through the glasses and take photographs. And just a little further along, once again off the road, we sighted three of them under a bush, probably a mother and her nearly-grown young. We parked quietly for several minutes just twenty yards away from them, and though they watched us warily they stood their ground. Truly an exciting sight for me.
But perhaps the most awesome vision of the morning was a huge herd of elephants, there must have been eighty or a hundred of them, moving slowly across the plains. They seemed to float on a low cloud of the dust which was raised by their shuffling feet. A majestic, timeless sight, these gigantic prehistoric-looking animals moving across these grasslands as they had for tens of thousands of years.
Simon has a particular passion for birds of prey, even having tried his hand at falconry, and it wasn't long before he had everyone in the truck scanning the sky for him. I had been a keen birdwatcher as a boy, and I found this dormant interest suddenly reawakened as he and I thumbed through the field guides to compare the wingshapes of the many large birds soaring motionless on the warm air currents above the plains. We identified several types of eagles, as well as the large hawks which are called buzzards here.
We were back in camp in time for a nice lunch, then spent a few hours lazing around in the midday heat. Everyone was taking it easy, lying in the powerful sun or dozing in the shade. There were a few people sitting on boxes and campstools in the shelter of Kathy's tent flap, comparing notes and bringing their diaries up to date, adding to the list of birds and animals they had seen. This was the first time we had been able to just sit somewhere, as it seemed as if we had never caught up from leaving late on the first day. Bouncing around in the truck all day was certainly tiring, I found to my surprise that my muscles were often sore at the end of the day, with constant bracing against the violent motion on the rough roads. And the dust settled all over you, seeping into everything you wore or carried. The possibility of going over to the lodge for a shower this evening had been hinted at, which had us all excited.
The announced plan was to go for a late afternoon game drive, then to visit the Seronera Lodge to investigate the possibility of showers. But when we clambered aboard once more and set out, we seemed to drive aimlessly down one of the roads we'd been on this morning, then turn around for no apparent reason and drive to the lodge.
At any rate we were glad to learn that for a few dollars each we could rent some rooms with showers, and we split up into groups of four or five and were led to four rooms in this large, modern motel-like complex in the middle of the Serengeti. It had been built I think by the Germans, or perhaps the Scandinavians, as an aid project, and was really a lovely place. It occupied the top of a low rocky hill, and the string of buildings housing the lobby, restaurant, bar and guest rooms had been built around and within the existing large boulders.
Although there was no hot water, lights or electricity in the rooms, even a cold shower and shave felt wonderful, rinsing away the accumulated dust and sweat of the last few days. After taking our turn under the cold spray, the bathroom growing ever darker, we met up in the large open bar to enjoy a beer or a whisky. Everyone felt much better, and looked much better too, and the circle of clean, damp-haired and happy campers grew, sitting in the comfortable chairs around a low table.
You could see that after the European benefactors had turned the place over to the Tanzanians, it had become a bit run down. Obviously fairly recently built, to a clean and modern design in harmony with the environment, it was already looking a bit grubby and neglected. Not only the hot water and lights were out of order, but also the ice-making machines and the refrigerators- so cold drinks remained an unfulfilled wish. It was richly populated with hyraxes as well and they had left their rabbit-like "calling cards" all over the place.
There didn't seem to be many people staying there, I don't think we saw more than a dozen guests, but I could see that visiting a place like this for a couple of nights, and driving out to look at the animals during the day could be quite pleasant. (Though not so exciting as being out on the plain under canvas!)
Some of us walked out onto the terrace outside the bar, which again made use of a natural rock outcropping. I was surprised to see a small swimming pool, though of course it too was out of order- empty and riddled with cracks. The view was just fabulous, looking down across the plains to the west, an endless vista of brown grass and dry acacias with the sun just touching the low hills on the horizon. This classic African vista was only spoiled by a big garbage dump right outside the hotel, presided over by scavenging baboons and many of the large, funereal Marabou Storks in the trees. How strange to see this unsightly mess here- in the middle of one of the world's greatest game parks.
We were in good spirits as we drove back to camp for dinner, once again catching the blur of a group of fleet mongooses in the swath of the headlights, as they raced for cover. We sat around the fire under a bright half moon, the plain but well-cooked food tasting as good as it only can outdoors, and watched a spectacular display of heat lightning off to the north. It seemed to come down, not in zigzags, but in straight silver lines from the clouds to the earth, spreading a bright and dramatic glow in the darkness. The conversations were once again warm and animated, the air alive with laughter and good spirits. I noticed that Janne was talking with our driver which was nice to see, as there was a kind of gulf between us and them that we had been trying to bridge.
Janne was a bit of a puzzle to me, but I had a good feeling about her. Both she and her tentmate Cheryl seemed to be a couple of tough old birds, and in fact Janne was a policewoman back in Australia, a Detective Sergeant, and Cheryl was a secretary in the same police station, both of them unmarried. Simon had mentioned to me early on that he found them both a bit forbidding.
I told him I felt they were different somehow. While Cheryl was tough-spoken and cynical, and bore an evident chip on her shoulder, I had a suspicion that Janne had a "soft centre", a core of vulnerability which she protected with a defensive armor. And I found this to be true, once you had won her trust, you couldn't meet a warmer and nicer individual. It may be that it was just the thick skin demanded by her job, or perhaps it was that she had never been well-favored by nature as a girl, and had had to retreat behind a protective barrier.
As Simon and I unrolled our sleeping bags that night (Simon had told me it was a good idea to leave them rolled up until you were ready to climb in- to prevent any "unwelcome visitors" finding a warm place to rest), and laid there talking in the utter darkness, he told me that he thought I was right about Janne, and we talked for a while about the ways in which vulnerable individuals have to armor themselves against the insensitivity of others.
Sometimes it takes the form of that "urban impassiveness" that you see on the faces of people on subways, on crowded streets, or even on elevators- a temporary shell which can removed at will, when it's "safe" to be open; when you're not among strangers.
But sometimes the armor closes itself around a delicate thing, and with time it grows so thick that it hardens right to the core, and the delicate thing is lost.
Kuma ti kuma to ihiga, na kuororoa to maii
To be hard does not mean to be hard as a stone,
and to be soft does not mean to be soft as water.
(Kikuyu Proverb)
---
5- the cradle of man
"According to tribal legend the Maasai first found themselves in a crater-like country surrounded by inaccessible hills and escarpments. One season the rains failed and great suffering resulted, with people and cattle dying. But during this drought it was observed that birds used to come down the steep escarpments and bring green grass and leaves which they used for making their nests. The elders met and decided that the birds must fetch their grass from areas beyond the escarpment where rain had fallen. It was then decided to send scouts to examine the land beyond. . .

As soon as the scouts reached the top, they were staggered with amazement at the beauty, the fertility and the greenness of the land that they found. There were wide stretches of pastureland, many streams and rivers and lots of living room. Furthermore the land was empty and all that was to be seen were wild animals and the birds of the air."
S. S. Sankan
The Maasai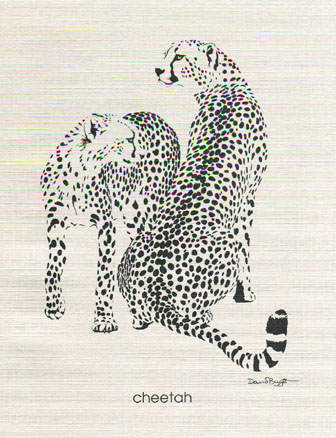 One more sunrise on the Serengeti, the red sun just above the horizon on this beautiful morning Everyone was up early breaking camp and hauling their tents and luggage over to the truck Once Simon and I had everything stowed away, I climbed up to the top of the truck's roof rack to take a picture of the whole scene. In the foreground people struggled to fit their tents into the bags which always seemed too small, Emmanuel was bent over the fire working on breakfast, Simon washed his hands in Dettol, the baboons squabbled over the garbage nearby, a pair of vultures surveyed us from a treetop, and out beyond the outhouse the yellow plains stretched to the horizon, the dry and leafless trees casting long shadows.
Through the cab roof below me throbbed the droning pulse of the one and only tape which the crew ever seemed to play, maybe the only one they owned. It was a collection of raucous and repetitive American R & B songs recorded from a radio station in, of all places, Wichita Kansas. How they came to have it I don't know, but they sure liked it, playing those same half-dozen songs over and over all day long. Fortunately the sound of their distorted old tape deck didn't reach into the back of the truck, but every time we stopped you could hear it blaring out, and nearly every morning and evening it boomed and rattled away.
We retraced our route from the Ngorongoro Crater, driving back across the infinite Serengeti, across the golden treeless savanna which stretched away to the distant low hills. Giraffes, a shy little dikdik, the inevitable Thomson's Gazelles, a couple of Golden Jackals loping through the grass- and Kathy called to Simon and I to watch a Tawny Eagle soaring high above us. Where a grassfire had recently burned, the new grass came up green and fresh-looking, and a tall Secretary Bird stalked its prey in this fertile spot. The barren plains were criss-crossed by a network of meandering but well-worn game trails, an animal habit which we wondered about. We figured that they must stick to regular paths for the sake of the grass, their food, but it's hard to know.
Even in the early morning, a heat mirage shimmered across the open grasslands from the relentless sun. We passed a dry river bed, a tumult of dusty boulders, where a stand of yellow acacia trees called "Fever Trees" clung to life. I learned they are so-named because it was a native superstition that these pretty yellow-barked trees caused yellow fever.
We left the rough gravel "highway" to turn off onto an even rougher, dustier side road, and the truck labored through the deep dust, sometimes up to the axles. Our destination was the Olduvai Gorge, the place where the Leakeys had found our oldest known ancestor, Zinjanthropus Man. This had been listed as a possible option on our safari, but Ray and Day and myself had been particularly keen to go, urging that we make a stop there.
As we pulled up to the small museum on the edge of the gorge, we had our first real contact with the Maasai tribe. Although not the largest of East African tribes, they are probably the most widely-known, being handsome, exotically-arrayed nomadic people who have clung to their traditional herding lifestyle almost alone in rapidly modernizing Africa. They are the ones you see on the travel brochures, their hair elaborately dressed and colored with animal fat and red ochre, standing with a spear in hand as they guard their herds on the open plains. They cross freely between Tanzania and Kenya, a remnant of their original bravely-defended territory remaining as a "reserve".
Their culture is rich in traditions, taboos, rituals and mythology, and is often compared to the Jewish one- even to the non-Maasai, "gentiles", being lumped together as Ilmeek. One unusual taboo forbids the eating of almost every wild animal, though their domestic cattle form the bulk of their diet. In former days a youth had to prove his manhood by killing a lion. I don't know if that tradition survives, but milk and blood is apparently still a popular soft drink among the Maasai.
Here at Olduvai Gorge, in this shrine of Evolutionism, their ancient myths of creation and exodus offered a romantic counterpoint.
There seemed to be a family of three generations standing in wait, six or seven of them, all in traditional dress, their earlobes cut away for the large earrings they wore, and wearing elaborate beadwork necklaces and bracelets.
And what they were waiting for was us- to pay them to take their pictures. They did look great, and appealed to the romantic in me in their steadfast clinging to an ancient and simple way of life, but when I discovered they wanted fifty shillings each for the arduous task of posing for photographs, I decided it was just too weird and put my camera away.
Geoff and I took a walk down the steep and stony wall of the gorge. The late morning sun was very hot, radiating up from the barren rocks all around us. We. climbed to the top of a narrow pinnacle which rose in the middle of the deeply cut basin and stood there surveying the dry world around us. This was a spot that really gave me something to think about.
To imagine that 1,700,000 years ago, our earliest ancestors had walked on the earth here below us. In the Nairobi Museum I saw a cast of the line of footprints the Leakeys had found here; a man, a woman and a child walking barefoot across a field of volcanic dust, the woman walking in the man's footsteps. "Why?", I asked myself; "Was the sand hot or what? Then why didn't the child walk in the man's footsteps too? Some superstition? Where were they going anyway?"
But whatever the reasons for their journey, or the conditions of it, their footprints have been preserved for almost two million years. It is fantastic to reflect upon this link to a long-forgotten past- it's like the ultimate "Roots" saga. My imagination typically projected myself and my own family onto that arduous trek across the scorched earth, a migration of survival perhaps, and escape from a now-barren Eden.
The Olduvai Gorge is centred between several extinct volcanoes, including the Ngorongoro, and its history is a direct result of that location. There had been a lake at the bottom, and the people had lived beside it, leaving their tools and their remains there to be buried and preserved by subsequent volcanic action. Over the millenia layer after layer of life was buried away, like a series of time capsules. Then in more recent times, a volcanic upheaval had caused a violent flood to rage through here, opening up this gorge right down to the bottom again, and at the same time opening up an archaeologist's dreamworld.
In the small museum there were well-presented charts showing the gorge in cross-section, and the different periods represented by each layer. There was also an interesting collection of fossilized bones, some fossilized Guinea Hen eggs, and a couple of artist's interpretations of what the land and animals might have looked like back then- in the real good old days!
After a pleasant lunch under a thatched canopy at the edge of the gorge, we boarded the truck once more to continue our journey. As we drove away, it was kind of sad to see those representatives of the proud and independent Maasai sitting in the shade of the museum wall, waiting for the next bunch of tourists to pay them fifty shillings (each) for a photograph.
It was surprising to see how differently people reacted to this experience. For instance; Grahame had been to Olduvai before on a previous trip through this area, and he was one of those not recommending a stop here. He said: "there's nothing to see really, it's just a gorge". And I suppose some of this group were much in agreement with that evaluation, and it's true- there really is nothing to see, but there was something about the setting and the associations that I found very powerful, and it gave me much to think about on the next part of the journey. Perhaps there was nothing to see, but there was plenty to feel.
Once more we bounced and strained through the dust out to the main road, then turned to begin the long climb up to the rim of Ngorongoro. Even the hot dry wind across the plains helped to make the heat more bearable, as the midday sun glared down from a cloudless sky. I had a smaller water bottle, from my bicycle, which I carried with me on the truck, but the chlorine taste of the purifying tablets remained uninviting even with a wedge of orange squeezed into it. We passed out of the barren grasslands into an area of thorny scrub: No animals, not even Thomson's Gazelles, could be seen in this desolate wasteland. Mile after mile in first gear, the truck labored up the hill.
There was more dust in the air today, making the distance hazy, and the vastness of the history presented at Olduvai had me contemplating those Large Questions which sometimes demand to be thought about- even if never solved. As I looked around at the thorny scrub, which alone with the grasses survived in this inhospitable environment, I was thinking about how only the most hardy and well-protected plants had evolved to fill this meagre ecological niche, and from that, into Evolution in general.
As a whole it is a theory which I accept as logical, but there are certain questions which I have heard raised which make me wonder, like the theory of genetic mutation being the source of new survival traits in the species. It sounds sensible enough, but the quantum leap from, say, scales to feathers, or from gills to lungs still seems difficult to rationalize. What's it all about (Alfie)? How did it all happen? These are the kind of questions which Creationism makes so easy- what a pain to be an atheist!
We made a firewood stop on a hillside of dried-up timber, with most of the men and some of the women climbing out of the truck to gather dead branches, or to hack away at fallen trees with the axe or the panga- a machete-like cutter with a curved blade. Simon, the experienced lumberjack from the Norwegian forests, chopped away at a fallen tree trunk with the axe, while Geoff walked back down the road dragging a big log in each hand. Paul Bunyan lives!
I had noticed that when the truck was hot they were always careful to park on a hill, so they could let it roll backward to bump-start it. As once more they let the truck roll silently backward, it roared into life, and once again we were climbing slowly, the engine still working hard in first gear, until we saw the familiar rolling yellow hills around the Ngorongoro once more.
And then we were up in the luxuriant green growth of the higher altitude forest. It was quite a different scene to arrive at Simba Camp in the bright afternoon sun, after having arrived in the dark and left in the fog the previous time. We had seen none of it at all. Now we could see that it was an open clearing perched right on the edge of the crater, and you could look out over the whole thing, the walls of the far side blue in the haze.
A few of us followed a little path through the long grass which led over to the very edge, where the wall fell away three thousand feet to the crater floor. It was an awesome sight. Even without binoculars you could see the pink wash of innumerable flamingos on the shore of the blue lake, and that combined with the gold of the savanna and the dark green of the acacia woodlands made a rich and colorful mosaic. Even at this distance the herds of Wildebeest and zebra could be easily seen, and birds of prey swooped down from high on the wall. Simon and I decided to hurry and get our tent up so we could spend the rest of the afternoon right there, just watching this "wildlife theatre".
On one side of the campsite area was a small structure of cinder blocks with a cistern on top. At one time it had contained showers and toilets, but they'd long since fallen into messy disrepair. The roof made a nice perch from which to survey the area, and I climbed up there with my tape recorder for a few minutes while Simon made himself a cup of tea. ("Yank" he calls me, "Teabag" I call him, in our mutual disdain for such nationalist slurs.)
Below me our cook and our driver did some laundry, also climbing up to the cistern to fill a pan with rain water, then sloshing their clothes around in New Blue Omo Powder. Most of the other people were gathered around the fire for a refreshing cup of tea or coffee, enjoying the luxury of arriving at our destination early for once. Though the sun still shone brightly, the air was pleasantly cool at this altitude, and the trees were dripping with moss above the thick undergrowth and rich green grass.
Simon and I sat for several hours in the grass at the crater's edge, scanning the inside with our binoculars and enjoying this exciting vista. Some of the others dropped in on us from time to time, while a group of people went over to the nearby lodge for a drink. Sharp-eyed Simon spotted a herd of elephants down in the acacia woods, and we checked on their slow movements from time to time, as we scanned the grasslands hoping to see a lion or a rhino, and watched the birds of prey wheeling in the clear blue sky.
We could trace the route we had taken across the crater floor the other day, coming down the wall and across the savanna, to where we saw the lions performing that disgusting act, and the hippo pool, the line of the small river where we had watched the hyena family, and the clump of reeds where the rhino had been hiding. An occasional moving plume of dust marked the passage of a Land Rover or safari truck driving across the dry grasslands.
I'd brought my flask over with me, and we enjoyed a couple of capfuls of Chivas to toast the sunset in this once-in-a-lifetime location. The Wildebeest began to string into lines as the crater fell into shadow, breaking up their former tight herds and moving on to somewhere they would feel safer. There was certainly nowhere to hide down there.
I was thinking about the relationship of predators and prey. Where the grazing animals, the prey, have to live with their eyes, ears and noses alert every second, knowing that only watchfulness and a quick exit will save them, the predators walk slowly and confidently around, lordly in the knowledge that they need fear no animal. But even they must grow old and weak, and I was thinking poignantly of a noble old lion, growing slow and feeble after years of being "King of the Beasts", and the tragic end of being brought down and devoured by a pack of hyenas. And so eventually they all know fear and violent death.
Simon eventually headed back to camp and left me sitting there alone, the sun just hitting the treetops behind me. At first it was wonderful sitting there by myself, watching the animal world prepare itself for night. But as I began to think about where I was, and what else was around too, I started to get a little nervous. The Maasai grazed their cattle up here, and apparently the lions were fond of eating lean beef. And we had seen those big elephants the other morning less than a mile from here. The guide book says there are leopards here too- and they kill things just for fun.
Something could come out from behind those bushes right now that would be really scary!
After a lifetime of walking freely in fields and woodlands, it's hard to get used to the idea that there are things here which will rip your throat out! You look around at all these animals from the safety of the truck, and after years of zoos and TV nature programs it seems so safe somehow, and it's easy to take it for granted. Big mistake. There's a nervous little laugh on my tape as I discussed this reality with myself: "Ha ha. Yeah- I think I'll head back pretty soon". I gathered up my things and walked back to camp, with a bit of a spring to my step.
I had asked Kathy to see if she could buy me a half-bottle of whisky over at the lodge, to replenish my flask (Simon was drinking it all), and she came back with a Konyagi bottle (a Tanzanian gin-like liquor) full of something like Vat 69 Scotch. She'd thought the price horrendous, at something around $15 for the half, but way out here I couldn't complain about.
With a little extra time to prepare dinner today, Emmanuel whipped up an especially good one for us, with a ground-beef stew, sausages, carrots, cabbage, potatoes and sweet potatoes. The high spirits and growing camaraderie of the last few days continued around the fire after dinner. I got into a good conversation with Ross, a young Englishman in his late twenties or early thirties, who works as an "investigative accountant", traveling around to check out companies before those notorious corporate takeovers and mergers. I kidded him about being a corporate Secret Agent, a Private Eye of the accounting world.
We stood away from the fire a little bit, and lost ourselves in talking for a couple of hours. He seemed a little insulted when I told him I was disappointed that he didn't have that thick "Brummie" accent my friends and I often mimicked.
"Not all people from Birmingham talk like that you know!"
"Well, evidently not, no more than all Canadians talk like: 'Jeez eh, how's it goin'? Like let's have a couple of brews eh!'. But the ones that do are still funny!"
And from this modest conversational beginning, we went on to deeper things. Music, politics, economics, the British parliamentary system as opposed to the American Electoral College- stuff like that. He was telling me a funny story about the Italian system of "representation by population", where a topless dancer had apparently just been elected to their parliament. Democracy in action! We discussed the prevailing attitudes of European and British people toward America, a TV-tube caricature of filth, vulgarity and violence- none of which exists in Europe of course!- and whether British policemen really do carry guns (I think they mostly do, he maintains they still don't). We delineated the different kinds of violence which trouble America and Europe, street crime on the one hand and terrorism and "football hooligans" on the other. Of course, there is too much violence in the US, but it's foolish to pretend that it doesn't happen elsewhere. I had been amused to read recently that British Airways had started-carrying handcuffs on their charter flights out of the UK; not to control terrorists, but to restrain drunken and violent passengers.
Then there were the mutual causes of this social violence to discuss; unemployment, poverty, boredom, alcohol, drugs, racism, religion, television, capitalism, socialism. . . We had problems to get sorted out!
When we had finished "saving the world", we moved in closer to the fire with the others, and Ross brought out his bottle of Duty Free whisky to share around the remaining six or eight people who hadn't gone to bed yet. I had another nice talk with Janne, as she was telling me about her three weeks down in Botswana, near South Africa. It sounded like a great trip, combining camping, canoeing and boat trips as well as overland travel, and I took down the name of the company she had gone with.
And one of those amazing "small world" coincidences occurred when she mentioned having met a German girl during her trip in western Canada and Alaska who worked for a Canadian musician, and when I looked at Janne's address book I saw that it was our guitar player Alex! Small world indeed. "Canadian musician met Australian woman in Africa, who met German girl in Alaska who used to work for fellow band member of Canadian musician. (Who met Australian woman in Africa who met. . .)
With fewer of us tonight, we were finally able to get the crew to open up. It turned out that their insularity and silence was due more to lack of confidence in their English than to any real alienation. Janne had broken- the ice a bit the previous night beside the fire in the Serengeti, and now, with fewer of us, I suppose it was not so intimidating. We had a good talk with Emmanuel for the first time, and finally learned something about our driver too.
We had been calling him "Dootch", as that is how we were introduced, but now we learned that his name was actually "Dutch", but pronounced like "Deutsch". Get it? It was hard to understand his explanation, but it seemed as if his father had fought with the Germans during the war, and liking them, had named his son after them. Thus Deutsch- but it didn't explain why it was spelled "Dutch" on the driver's licence he showed us, or how his father came to be fighting for the Germans during the war, when Tanzania (then Tanganyika) had been a British colony since the First World War. Could it possibly have been the Dutch his father meant? Nor did this explain why the people from the Tracks company had called him "Dootch". More African mysteries.
We learned that all three of our crew were from the Kilimanjaro area, though Dutch is from the Chagga tribe, while the cook Emmanuel and his assistant Henry are from the Pare Thus they speak different languages, so communication even among themselves was difficult. Dutch told us that as children they learn their tribal language and Swahili, and then later in school they learn English, but nobody takes it very seriously or considers it very important. To speak English among themselves is considered to be "putting on airs".
Dutch (pronounced "Deutsch", you remember) had gone to trade school to learn to be a mechanic, and that was what he really wanted to do. He was just working as a driver to try to save enough money to buy the toolbox and tools he needed to practise his trade. Emmanuel had begun as an assistant safari cook, the peeling, preparing and washing-up job which Henry did now and had worked his way up to being cook.
Janne had lent the crew her tape of Paul Simon's Graceland, hoping they might like it enough to play something different than the Wichita tape, and tonight that tape went around and around, endlessly replaying as we sat in the dark by the blazing fire. The crew were cheerfully smoking Janne's cigarettes and accepting a drink of whisky from Ross as we talked quietly. It was nice to see Emmanuel's shy smile and Dutch's warm grin as we spoke haltingly of our different worlds, ours seeming just as foreign, exotic, interesting and strange to them as theirs did to us.
Maji usiyoyafika hujui wingi wake.
You do not know the extent of waters you have not been to.
(Swahili Saying)
---
6- lake manyara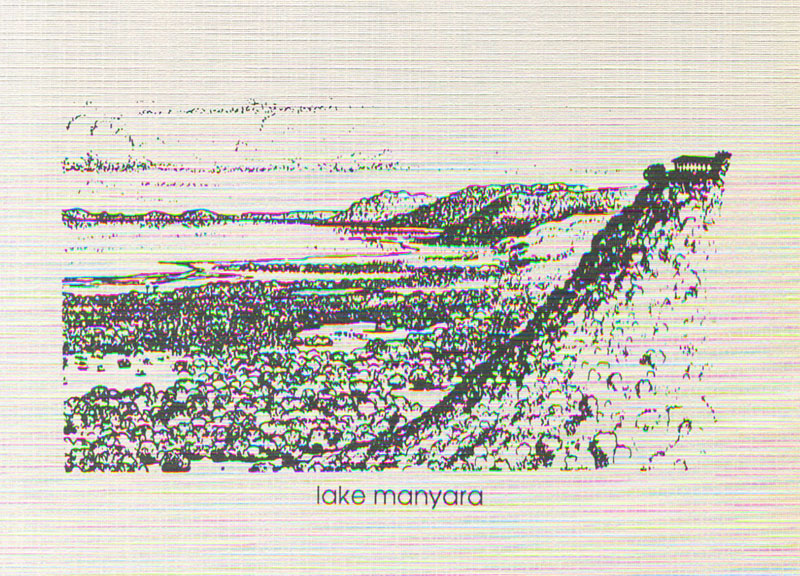 I suppose other people's dreams are not the most interesting subject in the world, but it's funny how every time I take a trip like this it brings the weirdest dreams into my sleep.
I was just driving to the store with a friend and our two children, when we suddenly turned out to be in Los Angeles, and then we were somehow backstage at the Los Angeles Forum. Then 1 was alone outside, driving my Audi Quattro up miles of stone stairs in the dark (good thing I had four-wheel-drive!) which were lined by cheering people and bright lights, and it seemed to be part of a movie set. Then I was back talking to the stagehands at the Forum, and the car keys were lost and everyone was looking for them, and then we were all in Tina Turner's apartment- which was above the Forum- and then-
I woke up. Whew!
The mist began to close in on the crater rim just after sunrise, though it didn't seem quite as cold as it had been the other morning. Geoff, Simon and I walked through the wet grass over to the edge where we had spent yesterday afternoon, but just as we stood there the clouds began to obscure the inside of the crater. Simon told me he had heard elephants and lions during the night, and the crew told us there had been elephants, buffaloes and lions just back toward the road from us. Yikes! The crater was soon invisible, and we walked back up to the fire where Emmanuel was cooking up some porridge. I ate a wedge of orange and then went to work on packing up my stuff.
A couple of young Maasai boys wandered through our misty camp, looking at us shyly but with curiosity. One was perhaps twelve years old, the other nine or ten, and they stood a little away from the tents, dressed only in thin blankets on this cool and damp morning. The elder one carried a stick to herd the cattle. I went over to talk to them, and found the older boy could speak a few words of English, and he asked me, not for money or candy, but for a pen. Unfortunately I didn't have one I could spare, I wish I had known before how valuable pens are to the children of Tanzania, I would have brought a whole boxful of Bic retractables. As it was I got them to pose for a photo, and gave them a little bit of money- because they didn't ask for it.
As we climbed up on the truck, Graceland once more going around and around, everything loaded and stowed away, I waved goodbye to my young Maasai friends, and we drove off. The morning remained overcast and misty as we drove around the crater rim, and then headed down across the fertile plateau.
Ross and I sat together, and continued our conversation from the previous night. One doesn't save the world in the morning of course, but we discussed different bands we liked and didn't like, music and attitudes, and the reality of Live-Aid.
Ross is one of those who are of the opinion that an event like Live-Aid really represented something- maybe changed something. But I had to disagree. It certainly didn't change human nature.
Now I'm no cynic, and certainly some of the people involved had the right motivations. There's no doubt that Bob Geldof didn't run himself ragged and sacrifice his on career spearheading all that for any other reason than to try to do something. But there's also no question that many of the other people involved, musicians and "industry" types, had their own axes to grind. There was a lot of: "Look at me, look at me- I'm rich and successful and doing something for the poor starving people", and there was precious little altruism in all this public posturing. It seems to me, Ross, that everyone should have just given some money and shut up!
I know from the inside what was going on during these recordings and concerts, people showing up because "my manager told me it was a good career move" (direct quote), and one can easily guess at the ulterior motives which hypocrites are so adept at hiding.
And then there was the public stoning given those who didn't choose to be part of this exhibitionism. One band called Tears For Fears was dragged through the gutters of the English press for "killing the children of Africa" in their refusal to appear, and yet who could blame them? I have to agree with the British producer and journalist Jonathan King, who dared to write in a London newspaper the next day that all the charitable benevolence aside, it was a terrible show. That certainly took courage, and made him no friends, but I think it's true. Amid all that chaos, with egos and technology impossible to organize, the only artists that came off well were those who just sang with a solo piano. Yet even then they couldn't get a microphone that worked for Paul McCartney. (Though if you ask me, that may have been the hand of a Higher Power!)
My favorite humorist, P. J. O'Rourke, also wrote a very witty and acerbic article on this subject, focusing mainly- in his inimitable way- on the "We Are The World" gang:
"We are the world [solipsism], we are the children [average age near forty]
We are the ones to make a brighter day [see line 6 below]
So let's start giving [logical inference supplied without argument]
There's a choice we're making [true as far as it goes]
We're saving our own lives [absurd]
It's true we'll make a better day [unproven]
Just you and me [statistically unlikely]
"That's three palpable untruths, two dubious assertions, nine uses of a first-person pronoun, not a single reference to trouble or anybody in it, and no facts. The verse contains, literally, neither rhyme nor reason."
And on he goes into greater depth and wit, arguing my case much better- or at least much funnier- than I ever could.
But I can offer a much more cogent example of what it was all about, Ross. During the year following this outpouring of public generosity (when many of the Live-Aid pledges given in the peer-pressure heat of the moment weren't being honored!) I was thinking about some extra drumsets I had sitting around, and trying to think of a good way to give them away. It occurred to me that I might have an auction, and give the proceeds to the Foster Parents Plan, a favorite cause of mine. Then I thought; there must be plenty of other musicians who have equipment sitting around which they're not using, maybe I could make this bigger. And I started to think about a satellite hookup, doing it with MTV and Canada's Muchmusic, and have people bidding by telephone from all across North America. You see, Ross? I was getting excited now. Why, this could catch on, we could even do it every month with a celebrity auctioneer, and help out a bunch of different worthwhile causes. But to do something on this kind of scale I'd need a lot of cooperation.
So I started talking to people in the business, both music and charity, and asked our office to get in touch with the video networks, the phone companies, try to put something like this together, it could be great. So, a little nervous about the scope and demands of this thing I'd put into motion, I sat back and waited for this wave of the whole world's new-found humanity and helpfulness to sweep over me. And what do you think happened Ross?
Absolutely nothing. No one could be bothered. It just wasn't hip anymore- it was no longer necessary to appear charitable. The consciences had all gone back to sleep. So had Ross.
In the late morning we drove up to Gibb's Farm, an old coffee plantation from colonial times which survives by offering guest accommodations and meals to passing travelers. It's located on a very lush hillside, thick with tall trees and tropical vegetation surrounding the orderly rows of coffee bushes. The gardens around the house were beautifully landscaped, lovely gardens of tropical flowers and a fish pond with weaver birds nesting around it. A row of neat little guest cottages lined the driveway, and with the location between Arusha, Lake Manyara, Olduvai and Ngorongoro, on the road to the Serengeti, it would make a wonderful place to stop for a day or two. (Or an hour or two, in our case.)
We were greeted by a gracious hostess who showed us a place to clean up (with running water, and flush toilets!), and then we took a walk around. We were supposed to have taken a walk up to a waterfall in the forest, which we were told was a beautiful place where wild animals often came to drink, but for some reason we couldn't. They said we had been scheduled to go at 10:30 and we didn't arrive until 10:45. But wait a minute- we're on African Time here, what's fifteen minutes? I suppose just as this place has survived as a memory of the days of colonialism, some residue of punctiliousness must be left over from the "outpost of the Empire" days. Strange.
A well-spoken young girl gave us a tour of the coffee-processing area, where the beans were sorted and dried in the sun before being shipped off to be roasted. Then we gathered at the chairs and tables on the main terrace, enjoying the beautiful setting and waiting for lunch to be served. Punctually at 12:30 we were called inside.
Inside the house the rooms were cool, with terracotta tile floors and white-washed walls hung with local maps, wildlife paintings and a zebra skin. A small fire burned in the fireplace in a corner of the main room, as it was still overcast and cool on this highlands morning. The furniture was simple and comfortable. The dining room was at the rear of the house, overlooking another verdant garden, and two large- tables were covered with an incredible variety of food. There was soup, cold meats, several kinds of quiches and dozens of salads, everything beautifully prepared and presented. There was another whole table offering about five different desserts- my special weakness- rhubarb crumble, custard, fruit salad, trifles and more. What a feast to be spread before you out here, in the wilds of Tanzania! I don't think I ever had a better meal in Africa.
After lunch we continued across the green plateau, the countryside dotted with rustic houses of mud and sticks. The roofs were often thatched, with the occasional touch of "modern luxury"- corrugated metal. The people lived off the land here, with fields of maize and a few banana trees, and several brick-baking ovens making use of the clay soil. Ragged children came running out to the side of the road, waving their hands and calling out to us. Once when we were stopped for a moment one of the Australian girls produced some candies to hand out to a family of small children. There was a charming scene when the oldest boy, maybe seven years old, took the first candy and immediately gave it to his little sister, then let the others crowd in Only after everyone had one did he come up and hold out his hand for himself. Now that's the spirit of generosity, Ross! Ross? Wake up, Ross!
I noticed as we drove along that the Swahili word for school is "shule", from the German, another example of the polyglot nature of the language; Bantu, Arab, English and German words combined in a kind of East African Esperantd.
The plateau ended at the top of the Rift Valley wall, and we stopped there for a few minutes, a "Viewpoint Pause" as Dutch called it. A pedlar walked up to the truck and held out his hand to us, then opening his palm like a magician to display several cut stones of Tanzanite, a pretty pale blue semi-precious stone which is unique to the area. Barbara- or was it Heather?- bargained with him for a couple of them, while some of us walked off the road to the edge of the cliff.
We walked through the dry scrub and tall, sculptured termite nests, and stood on the edge of the sheer precipice. It dropped sharply down below us about two thousand feet, making for a fabulous "Viewpoint Pause", and we looked out over Lake Manyara National Park, where we would be camping tonight. The large blue lake was beautiful, spread across the floor of the Rift Valley, and a fire burned in the dry grasslands on the far side of it, a line of flames and white smoke stretching away in the distance.
"We had come down to the Rift Valley by a sandy red road across a high plateau, then up and down through orchard-bushed hills, around a slope of forest to the top of the rift wall where we could look down and see the plain, the heavy forest below the wall, and the long, dried-up edged shine of Lake Manyara rose-colored at one end with a half million tiny dots that were flamingoes."
Ernest Hemingway
Green Hills of Africa
(No flamingoes today.) At the bottom of the steep road of stones and dust, we drove by the gate of the park and stopped at the market in the town of Mto-wa-Mbu, which I later learned means "Mosquito River". I think we have one of those in northern Canada as well! Inevitably, Graceland came blasting out of the cab as we stopped.
The market area was very large, catering both to the local population and passing tourists as this road is on the main safari route from Nairobi and Arusha to Ngorongoro and the Serengeti. In fact there were two other big Bedford trucks stopping there at the same time, the people walking around in search of a good souvenir of their Tanzanian adventures.
There was a large area of small stalls, where the local entrepreneurs invited you in to look at their carvings, spears, beadwork, baskets, batik, goatskin shields, drums, shakers- that sort of thing. But unfortunately it was all strictly "tourist class", all imitations of the authentic Makonde carvings or Maasai beadwork. Simon and I walked around looking at it all, and he was now beginning to regret not having bought the beautiful ebony carving he had liked in Arusha. At the time he had objected to paying a fairly high price (at the place where "we don't bargain"), but now he could see that "you gets what you pays for". The good stuff cost more here too, just like anywhere else.
We walked around to the far side of the market, where the local trading was done. Though it was late in the day, and most of the business had probably been transacted in the early morning, there was stilt a large variety of bananas, mangos and other fruits, green vegetables and tomatoes. Men sat at treadle sewing machines mending old clothes, while others made carvings and women sat weaving the colorful baskets.
As we came around to the side facing the road there was a long line of local shops, called dukas; corrugated metal kiosks which offered things like soap, shortening, vegetable oil, toothpaste and children's aspirin. I was amused to see a "bike shop"; one of the dukas which was hung with bicycle wheels, tires, chains, ball bearings and miscellaneous tools. It was interesting that here as well the bicycles and parts were of Chinese manufacture, some with the Flying Pigeon trademark which I remembered from my visits to similar "bike shops" in that country.
As we sat in the truck waiting for the others I saw a tiny Subaru safari van pass by, the six occupants and their driver looking very cramped. I was glad my trip hadn't turned out to be like that. I was also thinking that if the safari I'd originally booked hadn't cancelled out on me, I wouldn't have taken this one and met all these good people. It's interesting how life's accidents, or synchronicities, can lead to situations like this. Thinking of Simon and I, two people living in different countries and with completely different livelihoods and lifestyles, signing up for a particular trip in Africa for a particular time when we could get away, and ending up by sharing a tent in Tanzania and becoming good friends almost immediately.
I looked at a group of Maasai women standing on the side of the road, dressed in their beautifully-dyed robes of colorful checks, their heads shaved, and many beaded and metal necklaces around their necks. Not only were their earlobes split open and stretched around decorative wooden plugs, but the tops of their ears were weighted down with heavy metal earrings. I noticed that as the girls grow up they are more heavily weighted down, until the upper ears are completely doubled over. Not very attractive to our western eyes, but the Morani (Maasai warriors) must like it!
Our campsite in the Lake Manyara National Park was very different from any of the others in which we had camped. First of all, here at the very bottom of the Rift Valley the vegetation is nourished by ground water, which I imagine collects and runs down the valley walls, and is not dependent at all on rainfall. In fact, this particular type of forest is called a Ground Water Forest, as opposed to a Rain Forest I suppose.
Our tents occupied a circular clearing, among very tall trees which were thick with leaves and vines. It had a real "Tarzan" look to it, especially with a bamboo shower enclosure in the shelter of the trees at one end. But the shower actually worked, and we were very glad to have the chance to rinse away more dust from the Serengeti, Olduvai and the road from Ngorongoro. All of our clothes were encrusted and permeated with brown dust too, and some people took this opportunity to rinse a few things out and hang them from their tentropes.
Before dinner we took a drive around the park, seeing a large troop of baboons along the narrow dirt road, the smaller babies clinging under their mothers, the larger ones riding up on Mom's back. It's interesting that baboons in East Africa are considered rather like raccoons are at home, as nuisance scavengers and nervy thieves.
There were giraffes and the beautiful caramel-colored Impalas browsing in the late afternoon light, and Simon and I were excited to see an African Fish Eagle perched above a stream right at the roadside. This is a beautiful big bird, looking a bit like a Bald Eagle with its noble white head, and this was the first one we had seen. The trees above us were full of nesting pelicans, so numerous that we had been able to see them from the top of the valley, and it seemed as if their droppings poisoned the trees in which they nested, as the branches around them were dead and bare. The sun was setting behind the wall of the Rift Valley to our left, we could see several elephants browsing up there, and the Baobab trees looked beautiful silhouetted against the dying light.
As we drove back in the dusk, we were suddenly in the middle of a herd of elephants crossing the road. Naturally we yielded the right of way- but one of the bigger ones took offence anyway, and turned to face us, ears flared in warning. Oh boy.
"Don't worry Mr Elephant- we'll be out of here right away- don't get mad!"
We heard a story that was supposed to have happened in this park, where an angry elephant charged one of these big trucks, ramming its tusks into the steel body and lifting the back wheels right off the ground. There was an apprentice driver at the wheel, and the main driver was yelling at him to: "Get it into four-wheel-drive! Get it into four-wheel-driver, and finally he managed to get the front wheels spinning in the dirt, and pulled the truck away from the elephant, two big holes remaining where its tusks had been impaled. That must have been an exciting moment for those in the truck!
It was interesting to notice that one of the herd had a badly misshapen leg, and to reflect on the highly-developed social behavior which would permit such a sadly handicapped individual to survive. Almost alone among animal species, elephants help each other when a member of the herd is sick or wounded, or when one is giving birth. Like the rhinos, the elephants have suffered severe depredations from poachers, having been reduced by as much as half in the last twenty years for their coveted tusks, as well as by the common problems of drought and loss of habitat.
And yet in the National Reserves in Kenya their numbers have to be "controlled", i. e. killed, to minimize the destruction of the landscape. I guess they're like big bulldozers roaming around the dwindling forests, smashing and uprooting trees. Messy eaters.
In the evening a pair of big white thicks pulled into the other campsite beside us. The make of them was MAN, Austrian I think, and they were very robust-looking, almost military, like something out of Raiders of the Lost Ark. There was a big black "NZ" painted on their austere whiteness, and sure enough, it was a group of New Zealanders, on a fifteen month journey from London, through all of Africa, and back again. Wow- what a trip!
And with another one of those synchronicities I was talking about, a young New Zealander on our truck, Fleur, met her friend and next-door neighbor from home traveling with the other group. Big Geoff went over to introduce himself to his fellow New Zealanders, and ask for any information they could give him about climbing Kilimanjaro, but they were having a group meeting, and the leader said he would drop by later.
I was thinking about what these people were in the midst of doing. Spending fifteen months roughing it around Africa with a group of other former strangers. (You'd certainly get to know each other.) There's no question that the trip would be a great experience, but I would find it hard to give up over a year of my life for something like that Too "goal-orientated" I suppose. I could see if you had been working for a lot of years, and had accomplished your goals already, you might want to get away from the world for a while. But to do something like that when you're still young and ambitious is alien to me. (If, I suppose, you are ambitious!) Even thinking back on the last fifteen months of my life, there's no way I'd trade all that I've done and seen for the sake of a single trip- however adventurous! And of course, if you're a young person on a trip like that, you're unlikely to be traveling on your own resources.
Murimirwo ni ithe ndoi indo iri bata
He who has his fields tilled by his father
does not know that things are precious.
(Kikuyu Proverb)
After dinner we sat around the fire talking, serenaded by (of course) Paul Simon, and I saw Geoff get up and go over to meet a couple from the other camp. It was the leader of the New Zealand group and his girlfriend, and since I too was going up Kilimanjaro the following week, I asked if they'd mind if I listened in as well Geoff and I listened eagerly, glad to have someone to clear up the real nature of this undertaking for us. The Kiwi (I'll call him that because I don't remember his name) was a rather flabby and self-important fellow, perhaps in his late thirties, with glasses, a beard and a good-looking girlfriend. He gave us much to think about, telling us of the dangers of "altitude sickness", and some horrible-sounding thing called Pulmonary Oedema, a condition whereby you turn blue, bleed from the nose and ears, and die. Apparently it's like the opposite of the "bends" which afflicts divers at great depths.
He said that it's normal to have a headache and be vomiting (!), and to maybe have nosebleed, but if you get that other thing the porters have to race you down the mountain just as fast as they can, on a special stretcher with four bearers which rides on a motorcycle wheel. Wow. Sounds great. He advised us to try to make the climb in six days rather than five, to give an extra day on the mountain to acclimatize to the altitude.
He also said that near the top the guides were liable to try to discourage you from going all the way, so they wouldn't have to make the climb they'd done so many times before. Apparently they would tell you that you couldn't make it and should go back, but we were to remember that our minds would be playing tricks in the thin air, and that we were the ones paying for it, and to threaten "no tip" if they don't get you there.
All of this ran through my head in the night, leaving me not a little apprehensive about the seriousness of the undertaking I had signed up for so coolly. I saw myself being raced down the mountain on a stretcher, all blue and with blood coming out my ears. A person could get killed here! I mean, in the brochures they say "any reasonably fit person can make it", and "it's just like a long walk uphill", Those words would certainly return to haunt me, but so would the words of our Kiwi friend.
I didn't admit it to myself at the time, but he wasn't a very likeable person, delivering the Gospel According to Himself with a heavy quota of gratuitous obscenities, insensitive to any who might find it offensive.
And his advice would turn out to be exaggerated and sensationalized- calculated to thrill and impress his audience, rather than enlighten them. Only later did it occur to me that he was careful never to say whether he'd actually done the climb himself.
But I wouldn't be surprised to learn he had never been near the place!
Uhoro wa maitho ti wa ruthiomi.
What one sees with one's eyes is not what one hears from another's tongue.
(Kikuyu Proverb)
---
7- lake duluti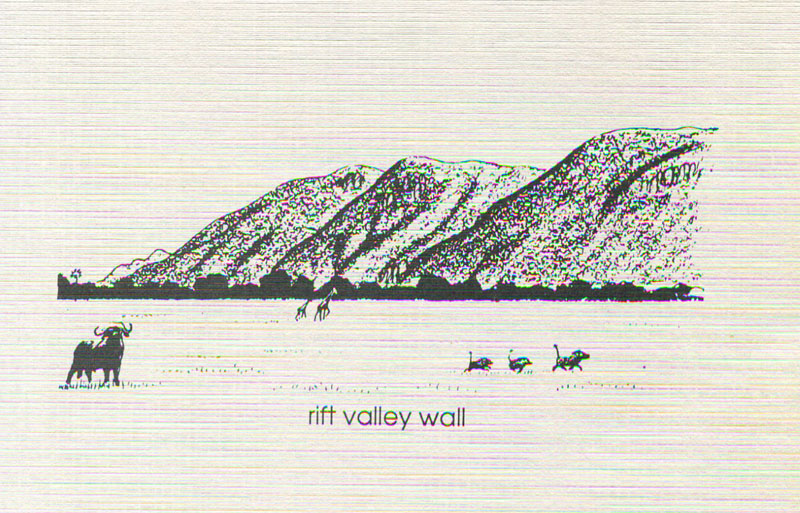 Simon and I thought we had chosen a nice campsite, on a flat piece of ground under the tall trees and a little away from the others. The trouble was, some of the others thought it was nicer than the spots they'd chosen, and we soon had several very near neighbors set up beside us. We thought we'd chosen a "nice country place", only to find ourselves living on top of each other in condominiums!
This only became a problem during the night, when Simon and I were once more working diligently on the problems of the world. Through one of our rambling conversations, we encompassed his interest in the battlefields of World War 1, a discussion of the resentment of the Japanese by people who had fought against them during the Second World War, and a mutual disdain for- but interest in- religion and astrology. In discussing Christianity, we agreed that all the "good stuff" is to be found in the Old Testament- all the good stories, the miracles, the violence, the sex and the philosophy. Really, we decided, it had all been said by the Ten Commandments (or perhaps more realistically, the Ten Suggestions!), and had only been watered-down and sentimentalized later. The baboons barked and chattered their comments from the darkness outside our tent.
I told Simon my theory about the presence in an adult's face of the child they had been, a private game I like to play when looking at the face of a friend or a stranger. I have the idea that you can tell how much of the child is left in the adult by whether or not you can picture what they looked like as a little boy or girl. With some people it seems easy, where others are impossible to imagine, and I think it really tells something about them. Obviously one has to grow and change, but there should be something left of childlike innocence, joy, wonder, sensitivity, trust.
"Go to sleep Simon!"
It was Kathy's voice ringing out in the night from a neighboring tent- I guess she didn't know me well enough to yell at me!
And another voice from the other side, I think it was Iain, seconded the motion: "Hear hear!"
"Hmmph", I whispered, "Neighbors on top of us, thin walls- we've got to move to the country!" So we shut up, and let the world solve its own problems.
In the morning we took another drive around the park, though some of the group were already becoming bored with the "same old animals"; Wildebeest, zebras, buffalos, antelopes and elephants. All of the animals and birds remained exciting for me, and it was a thrill to park right beside a pair of baby jackals, who remained fearlessly looking at us as their nervous parents trotted away to keep watch from the distance. We had been hoping to see some of the famous "tree-climbing lions", and kept an eye on the trees, but never did see any. This is one of only two places in East Africa where lions are known to climb trees, and no one is really sure why, whether it's for a cool spot to sleep or a good place from which to hunt. Maybe both.
We got out of the truck at a river near the shore of the lake, to watch a great number of hippos lazing in the water, or at least the tops of them, and I was still hoping to see a whole one out of the water. Not today. The bird life around the water was fabulous; hundreds of egrets, cormorants, Marabou Storks, pelicans, Egyptian Geese and other shore birds.
Late in the morning we returned to camp for lunch, then loaded up the truck and headed back toward Arusha. We were retracing the route we had followed just a few days ago, though with all we had done and seen it now seemed like a long time ago. Then we had been strangers, a little lost in a strange land, but now we were companions, comfortable in a familiar environment.
Bouncing on the rough road across the dusty plains once more, back on the paved road for the last forty miles, and then into the crowded streets of Arusha we drove. We stopped in town for a while so Emmanuel could pick up some supplies, and sat waiting in the truck and watching the town go about its business. (And Graceland played on- we were really getting sick of that tape!)
Talking to Dutch the other night, it was funny to hear him say he didn't like Arusha because it was "too big". Though it's really quite a small city, only about 100,000 people, I guess when you're from a small village on the slopes of Kilimanjaro it would seem a very busy, noisy and crowded place.
We listened to the eerie song of the Imam calling the faithful to prayer from the mosque across the street, and I was moderately surprised to see a brand-new BMW and a Mercedes 190 parked beside us. Someone was making money here anyway. Two well-dressed "dudes" strolled by, and compared with the crowd through which they moved, their flashy clothes made them stand out like peacocks in a chicken run. I figured they must have been black marketeers, the most charitable possibility I could think of anyway.
This is another place, like China, where socialism has been imposed upon a people who are by nature very capitalistic. Bargaining and barter are a part of life here- even hitching a ride is a matter for which a fee will be negotiated in many parts of Africa, and "small business" entrepreneurs operate everywhere, on both sides of the law.
The other night around the campfire someone had asked Dutch if there were a lot of Indians in Arusha. "Oh yes", he replied, "too many!", and went on to tell us that they owned all the businesses; the shops as well as the industries. In North of South, Shiva Naipaul postulates the idea that many East Africans harbor a secret approval of Idi Amin's ousting of the "Asians" from Uganda, and this may help to explain why Tanzania was left holding a $500,000,000 bill after President Nyerere led the war which deposed Amin. He was forced to fight back when Ugandan forces began encroaching on Tanzania's borders, and ended up overrunning the country and attempting to sponsor a new elected government, though the leadership of Uganda still remains an uneasy balancing act.
Surprisingly, none of the other African countries nor the United Nations would help him in this crusade, an expensive enterprise which effectively wiped out Tanzania's reserves of foreign currency. This is a major reason why Tanzania remains one of the poorest countries in the world, and though Amin was certainly perceived internationally as the worst sort of dictator, no one seemed to be willing to help his deposer. Strange.
On the move again, we drove about twenty miles out of town to our campsite at Lake Duluti. This was a very different sort of campground, with a guard who opened the gates to a well-groomed, park-like place on the shores of a small lake. We set up our tents on the neatly-trimmed grass under tall trees, among several other groups of campers, and found there was even a bar on the lakeshore with showers and flush toilets- this is just too civilized!
This was the last day for some of the group, Geoff, lain and Alison were off tomorrow to start the Kilimanjaro climb, and the rest of us would be heading across the border to Kenya, so we would be saying goodbye to our crew as well. Simon and I exchanged addresses with Geoff, and we shared a bit of the single malt whisky which Simon had been jealously guarding all week.
I had foolishly volunteered to take up the collection from everybody to tip the crew, and wandered from tent to tent for that purpose, "cap in hand" as it were. Then I found myself sitting in our tent with a flashlight taped to the centre pole, which shone a beam of light down on a big pile of Tanzanian shillings and American dollars. I sharpened a metaphorical pencil, and went to work figuring out the exchange, and the percentages to be divided among Dutch, Emmanuel and Henry. Some of us were determined to help Dutch got enough money for his toolbox, and many people gave very generously for that purpose. We were sorry to say goodbye to them now, having just got to know them a little bit, and I think everyone had grown fond of the three, hard-working Tanzaaians.
Val from Tracks and her son Joe met us here too, and distributed forms which everybody was to fill in stating their comments and complaints about the safari. One of the most common disappointments we expressed was not having camped on the floor of the Ngorongoro Crater, which we blamed on having left so late the first day. Val told us that in spite of what the brochures and itineraries said, there had never been any intention to camp there, as it cost about $30 a person to do so, and it was a lot cheaper to stay up at Simba Camp on the crater rim. Naturally we said that having come all this way, we wouldn't have quibbled about spending a bit extra for such an experience, but it was academic now.
Any other complaints were pretty trivial; that the overhead racks in the truck should have some kind of netting over them, to prevent the raining-down of articles upon our heads on the rough roads, and that one of the seats in the truck was broken and uncomfortable.
Having weathered the trials of sorting out the money for the crew, I talked Simon into giving the presentation speech, in which he expressed our thanks, our good wishes, and Janne's generous donation of the Graceland cassette to the crew's limited collection. Certainly none of us wished to hear that album for a long, long time (If indeed, ever again!)
After dinner we gathered in the bar, a small open pavilion right on the shore of the lake, and used up the last of our Tanzanian money buying drinks for the crew and each other. You were not allowed to take any shillings out of the country, so now was the time to get rid of them. As we sat at the long tables with out drinks, Val was telling me that Lake Duluti is actually a crater, which has been filled by underground springs. Out behind it begins a wild area called the Maasai Steppe, a trackless bush country through which she once traveled with some friends in a Land Rover. There are no roads at all, and they followed cattle tracks, hiring Maasai guides when they were really lost, to lead them to towns where they could get their bearings. Sounds good to me!
After a while I took a walk along the shore, looking out over the lake in the bright moonlight and enjoying a haunting night concert from the frogs and insects. I recorded a few minutes of this African night on my tape recorder, and tried a couple of times to track down the source of these songs, zoning in on one voice and peering under logs and among the reeds with my flashlight, but I could never find one.
I sat down on an overturned boat and lit a forbidden cigarette I had borrowed, figuring I could allow myself the indulgence on this night of celebration. I was thinking about the country of Tanzania and its problems. Since achieving independence in the early 'sixties, President Julius Nyerere has evolved a kind of "paternal socialism" for his one-party government, which has often put the country at odds with the surrounding capitalist nations. In fact the border between Kenya and Tanzania was closed for six years, between 1977 and 1983, over a dispute about the equity of a partnership between the two countries and Uganda. These days they maintain an uneasy peace, but the border is open.
In spite of some disastrous early experiments in land and population redistribution, Nyerere seems to remain a very well-respected leader, within his country as well as around Africa and the world. He even has intellectual and artistic credentials, having translated some of Shakespeare's plays into Swahili. Certainly his official portrait, which adorns every place of business (by law here as well as in Kenya- to remind you of who's really boss I guess!), radiates a kindly, avuncular warmth directly into the camera, in contrast to the ones of President Daniel Moi of Kenya, who gazes sternly away from you- into the glorious future, one presumes.
On the dark side however, Nyerere tolerates no dissent, controls all the newspapers and media, and in "elections" he was always the only candidate. Until 1979 he actually held more political prisoners than South Africa, though he did release over ten thousand of them in the next couple of years.
Val gave me some insight into the white community here as well, talking about the cliques they inevitably form. There is one group composed of the "aid" people, enjoying the luxuries provided by their foreign governments, and the expatriate teachers forming a kind of intellectual elite, and then the former colonial people who have been here since before independence, most of them in their sixties and seventies now and set in their ways. They were allowed to keep their farms, though now of course they must sell their produce to the government at fixed prices rather than on the free market. That would explain why a place like Gibb's Farm supplements its coffee income with the restaurant and guest houses. I guess the safari people are kind of the mavericks, on the outside of these cliques. Val was telling me of the small scandal she created by bringing a friend of hers, a black teacher, to one of the "white social functions".
I heard a story about one of the other groups finding a scorpion crushed in the folds of their tent as they unpacked it, and I unrolled and checked the inside of my sleeping bag extra carefully tonight. Once again, sometimes you need a little reminder of exactly where you are.
I heard Simon come in about midnight, leaving some of the party still carousing over at the bar, their conversation and laughter carrying in the night air. Our tent was right beside the main gate, and I heard the diesel clatter of the trucks and Land Rovers coming and going throughout the night. A group of locals had a very long and loud discussion in Swahili sometime after I fell asleep- their turn to "save the world" I guess. All this was a big contrast to the night sounds we'd grown used to- the baboons last night, or the lions and hyenas on previous nights.
I was kind of excited about the changes tomorrow would bring, crossing the border into Kenya, a new truck, a new crew and a new country for a few days. Then I too would be leaving the group early, flying back to Tanzania for the Kilimanjaro climb. I must admit to feeling a little nervousness about that already.
Things were supposed to be a lot more organized and "developed" in Kenya, and I wondered how different it would be. Had we known what we were in for in the next few days, we would certainly not have bothered complaining to Val about Tracks in Tanzania- not a word would have been spoken about misleading brochures, or trivialities like the lack of netting in the overhead racks, or the discomforts of the back seat!
Tinki kiitikino.
The unfavoured may eventually be valued.
(Maasai Wisdom)
---
8- between two worlds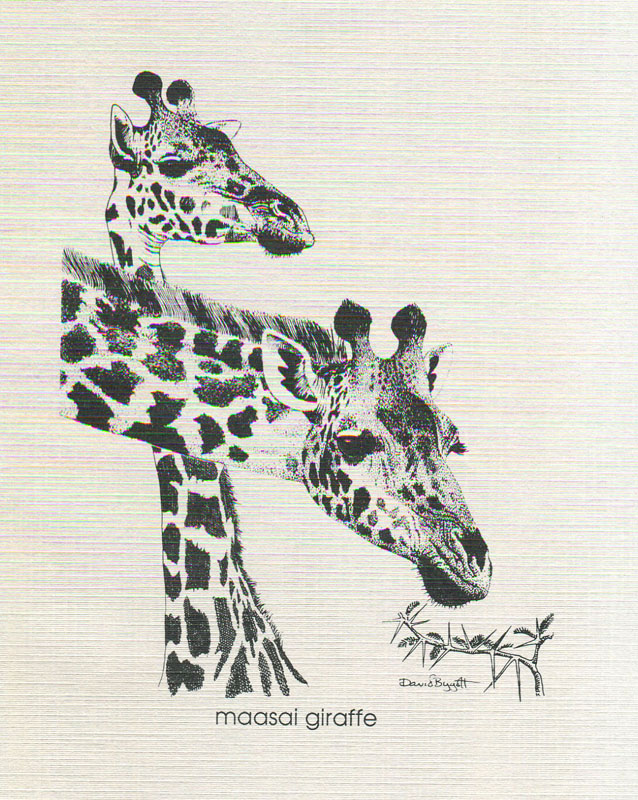 A light rain was falling when I emerged from the tent in the early morning. I put on a plastic shell and walked through the wet grass over to the fire. I noticed that the crew were walking around with their pant legs rolled up, and I soon discovered the reason for this. I felt a sharp pain on my ankle, and pulled up my own pant leg to see a couple of ants feasting there. Brushing them away and baring both my legs, I looked around to see thousands of them filing around in the grass.
These would be the Siafu- safari ants, of which I had read nightmarish reports. Beryl Markham wrote: "Siafu don't just sting- they bite chunks out of you. Within a few hours a normal, healthy horse, if he is unable to escape his stable, can be killed and half-eaten by even a reserve division of Siafu."
Alan and Carol came over to the fire as well, apologizing for having disturbed anyone during the night. They had been awakened about 4:00 AM by the presence of hundreds of these biting ants inside their tent, and I guess it had been quite a job getting rid of them all. Soon everyone was doing a strange dance around the fire, stamping their feet and brushing their legs, and worst of all- finding these painful pests wandering inside their clothes.
We said a last goodbye to Geoff, lain, Alison, Emmanuel and Henry, and the remainder of our group drove off with Dutch to Arusha. We would be picking up Val, Joe and a friend of Val's at the Tracks house to give them a ride as far as the border, as they were on their way to Nairobi. We were supposed to meet with a truck from the Kenyan side, then travel to Amboseli National Park to spend the night. This park sounded like a beautiful place, at the foot of Kilimanjaro, and on a clear day the mountain was said to make a fabulous backdrop for the animals. We would never know.
We drove along the Arusha road once again, the same one we had taken that first day coming from the airport. How different a place looks when you've seen enough to put it into a context. Now we could appreciate the lushness of the vegetation here in the shadow of Mount Meru; the banana trees, the flame trees, and the lilac clouds formed by the flowering Jacaranda trees which grow over the streets of Arusha. I learned from Janne that these pretty trees are in reality South American in origin, and have been widely planted in Australia as well.
Janne was also telling me that she had the opportunity to meet some of the other safari groups last night, and that their "interpersonal relations" hadn't been as enjoyable as ours Apparently there had been many little causes of friction, like people filling the inside of their truck with so much personal junk that no one could move, and thoughtless people causing "international incidents" by trying to sneak photographs of the real Maasai, whose beliefs forbade it. She was also telling me about an unpopular lady on one of the previous trips she had been on, whom they had called the "traction mat"- if they got stuck in the mud it was her who was going under the wheels!
We had another insight into Tanzanian life as we drove all around Arusha- from one petrol station to another- looking for one that had some diesel fuel! In a place where almost every vehicle is powered by diesel, this is a serious problem. I was reading in Africa on a Shoestring that if you're traveling by bus in Tanzania you should be prepared for delays caused by fuel shortages, and now I could see why. After visiting about six stations we finally found some fuel (and every time we stopped, Graceland wafted back from the cab), and we were off to the Tracks house.
It was a nice modern bungalow in a suburban area, with a large garage and parking area for the safari trucks. I noticed that they seemed to have a security guard on duty, and many of the nicer houses around Arusha were surrounded by high walls with barbed wire and broken glass set into them.
Joe had been telling me about some of the pets they had in the house, and invited me and a few of the others inside to see them. Stewart, the young English Operations Manager whom we had met the first day, had a fondness for snakes, and there was a huge cage built in the front room to house his seven-foot python. Whoa! The python is ordinarily a rare and retiring creature, but Stewart had rescued this one from a grass fire when he was on safari, and had brought it home as a pet.
I was very impressed with Ross's bravery, when he let Stewart wrap the giant reptile around his neck- Ross figuring that Stewart wouldn't have let him do it if it wasn't safe. Trusting soul! I wanted to get a picture of this, but was afraid the flash might cause a reflex tightening around Ross's neck. Stewart assured me it was okay. In another cage Joe showed me their pet Bushbaby, a possum-like nocturnal mammal, and Stewart also had a couple of Night Adders in a terrarium in his room. Just your average household- Val and Joe, Stewart and his girlfriend, a python, a Bushbaby and a couple of adders!
We climbed aboard the truck and continued our journey, the lushness of Arusha soon giving way to the dry grasslands, the bony cattle and goats scratching their food from the sparse vegetation. It was a cool overcast morning, and moving rapidly along the well-paved road made it quite cold in the open back. I was fortunate enough to find an empty seat beside Simon in the sheltered front row, and we started talking together, as usual, the most comfortable of companions now.
We saw a few zebras and gazelles, and a lone male ostrich. The majestic white dome of Kilimanjaro appeared above the clouds for a while, its ethereal beauty giving rise to mixed feelings of excitement and apprehension in me. There was no weakening of my resolve, I really wanted to get up there- I just didn't want to die doing it!
After a couple of hours Joe pointed out the border ahead, a cluster of buildings among some low brown hills. First stop- Customs, Immigration and Currency Control for Tanzania. President Nyerere smiles warmly down on you as you stand in line to fill out a form, hand it in and have your passport stamped, then join another line to have your exchange papers checked. Like petty bureaucrats everywhere, the officers project a stern demeanor, aloof, all-knowing and wearing every ounce of their little powers. They didn't even look at the currency forms, just had us put them in a pile on the desk. Then it was outside to unload all the luggage from the truck, drag it inside and stand in another line. This time I never even knew I'd been cleared- I just looked down and suddenly there was a pink chalkmark on my pack- he got me when I wasn't looking!
And now we entered "No Man's Land". This is a zone about a kilometre wide between the two countries, which is packed with tumbledown buildings, and has an atmosphere rather like a big "jumble sale". Rows of market stalls and dukas line both sides of the road, selling a pretty unexciting selection of clothes, shoes and household goods, with brightly-colored plastic pails and such-like from China. There were many Maasai women selling jewelry on the street; metal earrings, beadwork necklaces and elephant hair bracelets. The town, if town it is, is called Namanga.
At the other end of this "nowhere place" were the buildings housing the Kenyan authorities. We went through the same formalities once again, only this time under the stern countenance of Kenya's President Daniel Moi, looking away into that glorious future.
A big fat Indian man shoved his way past the lineup at the Currency Control counter. (Simon, who knows about such things, later told me he was a Sikh). He was very tall and wide, his vast bulk pushing us all up against the counter as he passed. Turbaned, well-dressed and neatly-bearded with shiny white teeth, he stood in front of the officer smiling and talking, while he placed a few banknotes on the counter. As he turned and squeezed past us again, I saw the officer lay his hand flat over the money and transfer it without expression to the pocket of his shirt. I could hardly believe what I had seen, but others saw it too- you couldn't help it, it was so openly done.
Now we just had to wait for the truck to arrive from Nairobi. We pooled our few remaining shillings and went next door to the "Lucky" restaurant, a primitive and grubby arrangement of tables and chairs offering Indian snacks and soft drinks. There was a window looking into the kitchen, but to look too closely was perhaps a mistake. We fearlessly enjoyed as many sambusas and the doughnut-like mandazis as we could afford, washed down with warm Fanta.
There was no place to exchange money here, so we couldn't buy any Kenyan money. You weren't allowed to take any Tanzanian money out of the country so we'd spent all that. And so it was that at this moment we became effectively broke.
Val, Joe and their friend soon left us, hiring a taxi to take them on to Nairobi. There were some resentful suggestions that she should wait with us until our truck showed up, but she assured us it would be along any time now, and they've never been more than two hours late. Uh-huh. My travel agent had told me she was reluctant to recommend Tracks to me because she had once had an elderly client stranded for five days at this border. Five days? I looked around me in disbelief. There was nowhere to stay, or even to camp, you'd have to sloop in the dirt at the side of the road, and live on sambusas and mandazis every day. If you had any money to pay for them! It seemed impossible.
So we settled ourselves in the truck to wait. At least Dutch and the truck were still here, though neither of them had the papers to enter Kenya. Maasai women gathered around the truck six and seven at a time, holding their trinkets up in front of us and waving them around as they screamed unintelligibly. It soon became annoying, and we agreed that if anyone was interested in buying anything, they should do it away from the truck. Well- most people agreed.
I tried to get comfortable laying across that broken back seat, and picked up reading The Moon and Sixpence again. Maybe I could retreat from these hot, dusty and noisy surroundings into the Eden of turn-of-the-century Tahiti. Simon and Barbara- or was it Heather?- played Scrabble on one of those portable boards, and Day laid down on the seat in front of me and went to sleep. Other people talked or read, or walked around through this unprepossessing neutral zone (one more time).
After two hours of waiting, the Maasai still continued harassing us, though we'd learned to ignore them. One young man in western clothes tapped me on the foot which was hanging over the edge of the truck as I lay there reading. He wanted to know if I would trade my glasses, my T-shirt, my shoes, my watch- anything for the junky jewelry he was selling. The only Swahili negative I knew was hapana, perhaps not exactly the right negative, but it got the message across, and this soon became a kind of mantra as everybody took it up and recited it again and again to all the persistent hawkers.
Hapana! Hapana! Go 'way! Take a hike! Hapana! Hapana! Get lost! Sod off!
After four hours, there were strings of laundry draped across the inside of the truck, as people decided to make use of this waiting time to finish drying their clothes. Spirits were low, everyone wondering when we ought to give up, and what we ought to do. The heat, discomfort and the uncertainty were beginning to get me down, and I was starting to feel pretty lousy, headachy and weak. Probably just malaria or yellow fever, I decided. I finished the Maugham book, my spirits cheered by the vivid description of the hero's horrible death from leprosy.
"What the hell should we do, we wondered.
I was glad I had only a backpack to worry about, deciding in my own mind that I would give tip-before too long and head for Nairobi myself, if the others were determined to wait into the night. Looking around, I doubted if anyone would- it didn't look like the sort of place one would willingly choose to spend the night, especially in an open truck. Even our tents had been left behind- at Lake Duluti, so we were definitely on our own. At least there were fourteen of us- safety in numbers.
Dutch came back sporting new trousers and shoes. I'd thought he'd looked especially disreputable: that morning, and there'd been a reason. It was so he could throw the old stuff away when he went back, just as teenagers used to do at home when they went across the border to Buffalo to buy the more fashionable clothes available there. Some of our tip money was going to good use, I hoped he would still be able to get his toolbox.
By 5:00 we had been waiting five and a half hours. In another hour it would be getting dark, and we decided to take our destinies into our own hands. Ross and Grahame had gamely been trying to phone someone- anyone- from a phone box on the Kenyan side, but had not been able to reach anyone. Now we planned to hire a couple of taxis and head for Nairobi on our own. The only problem was, we still didn't have any money. I resolved never again to travel without a reserve of US dollars at all times, but for now we'd have to get them to take us to a hotel where we could change some money and pay them. There was no knowing if they'd go along with that idea, but we wouldn't mention that detail if we didn't have to.
The commonest kind of taxi in East Africa is the matatu, usually one of those small Japanese pickup trucks with a box over the back, which waits in a particular spot until it is full, and then crams a few more people inside, a few more bundles on top, and finally departs. We had thought we would hire two of these, but the first driver was firm in the conviction that we only needed one. Even with Dutch as interpreter he remained adamant- I guess he was determined not to share the fare with another driver. Cheryl took care of the negotiating on our side, and a large crowd gathered around us as she loudly harangued the driver, and made sure again and again that the agreed-upon price was the absolute and final one. Her strident voice and Australian accent cowed the luckless driver as she ensured one more time that the price included the luggage as well. She was magnificent, and the crowd loved it!
The driver backed his matatu up to the rear of the truck, and we transferred all of our luggage and sleeping bags to be tied onto its roof. We agreed that Ray and Day should go up front with the driver, showing respect for our elders, and began fitting the rest of us into the back. There was a simple bench on each side, onto which eleven of us had to squeeze, while the twins took turns sitting on a sleeping-bag in the middle. It was a close fit, wedged in tightly side to side, and our knees had to be intermeshed like gears. Since Grahame and I were squeezed into the back, we were detailed to watch for luggage falling off of the roof, which was difficult because I had to bend over just to see out of the window, not to mention the fact that it was growing dark. Others were detailed to keep a lookout for a safari truck that might remotely be looking for us. It must be admitted, we were working well together!
It was only a couple of hours' drive to Nairobi, but crammed and uncomfortable in that tiny box the ride seemed interminable. The overladen little truck was at the bottom of its suspension travel, and it was a rough journey. The matatu drivers have a terrible reputation for dangerous driving, the guidebooks describing them as only for those "with nerves of steel and hefty life insurance." I was to read many stories in the newspapers describing horrible accidents involving matatus- but I didn't know that then, and thus didn't know enough to be afraid! Our driver raced along through the darkness, sometimes driving for miles on the wrong side of the road- to miss the potholes, Ray and Day told us later.
The closeness of the box and the violent bouncing were making my headache and nausea worse every minute. I was feeling pretty bad now, and I was glad to see the bright lights of Nairobi up ahead, glimmering in the blackness. As we joined up with the main highway coming in from Mombasa, the road became a four-lane highway into the city. It seemed so strange to be driving past tall modern buildings, along lighted streets with curbs and sidewalks and traffic. Though we'd only been out for eight days, those days had been so full, so rich, and so engrossing that it seemed like a lifetime. The bush country had left its mark on me.
We pulled up in front of the Excelsior hotel, the one described on the information sheet as the "Tracks hotel". I jumped out and ran in to see if there were rooms available for us, while the driver went to find a parking place. It took the desk clerk about ten minutes to figure it out, but eventually they found us seven double rooms, and I ran to tell the others to "come on in!". My head was pounding, I ached all over and felt very nauseous, looking around to see where I could be sick if I had to. I could see no public washrooms in the lobby, and supposed I'd have to go puke in the street. Great.
The first thing I had to do was change some money to pay off the matatu, which turned into about a fifteen-minute operation, then I gave them my credit card and passport and got us all registered. That was another fifteen or twenty minutes. I concentrated on keeping my head clear enough to get this done, so I could get to a room and lie down.
Eventually I was able to give everyone their room keys, and we agreed to meet in Simon's and my room in fifteen minutes, to decide on a course of action. I shouldered my pack and went to walk up the two flights of stairs to our room, only to find a locked iron gate barring the stairs to the second floor. When I asked the security guard how to open it, he said; "Oh no, this gate is locked for the night. You must take the lift."
Now, I prefer to avoid elevators in places like this; and for good reason. Why, only the week before, the power had gone out in the whole city of Nairobi for four hours, (especially embarrassing for Kenya, as it was during the Pan-African Games), and I sure didn't fancy the idea of spending four hours trapped in a shoebox-sized elevator. When I asked him; "What do you do if there's a fire?", he seemed- or pretended- not to understand, and I gave up and went down to take the elevator. I was feeling too lousy to argue, and too lousy to care if the elevator stopped or not.
The room, like the hotel, was a little on the seedy side. It was fairly large, with a bedroom and a sitting room, but it was dingy, the walls a dirty white and in need of paint. The windows were cracked, the upholstery patched with tape, and the paint was peeling off in strips in the bathroom- though at least there was a bathroom! I took it as a good omen that there was a print over the beds of a herd of Thomson's Gazelles- our mascots!
The others soon began to gather for the "summit meeting", telling us it was a good thing the meeting was in our room, as theirs were about half the size. Maybe because I did the registering they gave me the "group leader's" room, I don't know.
Ross and Grahame had managed to get a message through to Stewart back in Arusha, though there was no knowing what good that might do. We also left a message at the front desk for anyone who might be looking for us. We decided we would have to wait until morning, and if we hadn't heard anything by then some of us would go over to the Tracks office, and the others would take turns keeping watch in the lobby. There was nothing else we could do.
All of this decided and agreed upon among our now very unified group, everyone decided to find something to eat, but I didn't feel very hungry. I'd taken a couple of Tylenols, but still felt pretty bad, and just wanted to go to bed. I wished them all goodnight, and when they had gone I climbed into the strange feeling of a real bed with a mattress and sheets. And a pillow- all week I'd been resting my head on a folded-up towel and sleeping on the ground.
Equally strange was the sound of raucous music coming up from the hotel bar, instead of the sound of baboons, lions and hyenas; and the glare of the city lights through the window, instead of the stars and moon of the African night.
Then there was the feeling of being ill and stranded in this dingy hotel in Nairobi, with no idea of what was going on, no idea of what we would do, or where we would go tomorrow.
Matuku ti ma kiumia.
Not all days are Sundays.
(Kikuyu Proverb)
Emisimis inaadooro.
The other side is dark.
(Maasai Wisdom)
---
9- abdul's unlucky day
Though I slept well, I woke to find my head still throbbing, which began to worry me. A headache is rare enough for me, but I've never had one persist into the next day. So I lay there in the grey morning light in this dingy room imagining all the terrible diseases I probably had. After all those needles too.
For more than a month before I came on this trip I was like the "human pincushion", with a series of vaccinations every week against cholera, tetanus, yellow fever, typhoid, hepatitis- why, one week I had four at once- one in each arm, one in the buttocks, and an oral one down the throat! I couldn't possibly have caught anything- if a bug bit me it would get sick! I had taken my malaria pills every Monday for two weeks before leaving, and then every Monday since. The first page of my notebook read "MALARIA PILLS MONDAY!!", and we had all been reminding each other of our "Malaria Days" all week.
I seemed to remember reading one of the brochures about these "bad bad diseases" where one of the symptoms stated "if the headache persists", it means you have- ? What? I couldn't remember. Something terrible. Great. What have I got? I saw myself turning yellow and delirious, having to be flown home immediately- or worse, spending weeks in an African hospital, feverish and weakly fighting off those deadly blood transfusions.
I went down to the hotel dining room for breakfast, hoping that might make me feel better. It was nice to have orange juice to start, which just about made a meal when combined with a vitamin pill, a couple of Tylenols, and two big white malaria pills. (Yes, it was Monday- my Malaria Day!) But I wasn't too full to enjoy some cereal with real milk, some proper toast and jam, and the final treat- fresh pineapple, my favorite fruit.
I met a few of the others having breakfast, and learned that Carol had been suffering last night as well. It was stomach trouble in her case, probably a souvenir of the "Lucky" restaurant, but she was feeling a little better today. Ross and Grahame had received a phone call at 4 AM from one of the other drivers, who had been bringing in another tour group. He told them he had seen our driver provisioning yesterday afternoon, which seemed pretty strange because it had been Sunday afternoon, and also because he was supposed to have picked us up yesterday morning. But Grahame, Ross and Simon were going straight down to the Tracks office, hopefully to get things sorted out.
I had to book myself a hotel for later in the week, when I would be back here on my way to Kilimanjaro, so I went out on the streets as well. Nairobi is a large city, about a million people, and the streets are modern and bustling with traffic and pedestrians. Concrete, glass and steel; banks, offices, highrise hotels, airlines, oil companies, multinationals- all the enterprises of the western world are represented here. The sidewalks are lined with shoeshine stands and souvenir-sellers, some with stalls and others just strolling pedlars offering carvings, batik and jewelry.
After looking at the modern Intercontinental and Hilton hotels, I decided on the venerable New Stanley, which had a bit of atmosphere and a good location. After booking myself a room, I walked into the bookstore beside the hotel. I'm a sucker for bookstores anywhere, they have some kind of a magnetic attraction that forces me inside. I had to laugh at myself one morning at the Metropolitan Museum of Art in New York, when, with only a couple of hours to look at one of the greatest art collections in North America, I found myself dawdling over the bookstand.
I picked up one of the local newspapers, the Kenya Times, and the guidebook Africa on a Shoestring. I had looked at Ray and Day's copy, and knew from my trip to China that the Lonely Planet guidebooks are interesting and informative. Then I thought I'd better get back to the Excelsior and see if there was any news on our fate.
A couple of the girls were "on watch" in the lobby, but there was no news, and Simon, Ross and Grahame hadn't returned yet. I went back up to the room and settled in to wait. We had decided we would hold onto at least one room until we knew what was happening. I was glad to notice that my headache was abating- maybe I didn't have a horrible disease after all. That was close.
I started reading a copy of the Tanzanian Daily News which Geoff had given me in Arusha yesterday. There were stories about chimpanzees being smuggled out of Tanzania for AIDS research, and a tragedy in a South African gold mine with fifty miners trapped underground. What a horrible thing that would be.
There was an interesting story about stowaways from Tanzania escaping to Mozambique. Eight of them had been sent back, and four of those had escaped en route. It seems as if there's a pattern of that, a stream of people trying to get out of Tanzania, rather like Chinese people escaping into Hong Kong or Macao. This piqued my curiosity, as it seemed to illustrate a lot about conditions of life there.
There was also a story about slavery in the Sudan, with members of one tribe being used as slaves by another. And a story telling of six people who have been killed by animals recently in a place called Kibaha. Apparently they were killed by lions and hippos, surprisingly the two most common "man-killers". I guess it's a big mistake to get between a hippo and the water! But on the other hand, sixty-two wild animals have been killed by game officials there. Humans 62- Animals 6.
Then there's the one about- The farmers in the Sierra Leone are going back to ox power, having found mechanized farm power "costly to run and difficult to maintain". But in order for them to return to the old ways, they first have to relearn the skills of their ancestors. I guess so! What a world we live in.
Ray and Day came by to drop off their luggage in our room. They were off on a mission to recover some Kenyan money they'd had confiscated at Nairobi airport on their way down to join this trip. Unaware of the restrictions against taking Kenyan money out of the country, they had innocently declared it to the officer- and had had it taken away. I was mildly surprised that they actually did get it back- though not without a considerable amount of bureaucratic time and trouble.
I continued reading in the newspapers and guidebooks, picking up a lot of interesting information. For instance, I had been growing very curious about the Swahili word uhuru, which seemed to appear everywhere in Tanzania and Kenya; as the name of streets and highways, in the papers, as the name of Kilimanjaro's highest peak, and I even knew it as the name of a reggae band, Black Uhuru. Now I learned that it means freedom, independence, or autonomy.
Kenya had won its Uhuru in 1963, when Jomo Kenyatta became the first president. He seems to have been a far-sighted man; even after having been exiled and imprisoned for eleven years for his part in the "Mau Mau" rebellions of the 'fifties, he swallowed his bitterness and encouraged the white settlers to stay in Kenya after independence, thereby maintaining the economic base on which to build a new and relatively prosperous country. He died in 1978, and many streets, buildings and the International Airport are named after him. He was succeeded by his Vice President, Daniel arap Moi, whose deadly-serious portrait is seen wherever you go.
The origins of the Rastafarian "dreadlocks" can also be found in old pictures of the self-styled "generals" and "field-marshals" of the freedom-fighters during the Mau Mau Rebellion, who let their long warriors' braids grow wild while they fought in the hills of Kenya.
And I learned that Nairobi was first founded as recently as 1899, as the construction headquarters for the British-built railway between the coastal city of Mombasa and Uganda. This ambitious undertaking was begun in 1896, and took six years and five million pounds to complete. It was strange to see an old photograph of the tented city on the empty plains which spawned this metropolis.
And from the "Did You Know?" file: Slavery was abolished in the British territories in 1807, but it was not until 1873 that the slave market in Zanzibar was finally closed, and the black market continued until 1907, when the last slaves in the area were emancipated.
I went down to the hotel restaurant for lunch, to find a nice smorgasbord spread out on the long tables. How very civilized! We had decided to continue charging all our meals to the rooms, in the hope that Tracks were going to pick up the tab- the least they could do, we figured. I met Janne there and we talked together for a while as others came in to join us.
Simon, Ross and Grahame returned at last, and with good news. They had actually talked to the people at the Tracks office, who claimed they had never received confirmation of our safari, nor the all-important money with which to provision for it, and had just assumed it was cancelled. Yes, they assumed it was cancelled. There had been no communication between the head office in England and Tracks in Tanzania or Kenya. No letters, telegrams, telexes, telephone calls or anything- they just assumed.
But they promised to put together something for us today, and we were to be picked up this afternoon to drive to Lake Naivasha. Naturally we were a little dubious at this point, and taking no chances and nothing for granted. We decided to wait in the lobby all right, but hold onto our room and leave the luggage in it.
But sure enough, about two o'clock a red-bearded young man, a New Zealander, came into the lobby, and told us our truck was waiting down the street. He paid me for the matatu fare from Namanga, and said he would take care of the hotel bill, including the meals. We dared to get excited now, and ran to collect our bags and get aboard. I stopped at the front desk to tell the girl that the bill was being handled by Tracks, and to snatch my credit card slip out of her hand and tear it up. She didn't like that idea very much, but I was taking no chances with this either, and destroyed it before she could protest.
The truck was about a block away, another big Bedford, only white this time instead of pink, and we spent some time putting our luggage aboard and waiting for Ron, the red-bearded tour leader. The girl from the front desk didn't seem to trust Tracks any more than we did, as she came running out to demand that someone look after this bill before we went anywhere. To mollify her, Simon went back inside to wait with her until Ron returned. We met our driver, Abdul, a tall and genial young man, whose features as much as his name told of his Arab blood.
After another half hour or so, Simon and Ron came back to the truck, and Ron climbed inside with us to explain the situation. He told us about the lack of communication, and that he had thrown this whole thing together in a morning. He was sending us off to Lake Naivasha with the crew, while he finished up the organizing and provisioning here in Nairobi, and would join us there tomorrow.
We were excited to be on safari again. (Safari, by the way, means 'to travel' in Swahili.) Spirits were high as we drove out of the city, and conversation buzzed in the open truck. Simon and I were sitting together at the back, rattling on as usual. He knows about a lot of things which I don't, and vice versa, so our conversations could be very enlightening. He was filling me in on some interesting background to the history of Israel, and we talked about Lawrence of Arabia, and the Aga Khan, then jumped across time and space to the Scots settling in Ireland, and Bonnie Prince Charlie. Alan and Carol were sitting in the seat in front of us, and being Scots they could offer some interesting facts on those last themes, and being doctor and nurse, they added some knowledge and insight to our discussions on health and nutrition. When you're theorizing and debating, it's always good to have an expert for two) on hand.
Since the cab is crowded even with three inhabitants, they had installed the fourth member of the team in the back with us, and he slouched in the middle of the front row, which faced rearwards. He was a silent and grubby-looking individual, and I noticed that his neighbors were both always turned the other way. The reason for this turned out to be the powerful stench which surrounded him like an aura, repelling any attempts at communication. I never got his real name, he might have been one of the two Charlies, but he was soon christened "Smelly".
During all this time we had been climbing steadily, the road continuing to rise before us. The surroundings were pretty, the green and fertile highlands which had attracted the first settlers to this area. It was amazing to see the differences between Kenya and Tanzania. Things like sidewalks, power lines, traffic lights, good roads, modern concrete overpasses, the great number of trucks and private cars, nice buildings and suburban houses were a striking indicator of the relative wealth of this country. We truly had been "between two worlds" yesterday.
The truck slowed down suddenly, went silent and coasted to the side of the road. I wondered what was up, and looked out to see an evil-smelling cloud of white smoke pouring from the engine. Oh boy, more fun- we had only made it about ten miles! This truck didn't look that old, but it was obviously pretty tired. If you looked over the side you could see that the rear wheels went down the road a foot or so to the right of the front wheels, and the rear springs were absolutely flat. A trickle of diesel fuel leaked continually from the tank. It was definitely a beat-up old machine they'd exhumed for us.
And now it was dead.
The four people who had been sent with us climbed out slowly and stood around looking at this incomprehensible machine, but our group knew how to swing into action! Like a well-trained military unit, a bunch of us hopped out, put some stones behind the rear wheels, and three volunteers walked off to find a telephone to get some help sent out- like, now. We no longer had any patience for African Time.
The three scouts returned with rather vague expectations, and Abdul decided to give it another try now that the engine had had some time to cool. I must admit I was surprised when the engine rattled into life, but we were off down the busy road once more- for a few miles anyway. Another cloud of white smoke came billowing out, and we rolled off the road again, the passing trucks honking at our lack of consideration.
Once again we blocked the wheels, and a detail was sent off in search of another telephone. This time they took Abdul with them, in case he could be helpful as a translator. They were gone for quite a while, and I took a walk along the roadside to pass the time. It was a pretty area, fields of green corn, plenty of trees and grass, and the view back toward Nairobi looked almost Italian, green and hazy with neat columns of Italian cypress rising here and there in the distance.
When the scouts returned, they were sure we had a couple of vans on the way to rescue us, so we settled down to wait once again. We'd been doing a lot of waiting lately. It started to get chilly as the sun descended, and we put down one of the side curtains to keep the cool wind out. We were certainly well put-out with Tracks in Kenya by now, and we laughed over the trivial complaints we'd made about the Tanzanian company. How happy we'd be now to have Dutch, Emmanuel and Henry, and that big pink truck- never mind the broken seat! It was ironic that the company in Tanzania should be so much better organized and equipped than their counterpart in the infinitely more modernized Kenya.
After a couple of hours had passed, Abdul announced that he was going to drive us into a town.
But why?", we protested, "Shouldn't we just stay here? How will the rescuers find us?"
Somehow he evaded these seemingly-reasonable questions, saying only that "it would be better" if we drove to a town, "in case you want to buy some chewing gum or something". Chewing gum? Is this guy crazy or are we?
But it was pointless to argue. There was such a language problem between us and them, as only one of the four spoke English at all well, and he wasn't even in the crew- just a friend they'd brought along for the ride. So once again the engine rattled into life, and off we drove into the darkness. We turned off the main road, and entered a small town where we pulled into the gas station, an island of bright light in darkest Africa. We were all extremely bored with "having adventures" by now, and really just wanted to get somewhere. Two days of flailing around like this was getting a bit tiresome.
An empty medium-sized bus appeared beside us at the fuel pumps, whether summoned accident I will never know. It may have been Divine Intervention; somebody was probably praying by now. With the interpretive help of Abdul and his friend, we managed to make a deal with the driver to take us to Lake Naivasha, and began transferring everything from the truck to the bus.
The bus itself was a thing of fantasy. The pale yellow paint was covered with an Abstract Expressionist rainbow of multi-colored stripes and zigzags. The only word I can think of for it is 'lurid', though perhaps 'psychedelic' applies as well There was a sign on the front: "TRADE MARK MWANGAZA", which means 'light' or 'brightness', and this bus was certainly brightness exemplified. The inside was a dizzying blend of varied patterns of linoleum on the walls and ceiling, orange, pink and red flowers, next to green and yellow squares, next to a blue, gold and green pattern. The purple and green "sex lights" gave this bizarre decor an even more nightmarish cast.
But it would get us there.
We kept Abdul with us as interpreter, and left the rest of the unlucky crew (including Smelly) with the truck to await rescue. Just before we left a couple of strangers crowded into the back with us, and when we asked who they were we were told that this was the owner of the bus and his friend. A likely story, but who wants to argue now, they can take us out and rob and murder us if they want to- as long as they take us somewhere!
When someone asked for some light as we drove along, one of the hitchers casually climbed out and right along the side of the moving bus to the front, to ask the driver to turn on the inside lights! It was all like some cheap spy movie.
About nine o'clock we drove up to the lodge if Lake Naivasha. We were told that they were expecting us, but we would have to go inside right away if we wanted dinner. We had planned to get the gear unpacked and the tents set up before eating, but we certainly needed a meal, and the bus people said they would wait there for us.
We walked into the lodge, an atmosphere of dark wood and soft lights, and felt dirty and disreputable in these elegant surroundings. We felt even more out of place among all the crisp safari suits of the other diners. The situation looked brighter after a good meal, and cheered by a couple of glasses of wine we went out to tackle setting up camp.
Once again we found ourselves putting up unfamiliar tents in the dark, only these ones, like the truck, had obviously been scraped together at the last minute, and were a motley selection of mismatched bits and pieces. Though we had the light of a bright full moon and the headlights of the bus to work by, even Abdul knew nothing about these tents, so it was like piecing together a geometric puzzle.
Eventually they were all erected, though some of them looked a bit odd, and were probably not put together the way their designers had intended them to be. They were certainly on the small side too, but at least we had shelter. I was glad to have my own foam sleeping pad, as they had sent some repulsively dirty and stained foam mattresses, and not only were they horrible- there weren't enough of them!
It's like that joke Woody Allen tells about the old woman at a hotel complaining that: the food is just terrible here", and the other woman replying: "Yes, and such small portions!"
Even the usually unflappable Ray was moved to give a message for Abdul to pass on to Ron: You tell that Ron for Christ's sake to get some new mattresses! At least enough for everybody!" Poor Abdul. He was a very likeable fellow, and it was unfortunate that he had to be the sole repository of all our discontent and indignation.
Simon was busy covering himself with thick clothing, and continually dousing insect repellent on any exposed areas. He had been told there might be mosquitos- "mozzies" here by the lake, and I've never met anyone with such "insectophobia". He was fanatical about keeping the tent closed up tight every second, and if we heard the whine of a mosquito during the night he could not rest until we'd hunted it down and killed it I told him he'd better stay away from the Canadian woods during the summer. "Didn't they have any mosquitos in Norway, Mr Lumberjack?"
As we lay there in the dark listening for marauding mozzies, we could hear the buzz of outraged voices around the camp. Everyone was thoroughly fed up now, and airing their grievances to each other irately and redundantly.
Cheryl was always among the most vocal when it came to protesting, and she had a most unfortunate slip-of-the tongue when she was enumerating our travails to the patient Abdul. She was delivering a tirade, complaining about the Truck, the tents and the mattresses with mounting fury, until she reached a fever pitch- an irrational state of outrage. Without thinking about what she was saying, she burst out with: "This isn't fit for white people!"
I bet she wished she could cut out the tongue which had done that to her.
Heri kujikwaa dole, kuliko kujikwaa ulimi.
Better to stumble with the toe than with the tongue.
(Swahili Saying)
---
10- lake naivasha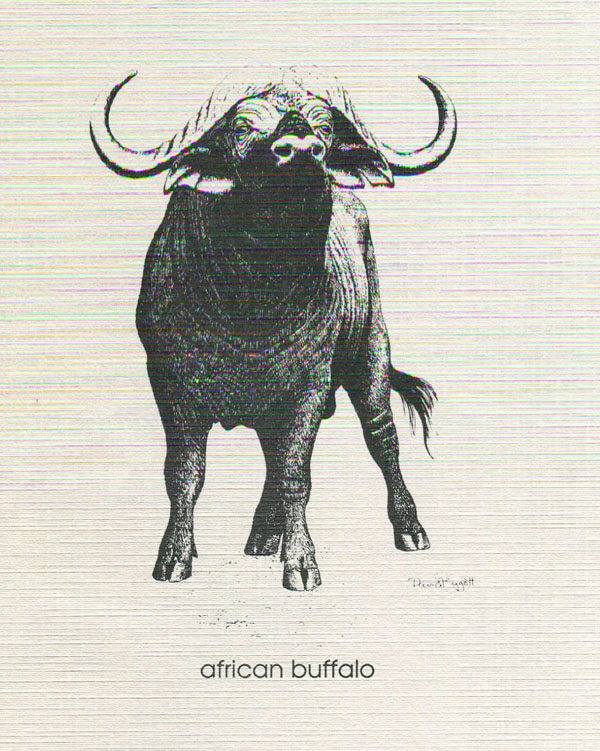 The sunrise over the lake was spectacular, the sky clear and lucent, and the water was smooth as oil, reflecting the colors of the dawn sky. Green hills surrounded the lake, one of the distant ones a wall of the Rift Valley. The rich, dew-soaked grass grew right down to the edge of the lake, and then there were a few feet of mud flats. The bird life in the sky, in the trees, on the water and on the shore was just fantastic. The wading birds stalked the shallows, the cormorants sat looking into the water from a post, and the shore birds picked, probed and hunted for their breakfasts all around me. I sat with my binoculars and my field guide, happily trying to give a name to all of the different species. Simon soon joined me there.
It was nice at last to get a look at our surroundings. Once again I'd arrived in the dark, and awoken in a place I'd never seen. Our camp was set on an open grassy field by the shore of the lake, shaded by tall and leafy acacia trees. There were a few other groups of campers here and there, but as it was a spacious campground there was plenty of room. The grounds of the lodge began across a little road, a rambling series of cottages leading over to the main building where we had dined last night.
With all of this bird life, the "Dawn Chorus" had been particularly active here, and I had emerged from the tent just before the sun rose. Our haphazard arrangement of tents was covered with a film of dew in the grey light, looking like a huddled settlement of squatters, and I was amused to see the word "Honymoon" (sic) stencilled on our tent flap. Some honeymoon.
Lake Naivasha is the highest of all the Rift Valley lakes, at almost six thousand feet, and is only fifty miles south of the Equator. Traces of human habitation around the lake reach back four thousand years; knives, axes and arrowheads of obsidian. More recently, it had been Maasai land until the railroad brought the first settlers here at the turn of the century, and now the land around it is all privately owned. It has been a popular resort spot through most of this century, and has become an important agricultural area, with many farms and ranches growing fruit, vegetables and flowers. The road here was built by Italian prisoners-of-war during World War II, replacing the winding trail down the Kikuyu escarpment. Joy Adamson, of Born Free fame, had made her home, Elsamere, on the shore of the lake.
Simon and I watched the birds until the sun was well up. A Grey Heron swallowed his morning frog, a Marabou Stork stood motionless in the shallows, and a pair of Fish Eagles hunted low over the water farther out. We talked a bit about the trials of the last few days. One good thing, we decided, was how close our group had become. We had definitely entered another plateau of friendship, based on trust and interdependence in action. It was good that even more people had been brought out of their shells and into the "expedition spirit". Through yesterday's farces, the usually taciturn Alan had been laughing and joking and accompanying people on the rescue missions with enthusiasm. Nothing like a few crises to bring out the best in people! I thought how glad I was to be sharing a tent with a person as sympatico as Simon on this trip- it could have been a nightmare!
And so today we rise to a new day with: no crew, no fire, no food, no truck- no nothing. We're on our own. Fortunately we have the lodge nearby, and there is running water, and showers (of a sort) here in the campground. Simon and I walked across the well-tended lawns toward the main building, commenting that it really was a beautiful place. Very tall, spreading acacia trees shaded the lodge area and the attractive guest cottages. There was a huge aviary along the gravel pathway, with peacocks, parrots, Guinea fowl and a bushy-tailed black and white Colobus monkey. It seemed strange to see birds in captivity in the middle of an area of such rich wildlife. That ol' sentimental fool Simon was disgusted by this. I didn't like it either.
Breakfast was a smorgasbord affair once more, as we were to find is common for breakfasts and lunches at the hotels and lodges in Kenya. So we were able to have a nice selection of juices, cereal, eggs, pastries and fresh fruit. This was not hard to take, but we still felt out of place with the environment.
It was a bit of reverse snobbery I suppose. Among all the well-dressed and well-heeled who were cossetted here in luxury on their "adventure in Africa" we felt a bit superior- with all of our experiences and all! It seemed so much like a game of "let's pretend" to me, as if they didn't want to get too "involved". It shouldn't bother me I know- it's their holiday- but it's the same when I see people on one of those organized bicycle trips in Europe, wearing all the latest high-tech cycling clothes, thousands of dollars worth of state-of-the-art cycling equipment, vans to carry their luggage and pick up tired riders- all of this so they can ride maybe twenty miles a day, and go home and tell their friends they've "cycled around Europe".
I have been reading a good magazine lately called Traveler, and they are at pains to draw the distinction between "traveler" and "tourist". I suppose this is another one of those fine lines, like "taste" and "quality", where the only way to know the difference is to care about the difference
After breakfast Simon and I went back to the lakeshore, and were excited to see a Goliath Heron, the largest of all the herons. It was a beautiful, majestic creature, about five feet tall, and I had been hoping to see one of these huge birds. We also saw a very funny moment in "bird world". A Grey-Heron was dozing away on one leg, standing on a rock in the water, when suddenly a playful cormorant flew by and bumped the heron with his wing, ruffling him awake and off-balance. I'd never seen anything like that- I guess there are practical jokers in the animal world as well!
We were going on a boat trip this morning, and Abdul came by the camp early to make sure that this at least would happen properly. He was going back to Nairobi this morning, so we said goodbye to poor Abdul, who was a nice fellow, and really had done everything he could for us. It wasn't his fault, and we felt bad for him.
Around 9:30 we boarded a couple of small launches, which took us out on the lake and over to Crescent Island. (Really, Crescent peninsula, when the water level, as now, is down.) The boats were small cabin cruisers, with plenty of room for seven of us in each of them, and it was a nice ride over the calm lake on this crystalline morning. The water was a pretty translucent green, like curving glass where the boat sliced through it. It was nice to be out on the open water, with a sense of space and the cool fresh air. It felt wonderful after the madness of the last couple of days. This was, as my Dad would say: "A treat instead of a treatment"!
We went ashore at a rickety wooden jetty, and were told that it was safe to walk around anywhere here, as there were no predators. The group split up into twos and threes, people wandering in whichever direction looked interesting to them. The island was quite open, a slope of long grasses broken by tall shady trees and thickets of scrub, so the walking was easy and pretty.
Right away Simon and I spotted a couple of big nests high up in the trees, which seemed to contain something. Something big. We scanned them with our binoculars, then walked closer to investigate. As we stood under them, suddenly the large shape of an immature hawk or eagle rose up, tested its unsure wings, and flapped awkwardly over to another nearby tree. We weren't sure what it was at first, but later determined it to be a young Fish Eagle. And then there was another one from the neighboring nest, rising into the air for a few seconds to land heavily on another perch. Perhaps both of them were making their first flights today. We two would-be ornithologists studied them for a while, then moved on down the shore. It was strange to see an airstrip in the middle of the island, with a small plane beside it and a jeep track leading away into the bush. That kind of took away from the sense of wildness and isolation here.
A little farther along we met up with Barbara (I think it was Barbara!), and she joined us walking across the tip of the island. There were many animals roaming free there. Waterbuck (a large antelope rather like an elk), gazelles, zebras, Wildebeest, and even wild horses. As I was creeping downwind from a herd of zebras, trying to get a close photograph, a little African Hare came darting out from the clump of grass right beside me. Some of the others even saw jackals on the other side. It was a good feeling to be walking around freely among the animals- ones that don't bite!
As the pickup time approached, people began to gather from different directions. The three of us sat down in the grass under a tree, joining Cheryl and Janne, who was nursing a twisted ankle from falling into a burrow in the ground. We lazed there in the shade for a while until we saw the boats returning for us, then walked down to the dock and got aboard.
On the way back our pilot took us to visit a large family of hippos, who were once again all but concealed under the water, their pink ears and noses a tease to those who wanted a glimpse or a photograph of something more- even a big yawn would be good!
There was still no sign of Ron, but we knew what to do. We went up to the lodge, had a fabulous lunch, and charged it all to Tracks. We thought it was only fair to make this as expensive for them as it was inconvenient for us. We had already missed camping in the Amboseli National Park, under Kilimajaro, and it looked as if we would miss the expedition to nearby Mount Longonot, with the climb into its volcanic crater. And here we were marooned in this "resort park", in Cub Scout-surplus tents, waiting once again. Admittedly, it was not a terrible place to wait.
Outside the dining room and bar was a nice covered terrace, open to a wide lawn and lush gardens. There was a large landscaped pond in the middle of the lawn, which was alive with Crowned Cranes, Black Swans and Egyptian Geese. The birds made for an interesting show to accompany a drink on the terrace. Monkeys played among the trees nearby, there was a swimming pool (if a bit green-looking), and Ross and Grahame and the twins even took advantage of the tennis courts.
With the well-trimmed lawns and raked pathways around this Safariland Lodge, the elegant guest cottages, the dining room and bar, that huge aviary, and a private, irrigated orange grove, it did seem a bit too civilized- even decadent- here. But we would get through the afternoon somehow. We knew how to make the best of a tough situation.
I took my sleeping bag and spread it out under a tree, got out my binoculars, field guide and tape recorder, and laid down in the shade. As I was becoming more and more interested in the birdlife, I had bought The Field Guide to the Birds of East Africa here at the lodge. The field guide I had bought back in Arusha was for the National Parks, and had a lot of information about the parks themselves, and pictures and descriptions of most of the animals we had seen and the commoner birds. But now that I was spending more time birdwatching, I was starting to spot the less-common species, and wanted something more complete.
So I laid there under the tree and looked through the branches above me for birds, while I brought the last two days up to date in my notes. (Not that I'd be likely to forget a moment of it! As I transcribed my tapes and notes from the day spent at the border in Namanga, months later, I started feeling unwell all over again just from reliving it!)
Simon had proposed that when (and if) Ron arrived, we should let Simon speak with him alone, instead of being greeted by a pack of outraged and raving natives. He would take him down to the little bar by the jetty for a talk, and try to deal with him reasonably and get things sorted out to everyone's satisfaction.
When I returned from a wash up at the lodge, I saw the old white Bedford parked at our camp, and figured Simon must be down at the jetty "sorting things out" with Ron. I couldn't believe that the same truck was back again, and as I walked by I saw a trickle of diesel fuel still leaking from the tank, the springs still flat, and the wheels still crabwise on its twisted frame. And this was going to take the others on the long journey to the Maasai Mara tomorrow!
Seeing this I was glad I was getting out in the morning. I hated to leave the trip before the end, especially after all we'd been through together, but now 1 wouldn't mind strapping on my parachute and "bailing out".
During the afternoon I saw the "proper" way to go on a camping safari. A large truck pulled into the campground, and the crew unloaded and set up a neat circle of large square tents. Then a pair of vans drove up, one of them full of luggage and bedding, the other with food and cooking supplies. The efficient crew went to work furnishing the tents, setting up the beds and a portable washstand outside each tent. A fire is soon going, food is being prepared, lanterns are hung by each tent- all is ready for the guests, who are probably still out looking at animals. There is certainly merit in that idea, but even looking over at our "squatter's camp", I thought that being a 'do-it-yourselfer' was probably more satisfying- if less professional-looking.
I also have a developing theory that it is better to travel on these cheaper excursions than on the luxury trips- you simply meet "a better class of people". People who want to travel somewhere exciting, but are perhaps on a budget, and don't mind "roughing it" a bit. Thus there's little complaining about petty things, everyone expects a bit of work and discomfort, and, as we saw yesterday, you really become a group, not just a bunch of people thrown together. As I've found on cycling trips, you really make good friends on a trip like that. People are there prepared to "work at having fun", in a difficult environment, so you at least have that much in common already. No one expects it to be "just like back home".
And when you meet an especially kindred spirit, like Simon, or several good people I met in China, you have the fun of sharing these kinds of experiences with a new friend, the excitement of exploring a new person and a new place at the same time. Since you're sharing an experience you'll never forget so you'll never forget the people with whom you shared it
In the late afternoon most of us gathered on the terrace at the lodge for a drink, experimenting with a curious variety of mixed tropical drinks. Simon joined us, looking exhausted from his marathon of diplomacy. Over a couple of beers he had made clear to Ron what we'd been through and what we expected of the company, and had received Ron's assurances that "all would be well".
Ron claimed that the truck had died yesterday because Abdul didn't know how to drive it properly, and that it could be driven in a way to prevent it overheating. He admitted the truck was "knackered", but he knew how to keep it going. He promised a good trip to the Maasai Mara, which is the Kenyan side of the Serengeti, and was going to prepare us a steak dinner himself tonight.
That all sounded good. But poor Simon really did look-drained. The effort of being nice when he was just as irate as any of us, and trying diplomatically to make the situation as constructive as possible had worn him out. He sat down in a chair on the terrace, ordered his first drink, and didn't stir from the bar for many hours.
Most of us headed back to camp as the sun began to get low over the hills across the lake. It was a beautiful still evening, pleasantly cool at this altitude, and everything was so green and vibrant-looking in the soft light. There was a hush, and we walked quietly in the shadows of the tall trees.
There had been some debate about "Smelly". Yes, he was back, as assistant cook, and some people were a little upset about a person of his "hygienic distinction" handling their food. There were demands to have him sent back, which Ron agreed to if that was what we wanted, but Alan spoke up with a doctor's realism and authority (and a fine Scottish lilt): "I think you're over-reacting a bit. Ron can't do everything himself, and besides, I'm sure those Tanzanian boys couldn't ha' washed but once in a week."
So reason prevailed over fastidiousness and body odor.
We gathered around the fire which Ron had started. We introduced ourselves to him- as well as a dozen or so people can be introduced to a newcomer. "Got all those names, Ron?" He was an interesting fellow; from New Zealand, lean, of moderate height, with wild red hair and a wild red beard. He had the nickname of "Toose", short for Tucson, he explained, because he had been a rodeo rider in his native country (they have rodeos in New Zealand!). All this was such an unlikely origin for a nickname that we took it up. After he'd tired of that avocation, he had gone to England and found a job driving double-decker tour buses across Europe and the Middle East. He had some wild tales to tell of flying bullets and evil highwaymen in some of those troubled countries. He had done some white water rafting on the Zambezi before getting into the safari business out here, so he had certainly been around, and now he was trying to get a job doing rafting trips in the Sierra Nevada mountains in America.
Kathy put together a big salad, while Toose worked on cutting up some meat. He had a big bag of charcoal to burn, but there was no firewood around for a brighter after-dinner fire. I took the panga and a flashlight (I almost said torch!) and went in search of some. The moon hadn't risen yet, and it was very dark, but there was a fallen tree somewhere over that way, and I hoped I could find it and cut off some branches. Ray and Ross followed me over, bringing more light to bear as I hacked away, and more hands to carry back what I could cut. I'd managed to slice off a small pile of brush, when suddenly I felt a sharp stab in my wrist as I swung the blade against a branch, and looked down to see a four-inch thorn embedded deeply in my wrist. Ouch! It had a little barb on the end, which made it no fun to get out, and it hurt a lot even once I'd removed it. Poor baby!
Remembering "The Snows of Kilimanjaro", where the hero dies of gangrene from a wound caused by a thorn scratch, I handed the panga over to Ross and Ray, and went back to camp to put some disinfectant and a bandage on it. I didn't want to die of a suppurating, smelly wound like Harry did in the story.
Dinner was soon ready, with everyone helping and contributing any way they could, and it was delicious. Toose had come up with some fabulous beef from Nairobi, the best I had in Africa, and the salad and potatoes were delicious as well.
Simon remained up at the bar, along with Janne and Cheryl. The meals were so big here that the girls hadn't been hungry after a mammoth lunch, so they stayed there keeping him company. We were all surprised to see Cheryl walk all the way back to camp, prepare a beautiful steak sandwich, and carry it all the way back up to the lodge- for Simon. Throughout the trip these two had been a little like cats and dogs, and being of different temperaments but both quite "vocal", they had been mildly "at" each other all the time.
One night around the campfire Simon had made one of his frequent humorously silly remarks, and Cheryl had exclaimed: "Oh Simon, you're such a flip!"
Now, none of we non-Australians were exactly sure what a flip was, but we thought it was probably not very nice.
I think their mutual roles in the last few adventures had made them appreciate each other a little more, Cheryl dealing with the matatu pirates yesterday, and Simon's diplomacy with Toose today had proven their mutual willingness and ability to "pitch in".
After dinner I walked away from camp a little bit, to sit on a fencepost and look up at the night sky. It was clear and black; with a few high cumulus clouds edged with silver by the bright full moon. An acacia tree was silhouetted perfectly in the white sphere, and the black and silver of the African sky was magical.
I was thinking about this journal and I had a problem. I was really serious about making this story good and true, and had been collecting all the information and impressions I could for the background. More, I had been trying to know these people well enough to be able to understand and describe them a little bit. I wanted to go deeper than I'd gone before, into the place and into the people.
But inevitably, in a group this size, there was someone I didn't like. How should I handle this? It would certainly be honest to be open about it, to describe all the acts, statements, and attitudes that so irritated me, and it might even add a nice thread of tension to the narrative. A little "purple prose".
But it would seem kind of cruel and unfair. I mean, I'm sure such people don't mean to be bad, they're just different from me, and if they irritate me I try to keep it to myself. There's little point in arguing with someone who sees the world completely differently from you, unless they're at least intelligent enough to make the debate stimulating. This, however, was not the case here.
I used to be against the idea of the "compassionate lie", a belief which John Steinbeck defended in one of his books as often more humane than the truth. I disagreed at the time I read it, convinced of the principle that the truth is always better than a lie. Now I'm not so sure. I remember a line of dialogue from some movie where a father said to his son: "You're so full of what's right, you can't see what's good", and I think there's a lot of truth in that observation, as it sometimes applies to myself, anyway.
So I will forbear. I'll follow my method in past cases like this; just mention the person as seldom as possible. No lurid litany of hatred and vitriol, no snarling outrage at the latest irritation. No character assassination.
It's right to be honest. It's good to be gentle.
Maafuu hapatilizwi.
You don't take vengeance on silliness.
(Swahili Saying)
---
11- cabbages and kings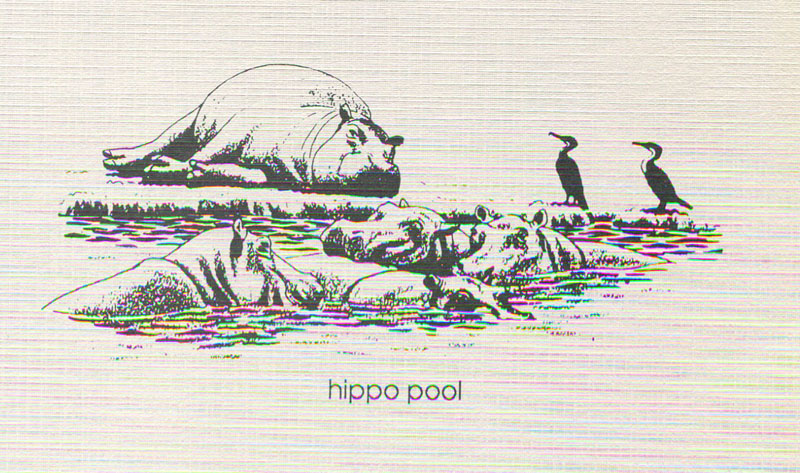 I had wandered back up to the lodge to see how Simon was getting along, and found him holding court inside the bar, everyone gathered in a large circle around one of the large tribal drums that was used for a table. They asked me for a concert on the drum, but I laughingly declined, saying: "you can't afford me!" I ordered a brandy and enjoyed the high spirits of the group for a while, everyone talking and laughing gaily. When I started to feel tired, and got up to go, Simon announced that he was tired as well, and we walked back in the darkness together.
We undid all the zippers and ties that Simon had insisted upon closing to keep the 'mozzies' away, and crawled into the little tent. It was small enough that we had to lay out our beds one at a time, then take turns undressing and getting into our sleeping bags. Simon figured that our last night as tentmates was worthy of commemoration, and brought out his precious bottle of single-malt whisky. Our nearest neighbors were Alan and Carol, and Simon decided that since they were Scots they might appreciate a taste as well, and called over to them through the wall of the tent. Carol pleasantly declined for both of them, saying they'd had enough to drink, but Alan came over anyway, though under protest. I had the top of my flask to drink from, while Alan was using the cap from an aerosol can as a cup, and Simon filled both of thorn before he tipped the bottle up and drank from it- a man of simple tastes.
Alan crouched there in our crowded tent for a few minutes, then left us, and Simon and I drifted into conversation, this time far enough away from our neighbors not to disturb anyone, we hoped. The tent was dimly lit by the glow of an upended flashlight, with fading batteries, but we could just make out each other's features and expressions, and we could just see to get the drinks to our lips!
And now the time had come to speak of many things...
Simon: "Yes, I do know what you mean, I have no patience with stupidity either. Didn't Oscar Wilde say the only sin is stupidity?"
"Among other things, I think he did. But there's stupidity- and there's stupidity. You won't believe this, but I have a theory about that!"
"No!"
(laugh) "Oh yes!"
"Well, I've certainly never known you to have a theory before!"
"Ha ha. All that has changed now! The word I like in this case is 'simple', if you see the distinction. To call someone simple has unpleasant connotations these days, but I think that kind of character- I mean simple in the sense of not complex- can be very nice in a person. People whose needs and tastes are very straightforward and honest, as they are as people. I often find a 'simple' person is very agreeable to be around, and a good friend. It's the other kind of stupid that drives me nuts- the small mind with a big mouth syndrome, you know what I mean."
"Yes- and whom!"
"Well. . ."
"Never mind. But yes, I've known people like that too. Like you said, uncomplicated, like country people can be. Big-hearted, unpretentious and ruled by common sense."
"Right. But it's a matter of temperament too- not having that good quality warped by envy, self-delusions, or meanness, as it more often is."
"There's a word for that, that smallness of spirit."
"Yes, it's a great word too- pusillanimous- small of soul."
(laugh) "That's good, but it's not a pretty word, is it?"
"No, not pretty, but it's not a pretty way to be either."
"I wonder sometimes if intelligence isn't a kind of curse, and if there isn't something to the 'ignorance is bliss' idea."
"Sometimes, yeah, I suppose it is better, but ignorance also causes bigotry, and mob-rule, and other nasty stuff. Maybe simplicity is bliss, and ignorance is just stupid."
(laugh) "Maybe."
Eetai ta oshi moda nen.
There is a kind of man who is both foolish and wise.
(Maasai Wisdom)
"Well, I'm a rugby and cricket man myself, though I play a little bit of a traditional kind of tennis, called Real Tennis, but in any sport that fellow's kind of behavior gets me peed off."
"Simon, you're being unfair. I think you have to understand that a professional athlete like that is under an incredible amount of pressure. Not only from within, but people are watching every move he makes, on or off the court, and every day there are people measuring his performances, in split-seconds and fractions of an inch. Most people just don't have to work like that. And probably couldn't work like that. I know I couldn't, it's bad enough just having to live up to my own expectations, let alone anyone and everyone else's!"
"That's no excuse for being a childish boor, and disrupting the game like he does."
"Well, perhaps not, but I've met the guy a couple of times, and he's really a quiet and insecure sort of person. He even looks up to musicians- of all people- and calls himself 'just a tennis bum'. But when he's out there playing, he gets intense. He has no mercy for his own mistakes, and no patience to pay for anyone else's bad judgement or bad call, Think about it; for him the strain and the pressure of being at the top are enough that at twenty-five years old the guy started to lose it, and feel washed up already."
"That's because he's a soft colonial!"
"Simon!"
"All right, all right. But I've met other well-known people, maybe not as famous as he is, but soccer and rugby players who have had a certain amount of fame, and they're not like that."
"Well I think it's different in team sports, a team can share the pressure and compensate for each other's weaknesses. Though I have a friend who played for the Montreal Canadiens hockey team, and he used to live in a normal suburb of Montreal, just like a regular person, but he couldn't even take the dog for a walk without everyone in the neighborhood telling him what the coach should be doing, and how the team should be playing. And of course it's different for different people, it washes off the easy-going types- though I've never met a 'normal' person who liked it- while some people are driven mad by it. And the press! That poor guy's been driven nuts by the press, especially in Britain. Down on Fleet Street they just love to get people stirred up about the 'ugly American'. He didn't dare even bring his wife with him to Wimbledon this year."
"Oh come on, I don't think anyone in that position has a right to complain. It comes with the job, there are rewards, and there are penalties."
"Yes, that's true, but the rewards and the penalties aren't the same for everybody. Some people just wanted to excel at their jobs, they never wanted to be famous. And having paid the high price for the thing they wanted, they find they're expected to pay for what they don't want too. You can't do anything about it but it's not fair. Some people, like Paul Newman, have even tried to fight it by refusing to sign autographs, tired of hearing 'oh, take off those sunglasses so we can see your blue eyes'."
"Yes, I saw him on the telly talking about that, and I thought he sounded like a right bastard!"
"Well, there you go. I've had only a small amount of fame to deal with, and I truly can't imagine how awful it would be to be that well-known. Like Greta Garbo; she never said she wanted to be alone, she said she wanted to be left alone. But for me, I admire Newman's courage and honesty. It's hard to fight the whole machinery of fame, as I've learned, but he just wants to be left alone to do his work, that's all. I can certainly understand that, and it shouldn't be too much to ask. And he does good work, too. Like Humphrey Bogart said; 'the only thing you owe the public is a good performance."
"Well- look where it got him!"
"Simon!"
Akili ni mail.
Ability is wealth.

Ivumayo haidumu.
What is famed does not last.
(Swahili Sayings)
---
12- the road to nairobi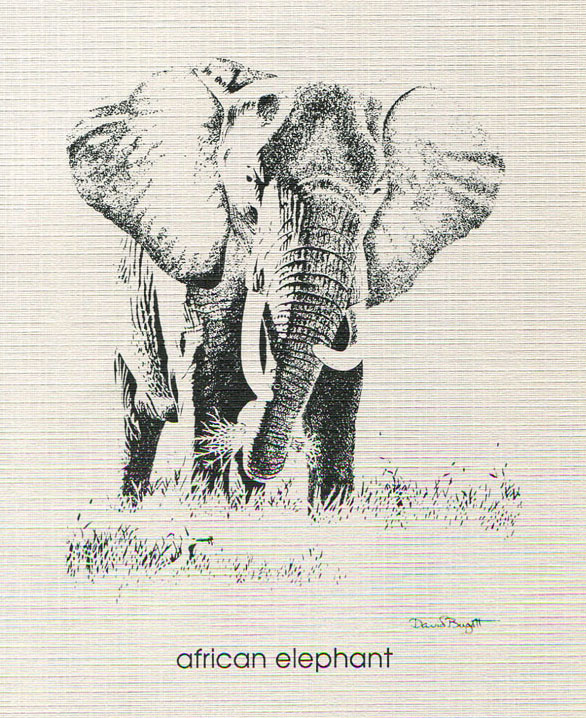 Before sunrise I was out on the dock again to watch the birds. The full moon was still a few degrees above the western horizon, and the sun hadn't cleared the trees in the east, but the sky was pink almost all the way around. A film of heavy dew lay on the boats which were tied up at the dock, and it was cool and pleasant. A little way out a small native fishing boat drifted slowly across the water, silhouetted against the mist which floated above the lake.
It is only in the past year that I have really come to appreciate the earliest hours of the day- (though in younger days I was more likely to see it from the other side!). During the summer at the cottage I had been rising at 6:00 every morning, and alternate days either going out on my bicycle, or working at my writing on the computer out in the garage. There's something beautiful about the first light, about the sunrise, in the way it looks and the way it feels inside, that is more powerful than any sunset. It is full of promise and anticipation, rather than finality and fulfilment, and anyway; I always like the beginning better than the end of something.
The giant Goliath Heron was back, and a smaller Grey Heron, and there was a flock of the odd-looking Sacred Ibis scavenging along the shore. These last are a strange bird, quite large and covered with white feathers except for the black-skinned head and neck, a long black downward-curved bill, and a beautiful spray of delicate blue-black feathers at the back. I never did find out why they're called the Sacred Ibis, but I like them. Ducks, cormorants, coots and crakes hunted for breakfast in their various ways, and there was a noble Fish Eagle perched on a stick farther out. It is truly a birdwatcher's dream here.
This was my last morning with the group, and Simon was going to meet me here to watch the birds together for the last time. I was going to miss that guy! It's not easy to find people who can make you laugh and make you think!
By the time we came back to camp a fire was going, and everyone was stirring. The sun was bright in a clear sky, with just a couple of clouds off to the southwest, and it was a beautiful, sparkling morning. We got our tent taken down and our gear packed up, as we heard Toose trying to start the truck. He had been using the headlights to illuminate the food-preparing last night, and now the battery was dead. The starter made a low grinding sound once or twice, then was silent. Everyone was recruited to try to give this big behemoth a push start, but even with a dozen people pushing, it was hard to get it rolling. We rocked it back and forth, and strained away at it until it finally sputtered into life.
Janne turned to me and said: "I bet you're glad you're leaving now!"
I nodded and laughed: "Really!"
At least they only had to make it to the Maasai Mara today, where they would be spending the next three nights, and then the truck had only to get them back to Nairobi- or for that matter they could probably hitch-hike from there! They'll be okay.
There were many tame monkeys around the campsite, Black-faced Vervets, and while Toose was off filling up with water we had some fun with them. Grahame coaxed some of the more fearless of them down out of the trees to take some food from his hand, and it was funny to see their different characters- the brave ones who ran right up to take it, the shy ones who wanted to- but were a little afraid, the greedy ones who came back for more, and the mothers with babies, who were the most timid of all. They just looked on hungrily from a safe perch.
Finally we were driving out of the park, and we were all glad to be moving on once again. We'd had enough of this place, and we all had a long way to travel today. We drove into the town of Naivasha, a few miles away, where I hoped to find a ride into Nairobi. As we pulled up to the bus station, I heard "La Isla Bonita" blasting distortedly out of a shop door, and it reminded me poignantly of my daughter Selena. It had been her favorite song all summer, and so often we had been driving around the roads of Quebec with the top down and that song playing up very loud. I'd been thinking lately that I couldn't wait to share all this with my wife and daughter, missing them and hoping they would like Africa as much as I did. They would be here in another week or so- but first I had to climb that stupid mountain!
The truck came to a stop on the hot and dusty street, and it was time to say goodbye. I would like to have said something to each person individually, but that was difficult under circumstances, so I just said goodbye and good luck to everyone, and told them: "If I had to through all of this I'm glad it was with you lot!", and I meant it. Simon climbed down to help me with my backpack, and we embraced warmly and promised to keep in touch. Toose considerately walked over with me to make sure I found some transportation.
The bus station itself was an open square, with about four big buses and several smaller ones parked in the middle. All of them had paint jobs worthy of "TRADE MARK MWANGAZA", and they were all just crammed with people, their roofs piled high with boxes and baskets. The outside of the square was lined with stalls of wood and corrugated metal, and seemed to double as a market square as well. Loud music of a nondescript nature blared out from many of the stalls, and Toose told me it was local East African music, which he didn't find too impressive. The music of southern and western Africa was a lot more interesting, he said, but for some reason it was pretty bland in this area.
Stopping at one of the stalls, he asked about buses into Nairbbi, and was told that they were all full, which, when you looked around, certainly seemed to be true. The man said they were always full "this time of the month", whatever that meant, as it was the ninth of September! I had thought a bus trip might be an interesting addition to my experiences, but I told Toose that I wasn't really keen on another matatu journey. It didn't really matter, as we were told they were all full as well. When we asked when there might be another bus, they just shrugged and said: "maybe a couple of hours". African Time, remember.
We asked about private taxis, which seemed to be what they wanted us to do in the first place, and were told I could get one, but it would cost an outrageous 800 shillings to go the miles into Nairobi. It was bargaining time and I got into it now I started the bargaining at 350, and then worked up to 500, when the "dispatcher" went to consult with someone presumably the driver. He returned and said it would have to be 600 shillings, which was still almost fifty dollars, but I could see that this would be the final price, and acquiesced. wasn't really any choice, being "this time of the month" and all. I didn't want to stand around there in the hot sun for a couple of hours and try to squeeze onto a sardine-packed bus or a death-trap matatu, so I said I would take it. I shook hands with Toose, thanked him for his help, and wished him good luck on the drive to the Maasai Mara. Now I was alone.
In a few minutes an ancient Peugeot pulled up before us, and I threw my pack into the back seat and climbed in beside it. I was glad that the car's trunk didn't seem to open, as with the back seat filled by the pack and me, it would eliminate the usual practice of cramming a few more passengers in for the ride. As we drove through the little town I asked the driver if he lived here in Naivasha, and he said he did. I remarked that it seemed like a nice place to live. Being a small town on the shore of the lake, it was pretty and at least would have plenty of water. He said that it was a good place to live, and that would be about the extent of our conversation.
He said he had to get some petrol, and we pulled into a station and filled up. My last 150 shillings went to pay for the fuel, and I would have to change some more money when we got to the New Stanley to pay the fare. But once again I was in the situation of being without ready cash, and if this dilapidated old car failed to make it and I had to find some other way, I would be in trouble.
Next he announced that we had to pick up a spare tire, and we drove out into the country, in the opposite direction from Nairobi. I suppose it's natural to feel a bit uneasy in a situation like that, you feel kind of helpless and alone in a strange, strange world, and I was certainly wondering: "Where is he taking me?"
But we ended up driving into the "US Peace Corps Training Center", of all places, where he borrowed a wheel from a friend of his who worked there. Then it was back into Naivasha to pick up his driver's licence from a garage, and still one more stop to pick up his friend, whom he was bringing along for company I guess. Finally we were on the road to Nairobi.
It was a very good road, along the top of a high ridge which formed one wall of the Rift Valley, and the views were tremendous. It was a clear and sunny morning, and everything shone in bright shades of green and blue. I could see for miles back down into the valley, over Lake Naivasha and the beautiful Mount Longonot, and I wished we'd done that climb yesterday. It might have made a good warmup for Kilimanjaro. This was an area of rich farmland, and there were stalls along the highway selling vegetables, sheepskins, baskets and big pails of potatoes. It was again a striking contrast to Tanzania, though there were yet a few donkey carts, and plenty of poor-looking pedestrians.
At highway speed the little car trembled and rattled and shook, feeling very unstable on the road. It seemed to be protesting against this undignified rate of travel, and again I wondered if it would make it. Somehow the body and wheels seemed to move independently- they didn't seem to be connected.
The driver and his friend kept up a non-stop dialogue in some unknown language, I don't think it was Swahili, and for some reason they felt compelled to shout every word. At first it was interesting to speculate on what it was they were discussing- sports, politics, women, gossip?- but after a while it just became tiresome, and I wished they would shut up for a while.
I was happy to finally see the outskirts of Nairobi approaching, to be back in semi-familiar territory, and we wove our way through the busy streets of the city and up to the New Stanley. The driver's buddy came in with me while I changed a traveler's cheque and paid them off, and then I checked myself into the hotel and went up to my room.
The room was like one in a slightly run-down old English hotel, but it was neat and clean, and as I looked around at the double bed, the mini-bar, the TV and the nice bathroom I let out a spontaneous "yahoo!"- real civilization. The tape recorded me laughing with pleasure; "it looks great. It's nice to be here." A hotel room is a comfortable environment for me after many years of traveling, and I felt right at home in this one too.
The first thing I did was empty out my backpack, which was almost entirely full of dirty clothes at this point. I called down to the front desk to ask them to pick up my laundry and have it done, then luxuriated in a hot bath. Heaven! Dressing in the last of my clean clothes, I went down to the Thorn Tree Café for some lunch. My laundry still hadn't been picked up, and I asked about it once more at the front desk on my way by. They assured me it would be looked after. Sure.
The Thorn Tree is a famous meeting-place, going back to the days of the big-game hunters. There is a tall acacia tree growing up through the sidewalk café outside, which gives the place its name, and which stretches up about fifty feet in front of the hotel. I saw a plaque stating that this tree had been planted in 1961, replacing the original one. Around it is a four-sided notice board, covered with messages left by people for other travelers, and from people looking for others to share the price of a safari.
I ordered the lunch special, Impala Stew, which was a tasty, beef-like meat dish. It was interesting- in a sick kind of way- to eat one of the animals I'd been looking at in the wild. Don't get me wrong- I wouldn't buy a rhino horn backscratcher or anything, but Impala are far from endangered. I was hoping to get a chance to eat some Thomson's Gazelle, I certainly knew they weren't endangered- no more than rabbits are anyway! The cute little Impala- was accompanied by a Kenyan side-dish called "Irio", like Mashed potatoes with corn and greens blended in. A glass of wine, the forgotten luxury of ice cream, and a cup of delicious coffee made me feel good. And so clean!
I walked out into the streets of Nairobi, enjoying the feeling of big city streets under my feet once again. The other morning didn't count; I'd been feeling poorly and everything had been too uncertain for me to take pleasure in my surroundings. Now I noticed that downtown Nairobi is quite pretty, with some nice open squares, and many jacaranda, palm and acacia trees lining the streets. The streets were thronged with a multi-racial crowd of people, and there were a great number of street pedlars and beggars. It is difficult to picture it as it would have looked in the days of the colonials. It's a new city, and as with North American cities, it's all changed too much and too fast. You can't squint your eyes and see how it would have been, as you can in older European cities like London, Paris or Venice.
Almost immediately I was accosted by a young man, respectable-looking and well-spoken.
"How do you like Kenya?"
I replied that I liked it fine.
"I am a student, please take ten or fifteen minutes to tell me about your country. Do you have a nice climate in your country like in Kenya"
I smiled and told him that I was from Canada, and no, we didn't have a climate like Kenya's.
"From Canada? What do you know about the University of Saskatchewan?"
This raised my eyebrows, but I had to say that I didn't know much about the University of Saskatchewan, as I lived a long way from there.
"How about the University of Guelph, or Western University?"
I said, quite truly, that I knew of them, but couldn't really tell him anything worthwhile about them.
I was getting a little suspicious about the meaning of this exchange, and when he suggested that "maybe we could go somewhere and talk about your country", I began to look for a way to gracefully get out of this conversation. I wasn't sure what he was after, but I was sure it wasn't information about Canada, and suggested he would do better to find some books to read about Canada if he was really interested.
But he wasn't letting me go easily, and continued to press. He left me only one opening, but not an easy one, by acting insulted and saying: "Well, if you think I am just wasting your time-".
Maybe he knew that Canadians have a tendency, probably inherited from the English, to avoid a confrontation by going along with an insistent person. But this time he would be disappointed, as I am too used to people wanting to waste my time, and it is the only thing that I am greedy and selfish about. (So I say, anyway.)
I just said: "Yes, I think you are wasting my time. Goodbye.", and walked away from him. I can't imagine what he was really after, it seemed like a lot of trouble he was going to compared to the other "street people" who just uttered a straightforward "Change money? Change money? Good rate!", or "You want to buy nice elephant-hair bracelet? I give you good price." (Judging by the number of people selling elephant-hair bracelets, supposedly made from the elephant's thick tail hairs, there must be a lot of bald-tailed elephants in Kenya!), even the voice in the crowd chanting the offer of "Marijuana? Marijuana?".
Street crime is a major problem in Nairobi, they tell you in the guide books and in the hotels not to walk anywhere at night, and to be very careful even in the daytime. The black market is very active in money, drugs and flesh, and as we saw at the border, corruption is simply a way of life. Whatever my young accoster was up to, I knew I wanted no part of it. It took me a while to adjust to constantly being approached and hailed by these entrepreneurs of the street, and at first it made me very uneasy. After a few days I became hardened, and could wave them away convincingly enough to be effective.
There were a few things I wanted to buy here; odd-sized "N" batteries for my flashlight and an alarm clock, some new mini-cassettes for my recorder, and a bag in which I could leave some of the stuff I wouldn't need on Kilimanjaro. The hotels are used to people going out on safari and wanting to leave unnecessary luggage behind, and are glad to look after it for you. By the time I'd picked up these items and walked around the central area, I'd had enough of being hassled every few feet for one thing or another, and picked up a couple of newspapers and went back to my room. The big bag of laundry still sat by the door, and it looked as if I was on my own with that as well.
It was wonderful to sit down in a comfortable chair, put my feet up, pour myself a whisky from the mini-bar, and sit back to read the newspapers. I had bought an International Herald Tribune, half to see what was going on in the world and half to do the crossword puzzle, but first I turned to the Kenya Times. Although the typesetting was sometimes so bad as to be incomprehensible, it was still a good insight into the "local scene".
I read that the borders have been closed to the neighboring country of Burundi, as there has been a military takeover while the President was attending a convention of francophone countries in- ironically- Quebec. Several Burundi nationals were stranded here in Nairobi without money or places to stay.
There was a lot of outrage in the Kenya papers the whole time I was there, after Amnesty International had accused them of holding forty thousand-odd children in their jails, and of having committed numerous civil rights violations. It's hard to weed out the facts in a case like this, but it seems as if there were a few Kenyans in Europe, particularly in Scandinavia, who were painting an unattractive picture of internal affairs at home. President Moi had made strong speeches defending his country's civil rights record, and government officials were saying that Kenyans abroad attacking their country were "no better than someone abusing one's mother while away". Well. Who's to know?
Letters to the editor are the most interesting part of a newspaper to me (well- next to the crossword puzzle). They tell you more about what's really going on in a place- or at worst they tell you a lot about the paper you're reading, whether you're at home or in a strange country. An interesting debate was going on between Muslims, Jews and Christians through this medium. It was interesting and refreshing because this debate didn't involve smears, violence, vandalism, or the kind of mindless "isms" that are often the result of religious disagreement. The debate seemed to go on for several weeks, and centred around some serious intellectual arguments. Passages of the Bible, Torah and Quran were quoted to prove that Jesus was sent only for the Jews, and there was a fascinating debate surrounding the number of errors in the Bible- "50,000 errors in the Bible" read the headline. This also involved the number of changes that had been made in the Bible to suit the "learned men" of later times, a question I've wondered about too. I found this fascinating, both the subject of this debate, and also the dignified way in which it was being conducted. A "gentleman's disagreement".
There was one letter that I have to quote verbatim- it would lose too much in the translation.
Alone in the wilderness


Recently I happened to have been travelling to Naivasha town for the first time. I was going to visit a relative living in a certain institute near the town. Unfortunately I reached the place at 8:00 pm when it was not easy to find my way to the destination.

After the bus, which was heading for Nairobi, had left me in the dark by the roadside, some one and half kilometres from the town, I could not tell the direction of my destination since, I could no longer follow the map which had been drawn to help me.

By the roadside where I stood was near a junction of Naivasha town road and the wide and busy road by-passing the town to Nairobi. At this junction a matatu, or possibly a private van, from town stopped suddenly aiming at joining the main road by-passing the town to Nairobi. Here is I thought I could be helped so I rushed to the driver seeing that he did not speak languages I tried to use gestures and a few broken swahili words with the intention that this gentleman could either guide me or advise me on what to do.

At first he seemed to be getting my message but he further asked me numerous questions, one after the other, until I could not understand him any more. The gentleman, seeing that I did not answer his questions drove off at once.

In fact, the man almost crushed me because I was very close to the car.

At this place I could easily have been killed by wild animals although what the man did could not make me see a clear destination between him and the wild animals. Personally I think unity is strength and we should be well united so that we can make Kenya a better and safer place to leave in I fail to define a nation when people behave in this manner. I am worried about where we are heading to.

R. Owiti,
Homa Bay
Well. Me too.
A sad note was struck by the headline announcing: "55 Kenyan Lorries Stranded in Uganda". Sad because these fifty-five trucks had been on their way to deliver wheat and food to Ethiopia and the Sudan, and had been stranded due to: "insecurity in the north" of Uganda. Evidently that country is quite unstable since the iron hand of Amin was overthrown by the Tanzanians, and there is often "trouble in the north".
But enough seriousness. I turned to the inside back page of the Herald Tribune- the crossword puzzle.
And later, the full moon rose once again to silhouette an acacia tree, as it had last night over Lake Naivasha, only this time it shone into a hotel room, illuminating a young man laying back in a chair with a pen in his hand, flipping through the pages of a notebook. The room was untidy, with a heap of clothes exploded out of a blue backpack, newspapers open all over the place, the television showing a school choir singing in Swahili, and the remains of a room service dinner on the table.
Mwiikaria ndari haro.
He who lives alone has no quarrel.
(Kikuyu Proverb)
---
13- out of kenya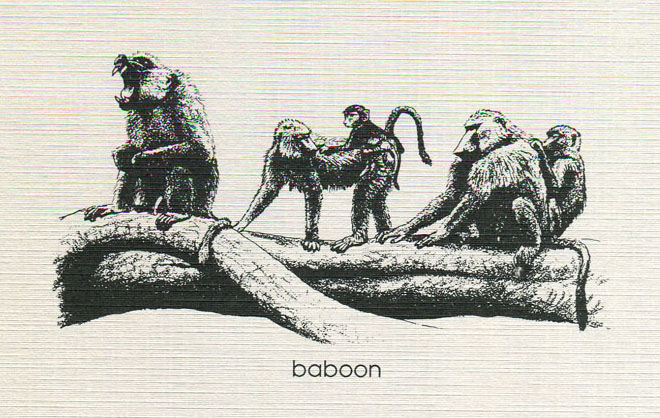 The next morning I went down to the Thorn Tree Café for breakfast, then across the street to a kind of department/grocery store. I bought a small box of New Blue Omo Powder, the one I'd seen Dutch and Emmanuel using back at Simba Camp, then went up to attack my laundry.
It's a good thing I've learned on cycling trips how to do laundry in hotel sinks, as the washing instructions and everything but the name on the detergent box was in Swahili. It seems a simple enough task, but I was used to machines doing these jobs!
A few pairs of socks in the sink is one thing, but this time there was a lot of laundry, and it was really dirty, so it would have to be the bathtub. And there I was the old washerwoman, down on my knees by the tub, wringing the sands of the Serengeti out of my clothes. The amount of dirt was unbelievable. I had to refill the tub four or five times for each bunch of laundry, as the water turned dark brown again and again
The next problem was to get it all dry. I had wet clothes hanging from the laundry rack over the tub, from the shower curtain rod, from the wardrobe closet, from the sink, over the suitcase stand- everywhere, but I doubted if it would be dry by the time I had to leave tomorrow. I'd have to think of something.
This satisfying task completed, I left everything to "drip-dry", and went out on the streets for a walk around town. I strolled through the big indoor market, which contained two colorful floors of stalls selling all kinds of produce and meats, and then into the outdoor market which was full of the inevitable carvings, spears and shields, baskets, batik and jewelry. Nothing irresistible there.
I walked along a street that was the "automotive row" of Nairobi, and it was strange to see the dealers' windows full of shiny new cars. In contrast to the empty showrooms of Arusha, here there was a wide variety of brand-new Daihatsu, Opel, Honda, Peugeot, Toyota, Mitsubishi, Nissan, Alfa Romeo and Mercedes-Benz models. I even saw a couple of MGB's on the street, a car I always notice as it was my own first car, but it was remarkably out of place here- this small and temperamental British sports car on the roads of Africa.
I made my way over to the National Museum on the outskirts of town, and went inside. I started my visit at a really good display on the geological formation of the earth, particularly in regard to the Rift Valley, and Kenya's lakes, volcanoes and natural mineral resources. The museum has a large collection of watercolors painted by Joy Adamson of the many species of plant life, and a fairly good selection of mounted animals and fish. I was amused to see one of the latter which was called- I swear- the "Shit Eating Fish". I did a double take when I first looked at the name, thinking I'd read it wrong, or someone had changed the sign. But sure enough, there it was, and it had received its name because the fishermen believed it fed on sewage. Even the Latin word, Scatophagus I think it was, translates into the same curious name.
Most interesting of all was the prehistory section. Since the director of the museum is Richard Leakey, of the famous archaeological family who made many of their significant discoveries in Kenya and Tanzania, the museum has access to some wonderful exhibits. Here the major archaeological sites in the two countries are thoroughly documented, how they have been excavated and what was found there. The tools and weapons of different ages are on display, as well as many fossils.
The stages in the development of modern man are well illustrated by charts and pictures, and also by an excellent diorama which shows a three-dimensional representation of three different periods of our ancestry; full-size mannequins of men, women and children living and hunting on the African plains. I was amused to see one of the groups portrayed eating Thomson's Gazelle tartare- I knew they'd be good eating!
Our old friend the Zinjanthropus Man from Olduvai goes back 1,700,000 years, and they've traced modern man- homo sapiens- back to only thirty thousand years ago. Upstarts. Characteristics typical of homo erectus and homo sapiens go back as far as two hundred thousand years, but I never knew that some of the "famous skulls", like Australopithecus, were thought to be from evolutionary branches which didn't evolve, but became extinct. Prehistoric endangered species.
The Theory of Evolution was revived in my thoughts by all of this, and it occurred to me that the one element I hadn't given proper weight to in my Olduvai reflections was time. We're talking millions and millions of years here (sounds like Carl Sagan)- who can say what might or might not happen in a time frame like that? There may have been so many different mutations, and stages of mutation, which gradually created a more adaptable creature. Just one genetic accident, even only once in ten thousand years, would bring about a change that would be passed on.
But I don't know, it still makes my brain hurt. What about webbed feet? Opposable thumbs? Antlers? Eyelids? Sex?
Another thing I learned is that the earliest known city is Jericho, estimated at ten thousand years ago. And the walls came tumbling down. . . I suppose that it was just one of the first cities built of stone- and so the first one whose ruins would survive. We know what happened to the house of straw, and the one of sticks. I'll huff, and I'll puff . .
There are full-scale reproductions of cave paintings which were made by the Leakey family, and I found these really fascinating. Having become quite interested in painting in the last few years, it was exciting to see the very beginning of it all. It seems the oldest known art dates back about 35,000 years, and these were already highly-stylized cave paintings of animals and daily life. Interesting that the urge to decorate, the urge to express something in pictures, should be so deeply ingrained in us from earliest times. It is also significant that there should be such individual styles evident as well, where the work of different painters of the time can actually be told apart.
I believe these first known works of art were found in caves in Spain, and it is interesting that the modes of form and line in which they worked are reflected so clearly in the famous Spanish artists of this century- like Picasso and Miro.
Back at the hotel, I moved from these visions of our earliest beginnings, to the pinnacle of modern civilization- the hair dryer. I borrowed one from the hotel, put the luggage stand on top of a table to make a clothesline, and sat in front of it drying my clothes one by one. It was a laborious, but eventually effective, method, and it still took several hours. I definitely gave this example of man's ingenuity a lifetime of use in one day. (But will it last 35,000 years?)
During that time I watched many fascinating "home-made" TV programs in Swahili, single-camera sitcoms and news programs, but it was worth it. It was better than having to pack a whole load of wet clothes into my pack- or dirty ones for that matter. Joy of joys- at last I had clean clothes!
Urutagwo mwiruti.
The work is done if one does it.
(Kikuyu Proverb)
* * *
The departures board at Jomo Kenyatta International Airport makes some interesting reading. Places like Entebbe, Khartoum, Harare, Kilimanjaro, Dar es Salaam, Bujumbura, Lusaka, Kigali, Kinshasa and Abidjan make a really good geography quiz. I failed: I had no idea where most of these places were. I learned later that of course Harare was formerly Salisbury in Zimbabwe, which was formerly Rhodesia. And when I found out that Bujumbura is the capital of Burundi, I knew I'd have to go there someday. I want to be able to say I've been to Bujumbura Burundi.
But today I had to get to Kilimanjaro. I arrived at the airport about two hours early, having heard so many travelers' tales about flying in Africa. It turned out not to make much difference, as each of the different airlines took turns using the same check-in counters, just changing the signs to read Kenya Airways, Sudan Air, Ethiopia Air, Ugandan Air, or any of the many others. The sign for Air Tanzania didn't appear for about an hour, during which time I found a seat and people-watched for a while.
After the inevitable long slow lineups to check in for the flight and check out of Kenya, there is the final insult of the "Departure Tax". After you spend your money to come and visit a place, and spend even more of it in the country, they have the nerve to hit you up for another $10 on the way out the door. A lot of countries dependent upon tourism seem to find this kind extortion an acceptable "goodbye present" to their visitors.
Once I was in an airport lineup on the Caribbean island of Antigua. I stood behind an American man who had absolutely no cash left to pay this departure tax, and was in a real bind as they truly would not let him board the plane unless he paid it. Sympathizing with the stupidity of the situation, I gave him the five or ten dollars. He took down my address and promised to repay it, but as time went by I forgot all about it. Then about two years later I was surprised to receive a cheque in the mail from this long-forgotten man, apologizing for having put it off so long. Sometimes things happen which renew your faith in human nature.
The plane actually took off almost right on time- only a half hour late- and it was a fairly smooth flight, about forty minutes long. Most of the passengers seemed to be African businessmen, or perhaps politicians, with only a few tourists or white expatriates traveling to Tanzania. It was a good plane, a 707, so I wasn't too worried, but it's a good thing I didn't know at the time that the US government forbids its employees to fly on Nigerian Air, and doesn't recommend that they fly on Air Tanzania- because of their lax safety standards. Great. The corrections to the airplane's attitude did seem a little heavy-handed at times, but we made a safe and smooth landing at Kilimanjaro International Airport. I was disappointed that the clouds were high, and there was no view of the mountain on the way in.
As I looked out the window while we waited to disembark, I did have a good warning to be careful how you pack soft luggage, when I watched one of the handlers jumping down from a pile of baggage, using my backpack as a stepping-stone!
Once again how different a place like this looks the second time around, when you've had a couple of weeks to put it into a context. And how different this little airport felt with only a few people getting off here, most of the passengers continuing on to the capital city of Dar es Salaam. There was none of the chaos of a jumbo jet full of people crowding in, none of the friction of tired and grumpy travelers and harried officers. As I filled out my immigration card in the empty arrivals hail, the young officer walked over to look over my shoulder, reading as I wrote and saying: "Oh, you are from Canada."
I smiled back at him and replied that: "yes I was", and when I got over to his counter he quickly stamped my passport and papers, and sent me over to pay my second "special Extortion Tax" of the day- the mandatory exchange of fifty US dollars. This time my pack was one of the first things off the 'plane, in fact one of the only things off the 'plane, and the atmosphere of the whole arrivals area was very calm, polite and friendly, so different from the growling and hassling of my first landing here.
I was soon walking out through the big glass doors, to be met by Nigel, a young New Zealander who represented the company "Wildlife Explorer", which had made the arrangements for the Kilimanjaro climb. He led me out to a brand-new Land Rover- what luxury!-, and we tossed my pack in the rear of it and drove off.
It's amazing how many New Zealanders there are working here in Africa, a disproportionate amount for such a small country. Nearly all the whites we met in the safari business were either New Zealanders or Australians. It was Simon who told me that the "Antipodeans" really have a reputation for "flying feet", or wanderlust, and it seems to be well-founded. I am good friends with quite a few New Zealanders who had moved to London at the same time I did years ago, and they're still there too. For a country which only has a population of about three million, they sure manage to cover the globe. Those people do get around.
Mundu utathiaga oi no nyina ururgaga.
He that does not travel knows only his mother's cooking.
(Kikuyu Proverb)
---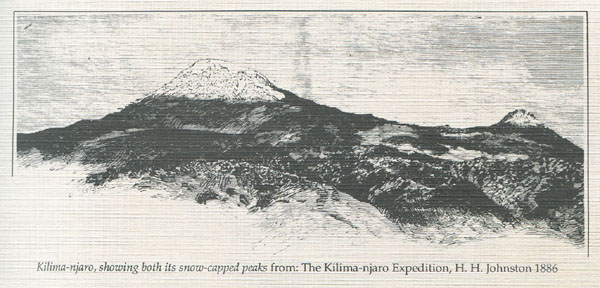 part two- kilimanjaro
. . . all he could see, as wide as all the world, great, high, and unbelievably white in the sun, was the square top of Kilimanjaro. And then he knew that there was where he was going.
Ernest Hemingway
The Snows of Kilimanjaro
---
14- base camp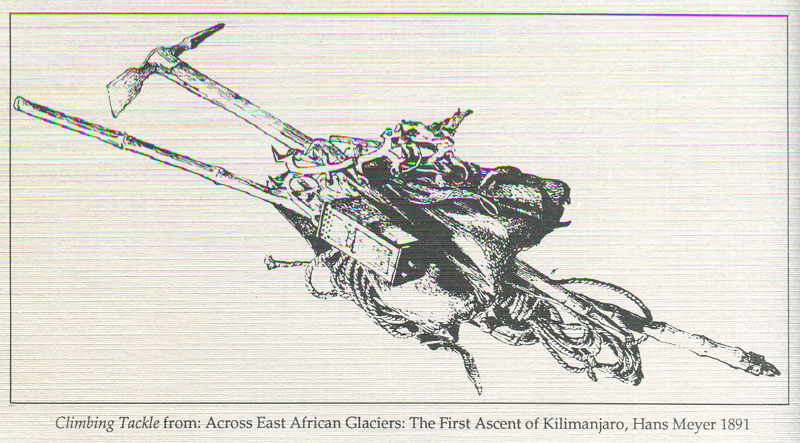 It was about a fifty-mile drive to the Kibo Hotel on the south side of Kilimanjaro, and we talked about a lot of things as we drove along. Nigel is in his early twenties, with a friendly a open face and a cheerful manner. He had been out here for about two years, and he now lived right near Gibb's Farm, in that beautiful region of lush tropical forest and coffee fields- and that fantastic food!
He told me the story of his first time climbing the mountain, when he had thrown up fifteen times on the way up. "Wonderful", I told him, "I can't wait!" But he'd made it in the end, so that was encouraging, and he'd even gone on to climb it two more times, so it must have been worth it. He was saying that you just can't tell how the altitude is going to affect you up there. It's got nothing to do with fitness or age, but is strictly an individual response- some people get sick and some don't. I hoped I would be one of the latter. Nigel had gone up with two Australian girls that first time, and they had smoked all the way up, lighting up every time they stopped, while poor Nigel had just felt like death, and without their encouragement would probably not have made it at all. He figures that the odds favor women- women who smoke!
Nigel had also met the "orator" from Lake Manyara, the New Zealander who had told us all those horror stories, and I was glad to know that Nigel shared my opinion of him, and could tell me that his stories were indeed exaggerated. I guess he had come roaring into Gibb's Farm with those big white trucks while Nigel was there, yelling at people and being obnoxious, and Nigel too figured he'd probably never even done the climb himself- the ordeal about which he had so much to say.
He told me that we would be meeting another climber at the hotel, and that he would tell us both more about the climb at dinner tonight.
We made a stop in Moshi at the Air Tanzania office, as I wanted to check about my flight back to Nairobi. I had told my travel agent that I might want lo travel back overland, so she had reserved me a seat but hadn't issued the ticket. Now I realized that after the last overland trip to Kenya there was no pleasant way to make that journey, and I guessed I'd have to fly. I wanted to make sure it was all organized.
Well.
First of all, the moment I sat down at the counter, the computers went down. So there was no way of finding out if | had the prepaid reservation I told him I had, and | decided the only thing to do was simply buy a ticket from him now, and get a refund on the other one later. That was the only way I could be sure of having a seat on that plane.
Silly me- I thought I'd pay for it with the Tanzanian shillings I'd just had to buy.
"No no, you cannot pay in shillings, you must pay in foreign currency."
"Well, I just spent all my foreign currency to buy these shillings! I can give you a credit card, or a traveler's cheque in Canadian dollars. Would that be okay?"
He made a pained face, and went off to another room to telephone the bank for an exchange rate. I knew I really should have bought my traveler's cheques in US dollars, but in Europe or Asia it had never been a problem changing Canadian ones, and I just never thought of it. But still, as I remarked when I was caught "between two worlds" in Namanga, I should always carry enough US dollars to cover things like this.
He was gone for five, ten, then fifteen minutes, and I asked a young woman, who seemed to be a trainee, to tell him that I'd just changed a traveler's cheque at the airport, and could show him the rate.
"You must just wait", she said. So I just waited. Five, ten, then another fifteen minutes. When he returned I showed him my Foreign Exchange receipt, and he studied it awhile.
Then, in a complete reversal of policy, he said I could pay in shillings, but I would have to wait while they had a photocopy made of my receipt, to exonerate him with his superiors I suppose. And- I had to pay for the photocopy. "Fine", I said, and he sent someone off to find a photocopying machine.
Sigh
Like the bank in Arusha, bureaucratic efficiency in action! It had been almost an hour by the time I finally rejoined Nigel where he waited patiently in the Land Rover. I could tell he was used to African Time. We laughed about that, how you definitely have to alter your conception of time here.
"There's sunrise and there's sunset- then there's all the time in between. That's all."
We drove out of Moshi and into the open country once more, a green and pretty landscape with many hills and lush valleys. As we turned off of the main road, we were climbing up the shoulder of Kilimanjaro, and the fields and forests continued to get greener.
We were talking about Tanzania, how we both preferred its wild and unspoiled nature to the relative tameness of Kenya. I was telling him how much I had loved the Serengeti, and how I'd like to see it during the rainy season, with those vast plains all carpeted in green. And of course all those gigantic herds of Wildebeest and zebra would be there, rather than largely in migration to the north as they were now. I had imagined it would only be possible to see it by airplane during the rains, but Nigel told me that during the "short rains" in November it was possible to travel there, and it was indeed a beautiful sight.
He was also telling me about some of the safaris his company offered which went further inland, to the Mountain Gorilla country of Zaire, Burundi and Rwanda. That kind of trip really sounded great to me, remote, primitive and interesting. If I have the good fortune to make another trip to Africa, I would like to start my safari in Tanzania, then go deeper into those countries. Besides, then I'd get to fulfill my new dream of going to Bujumbura Burundi! (As long as they weren't having another coup, that is!)
Ironically, Wildlife Explorer was the company I had first booked with for the Tanzanian safari, as they used Land Rovers instead of the big Bedfords, and I thought at the time that the smaller vehicle- and smaller group of people- would be better. Then they had called my travel agent last summer to ask if I could reschedule my safari, as so far no one else had signed up for it. When I replied that this was the only time I could possibly do it, they said: "fine, we'll go ahead with the safari no matter what".
Then, only two weeks before I was to leave, I had a call from my travel agent saying they'd cancelled after all. | was a bit depressed about it at the time, worrying that I wouldn't be able to go (after all those needles too!), but my travel agent came through and squeezed me on the Tracks trip at the last minute.
In retrospect of course, I'm glad things turned out the way they did, as I met a lot of great people, had a wonderful safari, and couldn't have enjoyed myself more. Perhaps being the only guest would have been as exciting in what I saw and experienced- the wildlife and scenery- but it wouldn't have been as much fun without the dynamics that other people gave it.
But I didn't tell Nigel that- at least not right away. I wanted some time to play it up, "wind him up", and play the snubbed guest. We passed a beautiful Long-crested Eagle sitting on a high perch, with long black feathers like fingers on the back of its head. This was the first-one I'd-seen, and I decided this was a good omen for the climb. Nigel told me it was always there, but I didn't believe him. It was a sign.
The Kibo Hotel is a wonderful place. It sits high on the shoulder of Kilimanjaro, near the town of Marangu, in a tropical paradise of rich vegetation. With plenty of rain, and rivers flowing down the mountain all year round, it is a very fertile area. The grounds-of the hotel are beautifully landscaped with brilliant flowers and bright green trees and shrubs.
The hotel itself is rich in atmosphere, as the only people who come here would be either heading up the mountain or coming down again, so it has almost a "base camp" sense of purposefulness about it. There were maps of the mountain, and many photographs and flags left by previous climbers. It had been opened in the thirties by the daughter of the first man to climb Kilimanjaro, Hans Meyer, whose picture also adorned-the walls. He had first tried it exactly a hundred years ago, was turned back by a wall of ice, and then finally made it to the summit in 1889. He is a kind of figure of legend here.
It was a little after four when we arrived, and Nigel gave me my room key and suggested we meet in the bar at 5:30. I went along a covered passageway, which continued across a richly planted courtyard. My room was one of a row at the end of it. I turned the key in the old wooden door, and stepped into an austerely furnished room, with wood-framed single beds and a large wooden wardrobe built into the wall. The room was simple and purposeful like the hotel, and the decor was, well- fifty years old!- but it had a nice big window looking out on the flowers and greenery of the courtyard, and a good hot shower which felt very welcome indeed.
Organized and cleaned up, I thought I'd explore the area a bit. I walked through the courtyard and into the reception area, then beyond it where I knew the bar was. It was a large open room, with a fireplace in the middle, a circle of chairs around it, and small tables and more chairs in groups around the room. Windows lined two of the walls, looking out over green trees and off to a misty distance below us. There was an old wooden bookcase in the corner which was full of books in German, left by Fraulein Meyer herself perhaps, and some ancient antelope and buffalo horns high on the walls.
I walked on out the front door, where there were several locals lounging against the stone walls. Immediately one of them came up and asked if I wanted to see the village, and I replied that I was just going for a walk. Another one came up right behind him, but I just shook my head "no", and walked down the stone steps and onto the road in front of the hotel. I stood for a moment admiring the view, though most of the landscape below us was veiled in clouds. A ragged-looking man walked up to me, a wide smile on his wrinkled face.
"You come down from mountain today?"
"No, I'm going up tomorrow."
He stuck out his hand, and I shook it, but without enthusiasm I'm afraid- I was sure something was coming, it was only a question of what.
"I go tomorrow too, I will be carry your things. You know-", and he mimed carrying a great weight on his head. As he raised his arms to support the imaginary load, his wiry old body was loose and mobile under his ill-fitting clothes. "I am Ricardo", and he pumped my hand once more.
"Maybe you like to see waterfall? Very beautiful. Come, I take you on a little tour. Very nice village, you will like very much."
This was not really what I wanted, I had only intended to take a little walk before I met Nigel in the bar, but maybe Ricardo really was just being friendly. I didn't want to insult him. I pointed to my watch. "No time. No time. I must be back here in-one half hour."
"That is no problem, it takes no time. You be back quick. Come."
And I allowed myself to be led away, off around the hotel and along a dirt road between the tall green trees. He pointed out some of them as we went, the avocado and banana trees, and sometimes I could see a small house hidden away among the thick greenery. I tended to believe that he had worked on the mountain, or at least worked-around foreigners somewhere, as his speech was salted with words from many different languages. He pointed out some bean plants to me, and called them haricots, and when he pointed out the graveyard he said: "You go there when you are kaput- finite", and snapped his fingers. "You see?" Sometimes his limited English even seemed to have a French accent.
He walked quickly, which suited me as I like to walk fast, and I was anxious to be back on time. We moved through the open square of a small village, only six or eight small wooden buildings on two sides of it, and he told me there was a market there two times a week. Then we turned off the road, down a narrow trail through the jungle. It really was beautiful, and I felt bad for having misjudged Ricardo. On I followed, ducking to miss the thick leaves of the tropical plants, and matching his rapid stride.
The path led down a wooded slope, and then out at the side of a rocky river. I could hear the waterfall now, and we followed the path downriver, winding around rocks and trees until we emerged into an idyllic setting. The river cascaded over a rocky cliff, tumbling down white to the moss-covered boulders below, the whole scene shaded by tall trees. We stopped for a few minutes while I took a picture, and I asked him if the river came from the melting snow on the mountain.
"Oh yes. Very good water. From the mountain."
It was almost 5:30 already, and I knew I wouldn't be back in time, but Ricardo kept assuring me: "not long now". He led me on again, turning up into the forest and across an open clearing. We met several children out walking along the path together, and we all stopped to look at each other. I said "Jambo" to them, and they "Jamboed" me back, and I took a picture of this smiling and curious group. At least they didn't seem to expect to be paid for this "service".
As we climbed up a steeper part of the path, Ricardo turned back to me, saying; "it is like this on mountain. You must walk like this there", and he mimed bending over and straining up a steep slope. We "climbed the mountain" together like that, until the path leveled out again. In a while we passed through a schoolyard where another group of children was playing. They came running over, "jambo, jambo", and asked me for a pen. Once again, I wish I'd known what a good little present pens make here, I would have been glad to be able to give such a useful gift to these children.
"I'm sorry, I have no pens", I told them, and Ricardo said something to them in a surly voice and they wandered away. We carried on walking. We passed a large pavilion, laid out like a church inside, but Ricardo explained its real function to me.
"You get in trouble, that where you go. All the people there, you know, they listen to what bad thing you do. Then you go away", and he mimed jail bars in front of him. I guessed this was the courthouse.
Then suddenly it all started to turn sour. We were walking past some really nice houses, bungalows with fences and gates and well-tended gardens, with a beautiful view looking out from the mountainside, and I remarked that some rich people must live here.
"No.", he said firmly, "No. No rich people live here."
I said nothing, just looked at him and tried to figure out what he meant.
"Rich people all come to stay at hotel. Stay there to climb mountain. Those are rich people. No rich people here."
And this somehow launched Ricardo into a soliloquy about his shoes, how they were no good for climbing the mountain, how you need good boots, and he pointed at his tattered footwear as if to call my attention to his need. We were in sight of the hotel again now, and he asked me: "maybe you have a dollar to give me."
From the beginning I had thought I would give him a few shillings for his trouble, but when he mentioned a dollar I remembered that I had a couple of American dollars left, and thought it would be nicer to give him one of them. I had certainly learned the value of "hard currency" around here.
"Good idea", I said, and gave him the dollar.
"Maybe you have two dollars? Or maybe some Kenyan money?"
This made me a little angry, and I could see now the kind of person with whom I had to deal. Plus I was very late getting back to meet Nigel, so I just said: "No. This is a bad thing you are doing. Goodbye."
I turned away and walked quickly down the road to the hotel, thinking that Ricardo was the kind of opportunist who spoils things for everyone by alienating and infuriating visitors. Nigel had been telling me that some of the guides and porters on the mountain were causing bad feelings by actually bargaining for higher tips. The old "biting the hand" syndrome.
It was 6:00 by the time I walked into the bar, and Nigel looked at his watch and smiled: "Oh, we're on African Time, are we?"
I told him I'd been kidnapped by a pirate, and was sorry to be late. He laughed hesitantly, "really?", and I think maybe he believed me for a moment there. He introduced me to Kees (pronounced like 'case'), a Dutchman who would be attempting the climb with me. He was a neat, soft-spoken man with a quiet good humor, perhaps in his late forties, and he sat methodically taking notes as Nigel went over what we were in for.
"Take it slow" was the most important thing, he said, give your body as much chance as possible to acclimatize to the altitude. I asked him about taking the extra day on the way up, as some' people recommended, and he told me I certainly could if I wanted to, but he didn't think it was worthwhile. He told us it was impossible to truly acclimatize in the space of a couple of days, the thing was to be careful not to overstrain yourself, and hope that at least your body would adapt to the effects of altitude. Pole-pole was the Swahili mantra- slowly, slowly- that was the way to do it.
He showed us a map of the climb, the first day taking us from the park gates at 6000' up to Mandara Hut at 9000', a fairly easy climb along a forest path. The second day would be about a six-hour walk- or we should try to take six hours doing it, resting often and taking it pole-pole. This would take us up to Horombo Hut, above the treeline at 12,000', when we might start to feel some of the effects of the altitude.
The third day would take us up to the "Saddle", the plateau between the two peaks, and he recommended taking some headache pills as soon as we reached it, so that when we arrived at Kibo Hut, at 15,000', this most common symptom of altitude sickness might be minimized. From there we would leave in the middle of the night for the final ascent, the toughest part of the climb, and we would know we were halfway up when we reached "Hans Meyer's Cave". The peak was reached at Gillman's Point, at 18,600', and then if we were willing and able, we could continue around the crater for another two hours to Uhuru Peak, at 19,340', which is the absolute summit and the highest point in Africa. I knew that's what I wanted to do- I just hoped I'd be able. It seemed to be more than a question of strength and will.
I felt a hand on my shoulder, and turned around to see the unmistakable presence and warm face of big Geoff, who had just come down today. I asked him how it was, and he just shook his head.
"It's really bloody hard- I still haven't gotten over it. I had the idea in my head that it wouldn't be an achievement unless I made it all the way to Uhuru, but by the time we dragged ourselves up to Gillman's Point it felt like enough of an accomplishment." Apparently he'd been part of a continuous line of about fifteen people, and whenever one would stop or fall down, the whole line would close up like a caterpillar. I guess the guides had practically been carrying some people, and Geoff had found even his small day pack too heavy, and had given it to one of the guides to carry. When they finally struggled up to Gillman's, no one even suggested they carry on to Uhuru.
I told him about all the fun he'd missed with the border crossing and our adventures in Kenya, and he was glad he'd left when he did.
Then Nigel took us to meet the manager of the hotel, a vaguely Oriental-looking individual, slow of movement and speech, who gave us much the same advice, pole-pole- and wrote down our names and nationalities. You could tell he'd been through this routine many, many times before. Kees and I both arranged to rent heavier jackets, and Kees also thought he might need a heavier sleeping bag. He decided to rent one of the walking-sticks as well, but it seemed to me they would be more of a nuisance than a help, and I decided to pass.
By now the dining room was open for dinner, and we went inside. The walls were covered with flags and banners from different groups who had made the climb, from America, Austria, Switzerland, Germany and Canada. There was a big Texan flag with the names of a group who had climbed together, plus a huge banner from a company called MSA International- "Software Solutions from Management Science International", (whoa!), and it was signed with the names of the group, with nicknames taken from The Lord of the Rings. I was amused to see a sticker from my home province: "Ontario- Yours To Discover". Those Canadians!
Joining us for dinner were three friends of Nigel's, safari drivers from a company called Encounter Overland who had their groups up on the mountain now. It was interesting to listen to them talk, telling stories of their adventures on safari, mechanical problems in remote places, close brushes with dangerous animals, and the strange behavior of some of their guests. It was a gentle contest of outdoing each other, each story topping the last, and finally somebody got to the dramatic pinnacle of sleeping out on the plains without a tent, and waking up to find lions sniffing at the feet of their sleeping bags. How're you going to beat that? Well, they did, going on to be attacked by Mountain Gorillas in Zaire, and by terrorists in the Sahara. . .
It's always great when these kind of "outlaw" professionals get together, people who do the same sort of unusual job but whose paths seldom cross. You get a glimpse of the "inside"- the background to these things. It reminded me of a bunch of rock n' roll drivers, the guys who drive the big tractor-trailers and buses from concert to concert, sitting around in a bar, talking and laughing and telling "war stories" from different tours they'd been on. Blizzards, tornadoes, running into moose or cattle, breaking down in Alberta, being attacked by unruly road crews and arrogant musicians. . .
After dinner we went into the bar, where there was a big fire burning in the central fireplace. Geoff's group was sitting around, talking quietly and exchanging addresses, all of them looking pretty exhausted. They were a group of mixed nationalities, some Americans and French people among them.
I sat there for a while around the fire, sipping a brandy and enjoying the "safari talk" among the drivers. They were a good group of people, young and high-spirited. One of them, a blond young fellow (who had actually been born in Kenya!), was trying to cajole Nigel into helping him rebuild his gearbox while they were waiting down here. Nigel had already made the climb three times, and would be sitting this one out, waiting for us down here at the Kibo Hotel until we returned in five days time. It looked like he'd be spending some time under a Bedford as well!
I wanted to get to sleep early tonight, and be as ready for the big adventure as I could, so I soon said goodnight to everybody and headed for my room. I said a final goodbye to Geoff, promising to keep in touch, and he gave me a package of nuts and raisins to take with me, and some Vaseline, which he said you should put on your feet to insulate them for that final cold ascent. I'd never heard of that, but said I'd try it, and thanked him for these gifts. Good old Geoff.
Guthukagirio wanatega itega.
One favours him from whom one has in the past received a gift.
(Kikuyu Proverb)
---
15- the velvet forest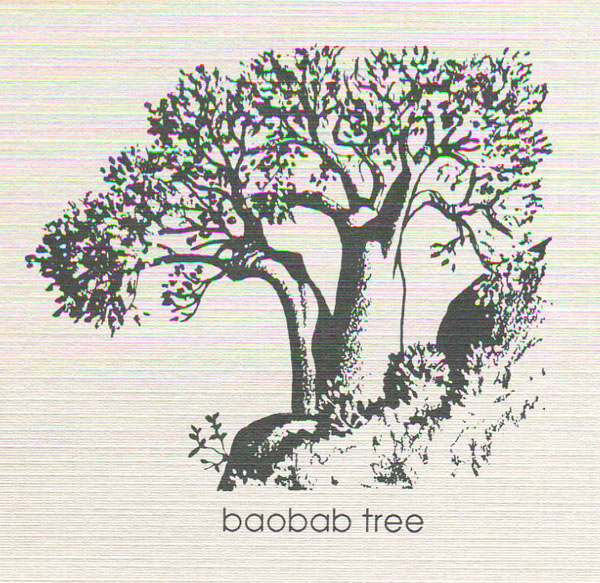 The local roosters and I were both awake by about 5:30 in the morning, and a chorus of crowing cocks seemed to come from all around the hotel. I was excited and eager to be starting out. My pack would be staying down here, so I had to separate the things I was taking up with me. Kees and I were to put our clothes and sleeping bags into a big bag of heavy red plastic which the porters would carry. I went over to Kees's room at 6:30 to pick up the bag, into which he had already put his things. Seeing his monastic little cell, I was glad they'd had no more single rooms when I checked in. My room was in fact a triple, and was a lot more spacious than his.
The corridors of the hotel were a mass of activity this morning, with guides and porters thronged everywhere. I don't know whether they all just show up on the morning of a climb, and then are chosen by lottery or something, but there seemed to be far more of them than could possibly be needed by the four or five people we knew of who were leaving from here. I left our big red plastic bag there in the hallway, and went to meet Nigel and Kees for breakfast.
Nigel had agreed to give a ride to three young students as well as our guide, and the Land Rover was a little crowded with seven people in it, but we had only a few miles to drive over to the park gates. We stopped at a tumbledown little store on the way, where our guide, Ernest, had to buy the supplies for himself and the porters. As we waited there I learned a little about the three students.
They were all exchange students, studying at the University of Dar es Salaam. Two of them were Americans, studying the humanities, sociology, anthropology and African studies, and the Dutch girl was studying biology. We agreed that Africa was the right place to study any of those subjects.
I had thought of buying some candles back in that store in Nairobi, when I bought the New Blue Omo Powder, but had decided I really wouldn't need them. Now I realized that they would indeed be handy, as we would be spending four nights on the mountain without electricity, and it would be good to at least be able to read when it was dark. There was another little shop right across the road here, but they had no candles.
We had to register at the park gates, and while Nigel took care of some of the formalities I had a look at the signs posted around the office. It was interesting to note how many people attempt this climb, 8000 people in 1986, and a chart showed that August and December are the busiest times. We would be walking a total of thirty-seven kilometres to the peak, it said here, so the return journey would add up to about forty-four miles, though most other estimates figure the distance to be even greater, at fifty-five or sixty miles. Some walk.
Then there was the card describing the effects of altitude. "Headaches, weakness, nausea and vomiting" are described as "normal reactions", but there is also the rare but dangerous possibility of the condition called Pulmonary Oedema. Apparently this is a flow of blood into the lungs, by reverse osmosis, which causes them to block the intake of oxygen. The symptoms are described as: "bloody cough, bubbling in chest, pale blue lips, tongue and-fingernails". And then you die. We agreed to keep an eye on each other for signs of blue lips or fingernails!
There was a little shop here as well, though it was not open right now. Peering through the windows into the dark interior, I could see piles of boxes of macaroni and spaghetti, bottles of Konyagi, toilet paper and tinned fruit. That was about all, except for some particularly cheap and nasty T-shirts which said: "I HAVE CLIMBED MOUNT KILIMANJARO- HAVE YOU?" I promised myself not to buy one.
I had been joking lately that I wanted to become the Minister of Tourism for Tanzania. For myself, I liked it fine just the way it was, but the country and the people desperately need income, and there was so much undeveloped potential here. Tanzania has the best game parks, wonderful scenery, and I'm told that the beautiful beaches along the coast are usually deserted.
Again, personally speaking I would hate to see the place get all westernized, and fill up with resorts and cheap souvenir stands full of T-shirts and coconut ashtrays, but the need is obvious and the market is there.
Even here at Kilimanjaro, with thousands of people every year coming to climb the mountain, there were no books or maps or any kind of nice remembrances (yes, even T-shirts) that you could buy to commemorate this unique experience. I can help. Vote for me everybody- Tanzania's new Minister of Tourism.
By about 10:00 we were finally ready to start, and we gave our passports and wallets to Nigel to keep for us. We'd have no need for them up there, and it felt good to leave these symbols of civilization and identity behind. We kept a few shillings with us "just in case", said goodbye to Nigel and started up the trail past the plaque commemorating Hans Meyer. The path was fairly wide at this point, curving up between thick woods on either side. Almost immediately I fell into step with another brisk walker, one of the American students. It was funny that we walked and talked together for the whole way up to Mandara Hut, and yet didn't even learn each other's names until the end of the day.
So although I didn't know it while we discussed all these things, his name was Greg, and he told me he had been born in Frankfurt, to an American father and German mother. His father had been posted in Germany after the war as a representative of the Chase-Manhattan bank, presumably to help administrate the Marshall Plan for the reconstruction of Germany.
They had-emigrated to the US, and Greg had lived in Seattle for many years. He had taken Officer Training and joined the Marines, and in fact was going to school here under their sponsorship. Apparently they will pay for each year of your schooling in exchange for an equal number of years of service afterwards. Not a bad deal really. He was now a Second Lieutenant in the Intelligence branch of the Marines, and had convinced his superiors that it would be valuable to conduct his studies of Africa in Africa. I would imagine that Africa is of considerable strategic importance, as a result of the East-West struggle for influence in the Third World, and they would want people with that kind of training and experience.
He had taken his first year of university in Swaziland, near South Africa, then had spent a couple of years at the university in Salt Lake City, and was now into his fourth year here at Dar es Salaam University. So he was well-traveled and widely-educated, and had a good grasp of international politics for one so young, particularly of course on the African political scene.
He told me-some funny stories about going to school in Dar es Salaam (which they called "Dar-is-a-Slum"), how the residence was a run-down and pestilent place, often without running water, and the academic standards were ridiculously low. Their teachers were only paid about $50 a month, and thus had to have other jobs to support themselves, and were often tired or even drunk during their classes. Greg said that if you wanted to learn anything there, you pretty well had to do it yourself.
We continued to walk quickly as we talked, soon leaving the others far behind, and we could see porters and climbers passing us on their way down. The slope was gentle, on a smooth dirt path, and it was overcast and cool at this altitude, so the walking was easy and pleasant. The forest was thick and green on both sides of the path, and the only sound was the singing of the many birds. I kept my eye open for new species, but the foliage was so thick you could hear them, but almost never pick them out. I was feeling a bit guilty about leaving Kees behind, as I was carrying both of the lunches we'd been given. Greg was also carrying one of the other student's lunches, so we hoped they weren't getting hungry yet.
After a couple of hours we emerged from the dark woods, and crossed an open plateau of tall grass. Here we ran into Jain and Alison, two more veterans of the "Tanzania campaign", and stopped to talk with them. They had taken the extra day going up, spending a day at the second hut, Horombo, and making a side expedition to the bottom of the second peak, Mawenzi. Perhaps it had been a good idea, as they had both made it to Uhuru, and said that the extra day was the most enjoyable of the climb.
They had been a strange couple on safari, quiet, very reserved and keeping to themselves most of the time. I'd seen them talking with Alan and Carol on a couple of occasions near the end, but other than that they never really opened up. A few times lain and I had talked about different animals or birds, checking their identities together in the field guides, and the last night at Lake Duluti we had discussed the concert scene in England, and one of the big festivals that he had once attended, but that was about it. Someone said they were both geologists, and I think Iain had spent some time working in the Middle East, but compared to most of the other people on the trip, I hardly knew them. Simon remarked at the end of the week that he didn't know any more about them than he had at the beginning. It's funny, I usually think of myself as pretty reserved, but compared to people like them I feel positively gregarious- the life of I the party!
I didn't know it at the time, but we were only about a fifteen-minute walk from Mandara Hut, and they must have thought it strange that I was obviously so eager to get going again. They would have known that once you arrived at the hut there was certainly nothing to do, but I was so keyed-up that I couldn't stand still, and Greg and I set off again.
Mandara Hut is in fact a collection of small buildings, all of the A-frame design. Each of these way-stations on the trail up have apparently been built by the Norwegians as a very thoughtful aid project, and were simple, but functional and attractive. (That's the sort of foreign aid I'll be looking for- as Minister of Tourism!) The main building might have been fifty feet long, by about twenty wide, and was filled with long tables and benches, with a wood stove in the middle, and a loft upstairs which was lined with simple wooden bunks. It was constructed of wood, with large windows, and rested upon a cinder block foundation. Between the cinder blocks lay that stark reminder of danger- the stretcher of red tubing with the single motorcycle wheel in the middle. The only relief for Pulmonary Oedema is the most rapid descent possible.
There was a cluster of five or six smaller wooden A-frames to each side of this main building. On one side were the sleeping huts, and on the other side the kitchen and quarters for the guides and porters. I have to imagine the separation is more for efficiency than segregation!
This little village was shaded by tall trees, and the grass and undergrowth around were thick and green. Greg and I sat on the porch in front of the main hut and ate our lunches, hoping that the others wouldn't be upset that we'd gone ahead with their food. Everything below us was hidden in clouds, and the air here was damp and quite cool. We were at 9000' now, which was already higher than I'd ever been before.
Other people had begun to arrive. When we'd signed in this morning I noticed two names with Michigan addresses in the registry book. I'd noted them particularly because one said Detroit and the other one Lincoln Park, a suburb of Detroit where one of the guys on our road crew grew up. Skip and I often used to joke about Lincoln Park- the centre of the universe. The Michiganites had gone up before us today, and they would be the two already moved into a hut beside the main building.
There was a group of four from the YMCA, which is one of the three places which organizes climbs. (The Marangu Hotel is the third.) This was an international group: an Englishman, a German, a Frenchman and a young American student named Karen, whom Greg knew from school. Kees arrived with the other two members of the Kibo Hotel contingent about a half hour behind us.
When the porters arrived with our gear, we were assigned to our sleeping huis and went to have a look at them. They were small, maybe twenty feet by fourteen, and were divided in half by a wall. Inside, the huts were very spartan, each half containing only four plain wooden berths, one on each side and a "bunk bed" placed laterally. There was a thin foam mattress on each bed. As the walls narrowed to the "A" shape, you could only stand up in the middle, and a small triangular window at the peak let in the only light. But it was nicer than I'd imagined it would be. When you hear the name "hut", you think of- well- a hut.
There was a lot of graffiti on the walls too, people signing in from places as diverse as the German Embassy in Ethiopia, Quebec, Finland, Germany, and all over the United States: Pittsburgh, Ohio, California and Virginia. I took down one poetic offering:
You must be bloody silly
To try to climb up Kili
Cause on the point of Gilly
It's oh so bloody chilly
And Uhuru
I assure you
Is colder than a well-digger's ass
Next time
I'm asked to climb
I'll answer "I think I'll pass"

Dylan from Down Under
26/1/87
There was a sign behind the main building which read "Maundi Crater" and pointed down a narrow path. I thought we might as well go exploring as sit around, and Greg and Kees agreed to go along as well. We were in a vegetation zone which is called a "Cloud Forest", which promotes lush growth as it is always exposed to the moisture-bearing clouds and frequent rainfall. We walked along through a jungle-like atmosphere, the trees covered with vines and mosses, their thick limbs branching out and blanketed in the velvety green moss. All around us the earth and rocks too were soft and green with moss, and beards of lichen hung down among the vines. This whole Cloud Forest was bathed in a warm green light, everything upholstered in this thick rich carpet of velvet, as if it lay under a soft green fall of snow.
We climbed up the steep walls of the crater, up about sixty feet to the windswept rim of the circular caldera. The chilly wind made waves in the long grass, and the silence was complete. Looking down into the cup-shaped depression of the crater was oddly disturbing, its unnatural bareness and symmetry giving it an air of something ancient and man-made. It was like looking at a prehistoric earthwork. The few trees up here in this open place were stunted and twisted, the long grey-green tendrils of lichen moving eerily in the strong breeze. Among the thick grass there were also a few small shrubs that looked like juniper trees, but the inside of the crater was bare, covered only in grass and moss. Wisps of cloud blew by us like smoke, and all around we were encircled in a white world of low clouds. (Actually, I suppose they weren't low- we were high!)
Kees had a small keychain thermometer on his jacket, and told us it was 10° C up here, but with the dampness and wind it felt colder. We walked around the rim, catching a view between the clouds for a moment, looking far down to the green plateau at the base of the mountain.
When we got back I went over to the custodian's hut, where they sold a few things like chocolate bars, cigarettes, soft drinks and candles. Though they charged about two dollars for what was a very cheap and ill-burning candle, | thought it would be nice to have some light for the night, and bought one.
Dinner was served in shifts to each of the separate groups. By now there were about fifteen people there, and we sat down at the long tables, the five of us now a "unit". Once again I could count myself fortunate in being thus dropped into a group of strangers, they all seemed to be really good people. Kees was a gentleman, and very easy to get along with, and Greg and I had already struck up a good rapport that afternoon, talking all the way up about a hundred things before we even knew each other's names.
Michael was another young American, from Portland Oregon, and was studying anthropology and sociology at "Dar-is-a-Slum U.". His open features and large-rimmed glasses gave him a thoughtful and studious look, which in fact was quite justified as he was a serious student. That last unfortunate quality notwithstanding- he was a warm and intelligent person, and I liked him right away. The third exchange student, Ingrid, was a pleasant and friendly biology student from the Netherlands. She was full of fun, and she and Greg teased each other constantly like brother and sister. Ingrid and Kees were glad to be able to speak to each other in their native language, and soon discovered people and places in common.
The guide and his assistants did the cooking and serving, and we had a particularly colorful character waiting on us. He was a young man, very dark-skinned, and for some unexplained reason he wore a brightly-flowered "Mother Hubbard" bonnet whenever he was setting the table and serving the food. This looked very strange on him, and though he was always silent and expressionless, he had a mischievous glint of poker-faced humor in his eyes. That hint and the bizarre bonnet gave him a bit of a "crazy man" look.
Dinner was simple fare; a hearty soup followed by some dried (or perhaps just dry) meat, potatoes, noodles, carrots and the inevitable cabbage. The students joked that cabbage is the National Food of Tanzania, and they were fed a lot of it at the university.
I learned that both Michael and Ingrid could speak Swahili quite well, and finally got translations for a few words I'd been wondering about. In the Tanzanian papers I'd seen the members of a Chinese delegation addressed as Ndugu, which Michael told me meant "brother or comrade"- Marxist comrades in Swahili yet! In the Kenyan papers President Moi kept referring to the Wananchi, which I learned meant "countrymen". And the sign over the hut which read Karibu meant "welcome".
But a really important one: in all the Tarzan movies they're always saying: "Ngowa Bwana", and I really wanted to know what that meant. Now, bwana means "mister", and is still commonly used in greeting someone- "jambo bwana" here is kind of like "G'day mate" to an Australian, or "How's it goin' eh?" to a Canadian. It doesn't at all carry the kind of racist connotation I'd imagined, something like "massuh" did down in Dixie.
But with ngowa we run into a problem. Neither Michael nor Ingrid had ever heard the word, and it's not in my Swahili dictionary, so I guess it falls into the same mysterious category as kemosabe!
The "conventional wisdom" on Kilimanjaro states that it's better to avoid stimulants during the ascent, and after dinner we were served a pot of weak tea, and no sugar was offered. As we sipped our pale tea, the guide and his assistant came in and sat at our table. The chief guide, Ernest, was a deliberate, self-possessed and dignified man, maybe forty years old. His manner was guarded, and seemed to carry an air of thinly-veiled contempt, as if he'd taken your measure and found you wanting.
The other assistant, the one without the bonnet, was called Gabriel, an intelligent and ambitious young man who, like Dutch, wanted to be a mechanic. That seems to be a very desirable profession here. I suppose it's good well-paying work, and probably carries a measure of respect among the many Africans who consider there to be no difference between magic and machinery. Both are obviously real, but both mysterious and beyond understanding. Thus a mechanic would be a kind of "witch doctor" in the community. If Gabriel couldn't be a mechanic, he wanted to be a tailor, which again is probably good steady work, but no doubt it doesn't offer quite the same standing in the community!
Every night the two of them made this ritual visit, and would tell us a bit about the next day's climb. After that they would just sit there, sometimes talking quietly to each other, and then after a half hour or so, say goodnight and go. Neither of them spoke much English, but Michael and Ingrid were able to communicate with them fairly well, and would try to translate our questions for them when necessary. One word I would hear them say that I loved the sound of was we we (pronounced like 'weh-weh'), but when I asked Ingrid what it meant I was disappointed; it only meant 'you'.
The guides told us that only about ten percent of all those people who attempt the climb actually make it to Uhuru, which makes the odds soberingly clear. Ten percent! I was beginning to wonder about the advertising- "any reasonably fit person can make it'.
Sure- but they don't say how far.
Most of the guides and porters were probably from the Chagga people, like Dutch, an industrious and prosperous tribe. In fact Mandara Hut is named after a wily old Chagga chief who had greeted the first missionaries and explorers, accepting their gifts- and then demanding everything else they had as well. This tradition seems to survive in people like Ricardo, and in the acquisitive games which I was to learn are commonly played on the tourists. For example, in his beautiful book Kilimanjaro, John Reader describes the "phantom porter" on their expedition up the mountain, whose name was always mentioned, and whose pay and tips were collected, but whom they never saw. We had the same sort of mystery on our climb as well, a porter whose name was given, and whose money was collected at the end, but we never saw any other evidence of his existence. Presumably they would divide this "bonus" among themselves.
This was forgivable in the light of our learning that the guides are only paid about $24 for the five-day trip, and must have learned each of the four routes up the mountain during their apprenticeship. The route we were on was the most common "tourist route", the others being less traveled and well-organized. The porters would only make about $16 for their part, though with tips these figures would be doubled. In fact the tips were pretty well standardized here, the manager of the Kibo Hotel having made the expected amounts clear. But it was still not a lot to be paid for a difficult and dangerous job, and they could only expect to do two trips a month.
Nigel told me later that it was these people who most often succumbed to Pulmonary Oedema, especially during the busiest time of the year around Christmas. Then they would be climbing up and down the mountain without a break, playing this deadly high-altitude game of Russian Roulette, and one or two of them would be stricken and die, if they couldn't be raced down the mountain in time. Two young porters had somehow been caught below this hut at night, and had died of exposure even at this relatively low altitude.
It was dark soon after dinner, and people were sitting around the tables by the light of candles or flashlights, talking, reading or playing cards. The clever people from the YMCA group had thought to collect some firewood while it was still light, and they had a nice blaze going in the woodstove which helped to warm and brighten the atmosphere. I had brought along my copy of Africa on a Shoestring to read about some of the other African countries, and I browsed in it for a while, through the sections on Botswana, Uganda, Zaire, Burundi and Rwanda.
After a while Kees and I got into a good conversation, sitting in the circle of pale light cast by my candle. He is a physicist, working in the paper industry I believe, but he's a serious clarinetist on the side, and his passion is Dixieland music. He knew that I was a musician by profession, and we discussed the way in which the same values had made him an amateur and me a professional.
There are two ways in which musicians look at the practicalities of what they do. For some, the most important principle is to make a living playing music, no matter what kind of music they have to play. Polkas, country music, or the top forty over and over again six nights a week- it doesn't matter, for them the point of honor is to be a professional. Kees and I agreed that for us, we would rather play the music we liked to play, and make our living some other way if we had to. Music- as an abstract ideal- was too important to us.
In the early years I was often obliged to work at other jobs, in order to afford the luxury of playing good music, but it seemed to me the only choice. It always seemed like prostitution to compromise something I loved for money. I was fortunate that the kind of music I liked to play eventually did achieve some public acceptance, though it took a while and was a long hard struggle. For Kees, he knows that Dixieland is strictly a "fringe" musical style, and is happy to play the music he loves on weekends.
And we had a fascinating, if arcane, discussion of tuning. Kees was telling me that in his style, and in classical music as well, it is common for the soloists to tune slightly higher than the rest of the musicians, to make them stand out more; and that to him one of the qualities of a piano tuner was the ability to tweak the upper octaves just enough to have the same effect. In my musical world, instruments are always perfectly tuned to A-440, guitars and synthesizers regulated by electronic tuners to exact harmonic relations, and this theory was new to me.
It was fun to compare the technical differences in the styles of music we played. So many things are approached differently in the jazz music of fifty years ago compared to the rock music of today. He made me laugh when he talked about drummers:
"For myself, I would rather work without a drummer really. In traditional Dixieland the banjo is often the rhythm instrument. Drummers- they always want to play too much!"
That was funny to hear, and comes from the elitist tradition that a band is "four musicians- plus a drummer".
This also explained his preference for improvised music, in a discussion we had on the merits of that approach versus arranged music, which I prefer. As a soloist, it was great for him to able to wail at liberty, but of course that was why he wanted an unobtrusive rhythm section- to hold it together behind him.
"I don't know", I said, "I like to play improvisational music when I'm not in front of a paying audience, but I think when you've got a big audience in front of you, who have spent the money and time to see you play, you want to have some standards of quality. Improvisation is by definition very- well- human, and according to-the moods and inspiration of the musicians on the night, it can be sublimely beautiful, but it can also be ridiculously bad.
"Also, as a drummer, I feel a lot freer within a structure. I know when I can 'play too much' and it will not intrude on anyone else in the band, and how to be supportive and less obtrusive when someone is singing or soloing. For me, I like most of the music I play to be arranged, with occasional passages in which I can open up and play a bit freer."
It was a great conversation, it was nice to meet another person who, like Simon, knew about a lot of things which were foreign to me. It's good to be exposed to interesting and intelligent people from other walks of life, sometimes it makes a good mirror in which to look at your own life. It's also interesting to learn new things from somebody like that- though I was shocked to hear that he didn't even know who Gene Krupa was!
Utoi uu, oi uu.
He who does not know one thing, knows another.
(Kikuyu Proverb)
---
16- milestones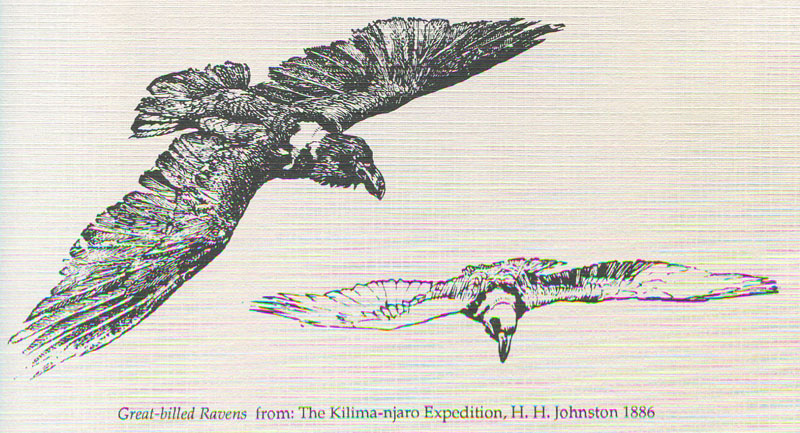 It was still very dark when I awoke, and I lay there in my sleeping bag looking up at a single star through the little triangular window at the peak of the hut. I had slept well, but gone to sleep too early. By the time my candle had sputtered out, and Kees and I had finished our musical discussions, there had been little else to do but go to bed. Now the star gradually began to fade as the darkness gave way to the early grey light, and I got up as quietly as I could and went outside. Kees stirred and spoke something unintelligible to me in Dutch, then looked at his watch and turned over again.
It was damp and chilly, the sky clear and pearlescent above, but a thick layer of clouds lay like a snowy landscape below. A wispy trail of woodsmoke rose from the cooking hut, but there was no one else around. The atmosphere was peaceful, but somehow expectant. (Actually, I suppose it was me that was expectant.) The planks of the porch in front of the main hut were dark under a blanket of dew, and the grass and trees of the Cloud Forest sparkled with moisture as the sun began to rise. A pair of White-necked Ravens hopped about near the pits which had been dug for garbage, and a few songbirds sang invisibly from the trees around me.
As I looked at my watch, my eye was caught by the little bubble which showed the date- September the 13th- and I realized with a smile that yesterday had been my birthday. I had been so caught up in the excitement of starting the climb, and meeting new friends, that I had completely forgotten it. Strange- my 35th birthday; what could have been a traumatic and depressing realization of true middle-age- at least in terms of the biblical "three-score years and ten"- had passed totally unnoticed by me or the world! Truly, this was a great place to pass such a milestone birthday, and it was a great way to celebrate it-
by forgetting it entirely!
Gradually a few other people emerged from the huts. Karen, the American girl from Dar es Salaam University who was traveling with the YMCA group, gave me a smile that was almost painfully bright so early in the morning, her face screwed up so tight her eyes disappeared. She seemed to be a nice girl, with a sunny personality, and I believe she was a native of St. Louis. The two Michiganites were up and about too, looking as if they were dressed for a hunting trip in Upper Michigan. We would be leaving in shifts this morning, and they were scheduled to head out at 7:00, our group at 7:30.
Soon there was a lot of activity, people calling out friendly "good mornings" as they went back and forth to the tap behind the main hut, which was fed by a rainwater cistern, and to the outhouses, which actually had the strange luxury of flush toilets. I wonder if the Norwegians lugged those up here as well! The guides and porters were setting the tables for breakfast, and arranging their burdens out on the dew-soaked grass. At this point I was still thinking that the climb might seem like a hollow victory when you watched these people doing it with the extra challenge of bearing these heavy loads, but I would learn better.
It was almost 8:30 before we finally set out, and I had been impatiently ready to get moving for almost two hours by now. I could tell I was going to have trouble with this pole-pole stuff, and was thinking that the greatest challenge of the climb might be trying to go slowly. Again, I would learn better.
Greg and I once more set out at a brisk pace, following the narrow trail which led up into the Cloud Forest. In the cool dim light under the dense trees we climbed up a steep stairway of twisted roots, the footing treacherous in the slippery clay. We caught up to and passed some of the porters, as they climbed slowly up this difficult trail of uneven steps with their loads steadied on their heads by one hand. We would exchange jambos with them, and Greg had enough Swahili to go as far as Habari- "how are you?", and mzuri sana- "very well thank you". We caught up to the YMCA group, who'd left just before us, and went on past them where I the trail was wide enough to permit it.
After about half an hour we emerged from the forest onto an open hillside of thick grass. For the first time we could see the object of this mission- the two peaks of Kilimanjaro standing clear in the morning sun. It was truly an inspiration to see them at last- the jagged teeth of Mawenzi to the right, and the shining white vision of Kibo to the left. Somehow the day felt different now, to be moving toward a visible goal, though they still looked very far away, and very high.
From the plane the mountain had appeared as if in miniature, like a model fora film set; while from the truck on the way to Nairobi it had appeared insubstantial, like a translucent hologram, a pale projection on the sky. But now it was right there- and very real.
After a pause to soak in this impressive and long-awaited sight, Greg and I moved off once again. This was the end of the trees, and we walked up the gentle slope through a waist-high Alpine meadow of low heather shrubs and tufted grasses. The sky was perfectly clear and very blue, and it was nice to have those majestic peaks in front of us, and to feel the sense of openness here. On our left the mountainside slanted gradually away, to end at the blanket of white clouds below us.
One of the YMCA group, a young Englishman named Dom, caught up to us and walked along with us for awhile. I had seen Greg talking with him last night at Mandara, discussing things military, and he told me later that Dom had just been on the verge of joining the British Marines, applying to the ROTC for officer training, but had changed his mind at the last minute. So the two of them had some interests in common, and it was interesting for me to listen as they discussed their countries' military affairs as we walked along, telling stories about the British action in the Falklands, and the American invasion of Grenada.
We soon overtook the Michiganites standing on a ridge taking a break, Dan and Dave they were called, who were trying to take it as easy as they could. Because of flight delays, they had arrived in Africa at the last possible moment to start the climb, and the accumulated jet lag would probably not help their acclimatization. Both of them had climbed to 14,000' before, in Colorado, so maybe they'd be alright. They had a sensible and flexible plan for their African trip; they had two weeks planned out, then the next two weeks to go wherever they wished. After this climb they were planning a trip on the famous train from Nairobi to Mombasa, which would be interesting for them as they both worked for Amtrak back home.
Dom had been part of an expedition with some friends to climb Mount Kenya a couple of weeks ago, which is only a little lower at around 17,000', and was telling us that he had been very sick up there, and hadn't been able to eat for three days. Another member of the "Y" group, a Frenchman named Jean, caught up to us as well, and soon he and Dom were setting a pace even more rapid than ours, and moved ahead when Greg and I stopped for a rest and a drink of water. The two of us had decided that since we were congenitally unable to walk slowly, we would at least try to stop fairly often, and hope to live up to the pole-pole advice that way. It was another ten-mile walk today, as yesterday had been, and we would. gain-another three thousand feet of altitude by day's end.
Another recommendation during the climb was to drink a lot of water, as dehydration also results from the combination of altitude and exertion. Kees had tried to drink the recommended two litres of water the first day, but had ended up having to get up to relieve himself all through the night, and so we had decided just to drink when we were thirsty.
The climb was fairly gentle here, but the trail was narrow and worn down, often winding through muddy patches between thick clumps of grass, and sometimes it took some pathfinder's concentration to choose the driest route. We were gaining altitude slowly, moving up and down over ridges as the clouds closed in around the two peaks in front of us, and the sun rose higher up above. Now we began to meet small groups of porters and climbers coming down from Horombo Hut, the next stage in the ascent.
We had been advised to try to spend six hours on this part of the climb, again to give the body a chance to adapt gradually to the altitude, but it had been only a little over three hours when we arrived at Horombo Hut, at 11:45. The sign on the front of the main hut bid us karibu- welcome- once again, and told us we were at 12,340'. Behind and beside it was another collection of the smaller sleeping and cooking huts.
I'd made it this far alright, another milestone, as this was much higher than I'd ever been, and more than halfway up the mountain. Now | was just hoping to make it to Kibo Hut, the next stop at 15,000". I'm one to set my goals in sequential stages, and rather than think about Uhuru I was just taking each day as a separate challenge.
"Right", I thought, "so far so good. If I can only make it up to Kibo. . ."
Dom and Jean had arrived about fifteen minutes before us, and had cooled off from the walk, so they were shivering and waiting impatiently for the porters to arrive so they could get some warmer clothes from their packs. It was very cold up here, with a chill wind blowing tatters of cloud around, and the treeless landscape felt rather bleak, with the clouds isolating us from above and below.
There was a Belgian girl sitting on the porch who had been taken badly with altitude sickness that morning, and had been forced to leave her group and turn back only halfway to the next hut. The combination of headache, nausea, dizziness, vomiting and diarrhea had- understandably- proved to be a bit too much. Now she would have to spend the next twenty-four hours here in this cold and bleak place, waiting for the rest of her group to come back down.
I checked out the graffiti here as well, the scrawls of souvenirs left by a group of Cubans, a Dane and a pair of Russians among the most noteworthy. A couple of White-necked Ravens seemed to be the only bird life up here, though inside the hut small rodents with chipmunk- like stripes across their backs scampered around, feasting on the crumbs under the tables.
Greg and I opened the lunches we'd carried with us, and just as yesterday, we had been given an orange, a small banana and a dry "mystery meat" sandwich. We devoured them hungrily, if without enthusiasm. This meagre sustenance would have been acceptable; after all, our food had to be carried up the mountain and prepared under difficult circumstances, you couldn't expect too much; except that when the rest of the "Y" group arrived, they were served a nice hot lunch right there in front of us. I guess there are different levels of "catering" from the three base camps.
Kees arrived a little after us, having left Michael and Ingrid behind to be the only ones of our group with the patience to follow the pole-pole dictum. We were all hoping we weren't going to pay for our haste higher up on the mountain. There were still 7000' to go.
Kuambiana Kupo, Kusikilizana hapana.
There is plenty of giving of good advice, but not listening to it.
(Swahili Saying)
Now we had a whole afternoon to spend here, and I went inside to try some reading to pass the time. I laid across one of the hard wooden benches near the window, figuring I'd have light if I couldn't have warmth. Kees's little thermometer gave us a noon reading of 9°C, and it was damp and chilly here. I'd started on Forty Stories, a collection of short fiction by John Updike, back in Nairobi, but it wasn't going too well. He is one of my favorite modern American writers, along with, say, John Irving, William Kennedy, John Barth and Tom Robbins, and I've enjoyed his novels very much, but now I found this book strangely slow going. Perhaps these introspective visions of rural and small-town America were just too at odds with the reality here. And certainly the combined distractions of the cold and this adventure were too much to escape. It was like trying to read Marcel Proust, or Ulysses or something- pushing myself from page to page. I was wishing I had the book which Dom told me he had seen in England, which told the history of Kilimanjaro, and recounted or discounted the many legends. That would surely hold my interest right now. He promised to write and tell me the name of its publisher, so I could look it up when I got home.
From somewhere I remembered the saying, perhaps Chinese, that "gathering firewood warms you twice", and I thought I'd go for a walk and see what I could find at this treeless altitude. I'd been impressed by the resourcefulness of the "Y" group last night, and thought I might contribute to tonight's fire. At worst it would warm me up, and at best I might find something to burn later. I emptied my day pack and slung it over my shoulder, and followed a path that led past the cooking huts.
Karen had told me she'd heard it was a good idea to climb a bit higher than where you. I were staying; that this would help you sleep- the mountaineer's "climb high, sleep low" adage I suppose- and I thought I might give that a try, but the trail seemed to go up and down the mountainside without climbing appreciably upward. There was precious little firewood to be found, and the porters would certainly have harvested anything available along the trail. I heard they spend about two hours just to gather enough to cook a meal here, so it would be thin pickings.
I took a walk away from the path, through the open country below, taking care not to lose my bearings in this inhospitable environment. Being lost out here for a night would surely be fatal, and I knew the clouds could close in around me at any time. The small shrubs had thick twisted roots, and every once in a while I could kick one loose, or gather a few twigs and branches to put into my pack. By the time I'd wandered along for a mile or so I was feeling much warmer, and my pack was full, so I turned back to Horombo Hut.
The low shrubs and tall cacti had an olive-green tinge in the grey light, and the blanket of clouds below was opaque, and as distant as if seen from an airplane. There was a rent in the clouds above me for a moment, and I had a glimpse once more of the sharply-jagged peak of Mawenzi, a few zigzag flashes of snow on its side.
We were on the border between the alpine meadow and moorland zones, and there were some strange-looking taller plants around, the giant groundsels and lobelias. They are like a large tropical cactus, exotic-looking where they rise out of the low grass and scrub, with the difference that they have to survive sub-zero nights. Their delicate leaf rosettes have adapted to these extremes by closing up at night to protect them from the frost.
It's a common and interesting analogy that climbing Kilimanjaro is like moving from the Equator to the Arctic Circle, as you leave the tropical rainforests below and rise up through the I alpine meadow, moorland, the alpine desert, and then to the barren icefields of the peak.
I was thinking about the many stories and legends that surround this mountain. When the first European missionaries reported a snow-covered mountain here in equatorial Africa they were greeted with scorn and derision from geographers- who typically passed judgement from their comfortable clubs back in London.
Another story which Greg first told me concerned the reason why Kilimanjaro is in Tanzania and not Kenya. If you a look at a map of the border between the two countries you can see that the line of it seems to bend around Kilimanjaro, and there is a story that in the late 1800's the mountain had been in the British territory of Kenya, and had been given as a birthday gift by Queen Victoria to a German relative by way of this alteration to the border. A good story- but unfortunately untrue, as I learned from the excellent pictorial history, by John Reader, called Kilimanjaro. This was probably the book Dom had mentioned, and I was fortunate enough to find it in Nairobi, though not without a search.
"Kilimanjaro is a snow covered mountain 19,710 feet high, and is said to be the highest mountain in Africa. Its western summit is called Masai "Ngaje Ngai," the House of God. Close to the western summit there is the dried and frozen carcass of a leopard. No one has explained what the leopard was seeking at that altitude."
The legend of the leopard which was supposed to have been found frozen on the peak was made famous in this introduction to Ernest Hemingway's wonderful story, "The Snows of Kilimanjaro". I saw more than one person reading that book on the way up, though the story doesn't really concern the mountain. But this legend, at least, is true (though he did get the altitude wrong!). | had been very curious about it, and I was glad to Icarn that it was for real. The frozen carcass was discovered there in 1926 by a missionary named Reusch, and an old photograph of two nurses posed beside it is shown in the Kilimanjaro book.
Unfortunately the leopard was later carried away, perhaps by Reusch himself, as he had earlier cut off one of the ears as a souvenir. There is still a place called Leopard Point on the peak, and the remains of a sign which apparently used to mark the spot where it was found. How it got there is anyone's guess, but I like to imagine a romantic vision of the noble cat knowing he was going to die, and preferring to climb up here to the highest point in Africa, rather than suffer the ignominy of being brought down by hyenas and picked at by vultures.
Hemingway certainly picked a flexible symbol, as some people take it as representing death; I see it as representing a noble stoicism, and John Reader likes to see it as a "salutary example of over-zealous ambition".
Horombo is the busiest of all the huts, as it is a way-station for those descending from the peak as well as those on the way up. During the afternoon it became pretty crowded, all of the long tables filled with groups of climbers; the hopeful ones on the way up, and the triumphant or disappointed ones coming down. Those who had elected to spend the extra day going up were also passing it here, as Iain and Alison had done. It would probably be of more help to spend the extra day up at Kibo Hut, at 15,000', but this didn't seem to be allowed as there was no water or wood for cooking up there, and at that altitude the porters couldn't be expected to carry any more than was absolutely necessary.
After the day's long climb, our meagre lunch and my firewood expedition, I was very hungry, but our group had to wait for a vacant table and was the last to be served that evening. I was glad to note that my appetite remained strong, and that the only effect of the altitude seemed to be a slight headache, but being cold and hungry made me a bit miserable, watching the steaming food brought in by the porters, and everyone else around us eating. Everybody seemed to be dawdling far too long over their tea at the end, preventing us getting a table- but perhaps it was just my mood.
And finally Jared was laying the table, his crazy bonnet on once more, and we were being served our soup, then another simple meal of dry meat, potatoes, carrots and- yes- cabbage. We felt better right away, and the five of us talked while we ate everything put it front of us. So far none of us had an appetite problem.
The question I'd been dreading a bit was finally raised by Ingrid, who was sitting across the table from me.
"What do you do for a living?"
"Well, I'm a musician."
"Really- what do you play?"
"Oh, drums and percussion."
"Where do you play? Do you make records, or play concerts?"
"Hmm, a little of both."
And at this a light seemed to go off in Greg's head. I felt it happen, but to his credit, he played it cool. He turned to Kees and asked him his last name, and Kees told him, then he turned to me and asked me the same question, and I told him.
"Do you play for a group?"
(Nod.)
"Rush?"
(Nod.)
"No shit!", he exclaimed, leaning back from the table in surprise. "I don't believe it".
I held up my hands in front of me in mock defence. "Whoa!"
"I used to look at a poster of you every single day when I went to school in Utah! My roommate was a drummer, and he thought you and Billy Cobham were the greatest!"
Kees turned to me and smiled: "well, he's certainly heard of you." Kees and I had discussed these things earlier, and not surprisingly he had never heard of Rush. Mind you, Kees is fifty-five years old, almost ten years older than I'd thought, and is from Holland, where the band has had some success, but is far from famous. He'd thought perhaps his son might have heard of us.
But I was a bit worried now. Greg and I had developed such a good rapport over the last couple of days, and I hoped this wasn't going to spoil it. Fortunately he was mature enough to sense this too, and was determined to go carefully now, knowing I wouldn't want him to treat me any differently. It would be a shame if this budding friendship was stunted by such a silly thing as that. But we both handled it well, and remained our respective versions of 'normal' toward each other.
After dinner I took a walk outside for a moment, and being well-fed and feeling much better, I was rewarded with an incredible sight. It had turned very cold when the sun was gone, and was probably around the freezing point already. The sky was dark now and mostly clear, with just a few billowing clouds. The two peaks were silhouetted against the sky, with just a trace of sunset to the left of Kibo, and a few stars peeking out from behind Mawenzi. I went back inside feeling happy and at peace inside.
We had started the fire at dinner time, and by now we had a good one blazing in the little woodstove. Kees had also gone foraging for wood, as had the "Y" people, so between us we had gathered a good pile of fuel. Everyone else had gone to their huts, and the nine of us gathered around, pulling the benches up as close to the fire as we could. This was truly a "United Nations" assembly, or at least NATO: an Englishman, a Frenchman, a German, two Americans, two Dutch people, a German-American, and of course, your Canadian delegate.
The fourth member of the "Y" group was an affable German with a ready smile named Dietrich, and he and Greg spoke a bit in their native language, as Kees and Ingrid would sometimes do in Dutch. The atmosphere was very cozy and friendly; once again- I was in a special kind of "club". All of us huddled close together, near the warmth and light of the fire, taking turns feeding it with sticks and roots. Across from me Karen laid her head down on Ingrid's lap, who gently stroked her hair in a touching display of friendly affection. We were talking about what an international group we were, sharing this experience together, and how forty years ago we would have all been either allies or enemies in a terrible war. It seemed so impossible.
Greg and I had discussed these matters quite a bit. With his combination of German background and American upbringing, as he travels around in the world he sometimes finds himself on a two-edged sword, with an older generation resenting the Germans and both younger and older people resenting the Americans. Of course, both prejudices are unfair and unfortunate, as anyone knows who has enjoyed the warm hospitality of a restaurant in the German countryside, or the open friendliness of the American Midwest.
As a seasoned alumni of the tourist industry in London, I have found that sometimes Germans and Americans abroad just take it for granted that people don't like them, and this insecurity makes them feel they have to be loud and demanding to get the respect they deserve. This of course only exacerbates the problem, causing even more resentment.
Thus the German people are often judged by a few murderous madmen, from a time before they were born, just as Americans are judged, if not by Ronald Reagan or Rambo, than by some stereotypical boorish tourist, loud of voice and dress, spreading money around in an effort to buy goodwill. As if obnoxious tourists- and heartless killers- didn't come from everywhere. But of course it's not the whole story- not by a long way.
Avumaye baharini papa (kumbe wengi wapo).
The one that is famous in the sea is the shark-
(but then, there are many others.)
(Swahili Saying)
---
17- the alpine desert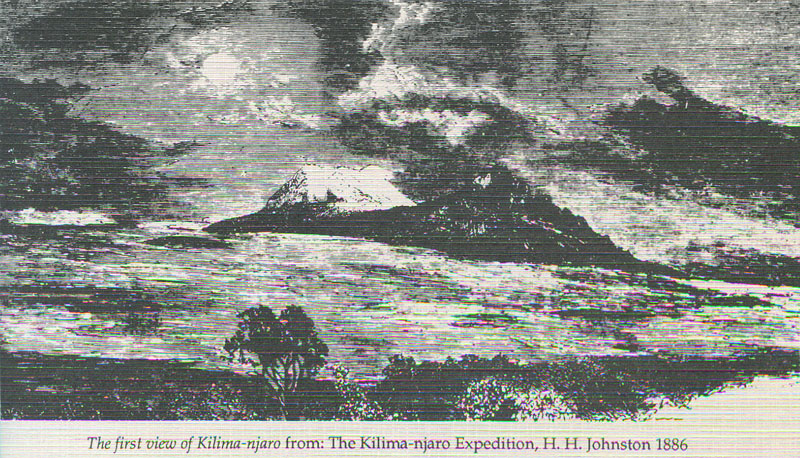 Greg was going to bunk in with Kees and I that night, as some other people had been put in with their group, and as we walked together over to the sleeping hut, we stopped to admire the stars. It was an incredible sight at this altitude, the sky so clear and black, and the Milky Way like a phosphorescent cloud spattered across it. It was very cold, and utterly dark. Greg pointed out the Southern Cross to me, the first time I'd ever seen it, as this was the first time I'd been south of the Equator. We picked out some of the other constellations we knew; unmistakable Orion, and my personal favorite The Pleiades, a diamond necklace centred in the dome of scattered bright stones. This is the one I always look for wherever I am, on those metallic winter nights, skis hissing on a frozen lake in Quebec, or while sailing on the soft trade winds in the Caribbean. It's always The Pleiades I look for in the night sky, as a kind of charm I suppose, a beacon, a distant friend.
I fell asleep readily, but after four or five hours I was awake again. I lay in the cold dark hut, restless and apprehensive, thinking the hundreds of thoughts that run through your mind when you lie awake in the darkness. By this time tomorrow we'd be on the final ascent, and I continued to see visions of myself stricken, sick and weak, being carried off the mountain in disgrace. Or worse. Every slight twinge in my head was incipient altitude sickness now. It was strange not to be able to count on strength or fitness, or even sheer will, to get me up this mountain. Anything could happen. I was prepared for the worst in my heart, but still, I wanted badly to get up there. By this time tomorrow, the tale would be told.
I dozed off again for an hour or two, then awoke to see the first change in the light coming through the little window up at the peak. I wanted to get outside for the sunrise, I hated to miss one, but some of the warm clothes I would need were in that big plastic bag, and I knew I couldn't get out without making a lot of noise. So I stayed in my warm sleeping bag, once again focusing myself on the next goal- Kibo Hut.
By 6:30 I could lay there no longer, and got up to get dressed in the cold morning air. As it was, | needn't have worried about rustling around; Greg never even stirred, and Kees merely mumbled something incoherent once again, without waking. The morning was sharp and bright, and what had been a dull grey-green world isolated between the clouds was now an open panorama, showing some lesser volcanic cones and a parallel series of ridges stretching down the mountainside to a distant field of low white clouds. Above me the sky was still a clear deep blue, Kibo shining white in the west and Mawenzi nearer, a few rags of cloud already gathering around its teeth. The sound of rattling pots and pans and chatter came from the cooking huts, as the porters began to bring breakfast over. I went over to let Kees and Greg know that it was time.
Once again this morning we were served a thin white porridge, a very bland and tasteless mixture which had been christened "wallpaper paste" in several languages. We were sitting beside the "Y" group, and as Jean, the Frenchman, lifted a spoonful to his mouth he grumbled: "In France you serve food like this you go straight to jail!", and it reminded me of an observation I'd once made about it being "against the law to serve bad food in France".
As he raised a second spoonful of the greyish paste, he made us all laugh by saying sadly: "Have you ever seen a Frenchman commit suicide?"
Ingrid had been bothered by a worsening cold on the way up, and this morning she awoke with badly-blocked sinuses. This is a condition which can be very painful at altitude, as anyone might know who's ever been in an airplane with a bad cold or earache. The warning posters don't recommend you go any higher than this if you have such a problem, and she was going to have to stop. It was a tough break, as now she would have to stay behind and wait here until tomorrow for the rest of us to come down again.
Ernest came by to point us in the right direction, and Greg and I set off together once more. We didn't seem to be gaining any altitude for a while, continually climbing up and down ridges as I had done gathering firewood the afternoon before, but after an hour we stopped with a few of the others at a place signposted "Mawenzi Ridge 13,500", which told us we had indeed gained over a thousand feet.
There was a tumbling of boulders here, and we sat down among them for a while. Though Kees's thermometer had shown just one degree above freezing that morning, and it had certainly been below zero during the night, the strong morning sun felt quite warm when you were out of the wind. It is said that up here "every day is summer and every night is winter". Everyone except Dom was trying to keep the pace slow today, and we often met up with some of the others. Dietrich was splendidly arrayed in a pair of knee-high socks of a particularly violent pattern- in fact each of them a different violent pattern. Now who could resist a German in loud mismatched socks?
I watched a large brown mouse creep out from under one of the rocks, his whiskers twitching from side to side, before he decided he didn't wish to share our company and retreated. It was comforting to see this sign of life, as the landscape was growing increasingly barren and inhospitable. Ahead of us we could see the Saddle, the high plateau which stretches about seven miles between the two peaks. This area is called an alpine desert, and it was brown and studded with a few large boulders and scattered smaller rocks. They must have landed where they lay when they came blasting out of one of the volcanic explosions which formed this mountain.
We stopped to fill our water bottles at the stream which was marked "Last Water", where the porters would fill jerrycans with enough water to cook the evening meal. We were all still feeling good as we started across the Saddle, a deceptively long and flat part of the trail. We could see where Kibo Peak began its sharp rise, which would be where the hut was located. A few distant groups of climbers and porters on their way down gave the trail the look of an ancient trading route across a desert.
Resting climbers had stopped and arranged baseball-sized rocks across the side of the path, spelling out their names in a "found objects" sculpture. I had read that herds of Eland are sometimes seen crossing the Saddle, and at one point I came across a series of large cattle-like footprints pressed into the gravelly surface. Since there is little or nothing for them to eat here, one can only assume they migrate over the Saddle to get from one side of the mountain to the other. It is perhaps these passersby which draw another kind of visitor- leopards, which are known to hunt high up on the mountain.
Only later, in the Kilimanjaro book, did I read about occasional encounters with wild dogs up here as well. The African Hunting Dog is a rather fearsome animal which hunts in packs and attacks its quarry by biting pieces away until the prey weakens, then dismembering it while it is sometimes still alive. As recently as 1979, a lone man was attacked by a pack of I them right here on the Saddle, being severely bitten and losing a finger before they were fortunately frightened off by the arrival of another group of climbers. That kind of experience is hard to imagine, thinking of that silent wasteland where nothing stirred.
In the early 'sixties wild dogs were actually encountered on the high summit, where three climbers were unnerved by being trailed for a couple of hours by a pack of five of them, among the glaciers and snowfields up there. It's a good thing I didn't know everything there was to be afraid of- there was enough to worry about with just getting up there, never mind leopards and wild dogs!
The few climbers we began to meet coming down the trail looked beaten and drained, barely managing a "good morning". One young fellow just shook his head and advised: "Wear everything you own".
Greg kept me amused with some good stories from his "boot camp" days, figuring that if he'd survived that he could survive this. From some war movie I remembered a drill sergeant screaming: "I CAN'T HEAR YOU!", and when I yelled that into the thin air Greg laughed, saying he'd had an officer just like that. If you went to the door of his office and knocked, he would say: "I HEAR LITTLE TINY WOODPECKERS AT MY DOOR", and would only respond if you pounded on the door in a proper manly way.
He was also telling me that for himself he hoped that the military would take him into the diplomatic world, which was his real ambition. Rather than work his way up through the lower levels of the bureaucracy, he hoped to rise as an officer in the Marines, then sidestep into a higher echelon of the diplomatic corps. We joked that when he was the US ambassador to Tanzania, he would get me into the Ministry of Tourism.
As I learned more of Greg's background, my respect for him grew. I'd noticed a tattered old green hardcover book which he always carried with him, and when someone had asked him about it I heard him call it his "bible". I was curious what he meant, but didn't like to pry. As our friendship grew he told me about it himself, it was the Alcoholics Anonymous book. He went on to tell me he had been a teenage alcoholic until the night he woke up in jail, at the age of eighteen, and couldn't remember a thing. He'd been arrested for driving while intoxicated, and from that moment he never took another drink.
I asked him: "How did it come to that? How does a thing like that start?"
"Well, when I was fourteen or fifteen, I used to save my money during the week, then buy a bunch of beer and drink it all."
Perhaps typically, this seemed such a remote and impossible thing to me, I tried to picture what would make a young teenager do that.
"You must have really liked the feeling of being drunk, to have waited through the whole week just to have it again."
"Well yeah, I did, but like everybody does, I never thought I was an alcoholic, not until I woke up in jail like that. That really scared me."
"I guess so, though it could have been a worse lesson. If you'd hurt somebody, or-"
"Yeah, I know, I was lucky. But I was still pretty scared. I can't say enough about the AA, those people really helped me through it."
"You know, thinking about it I have to admire your courage in dealing with it. I'm not sure if I was mature enough at eighteen to have faced such a problem so constructively".
And as we walked together along that dusty trail through the barren and blasted landscape, he told me a bit about the program, how they help you face your psychological problems as well as your dependency. For instance, they want you to write down a list of all the things you've done that you're ashamed of, then you have to choose someone as a "confessor"; someone you trust enough to listen to you unburden these things. I've known other people who've joined this organization, or its companion Narcotics Anonymous, and they've told me how your self-respect is rebuilt by facing and sharing your problems with others. Just calling it a disease, instead of a weakness or an addiction, makes all the difference in justifying it to yourself, and learning to carry on without the crutch. This "fatal flaw" in one's makeup, the addictive tendency, is not well understood, and in fact I've learned it's referred to as the "X Factor", but it is certain that the only cure is abstinence. There is no such thing as moderation, and "will power" can't control the problem, only help to eliminate it.
"One drink is too many, a thousand aren't enough".
I was saying that where we were now, altitude sickness had some points of comparison with alcoholism. No one knows why it afflicts some people and not others, it can make you very unwell, and in extreme cases, even kill you. And the only cure is to take away the catalyst- stay away from the cause. I hoped I wasn't going to turn out to be a carrier of this X Factor.
Later in the morning we decided we really should try to pause more often (pole-pole!), and moved off the trail a bit to lean against some rocks out of the wind. We unwrapped our lunches, the usual dry sandwich and orange, and, following Nigel's advice, I took a couple of Tylenols in preparation for any ill effects when we arrived at Kibo Hut.
Greg was telling me that he liked to decorate his room with flags of different countries he'd lived in; Germany, the US, Swaziland and now Tanzania; and how he sometimes got grief from other students about the US flag. "Why don't you take that thing down?"
He thought this was pretty stupid, and told me: "It really bugs me when I meet other American kids at these foreign schools, and they think people will like them better if they run down their own country. 'Oh yeah', they'll say, 'it's really awful in the States, you know, like with Reagan and everything'.
"Yes, I've met them too, and they agree with anything bad anybody says, as if the United States was truly the Babylon of the modern world. You can't win. What are you supposed to do- when you're the richest and most powerful nation in the world? You can hold it back, or try to use it responsibly, and American has been damned for both. In the early years of both world wars America was criticized for trying not to get involved, but when-they do try to use their power to help somebody, like Korea, or even Vietnam- though of course I don't believe in the draft- Grenada, Central America; people bitch even louder. I'll tell you, it really burns me sometimes. After about twelve years of touring-around the United States I've really come to love the country, especially in the last couple of years when I've gotten out on my bicycle and really seen the place. From the Maine coast, the Arizona desert, New England woodlands, Spanish Moss on the Mississippi trees- even the midwest- Ohio and Indiana have parts that are really beautiful."
I even shocked Greg by saying that as far as I was concerned, I wouldn't mind if Canada was a part of the US. I don't really find any difference between us, and as a frequent border-crosser, it would be great to get rid of the invasive and unpleasant Customs and Immigration people. Of course, growing up in Seattle, so close to Canada, Greg had met many of the more nationalistic and paranoid brand of Canadians, to whom such a suggestion smacks of heresy and treason, and he was genuinely astonished to hear anyone from north of the 49th parallel say such a thing.
"Boy, you better keep quiet about that idea. You'd get tarred and feathered and run out of Town on a rail."
I nodded and smiled, "yeah, I know, it's an unpopular opinion up there, but Canadians are so insecure about this 'national identity' business. I mean there we are, living in the protective shadow of America, along the 'world's longest undefended border', watching American. television and buying American products- what do they think would be so different? We all come from the same immigrant background after all, we have the same heritage, language, customs, holidays, cars, appliances and TV shows. And if there were ever a war, say Russia decided to take over Canada, where would they look for help? To England? Ha ha."
It's been fun for me, as a Canadian, being able to argue with these people on the side of the US without being accused of chauvinism- I can claim an unspoken neutrality I suppose. In my travels I have often found myself in arguments with Canadians, Europeans and even Americans about this "big bad Imperialist monster" that they identify with the US. I call this the "conspiracy mentality"; people who are convinced there is some secret power conglomerate of politicians and corporations manipulating the world- pulling the strings.
These are the same people who believe in the "great American myths", like the patent for the "500 mpg carburetor" that General Motors is supposed to have bought and buried, or the "light bulb that lasts forever" that General Electric is supposed to be hiding; or the otherwise intelligent people I've talked with who really believe that the world would be running on solar power except for some secret agreement between the governments and the oil companies. I've been hearing these kinds of stories since I was a kid. The latest one is the "perpetual motion" machine that some guy claims to have invented, but the Patent Office is trying to keep it buried to protect the "vested interests". Right.
"Goddam", I said, "anyone who's met a businessman or a politician, or even listened to one talk, should really know better. Do they really think these people are that smart to begin with? Or even if they were smart enough, do they seriously believe these people could agree on anything so complicated, and manage to keep it secret? Just think about it for a minute!
"It's like the worldwide "Reaganophobia" that gets so tiresome. Jesus, the guy can hardly string two words together if they're not written down, yet people believe he's capable of controlling a huge international conspiracy to rob everyone and take over the world. It's beyond belief."
But these kind of people find conspiracies everywhere they look. | suppose sometimes it's a kind of scapegoat- it's those kind of "conspiracies" which have also kept them from becoming the rich and important people they think they ought to be, or that have made the "lucky" ones more successful than them. That reminds me of the great line, when a successful man was told how lucky he was: "Yes it's true, and the harder I work, the luckier I get!"
After four and a half hours we arrived at Kibo Hut, elevation 15,520'. Dom had really made fast time this morning, arriving well before us, and was stretched out in the sun, out of the wind behind a ridge of bare rocks. He seemed to be feeling pretty good, so perhaps his experience on Mount Kenya had conditioned him for this. We joined him there, the sun warm and welcome in this sheltered place, and it was surprising how comfortable you could be- lying on a bed of loose and jagged rocks. Others began to arrive, and soon there was a row of us lying there, tired and drained by this difficult stage of the climb.
From here you could see the trail we would be taking tonight, the slope beginning here and growing steeper and steeper, until it began to zigzag sharply back and forth across what must be a very steep climb. And on and upward it went, the scree slope apparently very treacherous on loose rocks and gravel. You could see why Geoff's group felt it was enough just to get to Gillman's Point.
I could feel a headache starting to grow, and hoped the Tylenols would soon kick in and take care of it, but as I lay there my head began to pound more and more painfully. I started to feel pretty bad, my skull in a throbbing vise and pressure growing behind my eyes. It was almost hallucinatory, weird thoughts flashing in my brain, and patterns of light and dark forming and changing behind my closed eyelids. I could feel the pressure knotting in my stomach as well, mild nausea adding to the discomfort. I lay there in the hard sunlight and rarefied air, feeling miserable. "Here we go", I thought. "This will grow worse and worse, and I'll have to go back down the mountain. Maybe even in the dark- great!"
The X Factor strikes.
But gradually it abated, perhaps the Tylenols finally took effect, or just resting from the exertion of the climb at this altitude had done the trick. I was relieved, and feeling strong again I walked over to have a look at our home for tonight. Kibo Hut is different from the rest; instead of being a collection of small huts, like a little village, it is one cinder block building, divided into five or six rooms inside. The rooms are cold and dim, bare wooden walls, a rough table and benches, and twenty or so bunks in each. A short distance away there was another similar hut for the porters and the cooking.
As at Horombo, a tall antenna rose above it for the emergency radio, to summon help if someone was badly stricken here. It occurred to me that one of these aid programs should really buy them a helicopter. It would probably save a lot of lives, and could even be used to drop food and firewood at each of the huts. Of course, it would put a lot of porters out of work, and I suppose the rattling of a chopper in the air every day would detract from the atmosphere and sense of adventure. But if I lay dying up here. . .
Kees had remarked last night, as we discussed being cold almost all the time, that if this were in Europe or North America, you would at least expect to be warm when you arrived at your destination. You would still face the physical part of the climb yourself, but would be met by a warm fire and a good meal at the end of the day. Certainly that would make it nicer, but I don't know, it seems to me it's already pretty organized, and a little suffering kind of contributes to the whole thing.
Through the window I saw our porter struggling up the rocky slope with that red plastic pack on his head, and he staggered into our room and collapsed on a bunk. He looked in rough shape, and I was worried about him for a moment, and asked if he was alright. With two fingers he pointed to his forehead, saying: "very bad, very bad". I gave him a couple of my Tylenols, which he took gratefully, and passed him my water bottle. As I looked at him collapsed there on the bunk, I recalled one of the writeups I'd read on this climb, where someone had described how: "as you struggle up the mountain, the porters will go skipping on ahead of you as if it was nothing". Yeah.
Fully recovered now, and feeling the creeping chill once more as I cooled off, I thought another walk might be good. Maybe I could even explore a bit of the next route, and try the "climb high sleep low" adage once more. There was certainly no chance of finding firewood here; we were on the margin of the last life. Only a few hardy grasses and lichens could survive in this environment, and the porters had to carry up what was needed to cook the one meal we would have here.
When we were lying out on the rocks I was surprised to see another pair of White-necked Ravens flying around. Even way up here, the prospect of scavenging a bit of garbage around the camp must have brought them. It reminded me of the Arctic paintings of Ted Harrison, where the ravens are always scavenging around the Inuit settlements. A very adaptable bird- or so lazy that they'll go anywhere they don't have to hunt for their food!
Greg was still feeling pretty good, and agreed to explore a bit higher with me. We followed the trail, a lighter dusty brown track through the stones. The landscape was barren and moon- like, the earth a treacherous slide of volcanic gravel. Huge sharp-edged rocks lay scattered where they had fallen and hardened millennia ago. Long flows of lava had-frozen into jagged ridges, patterned with faults and cracks. In some places the rock had-hardened into waves, forming shallow caves and weird shapes.
The trail grew steeper by the minute, until each step was a deliberate, gravity-defying movement. Up here the oxygen content of the air is half that at sea level, and you have to measure it out carefully. When we had climbed high above the hut, we turned and rested, looking down the steep trail to see another group of people following our lead, a trail of brown dust as they trudged up the scree. The afternoon sun was moving above and behind. the peak of Kibo, adding dramatic shadows to-the grey and blasted landscape. We looked across the vast desert of the Saddle, a smooth brown plain stretching off in-the clear air to Mawenzi. It looked as if we were about even with its peak here.
My headache had disappeared entirely now, and I felt good as we slid our way back down. For the first time I dared to think I might make it, and it was an exciting thought. Also it was so strange and unearthly up here that it already felt as if we'd entered another world. The adrenalin was starting to pump.
When we returned I walked restlessly around the camp. I visited the toilets on a rocky outcropping, and, as at Horombo, they were truly the "long-drop" variety here, being wooden shacks built out over a high cliff, the wind blowing cold up through the "thrones".
There was a high pinnacle of tumbled rocks in front of the main hut, and I climbed over the boulders around it and pulled my way up, sitting atop it and looking around in the late afternoon sun. The silhouette of Kibo peak had already begun to fall across the Saddle, the shadow very dark against the bright gold of the desert that remained in the light of the powerful sun. When it grew too cold I went back into the hut, though it was really no warmer there, and was dim and cheerless. The "Y" group were huddled around the small metal woodstove, shivering and pathetically feeding a tiny flame with twigs and bits of paper, in a futile effort to create at least the illusion of warmth.
As I looked out the window of the hut, and watched the mountain's shadow creeping up the side of Mawenzi, I saw an exciting thing. I wasn't sure at first, and pulled out my binoculars and field guide to be sure, but yes it was- a Lammergeyer, a rare and beautiful bird of prey, soaring effortlessly in the thin air. It flew around the hut for several minutes, and I watched it until it was gone, following its motionless flight in my binoculars, and verifying the field marks. The graceful silhouette, rusty-buff body and dark wings and tail, sharp wedge of dark feathers by the eyes- yes! It looked like an Art Deco bird, designed by Erté; the dark grey and pale rust colors, the sleek curvaceous shape, that angular slash across the eyes. Beautiful. It would have been exciting to see it anywhere, but here on Kilimanjaro, at 15,500' it was magical. Like that Long-crested Eagle at Marangu, it was a sign.
Because all of the sleeping quarters were in the one building here, and the small common room had only a single table, we were served our dinners in the separate rooms. Since poor Ingrid had been left behind, it was just the four of us now; Kees, Greg, Michael and myself; and we were all feeling good and ready for a stew of meat, carrots, potatoes and- of course- cabbage. It was the perfect meal to make you feel heartened in a cold and lifeless environment like this.
Greg and Michael and I discovered a common taste (?) for the humor of Eddie Murphy, and began reciting some of his routines from the live video and laughing uproariously. We each took turns quoting key lines- "Hey Norton!"..."Aunt Bunny is comin' to get me". . ."Goony-goo-goo, Gus", which would send us all into fits of laughter. Kees was completely bemused by this, having no idea what we were talking about, but when we apologized for leaving him out he said: "no, no- it doesn't matter. It is just as funny to watch you laugh!"
Though Kees spoke excellent English, he would occasionally delight us with a charmingly unusual usage, like many people to whom it is not their first language. He made us all laugh, himself included, with a perfectly logical tumble into the abyss of English constructions, when he wondered why "the porters don't port any higher than Kibo Hut".
I had also picked another poetic piece of graffiti from the wall:
Here we huddle eating our rice
Looking around everything's nice
Tomorrow we're told
Will be very cold
But we'll give it a try
God knows why
30/10/85
It was signed by a couple from Colorado, who also claimed to have joined the "Mile High Club" here (actually almost three miles). Doubtless it helped to keep them warm, but they must have been alone in here, or been very quiet. There were about twenty-bunks in the room, and there was no privacy.
When dinner was finished the sun was just about down, and it grew even colder. I decided to get into my sleeping bag and try to conserve some body heat at least, and fully-clothed I climbed into it and laid back on the bunk. Everyone else soon did the same, and then we were all in bed- at a little past 6:00, before the sun was even down!
As I lay there in the growing darkness I began to feel bad once again, We'd been told that people seldom slept at this altitude, and Geoff had told me he had lain awake here all night, cold and miserable, just waiting for the knock on the door to get them up. I hoped that wasn't what I was in for now. I tossed and turned for a couple of hours, my headache and sick feeling growing steadily worse, until I finally got up and tried to find my water bottle and the Tylenols without disturbing the others. They all told me later that they'd been awake the whole time too, and it was kind of funny; all of us lying silently in the darkness, not wanting to disturb the others- who were all awake anyway!
As I continued to feel worse and worse, pounding head and rising nausea, once again I was gripped by apprehension. What was happening to me? Was this the beginning of something really bad? Something serious- the X Factor- should Iturn on a flashlight and see if my fingernails were blue?
What could I do? I couldn't very well go stumbling back down the trail in the dark by myself, which would probably have been my first instinct if it got too bad. And if I was feeling this bad now, what was going to happen when I had to go up another four thousand feet tomorrow? Why did I do this- why am I here? I could be relaxing in a-warm hotel room, in a comfortable bed- or be at home, and turn on a light and read for a while.
Only I felt so bad I couldn't have read anyway.
Meetai dikir nemesheyui.
There is no hill that never ends.
(Maasai Wisdom)
---
18 - the highest high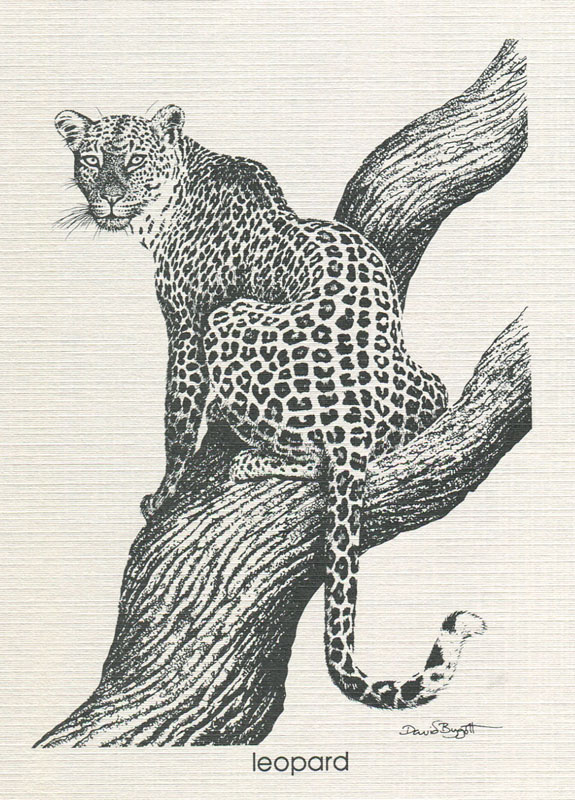 I awoke suddenly to hear the door banging open, pleasantly surprised to find that I'd been asleep. In fact; against the odds I'd actually slept for two or three hours, though fitfully. It was Jared, the assistant guide, coming in to wake us, carrying a lantern and a tray with tea and hard biscuits. It was 12:30. He already looked dressed for Antarctica, every inch of him thickly covered except his nose and eyes.
I climbed out of the sleeping bag excitedly, and started putting on all the clothes I'd laid out before I'd gone to bed- yesterday afternoon. Last night when I'd been lying awake I started to worry about frostbite as well, for that is yet another of the possible pleasures of this climb. People have lost fingers and toes here. Now I was worried about having to turn back because of cold hands or feet- but I was determined not to be stopped by anything stupid like that, I would get there if I had to drag myself. (Well- as long as my lungs weren't full of blood or anything.)
It seemed wise to take the advice of our unknown advisor on the trail yesterday- "wear everything you own!" - and I had pulled out everything I thought might help. I started with long underwear, two pairs of pants, heavy socks, boots with gaiters over them, two T-shirts, a long-sleeved T-shirt, two sweatshirts, a nylon shell, an insulated windbreaker, the heavy rented coat, gloves, a balaclava, and the hood of the shell over top of that.
I even tried putting the Vaseline on my feet, as Geoff had recommended. Into my day pack I put my camera, tape recorder, flashlight, extra socks, sunglasses, Tylenols, pen and paper, spare batteries for camera and recorder, and my water bottle. I hoped all that would get me there.
I was too excited for the tea and hard biscuits, and once I had my gear ready I went outside to wait for the others. It-was very cold and dark, the stars hard and bright in a clear black sky, and the peaks were outlined in the light of a low half-moon. I was feeling good, ready to get going, and paced around to keep warm while some of the other climbers gathered into shadowy groups. It was too dark to tell who anyone was, but the guides seemed to get them all sorted out, and led them away into the blackness. I had a momentary gloomy vision of the condemned being led away to hell.
Finally our four were all prepared, and the lead guide waved us in behind him. We set out single-file down the trail, which was lit only by the pale moon and stars, and was merely a trace of a different shade of dark beneath our feet. We each followed closely behind the silhouette in front of us, one foot in front of the other. It took a while to figure out who the leader was, but I finally decided that it was Ernest in front, with Greg and I behind him, then Kees and Michael followed by Jared. Ernest set a slow easy pace, and we tried to match it, knowing we were in for a long hard climb. In spite of our good intentions, typically we were soon moving ahead and pressing at Ernest's heels on the corners, but he would not be hurried very much.
He followed the trail by the light of stars and moon alone, and as the slope grew steeper we settled into a steady rhythm; lean your weight forward into the slope, put one foot in front of the other and push against the loose stones. It wasn't long before we left the others behind with. Jared, and began catching up to some of the groups ahead of us. Every once in a while I could see the red spark of a cigarette in the blackness, as a guide relaxed while his charges recovered their energies.
It was steep enough now that you couldn't go straight up, and the trail began-to zigzag back and forth across the scree. It was hard going; if you slipped in the stones you lost your balance and your momentum, and then would have to gather your strength to push against the gravity and the slippery surface once more. I kept my fingers balled into fists in the middle of my gloves, to make sure they stayed warm, and tried to keep wriggling my toes inside my boots to keep the circulation going. On and on we climbed, back and forth, back and forth, each step an arduous struggle, but each step taking us higher.
When the shadowy groups ahead of us stopped for a rest, or the trail was wide enough, we passed them, and soon I could only see four figures on the mountain above us. It was so steep that whenever I saw them traversing the slope in a line, they appeared silhouetted against the sky, outlined by the stars. It turned out to be Dom, Jean and Dietrich with their guide, and we met up with them where they rested in Hans Meyer's Cave. Now we'd reached 17,000'. We'd been climbing for about two hours now, and this was supposed to be the halfway point, so it was a good place for a break.
Their group was just getting ready to start out again as we arrived, and we wished each other good luck. No one said much, except to ask how everybody else was doing, and so far everybody seemed to be feeling okay. I sat down and took my socks off, rubbing most of the Vaseline away, but it hadn't seemed to do much good anyway. I put on my spare pair of socks, as the others were wet with sweat already, swallowed a couple of preventative Tylenols with some water from my bottle, then laced my boots up again. We invoked the spirit of Hans Meyer himself to help us reach the peak he had been the first to conquer- Uhuru.
"Ready to go?", I asked Greg.
"You bet. Lead on!", he replied.
Now it all became kind of vague. Observation and imagination were gone, replaced solely by will, as I concentrated only on lifting one foot higher up the mountain in front of the other one, keeping balance and momentum together. I went into that Zen-like trance, a physical and spiritual numbness, as I followed Ernest through this shadow-world. It was like being on a hundred-mile bicycle ride, or swimming a mile, (only harder), my whole being focused on a physical rhythm. The chemicals of exertion were at work; endorphins spurring me on, and dopamine numbing the pain.
After another hour of trudging back and forth across the slippery scree, it became soul-destroying, a struggle that would never end. Ernest in front, then me, and Greg following behind. The only sound was our boots crunching and slipping in the gravel. Sometimes as I made the turn back across the slope, Greg would be beside me coming up, but we didn't waste any energy on conversation: "Alright?" "Yup." I couldn't believe it could go on so long, and I couldn't believe how hard it was. Hard and frustrating, when I would slip backwards and lose a hard-won step.
My natural response to a struggle like this is anger. The irresistible force of determination meets the immovable object of frustration- and for me, that combination equals anger, and becomes a furious determination. At times like this it's productive, and helps me achieve the goal- get up the hill- but other times it's not so helpful. Like the time I was struggling up a difficult cross-country ski trail, slipping and sliding over steep terrain, and in a fit of rage smashed my ski pole against a tree. It was a long walk back with only one pole.
If I'm straining up a hill on my bicycle, it's anger that kicks in when the going gets too hard, as if to say: "You're not going to beat me, you stupid ignorant hill", and I would stand up and grind away at those pedals until I made it. And so it was now, only my anger became focused on the people who make this all seem so easy. "Any reasonably fit person can do it." "It's just a long walk uphill". Those tantalizing phrases that lure the unsuspecting into this grueling experience went around and around in my oxygen-starved brain, becoming a kind of mantra, though not a soothing one! That kind of oversimplification seemed to me to cheapen the accomplishment, to rob you of the sense of conquering this very difficult challenge.
And if only ten percent actually make it, what about the ninety percent who must fail- aren't they "reasonably fit"? Can't they survive "a long walk uphill"? It didn't seem fair, as if all of these people were being duped into paying their money, only to be disappointed or humiliated.
Of course, in the "fine print" of the information sheet there are hints: "No refund can be made if a climb is shortened by illness or weather". Uh-huh.
Any reasonably fit person can make it.
It's just a long walk uphill.
Grrrrr.
It was getting harder, and still steeper, and I was getting madder. I noticed that Ernest would stand aloof whenever we paused for a breather, as if he didn't need a rest, and as I followed behind him in the darkness for hour after grinding hour, I began to divine the reason. He had a slow rhythmic stride, leaning forward with his hands behind his back, and actually resting between each step. After each foot was placed, he would pause for a second, before shifting his weight up to the next step.
Certainly it worked well for him, letting him conserve his strength while maintaining a steady pace, but now that I was being driven by anger as well as determination, I found myself on his heels, and constantly being blocked by these pauses between strides. He would be stopped in front of me for a moment, with his weight on the firmly planted foot, forcing me to lose my rhythm, and I would be set off balance and start to slide in the loose gravel. Then I would have to summon the strength to regain my balance, as well as push my weight against the slippery footing to regain my forward motion. It may have made it easier for him, but it was making it harder for me, and I imagined, for Greg too.
I was muttering away under my breath, cursing this endless struggle in the darkness, cursing the loose gravel and Ernest too, and when I turned and spoke to Greg about it, he just mumbled something that sounded like assent, but I couldn't see his face.
Finally this "furious determination" got the better of me, and where the path led between some boulders I went to go past Ernest, reasoning through my anger that I could-surely do better on my own- all I had to do was keep going up- I couldn't get lost! But he just waved me back in behind him, to which I responded by waving my hand rapidly back and forth, as if to wave him on, but also to urge him on quicker.
"You want to go faster?", he said with a note of surprise in his voice.
"Not faster- just steadier!", I said between clenched teeth. "You keep stopping between each step; it just makes it harder for us!"
It was only a few minutes later that Greg spoke up weakly: "I have to stop for a minute", and for the first time I realized that he was having a rough go of it. He fell back onto a rock beside the trail, his breathing shallow and rapid.
"I feel pretty dizzy", he said.
I felt bad, thinking that I'd forced the pace with Ernest, without knowing that Greg was hurting. He'd probably been cursing me. Blind, stupid anger.
"Don't worry", I said guiltily, "just stop whenever you want to. We've got plenty of time." Knowing he felt bad melted my anger away immediately, and I just wanted us both to get-up there. He struggled-back to his feet, weaving a bit as he tried to gather his balance and his strength to continue.
I motioned him in to go in behind Ernest. "Here- you go ahead and I'll follow you. You set the pace, and whenever you want to stop just say so. It's okay. We'll get there."
I concentrated on my fingers and toes, making sure they didn't go numb, and labored silently in the darkness behind the unsteady Greg. There were some larger rocks now, which were helpful to brace your feet against, or you could use your hands to help haul yourself up. As we worked our way over and around the rocks, Greg fell against one for a moment, turning to me.
"You know. . . I'm just climbing on determination now."
"I know, I know, keep it up. We'll get there."
A couple of times I could see him falling backwards, losing his balance, and I tried to steady him when I could. I was getting worried about him now. I thought we must be getting close to this bloody peak by now.
We were entirely surrounded by a world of shadowy boulders now, hoisting ourselves over them in the darkness, poor Greg getting weaker and weaker.
"So dizzy. Can't see very well."
I was just starting to think we'd better get him back down, when I began to hear murmuring voices. I could see a couple of silhouettes on top of a large flat rock, and the spark of a cigarette in a shallow cave behind it. I didn't know if this was Gillman's Point, or just another resting place, but I thought I'd better take care of Greg, and steered him gently towards the cave. Ernest said "No, up there", pointing to the rock, so I guessed it must be Gillman's, but I just said "okay, okay", and led Greg into the shelter of the cave, telling him: "Just take it easy, man. Sit down and rest, you'll be alright now." He could only moan.
I crawled up on the rock, standing on it and looking around. Here I was, Gillman's Point, 18,600', and still feeling strong and good. It was about 5:30 now, still dark, but a thin mauve line stretched around the horizon to the east, a horizon that was a long way below us. I could see a sprinkling of lights on either side of the Saddle, Tanzania on one side and Kenya on the other. The plains of Africa were now about three miles below us.
I could just make out a pink glow on some walls of ice and snow off to the left, but I hardly took the time to look around. I was tense with excitement, my whole being consumed with the desire to keep going. I was so pumped up, I was afraid if I paused here too long I might start to feel bad too, or lose the resolve to continue. So right away I asked Dom and Dietrich if they were ready to keep going. Jean was also feeling pretty sick, and was one of the huddling shadows down in the cave. When they said "yes, let's go", I told them I'd like to go around the crater with them and their guide, and leave Ernest to look after Greg. Hopefully he would recover and be able to follow later. I went down into the shallow cave and put my hands on Greg's shoulders, but he just moaned, his head hanging down weakly. I told Ernest what I was going to do, and asked him to stay and look after Greg. It was hard to go on without him, we'd done the whole climb together and it was like abandoning your partner, but I didn't know what else to do. He was certainly in no shape to carry on.
Around behind the point, we started down a narrow trail along the inner wall of the crater, squeezing along the cliff face between outcroppings of jagged volcanic rock. Jean tried to rouse himself and join us, but a few minutes later he turned around again, asking me to tell the others he'd gone back. Another poor victim of the X factor.
Now there was just Dom, Dietrich and myself led by their guide, making good time over the rough terrain of blasted rock. Soon we emerged into the open, on top of the crater rim. It was growing lighter all the time, but you had to concentrate on where you put your feet, so there was little time for sightseeing.
After a while we stopped to rest, taking a good look around us for the first time. I was still wide-eyed and intense with this "furious determination", and my brain struggled to record it all, to find words to describe what I saw. Far, far below us we could see the distant cloudscape stretching away for hundreds of miles, even the rising peak of Mount Kenya to the north, the second-highest point in Africa, almost two hundred miles away. And another bump in the clouds to the southwest that would be Mount Meru, near Arusha. "Wow", I kept saying. Just "wow".
I was surprised to find that the summit is not entirely covered with ice and snow; in fact the crater rim is quite bare of it. The remains of the great glaciers which once covered the whole peak have dwindled over the centuries, but there were still vast cliffs and terraces of ice on both sides of the rim, some of them huge and beautifully-sculptured, breathtaking as they reflected the fiery tints of dawn.
It is figured by experts in these matters that the glaciers are a remnant of the last Ice Age, and have slowly been melting away, undercut by the heat which is absorbed by the dark volcanic rocks. Even fifty years ago the ice cap was significantly larger, and photographs show huge glaciers in places that are now bare rock once again. It's strange to think that in another century or two the snows of Kilimanjaro could once more be just a legend from the past, perhaps even disbelieved as they were a hundred years ago.
I knew that once again a camera was helpless here, but I pulled it out anyway and tried to capture some impression of this incredible vista. Where a camera fails, words must fail too, and I can't imagine how to describe it all. The other-worldliness of this fantastic landscape, the bitter cold, the ice cliffs tinted pink and orange, Africa so many miles below us, and the sheer exhilaration of being there.
All of us now firmly in the grip of "summit fever", we were soon moving again, making our way over the barren rocks to the other side of the crater. Only occasionally did we have to cross a shallow snowfield, the hard and crusty surface melted by the strong sun into a field of six- or eight-inch stalagmites. The slope was gentle most of the time, though at this altitude anything that wasn't downhill was hard going. Once again, it seemed like an endless trail we were on.
After an hour and a half, the guide told us we were almost there, and we stopped once more in the lee of some rocks, the sun now well up in the deep blue sky. Dietrich was looking a bit rough, and he collapsed on the ground, breathing deeply to get some more oxygen into his lungs. I leaned back against a rock in the sun, blessing whatever was keeping me going. I think the deep regular breathing I'd learned from swimming was helping me a lot, as the thinness of the air didn't seem to bother me too much, and I think cycling a hundred and fifty miles a week, and swimming across the lake every day all summer had given me the endurance (and the leg muscles) to keep putting one foot in front of the other. And if they ever ask me to do a commercial for Tylenol, I could hardly refuse. I don't think I'd have-made it without them. Whatever the secret was, I blessed it. I was beating the X factor.
After a few minutes rest, the guide led us off once again, now climbing some steeper ridges and hauling ourselves up over the rough rocks. Just as the summit finally came into view, a glimpse of the green and black of the Tanzanian flag, I turned around to see Dietrich down on his hands and knees, his body wracked and vomiting painfully. I could only wait and look away; be there if there was anything I could do. With an understanding founded on my own native stoicism, I wouldn't intrude unless he needed help. I know when I'm sick I'm like a cat- I just want to crawl away under a bush and be alone.
I looked over at the steep ice cliff of a glacier's edge shining in the sun, beneath it a hockey rink-sized surface of flat ice. For a crazy moment I wished I had some skates- maybe the altitude was affecting my brain!
Pat Morrow, the Canadian mountaineer and photographer, actually brought skis up here, on an expedition which was part of his quest to climb the highest peak on each continent. He was able to use mountaineering skis, heavy cross-country skis with metal edges, on many of the mountains, and in his book Beyond Everest, he describes the exhilaration of carving Telemark turns on the glaciers up here. I had cut out a picture of that wonderful scene, and it had been one of the images that made me want to make this climb.
Dietrich was up again, shaking his head mournfully and moving on, and in a few more minutes we were there. A cluster of sticks and tattered flags surrounded a plaque placed by Julius Nyerere, who I believe actually did this climb himself. My hat's off to you, Julius. The plaque was dated 1961, when the country was still called Tanganyika, and the large Tanzanian flag waved in the cold wind above it.
It was 7:30 A.M., September the 15th, 1987, and I was on the summit of Mount Kilimanjaro.
How to describe the feeling? I was pleased, excited, proud and happy, looking down at the clouds from 19,340'- the highest point in all Africa. I was exultant, no- exalted is the word. I did a strange kind of victory dance there on the rocks, hands and face raised to the sky, jumping up and down with profound excitement. Not just the highest mountain in Africa, but the eighth-highest in the world. I was high! An entry on my tape recorder expresses it thus:
Well, hope this battery's holding up. I'm bringing this to you live from Uhuru, the highest point in Africa, the top of a continent, and it feels like the top of a world. So exciting, and I'm so proud to be here. The scenery is incredible. I just took some pictures which had better turn out. Got the ice and snow all around, and the clouds way, way down. Sun well above the horizon and Mawenzi in the distance. It's great!
Exhausted and triumphant, we laid down on the rocks in the powerful sun, looking down into the crater, overwhelmed by the supernatural panorama of the icefields, the barren rock, the snow and the incredibly blue sky. Dietrich was sprawled on the rocks, his head against the plaque and his hat over his face. I think he hardly knew, or cared, where he was- as long as it was over. Dom pulled out a bottle of whisky which he'd hauled up with him, and we toasted the summit with a capful each.
Ernest suddenly appeared from among the rocks, and joined us on the summit. As he sat down beside us, he patted my leg and gave me one of his small smiles. It was an eloquent gesture, but hard to read. At first I took it as a proprietary sign- that he'd been my guide, and he'd got me up there and don't forget it- but it might have been a sign that he forgave me for my anger on the scree, or a sign of congratulations for having made it. Who's to know.
He and the other guide tucked into the whisky big-time, and in fact when Dom went to put it away, their guide said: "No no, we'll take it down for you", and of course he never saw it again. We took the obligatory summit pictures, Dom using my camera to photograph Dietrich and myself with the two guides, and I took some with Dom's camera. We all looked like real mountaineers, dressed for the Antarctic, standing on the bare rock with the Tanzanian flag dark against the impossibly blue sky. After all Dietrich had been through to get here, the severe cold had killed the battery in his camera, and of course it needed a special size which neither of my spares would fit. I took a few extra shots of him with my camera, promising him I'd send him some copies. Sometimes life is just not fair.
There was a box containing the "guest book", and we were glad to add our names to this exclusive and hard-won club. I hadn't bothered with the ones in the huts on the way up, but this one I was proud to sign. Here was a place worth leaving your mark. Dom remarked that it was a shame that everybody couldn't have been here together, to have taken a group photograph with all of us. A generous observation, and it was true; we didn't feel any superiority to those who didn't make it, only sorry that we couldn't have all shared the whole adventure together.
And so we started back down the trail, back around the crater rim to Gillman's. About halfway around we met Michael and Jared, and Michael looked a little "shell-shocked", but he would make it. He told me that Greg had gathered himself and gamely tried to make it past Gillman's to the summit, but had collapsed a couple of times and finally passed out cold for a few minutes, at which time the guide sent him back down. Probably the wisest decision, but poor Greg. I knew how much he'd wanted to make it, and Michael and Ingrid had been kidding him from the start, that the "big tough Marine" would be the one not to make it. As I said to him later, "I know how much it cost you to get there- and I know how much it cost you to turn back".
The only other people we encountered were a hardy Danish couple, though they were still not far from Gillman's when we met them, and I'm not sure if they made it all the way or not. Even if they did, that would only make six of us out of about twenty who attempted it that day- better than the ten percent average, but still leaving a lot of people who were not "reasonably fit" enough to make it. Yeah.
We moved on ahead of the guides, Dom still full of energy and leading the way, with Dietrich and I behind. Poor Dietrich was violently sick once more, leaning weakly against the rocks in the grip of a painful spasm of nausea. As we carried on around the rim, he said in his soft German accent: "You know, I made it- but I sink it vas too hard". No question, it was the hardest thing I'd ever done, far beyond, say, cycling 175 miles in a day, the only comparable experience I could think of.
John Reader, in collecting the photographs and background information for his Kilimanjaro book, actually spent a night bivouacked inside the crater, and in describing some of the effects of the altitude and hardships of the climb, had this to say:
"I am not at all sure that I would have succeeded without the obligation (of this book for example) to do so, and I want to record here and a now my boundless admiration for all those people who climb Kilimanjaro simply for the fun of it, or just because it is there."
- and it wasn't over yet. We still had to get down.
There was no one at Gillman's Point when we reached it, and I paused there for a few minutes while Dom and Dietrich continued the descent. It had been dark when I'd first arrived here, and I'd had my mind totally focused on Uhuru, but now I could rest and enjoy the view, looking down over the Saddle to the ruined castle that is Mawenzi. Though it is the third- highest peak in Africa, after Kibo and Mount Kenya, even it looked a long way below me. Kibo Hut was just a tiny speck on the barren brown Saddle, some three thousand feet down. I decided that's where I wanted to be right now, and shouldered my pack for the descent. It was all downhill from here.
But even this was hard going. Just as it was too steep to climb straight up, it was also too steep to walk straight down, without following the zigzag traverses. Dietrich, still weak and drained, was following this trail. But if you just let yourself go straight down the fall line, you could practically "ski" down, bending your knees and letting your boots slide in the steep gravel, covering maybe ten feet with each step. But of course the resistance was strong, and it took a lot of effort to maintain control. As on a steep ski hill, if you started to fall you'd likely just keep falling, until a black-and-blue bundle of rags fetched up at the bottom- or against one of the jagged boulders I was "skiing" around.
As I made my arduous (but rapid) descent down the scree, the strong morning sun shining full on the slope, I began to feel very warm in my multi-layered and motley outfit. The zipper was broken on the rented outer coat, so I couldn't even open it, and anything I took off I would have to carry, which was impossible in this treacherous balancing act. So I began to sweat heavily, and as I did- I began to smell. Four days without a shower, plus sleeping in my clothes, and I was "high" in more than one sense!
Another entry on my tape illustrates my feelings, and my totally lost sense of time:
Funny, I was thinking about how both of the peaks are staying clear so late today, but of course even after all that adventure it's still only 9:30 in the morning. Strange, I guess we started out about 1:30, so that's one long eight hours. I can't remember when I've felt so tired. You can hear me stumbling down the hill here- hard to lift my feet up- just let them slide.
About halfway down I met Kees and Karen resting against some rocks, and I stopped for a minute to see how they'd done. They'd both made it to Gillman's, and Kees had tried to continue around to Uhuru, but had begun to feel so dizzy and light-headed that it was dangerous, and he had turned back.
Kibo Hut still seemed a long way down, and I set off down the "ski hill" once more, working my way down around the scattered boulders, and cutting across the trail where it zigzagged across the fall line. Eventually the slope became gentler, and I was walking now, down the last part of the trail, and the hut finally looked a little closer. It had taken us about six hours to get up there, and only a little over two to get down again.
A group of porters were sitting outside the hut when I arrived, and I gave them a triumphant wave and a "jambo" as I passed. For them, this was as high as they needed to go, and they must have thought we were a crazy bunch of foreigners, wanting to go through all that just to freeze on top of a mountain.
Inside the hut it was silent, and in our room there was only Greg, bundled in his sleeping bag, his face turned to the wall. As I quietly removed my clothes layer by layer, building a big untidy pile on the empty bunk beside me, my sense of triumph and relief was softened by compassion, and a little guilt. I'd left him behind, my climbing partner, and though he'd tried so bravely to make it, he'd had to turn back. He looked so small and sad huddled there with his face to the wall, and my heart went out to him.
Ruuo riltiguanarirwo.
Pain cannot be felt by one for the other.
(Kikuyu Proverb)
---
19- down to horombo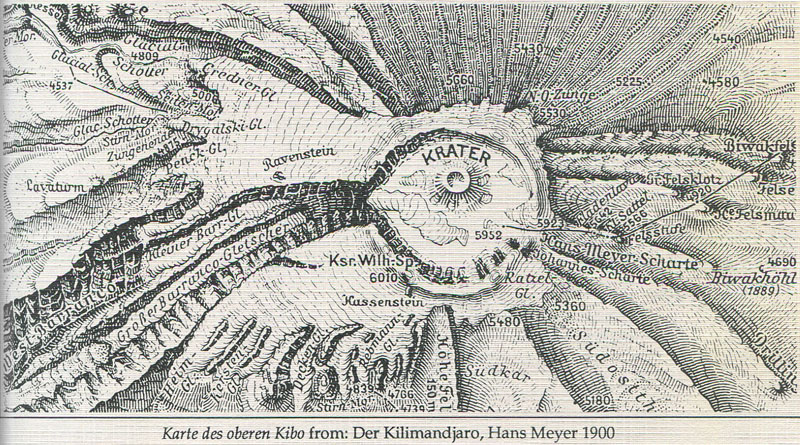 A loud bang at the door and the rattle of glassware crept into my sleep, after barely an hour of blessed rest. My eyes opened reluctantly, to see the morning sun was now shining painfully bright into the cold room. My limbs were heavy, sore and tired; my skin felt dirty and sticky with dried sweat, and for some reason the rolled-up towel next to my face felt very rough. It was then I noticed that my face was severely sunburned, from a mere twenty or thirty minutes exposure to the early sun on the peak. Even though I'd been out in the sun all summer in Quebec, and had been well-tanned by that and the recent exposure to the African sun, even at 8:00 in the morning the high-altitude sun had been powerful enough to give me a painful burn. It's easy to forget that Kilimanjaro is just 3° from the Equator.
The sounds of the door and the rattling glass rang sharply in the stark room, and I saw that it was Jared bringing a trayful of cups, containing some kind of orange squash which was lukewarm and overly-sweet, but welcome all the same. This we knew was the signal for us to get moving. It would have been good to lay in my warm sleeping bag for another few hours, but I guess they want you out of there well before the next group of climbers starts arriving in the early afternoon. A meal would also have been nice, as I'd had nothing to cat since the stew last night, and after all that work I had a powerful appetite, but food and sleep would have to wait a while yet.
About half of what I'd been wearing went back into the red plastic bag, and I returned to my "sub-Arctic" wardrobe. I was glad to see that Greg awoke in good spirits, quite recovered from his illness and taking his defeat very well, talking and laughing readily with the rest of us. Good man.
But it didn't make him any quicker, and as usual he was the slowest in getting ready. I was soon all packed-up and waiting for him, kidding him: "come on you turtle!" as I paced around impatiently and watched other groups setting off down the trail. Even Kees and Michael were away ahead of us, and they weren't the fastest packers in the world either. But to be fair, traveling almost incessantly for the last twelve or thirteen years has made me a quick and efficient packer, and even when I'm home I usually find it easier to continue living out of a suitcase. Plus there's the fact that I am driven by that organizational urge- as well as the fear that someone might have to wait for me. I don't know why, but I would much rather be the one waiting, than have anybody have to wait on me. Some WASP hangup, I suppose.
Tijina ilaanyuni, mijin ilaanyisho.
Be one of those who is waited for, not one of those who waits.
(Maasai Wisdom)
Ngeterera ndikinyaga.
He who waits does not arrive.
(Kikuyu Proverb)
Not what I would say, but there you go. Perhaps it would be better to be that way; certainly it would be less stressful. Seems kind of inconsiderate, wasting other people's time instead of your own, but maybe Greg had the right idea after all. I'll think about it.
(No I won't.)
So once again we set off between the stark rock formations that rose here beneath the peak, and headed for the brown desert of the Saddle. We soon found to our dismay that even walking downhill was hard. Our feet and legs were sore and tired, Greg's feet badly blistered by the ill-fitting rented boots he wore, and we were exhausted all over from lack of sleep and the arduous workout. I mentioned to Greg how hard all this exertion at this altitude must be on your body, and he replied: "Yeah, if your body could talk to you right now, it would have a lot to say!"
We continued the rapid pace we had established coming up together, and we soon overtook Michael and Kees, just where the trail passed out of sight of Kibo Hut and opened onto the open desert. We also began to pass groups of people on their way up, wishing them good morning and good luck, and thinking of the incredible difference the last twenty-four hours made between them and us- "What a difference. . a day makes!" - as it had yesterday with the descending climbers we'd passed. We came upon an English couple we had met at Horombo, who must have spent an extra day there as they were only on their way up now, stopping to eat their lunches by some rocks just off the trail. When they asked how it was, we repeated the advice about wearing everything they could against the cold, and not wanting to spoil anything for them, just wished them luck without telling them too much about what they were in for!
The clouds had begun to gather around the peaks by now, as apparently they always do by about 9:30 in the morning, but the sky above was clear and blue, and the sun was bright on the barren landscape. As we began to walk some of the stiffness out of our legs, our conversations continued:
"I've always thought it must be kind of a tough life, being on the road all the time like you guys are."
"Well, like everything else it's got two sides, negative and positive. I really like traveling, and I like playing drums, it's just all the other stuff that sometimes gets annoying. The days-off in different places are nice, and I make the most of the free time, getting out on my bicycle to see the country, and getting a lot of reading done. But I wish the work part could be more normal, you know, just get up in the morning and go to work, then go home when the work is done. There's always so much 'hoopla' about it all, with too many strangers wanting a piece of your time."
"How do you deal with that? I can imagine the fans must drive you nuts sometimes."
"It's a strange thing. When we first started touring, opening shows and playing clubs, that sort of thing, our dressing room door was always open, and anyone who wanted to could walk in and talk to us. That was no problem then, and it was interesting to meet the odd people who would wander in in different places. Then at a certain point it gets-too crazy, and you have to start thinking about security. It's a hard adjustment to make, it feels so bizarre to start putting: up barriers around yourself, hiring people to keep these people away from you, checking into hotels under phony names, all that stupid stuff. You feel as if you haven't changed- but suddenly the whole world around you is acting really weird. Total strangers chasing you around, yelling at you and exploding flashes in your face. It's hard to deal with."
"I can't really imagine what that would be like. I guess in cities where you're playing people might know you're there, but can you go places at home without being recognized?"
"To an extent, yeah. You wouldn't go to a rock bar or a pinball arcade, or stroll around a shopping mall, but I can go out to movies and restaurants without much of a problem. What it does is kind of force me into an older environment, and away from places where young people congregate."
"What do you do if someone comes up to you on the street or something?"
"The first thing I usually do is get embarrassed. I don't know why it affects me that way, but it does, and I usually feel very uncomfortable if somebody comes running up to me screaming and with their eyes flaming. Kind of centred-out and, well, trapped- it's a strange sensation, and I know it's hard for other people to understand. There are the nice ones though. Where somebody just comes up quietly and says something like "I don't want to bother you, but I really enjoy your work", and shakes your hand. That can be really nice and leave you both feeling good about the encounter. But sadly, that's the minority, most times it's not very nice. There's a sense of invasion about it a lot of times, with total strangers driving up to your house and knocking on your door- expecting you to welcome them as friends, or bothering my family, or my daughter at school; or maybe they somehow get hold of your telephone number and pass it around to everyone they know, nice stuff like that.
"And when I'm on the road I consider a hotel room or our bus as my home too, a small piece of privacy, and when people intrude there I resent it just as much. You can sort of understand teenagers being thoughtless and inconsiderate, just out of immaturity and inexperience, but not long ago one of those Jeep Wagoneers pulled up in front of my house on a Sunday afternoon, and it was a whole family- the parents dropping their kids off at my house to knock on my door and get my autograph. Unbelievable."
"Yeah, I don't think that would be very pleasant. How do you deal with it?"
"Well, in a-case like that my wife answers the door, and steers them away. But mostly I just get uncomfortable,-and sometimes angry, and try to avoid situations like that- when I have a choice. I find it so hard to understand. Certainly I know what it's like to be a fan- I was a major fan of The Who as a teenager, all their records, pictures all over my walls, but I wouldn't have dreamed of hanging out backstage or at a hotel to hassle them. And I think there are two extremes in the way you can react to that sort of situation. I've seen some people, shallow and self-admiring, who are glad to have the adulation; it's like they agree with their fans: 'You think I'm great? I think I'm great too!' (laugh)
"But for me it's more like; 'You think I'm great? Well you're wrong- I'm not. Don't be silly!' (laugh) There are lots of people in that-position who are somewhere in between, or some who just want to be nice- but I suppose I'm just too selfish about my privacy."
"Well, I think I would be like that too, if I think about it. I suppose you get a lot of strange mail too."
"Oh I don't mind that so much, there's no invasion there, and it can be a relaxed kind of contact. Every once in a while I just spend a day answering a whole pile of fan mail, especially what gets sent to me by Modern Drummer magazine. I have little postcards with a picture of me and my drums on it, and I write a little message in response to each letter. That's a painless and stress-free kind of contact that you know people will truly appreciate, for the few minutes it takes to do, and I can deal with it in my own time, without being suddenly thrust into an embarrassing and uncomfortable situation when I don't expect it."
"That's a nice thing to do. Tell me; is it worse in the States, for crazy kids mean?"
"Not really, no. Though there certainly are some, and it can be scary. And people start crazy rumors, that I'm dying of cancer or something. And then someone will walk up to you and say: 'Hey- is it true you're dying of cancer?' I mean, what can you say? And what if it was true- can you imagine going up to a terminally-ill person you don't-even know and saying that? Or the letter I got wondering if it was true, and if so, enclosing an article about a new kind of cancer therapy! Jesus! Can you imagine that?"
(Laugh) "Not really!"
"But I'd say it's the worst in Britain; the kids there are really rabid about their favorite bands. I think it's because they have nothing else to do there, and their football teams and rock bands become the centre of their lives. It's scary; you look into their eyes and they're absolutely gone, and it's not drugs; it's like some kind of religious mania, like they're disciples or something."
"Yeah, I see what you mean. That would be spooky. But I've traveled a bit in Britain, and I really liked it there. Especially up in the highlands of Scotland, I did some walking around in the wilder parts and I thought it was incredibly beautiful up there."
"Oh I know, I like Britain too, there are a lot of beautiful areas, and many more I'd really like to visit someday. I really liked Wales, the Lake District, the Cotswolds and the Pennines, they are fantastic areas, and I'd love to visit the West Country one day. London is still one of my favorite cities too, it's a special kind of place to me, as I used to live there when I was younger."
"Really?"
"Yeah, when I was eighteen I put my drums and records in a crate and moved over there for about a year and a half."
"What did your folks think about that?"
"They were always pretty good about helping me out. They wouldn't just give me things, but they would help me get them for myself. Like, when I wanted to get my first set of good drums, my Dad would sign for the loan, but I was responsible to make the payments. And when I wanted to quit school and try music full-time, of course they didn't like it, but they agreed to a one-year trial period, at the end of which I was supposed to go back to school if nothing was happening for me. My mother was often my ally in unpopular campaigns like that. Of course once I got out I never went back to school, and then when I had the bright idea about going to England, they agreed to match whatever money I could save, giving me a bit to live on when I got there. Imagine- I got a charter flight for less than two hundred dollars, how times have changed! So then my parents gave me another two hundred to survive on as long as I could."
"What were you doing over there? Were you playing in bands or what?"
"Well, the idea was to get 'discovered', and to find fame and fortune, but of course it was much harder than I'd thought. I ended up working for a chain of souvenir shops around Carnaby Street and Piccadilly Circus, and eventually getting into some semi-pro bands. At one point I quit work and toured around the north a bit in one band, but we were soon out of work and starving, so I ended up back at the 'real job'. But I learned a lot about music, and more- about life- and it was probably the most important period of my whole life. I'd never lived on my own before, and had never traveled any farther than to "Expo 67" in Montreal, so it was a big eye-opener for me."
"It must be great going back there now!"
"It sure was the first time, especially playing at the Hammersmith Odeon in London. That ranks right up there with the first time we played Massey Hall in Toronto, like a hometown gig."
"But you don't like working there now?"
"Well, as much as I enjoy traveling in Europe- though preferably by bicycle!- it really can be difficult working over there. Apart from the technical difficulties in those small old buildings, the fans are just too much; for a guy like me, anyway. You can't walk out on the streets in the daytime; sometimes you can't even open the curtains of your hotel room; and going to the hall or back to the hotel after the show there will be a mob of people everywhere, with nothing better to do than hang around in the hopes of an autograph or a glimpse of you going somewhere else. It's like running a gauntlet. And it's not like you're doing anything worth cheering about, just getting into a car or something, but you have all these strangers yelling at you for nothing. It's too weird for me.
"At least in the States life is a little bigger. There are so many things to do, and the kids are more active as well. Music is a part of their lives, and so are sports, but not their whole lives. They don't get so fanatical about it, in general anyway. I think it helps that there is lots of space around them, and other places to go, other things to do. And if they don't have access to a car they know someone who does. They can go skiing, bowling, rollerskating, swimming, dancing, running, hiking, bicycling, so many things- even go mountain-climbing, or to the movies, meet their friends at the local diner, get a job- or just lie around and watch TV twenty-four hours a day. Life is big. And I suppose having a bit more money- and more television and radio to choose from- helps to broaden their lives as well. The kids aren't really different anywhere, but their lives sure are."
"Yes, that's certainly true. I couldn't believe the difference when I first moved from Germany to the States, and it would be even more different coming from England. But you can't tell American kids how lucky they are, they have no idea."
"Like everybody"
"Yeah."
We crossed the Saddle, and began working our way down the undulating ridges of the Alpine moorland, among the tufts of grass and the stunted heather bushes. It was painful everytime we had to go up one of the ridges, but we pressed on without stopping, wanting to reach our destination before we surrendered to the fatigue. The hours passed quickly as we talked, and we soon passed "Last Water" and were working our way around the muddier sections of the trail lower down.
Eventually the group of huts that was Horombo appeared over a ridge, and we trudged wearily up the stairs of the main hut and went inside. Ingrid was there waiting for us, smiling "hello" and wanting to know how we'd done. She looked cold and bored, but cheerful as ever, and there were only one or two other people in the hut. It was quiet and peaceful, and I gratefully stretched out on one of the wooden benches against the wall, lying there with my eyes closed and enjoying the sensation of not having to move. The clouds had long closed in all around, and we were in a dimly-lit island between the clouds below and above. It was cold and bleak once more at Horombo, and I was still ravenously hungry, but my body and my eyelids felt heavy as I sprawled on the hard wooden bench. I dozed a bit, only dimly aware of the arrival of a few other groups, some coming down behind us, and others arriving from Mandara on their way up. The rest of the afternoon remained rather vague in my memory.
There was a tall, older, American-sounding man I'd noticed here and at Kibo Hut on the way up, and he sat down near me. I happened to be sitting up for a few minutes, and we fell to talking about the climb. He told me he had turned back at Hans Meyer's Cave, halfway up the scree, aware that it was going to be too hard for him, but he was not too disappointed. "After all", he said, "I'm sixty-four years old- you want to be young and strong for this kind of stuff!" I learned that he had actually lived on a farm here in Tanzania, over fifty years ago when he was a boy, and had also lived for a while in Kenya, in the so-called "White Highlands", and this was his first trip back since that far-off colonial time.
"It must have been wonderful in those days", I said to him, thinking of all I'd read about the early days in East Africa, and he told me that it had indeed been a fantastic place and time, but that even then people knew it was too good to last.
There was another group of exchange students from the Dar es Salaam University, this being a break between semesters, but these ones were a different breed from our three- or four counting Karen. They were studying here in Tanzania under the sponsorship of the Lutheran Church, which was much scarier to me than Greg being under the aegis of the US Marines, and you could see why he, Michael and Ingrid had chosen to travel together, being misfits not only to their African fellow-students, but also to these less-serious, shallower fellow-Westerners. They were all better-dressed and had nicer hair- but they didn't seem to have much to say.
Greg, Michael and Ingrid had each had a different goal in mind for their travels during this break; Greg had wanted to visit Somalia, as he'd once written a paper on that interesting country, and wanted to see if he'd been right about it; Ingrid had wanted to visit some game parks; and Michael wanted to visit Nairobi and the coast; so they'd all decided to pool their resources and their goals, and "do" Kilimanjaro together before trying to cover all the other places. When they were discussing their future plans that afternoon, and talking about different parks they could get to, one of the Lutheran group told them: "Don't go to the Serengeti, there's no game there right now. All the animals have migrated to Kenya."
Well, I didn't say anything at the time, but I sure wondered where all the animals I'd seen in the Serengeti had come from, and I privately let the others know that they certainly wouldn't regret a trip there, if that's what they decided to do.
Once again, I felt lucky to have been a part of this group; I don't think I would have fit in with these new people either. Kees told me that he had been having some really good conversations with Michael as they walked together, and that meeting these three young people had made him feel a lot better about the youth of today. That was nice to think about, and I understood what he meant. For my part, I was astonished to learn just how young some of our fellow-climbers were. I'd been surprised to learn that Greg was only twenty-one, but when I learned that Dom was only nineteen, I was truly shocked. I do have a problem seeing myself-as a grownup, and consequently tend to see all "real" adults as older than me, as perhaps everyone does, but with Dom's educated, well-modulated upper-class accent, and his overall mature demeanor, I had-put-him closer to thirty. It's not so much that it made me feel old, as it made me realize that I really had to start facing the reality that I was a grownup now- though my work probably helps to keep me a frozen post-adolescent. And that's okay."
Greg and I asked Kees if he'd thought to look at his little thermometer on the peak; if he knew how cold it really was up there, but he answered that he'd actually forgotten to look, he was so occupied with the physical strain of it. Well, it was cold enough, that's for sure!
We had left a bit of firewood behind us here from the pile we'd all contributed to the other night, and Dietrich had put it upstairs in the main hut, with a sign saying "Do Not Touch". But, perhaps not too surprisingly, the sign had been ignored and the-wood was gone. (Bloody tourists!) So once again some of us went out to forage for something to burn, knowing how good a fire would feel in the cold darkness later.
It was now getting close to twenty-four hours since I'd last eaten, and thus food was much on my mind through the afternoon. Dinnertime finally came, and even the same plain meal of potatoes, cabbage and unidentified meat had the effect of a feast. Perhaps they starve you all day so you won't start-complaining about the same old food. I treated myself to a capful of whisky before dinner, and since Dom had lost his "victory whisky" to the guides up at Uhuru, leaving the "Y" group without the wherewithall to toast their success, I put my flask on their table and invited them all to help themselves. Also, now that we were on the way down, the ban on stimulants was lifted and we were given a pot of instant coffee after dinner, which was a treat (sort of- it was pretty bad coffee!).
A full stomach was the final crowning touch on a long and tiring- but very satisfying- day, and by 7:00 I was heading for the sleeping hut. I figured that I'd been averaging about four hours a night for the last four days, and I wanted to do some catching up. I took my boots and jacket off, but left the rest of my clothes on in deference to the cold, and climbed into the sleeping bag, laying back in the cold darkness with a sigh of satisfaction and a quiet smile of triumph. I would have paid a lot for a hot bath, but it wasn't worth thinking about right now.
Mundu utari mburi ndendaga nyama.
People who have no goat do not desire meat.
(Kikuyu Proverb)
---
20- the last march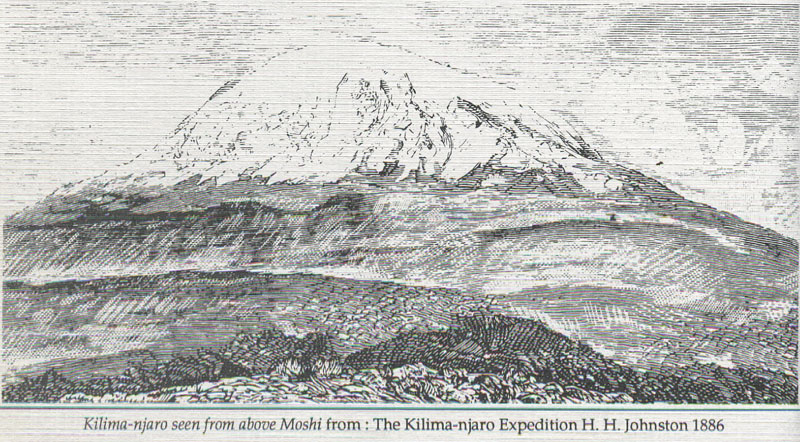 The sun was bright in the early morning, and we gathered in the main hut for our last breakfast on the mountain. It was the usual and by now tiresome slice of papaya and thin white bread, spotted with dabs of hard margarine and vile, sickly-sweet "mixed fruit" jam. There may have been some "wallpaper paste", but if so I've blotted it out of my memory. There had been an occasional hard-boiled egg on the first couple of days, but I suppose they were all gone by now. Even the formerly better-fed members of the "Y" group were no longer enjoying the glory of bacon and eggs. All I could think of was how nice it was going to be to get to Kibo Hotel- a hot shower, a shave and a good meal, followed by a sleep in a warm place.
I waited impatiently for Greg to get himself organized, then we struck off down the trail once more. As we crossed a small stream in a gully I saw that it was covered with a thin skin of ice, evidence of the coldness of the nights up here. Our muscles were still sore and tired from the day before, and the blisters on Greg's feet were giving him a bit of pain, but we felt better from a good night's sleep, and the knowledge that this was "the home stretch".
We warmed up our conversations for the day with my remark on how amazed I was at some of the things I was learning about Africa through reading the writeups on different countries in Africa On A Shoestring.
"I was reading about one of the countries, I can't remember which one, where when the king died they had a period of mourning for two and a half months or something, when nobody was allowed to work, and even sexual intercourse was prohibited, with a penalty of flogging. That must have been difficult to enforce!", I laughed.
"That's Swaziland!", said Greg, "that's where I went to school for my first year of university, and it was just after all that happened. The king had had a hundred wives, and the most senior of them, called 'The Great She-Elephant', was the one who proclaimed the mourning period. They had a big power struggle when the king died, because he had about six hundred children, and about two hundred of them were contenders for the throne: It was a wild I time to be there. But one of my favorite ones is the country that used to be called Upper Volta, with a government completely riddled with corruption. They had a takeover, and the new rulers changed the name of the country to Burkina Faso, which means 'Land of the Incorruptibles'. The new government was later overthrown of course, under charges of- what else?- gross corruption! Africa can really be an amazing place to learn about."
"So I'm beginning to discover!"
We wound our way down the trail, up and down the corrugated ridges along the dirt path. As the sun rose higher in the sky, it grew a bit warmer. We began to meet a few porters on their way up from Mandara Hut, and we greeted them with a pleasant jambo, and moved aside to let them have the trail. Greg and I had decided to show more courtesy than we had received on our way up, and to give people climbing the right-of-way.
"This is the opposite of the cross-country skier's code", I told Greg, "there the skier coming downhill has the right of way on the trail." But here I figured that climbers should have the right-of-way, as theirs was the tougher task, and since we were on the way down we could afford to be magnanimous. I happened to be wearing a New York Yankees baseball cap, as it was the only hat I had with me, and a couple of the passing porters asked if I would give it to them. I declined as graciously as I could, but I wanted to keep it. Others would ask us for cigarettes, or T-shirts, but we had nothing to give. One of the porters rested against a rock as we went by, letting his load down from his head for a moment, and he kept repeating something that at first we couldn't understand. Then I figured it out; he was saying "sweet, sweet?"- asking us for some candy. "Sorry", we said, "we have no candy." If we had, I would certainly have eaten it yesterday!
We said 'hello' and 'good morning' to more climbers we began to encounter on their way up, and saw that some of them were sticking together in large groups the way Geoff's had done. We moved aside to let them pass as well, and you could see that some of the people were already finding it tough going. And this was by far the easiest part- they still had a long, hard way to go, and I mentioned to Greg that you had to hope they'd wise up and start splitting into smaller groups of more equal abilities.
(Even though, of course, "any reasonably fit person can make it!")
Our conversation moved on to television, and Greg was saying that the only show he had ever bothered about watching at home was 60 Minutes.
"Well, I agree that it used to be an interesting program, but in the last couple of years they seem to have gotten pretty thin on scandals to. uncover. Lately they seem so desperate they practically make things up, or at least exaggerate small issues into big molehills. When I saw that program where they proved that a Jeep would turn over if you went around a corner too fast, I started to wonder. Talk about stating the obvious! To go to a lot of trouble and expense to prove that a vehicle with the highest centre of gravity of any car, and a short wheelbase as well, would not corner like a Ferrari seems a bit desperate. And then they went from desperate to irresponsible, with that whole Audi 5000 business. Did you hear about that?"
"No, what was that about?"
"Well, there was this thing called the "Unintended Acceleration Syndrome', where some people were complaining that when they went to put their automatic transmissions into Drive, the car would take off by itself at full throttle, and the brakes would simultaneously fail. There were stories of people being killed or badly injured, and then blaming the car for it. It reminds me of what happened in California a few years ago, where two women were racing around in a Porsche 930 Turbo, and smashed it up. The driver was killed, and the passenger tried to sue Porsche for selling a dangerous car- because it was 'too powerful for the average driver'. And incredibly, she won!
"But anyway, 60 Minutes got hold of this Audi story, and blew it up to the point where the Audi 5000 was portrayed as a murderous monster with a mind of its own, and overnight the car's image was destroyed, with acres of unsold new Audis piling up around the country, and the resale value of used ones becoming practically nil. These "TV experts' decided the blame lay in faulty electronics, but to this day no real cause, nor a single evidence of brake failure, has ever been found. At the time the Audi company made themselves look insensitive by claiming that it was just people hitting the wrong pedal by mistake, but I wouldn't be surprised if that's true. If you think your foot is on the brake pedal, and the car's not stopping, you're just going to keep pressing the same pedal harder, and if you feel stupid later when you realize your mistake, what better than to blame the car? It's pretty obvious human nature really. As one car magazine pointed out, there's no car that can overpower its own brakes- if the driver has their foot on the brake pedal, as any sensible person would when shifting an automatic transmission into Drive. Though the so-called syndrome, and-subsequent lawsuits, have since been directed at virtually every single car-maker in the world, it's the Audi 5000 that still has the 'killer image', all because of what I see as pretty irresponsible journalism."
"That's incredible."
"Yes- literally! So I don't have much use for that program anymore. Though it's true, they used to do some good work."
We had crossed the barren country of the Alpine-moorland, and below us we could-see the dark green mass of the Cloud Forest. As the trail meandered its way down toward it, I said to Greg how nice it was to see trees again, after days in a bleak and featureless landscape. As we reached the first tree along the path, I reached out and patted its bark, as if greeting an old friend. Our environment had been so open and limitless, that it was somehow comforting to feel the trees closing in around us, a sense of shelter and protection. The hard light became soft, filtered through the leaves, the moss and the lichens, and it was nice to be returning once more to that submarine diffusion of the deep woods.
Soon we were climbing down that irregular stairway under the canopy of foliage, over the roots and slippery damp earth, to emerge from the trees into the clearing around Mandara Hut. We took a break here, and I went behind the hut to remove my long underwear and one of the sweatshirts, as we knew that from now on it would only be chilly, rather than truly cold. I joined Greg on the front porch of the hut, and we sat down to eat our lunches, once more the small dry sandwich and a small orange. Other than the misleading description of the easiness of this adventure, the inadequacy of the food- especially compared with the "Y" people- would be the only complaint we would be making.
Ungiria irio cia muthemba umwe iri kinyiria.If you eat ever of the same food, it becomes bitter: it is a good thing to change.
(Kikuyu Proverb)
Dom, Dietrich, Jean and Karen were soon gathered here as well, and they would be paying off their guides and porters at Mandara, rather than back at the hotel as we would. I watched with interest as another group negotiated with their "support crew". The group consisted of three European girls and a big Japanese fellow, and he was trying to bargain with their guide. There was some discussion over the amount of the tip, which was deemed insufficient, and an argument ensued which drew all of the guides and porters to gather around the porch. About fifteen of them circled around him, as the Japanese man was trying to explain that this was all they could afford, and that "not all people are as rich as others", a point which was perhaps not taken the way it was intended. I'm sure that he felt a little intimidated, being seriously outnumbered here, and as Greg and I were shouldering our packs to set off on the last stretch, they seemed to reach an agreement, more money changed hands, and the crowd began to disperse. I guess what Nigel had been telling us was true; that the tips are more an obligation than a gratuity, and the guides will argue for more if you don't give enough!
We moved down a gentle slope, and then across the grassy plateau where we had encountered Iain and Alison that first day- so long ago. We were talking again about alcoholism and drug addiction, and I was saying to Greg that it was nice he didn't have the "born again" condemnation of others that so many people have when they give up their vices.
"Well, I used to be like that at first, and it really bothered me to see other people drinking, but it doesn't anymore. You have to realize that something that's a terrible problem for you can be simply a pleasurable habit for other people."
"That makes good sense, and it's nice you can be so- ah- generous about it. I guess it's like former smokers looking down their noses at people who continue their 'disgusting habit'. Personally I have the idea that a lot of times it's just jealousy- they wish it was them lighting up and taking that first drag. It's certainly like that for me, I love smoking, and if it weren't for the obvious negatives about it I would smoke forever. I am kind of an on-again off-again quitter, but when I'm not smoking and I see someone else with a cigarette in their hand, I have a feeling that seems like disgust, but it's really more like envy."
"Perhaps you're right about that, that was probably my response in the beginning. These days it's something I just accept. And I'm the same way with drugs, even marijuana, I stay away from everything because I know that I have an addictive personality."
"That old X Factor."
"Yeah."
Although we were now on the last trail, the final stage of the descent, it seemed much longer than it had on the way up. Even so, it was not unpleasant. The sky was overcast so it remained cool, the lush undergrowth and tall trees were pleasant to look at, and the gentle downward path wasn't hard to negotiate. We were discussing leadership, as it applied to Greg as an Officer in the military, and as it applies in other walks of life.
"It seems to me", I said, "that the division between, say, management and labor, or for you, officers and enlisted men, is an inescapable one. You can certainly try to make it as friendly and humane as you can if you happen to be on top, but the 'buddy-buddy' approach never really seems to work. | was thinking of that movie Platoon, with that officer who kept trying to be pals with his men, and consequently got no respect from them. Did you see that movie?"
"Yeah I did, and that part was very true. If you're an officer you've got to realize that you'll never be accepted as 'one of the guys'- I guess it's really better to be like that C. O. I was telling you about- I HEAR LITTLE TINY WOODPECKERS AT MY DOOR! (laugh) Have you seen Full Metal Jacket?"
"Not yet, no, but that's one I'd really like to see, I like Stanley Kubrick's work a lot. Did you like it?"
"Very much, yeah, it was a good picture of what it's really like in the military. It's a heavy movie."
"I really love that title too, but what does it mean?"
"I can't tell you; but you'll find out when you see the movie. That too is a heavy thing."
"Okay, okay. I'll see it. Somewhere I saw an old car ad, for Cadillac I think it was, where they used the phrase 'the penalty of leadership', and I suppose that's really what it's all about. Everything has its price, and if you're going to be a leader, there are certain sacrifices forced upon you. I guess officers have to set themselves apart, and almost appear 'larger than life' to their men. They can't eat with them, or even go to the bathroom in the same place, they have to create a kind of illusion of being above the mortal, of being deeply and truly different. They can't hope to be liked by their men, but they have to have respect."
As we rounded a corner on the tree-lined path, we saw Karen ahead of us, accompanied by one of the guides. We carried on our discussion and our rapid stride, and as we caught up to them and started to go by, Karen turned and smiled at us; "It sounds like you two have interesting conversations!"
"Oh yes, we do", said Greg.
I added: "We've been saving the world, you won't recognize the place when you get down there. It's all different now."
"Yes", said Greg, "an end to nuclear war, famine, violence-"
"And the military spend all their time helping little old ladies across the street."
"Yeah, like Boy Scouts."
"Or if you need your house painted, or your grass cut, you call up the Army now!"
As we neared the end of the trail, we saw a few native women standing at a corner of the path, awaiting the return of their men, we guessed. And at last, there it was, the sign that marked the entrance to the park, and for us, the end of the ordeal. I genuflected before Hans Meyer's plaque. A smiling Nigel came striding up to ask how we'd done, and when I told him I'd made it to Uhuru, he said: "I knew you would. Sometimes you can just tell about people, and I felt sure you'd get there."
And we went over to the registration hut to sign out, where I was proud to write down "Uhuru Peak" in the space where you put how far you'd gone. I sat down on a step near the sign at the bottom to wait for the others, weary but satisfied. Nigel handed me back my wallet and passport, and I'd forgotten totally by now that I'd been "without identity" for the past five days. I decided it was a nice way to be, and was reluctant to take them back!
When I went to stand up after sitting for about ten minutes, I couldn't believe how painful it...