Pedals Over The Pyrenees
(Or "Spain And Spokes And Trains")
By Neil Peart, 21 pages, limited edition of 65 copies privately published in 1988, the first four chapters (of a total of 12) transcribed by GeddyOnDime and John Patuto
---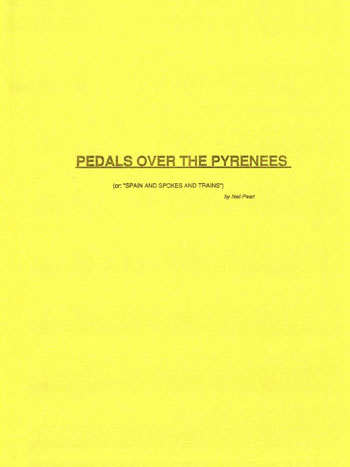 Here follows the chronicle of a voyage across the Pyrenees by bicycle, from Barcelona to Bordeaux, and then by train to Paris. The trip was undertaken by five of us in June of 1987, and stretched over ten days and about 600 miles of cycling.

The notes for this journal were kept by way of a mini-cassette recorder, on which I recorded thoughts and observations, passing sounds, songs and even jokes, while on my bicycle, on trains and planes, and even under the ground in caves.
---
Day 1 - "A Thief In The Night"
(or, "BIG BANGS IN BARCELONA")
Barcelona
Since I had driven down from Paris a few days earlier, I was already waiting outside the Gran Via hotel in Barcelona on the morning of June 20th, a Saturday. It had rained the night before, but the sky had cleared through the morning, leaving the day clear and sun-washed.
The boulevard in front of the hotel is wide, with the main thoroughfare separated from outer lanes by raised islands of paving stones and park benches, the sunlight dappling them through the leaves of the plane trees. I settled myself on a bench to await the arrival of the others - Bob and Rose Marie Boysen, Gay Burgiel and Henry Kane. I passed the time by cleaning and oiling my bicycle, as it was a little the worse for wear after a couple of months of daily commuting across Toronto and Paris. Then I went across the street to buy an International Herald Tribune to do the crossword puzzle. There on the front page was a story about a bomb going off here in Barcelona yesterday, killing 15 people and injuring 30. Great! This made me a little nervous at each loud noise in the street, and it happened to be a day when people were shooting off fireworks all over the place - big ones too!
Just as I was beginning to worry about them a little, my fellow-travelers came pedaling (the wrong way) up the street. After a rather, ah, stimulating ride from the airport, they were glad to get checked into the hotel and ride off with me on their now unladen bicycles. We stopped in an outdoor café in the wide and sunny open area of the Plaza de Cataluna for lunch.
I had first met Bob, Rosie and their neighbor Gay on a cycling trip in China a couple of years ago, and we had toured together with Henry (and Mimi and Bill) on the "Boysentours Transalpine" trip from Munich to Venice in 1986. Since then I had become a long-distance member of their cycling club, the Western Jersey Wheelmen. The Boysens are the consummate tour organizers, Bob preparing maps and charts of the route, side elevations of each day, as well as possible variations of the route, while Rosie sifts the Michelin Green and Red guides for places of interest and good places to stay. Thus a Boysentours trip is an organized one!
It was great to see them all again, and to sit together at a sidewalk table beside the busy streets and the exotic, somehow decadent buildings of Barcelona, talking about the travels we'd shared - and the travels to come.
With a few days of exploring the city behind me, (though not by bicycle) I was nominated as "Guide For A Day" to lead our group to the sights. Because I had been very much taken with the works of the (literally) fantastic architect Antonio Gaudí, I led the others to his outrageous cathedral, the Sagrada Familia, to see the paramount example of his visionary, utterly original 'art-nouveau, ice-cream-Gothic" style. Though work on it was interrupted by his death in 1926 (he was run down by a Barcelona streetcar!), it remains an awesome sight, even in its unfinished form. As Bob said: "That's definitely one of the most amazing things. I've seen in my whole life!" Yeah-me too.
It's a strange thing; when I had visited the Château at Versailles a few weeks before, I had been struck by a curious feeling of sadness. A similar mood had come over me while visiting the Forbidden City and the Summer Palace in Beijing, or wandering through the incredible excesses of Mad King Ludwig in Bavaria. It's difficult to articulate; I knew it had to do with a romantic longing for the remoteness of a bygone time, but mostly it was the contrast against what I knew to be the normal circumstances of life for the people who had paid for these incredible monuments to royal egos.
Looking at the equally overwhelming scale of a religious edifice like this one didn't bother me, reflecting that at least the money to build it had been given more-or-less willingly, and that their "donors" had at least received some kind of comfort - however spurious - in this monument to their religious devotion. I never thought to find more "nobility" in cathedrals than in castles!
Mysterious big bangs continued to go off all over the city throughout the day, setting the pigeons (and my heart) fluttering every time. Come on, you people - don't blow us up! We might be strange but we're not dangerous!
For days I had been staring up at the high promontory behind the city, the Tibidabo, where even at night you could see the brightly-lighted cathedral and amusement park at the very top. I was determined to ride up there in the afternoon thinking perhaps my newly-arrived and jet-lagged friends might want to rest a little, and I'd just head up there alone. But not a bit of it - not these guys, and after leaving Gay and Rosie to catch the funiculare halfway up, Bob and Henry and I began a meandering odyssey the rest of the way - the wrong way!
After a few aimless miles of dirt roads, we exhausted Bob's patience: - "I don't do dirt", he said - and turned back. But I was determined to get up there if I had to carry my bike, and Henry is crazy anyway, so together we bounced and slid the rest of the way up. What some people won't do for a view!
That night we went out for dinner in the narrow streets of the Barrio Gothico, the Gothic Quarter, where there are walls still standing from Roman times. Afterward we took a walk along the bazaar-like (and bizarre, like) atmosphere of the boulevard called Las Ramblas. During the day the wide boulevard is a series of stalls selling flowers, plants, exotic birds and animals, and more prosaic newspapers and magazines. Day and night the promenade is filled with a colorful spectacle of street musicians, jugglers, acrobats, mimes, hookers and beggars. One of the more inventive of the latter even had vivid eyes painted on his eyelids, presumably to let him carry on his chosen profession while he slept! Among the songs and squawks of the tropical birds and he sounds of traffic, I also heard the international call of "hashish, hashish".
Some years ago Somerset Maugham apparently called Las Rambles the most beautiful street in the world. That kind of subjective opinion is of course always open to argument, but it is definitely an interesting place.
As we stood before one of the news kiosks while Henry bought a map, there occurred one of Life's Nasty Tricks. A purse snatcher stooped and ran low, grabbing a bag which dangled from the wrist of a tired Rosie. Bob, Henry and she were off in quick pursuit, followed by myself - a little slower on the uptake. I didn't catch what had happened right away, and there was also an accomplice who played a variable role as "interference man". He could distract the pursuers, block them, and also, he gave me the impression that he was a bystander assisting in the chase! It's interesting how an incident like that runs through your head in slow-motion for days. Why didn't I stick out a foot and trip him? Why didn't I go after him faster?
After a fruitless chase through dark narrow streets and a deserted, cat-infested marketplace, we regrouped back on the boulevard, where Gay had been left alone - wondering what to do if nobody came back! Henry told me later that, since he was the first in pursuit, as he went around the corners of those dark streets he was secretly hoping that he wouldn't catch up with anyone! Can't blame him really.
After all this unpleasant excitement came the tiresome ordeal of the Spanish police, obviously a pointless exercise, but a formality which has to be fulfilled. The inevitable morass of paperwork, telephones, credit card and traveler's cheque numbers, and worst of all - the lost passport and French visa - on a Saturday eight. Sleep would wait a few more hours, especially for Bob and Rosie.
---
Day 2 - "A Castle In Spain"
(or, "HOW I FOUGHT THE SPANISH CIVIL WAR")
Barcelona to Cardona
The decision was to F. A. R. - forge ahead regardless - but the next morning we were rather a somber bunch as we got up from the breakfast table, the rain streaming down the windows of the hotel dining room. Just as the Boysens made their last few phone calls to American Express and various consulates and embassies, the rain stopped, and we loaded up our panniers and cycled out of Barcelona. The riding was still treacherous, especially on the rain-slicked cobblestone streets, and it was good at least that it was Sunday, as the streets and traffic of Barcelona are not "cycle-friendly".
By the time we were out of the city, the sky was clear and the roads were good, rolling gently along beside cornfields, vegetable gardens and wooded hillsides. The road followed the route of the Llobregat river for the first forty miles or so, passing through some small towns. In one of these I was a little taken aback to see a soldier with an automatic rifle at the ready standing in front of the town hall. This is a vision which doesn't fit at all with the atmosphere of a sleepy Sunday morning in a Spanish village. Unfortunately though, it does fit with the tense atmosphere of the larger European cities these days. The popular European impression of North America as a violent place becomes ever more ironic, with their city streets and airports patrolled by guards wearing bullet-proof vests and carrying machine guns. (And bombs going off in Barcelona!) That kind of harsh reality always gives me a chill. Street crime is one thing - wholesale murder quite another.
There are also the political posters everywhere in these small towns, Communist hammers and sickles, as well as the ravings of the neo-Nazis (or "National Front", as the white-supremacists call themselves in England, France and here in Spain too). Violent racism is on the rise in much of Europe these days. At least we're usually spared those kind of extremist fanatics too.
I had been eager to see the mountain of Montserrat, as I have had some wonderful times on the island called Montserrat in the Caribbean. It was Columbus who named the island, reportedly for its similarity to this jagged mountain near Barcelona where there was a famous monastery. The monastery is still there too, perched high up on the stark and rocky cliffs, and there is indeed a resemblance to the rocky headland of the island. I took a bunch of photographs to send to friends on the island.
In the past I have often traveled without a camera, the better to absorb the atmosphere of places rather than trying to photograph it, but all the same have been glad to receive copies of other people's pictures. This time I decided to repay some of my photographic debts, and toc a lot of pictures of my companions to send on to them later.
Bob, Gay and Henry took the aerial tram up to have a look at the monastery itself, while Rosie and I decided we could do without that perilous-looking journey. The cable-car ride itself didn't trouble my anxieties, but if the thing ever stopped midway for any reason, I know I'd have "The Big One" right there. We went to find somewhere to have lunch. We had passed an outdoor café a couple of miles back, but right where we stopped there was a hand-lettered sign saying "BAR", with an arrow, hanging over a tunnel under the railway tracks. We decided that looked more interesting.
And here we entered a different Spain, following the sign through a crumbling tunnel under the tracks, and then along a little path to discover a wonderfully quaint little restaurant. No more than a few tables clustered under a grape arbor, it was run by a rustic old couple who greeted us warmly, and offered us a freshly-dressed goat carcass (with its internal organs thoughtfully still attached!), but instead we chose a cheap and simple meal of steak and pommes frites.
The others soon joined us there, having only spent a few minutes at the monastery, then ridden the cable-car down again. They had enjoyed the ride and the view, but they were hungry too! The old man looked after the drinks and the orders while he cheerfully chattered away to us in Spanish, not caring that we didn't understand a word, while his taciturn wife did the cooking. It was really a great little place, a real discovery for a tourist. I resisted the man's urging to take a brandy after lunch - though he assured me by sign-language that it was good for the pedaling!
The day was now sparkling, and the countryside here was growing more rugged and arid, rocky outcroppings of sandstone and granite with rather sparse vegetation. As the afternoon wore on it became greener and smoother, and we rolled over hill after hilt towards our first destination, near the village of Cardona. Rosie had sent us pictures and information on this stop, which was a tenth-century castle perched high on a hilltop, apparently visible for miles. Now it is run by the government as a Parador Nacional, a hotel with 65 rooms.
Both Henry and I came down with an afternoon attack of fatigue, that unpleasant sensation of weakness and light-headedness. Maybe it was from trying to learn to pedal, steer, breathe and talk all at the same time. Anyway, my voice on the tape was decidedly shaky for a while, and we both stopped at a snack place along the road for a "sugar fix". Perhaps a rest (and some ice cream) would help before we faced the long climb up the switchbacks to the Parador. It did the trick, we felt much better, and finally made the last steep turn into the forecourt of the hotel. It was wonderful to arrive there at last, and enjoy a shower and a Scotch on the rocks while looking over a magnificent view down to the little village below, and off to the rolling green hills in the distance.
It was a fabulous place to stay, a combination of authentic ruins and well-restored castle and we took a walk around it before dinner, spending some time talking in the late afternoon sun at the top of the highest tower. We had a well-earned and very good meal in the dining room, a bit of star-gazing back on the tower, then it was great to go to bed with the windows wide open, a cool fresh gazing back on the tower, then it was great to go to bed with the windows wide open, a cool fresh wind blowing in.
Before I fell asleep I was reading about how this castle had been a Republican stronghold during the Spanish Civil War, and soon I was asleep, dreaming of being a member of the International Brigade fighting against the Fascists. There I was, in the smoke and chaos of battle, shells going off around me as we defended it valiantly against Franco's armies.
I awoke to realize that the artillery of my dream was in fact a fireworks display from the village below us, and Henry and I stood at the window, looking down on it from our regal height. An interesting point of view from which to watch fireworks - even at 1:00 in the morning!
As with the fireworks all over Barcelona, we never did figure out exactly what they were about. There were no holidays mentioned in the guidebooks to explain it, though it could have been something purely Catalonian, rather than Spanish. This province is proudly independent, often agitating for Catalan independence and driving around with stickers on their cars proclaiming themselves to be from Catalonia rather than Spain. I was reading that the Citadel in Barcelona was built not to guard against invaders, but to keep an eye on the rebellious natives! The people of the province speak their own dialect called Catalan, and even street signs are printed in both languages.
Speaking of street signs, I saw an old map in the hotel in which many of the major streets had different names, after General Franco and his cronies. Apparently after Franco's death in 1975 they immediately changed the street names. Not surprising really, as Barcelona was the major stronghold of his enemies!
Between them and the neighbouring Basque people, they sure have their extremely provincial, even fanatical loyalties around here.
---
Day 3 - "The High Frontier"
(or, 'WHAT I DID FOR WATER")
Cardona to Andorra La Vella
We got an early start, heading out before breakfast and flying back down those switchbacks at about 7:30. It was a beautiful morning, fresh and cool, and the riding was lovely. That is - until Henry rode up beside me and said: "I hate to ask you this, but where are your water bottles?"
Well.
I looked down at the empty cages on the frame, and my heart sank. Of all the mornings to have left them on the steps of the hotel, it had to be when they were two miles uphill behind me. Of all the stupid things I've done - that's certainly one of them.
Quickly weighing the options, I decided to go back for them, and in fact it wasn't so bad climbing that hill again, this time in the cool morning and without being already tired from a day's ride. I ended up about a half hour behind the others, but they promised to wait for me at breakfast. It was to be quite a hilly morning, so there was plenty of opportunity to make up time on the long uphills, when I knew Gay would be keeping her own relaxed pace.
This was already developing into a day of long steady climbs, giving me leisure to reflect on the quality of European diesel smoke - something that would become a personal crusade for me. It really is time Europe did something about its air. It's hard to believe they still haven't adopted pollution controls of any kind - especially with demonstrable effects like the decay of the Black Forest in Germany and the forests of Scandinavia. With all of those unburned hydrocarbons floating around, plus the amount of coal that is still used as fuel, the air in the cities is noticeably black. And with all of those trucks and buses, and a large percentage of the cars as well, all burning a particularly foul type of diesel fuel, it really gets to you on a bicycle. I'm sure they use an even cheaper grade of diesel fuel over there, and its smoke is very acrid and unpleasant in your face, especially going uphill when both you and the trucks are laboring!
We had been discussing the night before how even in North America there are no pollution controls on diesel engines, and Bob was saying that it's only because of the strength of the bus and truck lobbying groups. I must admit I had imagined a less cynical reason. I'm thinking of taking over the "PTL Club" to start an anti-diesel campaign - just send five, no fifty dollars, to me...
To conclude my ecological soliloquy, as with poison-spewing factories in economically depressed areas, where a crackdown would cause jobs - and votes - lost, it's a shame when the power of these non-elected political bodies and lobbying groups cause more environmental damage than any amount of self-serving bureaucrats and industrial tycoons.
So there.
Ahem. I caught up with the rest of the group at a small café in Solsona, where we completely eliminated their day's supply of pastries. We left that town by another long, long steep climb, then rode along the top of a ridge. At the top we met an old man who had just humbled us by making the climb on a lady's 3-speed bicycle. Bob spoke to him in his halting Spanish, and learned from him that he was 75, that we had all just made a 5 kilometer climb, and that it should take us about 3 or 4 hours to make it to Andorra La Vella, our destination for today. Andorra La Vella is the capital of the principality of Andorra, which is one of those little independent territories like Monaco, Luxembourg and Liechtenstein which have somehow survived the political ravages of Europe intact.
It was also along here that we saw the Pyrenees for the first time, seeming very near and very high. We reached Bassella, where we turned north to follow the Segre River, making pretty good time along the gently rising road.
It must have been a quiet day for the local constabulary, the Guardia Nacional, Provincia, Urbana, or Civil - whichever branch of the ubiquitous (except of course when you're having your purse snatched) authorities it was that pulled us over later that morning. That's the first time I've ever been pulled over by the police when I was traveling by bicycle! It turned out that they wanted to warn us to ride single file - although we were all sure we had been. Like I said, it must have been a quiet day for them. Needed someone to talk to.
We stopped for a bountiful lunch in the town of La Seu d'Urgell, where I noticed that it was 85 degrees in the shade, then crossed the frontier into the principality of Andorra. Rosie's lack of passport and visa was no impediment here, as we were carelessly waved through, and we would hope for the same treatment at the French border. Telephone calls to the American consulates had resulted in no more than a noncommittal admission that the French authorities might let us through. On the other hand...
The valley through which we continued to ride was quite beautiful, with stone ruins high above us, many impressive rock formations with green vegetation sprouting among them and statuesque poplar trees along the road. (I was interested to learn that the name "Los Alamos", where the first atomic bomb was developed, means "the poplars".)
But this all soon gave way to the heavy traffic and duty-free shopping mall that is the town of Andorra La Vella. "A popular principality", Bob remarked as we rode along. "Indeed", I replied, "And a prosperous one", as we were now being passed by Mercedes, BMWs and the kind of up-market cars that were scarce in Spain.
(A brief aside on the Spanish automotive scene. The greatest majority of the cars on the road are French; Renaults, Citroens, and Peugeots; though there is a native make called SEAT. As with the Russian LADA, in order to build the cheapest car possible they had simply bought the outdated manufacturing machinery from FIAT. Thus they could build superceded FIAT models, without the trouble and expense of designing and tooling up for their own cars. As proof of their success, I noticed in Automobile magazine that the SEAT was voted the worst car in the world! Well done, guys!
There are, however, a couple of bright lights in their past; the Hispano-Suiza, one of the queens of the Classic Age, and the Ferrari-like Pegaso sports car of the fifties. The latter has left its name on a truck grill, its heritage nowhere.)
We had all been picturing Andorra as a kind of idyllic mountain kingdom, something like we had experienced together in Switzerland last year. Unfortunately it is quite a different sort of place. The narrow streets are jammed with traffic - cars from France and Spain, tour buses from England, Germany and Holland - and the rows of garish shops all selling the same cameras, portable stereos, video cameras, perfume, liquor, cheap souvenirs etc. - rather like a European Hong Kong. There is nothing quaint or "old-ee world-ee" about this place, I guess it has literally commercialized itself out of existence. Apparently though, the remoter valleys retain their character and charm.
The principality itself dates back to 1278, with dual allegiance to France and Spain being established by the feudal bosses of the time. It has an area of only 179 square miles, and a population of about 30,000 mainly Catalan speaking people. They have no taxes or military service, and postal services are provided by both the French and Spanish governments.
I was reading that in the government building there is a cabinet housing the national archives. There are seven locks on the door, a key to one lock being held by each of the leaders of the country's seven parishes. How delightfully archaic and romantic!
The first surfaced roads were not opened to Spain until 1913, and to France until 1931 - though it seems they've made up for lost time. Like the Swiss, they have a historical reputation as smugglers, and they also have the dubious distinction of having the highest per capita registration of cars in the world - with the lowest registration of drivers. The reason for this is a large business smuggling French cars into Spain!
It was interesting that the highway in both directions was littered with boxes from cameras and lenses, and instruction books for car stereos and components, as their French and Spanish purchasers "eliminated the evidence".
We arrived at the (thankfully) pleasant Eden Roc hotel near the middle of the busy town at the end of 116 kilometers - 72 miles. From now on I would be sensitive to the quality of the hotels, as I would be choosing them! Rosie had brought a sheaf of photocopied pages from the Michelin Red Guide, which I took over and made choosing and booking the hotels my contribution to the tour. Besides, once we got into France it would help to justify a few years of expensive Berlitz lessons!
After a good dinner in the hotel dining room we turned in early, as we would be getting up and leaving around 7:00. It would be a tough morning; at the end of 18 miles of continuous climbing we would reach the high point of our tour - in altitude if not in beauty. The Port d'Envalira is, at 2407 metres (almost 8000 feet), the highest pass in the Pyrenees, and marks the watershed between the Mediterranean and the Atlantic. It's also a hell of a climb!
---
Day 4 - "Over The Top"
(or, "THE HIGH HARD ONE")
Andorra La Vella to Foix, France
Once again we were on the road before breakfast, to get in some distance during the cooler hours. We stopped at an outdoor restaurant in the little town of Canillo, and ordered everything we could think of a Spanish word for, from naranjus to huevos (orange juice to eggs). It was to be a longer, higher and steeper climb than even our route over the Simplon Pass in the Alps last year, and it was funny (and a little frightening) to see Bob navigating by a map of our vertical route for today.
The road led up above the tree line, through some beautiful country. Rocky peaks with snowy patches, valleys carpeted with grasses and flowers, ski resorts, waterfalls - and empty camera lens and cassette player boxes. These things you have time to observe on a bicycle - especially climbing at about 5 miles an hour! Whew!
After the last few miles of endless switchbacks, a dozen or more, we finally reached the top. The summit itself is called the Port d'Envalira, and as a pretty unrewarding destination. Bob arrived there first, followed by Henry and myself, and we walked around the unprepossessing area for e few minutes while we waited for Rosie and Gay. The landscape was blasted gravel and pretty torn-up looking, with a few sleazy gas stations, seedy restaurants and an abandoned radio station. Another big contrast from the beautiful and breathtaking vistas from the Simplon. Also the Pyrenees seem to be a little more closed in than the Alps, which took away from the sense of spacious and majestic beauty.
After a while I noticed that there was a steady stream of garbage trucks arriving at the top, and turning onto a dirt road which led towards an ugly column of dark smoke. Imagine! - they hauled their garbage up here to the highest point to burn it, so that the smoke would drift far away - to Spain or France!
Before they started developing this country they should have sent someone to look at Switzerland - to see what a wealthy mountain kingdom should look like!
Without even pausing for the ceremonial picture - we'd all worn our Western Jersey Wheelmen colors of course - we took off down the other side, coasting now in the cool air: Make that cold air. I was glad I had my winter gloves to put on, as we went faster and faster, switching back and forth down the mountainside for mile after mile. It was glorious, and one occasion when riding into a headwind was not a problem.
We crossed the border into France with barely a pause, much to Rosie's relief, and then picked up the road along the Ariège River. This would take us all the way to Foix, our destination for the night. It was much greener on this side of the pass, the villages were nicer to look at, and the roads were in better condition. (Exactly the opposite of what we'd found crossing from Switzerland into Italy last year!)
We stopped for lunch at a little town with a big name - l'Hospitalet-pres-l'Andorre - and had a terrific meal to celebrate our "conquering of the Pyrenees". Omelettes, crêpes, a huge tray of pommes frites - it was great to be in France again, where it's against the law to serve bad food!
We continued downhill, through the pretty little spa town of Ax-les-Thermes, and along the smooth Route National N20 which paralleled the Ariège River and led us the rest of the way to Foix.
After a 97 kilometre day (though it felt like more), we arrived at a nice modern family-run hotel. After we got settled in and cleaned up, Gay, Henry and I enjoyed walking the 2 kilometres or so to town for dinner, while Bob and Rosie arrived by bicycle - (as Bob is allergic to walking!). It was another fabulous meal, in the "19e Siecle" (19th century) restaurant overlooking the river in the centre of the pretty little town. After dinner we all made our leisurely way back, wandering through the narrow, winding streets, with a medieval castle towering above us.
It was nice once again to be able to sleep with the windows wide open. Henry (Henri, now that we're in France!) knows I love the fresh air, and always lets me have the bed nearest the window - what a good room-mate!
[End of Chapter Four]