Pedals Over The Pyrenees:
Or "Spain And Spokes And Trains"
By Neil Peart, 21 pages, limited edition of 65 copies privately published in 1988, the first two pages transcribed by "GeddyOnDime"
---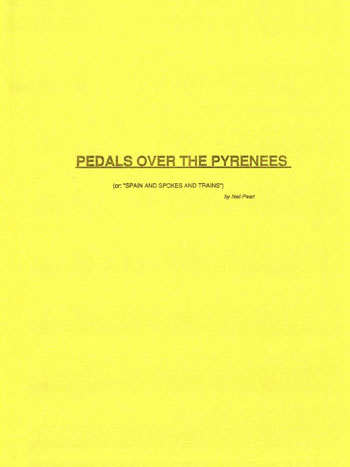 Here follows the chronicle of a voyage across the Pyrenees by bicycle, from Barcelona to Bordeaux, and then by train to Paris. The trip was undertaken by five of us in June of 1987, and stretched over ten days and about 600 miles of cycling.
The notes for this journal were kept by way of a mini-cassette recorder, on which I recorded thoughts and observations, passing sounds, songs and even jokes, while on my bicycle, on trains and planes, and even under the ground in caves.
Day 1- "A THIEF IN THE NIGHT" (or, "BIG BANGS IN BARCELONA")
Barcelona
Since I had driven down from Paris a few days earlier, I was already waiting outside the Gran Via hotel in Barcelona on the morning of June 20th, a Saturday. It had rained the night before, but the sky had cleared through the morning, leaving the day clear and sun-washed.
The boulevard in front of the hotel is wide, with the main thoroughfare separated from outer lanes by raised islands of paving stones and park benches, the sunlight dappling them through the leaves of the the plane trees. I settled myself on a bench to await the arrival of the others- Bob and Rose Marie Boysen, Gay Burgiel and Henry Kane. I passed the time by cleaning and oiling my bicycle, as it was a little the worse for wear after a couple of months of daily commuting across Toronto and Paris. Then I went across the street to buy an International Herald Tribune to do the crossword puzzle. There on the front page was a story about a bomb going off here in Barcelona yesterday, killing 15 people and injuring 30. Great! This made me a little nervous at each loud noise in the Street, and it happened to be a day when people were shooting off fireworks all over the place- big ones too!
Just as I was beginning to worry about them a little, my fellow-travelers came pedaling (the wrong way) up the street. After a rather, ah, stimulating ride from the airport, they were glad to get checked into the hotel and ride off with me on their now unladen bicycles. We stopped in an outdoor caf? in the wide and sunny open area of the Plaza de Cataki?a for lunch.
I had first met Bob, Rosie and their neighbor Gay on a cycling trip in China a couple of years ago, and we had toured together with Henry (and Mimi and Bill) on the "Boysentours Transalpine" trip from Munich to Venice in 1986. Since then I had become a long-distance member of their cycling club, the Western Jersey Wheelmen. The Boysens are the consummate tour organizers, Bob preparing maps and charts of the route, side elevations of each day, as well as possible variations of the route, while Rosie sifts the Michelin Green and Red guides for places of interest and good places to stay. Thus a Boysentours trip is an organized one!
It was great to see them all again, and to sit together at a sidewalk table beside the busy streets and the exotic, somehow decadent buildings of Barcelona, talking about the travels we'd shared- and the travels to come.
With a few days of exploring the city behind me, (though not by bicycle) I was nominated as "Guide For A Day" to lead our group to the sights. Because I had been very much taken with the works of the (literally) fantastic architect Antonio Gaudi, I led the others to his outrageous cathredal, the Sagrada Familia, to see the paramount example of his visionary, utterly original "art-nouveau, ice-cream-Gothic" style. Though work on it was interrupted by his death in 1926 (he was run down by a Barcelona streetcar!), it remains an awesome sight, even in its unfinished form. As Bob said: "That's definitely one of the most amazing things I've seen in my whole life!" Yeah-me too.
It's a strange thing; when I had visited the Ch?teau at Versailles a few weeks before, I had been struck by a curious feeling of sadness. A similar mood had come over me while visiting the Forbidden City and the Summer Palace in Beijing, or wandering through the incredible excesses of Mad King Ludwig in Bavaria. it's difficult to articulate; I knew it had to do with a romantic longing for the remoteness of a bygone time, but mostly it was the contrast against what I knew to be the normal circumstances of life for the people who had paid for these incredible monuments to royal egos.
Looking at the equally overwhelming scale of a religious edifice like this one didn't bother me, reflecting that at least the money to build it had been given more-or-less willingly, and that their "donors" had at least received some kind of comfort- however spurious- in this monument to their religious devotion. I never thought to find more "nobility" in cathedrals than in castles!
Mysterious big bangs continued to go off all over the city throughout the day, setting the pigeons (and my heart) fluttering every time. Come on, you people- don't blow us up! We might be strange but we're not dangerous!
For days I had been staring up at the high promontory behind the city, the Tibidabo, where even at night you could see the brightly-lighted cathedral and amusement park at the very top. I was determined to ride up there in the afternoon, thinking perhaps my newly-arrived and jet-lagged friends might want to rest a little, and I'd just head up there alone. But not a bit of it- not these guys, and after leaving Gay and Rosie to catch the funicular halfway up, Bob and Henry and I began a meandering odyssey the rest of the way - the wrong way!
After a few aimless miles of dirt roads, we exhausted Bob's patience- "I don't do dirt", he said-and turned back. But I was determined to get up there if I had to carry my bike, and Henry is crazy anyway, so together we bounced and slid the rest of the way up. What some people won't do for a view!
That night we went out for dinner in the narrow streets of the Barrio Gothico, the Gothic Quarter, where there are walls still standing from Roman times. Afterward we took a walk along the bazaar-like (and bizarre, like) atmosphere of the boulevard called Las Ramblas. During the day the wide boulevard is a series of stalls selling flowers, plants, exotic birds and animals, and more prosaic newspapers and magazines. Day and night the promenade is filled with a colorful spectacle of street musicians, jugglers, acrobats, mimes, hookers and beggars. One of the more inventive of the latter even had vivid eyes painted on his eyelids, presumably to let him carry on his chosen profession while he slept! Among the songs and squawks of the tropical birds and the sounds of traffic, I also heard the international call of "hashish, hashish".
Some years ago Somerset Maugham apparently called Las Ramblas the most beautiful street in the world. That kind of subjective opinion is of course always open to argument, but it is definitely an interesting place.
As we stood before one of the news kiosks while Henry bought a map, there occurred one of Life's Nasty Tricks. A purse snatcher stooped and ran low, grabbing a bag which dangled from the wrist of a tired Rosie. Bob, Henry and she were off in quick pursuit, followed by myself- a little slower on the uptake. I didn't catch what had happened right away, and there was also an accomplice who played a variable role as "interference man". He could distract the pursuers, block them, and also, he gave me the impression that he was a bystander assisting in the chase! It's interesting how an incident like that runs through your head in slow-motion for days. Why didn't I stick out a foot and trip him? Why didn't I go after him faster?
After a fruitless chase through dark narrow streets and a deserted, cat-infested marketplace, we regrouped back on the boulevard, where Gay had been left alone- wondering what to do if nobody came back! Henry told me later that, since he was the first in pursuit, as he went around the corners of those dark streets he was secretly hoping that he wouldn't catch up with anyone! Can't blame him really.
After all this unpleasant excitement came the tiresome ordeal of the Spanish police, obviously a pointless exercise, but a formality which has to be fulfilled. The inevitable morass of paperwork, telephones, credit card and traveler's cheque numbers, and worst of all- the lost passport and French visa- on a Saturday night. Sleep would wait a few more hours, especially for Bob and Rosie. [...end page 2]