Pedals Over The Pyrenees
(Or "Spain And Spokes And Trains")
By Neil Peart, 21 pages, limited edition of 65 copies privately published in 1988, the first four chapters (of a total of 12) transcribed by John Patuto
---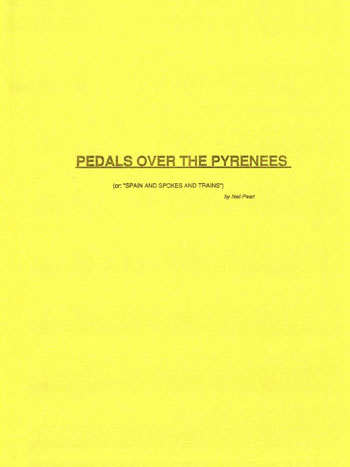 Here follows the chronicle of a voyage across the Pyrenees by bicycle, from Barcelona to Bordeaux, and then by train to Paris. The trip was undertaken by five of us in June of 1987, and stretched over ten days and about 600 miles of cycling.

The notes for this journal were kept by way of a mini-cassette recorder, on which I recorded thoughts and observations, passing sounds, songs and even jokes, while on my bicycle, on trains and planes, and even under the ground in caves.
---
Day 1 - "A Thief In The Night"
(or, "BIG BANGS IN BARCELONA")
Barcelona
Since I had driven down from Paris a few days earlier, I was already waiting outside the Gran Via hotel in Barcelona on the morning of June 20th, a Saturday. It had rained the night before, but the sky had cleared through the morning, leaving the day clear and sun-washed.
The boulevard in front of the hotel is wide, with the main thoroughfare separated from outer lanes by raised islands of paving stones and park benches, the sunlight dappling them through the leaves of the plane trees. I settled myself on a bench to await the arrival of the others - Bob and Rose Marie Boysen, Gay Burgiel and Henry Kane. I passed the time by cleaning and oiling my bicycle, as it was a little the worse for wear after a couple of months of daily commuting across Toronto and Paris. Then I went across the street to buy an International Herald Tribune to do the crossword puzzle. There on the front page was a story about a bomb going off here in Barcelona yesterday, killing 15 people and injuring 30. Great! This made me a little nervous at each loud noise in the street, and it happened to be a day when people were shooting off fireworks all over the place - big ones too!
Just as I was beginning to worry about them a little, my fellow-travelers came pedaling (the wrong way) up the street. After a rather, ah, stimulating ride from the airport, they were glad to get checked into the hotel and ride off with me on their now unladen bicycles. We stopped in an outdoor café in the wide and sunny open area of the Plaza de Cataluna for lunch.
I had first met Bob, Rosie and their neighbor Gay on a cycling trip in China a couple of years ago, and we had toured together with Henry (and Mimi and Bill) on the "Boysentours Transalpine" trip from Munich to Venice in 1986. Since then I had become a long-distance member of their cycling club, the Western Jersey Wheelmen. The Boysens are the consummate tour organizers, Bob preparing maps and charts of the route, side elevations of each day, as well as possible variations of the route, while Rosie sifts the Michelin Green and Red guides for places of interest and good places to stay. Thus a Boysentours trip is an organized one!
It was great to see them all again, and to sit together at a sidewalk table beside the busy streets and the exotic, somehow decadent buildings of Barcelona, talking about the travels we'd shared - and the travels to come.
With a few days of exploring the city behind me, (though not by bicycle) I was nominated as "Guide For A Day" to lead our group to the sights. Because I had been very much taken with the works of the (literally) fantastic architect Antonio Gaudí, I led the others to his outrageous cathedral, the Sagrada Familia, to see the paramount example of his visionary, utterly original 'art-nouveau, ice-cream-Gothic" style. Though work on it was interrupted by his death in 1926 (he was run down by a Barcelona streetcar!), it remains an awesome sight, even in its unfinished form. As Bob said: "That's definitely one of the most amazing things. I've seen in my whole life!" Yeah-me too.
It's a strange thing; when I had visited the Château at Versailles a few weeks before, I had been struck by a curious feeling of sadness. A similar mood had come over me while visiting the Forbidden City and the Summer Palace in Beijing, or wandering through the incredible excesses of Mad King Ludwig in Bavaria. It's difficult to articulate; I knew it had to do with a romantic longing for the remoteness of a bygone time, but mostly it was the contrast against what I knew to be the normal circumstances of life for the people who had paid for these incredible monuments to royal egos.
Looking at the equally overwhelming scale of a religious edifice like this one didn't bother me, reflecting that at least the money to build it had been given more-or-less willingly, and that their "donors" had at least received some kind of comfort - however spurious - in this monument to their religious devotion. I never thought to find more "nobility" in cathedrals than in castles!
Mysterious big bangs continued to go off all over the city throughout the day, setting the pigeons (and my heart) fluttering every time. Come on, you people - don't blow us up! We might be strange but we're not dangerous!
For days I had been staring up at the high promontory behind the city, the Tibidabo, where even at night you could see the brightly-lighted cathedral and amusement park at the very top. I was determined to ride up there in the afternoon thinking perhaps my newly-arrived and jet-lagged friends might want to rest a little, and I'd just head up there alone. But not a bit of it - not these guys, and after leaving Gay and Rosie to catch the funiculare halfway up, Bob and Henry and I began a meandering odyssey the rest of the way - the wrong way!
After a few aimless miles of dirt roads, we exhausted Bob's patience: - "I don't do dirt", he said - and turned back. But I was determined to get up there if I had to carry my bike, and Henry is crazy anyway, so together we bounced and slid the rest of the way up. What some people won't do for a view!
That night we went out for dinner in the narrow streets of the Barrio Gothico, the Gothic Quarter, where there are walls still standing from Roman times. Afterward we took a walk along the bazaar-like (and bizarre, like) atmosphere of the boulevard called Las Ramblas. During the day the wide boulevard is a series of stalls selling flowers, plants, exotic birds and animals, and more prosaic newspapers and magazines. Day and night the promenade is filled with a colorful spectacle of street musicians, jugglers, acrobats, mimes, hookers and beggars. One of the more inventive of the latter even had vivid eyes painted on his eyelids, presumably to let him carry on his chosen profession while he slept! Among the songs and squawks of the tropical birds and he sounds of traffic, I also heard the international call of "hashish, hashish".
Some years ago Somerset Maugham apparently called Las Rambles the most beautiful street in the world. That kind of subjective opinion is of course always open to argument, but it is definitely an interesting place.
As we stood before one of the news kiosks while Henry bought a map, there occurred one of Life's Nasty Tricks. A purse snatcher stooped and ran low, grabbing a bag which dangled from the wrist of a tired Rosie. Bob, Henry and she were off in quick pursuit, followed by myself - a little slower on the uptake. I didn't catch what had happened right away, and there was also an accomplice who played a variable role as "interference man". He could distract the pursuers, block them, and also, he gave me the impression that he was a bystander assisting in the chase! It's interesting how an incident like that runs through your head in slow-motion for days. Why didn't I stick out a foot and trip him? Why didn't I go after him faster?
After a fruitless chase through dark narrow streets and a deserted, cat-infested marketplace, we regrouped back on the boulevard, where Gay had been left alone - wondering what to do if nobody came back! Henry told me later that, since he was the first in pursuit, as he went around the corners of those dark streets he was secretly hoping that he wouldn't catch up with anyone! Can't blame him really.
After all this unpleasant excitement came the tiresome ordeal of the Spanish police, obviously a pointless exercise, but a formality which has to be fulfilled. The inevitable morass of paperwork, telephones, credit card and traveler's cheque numbers, and worst of all - the lost passport and French visa - on a Saturday eight. Sleep would wait a few more hours, especially for Bob and Rosie.
---
Day 2 - "A Castle In Spain"
(or, "HOW I FOUGHT THE SPANISH CIVIL WAR")
Barcelona to Cardona
The decision was to F. A. R. - forge ahead regardless - but the next morning we were rather a somber bunch as we got up from the breakfast table, the rain streaming down the windows of the hotel dining room. Just as the Boysens made their last few phone calls to American Express and various consulates and embassies, the rain stopped, and we loaded up our panniers and cycled out of Barcelona. The riding was still treacherous, especially on the rain-slicked cobblestone streets, and it was good at least that it was Sunday, as the streets and traffic of Barcelona are not "cycle-friendly".
By the time we were out of the city, the sky was clear and the roads were good, rolling gently along beside cornfields, vegetable gardens and wooded hillsides. The road followed the route of the Llobregat river for the first forty miles or so, passing through some small towns. In one of these I was a little taken aback to see a soldier with an automatic rifle at the ready standing in front of the town hall. This is a vision which doesn't fit at all with the atmosphere of a sleepy Sunday morning in a Spanish village. Unfortunately though, it does fit with the tense atmosphere of the larger European cities these days. The popular European impression of North America as a violent place becomes ever more ironic, with their city streets and airports patrolled by guards wearing bullet-proof vests and carrying machine guns. (And bombs going off in Barcelona!) That kind of harsh reality always gives me a chill. Street crime is one thing - wholesale murder quite another.
There are also the political posters everywhere in these small towns, Communist hammers and sickles, as well as the ravings of the neo-Nazis (or "National Front", as the white-supremacists call themselves in England, France and here in Spain too). Violent racism is on the rise in much of Europe these days. At least we're usually spared those kind of extremist fanatics too.
I had been eager to see the mountain of Montserrat, as I have had some wonderful times on the island called Montserrat in the Caribbean. It was Columbus who named the island, reportedly for its similarity to this jagged mountain near Barcelona where there was a famous monastery. The monastery is still there too, perched high up on the stark and rocky cliffs, and there is indeed a resemblance to the rocky headland of the island. I took a bunch of photographs to send to friends on the island.
In the past I have often traveled without a camera, the better to absorb the atmosphere of places rather than trying to photograph it, but all the same have been glad to receive copies of other people's pictures. This time I decided to repay some of my photographic debts, and took a lot of pictures of my companions to send on to them later.
Bob, Gay and Henry took the aerial tram up to have a look at the monastery itself, while Rosie and I decided we could do without that perilous-looking journey. The cable-car ride itself didn't trouble my anxieties, but if the thing ever stopped midway for any reason, I know I'd have "The Big One" right there. We went to find somewhere to have lunch. We had passed an outdoor café a couple of miles back, but right where we stopped there was a hand-lettered sign saying "BAR", with an arrow, hanging over a tunnel under the railway tracks. We decided that looked more interesting.
And here we entered a different Spain, following the sign through a crumbling tunnel under the tracks, and then along a little path to discover a wonderfully quaint little restaurant. No more than a few tables clustered under a grape arbor, it was run by a rustic old couple who greeted us warmly, and offered us a freshly-dressed goat carcass (with its internal organs thoughtfully still attached!), but instead we chose a cheap and simple meal of steak and pommes frites.
The others soon joined us there, having only spent a few minutes at the monastery, then ridden the cable-car down again. They had enjoyed the ride and the view, but they were hungry too! The old man looked after the drinks and the orders while he cheerfully chattered away to us in Spanish, not caring that we didn't understand a word, while his taciturn wife did the cooking. It was really a great little place, a real discovery for a tourist. I resisted the man's urging to take a brandy after lunch - though he assured me by sign-language that it was good for the pedaling!
The day was now sparkling, and the countryside here was growing more rugged and arid, rocky outcroppings of sandstone and granite with rather sparse vegetation. As the afternoon wore on it became greener and smoother, and we rolled over hill after hilt towards our first destination, near the village of Cardona. Rosie had sent us pictures and information on this stop, which was a tenth-century castle perched high on a hilltop, apparently visible for miles. Now it is run by the government as a Parador Nacional, a hotel with 65 rooms.
Both Henry and I came down with an afternoon attack of fatigue, that unpleasant sensation of weakness and light-headedness. Maybe it was from trying to learn to pedal, steer, breathe and talk all at the same time. Anyway, my voice on the tape was decidedly shaky for a while, and we both stopped at a snack place along the road for a "sugar fix". Perhaps a rest (and some ice cream) would help before we faced the long climb up the switchbacks to the Parador. It did the trick, we felt much better, and finally made the last steep turn into the forecourt of the hotel. It was wonderful to arrive there at last, and enjoy a shower and a Scotch on the rocks while looking over a magnificent view down to the little village below, and off to the rolling green hills in the distance.
It was a fabulous place to stay, a combination of authentic ruins and well-restored castle and we took a walk around it before dinner, spending some time talking in the late afternoon sun at the top of the highest tower. We had a well-earned and very good meal in the dining room, a bit of star-gazing back on the tower, then it was great to go to bed with the windows wide open, a cool fresh wind blowing in.
Before I fell asleep I was reading about how this castle had been a Republican stronghold during the Spanish Civil War, and soon I was asleep, dreaming of being a member of the International Brigade fighting against the Fascists. There I was, in the smoke and chaos of battle, shells going off around me as we defended it valiantly against Franco's armies.
I awoke to realize that the artillery of my dream was in fact a fireworks display from the village below us, and Henry and I stood at the window, looking down on it from our regal height. An interesting point of view from which to watch fireworks - even at 1:00 in the morning!
As with the fireworks all over Barcelona, we never did figure out exactly what they were about. There were no holidays mentioned in the guidebooks to explain it, though it could have been something purely Catalonian, rather than Spanish. This province is proudly independent, often agitating for Catalan independence and driving around with stickers on their cars proclaiming themselves to be from Catalonia rather than Spain. I was reading that the Citadel in Barcelona was built not to guard against invaders, but to keep an eye on the rebellious natives! The people of the province speak their own dialect called Catalan, and even street signs are printed in both languages.
Speaking of street signs, I saw an old map in the hotel in which many of the major streets had different names, after General Franco and his cronies. Apparently after Franco's death in 1975 they immediately changed the street names. Not surprising really, as Barcelona was the major stronghold of his enemies!
Between them and the neighbouring Basque people, they sure have their extremely provincial, even fanatical loyalties around here.
---
Day 3 - "The High Frontier"
(or, 'WHAT I DID FOR WATER")
Cardona to Andorra La Vella
We got an early start, heading out before breakfast and flying back down those switchbacks at about 7:30. It was a beautiful morning, fresh and cool, and the riding was lovely. That is - until Henry rode up beside me and said: "I hate to ask you this, but where are your water bottles?"
Well.
I looked down at the empty cages on the frame, and my heart sank. Of all the mornings to have left them on the steps of the hotel, it had to be when they were two miles uphill behind me. Of all the stupid things I've done - that's certainly one of them.
Quickly weighing the options, I decided to go back for them, and in fact it wasn't so bad climbing that hill again, this time in the cool morning and without being already tired from a day's ride. I ended up about a half hour behind the others, but they promised to wait for me at breakfast. It was to be quite a hilly morning, so there was plenty of opportunity to make up time on the long uphills, when I knew Gay would be keeping her own relaxed pace.
This was already developing into a day of long steady climbs, giving me leisure to reflect on the quality of European diesel smoke - something that would become a personal crusade for me. It really is time Europe did something about its air. It's hard to believe they still haven't adopted pollution controls of any kind - especially with demonstrable effects like the decay of the Black Forest in Germany and the forests of Scandinavia. With all of those unburned hydrocarbons floating around, plus the amount of coal that is still used as fuel, the air in the cities is noticeably black. And with all of those trucks and buses, and a large percentage of the cars as well, all burning a particularly foul type of diesel fuel, it really gets to you on a bicycle. I'm sure they use an even cheaper grade of diesel fuel over there, and its smoke is very acrid and unpleasant in your face, especially going uphill when both you and the trucks are laboring!
We had been discussing the night before how even in North America there are no pollution controls on diesel engines, and Bob was saying that it's only because of the strength of the bus and truck lobbying groups. I must admit I had imagined a less cynical reason. I'm thinking of taking over the "PTL Club" to start an anti-diesel campaign - just send five, no fifty dollars, to me...
To conclude my ecological soliloquy, as with poison-spewing factories in economically depressed areas, where a crackdown would cause jobs - and votes - lost, it's a shame when the power of these non-elected political bodies and lobbying groups cause more environmental damage than any amount of self-serving bureaucrats and industrial tycoons.
So there.
Ahem. I caught up with the rest of the group at a small café in Solsona, where we completely eliminated their day's supply of pastries. We left that town by another long, long steep climb, then rode along the top of a ridge. At the top we met an old man who had just humbled us by making the climb on a lady's 3-speed bicycle. Bob spoke to him in his halting Spanish, and learned from him that he was 75, that we had all just made a 5 kilometer climb, and that it should take us about 3 or 4 hours to make it to Andorra La Vella, our destination for today. Andorra La Vella is the capital of the principality of Andorra, which is one of those little independent territories like Monaco, Luxembourg and Liechtenstein which have somehow survived the political ravages of Europe intact.
It was also along here that we saw the Pyrenees for the first time, seeming very near and very high. We reached Bassella, where we turned north to follow the Segre River, making pretty good time along the gently rising road.
It must have been a quiet day for the local constabulary, the Guardia Nacional, Provincia, Urbana, or Civil - whichever branch of the ubiquitous (except of course when you're having your purse snatched) authorities it was that pulled us over later that morning. That's the first time I've ever been pulled over by the police when I was traveling by bicycle! It turned out that they wanted to warn us to ride single file - although we were all sure we had been. Like I said, it must have been a quiet day for them. Needed someone to talk to.
We stopped for a bountiful lunch in the town of La Seu d'Urgell, where I noticed that it was 85 degrees in the shade, then crossed the frontier into the principality of Andorra. Rosie's lack of passport and visa was no impediment here, as we were carelessly waved through, and we would hope for the same treatment at the French border. Telephone calls to the American consulates had resulted in no more than a noncommittal admission that the French authorities might let us through. On the other hand...
The valley through which we continued to ride was quite beautiful, with stone ruins high above us, many impressive rock formations with green vegetation sprouting among them and statuesque poplar trees along the road. (I was interested to learn that the name "Los Alamos", where the first atomic bomb was developed, means "the poplars".)
But this all soon gave way to the heavy traffic and duty-free shopping mall that is the town of Andorra La Vella. "A popular principality", Bob remarked as we rode along. "Indeed", I replied, "And a prosperous one", as we were now being passed by Mercedes, BMWs and the kind of up-market cars that were scarce in Spain.
(A brief aside on the Spanish automotive scene. The greatest majority of the cars on the road are French; Renaults, Citroens, and Peugeots; though there is a native make called SEAT. As with the Russian LADA, in order to build the cheapest car possible they had simply bought the outdated manufacturing machinery from FIAT. Thus they could build superceded FIAT models, without the trouble and expense of designing and tooling up for their own cars. As proof of their success, I noticed in Automobile magazine that the SEAT was voted the worst car in the world! Well done, guys!
There are, however, a couple of bright lights in their past; the Hispano-Suiza, one of the queens of the Classic Age, and the Ferrari-like Pegaso sports car of the fifties. The latter has left its name on a truck grill, its heritage nowhere.)
We had all been picturing Andorra as a kind of idyllic mountain kingdom, something like we had experienced together in Switzerland last year. Unfortunately it is quite a different sort of place. The narrow streets are jammed with traffic - cars from France and Spain, tour buses from England, Germany and Holland - and the rows of garish shops all selling the same cameras, portable stereos, video cameras, perfume, liquor, cheap souvenirs etc. - rather like a European Hong Kong. There is nothing quaint or "old-ee world-ee" about this place, I guess it has literally commercialized itself out of existence. Apparently though, the remoter valleys retain their character and charm.
The principality itself dates back to 1278, with dual allegiance to France and Spain being established by the feudal bosses of the time. It has an area of only 179 square miles, and a population of about 30,000 mainly Catalan speaking people. They have no taxes or military service, and postal services are provided by both the French and Spanish governments.
I was reading that in the government building there is a cabinet housing the national archives. There are seven locks on the door, a key to one lock being held by each of the leaders of the country's seven parishes. How delightfully archaic and romantic!
The first surfaced roads were not opened to Spain until 1913, and to France until 1931 - though it seems they've made up for lost time. Like the Swiss, they have a historical reputation as smugglers, and they also have the dubious distinction of having the highest per capita registration of cars in the world - with the lowest registration of drivers. The reason for this is a large business smuggling French cars into Spain!
It was interesting that the highway in both directions was littered with boxes from cameras and lenses, and instruction books for car stereos and components, as their French and Spanish purchasers "eliminated the evidence".
We arrived at the (thankfully) pleasant Eden Roc hotel near the middle of the busy town at the end of 116 kilometers - 72 miles. From now on I would be sensitive to the quality of the hotels, as I would be choosing them! Rosie had brought a sheaf of photocopied pages from the Michelin Red Guide, which I took over and made choosing and booking the hotels my contribution to the tour. Besides, once we got into France it would help to justify a few years of expensive Berlitz lessons!
After a good dinner in the hotel dining room we turned in early, as we would be getting up and leaving around 7:00. It would be a tough morning; at the end of 18 miles of continuous climbing we would reach the high point of our tour - in altitude if not in beauty. The Port d'Envalira is, at 2407 metres (almost 8000 feet), the highest pass in the Pyrenees, and marks the watershed between the Mediterranean and the Atlantic. It's also a hell of a climb!
---
Day 4 - "Over The Top"
(or, "THE HIGH HARD ONE")
Andorra La Vella to Foix, France
Once again we were on the road before breakfast, to get in some distance during the cooler hours. We stopped at an outdoor restaurant in the little town of Canillo, and ordered everything we could think of a Spanish word for, from naranjus to huevos (orange juice to eggs). It was to be a longer, higher and steeper climb than even our route over the Simplon Pass in the Alps last year, and it was funny (and a little frightening) to see Bob navigating by a map of our vertical route for today.
The road led up above the tree line, through some beautiful country. Rocky peaks with snowy patches, valleys carpeted with grasses and flowers, ski resorts, waterfalls - and empty camera lens and cassette player boxes. These things you have time to observe on a bicycle - especially climbing at about 5 miles an hour! Whew!
After the last few miles of endless switchbacks, a dozen or more, we finally reached the top. The summit itself is called the Port d'Envalira, and as a pretty unrewarding destination. Bob arrived there first, followed by Henry and myself, and we walked around the unprepossessing area for a few minutes while we waited for Rosie and Gay. The landscape was blasted gravel and pretty torn-up looking, with a few sleazy gas stations, seedy restaurants and an abandoned radio station. Another big contrast from the beautiful and breathtaking vistas from the Simplon. Also the Pyrenees seem to be a little more closed in than the Alps, which took away from the sense of spacious and majestic beauty.
After a while I noticed that there was a steady stream of garbage trucks arriving at the top, and turning onto a dirt road which led towards an ugly column of dark smoke. Imagine! - they hauled their garbage up here to the highest point to burn it, so that the smoke would drift far away - to Spain or France!
Before they started developing this country they should have sent someone to look at Switzerland - to see what a wealthy mountain kingdom should look like!
Without even pausing for the ceremonial picture - we'd all worn our Western Jersey Wheelmen colors of course - we took off down the other side, coasting now in the cool air: Make that cold air. I was glad I had my winter gloves to put on, as we went faster and faster, switching back and forth down the mountainside for mile after mile. It was glorious, and one occasion when riding into a headwind was not a problem.
We crossed the border into France with barely a pause, much to Rosie's relief, and then picked up the road along the Ariège River. This would take us all the way to Foix, our destination for the night. It was much greener on this side of the pass, the villages were nicer to look at, and the roads were in better condition. (Exactly the opposite of what we'd found crossing from Switzerland into Italy last year!)
We stopped for lunch at a little town with a big name - l'Hospitalet-pres-l'Andorre - and had a terrific meal to celebrate our "conquering of the Pyrenees". Omelettes, crêpes, a huge tray of pommes frites - it was great to be in France again, where it's against the law to serve bad food!
We continued downhill, through the pretty little spa town of Ax-les-Thermes, and along the smooth Route National N20 which paralleled the Ariège River and led us the rest of the way to Foix.
After a 97 kilometre day (though it felt like more), we arrived at a nice modern family-run hotel. After we got settled in and cleaned up, Gay, Henry and I enjoyed walking the 2 kilometres or so to town for dinner, while Bob and Rosie arrived by bicycle - (as Bob is allergic to walking!). It was another fabulous meal, in the "19e Siecle" (19th century) restaurant overlooking the river in the centre of the pretty little town. After dinner we all made our leisurely way back, wandering through the narrow, winding streets, with a medieval castle towering above us.
It was nice once again to be able to sleep with the windows wide open. Henry (Henri, now that we're in France!) knows I love the fresh air, and always lets me have the bed nearest the window - what a good room-mate!
[End of Chapter Four]
---
Day 5 - "The Long Way Home"
(or, "THE SOUND OF POINGO!")
Foix to Montauban
Today we decided to start getting some use out of the excellent Institute Geographique National maps we had for France. Since they were in a very detailed 1:100,000 scale, we would be able to route ourselves by "the roads less traveled", and Bob spent a long time working out variations to get us to Montauban without going through the relatively big city of Toulouse.
After breakfast at the hotel, we sort of "spiraled" our way out of Foix, and onto a series of "D" roads, the, I suppose you'd say, tertiary roads of France. The route led us through pleasant farmland and woods, the road laid like a ribbon over the rolling countryside. Very few cars troubled us here. I pedaled on ahead for a while, glad of a bit of solitude on the quiet country road. To me, one of the nicer things about cycle touring is that you have that choice of riding alone or with other people. Thus you have the choice of companionship or solitude, as you like it.
On a rough bit of road I heard a "poing" sound from my back wheel, but thought it was just the tire hitting a stone. A little while later Henri rode up behind me and called my attention to a wobbly back wheel. An inspection stop proved it to be a broken spoke- on the freewheel side of course, just to make it more difficult. I opened up the brake calipers and let it wobble for a while, until I had a chance to fix it.
Bob helped me- no, I helped Bob - repair it when we made a currency-exchange stop in the village of Lezat (Lezat-sur-Leze, to be pedantic about it). We would have to find a vise to get the freewheel off, and after looking up the French word for vise (un etau), Bob and I went off to find a gas station and ask if we could use theirs. Then Bob took over, I merely took the wheel off and put it back on, while Bob gave a lesson in how to do that job. I too would learn.
At Rosie's behest, we made a patisserie stop in the pretty little village of St. Sulpice (also sur-Leze) for some pastries and biscuits. We then rode on into gradually leveling farm country, along beautiful straight roads lined with plane trees, We were now on a fertile plain between the Pyrenees to the west and the Massif Central to the east, and like many flat places- it was windy! So we rode with a variable headwind on our port quarter most of the day.
Another thing about riding into the wind is that he bugs hit you harder, and I had a couple of big insect UFO's fly kamikaze into my face and arms. Ouch!
The sound fooled me again. Spoke number two detached itself from the hub with that characteristic "poing" sound, but once again I was, shall we say, optimistic enough to mistake it for a stone pinched under the tire. We discovered it as we parked the bikes under a big tree for lunch, and after we ate i ran down the street to a garage with my wheel in my hand. My French proved sufficient once again and I was able to borrow their etau to get the freewheel off. Once more Bob handled the spoke installation and truing of the wheel. This was getting depressing. Now my imagination was haunted by the vision of my back wheel collapsing under me and splattering me like hamburger across the road!
Then at least it was someone else's turn, when Gay had a flat tire that afternoon. Bob decided to fix it- for reasons sufficient to himself- in the middle of a busy bridge over the Garonne River. It made a nice unscheduled rest stop for the rest of us anyway, which is what Gay always says when I break something!
In spite of my creeping paranoia about my collapsing rear wheel, it was really a pleasure riding on those quiet back roads. It's great when you can ride along side by side talking, as Henry - sorry, Henri - and I did for a while in the afternoon. It's an enjoyable way to pass the miles, they go by much quicker, and the conversations can be entertaining- especially with a quick wit like the estimable Henri!
It was a long day, 91 miles, and it got rather soul-destroying as we neared Montauban. The traffic grew very heavy, and the road was narrow and torn up for a few miles- you have to muster up reserves of concentration to deal with that at the end of a hard day. As always, eventually we arrived at our (thankfully) nice hotel across the street from the cathedral.
---
Day 6 - "Time Travels"
(or, "MEDIEVAL TRESPASSER")
Montauban to St. Cirq-La-Popie
It started out as a bright sunny day, but a cold mist began to fuzz things up a bit later in the morning. We rolled along flat country roads between the trees, through more rich farmland, as the sun was gradually being soaked up by fog. I was hoping for an end to broken spokes today, as I had used the only two spares I had, and we would be a long way from bike shops.
You had to appreciate riding along these beautiful country roads, surrounded by green fields and woodlands. The round bundles of hay from the spring haying, sheep in the fields, and the smell of frying onions from a farmhouse delighted the senses. You could cruise along the middle of the road if you wanted to, keeping an ear out for the occasional car. What a contrast to the precipitous roads through the Pyrenees, where there were huge trucks roaring by on the left, and a sheer hundred-foot drop to your right- without benefit of guard rails. A brief apse of concentration could be very painful- if not fatal!
The sun was back out again by the time we made a mid-morning stop in the hilltop village of Puylaroque. (Say that ten times!) I rode on ahead for a bit, munching on peanuts and alone with my thoughts. It was beautiful; the sun was shining, the birds singing, and the bells in the village of Vaylats were ringing as I pedaled on past the old stone farms. As we got closer to our destination, St. Cirq-La-Popie (another small place with a big name), I waited at a turning for the others.
After a refreshingly short trip of around 40 miles, it was great to arrive at this picturesque medieval village in time for lunch. Dominated by its Gothic church, the town of St. Cirq perched way, way up high on a promontory of rock above the river. We picked our way carefully through the very narrow streets- more like alleyways- and found our hotel, La Pelissaria, a small and gracious inn of only six rooms. So at least half of the guests would be us!
We enjoyed a great lunch at a small restaurant called L'Atelier (the workshop), while Bob artistically decorated a placemat to add to their collection on the wall. We lounged in the sun in the garden of the hotel for a while, enjoying the afternoon leisure, then I began a few telephone adventures. I was proud of myself for making a hotel reservation for the next night over the 'phone - en Francais - all by myself, instead of asking the hotel people to do it. Naturally it's a lot harder to speak another language on the telephone- without the benefit of sign-language! Then I tried to track down a package that had missed me in Barcelona, but the numbers I had only seemed to reach the same outraged Spaniards all time. Oh well- sorry!
After all this excitement, I set out to explore the town. The little alleyways were flanked by carefully restored medieval houses, from the 12th, 13th, and 14th centuries. The upper stories of the buildings hung over the street on ancient wooden beams. The basic livelihood of the town is tourism, thus protecting its medieval character, and many of the buildings contained the shops of artisans who worked in leather, wood, jewelry, and painting and engraving.
As I reached the highest point, the ruins of the old castle tower, I could look over the red tiled rooftops of the village, all covered with moss and lichen. As I turned and looked down the valley of the Lot river, rocky cliffs fell away to the winding river far below me. A spectacular setting on this clear and sunny afternoon.
Apparently this well-fortified town was attacked by Richard the Lionheart on his way to the Crusades. Richard the Ironhead if you ask me! It's hard to imagine why anyone would want to try to attack such a highly-fortified and infinitely defensible town, and I had to laugh thinking of these crazy Englishmen tearing through France attacking everything in sight- I could only think of it as a scene from Monty Python and the Holy Grail.
One note of modern reality was struck by the little memorial in the graveyard devoted to the local men who had died in World War "morte pour La France". So it wasn't entirely a fairy tale village.
I took a stroll into the old church, my footsteps echoing around its empty vastness. It was difficult to tell just how old it was, but the stone floor certainly looked ancient, and there were copies on the wall of some 13th century paintings which had been found in the restoration of a side chapel. There was an excellent example of some early stage-managing here, as a stained- glass window high up on the wall was so situated that the late afternoon sun beamed through it and illuminated the centre of a raised platform in the chapel. Those early religious guys understood stage presence!
With a little shame, I must admit I tried hard to steal my way into the bell tower for the most supremo view. There was no one else around, so I tiptoed through the roped-off zone and tried the locked old wooden door with all the resources of my Swiss Army knife. But alas- no good! I had to content myself with contemplating the nature of bad religious art, as the rest of the church was well-equipped for this study. Lots of carvings and statues executed with piety and righteous sincerity- but not with skill or imagination.
Just to show that a tourist attraction in sophisticated Europe is no different from a tourist attraction anywhere, Gay came back with a fabulous souvenir trophy. You've probably seen something like it; it was a pen with a clear plastic barrel, inside which is a little cutout village and a sheep which moves back and forth as you turn the pen up and down. Oh, it was excellent! I was speechless with admiration, this is the kind of "high tack" that I admire so much!
Back at La Pelissaria, we were regaled by yet another wonderful meal (how tiresome for you, reader!) beginning with Kir Royale and developing around the local specialties of smoked duck and goose. There was a wonderful dish of fresh pasta with blue cheese sauce, and we enjoyed the local Cahors wine very much. Another one of the great pleasures of cycle touring is the amount of good food you can indulge in with impunity. When you're burning five thousand calories or so a day, you can have all the banana splits you want!
After dinner, Gay, Henri and I went for an evening walk, making our way back up to the ruined tower. We sat for a little while in the perfectly still twilight, and you could hear every sound coming up for miles; a dog barking, far-off cars, and the distant whisper of the river pouring steadily over a dam.
---
Day 7 - "Siding High And Low"
(or, "RAIN, LUNCH AND PHILOSOPHY")
St. Cirq to Carennac
It was a brisk early morning downhill run back to the river road, as we set off before breakfast once again. The day was cool and slightly overcast, and the scenery was fantastic. We crossed to the north side of the Lot, riding along under the tall cliffs that rose up beside the road. Small villages were built right into the cliffs, looking rather surreal as the roofs angled up from the front of the houses to peak at the rocks. You had the impression of looking at houses that had been sliced in half by the rock. Sometimes the cliffs hung right out over the houses, making them almost caves. Wouldn't want a back bedroom there!
It went along like that for miles along the river, sheer rock faces rising above and falling below us. The sky was still overcast, and there seemed to be a bit of a dark cloud over our group as well. Perhaps it was just fatigue after six days of hard cycling, but you could sense the lowness of spirits. Of course, it's necessary on a trip like this to maintain at least a pretense of good humor, not to make it worse, or longer-lasting than necessary. Thus people tend to just be silent, or cover up dark remarks with forced laughter. Never mind, it will pass. If we just get through today we have a day of rest tomorrow, so bodies and spirits can recharge.
Eventually we turned inland, up and over some serious hills. As we left Figeac behind us, riding now to the northwest, we began to face some more long climbs, and the clouds grew thicker and darker. As we neared the crest of the world's longest hill, it began to rain heavily, with a little hail thrown in for good measure- and sound effects on the helmet! Thankfully it didn't last very long, just long enough to leave us thoroughly soaked and chilled.
We decided this was a wonderful opportunity to stop for lunch, there in the town of Le Bourg (literally "the town") and we went into a roadside café called Les Routiers, the French version of a truck stop I suppose. But of course, it was French, and they have that law about not serving bad food. Les Routiers was no exception.
We arrived just as it was beginning to fill up for lunch, and soon the place was full of people, mostly workingmen, but also a couple of local families. There was little reaction when our group of very wet and strangely-dressed cyclists joined them, just a few shy glances. A TV set in the corner went largely ignored, showing the French version of The Wheel of Fortune, and there was a framed jigsaw puzzle on the wall, but it was the people who made the atmosphere so colorful. There were some classic Gallic types among the groups of workmen eating, drinking wine, arguing and gesticulating. Naturally everyone was drinking wine, and as the wine consumption went up- so did the noise level.
They were on familiar terms with the waitresses, and there was plenty of swaggering banter, and though my French is not equal to rapid-fire exchanges like that, there was obviously plenty of raillery among the men too. A great uproar was caused when one of the younger men grew boisterously impatient with the service, and attempted to fill the wine bottle himself from the big plastic cask. Fumbling away with it, he dropped the bottle on the floor with a crash, raising a chorus of invective from his mates as well as the serving girls.
Though we usually forgo the wine at lunchtime, we were a bit chilled from the rain and decided to make an exception. You know- just to warm us up! The meal was a table d'hôte type of fixed menu, beginning with a hearty soup, charcuteries and crudités (smoked meats and raw vegetables), a main course of chicken, steak or lamb, then a selection of cheeses, dessert and coffee. The water and wine never stopped flowing, and all this cost about $12 each, a very good deal- especially considering the "floor show"!
Considerably drier and lighter in spirit, we took to the road again. It was a testament to the last six days of "training" that a heavy meal and a few glasses of wine left us fresh and ready for the road. I don't think I would have tried that on the first or second day. (Though I have a tiny suspicion that maybe the wine was watered!)
The afternoon continued with more of the same- hills, but thankfully without the rain. The countryside was rural and wooded, the smooth road winding its way up and down the rounded hills: There were a few of those long twisting downhills where you don't so much coast as drive your bike down, bending over in an aerodynamic crouch, choosing your line on the bends, hands down on the drops, weight down on the pedals, fingers gently controlling the speed- truly an exhilarating ride.
We cyclists have discussed something that is really a philosophical question: what motivates you on those long grinding uphills? Some people, like Gay, are "reward-motivated"; for her thinking of the "free ride" down keeps her going up, while others, like myself, are "goal-motivated"- what matters is getting to the top. We also discussed the more, well, sensual question: when does the moment of satisfaction come? For Gay, the reward-motivated, it's at the crest, as soon as you start going downhill. For me, the goal-motivated, it's just before the top- as soon as you realize that you're actually going to make it!
In either case, of course, the motivating force is will. It has occurred to me before that there is a polarity between the mind-set of an athlete, and say, and artist. For an athlete, will is everything, and the imagination must be subjugated to that drive to perform. Physical discomfort and even pain must be set aside. I know myself that when I am doing something which requires physical endurance, like cycling or swimming long distances, I very seldom have a creative thought in my head, just the will to continue what I'm doing.
On the other hand, when I'm doing creative work, will is subject to imagination. I was pleased to run across a similar thought in Out of Africa, in which Karen Blixen describes: "the freedom of the artist, who has no will, who is free of will". This is well-illustrated by the number of tragic creative people who have lacked the discipline to resist the temptations which ultimately destroyed them. I like the fact that playing drums is one of the few activities I can think of which involves both mind-sets at once, athletic and creative.
But enough philosophy. This is supposed to be a holiday, after all. On bicycles too- a fairly prosaic affair. And one of the more prosaic parts of it overtook us soon, when Rosie had a flat tire. I happened to be riding up front at the time, and had stopped at a beautiful viewpoint to wait for the others. As the minutes went by, I began to get a little worried, as I suppose you always do in a situation like that. You hope it's just a flat tire holding the others up, but so many things can happen.
At least I had chosen a beautiful spot in which to wait and worry. I stood at the crest of the last hill before the road dropped down into the valley of the Bave River. It was a real panorama, way up high overlooking the red rooftops of the little town of St. Cere, and the cloudscape of ominous grey and black that moved across the sky. I could see the slanting tails of distant rain showers trailing from the darker clouds, but they were well away to the northeast now. I watched a pair of hawks circling high above me, thinking that birds of prey seem to be more commonly seen here in Europe.
This was another one of those times when I picked up my camera to take a picture, raised it to my eye- and just put it away again. As I've found so many times, with something as vast as the Sagrada Familia cathedral in Barcelona for example, or with an intricate panorama like this one, there are so many things that a camera is powerless to capture.
Henri and I had a funny conversation this morning about how we could improve St. Cirq, fix it up and bring a lot more people in. If we just got an Interstate to go by here, and a bigger parking lot, sort of expanded the place a little- it's really too small for the kind of crowds we envision. We could restore the ruins a bit- you know, in a nice plaster imitation of stone- fix it up more how it used to look in the 13th century! Surely people would rather see something like that than just crumbling old rocks. What they need here is more of that entrepreneurial, land-developer's spirit- a little get-up-and-go and good old Yankee know-how!
Well.
Bob was pointing out yesterday how a place like St. Cirq could never be allowed to exist that freely in the US. Imagine an American historical site where you could stand at the edge of a sheer precipice without benefit of guard rails or even warning signs. How could our omnipotent Insurance Companies permit that?
From there the conversation developed along the lines of how all the big corporations, from record companies to automobile manufacturers, are being taken over by accountants- the dreaded bean-counters. First the creative people, artist and engineers, start something, the entrepreneurs get things in motion, and then the lawyers move in to organize it. And last come the numbers men- narrow vision fixed firmly on The Bottom Line. I knew that my own world, the music business, had gone that way, and certainly the automotive business was teetering, but it's interesting that Bob, an engineer with Union Carbide, has found and is fighting the same syndrome. It's his opinion that power should remain firmly in the hands of the creators, and while I certainly agree with that, I have found that having to be an executive and an administrator can take away completely from being a creator. It seems to me that each element is necessary to the other, it's merely a question of priorities. It's a difficult line to walk.
And yes- it did turn out to be a flat tire that held everyone else up, and fifteen minutes or so later they joined me at my lookout post. I was glad to see them, first to know that everything was all right, and then because soon I would have turned around and ridden back up that hill to find them- something I wasn't keen on doing!
As we paused for them to savor the view that I now knew pretty well, one of those visions occurred where you wish you had a camera ready every minute. Two elderly ladies raced around the hairpin in a little Citroen 2 CV, smiling cheeks under grey hair, as they took the corner practically on two wheels.
We coasted the rest of the way down the hill and into St. Cere, only to find that Rosie's tire was flat again, the tube bursting through a cut in the tire. Being conveniently located next to an outdoor café, we had a few refreshments while everybody helped with the repair and pumping. Since lunchtime the group's mood had risen dramatically, and everybody was feeling in good spirits and at ease again. We got under way with laughter and light-heartedness, and the sun even emerged for a few minutes. Just outside St. Cere we met up with the Dordogne River for the first time, which we would be following for the next few days.
My curse, the "poing", returned to haunt me just before we rode into Carennac. Spoke number three bites the dust. At least I have a free day tomorrow to try to find a bike shop and put an end to this. We checked into the charming and comfortable Hostelerie Fenelon, unloading our panniers with sighs of satisfaction, knowing we didn't have to load them up again tomorrow. Henri and I did a little laundry, trying not to hang it in the window that looked over the terrace, then joined the others for a drink before dinner.
---
Day 8 - "Castles And Caves"
(or, "A FISTFUL OF SPOKES")
Carennac
After breakfasting a little later than usual, we went our separate ways. I headed back into St. Cere, hoping to find a bike shop to cure my woes, or at least provide a fistful of spare spokes to get me to Bordeaux. The others had an itinerary of caves and castles to visit, as this area was famous for both. There were even some prehistoric cave paintings nearby, which both Gay and I would like to have seen, but they were closed to the public to protect them from deterioration. (The paintings, not the public!)
I enjoyed the leisurely, unladen ride along the river into town, and left my bike with a repairman, telling him about the rayons (spokes) and hoping my French had been adequate to make him understand the problem. I took a walk around the streets of the quiet and pretty little town, and visited the Muses Automobile de St. Care just a mile or so outside. I hadn't expected to find something like this in such a small and remote place, but it was a beautifully presented private collection of about 25 cars, many of them "brass-age" antiques. It was a pleasant way to indulge another interest and pass an idle hour.
I picked up my bike from the shop at noon, a time at which everything else closes in country towns like this. It reminded me of the Spanish siesta time, when the metal gratings would come clanking down in front of all the shops in Barcelona. The châteaux and caves I had hoped to visit would not open again until 2:00, so I had a leisurely salad and glass of wine in an outdoor café by the marketplace. There was a 14th century castle, called La Tour de St. Laurent, prominently situated high above the town, and I took a ride up the steep little roads that led to it. Unfortunately it seemed not to be open to the public, so I had to turn around and coast down again, regained the road along the river, stopping to look at a castle or two on the way, then rode up into the hills toward the nearest of the caves, Les Grottes de Presque. Again, this was more than I expected, a fabulous treasurehouse of colorful stalactites and stalagmites, all dramatically lighted. There was chamber after chamber of awesome formations- organ pipes, draperies, stone waterfalls, pillars- reaching far back into the mountainside. To resort to clichés, it really is mind-boggling to consider something as timeless as this, formations that grow perhaps 3 or 4 centimetres in a century, and are now 40 or 50 feet high.
I rode on from there a few miles, along a series of roads called the "Circuit of Marvels", referring to the caves and châteaux along it. I was headed for Padirac, where there was another cave that the others had planned to visit. I went down into the vast sinkhole, a huge abyss open to the sky and surrounded by lush vegetation overhanging its rim. As I descended, choosing the stairs over the available elevators, I could see the walls of the sinkhole covered with moss and plants, and the bottom was carpeted in lush clover.
As I entered the cave itself, I looked up at the last daylight shining through the moisture that collected and fell like a heavy rain. The water gathered into a transparent stream which ran alongside the passageway, once again nicely enhanced by indirect lighting. The cave itself was about 12 to 15 feet wide and disappeared above at maybe 80 feet high. As the lights flickered once, I was glad I'd brought along the flashlight from my handlebar bag- it made me feel so resourceful and independent!
The lights, however, stayed on, and I continued along this cave for a half mile or more, where it ended at an underground river. From there you could take a boat trip further into it, but I decided I'd had enough caves for today, and made my way out into the bright sunlight. It was great to consider this vast cavern having been hidden there for centuries, until it was discovered- so the story goes- by a pair of young boys looking for their dog.
After an ice cream, I rode up and over yet another hill, towards Carennac once again. It sure seemed like I was doing a lot of riding and climbing a lot of hills for a day off! When I met up with the others later that afternoon it turned out that we'd each covered about 40 miles in our various peregrinations. As we gathered for evening cocktails, and then dined on the terrace of the hotel, it was nice to compare stories on the different places we'd been.
There was a young French family also enjoying a stay at the Hostelerie Fenelon while we were there, a man, woman and their beautiful little daughter, and as I watched them talking and laughing together it made me miss my beautiful little daughter a lot. It reminded me of the three of us when we travel together, and gave me a sharp pang of homesickness. I hadn't seen Selena for almost two months now, and I was thinking of her a lot lately and looking forward to the three of us being together again in a few days.
---
Day 9 - "The Road By The River"
(or, "THE ROAD TO RUINS")
Carennac to Siorac-en-Perigord
Another bright and beautiful morning, as we rode off along the Dordogne on a quiet country road bordered by woods on both sides. The sun sparkled through the trees, and the mood of the morning was relaxed and easy after our day of "rest". Breakfast wasn't served at the hotel until 8:00, so that made a more leisurely departure than we'd been having.
I mentioned at the beginning that I kept notes on this trip by way of one of those micro-cassette recorders which I had bought in Barcelona. I like the idea of keeping a journal when traveling in interesting places, but I found on our trans-Alpine trip last year that when you're on the bicycle all day there isn't time to keep decent written notes- what with eating and sleeping to squeeze in there as well. So I decided to try this method, and I carried the little recorder in my handlebar bag, using it to record thoughts and impressions as I rode along.
My good spirits on this particular morning can be attested to by the presence on the tape of a heartfelt (and tuneless) rendition of the opening verse of the old song "The Good Life":
It's the good life-
To be free
And explore
The unknown
Et cetera.
Riding a bicycle is one time when singing seems often to burst out of me, though I try to confine these attacks to moments when others aren't riding nearby. It can be painful to the uninitiated. Generally I stick to the classics, especially old Sinatra and Tony Bennett standards- "Witchcraft", "Nancy With The Laughing Face", "If I Ruled The World", "This Is All I Ask" "I've Got You Under My Skin", "Didn't We", 'Don't Cry Joe", and many, many more.
And yes- even "My Way"!
We pedaled along the shady lanes, trees lining the road and greenery forming a tunnel over our heads. We crossed back and forth over the river a few times, the background alternating between the delicacy of woodland scenery and the majesty of high rocky cliffs. The cliffs would rise up from the side of the road, sometimes blanketed in ferns and moss, and with mysterious looking little fissures and caves here and there. After my spelunking adventures of yesterday, I was surprised to suddenly find myself afire with curiosity about all of these holes in the earth. I had these urges to stop and explore them- maybe discover some prehistoric paintings or something!
I was reflecting too on some of the local food specialties. (I must have. been hungry already!) I mentioned before how much eating is a part of cycle touring, and we had been thoroughly enjoying the various local pates, truffles, a type of mushroom called cepes, a dish of preserved duck or chicken called confit; and every farm you go past seems to offer their own homemade Pate de Foie Gras. They offered a special dish in the restaurant last night which was neck of goose stuffed with Foie Gras. Though I missed trying that one (!), I've been acquiring a taste for the goat cheese- fromage de chevre-, and we've all been enjoying the local Cahors wine.
A little while later I stopped under a tree for the pleasure of changing my first flat tire of the trip. Bob and Rosie had each had a couple, and Gay had had one, so I guess it was my turn. I was riding along at the back all alone, but Henri was nice enough to come back and wait for me. It was a pleasant enough place to fix it, except for a few stinging nettles in the grass. I'm certainly glad that North America is not cursed with those things- at least you can sit in the grass at the side of a road!
We made a morning stop in the busy little town of Soulliac for pastries and coffee, then crossed the river to the quiet side. We pedaled on through pretty villages set among the hills along the river- more hills than we'd expected! All around us the landscape was dotted with castles, seemingly on every hilltop. In one spot I could look around and see four different castles, and it got to be a joke after a while: "Oh look, another castle. How boring." Towards midday it grew very warm, and we stopped for lunch at an outdoor restaurant beside the imposing Château Montfort. (Yes- another castle!)
The Dordogne Valley is a popular tourist area; there was a group of Americans beside us at lunch, and we began to see a lot of English cars on the road. One of them was recognizably English by the fact that the left rear side had been freshly bashed in- surely the result of pulling blindly into traffic with the driver on the wrong bloody side! I was thinking too of the times I've listened to British people claim superiority over North Americans on the strength of their longer history. Let's face it; what's a few measly centuries in a place like this, where the history in their caves reaches back tens of thousands of years? (Alright, alright- no more "Anglophobia"!)
Through the afternoon it continued to get hotter, the sun beating down on us from a cloudless sky. Rosie especially was feeling it today, pouring water over her head all afternoon, but we all made plenty of shade and water stops. The hotel was supposed to have a swimming pool, so that was something to look forward to as we got closer.
And once again it happened, just in the last couple of miles. I stood up to accelerate hard and "poing"- spoke number four was a goner. Oh boy. I guess my friendly bicycle repairman back in St. Cere hadn't put an end to it after all.
But the hotel did indeed have a pool, and it was wonderful to dive into the cool water, swimming lazily around in the liquid coolness. And it felt great to lay on my back in the hot sun- rather than climbing hills in it.
After this pleasant interlude, I went to the front desk to ask the sweet old lady there for help in finding a hotel in Bordeaux. Well. Up to now it had been easy- just a question of choosing the hotel and booking it, there had been no problem with vacancies.
Until now. Apparently there was no convention in Bordeaux, but for whatever reason every hotel we called was full. Four star, three star, two star- we went down the list, probably a dozen different places, but there was "no room at the inn". Finally, after about three quarters of an hour of choosing and telephoning, we found one by means of the hotel's computer hookup, and I went on to the next problem, the *&%?#!* spoke.
At least, being a country hotel, they had their own workshop- although their vise was broken. But fortunately, perhaps because the freewheel had been removed so many times lately, it yielded to a large adjustable wrench with a pipe on the end (an old farmer's trick). This time I replaced the spoke myself, and even- with a few pointers from Bob- trued the wheel myself. That at least was a good accomplishment. Then, as dinner time was closing in on me, I had a double Scotch while I did a quick repair on the tube that had gone flat that morning.
The last problem, the dead batteries in my tape recorder, would have to wait until tomorrow. This was Sunday after all- a day of rest!
---
Day 10 - "Hot And Heavy"
(or, "THE GRAPES OF LAUGHS")
Siorac to Bordeaux
With the days getting hotter and hotter, and with another 90 miles or so to do today, we decided to get under way early. Once again forgoing breakfast, we were on our bicycles by shortly after 7:00. A mist lay above the river just to the north, and the morning was already warm. The road was hilly, and it didn't bode well for the rest of the day that I was hot and sweating already this early! What's it going to be like in a couple of hours?
That's an easy question- it's going to be really hot. We stopped for breakfast at a roadside café just as the baker arrived, so we bought our croissants and buns right out of the back of his van. The next part of the day was spent on some pretty busy roads, with big trucks constantly roaring by our elbows. At least we had a bit of a tailwind so we made very good time.
On a day like this the water consumption is high, and we were stopping to refill our water bottles already by mid-morning. In the town of Ste.-Foy-La-Grande I went off on my own to find some "AAA" batteries for my tape recorder, agreeing to meet the others at a bridge up ahead. Having the recorder go dead the day before was like putting a finger in the dike- all of a sudden I was saving up all of these thoughts and observations. I had to get new batteries before I overflowed!
Armed with new batteries, and pouring those pent-up thoughts into my little recorder, I rode solo along the busy highway. At this point the tape is full of the sound of trucks rushing past- and me swearing and snarling at them! No songs today.
I caught up with the others just after we finally turned off onto a back road. Rosie seemed to be recovered from her heat-fatigue of the day before, and was drafting along behind the hard- charging Bob up at the front. He had announced that he would be stopping frequently on a hot day like today, but whether because of his own mood or Rosie's willingness to keep up with him, he kept the pace very urgent all morning.
It was Gay's turn to suffer. By the time we stopped for lunch at St.-Jean-de-Blaignac we had covered over 60 miles all right; but poor Gay was shattered. The last few miles had been very hilly, and it was getting hotter every minute. Henri and I were working hard to keep up with the forced pace, and Gay was struggling along behind, feeling the pressure to keep up I'm sure. (I expect it's occasions like this which have caused Bob's fellow club members to nickname him "Le Cruel!") Gay arrived at the restaurant in low spirits, which is very uncharacteristic for her and made everyone else feel bad too. It was a subdued meal in the riverfront restaurant.
In the afternoon we set off on a route which Bob had designed to bring us to Bordeaux by a more scenic and less busy series of roads. We said goodbye to the Dordogne, and began to enter the famous Bordeaux wine country. In fact our lunch stop was just south of St. Emilion, the home of a very well-known Bordeaux wine.
It was nice to be riding some quiet country roads, free from the traffic and diesel smoke, and with acres and acres of vineyards all around us. The sun still blazed down on us from a cloudless sky, but at least everyone was deferring to Gay's pace and the afternoon was a little less frantic than the morning had been.
All day I had been trying to pedal very gently, kind of tip-toeing up hills, as I had broken the spoke yesterday by really bearing down and accelerating hard. Since this was the last day of cycling, I was really hoping to get through it without the hassle of having to change another spoke, especially with that heat. Today, let's just get there!
During the afternoon, as we wheeled through the roiling landscape of vineyards, I recorded a special guest on my tape. Henri and I rode alongside each other for a while, grapes on every side, and I recorded this moment in comedic (or at least cycling) history:
"There was this missionary in Africa, and he was taking the natives out in the woods and explaining to them the various things. And he pointed to a tree and said: "tree". and all the natives said: "tree". And they walked a little further and found a stream, and he pointed to the stream and said: "river", and all the natives said "river." And they walked a little bit further and saw a crocodile, and the missionary said: "crocodile", and all the natives said: "crocodile".
Finally they came upon this clearing, and there was a native making love to a native woman. The missionary, not knowing what to say, said: "man riding bicycle", and all the natives said: "man riding bicycle", except for one native who pulled out a spear and killed the other native. The missionary said: "Why did you do that?", and the native said: "My bicycle"."
"Hey-oh! Hey-oh!" Didn't I tell you what a funny guy that Henri was? What a scream! I just about fell off my bicycle at that one, and I think I saw a couple of old women working in the vineyards who were mightily amused as well. Why, I'm sure even the grapes were shaking with laughter! Remember, you heard it here first- the cycling comedian telling a joke with "bicycle" in it on the roads of France.
Well.
The afternoon route was relaxed all right, though somewhat obscure, Rosie had the only map among us that even showed it, and we had to stop at nearly every intersection to make sure we were stilt on the right track. Given the broiling heat of the day, frequent stops in the Shade were no hardship, and we were going through litres of water. At 4:00 in the afternoon it still felt like midday.
During one of our route discussions, we decided to make a "liquid stop" in a line village called Creon. The only thing near the lithe tree-lined square where we stopped was a neighborhood bar, so we parked our bikes outside and went in. What a strange place it was; the people were dark and rough-looking, like something out of the movie Deliverance, with weird features and physical deformities. One of the most unsavory individuals began babbling away to me in unintelligible French, in a pleading and pitiful tone, until he was dragged away to a back room (!) by the bartender. At least he was relatively normal-looking! I was glad we were a group, it was not the kind of pace you'd want to walk into alone. Thinking about it later, I suppose there must be isolated towns in Europe like those semi-mythical "inbred" communities of the American South. I dubbed these the "cretins of Creon".
Finally we met up with the Garonne River, and turned north along it and into the city of Bordeaux. It was a wide, muddy and slow moving river, fishnets hanging from the end of high wooden docks. Somehow looking at it reminded me of a river in southeast Asia- except that on the other side of me was a row of huge mansions!
Now we were into the heavy urban traffic, riding the busy streets and crossing the bridge into the city. The heat seemed multiplied here, radiating from the pavements as we found our weary way to the hotel near the train station. Man- it was good to arrive and bargain with Henry for the first shower! He was good enough to let me go first, while he went to collect a Scotch (whisky sur glace- he was getting so bilingual now!) for me and a gin and tonic for himself. It was also the first TV we had seen for most of the trip, and we watched Dr. No for a while- in French of course. It had been a long, hard and hot 92 miles.
There were a few things to be taken care of here. I had to go over to the nearby station to collect a train ticket for tomorrow's trip to Paris, and to replace the one Rosie had lost (in the stolen bag) in Barcelona. It was nice to have built up my confidence in French to the point where I could deal with things like this; not just ordering a meal, but talking with railway people, conversing with passersby, and dealing with hotel people- even over the phone, the biggest hurdle for me. Why, in another ten years or so I could be bilingual!
Also there was still a package of artwork waiting for me in Barcelona which had to be dealt with. I had been hoping to have it sent to me somewhere along the way, but since we never knew where we were staying until the night before, it hadn't been possible. I sent off a telex to my friend the concierge at the El Presidente hotel to send it on to me in Canada. By the time it caught up with me there it was not only irrelevant, but had managed to collect almost two hundred dollars in shipping charges! I decided not to accept delivery.
Once all of this fun stuff was dealt with, we grabbed a couple of cabs and went into the older part of Bordeaux for dinner. The first restaurant we looked at seemed pretty nice, but on principle Bob refuses to eat in the first place he sees. That made sense. so we walked on a bit, past everything from Chez Fifi to McDonald's, then went back to the first place- and had a great meal. Naturally, we also enjoyed some of the local Bordeaux wines, then walked back to the hotel along the waterfront. This was not exactly a charming area, being rather the "lowlife locale" of the town.
Bordeaux is a large, busy and noisy city. After all those nights of sleeping with the windows open, and all those days spent outdoors, it seemed a shame to have to keep the windows shut against the noise of traffic, construction and sirens.
---
Day 11 - "Reality Returns"
(or, "THE REAR OF AN UGLY HEAD")
Bordeaux to Paris
Our train to Paris didn't leave until around noon so it was a lovely, lazy morning. The others went out for a short cycle tour around the city, but it was kind of overcast outside, and what I had seen of Bordeaux the night before wasn't intriguing enough to motivate me. Just to lay there dozing and reading for a couple of hours felt very luxurious and decadent, after the labors of the last few days. After a late breakfast (well, if you call 8:30 late!) i took my time getting my things together for the train trip.
The big problem of the day was to make sure the bicycles would arrive in Paris on the same train as we did. After many cycle tours the Boysens knew enough to plan an extra day for that kind of variable, but I was anxious to get home after spending the last two months in Europe, and was booked on a flight for the next morning which I was determined to catch. We had the same kind of situation in Munich last year, and the bicycles had not turned up until the next morning, cutting things a little too close.
The travel agent in New York as well as the brochure put out by the French train company all assured us that the bicycles would travel on the same train, as long as we arrived an hour early. The baggage handler, however, was not so sanguine. My French was struggling a bit, but he seemed to be saying there might not be room for them, and maybe they'd be on the same train. Well, that gave me something to worry about.
I decided there was nothing to lose, I might as well try bribery for the first time in my life, and I slipped 20 francs to the young guys who came to take the bikes, asking them to try to get them on our train. i figured this was a good time to find out if "Greasing the wheels" was any use in France.
The train pulled out of the Gare St. Jean right on time. It was a great train too, silent, smooth, fast and comfortable, and its electric power was gratifying to my anti-diesel sensibilities! Since the others had booked their seats in advance, they were in a compartment in the next car from me, but that wasn't too bad. Soon after leaving I joined them there for a wonderful picnic lunch with various pates, sausages, a couple of baguettes of that delicious French bread, some Gouca and Camembert cheese, and of course, some nice Bordeaux wines. We had our "moveable feast" on the way to Paris!
Then I returned to my seat to work on the Herald Tribune crossword, watch the scenery, read and doze for the next few hours. The day had begun overcast, but had cleared into a hazy sunny day, looking more like late summer than the end of June. There was a young American in my car with a real attitude- parading around in a T-shirt which advertised a California winery- here in the heart of France's greatest wine country. Like wow, man!
After the seven hour journey, we pulled into the Gare Austerlitz on the east side of Paris in the early evening. We sat around the baggage area for about an hour, asking repeatedly about the whereabouts of our "velos". They kept insisting there had been nothing yet from the Bordeaux train, which we took to mean the baggage hadn't been transferred yet. In fact it meant there was nothing from the Bordeaux train. Whatever it had been full of when it left had been dropped off along the way, and the baggage car was empty- of bicycles or anything else.
One of the nicer baggage people even led me back into the dimly-lit caverns of the freight area, where there were dozens of bicycles hanging from their front wheels on the little wheeled carts they used to move them around. I looked eagerly among them, but there was no sign of ours. Rosie's purple Cannondale would have been easy to spot anywhere!
Uh-oh. I was getting more and more tense every minute. I had a flight to Canada the next morning that I was going to be on, bicycle or no bicycle, but I had made arrangements to deliver my bike that evening to the recording studio where they were storing my shipping case for me. I had it so carefully organized I thought, I'd be able to take everyone out to dinner at La Coupole that night when I returned, and I would even have tomorrow morning free. I had planned it so carefully- and now this.
Perhaps unaware of my mounting anger, Henri started to deliver the old "Weil, the best laid plans of Mice and-".
I cut him off short with: "One more cliché out of you and you're dead!"
I was reflecting on the question of whether railroads were in decline because they were inefficient, or were inefficient because they were in decline. Either way, it was maddening. With all the faults of air travel, at least it's very rare that your baggage doesn't arrive when you do! And you don't have to bribe anyone either.
It's an interesting side observation that the French for a bribe is "un pot-de-vin"- a pot of wine, and for a tip it's "un pourboire"- for a drink. At feast they have their values straight!
"When will our bikes be arriving?", I asked unconcerned baggage personnel. The response was a verbalized Gallic shrug, as if to say: "I don't know- does it really matter'?"
It reminds me now of a conversation i had with an American lawyer at the car rental office in Paris, as we waited outside in the rain until 12:30 for an office that was supposed to open at 12:00. It's easy to mistake this attitude for arrogance, as he did, delivering a tirade on what would happen if he tried to work like that in the States. He couldn't see that what it really comes down to is that to these people it just doesn't matter. Things like punctuality and efficiency just don't carry the same weight in the French value system. (Not like wine!) Usually I think that's okay- except when it affects my plans!
Finally the supervisor returned from his dinner break, took pity on us and called Bordeaux. After several minutes of conversation on the telephone, he finally reported that the bicycles hadn't even left there yet, but they would be on the 10:00 train- we could pick them up in the morning. Oh boy. The same thing that happened in Munich last year. I could only hope that, as in Munich, they would be there in the morning. There was certainly nothing to assure me they would be- my attempt at bribery was a failure!
The lineup for taxis was about a hundred people long, another argument in favor of traveling by bicycle- if, of course, you have your bicycle. Unlike the English, the French do not "queue" well, and a certain amount of aggressive assertion is necessary to hold your place. Finally we were in two cabs and off to the hotel.
This was one of the hotels that Rosie had chosen and pre-booked from home. As she had shown in Munich and Venice last year, she has an unerring eye for picking the good small hotels in these big expensive cities, and the Hotel d'Angieterre on the Rue Jacob was another great little place. The others would be spending another three days here, and were planning some cycle tours of Paris and perhaps out to Versailles and Fontainebleau.
As soon as we were in our room I started on the telephone. I called the studio to let them know I wouldn't be showing up that night, and hoped to be there the next morning. Then I called home to let my wife Jackie know that I still lived, and would be home the next day- no matter what! She told me there had been panicked 'phone calls from our office in Toronto and from our art director in Los Angeles about the album cover. Crisis was brewing and they were looking for me....but I could probably put it off until I got home if I wanted.
Well, in my present state of mind, already tense, angry and worried, one more little crisis couldn't hurt too much, so I started calling Toronto and L.A. to deal with whatever was going on. I told the others to go ahead and go out if they wanted to, I would be staying in to eat the telephone for dinner. It was now hard to imagine the carefree state of mind that had recorded me singing "The Good Life" as I cycled along a country road a few days ago. Back to real life I guess. Good old Henri left me with a large whisky sur glace before he went out- what a good room-mate!
---
Day 12 - "Rider's Rendezvous"
(or, "YOU CAN GO HOME AGAIN!")
Paris to Montreal
We met in the breakfast room of the hotel at around 8:00, then set out for the train station to learn the awful truth. The five of us walked over to the Boulevard St. Germain, where there was a taxi stand, only to find there were several people waiting in front of us. And taxis were scarce on this busy weekday morning. Now the pressure of time began to bear down on me. My flight left around noon, and I still had to ride right across Paris to pack up my bicycle before I went to the airport (if the *&?%* bicycle was even there!).
As the nervous minutes ticked by, we finally landed one cab, and I went off with the first party while the others waited to hail another one. The driver let us off at the departures area of the Gare Austerlitz, and we went racing through the station to the baggage office in the arrivals area I again went into the back warehouse with the baggage officer and- Oh happy day!- there they were. Among the rows of beat-up workhorse bicycles hanging in the shadows our shining steeds awaited us. Okay okay!
I loaded up my panniers, put on my gloves and helmet, said my hasty farewells to my traveling companions, and pedaled off into the morning traffic. As it would have been in any big city, the Paris traffic was congested and slow-moving, and I found myself squeezing between the sides of trucks and buses, changing lanes between the bumpers of cars, jumping curbs and using the sidewalk when I had to. Though usually a cautious and law-abiding rider, every minute counted now and there was no time for the niceties of the cyclist's code!
I headed up to and around the Place de la Bastille, then past the Hotel de Ville and along the Rue de Rivoti, past the Louvre to the Place de la Concorde, then along the Champs Elyseese around the Arc de Triomphe and out to the Bois de Boulogne. It was a warm morning, and I was sweating, worried and tense, breathing the clouds of dreaded diesel fumes, and trying to make time through the busy and aggressive traffic- and stay in one piece at the same time.
When I was finally riding along the tree-shaded park road in the Bois, free for the moment of traffic lights and the hot, smelly and unmoving mass of trucks and buses, I put on the steam to cover those few miles as quickly as I could. This road through the woods had been part of my commuting route to work for six weeks so I was on familiar ground now. I knew I was really out of the city when a big fat pheasant went flying across the road right in front of me, and that sight- just the idea of it- made my tense face crack a smile, and left me strangely calmed. For a moment anyway.
I crossed the Seine into the suburb of Suresnes where the Studio Guillaume Tell is located in an old cinema. I asked them to 'phone for a taxi as soon as I arrived, and I went to work disassembling and packing my bicycle, the sweat still dripping from my forehead. i closed up the shipping case just as the cab arrived, lumped into it and began repacking my luggage in the back seat on the way to the airport. I had to rearrange it all into checked and carry-on bags now, instead of the bicycle setup of panniers and handlebar bag.
But the excitement wasn't over yet. The highway leading to the airport was jammed with traffic as well, and our progress was slow. I had to be there by 11:00 to check in for my flight, and it was already after 10:30- I knew there was no predicting how long the journey might take on this Wednesday Morning.
But once again my luck held. It didn't feel like it at the time, but it had really been a lucky day- we had got a cab on the Boulevard St. Germain, the bikes had shown up at the train station, I'd made it across Paris without a flat tire (and without being crushed by a truck), and now the taxi would make it to the airport exactly on time. The Guardian Angel wasn't making it easy for me- but was coming through all the same.
I had another brief moment of pleasure when I discovered that Gay had somehow hidden a little gift for me in my pannier. There it was- the pen from St. Cirq that I had admired so much. I had laughed and praised it as the "ultimate in high tackiness', and dear thoughtful Gay had thought of it as a way to brighten up this dark and difficult day.
As I stood at the check-in counter, thinking that at last I could relax, the lady began to make negative-sounding noises. What else?- she couldn't find my reservation. I now understood the origin of the expression "fit to be tied", and all I could say to her was: "Oh no you don't". Finally, in another part of the computer or something, she found my name. I hate that.
So I took my shaky and exhausted self to the Concorde lounge, to soothe my battered nerves with Champagne Rose. It was not even noon yet and it felt like the world's longest day already. It was going to be great to be on that 'plane at last.
But even this momentary peace was shattered by a loud "boom" from somewhere in the terminal. I must admit I was a little alarmed at first- this is Paris after all, terrorist central- but none of the airport employees seemed disturbed. I guess it must have been something I had heard was happening here. If the security people find any piece of luggage unattended for a moment, they immediately take it outside and blow it up- usually causing an explosion of rags and tatters that used to be someone's wardrobe! The next time it happened I didn't even flinch. "Oh that?- probably just another suitcase blowing up."
On the plane and on my way home at last, I laid back in the seat and felt the tension recede. The racing and worrying of the end of this "holiday' were behind me now, I could sip some more champagne, enjoy a nice lunch, and watch the movie, without even troubling to listen to the sound. I didn't really care, it was so nice to just sit there and wait to be delivered to my destination- from now on it was out of my hands. For once I was glad of that.
When we landed at Montreal's Mirabel airport it was good to see my panniers come down the ramp onto the baggage carousel, and to be breezed through Customs and Immigration without hassle, but most of all it was wonderful to have my 9-year-old daughter Selena come running up to me with hugs and kisses as I walked wearily through the glass doors. And there behind her was Jackie smiling her welcome and her tolerance of yet another absence.
Life is good.