I cut an ad out of "Bicycling" magazine, an ad for a company called "China Passage" who offered cycling tours of China, I put it up on the "happy mirror", and it made a nice dream during those cold white afternoons of staring at stubborn sheets of blank paper. Like any busy person, I like to have my peaceful fantasies - sailing around the world, skiing across Norway, an African safari, spending a year on a Caribbean island, living in a cave in Tibet - stuff like that. "Someday" stuff.
Following our concert tour of Japan last fall, the band and crew had taken a flying two day visit to Hongkong, Macau, and south China. We didn't see a lot, but it was enough to pique my interest further. I really wanted to see more of China - "someday".
I actually went as far as sending for the brochure, and even chose a tour that fit in with my time off; the "East China Adventure", which began in Shanghai, travelling through some unpronounceable places to end up with three days in Beijing. Sounds great. Dream on.
Suddenly I was getting serious. My wife Jacqueline made me a generous deal that I could be away for yet another three weeks, if she and our daughter Selena could join me for a week in Hongkong afterwards. An offer I couldn't refuse. Suddenly - I was going!
Being very busy throughout the spring and summer, I filled out forms and made arrangements, but deep down I never really believed I'd go. Something would come up to stop me - it always did. I sent in the application and the deposit from a recording studio in England, laughing at myself inside. You'll never go.
"Your bags have been checked right through to Shanghai", said the agent at the check-in desk. "Shanghai!" The word rang in my head - this was the first time I think that the reality of where I was going really sank in. During the months of planning this trip I had been immersed in the writing and recording of an album, frantically finding time to fill out the forms and applications, make the arrangements, and collect the necessary equipment. I really hadn't had much time to dream about the reality.
Shanghai. The name alone is magic, one of those places you look at on a map and it conjures up an image, an atmosphere, "The Lady Came From Shanghai" - romantic, mysterious, and somehow dangerous, the exotic lure of the Orient.
And here I was about to fly there, to start an eighteen day trip by bicycle (and boat, train, and bus) through the northeastern part of China and the capital city of Beijing. (For any who might wonder, as I did, why it's Beijing these days, and no longer Peking, it seems that since 1958 the Chinese government has authorized a method of Romanizing the Chinese language called "Pinyin", which means "phonetic pronunciation". Thus Peking is now Beijing, Mao Tse-Tung is now Mao Zedong, and - more confusingly - the southern city of Canton is Guangzhou. Simple huh? Since it was authorized almost thirty years ago, you can see that it's been slow making its influence felt in the west!)
The first leg of my flight was from Toronto to Tokyo, with a stop in Vancouver. While I was waiting in Tokyo for the final flight to Shanghai, I met up with some of the other members of the tour group, which would number fourteen altogether. Our tour leader, John Christie, and his girlfriend Wendy were coming in from Vancouver, and there was one other Canadian besides myself to make four, plus nine Americans and one girl from Australia. About half of us had brought their own bikes, while the other half would be renting the local machinery. Since I would be travelling on to Hongkong to meet my wife and daughter after the tour I had decided that it would be easier to rent than to haul my own bike around. More about that later.
After the seventeen-hour journey, and crossing the dateline to make even a longer long day, we finally arrived in Shanghai on the evening of the 10th. We gathered at the baggage conveyor to collect our bags, bicycle panniers, backpacks, and boxes full of bicycles. Amazingly enough, all of them came rolling off of the plane - with the exception of one tiny little bag. Can you guess whose that might have been? Everyone else was outside and the conveyor was going around empty, but one of my two bags had not shown up. Great. It was just the one with all my cycling gear in it: shoes, helmet, gloves, shorts, rain-gear, my own saddle – plus some more prosaic items like deodorant, mouthwash, and my Walkman.
The hotel is called the "Lan Tian", or Blue Sky Hotel, and is surprisingly quite modern, though cheaply constructed. The rooms even have little Sony colour TV's, which I certainly hadn't expected, and a shower, though the water which emanates from the latter is a little brownish. Boiled drinking water is provided in huge colourful Thermos bottles, which we would become very used to throughout our trip. Metal ones, plastic ones, plain red ones, flowered ones, all kinds of Thermoses - I mean the Chinese have got Thermos bottles down!
I learned that I would be sharing a room for the trip with a young guy named Patrick Mastrangelo, a Bronx New Yorker of about my own age who lives in London now, working for NBC Sports. Having myself just spent the whole summer in London working on the album, plus having spent a lot of time there in the past, we had a bit in common already. North Americans in London share many frustrations.
He and I went down to the bar for a drink, joined by one or two other members of our new company. Having travelled so much in the last ten years in a tight circle of friends, it is strange for me to be sharing a room with a stranger, not to mention spending the next two and a half weeks with a whole group of strangers! This should be interesting. Patrick definitely seems like a good enough guy, anyway. We were all to learn that behind his reserve lay a sharp and incisive sense of humour, and on the last night he delivered an improvised speech awarding "Golden Buddha Awards" to each of us. I think maybe some of these awards illustrate the different characters better than I could, and make good introductions. I'll be using them.
I was served a tiny glass of Scotch as if it were Holy Water, and I was soon to discover why. We were to learn that even bars were a rarity in China, let alone Chivas Regal! Liquor was occasionally available by the bottle, but very seldom by the shot. So-called bars were usually just a counter where you could buy beer or soda pop. Even this one was a funny sort of place, very brightly lit, not overly comfortable, only five or six different liquors on the shelves, and even at nine o'clock they looked as if they wanted to close. I soon decided to try and get some sleep, hoping to get on a normal sort of schedule as soon as my body might permit it. I went to sleep hoping that my missing bag would tum up in the morning.
I woke up at about 2 a.m. to discover that I was now the proud owner of the cold which had been travelling through my family and friends for the last two weeks. I guess the journey, the jetlag, and the lack of sleep had been enough to lower my resistance to those nasty germs. For the rest of the night I tossed and turned, feeling lousy, feverish, sore in the throat, itchy eyes and nose, stuffed up head - all those wonderful feelings.
Breakfast was a fair attempt at a western breakfast, with pineapple juice, toast and jam, mysteriously-coloured fried eggs, and even coffee. Some people were adventurous (?) and insisted on having "what the Chinese people have." They were served (no doubt with an inscrutable smile) cold rice porridge, cold fish and meats, hot greasy milk soup, and some doughy cakes. I never heard them demand a Chinese breakfast again.
After breakfast we were taken on a bus tour around the city (no cycling until tomorrow). With about eleven million people, Shanghai is one of the largest cities in the world, and has been a major sea port for many centuries, During the 1800's trading concessions were forcibly opened up by the English, French, and Japanese, and its history has been one of commerce and intrigue, high finance and child labour, with a society ranging from fabulous wealth to grinding poverty, romance to squalor. It was here in the 20's that the Communist Party began its activities, and it was here in the 60's that the "Gang of Four" centered their reign of terror in the ironically-named "Cultural Revolution".
Most of the traffic we pass through consists of bicycles and buses, with some trucks, and very few cars, most of them taxis and government cars with the curtains on the back windows. The number of bicycles is truly incredible, there are something like 300 million of them in China, and the streets are thronged with all sorts of two, three, and four wheeled contraptions, carrying any amount of passengers and impossible amounts of cargo. Some of the three-wheelers were equipped with hand cranks, presumably for handicapped people. A chorus made up of hundreds of bicycle bells jangling at an intersection can be an unbelievably loud noise, but it was easily eclipsed by the constant blaring of truck and bus horns. The actual meaning of them is often unclear, but it was to become a familiar sound to us in the course of our travels.
There were little glassed-in booths at the busier intersections for the traffic police, and loudspeakers carried their instructions to the chaotic traffic. It was hard to know if anyone was listening to them or not! Sometimes the less fortunate cops were perched on a little concrete pedestal right in the middle of the intersection, exposed to the mercy of the elements and the dangers of the road. How those guys must look forward to the day when they too will get to sit in a closed-in booth and give orders through a microphone.
Most of the streets were quite narrow, lined with old brick three or four story buildings. The walls were everywhere festooned with lines of drying laundry, strung on bamboo poles and hung between the windows.
There were quite a few high-rise buildings, particularly outside the city centre, and a fair number of them under construction, surrounded by quaint but rather fragile-looking bamboo scaffolding. Another thing that would become a familiar sight. There happened to be some construction going on around our hotel, and we were interested to observe the work habits. Although the workers certainly put in long hours, they were not over-strenuous about it, and took it in turns to "supervise", leaning on a shovel smoking cigarettes. Nothing wrong with that, I don't think!
It is said that China's greatest resource (and greatest liability) is the sheer number of people - the potential work-force. Its labour-intensive nature is illustrated in many ways, seeing guys sitting around meticulously cleaning old bricks with hammer and chisel, or, as I saw on another trip in the south of China, quarrying stone with hammer and chisel! Or nine people down on their hands and knees in the middle of the road painting the white lines! One old woman with a thin brush painted the outline, while the others with medium and wide brushes filled them in. Let's hear it for the "Four Modernizations"!
We stopped for an hour at the Shanghai Arts Museum, a rather dingy and unprepossessing building to look at, but which apparently contains the largest collection of ancient Chinese art in the country. There were three floors of pottery, bronzes, carvings, sculpture, calligraphy, and paintings, and it was interesting to stroll among them. Coming from a society which is barely a couple of hundred years old, it is very thought-provoking to stand in front of a piece of pottery that was made seven thousand years ago!
We took a walk through the "old town" area, where the streets are about ten or fifteen feet wide, and packed with masses of people. "The centrepiece is an old temple - Temple of the Town Gods", and the surrounding gardens which were first established by the Ming Dynasty of the 16th century, then destroyed and rebuilt with the many passing wars. It's quite a tourist attraction to the Chinese as well it seems, you're always in the middle of a crowd. In the narrow streets which fan out from it, there are many tiny shops selling all kinds of strange stuff. Groups of old men squat in the street, dressed in the traditional blue cotton "Chairman Mao" uniform of the proletariat, while a crowd gathers around them to watch a game of cards or checkers.
Because of my cold I am running that kind of mild fever which acts like a drug, making the senses a little amplified, the colours seem unnaturally bright and sounds are kind of muffled and strange.
We stopped at a restaurant for a lunch that was pre-arranged, as all our meals would prove to be. The combination of my cold and a recurring case of the hiccups left me with no appetite, but the others said the food was good. Someone asks if maybe I don't like Chinese food - wouldn't I be in trouble for the next thirty-odd meals if that were the case!
After lunch we separated for a while to walk around the area, and it was great to walk alone through the narrow crowded streets, so full of life. Little private shops and businesses have sprung up all over the place in the last few years, since Deng Xiaoping has relaxed the former ban on private enterprise. All kinds of tiny shops, food stalls, and street peddlers have set up business beneath the drooping flags of laundry on the bamboo poles.
I get the feeling that I would like to walk around these streets all day - except for the knowledge that I would be hopelessly lost in five minutes. My command of the Chinese language is limited to one word - (ne-hao = hello) - plus I've read that it's impossible just to flag down a cab here, you can only get them at a hotel.
When our tour leader John went to the Australian embassy this morning to fetch our missing member (she'd been given the wrong hotel name by her travel agent!), he asked for a taxi and they just said "no". No explanation, no alternative, just "no". He had to wait until they were good and ready.
That evening we were treated, as probably every visitor is, to the Shanghai Acrobatic Theatre. The crowd was at least a third foreigners, but the show was definitely something to see, and the traditional Chinese circus music was something to hear as well. It was about a two hour performance of acrobatics, balancing acts, jugglers, glittery costumes, a trained panda, and a lion tamer to climax the show. Some of the stunts were truly amazing to see, but there were also some rather pointless ones like the strange-looking fellow whose calling in life consisted of stuffing himself through a cylinder while doubled over. And I thought mine was a strange way to make a living. On the whole it was like a lot of things I grew up watching on the Ed Sullivan Show. I was professionally amused and sympathetic when the band were trying to play along with the organist's rhythm box, and the drummer and everybody got horribly out of time with it. Now that's traditional Chinese music!
It was very exciting to join the hordes of cyclists pedaling through the streets of Shanghai, and the natives were definitely amused to watch our progress, with our strange looking machines, helmets, mirrors, and bright-coloured clothing. Anytime we came to a halt anywhere we were instantly mobbed by crowds of silent Chinese, quickly multiplying the longer we stayed. I stopped for a moment on a bridge to adjust my handlebar bag, and caused a jam that brought traffic to a standstill.
As we cruised once again into the stream of cycle traffic, I was struck more vividly by the rarity of cars. There were quite a few of a very dated Chinese model, looking as if it had been designed with Russian help - long before the Sino-Soviet rift of around 1960. Other than those, during the course of the day I saw two older Mercedes, one Audi, a couple of Citroéns, and a fair number of VW "Santanas", which I later learned are built here in Shanghai in a joint venture with the German company. Inevitably there was a fair sprinkling of Japanese makes, Nissans and Toyotas, and some Hino buses. The growing proliferation of Japanese goods in China is a rather volatile issue there, as in some circles memories are long of Japanese imperialism and brutality during the 30's and 40's, plus of course there is a trade imbalance between the two countries. (A common international complaint!)
It becomes apparent that three of our group are very experienced cycle tourists, Bob and his wife Rose and their next-door neighbour Gay. They are from New Jersey, and are all members of a bike club called the "Western Jersey Wheelmen". (Shouldn't that be "Western Jersey Wheelpersons", Rose and Gay?) They have toured together through England, France, and Italy, and Bob and Rose recently did the San Francisco to Los Angeles coastal ride. Bob has also done the Portland to San Francisco route, and has accomplished a goal of my own; a two hundred mile ride - a double century. And in only 12 and a half hours. He is truly one of those cycling fanatics, commuting something like 35 miles a day to work in all weather, and is eager to ride everywhere - like right now! Naturally he would often be the one to set the pace, as he has that slow, effortless-looking cadence, but with so much power in every turn of the cranks. Bob was presented with the "Ironman" Golden Buddha award, as he was the only person Patrick knew who would want to ride up Mount Everest, but would not want to ride down - it would be too easy! Rose would receive the "Iron Woman" award, for putting up with such a man.
Later in the day poor Bob rode too close to one of those over-burdened tricycle affairs, and a rope dangling from it caught around his handlebars, pulling his bike out from under him. Fortunately he only suffered a scraped knee and embarrassment, but the crowd which gathered for that event was mammoth - traffic must have been backed up for miles! The other rider was most concerned about him though, and came running back to help him up. I wonder what happens to them if they maim a foreigner - before he's even had a chance to spend any foreign exchange notes!
We were directed through the city by our guide and interpreter, the coolly efficient Chen, with a non-English speaking cyclist leading the pack. Chen sat up behind the driver of a motorcycle-sidecar, looking just a little nervous about trying to keep this group of 14 cyclists together through the streets of one of the world's biggest, busiest cities.
Ironically just such a couple was part of our group. Both from Long Island New York, John (John Sr. we called him, with two Johns around) would celebrate his 60th birthday in just a few days, while Julia freely admitted to having already passed that milestone. And, as will be seen, they did just as well as anybody on this tour. In fact, Patrick gave them the "Best Riders" award, as they "are twice as old as I am, and they rode twice as far, twice as fast".
Next we moved on to an arts and crafts exhibition, held in a huge and obviously Russian designed Exhibition Hall. It was a very large and beautiful display of carvings, silks, tapestries, rugs, furniture, and jewelry, all for sale, and I don't think anyone left there empty-handed. "Oh they want that foreign exchange, yeah they love that foreign exchange". (Just a little tune I've been working on.)
We gathered in front of a big stone fountain outside, for our first group portrait – bicycles and all. A very obliging and patient Chinese fellow was recruited to do all the button-pushing, and he smilingly complied with about ten different cameras. He seemed to know what he was doing, and was rewarded with a round of applause when he was finally finished. I think he was a little embarrassed, but pleased, and of course a huge crowd had gathered to watch all this foreign madness.
For myself I had made a conscious decision not to bring a camera on this trip. I have felt in the past that photography tends to get in the way of the experience sometimes; you look at everything you see as a potential picture instead of just trying to absorb and understand what you're in the middle of. I adopted the method of trying to record things mentally, keeping a journal of every day's events and impressions, and occasionally just jotting down a few notes where I was. Mostly I just wanted to look, listen, and smell. Hopefully with all the photographs taken by the rest of the group, we can exchange my verbal impressions for their pictoral ones.
I had an interesting experience when I had to stop once again to adjust my handlebar bag (the proper mount was still in that missing bag. Maybe it will show up today!). Everybody else kept on riding, and the ever more frantic-looking Chen just pulled up on the motorcycle to tell me to turn left here. Fine, no problem, I thought, until I looked up and saw that it was a five-sided intersection! And there was no-one else in sight - at least no-one who could help me with directions.
So I took one of the left turns, and rode away hoping to catch up with the others soon. And I rode. The street curved around and began to follow a canal, a very black canal, and the old brick buildings diminished to two stories, then one, and then they were more widely spaced with trees - Where am I? Like, help! It's weird knowing that you can't ask anyone for directions, can't read the street signs, have no idea where you are, no map - will they ever find me?
I prudently turned around, and decided to head back to that last intersection. I'm still on the same street - I think! I was relieved to find the place where the five streets came together, but by now had no idea which of them might be the right one, so like a good Boy Scout, I just waited where I was until Chen reappeared, truly frantic by now. The poor guy. When we stopped for lunch the alarm went out about my room-mate Patrick. "Where's Patrick?" "He was ahead of us". "He was behind us". "Let's go on". "Let's wait here". "He's back at the Sports Federation building". "No, he's inside the restaurant already!"
In the late afternoon we cycled back to the hotel, to meet again for dinner in the hotel dining room. It's just across the courtyard from the "Lan Tian" guest house, in another modern cheaply-made structure. It's a strange sort of room, kind of like a big banquet hall with big round dining tables, and the ceiling is incongruously decorated with garlands of multi-coloured foil tinsel, and strangest of all, a mirror ball!
Now that we've all passed a couple of days and six meals together, people's characters start to emerge more clearly, and each of the thirteen others becomes a clear individual to me.
We have a couple from California, Pat and Vicki, who were both to receive the "Congeniality" award from Patrick. Pat was a self-appointed ambassador of goodwill, and distributed smiles, waves, and American flag pins wherever they went. Only once, after a long, long day on the bikes, did Pat admit he was "tired of smiling at Chinese". Patrick's speech illustrated their characters thusly: "You'd be riding along, past a field with a peasant behind a water buffalo, up to his waist in mud. Vicki comes riding by, looking perfect, not a hair out of place, and remarks: "Oh, what a great field of mud! Pat, take a picture of this," And Pat will ride up, his matching outfit perfectly turned out, and tell you a story about a "guy he knows". "You know, I knew this guy who once had a bull, and he just couldn't make anything on this bull, so he started collecting up the manure: Made a fortune from bullshit."
We have noticed that there is a funny taste to the water here, which is also apparent in the coffee and the rice. Pat says he thinks it's quinine - I'd hate to imagine why but I guess it must be safe enough.
John had given me a call just before dinner with "some good news and some bad news". "The good first, of course", I said, and he told me that my bag was at the airport. Wonderful! The bad was that I had to go and get it out of customs. Hey, no problem! I'll go, I'll go! So I carefully booked a cab two hours in advance, and right after dinner I headed out to the airport. Since we were to the north, and the airport is to the west, and there are no expressways to shorten the journey, it took over an hour to get there, but I was so glad to get that bag, I sure didn't mind. Besides, I slept all the way back.
---
"A SLOW BOAT TO CHINA" September 22
I was awake in the early hours, when it was still dark, so I caught up on my notes with the aid of my little flashlight so as not to disturb Patrick. I was to learn that I needn't have bothered; he was to become legendary as one of the great all-time sleepers. When it started to get light at around six, I got dressed and headed out for a walk.
There were many people already about, on bicycles and on foot. Buses went rumbling past, the double-length ones that are articulated in the middle, and as always they're unbelievably packed. Even at 6 a.m. the drivers honk their horns at anything and everything. On the streets old men and women execute the slow-motion ballet of their tai-chi exercises.
Remarkably there are quite a few vendors on the street selling live crabs. Is this some kind of Chinese breakfast delicacy? Early runners are on the streets as well, including Pat and Vicki, out for a relaxing six mile trot accompanied by Philippa, from D.C., who is hoping to write an article on bicycle racing in China. Seemingly not a vast topic.
Several couples ride by on a single bike, the woman perched on the rear rack, and whole families too with a child on a little seat on the crossbar. White shirts are very popular here, and blue jeans, though the old folks stick to the traditional blue cottons. There are women returning from the market already, with baskets of vegetables and pork bones, and live chickens tied at the feet and carried by the wings.
I found the local market off a side street, very large, very crowded, and apparently very much a "seller's market", as the arrival of a fresh cartload of some nameless vegetable has a trail of purchasers following it in. There are many unidentifiable vegetables on sale, and many kinds of roots, slabs of pork, all sorts of fish, both frozen and live, huge fish heads, half fish heads, crabs, shrimp, crawfish, as well as bike parts, seats, tools, and a man with a stall selling wood saws. I watched a man killing and peeling live eels to order. Yum, yum!
As I walked back to the hotel, I became aware of the amount of security measures there are around things. Buildings surrounded by high walls, sometimes with broken glass set into the top, barbed wire here and there, and big iron gates. At first the bikes didn't seem to have locks, but now I notice small ones that encircle the rear wheel and lock with a key. They've all got them. I guess it's true that there's crime everywhere. Naturally.
But the spitting remains unique, and seems particularly spirited this morning.
Today Is the day we board a boat for the 26 hour passage out into the Yangtse, the China Sea, and up the east coast through the Yellow Sea to the port city of Qingdao (pronounced "Ching-dow", in case you haven't got your Pinyin down yet!), so after we get packed up and move out, we take the bus down to the main drag of Shanghai - the Nanjing Road.
Although it's a Sunday morning, the streets are absolutely jammed with people, millions of them. More than Tokyo, more than London or New York before Christmas. It's indescribable, but very exciting to be a part of such an incredible procession and multitude of humanity.
I am learning how to deal with the crowds and the "Staring Squads". If you try to stay alone, and keep moving, you attract much less attention and pass unnoticed through the crowd. This morning at the market I noticed it, and it works for me here too.
I walked past the "Number One Department Store", apparently the biggest in China, but it is impossible to enter or move around inside of. I didn't even try to enter any of the stores, but just kept moving, part of the parade.
I couldn't help noticing that although the streets are filled with an assortment of rather rich aromas, crowds of Chinese packed together on a hot day don't really smell that bad. I don't know if it's hygiene or diet, but they definitely smelled better than the people of Some European Countries I Could Name. (Note the introduction of a recurring theme).
I took a walk through "People's Park", which, in spite of the name, costs 5 Fen (a couple of cents) to walk in. I had been in another park along the river the other day that had also cost me 3 Fen. Strange. It is ironic that in the days of British occupation, that particular park had been forbidden to "Chinese and dogs".
It is remarkable to see the "One Couple, One Child" government program in action, with so many families of three posing their little pride-and-joys around the park for snapshots, and so few pregnant women. I was interested to learn that one of the errors which the "Party Line" permits to be attributed to Chairman Mao was his idea that more people meant more power, and people had been urged to have more children. It was only after he came to power, in 1949, that the population doubled to its present billion and some. Wisely it is a policy that has been reversed, by offering young couples financial and other incentives, as well as free contraceptives, abortions, and propaganda. You see many large billboards depicting a "Buck Rogers" background with a young couple holding aloft their baby (usually a girl) to a starry future.
Sadly, of course there are always fanatic zealots and ignorant people who will take a good idea too far, and there are chilling Gothic tales of forced abortions and infanticide. Stories from the rural areas, where sons are valued as future workers, about peasants drowning their newborn daughters, or divorcing a wife who did not produce a son. There are also stories about villages having "quotas", and cruel old matriarchs who are the steely enforcers of the one child limit. The government denies these tales, some hotly affirm them, I don't know if they are true, but there is a chilling, medieval quality to them. Creepy.
The posters which line the wall outside People's Park are a shocking sight. They show photographs of road accidents, with a text presumably describing them. The pictures are very graphic indeed, showing buses, trucks, smashed-up bicycles, and mangled bodies lying on the toad. They are shown in black and white, but the blood is painted in with a bright red paint, making a lurid sight. No punches pulled. Horrible in fact, but they were very popular with a crowd that stood about five deep to stare at them!
It was less strange, but still kind of sad to see posters advertising the Chinese dub of "First Blood", and to think that western civilization is represented to the average Chinese by Rambo, Nixon, Wham!, and Coca Cola. No wonder they stare at us!
And as we gather again back at the bus we once more draw an ever-growing, ever-staring crowd. A student of English starts a conversation to practise his studies, and the crowd swells and bends nearer to hear this strange tongue. But they are silent and merely curious, not laughing and exchanging comments like the Japanese do. It was always strange to me that even in a Japanese English language newspaper, they would have a cartoon making fun of the "Gaijin" - foreigners. Sure it's in good humour, but I find it hard to imagine a cartoon in a Toronto paper making fun of Japanese.
Our English student learns that some of us are Canadian, and delivers an amazingly detailed dissertation on Canada. "Oh yes, Canada is a very large territory, but with a small population, a neighbour to the US. Most of the people speak English, except for some who speak French. Dr. Norman Bethune (a Canadian doctor who died here while aiding the Red Army) is a great Canadian hero, a symbol of great friendship between our two countries." Well alright!
There was also an elderly policeman, very friendly with a beaming smile, but who could only say "hello" and "Good afternoon", so he just kept repeating them again and again. Nice.
I've got a new trick. When a crowd forms around us, I simply slip outside of it, sit down on the curb, and become an onlooker instead of the object.
After lunch we moved down to the harbour, and into the waiting room for the boat. There have been all kinds of stories circulating about this boat trip, many conflicting, so no-one really knows what to expect. I asked our new guide and interpreter, a nice lady named Gee, to translate a large red banner which hangs there. "To serve the people wholeheartedly", it reads, and is apparently a slogan to inspire those who work here. Okay. On one of the tallest buildings hangs a huge banner, maybe 200 feet long, which reads "Let us work together to bring our people into the future". Noble enough propaganda.
There is general confusion as we board the ship, and we stand in the narrow companionway with our luggage waiting for the cabins to be sorted out. It seems we've been assigned to third class, which means six to a cabin. Second class is four to a cabin, first is two, and there is also a lower, steerage class I suppose, into which I later took a peek and felt pampered in third class; it was just a big metal dormitory of dozens, maybe hundreds of bunks. Nice.
I don't think anybody really minded the accommodations, it didn't really make much difference, and it added to the spirit of adventure and camaraderie. Gee finally managed to wangle two first class cabins - the two first class cabins - and we drew straws for them. Fittingly the two senior couples, John and Julia and Bob and Rose, come up winners. The rest of us pile our luggage into the "cell blocks" and choose which of the metal bunks to make our very own! Actually the berths seem fairly comfortable, and there is a large opening port to let in the air and light. It will be fine.
I went up to the forward deck as we pulled away from the dock. Wow. Nothing I have ever seen compares to the sight of Shanghai harbour from a boat. Hundreds of ships of every size and nationality are all that you can see for miles down the river. We emerge into the mouth of the Yangtse, so wide you can't see the other side. Awesome.
We are the only Caucasians of the three hundred or so passengers on board the Chang Liu, but these are sophisticated travelers, and are either friendly to us or just ignore us. There was one young guy with whom I keep meeting up, as we both liked to stand at the bow, and we would exchange smiles when we met. It's strange how it happens sometimes, when just from a person's face, though you've never spoken, you feel like friends with something in common.
So far I have felt a general friendliness from people in authority here. A firm friendliness to be sure, but not the kind of stern, self-important officiousness you meet in Some European Countries I could Name. (S.E.C.I.C.N. from now on, okay?) For example, the very top deck of the boat was off-limits to passengers for some reason, so of course I had to find a way up there. When discovered (several times during the voyage), I was just smilingly waved below. No big deal, and not hard to take.
We learn that we are to receive first class privileges for meals, which turns out to mean that we have a whole dining room the width of the ship to ourselves. Nice, I suppose, but is this some kind of segregation or something?
We sat down to dinner as the sun was going down over the China Sea, and this was another very strange dining room. There is a hardwood dance floor in the middle, with a huge floor-standing multi-band radio, looking very anachronistic, beside it, strings of flashing coloured plastic lights hung all across the celling, shaped like roses, lanterns, and pagodas. There are also strings of multi-coloured foil tinsel all over, a bar which served only beer, and the chairs all covered in white cotton. Almost beautiful in a supremely tacky kind of way. "Incongruous", said the taciturn Bob.
After dinner Patrick sells shares in a bottle of Jack Daniels which he has found somewhere. A stereo is discovered behind the bar, and everyone takes turns playing a cassette.
The evening's entertainments are begun by Phillis, the fourth Canadian, who is taking a year off from IBM to travel around the world. She grew up in Montreal (and a summer place in the Laurentians and a winter place in Vermont, poor child!), and regales our weary ears with John Denver, of all people. "Country Roads" and "Sunshine on my Shoulder" on a ship in the China Sea. Bob, say "incongruous" again, would you?
Phyllis would be presented with the "Best-Dressed" Award by Patrick, for trying to turn Red China into Pink China. You never saw anybody wear so much pink!
I happened to have a Third World cassette with me, which I offered to John if he wanted to be the mean guy and take off John Denver. He bravely accepts the mission, while I look the other way and disavow any knowledge of his actions. Wendy follows that with "Eurythmics", and then Rita with a selection of good Australian music, the "Australian Crawl" and "Kids in the Kitchen", who we promptly re-name "Pigs in the Kitchen", a much better name, don't you think?
Everyone heads for the "cell blocks" by about nine, but I snuck up top again with my Walkman, and lay beneath the stars, the deck vibrating beneath me, sheltered behind a deck box and a piece of cardboard which I pulled over me. I had thought I might even sleep undiscovered, but it soon grew too cold, and I went below again.
---
"THEM THAT DIED WAS LUCKY!" September 23
During the night the seas grew heavy, and by 3 a.m. I was awake for good. I brought out my little flashlight and brought my notes up to date, then about 4 I stole my way back up to the top deck for the "Dog Watch", always my favourite time when sailing. You start off in pitch darkness at 4, and steer by the stars until the sun comes up, then enjoy the sunrise until you're off watch at 8 - just in time for breakfast.
The big ship was plunging and rearing into the mighty waves, but I found a compass binnacle on the deck where I could hold on, and even watch the course we were steering; 350° - almost due north. The wind was very strong, the anemometer above me just a blur, and the waves whipped right up over the high bow, sometimes right over the whole ship, and I ducked the flying spray. A salty dog.
As the sky began to slowly lighten, it turned a yellowish, bruise-like colour, and the sea was a very pretty pale green, though we were in the Yellow Sea now. The sunrise was a fiery glow in the east, the sun only visible for a moment as a big red ball until it disappeared behind the thick clouds.
It was exciting to be up there with the wind and the waves, especially of course because I wasn't supposed to be. I was finally discovered about 6:30, and waved below again. The guy didn't understand that I wasn't finished with my watch yet!
Almost everybody else was awake, and gathered in the first class cabins to share the bathroom facilities. They were far from luxury, but considerably less aromatic than the community latrines which we shared down in the "cheap seats". Everyone had passed a restless night, and the rough seas had caused quite a few unsettled stomachs. In general there's a bit of misery and potential mutiny around, and it was then that I delivered the line in my best pirate voice: "Artrrr, them that died was lucky". A few people seemed to agree. As is often the case with shared hardship, it was really building up a camaraderie among this disparate group.
Only Patrick the world-class sleeper weathered everything until he was awakened for breakfast, held once again in our personal first class dining lounge. There were a few who declined to attend, preferring to stand guard at the ship's rail.
Everyone spent the morning dozing in the lounge, in the chairs, on the white cotton-covered settees, or, like myself, right on the floor. I lay for awhile with my jacket for a pillow, drifting in and out. It must have been a short, restless sleep for everyone.
As the day passed the sea grew calmer, and the wind died down a little. I spent a few hours up at the bow, just watching the waves pass by. It's so hypnotic to lean over the rail and watch the bow cut through the waves, Gay is the only other enthusiastic sailor among us, and she spends a few hours there as well. I think maybe she is the only other one of us who enjoyed this trip.
By late afternoon the sun is out, the wind is strong, and the sea shines around us like a flat disc. Land begins to appear in front of us, first as a shadow on the horizon, then gaining shape and substance as we draw nearer. We began to see more boats and ships, and a few of these tiny little fishing boats rowing out miles from shore. From Bob I learned the trick of estimating how many hours to sunset by holding your fist at arm's length above the horizon. One hour for every fist. What a guy!
It began to grow dark as we sailed into Qingdao, another incredibly busy harbour. Lights were coming on around us, and the dozens of freighters and tankers were magical looking, all lit up on the dark sea.
We gathered for the last time in our little "cell" to collect our luggage, and wait to debark. Most people are very glad it's over, but I must admit I loved it and am a little sorry it's over. One more night would be okay. But that's all.
We checked into the "Huiquan" Guest House (it means "gathering waters", I think, either that or "Qingdao" does) and enjoyed a really nice meal. (Chinese food for a change!)
After dinner I bought myself some Chinese chocolate beans (kind of bland), and read about Qingdao in the three guidebooks Patrick and I had between us. Well tired out, I was asleep again by 9.
---
"A DAY AT THE SEASIDE" September 24
I was awake about 5, after a night of restless dreams. I saw that Patrick had set his alarm clock for 5:30 - ha ha - he'd be sure to sleep until at least 7 regardless. I got up, had a shower, and headed out for a walk.
There were quite a few runners on the road, and on the beach as well. Some of the young runners must have been diligent students, as they were poring over books while they did their stretching exercises. There were even some hardy swimmers in the sea, though it was quite chilly out.
I walked down to the end of the beach, romantically named "Number 1 Bathing Beach", and climbed way up high to a pagoda that I had seen yesterday from the boat. It turned out to be surrounded by a beautiful park, which cost a steep 15 Fen to enter. Nothing's free here in the People's Republic!
The park around the elegant three-tiered pagoda was beautifully landscaped, with many topographical sculptures of natural stone shapes with moss and grasses carefully placed, the whole creation framed in a pan of shallow water. Simple and beautiful. The walls of the pagoda were stylized mythical murals of colourful glazed tiles. The view of city and sea stretched a full 360°, and was very beautiful in the early morning light.
Qingdao was a German "concession" during the years when everyone in the world was carving out pieces of China for themselves. To that occupation is owed a lot of the architecture, as well as the famous "Tsingtao" beer. It had also been snatched up a couple of times by the Japanese this century, but is now a popular "Party" resort, a Naval Base, and a very busy port serving Shandong province.
The city is set on many hills, with its red-tiled roofs and the twin spires of the Catholic church giving it a definite European look. There is lots of greenery around, and with the sea on three sides it looks very beautiful. A cool wind blows and the sky is clearing.
Looking back towards our hotel, you look across a sandy, crescent-shaped beach with many brightly-painted buildings behind it. Pink, yellow, blue, and green, some of them round and flat-topped, some of them A-frame style, with three high-rise hotels across the road from them, one of which was ours. From here they could be Ramada Inns or Travelodges, their ten floors of poured concrete with balconies facing the sea. Our room on the second floor is a fairly normal western-style hotel room, except for a red frilly plush cover over the television, which has flowers and "TV" embroidered on it in white. Weird. As ever there is a thermos of hot water for tea, and a carafe of boiled drinking water.
On my way back I noticed the names on some of the buildings along the seashore: "The White Spray Cafe", and the "Egret Dining Hall". Nice.
After breakfast we were taken to the "free market", a huge street market stretching over many blocks in the city centre. There was one whole street just of shoe repairers, two full of clothes, one just of children's clothing, one of watches and watch repairers working away in their little booths. There is a great variety of cheap goods, toys, carrier bags, shoes, furniture, TV's, radios, and cassette recorders (even one with two recorders built in for copying tapes - tsk, tsk! - Don't they know that's bootlegging?). All kinds of sidewalk stalls selling food, drinks, ice cream, and medicines. In the food area there was a whole block of just eggs, one of rice, and two long arcades of fruit and vegetables.
The people were much more conservatively dressed here compared to Shanghai. Probably half the males (and many women too) wore the blue cotton uniforms. I became fond of the simple practicality of the large-pocketed "Mao" jackets, and thought I might pick one up, but of course it was impossible to find one big enough for my western shoulders and long arms. And of course every time you stop a crowd forms, and if you buy something it's a sensation - it's best just to look and keep moving.
I tried a Chinese version of the Popsicle, just out of curiosity. Nice texture, but a little bland in taste. On my way back along the waterfront I took a walk through the rather seedy Aquarium, and across the rocks at the edge of the water.
Our ever-obliging guide Gee had arranged for us to rent some bicycles from the hotel staff for the afternoon. It was fun to get out on one of the local machines, though it was a heavy, one speed "clunker" with frighteningly inefficient drum brakes. Since my equipment had shown up, I was wearing my white helmet, and a little rear-view mirror that attached to the brim, both of which attracted much attention from the locals. I managed to ride through much of the city that afternoon, even with the multitude of hills. During one very steep, stand-up grind up to the Catholic church, I think my weight did some permanent damage to the pedal cranks. Sorry! That bike was probably worth two months' salary to its owner.
Many of the streets were lined with trees, and there was not too much traffic, it was quite peaceful after Shanghai. You only had to watch for the trucks, as many of the intersections were unmarked, so you just had to stop anyway. I took a ride down through the poorer side of town, an area of factories and slums down near the docks, then back along the sea where I sat for awhile to watch some board-sailors skim across the water. I guess even in China it's a popular sport. I'd like to have joined them out there.
As I rode behind the hotel to return the bicycle to the "staff parking lot", I saw the first American car I had seen in China. What a classic too, a late 60's Buick Electra 225, a "deuce-and-a- quarter" with wide whitewalls, a vinyl top, and a rather amateurish metallic blue paint job. Right off the streets of Detroit!
We celebrated John Sr.'s 60th birthday that night at dinner, and he laid on some of the local wine, which everyone sampled eagerly, but the sweet, syrupy taste was not too inviting. I was asleep early once again, but this sleeping right after dinner seems to bring on the disturbing dreams. This was a horrible one, where I showed up for an outdoor show to find that none of our equipment was there, but someone had decided that "the show must go on", and had set it up for us to fake it to tapes played over the P.A. What a nightmare! We were railroaded on stage, and I sat behind this weird assortment of drums and electronics, pretending to play "The Spirit of Radio" and "Red Barchetta". After just two songs, we were pulled offstage and sent to the dressing room, and I kept trying to tell people that this just wasn't going to work, but they kept insisting that it was alright. I remember throwing drumsticks around like a maniac in a rage of manipulated frustration, until a riot started and the crowd was sweeping backstage. I woke up wide-eyed and sweating.
What do you make of that, Dr. Freud? And you, Dr. Jung?
---
"I HEAR THAT TRAIN A-COMIN' " September 25
Once again I was awake before the sun, and out for a walk about 6. I went the other way along the shore, through a beautiful area of luxurious guest houses and sanatoria set along wide boulevards, each of which was canopied by a different kind of tree. There are some grand houses along the sea which date from the time of German "supervision", early this century, but now they are used for high-ranking Communist Party "cadres". They remind me of the story I was reading about the German governor who decided to build himself a replica of a Bavarian castle for his official residence. It ended up costing a million taels of silver (sounds like a lot, doesn't it?), and when the Kaiser got the bill - the governor got the sack. I guess his replacement had a nice house to live in.
A local cycle team goes by in a tight pace-line, their coach wearing a sweatshirt with "TRAIN" on it in big letters. I guess there must be some racing here for Philippa's article – maybe she'll be able to write this trip off after all.
The sun was climbing higher in a clear autumn sky, as I walked back to the hotel to wake up Patrick and go for breakfast.
We left early for the train station, excited and hoping that the train might be pulled by an old steam locomotive, but we were disappointed to find that it was an ordinary old diesel. The passenger cars were very nice, the seats arranged in pairs, facing each other across a little table - everything decorated with white cotton covers and embroidered headrests.
The train pulled out of Qingdao quite slowly, passing through the industrial outskirts and then into the open countryside. It was amazing, it seemed that every inch of land was under cultivation, mainly corn and cotton here. It was just at the end of harvest time, and there was plenty of activity, all of the fieldwork being done by hand. A lot of horse and donkey carts plodded by, and in the freight yards of outlying stations we saw plenty of old steam locomotives, noble and beautiful in black with red and silver painted wheels. A romantic sight.
We were taken along to a truly charming dining car, seats and tables again all covered in white cotton, and were served a nice lunch. As usual there were about nine courses, with some the identity of which we could only guess at. Another memorable quote was delivered by Philippa when someone theorized that a particular dish was some kind of fungus. "Well", she said, "as long as you know it's fungus that's all right!"
All of the wine, beer, and soft drinks on the table were made in Qingdao, which seems to be the drink capital of China. Everyone has grown very fond of a local spring water called "Laoshan", and we tried to order it everywhere we went after that.
We were pleasantly surprised that the train both left and arrived right on time, pulling into the little town of Zibo after about 5 and a half hours. This is where we'll be starting the serious cycling, but it doesn't seem to be a noteworthy place for anything but that. It only rates a paragraph in two of the guidebooks, and no mention at all in the third. It's funny that I should refer to it as a small town, as it has a population of 2 million – as big as Toronto. John and Wendy remark that it's twice as big as Vancouver. It makes you feel a little ignorant to find out about all these places you've never heard of where millions of people live.
We're staying at a quaint little guest house with rooms rather like an older European hotel. Small, but with very high ceilings, a desk, two chairs, two little single beds, a funky little bathroom, and even a little refrigerator. There's even an air conditioner which really seems out of place.
Our new rental bikes are delivered as we arrive, and - well - they are Chinese ten-speeds as advertised, but aside from being heavy as hell and a little beat up, these ones all have straight handlebars. With a lot of miles to do, that could get a bit uncomfortable, not being able to change hand positions as with dropped handlebars. Good brand name, though - "Golden Lion".
We set out together for a ride around Zibo. It really is more of a large village than a small city. No large buildings at all, and though the traffic is heavy, it's almost all made up of bicycles! Westerners must be very unusual here, as the natives really went wild when we pulled up at the local market. In seconds a huge crowd surrounded us and scrutinized every detail of us and our bicycles in silent wonder. It was as if the Martians had landed. As people strolled through the market, they were accompanied by a phalanx of blue-suited Chinese, moving as they did, while another large crowd surrounded and studied the "bicycles from outer space". We didn't stay there long.
As we rode along the street I said "hello" to a particularly cute little girl, but she stepped back with her hands across her heart, and a look of such horror on her face that I felt terrible.
We were looking around for a store to get some carriers, racks, and locks for our rental bikes. Patrick's Bronx humour had begun to surface lately, and as Vicki came running out of a department store to excitedly announce: "Hey, they've got bike parts here!", he quickly commented that "Gee, it doesn't take much to get her off, does it?"
We were getting the bikes fixed up as best we could for the first big ride - 120 or so kilometres tomorrow.
Patrick and I were both in bed reading that night, when I mentioned to him how weird it was to be in bed at 10 minutes to 8.
"I know", he laughed, "I haven't done this since I was 10 years old!"
Well, it's not like there's anything else to do!
---
"DUST AND HORNS" September 26
I was out for a ride around town at six, down the tree-shaded avenues to the big square in front of the train station. Traffic lights are rare, and seemingly redundant, as no-one pays any particular attention to the colour of the light, and those big old trucks just go barreling through the bicycles like so many insects. You've got to be defensive!
On my way back I turned down a side street and into an area of pretty serious slums, tumbledown little houses of crumbling brick and corrugated metal. Narrow streets of packed-down dirt curved around, past groups of old men squatting on their heels in the doorways, smoking and spitting. I saw a woman carefully sweeping the dirt in front of her house, and the smoke and dust in the air made the morning light very dramatic. The smells in the air were spicy and exotic rather than unpleasant. I saw young children on their way to school already, at 6:30 a.m., and they were all well-scrubbed and nicely dressed.
It doesn't seem like the grinding poverty of a ghetto, but life is certainly simple, even primitive. I definitely feel as if I'm seeing the "real life" of China.
On my way back I met up with Rita and Philippa, who have also been out for an early morning ride. Rita offered me a kind of deep-fried breadstick that I had seen the street vendors selling, and it was delicious, like a doughnut.
We got organized and on the road by about 7:45, everyone excited to be really cycling at last. A motorcycle and sidecar was leading, with a big old bus bringing up the rear, to carry our luggage and to pick up anyone with bike trouble or who gets tired.
We rode out of Zibo in the diffused morning light on a very busy and dusty road. This must be the Chinese version of an interstate highway, though the traffic mostly consisted of those funny-looking old trucks, ubiquitous all over China, still built in the style of the late 30's. Many of them have a head gasket hanging in the back window of the cab, perhaps indicating an enduring weakness.
Their bloody horns blare constantly, often meaninglessly. Air horns blasting in your ears every few seconds soon becomes annoying, and begins to drive you nuts after a while. It seems to be some kind of power trip for the drivers here - only in China is a truck horn a kind of "penis extension".
The dust was also prodigious, getting into your eyes, your nose, your mouth - everywhere. Gay remarked that she felt like she was eating the air, not breathing it! I had neglected to bring a water bottle, so I kept refilling a pop bottle and putting it in my carrier. Not very slick, I know, but it did the job. Bob rode up beside me once in a while to laugh at my bike and the pop bottle rattling around in the carrier.
Eventually we turned off of "I-95", down a country road that was a little less busy. Crops were drying right on the side of the road; corn, peanuts, and sorghum, which is a kind of millet used for animal fodder as well as a particularly strong liquor called "Mao Tai". It was Mao Tai with which Nixon and Chairman Mao toasted each other on their first meeting.
Once again, every square inch of land is farmed, even a dry river bed would be tilled and planted in neat rows of corn, cotton, soybeans, peanuts, or the corn-like sorghum plants. It is amazing to see just how much farming has to go on to feed a billion people, especially when it's almost all done by hand. I learned from Gee that 80% of the population are peasants, and the Lonely Planet guidebook points out that therefore one fifth of the world's population consists of Chinese peasants. I read in the China Daily where the government was proud to report that the average earnings for peasants has risen to 300 Yuan (US$100) - a year! A little simple arithmetic makes that something to think about. Especially when you learn that just 20 years ago some 72 million people died of starvation in China. Horrifying.
We stopped every hour or so to rest, have a drink, and let everyone get caught up. The angelic Gee rode on the bus, at every stop dispensing "Laoshan" water, orange soda, and information. As the morning wore on it grew warmer, a beautiful clear-skied autumn day, and we were hot, dry, and dust-choked by lunch time.
We stopped at the side of the road, nowhere in particular, and ate our boxed lunches sitting in the grass or on the bus. It was partly due to a healthy appetite, but the lunch seemed pretty good; hard-boiled eggs, some little cakes, bread, some Spam-like mystery meat, and an apple. We have been told always to peel the fruit here, you don't know what it's been lying around in.
Then it was back on the road, sometimes riding alone and sometimes with one of the others. Bob set the pace most of the time, often even doubling back so as not to get too far ahead, and his wife Rose is usually in the vanguard as well. Their neighbour Gay had been expressing doubts as to whether she'd be keeping up with everyone, but she needn't have worried. Neither Patrick nor Rita are very experienced cyclists, and John Sr. keeps a more relaxed pace back with Julia, until she's had enough and retires to the bus, along with Patrick who's bored with riding, and Phyllis who complains of a sore knee. Those of us with the rental bikes labour under a bit of a handicap as well, and we are all of different levels of ability and enthusiasm for cycling, so you can go as fast or as slow as you wish and have somebody else to ride with - or not, as you please.
As it happens Gay is one of the more experienced and steady riders, and I find myself quite often riding at her pace. I can tell that my "Golden Lion" bike has formidable rolling resistance when I'm pedaling as fast as I can, downhill, and I look in my mirror to see Gay on her own "Fuji" bike, coasting effortlessly at the same speed!
Gay was the recipient of the "Solid Citizen" award, for her unfailing agreeability, and for always being on time. She was a good companion.
And we rode on into the afternoon, cursing the horns, and growing tired, hot, thirsty, and dusty. I was getting tired of being honked at, and tired of being stared at like a UFO alien. John and I rode along together for a while, making up interesting curses to smilingly shout at the truck drivers as they go blaring past us. You can say anything as long as you smile. It's about time to get there.
It was interesting to observe some of the labour-saving devices the farmers have developed. They spread the sorghum stalks right across the road, to let the trucks drive over and grind it for them. We too are glad to do our part for the Chinese harvest, and ride over it as well. Children walk around barefoot on ears of corn, grinding the kernels off, and a man leads a donkey pulling a stone roller, around and around in endless circles, grinding the wheat and sorghum on the stone beneath.
In the late afternoon we gathered behind the motorcycle in the city of Jinan, which is the capital of Shandong province. We collected the usual crowd while we waited for everyone to catch up, then we were led to the hotel. There we learned that there was no hot water at the moment, perhaps later. Oh well, it was nice just to sit down and let my eyes go out of focus for a while. It was a long ride, almost seventy miles today.
Miraculously hot water does appear, and it felt great to wash away all that dust. After a much appreciated dinner, John and Wendy dropped by our room with some beer, and kept us up until almost 9. Whoa.
---
"BETWEEN HEAVEN AND EARTH" September 27
This hotel is a very big complex, comprising several buildings and different guest houses, some of them official government ones. Apparently even Deng Xiaoping has stayed here, but not in our building I'm sure. It's a little on the seedy side at the moment, though it's under renovation. Nice Thermoses, though.
Pat and Vicki brought an exciting story to breakfast, about their nocturnal visitor - a rat. Vicki heard it in the night nibbling on some Trail Mix in their luggage, and while Pat was enthroned in the bathroom in the middle of the night (another hint of things to come), it scampered playfully across his feet and into a hole in the wall. Lovely.
And there might have been a few of those internationally famous silvery insects in evidence, but hey - this is an adventure!
I was out walking in the early morning, through a beautiful formal Chinese garden, all evergreens, flowers, stone formations and ponds. I met up with Phyllis out walking as well, and she remarked, as Patrick has done, that it "almost looks Japanese". One unfortunate side-effect of China's self-isolation was that Japan's profile grew much higher, and thus seemed to be the original of the perceived "oriental style". It kind of makes me bristle to know that what little there is left of "old Japan" almost looks Chinese, having "borrowed" freely from China's architecture, art, written language, music, landscaping - even learning to grow rice from their big neighbour. Too bad really.
I have been seeing quite a number of old men out for their morning stroll with a little transistor radio held up in front of their chests. I haven't been able to catch what they're listening to, I wonder if it's news, or sports, or sorghum futures, or what.
It is interesting to think about each of the different people on this tour, and our different reasons for taking it. It seems that some are looking for an exotic adventure, some just "gung-ho" cyclists, ready to tour anywhere by bike, some want something good to tell the folks back home, some want to meet people, some are fitness freaks, and some have Something to Prove to themselves or others. I think I'd have to confess to a bit of each of those motivations.
Right after breakfast we left by bus for Mount Tai - Tai-shan - one of the most sacred mountains in China. It was there that the sun was supposed to begin its westward journey in Chinese mythology, and it was apparently there that Mao Zedong announced that "the east is red".
The top of Tai-shan is reached by climbing no less than 7000 stone steps - very steep and narrow stone steps! These days there is a cable car to the summit from halfway up, but surely that must negate any spiritual benefits, The story goes that if you stand on a certain rock on the summit, and stretch up your hands, your feet will be on earth, your hands in heaven, and you will live to be 100 years old. Worth a try!
It is another day of blaring horns, as our bus driver honks at every bike, truck, tractor, and bump in the read, spoiling an otherwise very scenic drive. With all the bicycles, trucks, donkey carts, people, and drying crops to dodge, it takes over 2 hours to travel the 90 kilometers. It is astonishing to learn that everyone driving a truck or bus in China is a professional driver, as the quality of driving is laughably bad. They don't seem to learn which gear to drive in under what conditions, and when they do shift gears, they over-rev, mis-shift, and drag the clutch like crazy, like someone driving a stick shift for the first time. If these are professionals, it's a good thing there aren't any amateurs!
The climb up Tai-shan begins on a narrow street of little shops selling souvenirs, bamboo walking sticks, and food and drinks. There is even one of those painted-board cutouts that you can stand behind and become an emperor and his consort for photographs. Tourism has arrived in all its splendour.
All the way up you pass peddlers selling more of the same, plus many stone monuments, archways, and temples, erected by the 72 different emperors who have made this climb through the centuries (they, of course, were borne in sedan chairs). The scenery of trees, waterfalls, and calligraphy carved into the stone, is magnificent, but the going is tough. That's a lot of steps to climb, and knees and legs soon begin to ache, and jackets and sweaters peel away as the sweat begins to pour. The last sections of steps before the halfway point, and again before the summit, are particularly steep, and it seems like you're never going to get there.
I kept repeating the old Chinese proverb: "The longest journey begins with one step", as I painfully lifted one foot after the other up one more step. Passing the men and boys bearing awesome loads of food, water, and bricks (!) slung on sticks across their deformed shoulders, it was hard to feel too sorry for yourself. There are plenty of Chinese pilgrims on their way up or down, even some old grannies from the generation of bound feet, so if they can make it...
After more than two hours of steady, breathless climbing, I finally staggered through the archway at the top, and gratefully sat down in the chill air to eat my lunch. John, Wendy, and Gay were already there, but they rode the cable car for the last half. Bob and Rose were the next walkers, arriving dose behind me. When my heart stopped pounding, and I began to cool off, I realized how cold it was and put my sweater and jacket back on. The cold wind and clouds at the summit made it very chilly, and those who hadn't walked, and Bob who was wearing shorts, were soon freezing.
Yet another few dozen steps led me off to the side, and I set off to explore. There was a whole village up there, all of which must have been carried up on the misshapen shoulders of generations of those bearers. There are little shops, houses, tea shops, and temples, plus a hostel in which you can stay overnight to watch the sun rise. Everything was wreathed in cloud and mist, and the people who lived and worked there had a different cast to their features, perhaps they were Tibetans or Mongolians accustomed to such a home. The atmosphere was decidedly mystical, and kind of eerie. I met up with Patrick, who was looking kind of mystical himself, all bundled up, wearing a headband, and carrying a pilgrim's staff. He was also very impressed by this experience, and to me looked positively "illuminated" by it all. Like me, he wished we were spending the night up here to watch the sunrise. I think we've found religion here on Tai-shan.
I was a little taken aback when out of the clouds appeared the "Holy Helicopter of Tai-shan". Right out of the Twilight Zone, a Red Army helicopter sitting on a windswept plateau, stripped of its rotors, and the Red Star on the side faded by the wind and blowing sand. Therein must hang an interesting tale. A little later I came across the "Sacred Satellite Dish of Tai-shan" as well. These modern icons looked very out of place there.
I eventually found the "North Facing Rock" on which I could stand and touch heaven, thereby verifying my hundred year lifespan. As I stood up on this rather precarious outcropping of rock, the mist and clouds cleared away for a moment, and the landscape of Shandong province appeared spread out way, way down below me. There was a brief vista of farmland, lakes, and distant mountains, then it all disappeared into the clouds again. A magical moment.
I shared the way down with John and Wendy, all 7000 steps again, and we talked of All Things Great and Small, forgetting the aching and the shaking in our legs. We stopped halfway down to enjoy a Chinese Coca Cola, and you know, it tasted just the same.
After we had dinner in a restaurant at the bottom, I stood in the dark parking lot waiting for the others and looked back up at the mountain. It was silhouetted against a clear sky with a full autumn moon, and I could see a few lights at the top. I wished I was up there still.
As we rode back to Jinan on the bus under the full moon, there were some beautiful vistas of silver lakes amid the rounded silhouettes of the hills. The horn nonsense of the afternoon was replaced by the equally illogical, unsafe, and annoying ritual of the eye-to-eye headlight wars. It was so ridiculous. Two approaching vehicles blind each other with their high beams, then alternately turn their lights off completely while the other flashes his high beams. Every couple of seconds you were blinded, while any bikes or people in front of you became invisible. Even at 10 mph and 10 yards apart the frantic blinking continued. I'm afraid that's just plain idiotic.
I had been very curious about the "Cultural Revolution" lately, and reading a bit about it. It's frightening to think about the atrocities committed under that banner. All of China's past became a shameful relic of feudalism and capitalism, and gangs of young Red Guards had a license to go around destroying and defacing anything old - temples, monasteries, monuments, palaces, it was a drive to equalize the rural and urban populations, but by dragging the latter down to the level of the most illiterate peasant. Therefore all so-called "intellectuals" (anyone with an education; teachers, writers, monks, actors, writers - even dentists I suppose) were persecuted and exiled to the countryside to become peasants. Some were even tortured and driven to suicide - the government now admits that an incredible hundred million lives were "disrupted" during those ten years, starting in 1966.
The young people seem willing to talk about it, but those who lived through it are reluctant, like those who survive wars and prison camps. I asked Gee if much damage had been done to Tai-shan, and she just said, very quietly: "A little. A little". Then she turned around and began to tell everyone the story of the rocks which are placed in the shrubs and trees at the summit, placed there by parents and grandparents-to-be in the hopes of having a son.
Before working for the Sports Federation Gee was a table tennis coach, even spending four years in Nigeria as coach of their national team. It happened that when I was in Hongkong I read a report in the paper about two table tennis players who had been driven to suicide during the "Cultural Revolution" (I guess table tennis players were intellectuals too), and it may well be that Gee has her own tragedies to bury. Sad.
Just before we entered Jinan we were stopped at a roadblock, apparently all vehicles entering or leaving the city after dark had to check in. Every once in a while you get a little reminder of just where you are.
All of that kept me up until 9:30, I hoped I wasn't going to sleep all the next day! It was to be another long ride, more than 100 kilometres, to a place called Dezhou. It's on the map, but gets nary a mention in any of the guidebooks. Must be a swinging place.
---
"AGAINST THE WIND" September 28
Well, I did sleep late - until 5:45! It was strange at breakfast, I think some misunderstanding led them to think we would not be around for breakfast, and the pickings were slim. We had a good laugh as Patrick ran around lifting the biscuits and cakes from the other tables when the waitresses were out of the room. Every time we pointed to something and asked if we could have some more, we just got the "no" treatment again. Just "no".
There were a few mechanical problems on the bikes to sort out, so we didn't get on the road until 8:45. Everyone was in high spirits as we cycled out and down the streets of Jinan. I was singing "Money for Nothing" out loud as I pedaled along, much to Wendy's annoyance as she hates that song (and I'm a terrible singer too). So I chased after her and sang it louder.
It was another clear sunny day, warm but not hot, but we were riding north-northwest into a bit of a headwind, and with my "Golden Lion" to hold me back, I didn't need any further resistance.
Philippa is fired up today, and leads the pack for much of the day. She was complaining that her "Motobecane" bike was as heavy as our rental bikes (impossible), and that her legs were sore, and other things on other days, but she received the "Trooper" award from Patrick for suggesting that we ride another 20 miles when we get there. He didn't mind, he was on the bus by then - sleeping!
We passed through another "Checkpoint Charlie" on the way out of town, but they just waved us on, and there was yet another roadblock as we approached the bridge to cross the Yellow River.
At the bridge we picked up a whole vanload of guides and escorts, plus another van with a sharp-dressed guy wielding a video camera who kept stopping in front of us and filming us. Now I don't mind having my picture taken by friends, but I'm kind of like the Buddhist monks; I don't like strangers "stealing my soul". The guy bugged me.
The Yellow River was actually kind of orange, but was very wide and impressive to see. Our motorcycle guide turned back here, leaving us to be escorted by the two vans, plus our good old bus with Gee, who would also be leaving us in Dezhou. We were sorry about that, and would learn to be even sorrier.
We were late stopping for lunch, having left a bit behind, and travelled almost 50 miles before we stopped at a small guest house - I don't know; somewhere. By the time we and our committee of guides had eaten, we didn't get back on the road until almost 3. With another 25 or 30 miles to go, this made it a race to the finish, against the early autumn sunset (three fists on the horizon), and against the steady headwind.
After the long ride from Zibo to Jinan, and then the climb up and down Tai-shan, this was tough going, and I was counting the 1/10 kilometre markers at the side of the road. Keeping those pedals turning, and ignoring the aching knees and shoulders, and the numbness in my hands and posterior. I was glad to see the big crowd of blue jackets ahead that marked the place where the leaders were stopped. I had been riding alone for quite a while, and was glad to find out that I hadn't been too far behind. Rosie had gotten a flat tire just as she stopped, and Bob was just fixing it. Just as dark was falling, and the air growing chill, our tired procession rolled into town and up to the guest house. Groans and sighs were heard as we lifted our tired legs over the crossbars.
We really caused a huge sensation here, definitely very few westerners have included Dezhou on their itineraries. People were climbing the walls to look at us aliens!
And the guest house. Now we're getting down. I made a note at the time describing it as "shockingly bad and smelly - reeking". Probably a reliable report. The smell emanated from the ancient bathrooms, which boasted plumbing but not hot water. "The boiler was broken". Uh-huh - for about 30 years, I'd say. It didn't bother the roaches any.
As we pushed through the plastic bead curtain, and gathered in the small and dirty dining room for dinner, many of us, myself included, were feeling chilled, exhausted, and in need of hot water. I didn't make any notes about the dinner, but I remember that it was pretty mysterious and dismal. After the heated workout of the day, riding in the cool air had given me the chills, and I crawled into bed with all my clothes on (a hot bath not being available). The bed was just a mat on a board, but I didn't care. I felt dirty, tired, and over-extended.
A shout went up that we were on the TV news, and I watched with one eye some of the video that Mr. Hollywood had shot at the Yellow River bridge. That was pretty funny to see - probably more so for the Chinese.
---
"ON THE ROAD TO NOWHERE" September 29
I woke up feeling stiff, tired, and fuzzy-headed, thinking about a breakfast of fresh orange juice, Alpen cereal, grapefruit, maybe some poached eggs, and strong fresh coffee. Sure. Then there was the reality of hot reconstituted milk, some plates of unidentifiable meats and fishes, hard-boiled eggs, and very sweet, very weak coffee. Yum.
And today it's right off the map we go. We're riding off to Nangong, not on the map, not in the guidebooks, and the guides can't decide if it's 60 or 100 kilometres away. Must be quite the hotspot they're taking us to.
After breakfast some of us took a walk down to the local government department store, but it wasn't open yet. Through the window I could see that they had an interesting assortment of musical instruments which I would like to have had a look at. Of course a giant crowd gathered around, looking at us as we looked in the windows. One of the writers in the Lonely Planet guidebook (my bible lately) writes that after five months in China he got so fed up with the "staring squads" that he took to waving his arms to shoo them away. He doesn't mention if it worked but I doubt it.
I've noticed a bit of the "cool young dude" syndrome around China, the young bucks with their puffed-up vanity, insecure bravado, and swaggering sneer. Same as anywhere. Here it usually goes with an attempt at western dress, but even in the traditional proletarian blues you see the rakish angle to the Mao cap, and the cigarette dangling carelessly from the corner of the mouth. Even though you don't see the permed hairstyles out here, as in Shanghai or Beijing, you do see some amazing hair-combings in pursuit of individuality or would-be trendiness.
I suppose that's one of the effects of China's drive toward modernization, more disturbing will be when vanity leads into material acquisitiveness. It won't be enough just to want TV, a cassette player, or a motorbike as now - naturally they'll want a better one than their friends have. That may seem like normal life to us, but it hasn't existed in China, and I'm sure they're none the worse for its lack. I suppose human nature being what it is, they used to compare donkey carts, or compete for bigger posters of Chairman Mao.
I also note the police, riding around on motorcycles with sidecars, the superior officer perched arrogantly on the back behind mirrored sunglasses. When you see a car with curtains in the back window, it's obviously a Party functionary's car, as they are the only ones who enjoy such privilege. I figure anyone who is successful within a totalitarian system must be a bad guy, and I've come to hate those symbols of the power elite.
But what a day we had. Since we were coming into Hebei province, we had to get different bicycles, as well as our new committee of guides. The bikes didn't show up until late, and by the time we got them sorted out we didn't get on the road until after 10:30. They gave us some story about road construction, and "suggested" that we should ride on the bus for 25 kilometres or so, but we rebelled and insisted on riding.
Well, if that road was under construction, it had been under construction for about two thousand years, as they led us down a dirt trail which ran along the top of a dike beside the Grand Canal. The canal dates back about two thousand years, and once stretched 1800 kilometres from Hangzhou, south of Shanghai, all the way up to Beijing. Much of it has fallen into disuse and disrepair, and it's more of a big stagnant ditch around here.
It was weird that we were escorted along this bumpy little path by an army jeep, a van full of guides, our mini-bus, plus a big open truck which carried our luggage. If this is supposed to be a detour, where is all the other traffic? There is no such thing as a deserted road in this country. Mysterious.
The scenery was interesting so far off the beaten track. It was nice to see the little villages and the people who lived in them. They, of course, looked a little strangely at such a procession passing down their little lane, the vehicles crushing the peanuts they had spread out to dry in the sun. We wondered what was going on just as much as they did!
After about 11 kilometres of bumping along in the dirt, our committee announced that we would have to put our bikes in the truck and take the bus to our lunch stop. With a bit of grumbling we complied, and "enjoyed" a bumpy, dusty 25 kilometre bounce to a strange and funky-looking little village.
We were served lunch in a small dilapidated room perched on little campstools, but the food tasted very good. Every province has a different style of cooking, and it was nice to see more vegetables in use here. A strange thing you see everywhere is that the chicken is served in small pieces, but with the feet and the head included, and we joke about passing the chicken faces.
After lunch we set out to cycle about 50 kilometres along a nice tree-lined country road, past cotton fields and through little villages where it seemed they'd never seen westerners at all before. They came running out of the fields to watch us pass by, out of the houses and out of the stores. I saw one woman standing at the side of the road with dough up to her wrists, called out of the kitchen to watch the aliens invading - by bicycle. They were incredulous. As we were riding by like a parade between the spectators, I rode up beside John and said: "Psst, look - an oriental!"
My latest rental bike was a real dog; at least I'd gotten used to the vices of the other one. Not until the end of the day did I notice that the front brake was dragging slightly on the wheel, for just that extra bit of resistance. Perfect. I turned the handlebars over, "bullhorn" style like a kid, so at least I had a different riding position, and I was able to stand up and pedal once in a while. Take a load off the old proverbial.
It was yet another crystal-clear autumn day, with less traffic here than we've been used to, though even here there's never a moment when there's no-one in sight. In Canada or America you can ride down a country road and maybe see a couple of cars or a tractor in an hour, but here there are bicycles, donkey carts, buses, and trucks passing constantly, and field workers all around. Solitude would be a real luxury here.
Not to mention the crowd of on-lookers lining our route. Maybe they saw us on TV last night and knew we were coming.
When I was riding along with John yesterday he suggested that "Road to Nowhere" would make a good theme song for that day, but I had a feeling about today's trip, and told him: "Wait 'til tomorrow". He was feeling a bit ill today (another sign of things to come) and didn't ride, but went by on the bus with that song playing on the stereo, shouting "You were right". We're on the road to nowhere...
There was something strange going on that day. We were led out of town by an army jeep in the morning, and we'd been escorted by the army all day. I even saw a couple of members of the local constabulary riding on our bus when it went by. I wonder if they liked the Talking Heads! Bob was leading as usual, and he said he had a motorcycle right with him for about 10 miles, stopping when he stopped, never letting him out of their sight. It's also mysterious that a town was dropped from our itinerary with no explanation (personally, I was looking forward to visiting, uh, Zhaoxian!), and that the jeep, truck, and van had to escort us along the path atop the dyke. Weird. It seemed like they didn't want us wandering off around here. Something military perhaps?
Our latest guide and interpreter, Mr. Li, was conducting his first tour, and didn't know anything we asked him, and could barely understand English except to deliver a few pat speeches. He didn't know how far away anything was, where anything was, or understand the questions people put to him. Great. He also gives irrelevant answers to the wrong questions with a cocky attitude, with that annoying habit of laughing at everything he says. It seems that every language, and English is certainly no exception, can sound beautiful or grossly ugly depending on who speaks it. Mr. Li makes both Chinese and English sound grotesque coming out of his mouth, and constantly answers "That's true" very inappropriately instead of "That's right". Gee, come back!
We arrived at the "Guest House of Doom" around 4, and pulled down our dust-caked luggage from the back of the truck. And what a place it was - not only no hot water, but no bathrooms! No tubs, no showers, no toilets, no sinks, just a public trough down the hall where both men and women could wash. The "men's room" next door didn't even boast a door – just a sheet across the top. The actual facilities were of the "trench and hole" variety, occasionally sluiced out with water. At night they turned the water right off, and for those of us right across the hall, it smelled pretty bad. In fact, really bad.
Our room was of a cell-like nature, with three metal cots, a steam radiator, and one fluorescent light way up high. The floor was of an indeterminate grittiness on which I was reluctant to walk barefoot, even putting on my shoes to get up and turn off the light. Charming.
An unusual dinner featured things like peanut brittle to start, quail eggs, canned pineapple, and other mysterious stuff. The tablecloth hadn't been changed since the Ming Dynasty, and we all took our dishes over to the sink to wash them - before we ate. You had to laugh. You had to be there.
---
"MEET THE CHINESE GESTAPO!" - September 30
I fell asleep to the sounds of crackling fireworks and loud Chinese music echoing around the courtyard, and this morning promptly at 6 the weird, wordless music began again. Tomorrow is a big Moon Festival, as well as the Anniversary of the Founding of the People's Republic of China, and these last two days have been the warmup.
I think the song was "The Chuang Minority Loves Chairman Mao With a Burning Love", or maybe it was "The Production Brigade Celebrates the Arrival in the Hills of the Manure Collectors" from the revolutionary opera "Taking Tiger Mountain by Strategy". (All from the Greatest Hits of the Cultural Revolution, by the Gang of Four. Fun times.)
It's remarkable that although sanitation is non-existent here, the people are still neat, and even if their front yard is dirt, you'll see them out sweeping the dirt. I also mentioned the little kids in the slums of Zibo emerging all well-brushed and dressed, and the clean white covers on the seats in the train and on the boat. Even all the laundry hanging in the streets of Shanghai is a sign of personal cleanliness. It's not that these people are dirty, it's just the primitive and difficult conditions under which they live. They just wouldn't waste the water or the time to wash a tablecloth every time they use it, and I'm sure that the dishwater is left over from washing the mud of the fields off their bodies and clothes. I was saying that even in the sardine-packed crowd on a hot day in Shanghai the people didn't smell, like the people in S.E.C.I.C.N., who have hot water and bathtubs, but just don't use them! Here I think they make the best of a very tough life. The imminence of starvation would alter one's priorities.
And so we headed out of Nangong, on the road early for once (not a place anyone was sorry to leave), on yet another perfect fall day. The cycling was great, heading north on a narrow road past the donkey carts, some of their drivers sprawled across the load for a morning nap, the donkeys on "cruise control". With the sun low in the east, the road was shadowed by the bordering trees.
I was riding up front for the first hour or so, all by myself, except for an army jeep that stayed right in front of me the whole way. That was annoying enough, but they also had a loudspeaker on the front, and with much squealing feedback and a tinny megaphone sound they were constantly jabbering at everyone in front of us. I have no clue what they were saying, maybe "Look out for the ugly round-eye foreign devil running capitalist", or "Out of the way or we'll kill you dead", but it was very aggravating. This was not the tranquil experience that I look for in cycling. After a while, I was steaming mad, wishing the daggers from my eyes could pierce their tires. If I had a rocket launcher...
When we stopped at a crossroads I tried to explain to the loathsome Mr. Li that this was both unnecessary and very annoying, but he just laughed and said "Unna-stan", when he didn't "unna-stan" at all, didn't even listen to what I said. We were all learning to our frustration that he loved to listen to the sound of his own ugly voice, and little else. He laughed at everything he said, and he was never funny. I let someone else ride up front.
The army and police (the same thing I think) seemed to multiply around us, now there were at least two in front of us, and others slowly passing by. At one point we finally rode past six jeeps and about twenty guys in uniform at the side of the road, just watching us go by. Bob tried to take a picture of this gang, but they waved him away. After that point they left us alone, and we didn't see them again. What is going on around here?
There is a stern young woman who speaks a little English among our committee of guides. She has earned the nickname of the "Dragon Lady" among us, as she and Mr. Li are handing out too many directions that sound more like orders. Mr. Li shouts out of the bus at those leisurely riders at the back of the group to "Hurry up, hurry up - you're behind everyone!" They are not amused, and not in a hurry. Hey, we're on holiday here (ha ha). He suggested to John Sr. and Julia that they should ride on the bus, when all they want to do is ride along at their own speed. I'm certainly not the only one who was developing a dislike for Mr. Li. The "Dragon Lady" tried to tell everyone at the lunch stop that they couldn't go out and walk around - so of course they did.
Once we had gotten rid of the Gestapo, the morning ride was glorious. We turned west, with the wind behind us for a change. The road was raised above the field on either side, probably on a dike, and I flew along it in top gear with Bob, Rose, and Gay - the Western Jersey Wheelpersons. It felt great, like the other days had been training for today. I exchanged laugh for laugh with little kids along the road, and gave them my best "Tigger" whoop.
When Gay and I were stopped at the side of the road for a drink and a rest, a farmer came out of his field and just stood there, smiling and staring. He spoke a few words in Chinese and seemed surprised that we couldn't understand him. I wish we could have, he had a friendly face, and offered me a "Double Happiness" cigarette.
It was apparently a commune where we stopped for lunch, though it's always hard to tell what anything is from the outside. A low brick building behind a brick wall could be a factory, a school, houses, a farm; there never seem to be any signs on anything. Or maybe there are, but they're in Chinese! Silly me!
It was nice how they set out little washstands and towels in the courtyard for us, and the service is always so discreet you never even know who your hosts are. The girls have started taking pictures of some of the "Ladies Rooms" they've been introduced to. Because they're so impressed, I guess.
After lunch we rode another 20 kilometres, into a bit of a headwind, to make 80 for the day. We stopped at and visited an ancient bridge near our destination, Sujeiguangzhou or something like that, the capital of Hebei province. After the last few days even Bob is glad to be riding on the bus for a while.
The suspense mounts as we approach the guest house - what will we get tonight? A treat or a treatment? But hurray! - it's a modern hotel with nice rooms, bathrooms, and even HOT WATER! Oh happy day! Morale rises sharply, and everyone just glows at dinner, especially when Pat and Vicki produce several bottles of a pretty decent wine (called Great Wall Cheng Zhe, or something like that). After a couple more glasses of wine in the "bar", (I mentioned Chinese fluorescent-lit, uninviting bars), it was wonderful to fall into a clean, comfortable bed. A hot shower, a shave, floors you can walk on barefoot, good wine, a nice bed, and some really special red pearl Thermoses - life is good!
---
"CAN YOU SAY SHIJIAZHUANG?" October 1
Some of us went out on a leisurely 10 kilometre ride to a Buddhist temple, while others went off on their own. Shijia-whatzit is a city of about a million, nicely set off by the misty Taihang Mountains in the west. We were gifted once again by a perfect day - "How boring", I said. There was a smoky autumn haze, and the smell of burning leaves in the air.
There was one particularly beautiful vista as we rode out of town. Appearing between the willow trees beside the road was a shining black steam locomotive chuffing along, red and silver wheels turning, and a white plume of vapour above it. A beautiful image, like a time warp.
The temple was actually a very impressive series of temples, with many Buddha statues as well as stone carvings and bronze castings in the grounds. There was one eye-widening 60' Buddha in the last and biggest temple, with (count 'em) 21 pairs of arms.
A funny thing happened outside which illustrated two things: the two different kinds of Chinese money, and the sleaziness of Mr. Li. Firstly, China has introduced Foreign Exchange Certificates, which are only given in exchange for foreign currency. Then there is the ordinary "people's money" called Renminbi. But because there are many things that can only be bought with F.E.C. money, there is a thriving black market in them. We were approached many times to trade our F.E.C.'s for R.M.B.'s, but of course the government frowns upon this.
What happened was this: outside I went to buy an ice cream, and was doing just fine with sign language and gestures, when out of nowhere Mr. Li came over and confused everything. Suddenly the poor lady was charging me too much, and giving me too many ice creams – what a mess! Thanks Mr. Li. When John went over to buy one for himself and Wendy, he noticed afterwards that Mr. Li was there surreptitiously trading her for the FE.C. notes. Perks of the job, I suppose.
As we parked our bikes back at the hotel, we looked up to see everyone's laundry strung across the front of the hotel to dry. It made a funny sight draped across the front of a modern hotel.
After lunch we went our separate ways, on foot or on bike, to look around the town. I went out for a short ride, and when I returned I found Patrick in bed with chills and a fever. "The plague", was all he said to me, as he shivered under the blankets and groaned in misery. There had been a lot of sickness lately, with most of us afflicted with colds, fevers, diarrhea, coughs, and/or stomach pains. U.R.I. (Upper Respiratory Infection) is supposed to be a common ailment for visitors to China, and some mornings we healthy bikers are all coughing and hacking like a bunch of chain-smokers.
Poor Patrick is really suffering, but all I can do for him is get some "Laoshan" water and leave him alone. I hope I'm not the next plague victim.
A funny situation transpired at dinner. Somehow someone had gotten the idea that it was John's birthday, Pat and Vicki had gotten us all to sign a "Chairman John" hat for him, and even Mr. Li had gotten wind of it and arranged a cake. Well... When Wendy came down for dinner she announced that John was feeling pretty ill, and wouldn't be coming down. Not only that, but it wasn't his birthday! Where did we get that idea? We all had a good laugh, but since Mr. Li had gone to so much trouble, we played it out, and John made a brief appearance while we sang "Happy Birthday". A funny and compassionate charade.
I finally got some postcards written, though I'd bought them back in Qingdao, but I couldn't get any stamps. Trying not to disturb my ailing roommate, I rustled around the room packing my bags for the train trip to Beijing tomorrow.
---
"THE BEIJING CASUALTY EXPRESS" October 2
The only time I've listened to my Walkman on this trip has been on the boat and on the train rides. That way you don't miss anything, but still have some entertainment for the long journeys. This train carriage has a TV set mounted at the end, playing videotapes of some strange Chinese programs, and once when I looked over there was some kind of a pop video of a bunch of kids riding around in a convertible singing a cheap pop song. Most of the pop music here is made in Hongkong I think, and it's a pretty sad blend of western schmaltz with Chinese lyrics.
As the train clicked along, I was listening to an album by my friend Jeff Berlin, on which he plays a virtuoso version of "Dixie" on six string bass guitar. It made an ironic theme as I passed through the cotton fields of China.
After the rigours of the last week, it's nice just to sit on a train and watch the world go by. It's strange how different everything looks - the streets and villages look somehow more exotic when you see them from a train, compared with being in the middle of it all on a bicycle.
My knees are sore from all those hours of pedaling a bike that's too small for me, my fingers are numb from the pressure of the handlebars, my lips are chapped from windburn and dehydration, and my seat is glad to be out of the saddle. But that's nothing compared to John and Patrick, who are both still very ill today. Patrick spent a very restless night, the fever playing tricks in his head, and he sleeps for the whole journey, feeling awful. John is pale and weak, rising only for periodic visits to the men's room.
Music in my headphones, and a panorama of farmland and villages passing by the window, on yet another blue and gold fall day. The weather has been truly glorious, since we left Shanghai every single day has been cloudless and perfect.
More and more I have been noticing the growing pollution problem here, and as the drive toward modernization continues this can only get worse. The smaller rivers are reeking, green and black cesspools, and even the big rivers look pretty grim. Ever-growing numbers of factories belch smoke into the air, especially bad since so much seems to be done by coal here. The fact that most of the people are on bicycles is naturally good, but that too is liable to change - we were talking about them all charging around on motorbikes in ten years - and of course there are thousands of smoky old trucks and buses around. (with professional drivers!)
Litter too is a big problem here, and it's not the tourists. Though the streets seem to be regularly swept, and garbage bins often available, litter is carelessly thrown around. Places like Tai-shan and later, the Great Wall, were a shameful mess. Halfway up Tai-shan I watched an old Chinese woman, halfway between a bin and the wall, heave a big bag of garbage over the wall and into the valley below. We tried to remonstrate with our guides when they cleaned out our bus all over the parking lot of a Buddhist temple, but they just laughed. Sure, it happens everywhere, but they've still got a chance to stop it all. (Though feeding a billion people might rank a higher priority right now.)
Apart from all the bicycles, I guess the one ecological bright spot is that the sewage (the "nightsoil") is collected and distributed to the fields as fertilizer. (Nice job!) Certainly the sewage problem of a billion people with medieval sanitation would be considerable otherwise.
Which brings us to the subject of the lunch on the train. This being the main line between Beljing and Guangzhou (Canton, remember?), you would think the service would be at least as good as on the trip from Qingdao to Zibo, but you'd be wrong. It could best be described as a prim affair. The tablecloth was dirty too. (Getting picky, now?)
That wasn't the only difference on this journey, either. Someone remarked on how different the mood was among us from the other train ride, and it was true. Now we were worn out, beat up, two of us very sick, and the rest with one ailment or another - rather a more sedate group of casualties, not a troop of eager adventurers!
We arrived in Beijing just after noon, and were taken by bus to our hotel, the "Yanjing", just west of the centre of town. Yet another bunch of rental bikes awaited us there, and after a bit of tinkering I set out for a ride.
I rode east along Fuxingmenwai Dajie (try and memorize a few streets like that!). I knew that the main square, Tiananmen Square, was that way, so hopefully I couldn't get lost. In contrast to Shanghai the streets are wide and straight, beautifully landscaped with trees and flowers. Brightly-coloured banners hung across the avenue, and many modern Japanese and European cars cruised by. As in many of the busier towns, the outside quarters of the road were fenced off for bicycles, and were as thronged with bell-ringing bikers as anywhere. It was exciting to get in there with them, and ring my bell!
An official motorcade went by with a long black Mercedes limousine, a motorcycle escort, and four or five other limos behind, including some of the nice-looking Chinese-made model - the "Red Flag" limousine. I learned later that it was the leader of Madagascar on his way to a ceremony in the square. We were to run into him everywhere in the next few days.
Noticing the billboards around China, it's odd that few of them advertise consumer goods. Most of them are for things like ball bearings, electric motors, TV and radio components – not what people can buy, but what their country can make.
As I approached the square, past the huge portraits of Stalin and Lenin, past the giant Chairman Mao on the Gate of Heavenly Peace, I saw that guards were posted all around it keeping people out. I didn't know yet about our friend from Madagascar, and wondered what was going on.
Tiananmen Square is reputed to be the largest square in the world, and being empty at the moment, it seemed incredibly vast. Hundreds of red flags snapped in the breeze above the Great Hall of the People, the Mao Zedong Hall, and the Museums of the Chinese Revolution and Chinese History. Like the country itself, everything here is on a vast scale. The centrepiece is a giant portrait of Dr. Sun Yat-Sen, the father of the republic. The bright red waving flags are an inspiring sight against the huge buildings and the flawless blue sky. It's stirring even without all the "isms" it represents.
Suddenly the guards walked away, and the square was thronged with people. I rode a little further down that main avenue, past the Marx and Engels portraits, and took a walk through the grand old Beijing Hotel. I rode around for a while looking for the CAAC (airline) office to reconfirm my flight, but never found it, and raced back to the hotel just in time to leave for dinner.
It was a pretty nice meal, in a restaurant just south of the square. Unfortunately I was stuck beside the objectionable Mr. Li, above which I could not rise! We were still without John and Patrick - poor guys.
On the way back, all of the big government buildings were edged in strings of white lights, with occasional lines of pale pink and green. It was an awesome, magical sight, better than Disneyland. I wondered if it always looked like this, but learned that it was only in honour of the Anniversary of the Founding of the Republic, and this would be the last night. Lucky us! Along the main avenue to our hotel all of the office buildings and hotels were lit up as well. Beautiful.
Patrick was feeling better when I got back, the fever and chills have passed, but his stomach distress is still "passing". I hear him get up several times in the night.
I awoke with a start at 3 a.m. with painful stomach cramps and a sudden "intestinal problem". As I sat enthroned under the bright bathroom light, worried that this was the start of "the Plague", I reflected that the scurrying roaches were only little here. Hardly worth mentioning.
---
"ALIENS IN THE FORBIDDEN CITY" October 3
We set off after breakfast to visit the Lama Temple, where the Dalai Lama used to stay during his audiences with the emperors. After being closed for 30 years after the revolution, it is again open and active, with brown-robed monks among the thick incense smoke. Like the temple at Shijia-whatzit, it is actually several temples within a compound, with gardens leading back to the largest one. This too houses a huge statue of Buddha, but this one seems even bigger, it must be 80' high, and is carved from a single log of sandalwood.
As I have seen in a few other sacred places, people place small coins around in little niches for good luck, and I stood around a huge bronze cauldron watching people float coins on the surface of the water it held. As I too had a go, a cheeky little boy stuck out his finger and sank mine! I tried it again and another clever little guy just grabbed it up and took off! I guess I won't get any luck.
It's funny, every place we visit these days, the first thing everyone does is check out where the washrooms are - just in case. You can't afford to waste time in our condition. Wendy and Mr. Li have taken John to the hospital today after three days without food or relief. He was up all night again with stomach cramps. So far I'm holding together but I've got my fingers (and legs) crossed.
I sat on a pile of bricks in the parking lot to wait for the others, notebook in hand. There are a lot more western tourists than we've been seeing, so at least we cause less of a sensation, and there are many tour buses and taxis here. The driver of a Citroén CX taxi catches a nap beside me, and there are lots of more-or-less modern Nissans and Toyotas. Oddly there is a basketball net above me, perhaps when the temple was closed they put this area to more "cultural" purposes. Weren't basketball players "intellectuals" too?
I noticed yesterday, and again today, that there are many more well-dressed Chinese people here in Beijing. Even the "Mao" suits are often well-tailored and cut from better cloth. Proletarian "yuppies", I suppose.
Around noon we cycled up to the reddish walls of the "Forbidden City", so-called because it is the former Imperial Palace, and for five hundred years the price of admission for all save emperors and eunuchs was death. It is interesting that just west of here is a huge walled compound in which the present leaders live and work, and I'm sure the price of entry is no less high. Pat made an incisive comment one night that a new "Forbidden City" is developing within Beijing - a disco at the Beijing Hotel which is only open to "foreigners and overseas Chinese"; and the "friendship" stores, even the shops in the hotels that only accept foreign money. Shades of the park in Shanghai a hundred years ago: "No Dogs and No Chinese". Only now it's not foreigners keeping the natives out!
After lunch at a restaurant in a nearby park, we finally entered within the "vermillion walls" of the Forbidden City. It is a palace on a scale that beggars description. Vast open areas paved with stone, edged with intricately carved stone bridges and walls. A series of progressively more enormous pagodas, and an endless network of palace buildings, all with roofs of Imperial Yellow glazed tiles. Great bronze lions guard the gateways, beside big polished cauldrons of brass. Just check out some of the names: The Hall of Supreme Harmony, The Hall of Middle Harmony, The Hall of Preserving Harmony, The Hall of Vigorous Fertility, The Gate of Divine Military Genius, The Hall of the Cultivation of Character - this is heavy stuff!
Walking around this mammoth labyrinth for two hours seemed barely to scratch the surface of all there was to see. I stood on Coal Hill at the north end looking back over it all, and with some height and distance it's a little easier to comprehend, but still awesome. It's true the air was quite hazy (apparently at this time of year the prevailing winds bring in a lot of dust from the Central Asian deserts), but still I could not even see Tiananmen Square at the other end. This place is big.
I have been reading the autobiography of the last of the emperors, Pu Yi of the Qing dynasty. (In fact, I bought the book outside the Forbidden City.) He tells the story that he ordered all the thresholds removed from the whole Forbidden City so he could ride his bicycle around. As Mel Brooks said: "It's good to be the King!"
To the west I could see Beihai Park, dominated by a lake filled with little rowboats. On an island in the middle is the huge White Tower, a Buddhist "dagoba" in the Tibetan style. The story goes that the real "Xanadu" was in that area. In Xanadu Did Kublai Khan...
To the north are the lesser pagodas of Jingshan Park, while to the east isa more conventional big city view of apartment and office buildings. The view all around is exotic and exciting, the blend of monolithic modern buildings and the ancient pagodas.
On each side of the pavilion where I stood was a stone stairway, with slanted stones running down the sides of each one. Dozens of little kids were sliding down these stones again and again, and I noticed that the stones actually had two little round grooves worn into them by generations of little bums. Instead of wearing diapers, many small children just have slit-open trousers, making for easy elimination, but difficult sliding!
Again I saw several hobbling old women with tiny bound feet, painfully climbing up the hill. And hey: guess what?! We found out today that John has dysentery! Wonderful! Everybody exchanged nervous looks - who's next? At least Patrick is back with us, still a bit weak, but at least getting around.
That evening we attended the much-touted "Beijing Duck" dinner, which was really kind of a disappointment. The restaurant was more like a tourist-processing factory, and the service was grudging, rude, and even crude. It was interesting how all the bits of the duck were served one by one, and I did get brave and try the feet, considered a delicacy here. (But then so are fish lips and bear paws!) They were kind of rubbery, as you may have guessed.
I walked back alone to the hotel, through Tiananmen Square by night. Unfortunately the flags and lights were all gone, but it was still a great experience. The square was crowded with hundreds of families, and flashbulbs popped as they took pictures of their one child in front of Mao's Mausoleum, or the Monument to the People's Heroes. Bats circled around the streetlights above.
Especially in light of the news about John's illness, I was glad to have remained "continent" all day. Tomorrow is the Great Wall trip and I'm not missing that if have to go on a stretcher!
---
"A DAY AT THE WALL, A NIGHT AT THE OPERA" October 4
We gathered once again in the hotel dining room - the "western" dining room, it was called - all except the still-ailing John. What a drag for him, and for Wendy too who had to act as organizer and arbiter in his place. They both deserved the "Custer's Last Stand" Award they were given in Patrick's "Golden Buddha Award" speech.
It was funny to notice that the whole breakfast table conversation revolved around the subject of diarrhea - frequency, severity, pain, and treatment. Obviously we had become a group on intimate terms, and this was the "burning" topic of the day.
The bus carried us and our bikes out to the suburbs, and then we were let loose for the ride to the Ming Tombs, about 35 kilometres. The weather was still beautifully clear and sunny, and I enjoyed a very fast spin along the wide bike route at the side of the busy road. Maybe I was so happy just to be well, but I was flying along as fast as my "Golden Lion" would take me. What a great feeling.
Speeding by the workers in the fields, and zipping around the crawling donkey carts, I was thinking that of the 9 million people of Beijing, almost half of them are farmers – suburban peasants to feed the urban bureaucrats.
Bob caught up with me as we turned off the main road, and together we rode down the "Sacred Way", past huge stone statues of animals and soldiers guarding the route to the Tombs. The area of the Tombs themselves was very touristy, with many souvenir stands and "arts and crafts" shops. There were scores of tour buses here, and it had the carnival-like atmosphere of tourist attractions everywhere. We ran into the President of Madagascar once again, with his Mercedes 600 limo, and a host of other, lesser official cars. How did he know we'd be here?
Only one of the 13 tombs is open to the public, and we went down into the burial catacombs, the "Underground Palace". It took half a million workers six years to construct this monument to excess, huge treasure vaults and halls of white stone. Legend has it that in one of the other tombs, 16 of the emperor's concubines were buried alive with him. Nice guy.
In the afternoon we took the bus south to the Great Wall, which we could see on the hilltops as we approached it. Like many things I saw in China, the Wall was more impressive than I expected, an awesome sight as it curved around and up into the distance. There are only about 3,700 miles of it remaining, but it is estimated that it once stretched 30,000 miles in a winding route across north China - enough brick and stone to build a dike around the earth eight feet high!
The area of the Wall at Badaling, where we (and Richard Nixon) visited, was very crowded with tourists, but a steep climb to the east takes you past the restored area and away from the crowds. Some of this part is falling into rubble, but it looks and feels much more real, and looking over the crumbling battlements at the rugged terrain is a timeless experience.
As I walked further among the loose stones and rubble, I came upon a watch tower that demanded to be climbed. I had to climb a stone wall inside to get up, but there were enough niches for hands and feet. It was only after I was up there, enjoying the hard-won view, that I realized with an uneasy start that it was going to be a lot harder to get down again – not being able to see the niches from above. Fortunately Bob was also exploring a bit further afield, and came along to guide me down.
Like Tai-shan, this was a place at which I would like to have spent more time. A long hike along the Wall, even camping overnight, would have been very exciting, but with an eye on the time I had to head back to the bus.
It's a good illustration of developing free enterprise to walk through a whole little market of independent souvenir hawkers, and it's a good illustration of the low prices in China that even here at the greatest tourist trap in the country, I bought a good hooded sweatshirt for only $4, and a beautiful handmade vest for my daughter with all kinds of little creatures embroidered on it, for less than $2. It came in a bag charmingly labelled "THE GRANT WAII".
When we arrived back to Beijing, we were hustled right out to dinner, as we had tickets to attend a Chinese Opera. They had planned for us to attend another acrobatic show, but we thought we'd like to see something different. We sure did.
As we walked into the restaurant, we noticed some luggage by the door with the "China Passage" label on it. Sure enough, it turned out to belong to another cycle group who were on one of the other itineraries, and were beginning their tour here in Beijing. It was their first meal together, and it was funny for us to see them all jet-lagged, uptight, and ill-at-ease with each other. We felt like veterans, survivors, and were loud and loose and yelling out warnings: "Ho ho ho", we laughed, "you don't know what you're in for!" "Hey - our leader's in the hospital - with DYSENTERY!" "Ha ha ha -so you guys going to Nangong?" I don't know what they must have thought of us. They weren't really laughing. No sense of humour yet, we decided.
We hurried down the street to the Opera, and what a strange event it was. The audience was all fairly old, a pretty rough-cut bunch, and gave us a long look when we came in. There was plenty of coughing and spitting throughout the performance, and you had to hope you didn't drop anything on the floor!
Of course we had absolutely no idea what was going on up on the stage. The costumes and makeup were impressive, but the music was a weird sawing of strings, clicking of wood blocks, and smashing of cymbals. The style of singing was high-pitched, dispassionate, and very affected, sometimes grating on the western ear. After an hour of this we had had enough, and were glad to leave at intermission. What was all that about?
I walked back to the hotel with Patrick and Rita, and we were discussing the complaints and suggestions which some people were planning to write about to "China Passage". Most of us agreed that an extra day at Tai-shan, and perhaps Qingdao, would be a good idea. Some of us had been misled one way or another about the rental bikes, and felt that was definitely an area for improvement - at least in accurate information.
Patrick felt that there must be better restaurants available, at least here in Beijing, and that maybe we were being short-changed in that area. Quoting from his own Lonely Planet guidebook, I pointed out that whereas in 1949 there had been some 10,000 assorted restaurants in Beijing alone, by 1976 that number had dwindled to only 700. During the fun times of the Cultural Revolution, probably all the chefs had been made into bus drivers - and vice versa, I think he remained unconvinced.
I don't think Rita was planning on taking another trip like this, Patrick was to present her with the "Party Animal Award", as she would "drink, smoke, or take anything to escape the reality of this trip!" She was a good sport about it, though.
---
"THE PRICE OF BEIJING DUCK" October 5
Oh, I don't really know that it was the duck, but I woke up with painful, grinding stomach cramps, wringing my insides with a steel grip every fifteen minutes or so. "The Plague" – on the last day too! I don't know for sure that it was the duck, but I did eat those feet!
When we set out for another bike tour, I tried to ride in spite of it, but had to give it up at the first stop - the Ancient Astronomical Observatory. At least John is back with us for the last day, and he's all fired up, though he lost seven pounds in three days - while he was "dysenter-ested", I tell him. He gave me a couple of the pills for stomach cramps that he was given at the hospital. Perhaps they'll bring some relief. After checking the location of the washroom I followed everyone inside and up on the roof to check out the 17th century cast-bronze instruments. We didn't know at the time that they had been designed by Jesuits – but they were still beautiful and interesting.
And so I was relegated to the bus with Patrick and Rita today. Several of us had taken our turns at being indisposed", and sitting out. We paid a visit to the Beijing Friendship Store for some "power shopping", and of course the Madagascar Mercedes Motorcade was parked outside when we arrived.
Compared with other Friendship Stores we had visited, this one seemed very showy and unreal. Part of it seemed to cater to westerners who have to live in Beijing, and sold all kinds of specialty foods and drinks, foreign books, cigarettes, etc. Some of our people came out ecstatically clutching croissants and French bread. The other parts of the store were very tourist-oriented, particularly towards those who would only see this much of China. It was all a bit of a showpiece, with souvenirs, reproduction antiques, tons of ivory and jade, fur coats, toys, cameras, Great Wall needlepoint hangings - you get the picture.
In the music department, they offered real western instruments, and imitation Chinese ones. Back in Shanghai, I had been looking at some great Chinese cymbals that I wanted to buy, but I couldn't because they'd just arrived and the clerk didn't know the price! I was hoping I might find some here, but all they had were cheap "lookalikes", as were the boxes full of "ornamental" wooden temple blocks I also looked at - jive!! There was a set of Japanese made "Pearl" drums on display, priced at 7700 Yuan, about $3800. Canadian - 3 years salary for even a well-paid Chinese. What are they for? Who's going to buy them? Only the government could - and they own the store!
Surprisingly, (or perhaps not), souvenirs were twice the price from this state-owned Friendship Store, even compared to the free-traders at the Great Wall (I mean the Grant Waii). And I thought capitalism was supposed to rob the masses!
I contented myself with buying a few cassettes of classical Chinese music, between stomach attacks, and got out of there. The showplace atmosphere, plus all the over-dressed and over-weight tourists, was somehow offensive after the places and people we'd been seeing. You know, in two weeks I never saw one fat Chinese peasant. And not one pair of leather pants either!
After lunch, we set out for the Summer Palace, with the bus leading our cyclists. Still a bit weak, John joined us on the bus, and we played some of the Chinese music while Patrick stretched out for a nap (as usual). The music lent a great atmosphere, as we drove slowly along the tree-lined boulevards, keeping pace with the bikes.
Gay told us later that while she was stopped at a red light, a native with a little English started a conversation. He asked her, of course, what she was doing on a bicycle in Beijing, and she told him. He asked her where her family was, and she replied that they were at home. When he asked her why, she explained that they didn't ride bicycles. "Oh", he replied, "they must be rich!"
It's remarkable that even here in the capital city, there are still a great number of donkey carts, but I guess it's a cheap and easy way to get the produce from the suburbs into the city. I noticed today that these streets may look nice, but they're actually very rough and bumpy – as only a bad stomach in the back of a cheap Japanese bus would notice! I later saw a gang of men re-paving a street by hand, with just one antiquated roller to smooth out the roughest spots. This again demonstrated the "make work" projects which bolster China's employment - especially since they were paving over a street that was in perfect shape, at least as well-paved as the new section!
When we arrived at the Summer Palace, we were only allowed an hour to look around, but this was definitely another all-day affair. I just had time for a fast stroll around the huge man-made lake, and a look at the mammoth marble boat which the notorious Empress Dowager had had built with money that was supposed to improve the navy. Some improvement!
I didn't even have time to look at the palace, but the lake, the grounds, pavilions, islands, and that ridiculous marble boat were enough to once again impress me with the incredible excesses of these dynasties. They made the royal courts of Europe seem tame and conservative by comparison, even those of Catherine the Great or Louis XIV.
We were taken to a Sichuan restaurant in an interesting area of the southern part of the city. This would be "The Last Supper", and spirits were high. We had already made a list of everyone's addresses, which Rosie was going to copy and send out when she got home. We got together for the last few group photos, aided yet again by an obliging Chinese fellow from a neighbouring table. There was a dividing curtain on the other side of our table, from behind which we couldn't help hearing a conversation involving a North American. When he said, very loudly, "Hey, I can get you as many reactors as you want!" it somehow struck us all very funny, and we were repeating that line and laughing all night. Surely he must have heard us, but after all - what a thing to say! Especially so loud.
Patrick had been keeping a record of the "quotable quotes" of the journey, and was asked to recite them. These included such favourites as: "Oh. As long as you know it's fungus that's alright!", and "Them that died was lucky!"; and one delivered by Bob, when he was in the grip of "the Plague" and exiting from yet another reeking public hole-in-the-ground: "You know, the Chinese take all the fun out of 'laying cables'! (This last was cleverly edited by Patrick, especially since Bob is an engineer specializing in conduits.)
Patrick then delivered his "Golden Buddha Award" speech, and with little preparation he managed to lampoon everyone accurately and humorously. Each nomination was greeted with cheers, applause, and laughter. He, of course, was unanimously voted the "Sleeping Buddha Award".
After dinner we adjourned to the Beijing Hotel, where we had heard you could get ice cream. This was a wonderful thing to our weary travelers, and Pat and Vicki thoughtfully acquired a bottle of decadent western Kahlua to lace it with, and some wafers to make "bunny ears" in the bowls. Oh, it was good! We enjoyed it so much I was immediately dispatched for another round!
It was a small culture shock to be where we were, in a big comfortable bar in a hotel lobby, surrounded exclusively by westerners (this is the place with the "No Chinese" disco), and eating ice cream and Kahlua from clean bowls. Cheap and nasty disco music blared from the "westerners and overseas Chinese only" club, and backpackers, businessmen, and would-be beautiful people circulated around. This kind of thing I haven't been missing.
When we'd had enough of this exotic experience, we headed back to the hotel. Since many of us were on different flights tomorrow, we said our good-byes as we got off the bus. Having become so accustomed to, and intimate with, this group of former strangers, it was strange that most of us would probably never see each other again. Indeed, judging from what they said, some of these people would never see China again!
Patrick was staying here an extra day before travelling on to Bangkok, so he was in bed reading while I tried to squeeze everything back into my two small and straining bags. As I climbed into bed, we agreed that he would probably not be up to say goodbye at 5 a.m., so we shook hands and promised to get in touch. I hope we will, we share a lot of memories.
Oh, what was my "Golden Buddha" Award? Well, Patrick presented me with the "James Dean Rebel Without a Cause" award, for "stoicism in the fields and at the top of Tai-shan".
You figure it out.
---
EPILOGUE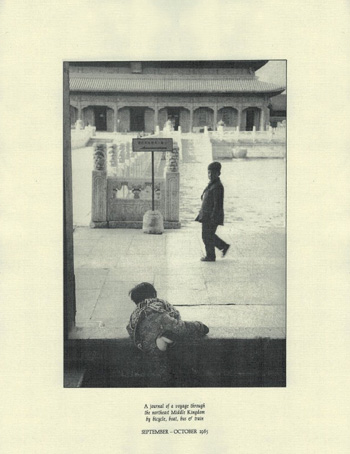 As I sat on the plane to Hongkong tidying up my notes I realized for the first time that with all the strangeness and small hardships I'd been through, and after cycling four hundred miles and climbing a mountain, I was really and truly relaxed. Relaxed and at ease inside in a way I hadn't been for literally years, the experience of being myself in a strange place and with a group of strangers gave me a look at myself that my normal frenetic and abnormal life doesn't give. Some of what I saw disturbed me, personality flaws are thrown into sharp relief under such conditions, and I found myself wanting in the patience and tolerance departments. A worthwhile voyage of discovery.
Since this flight stretched right from the north to the south of eastern China, it was good that the day was once more cloudless and bright, giving me a great final overview of the country below. I put my notebook away and watched the miniature countryside pass by far beneath me.
If America from a plane is like a patchwork quilt, broken up by forests and cities, China looks more like a parquet floor of narrow strips, interrupted only by the quicksilver shining of lakes, canals, and the occasional great rivers. The flight took me across the great eastern plains, above the Yellow River, the Grand Canal, the Yangtse, and then over the rugged, velvety-looking peaks of the Dongnan Plateau.
It was great to arrive at the luxurious Meridien Hotel to find my wife and daughter waiting for me in the lobby. Our lives together are a succession of departures and arrivals, but that only makes the arrivals sweeter.
Although Hongkong is 98% Chinese, the people look like a whole different race from the Chinese people I'd been seeing. Well-fed, well-dressed, well-groomed, more muscular, fatter, clearer complexions - no scars of the hard life and deprivations of their cousins further north. This city of towering skyscrapers and scenic splendour, with its extremes of wealth and poverty, was a culture shock in itself.
Since the only reading I had been doing was the guidebooks and the English language Chinese papers, I was steeped in the ancient history and the current propaganda. I had been reading the talk from Beijing about the "reunification" of China, meaning Taiwan and Hongkong specifically, under the banner of "1 Country, 2 Systems". When you read these proposals written in moderate tones it sounds reasonable and plausible, but of course outside there is distrust and memory of the past fanaticism of Mao and the Cultural Revolution. These may be the liberal policies of Deng Xiaoping, but he's not a young man, suppose someone less "revisionist" comes to power? Deng keeps reassuring the people of Hongkong that their investments are safe as it's only 12 years now until China again takes possession of that former British outpost.
I overheard a conversation at breakfast one morning in our hotel. A Canadian lawyer behind me was meeting with a Hongkong businessman about how to get his son, his daughter, and his money into Canada - soon. So I guess not everybody feels safe.
On the other side of the coin, there are still many refugees from China arriving in Macao and Hongkong by boat, on rafts, or even swimming the dangerous waters, but these are sent back by the already overpopulated colonies. The elusive dream of freedom may be unreal, but it is still compelling. China admits to a waiting list of 600,000 people on their "quota" system of people who want to emigrate or visit abroad.
Reading the Hongkong newspapers, the Taiwan government still talks, however unrealistically, of ousting the Communist regime, and "reunifying" China for themselves! Thus the "1 Country, 2 Systems" policy may not go far.
So I learned a lot about China old and new, and of course there's still a whole lot left to learn about. One question that people keep asking is: "Would you go back?" The answer of course is yes, but with a good stock of medicines and toilet paper! The Lonely Planet guidebook stresses that "China doesn't deserve glowing reviews", and that those who go there looking for a spiritual experience are likely to be disappointed. While this is true, the way I felt at sunrise on the boat in the Yellow Sea, or at the top of Tai-shan, in the throng of bicycles around Tiananmen Square, and indeed - even on the plane as I left, is spiritual reward enough for me.
And - I got to keep the stomach cramps for two more weeks!!