Fly By Night Tour Book (published in 2020)
By Raymond Michael, Courier Express, February 10, 1975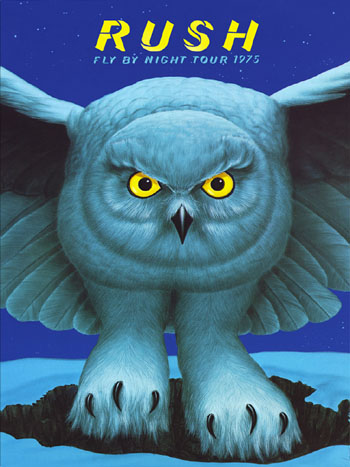 A Lot Can Happen In Five Months, That's For Sure
On August 29th of 1974, I had written a piece for the Courier Express, hailing the emergence of a band from Toronto called Rush. At that time, we were both new. That piece was my first feature to appear in this newspaper. I was a mere cub reporter, looking to make a name for myself, and hopefully make an impression on my new colleagues.
Meanwhile, Rush were new as well. They had just released their debut album. A single from that LP - a tune called "Working Man" - was beginning to receive airplay in the U.S. and Canada. The band went out on tour, looking to make a name for themselves by playing every bar and club from Toronto to Timbuktu. In the five months that followed the publication of that article, a lot sure has changed. For me, and for Rush.
What's new for Rush? First and foremost, vocalist and bassist Geddy Lee, drummer extraordinaire Neil Peart, and guitar wizard Alex Lifeson, have just released their new LP, "Fly By Night". An advance, promotional copy of the LP was delivered to my desk just two days ago. It is due in stores on the 15th of this month. Rush is touring, and playing tonight's show, to promote "Fly By Night".
Furthermore, "Fly By Night" is the first album to feature Peart on drums. He replaced original drummer John Rutsey, who left the band last July, just prior to the beginning of their first major tour. Thirdly, and most notably, Peart's arrival is evidence of a new direction for the band. His influence can be heard all over the new album. Not only does Peart seem to be a virtuoso in training behind the drum kit, but he seems to be quite capable in his role as the band's lyricist, too.
Take, for instance, "Anthem", the powerhouse rocker that opens side one. Lee sings, "Keep on looking forward, no use in looking 'round; hold your head above the crowd and they won't bring you down..." With lyrics like that, one can tell that Rush have a clear vision of where they want to go, and will not fall victim to the ills that befell many of their hard rock brethren in the first half of this decade. (Where have you gone, Carl Spackler Quartet?) Expect to celebrate with your fellow Rush fans in attendance tonight when the band (hopefully!) launches into this track.
"Beneath, Between & Behind" is the third track on side one. A mouthful to sing along to, this efficient rocker sure packs a wallop. In a mere three minutes, Geddy huffs and puffs his way through a mouthful of alliteration and polysyllabic words, leaving the listener inspired to crank it up, and perhaps grab a dictionary at the same time.
Side one closes with the longest track on the album, a tune called "By-Tor & the Snow Dog". It serves to this listener as the centerpiece track on the album. It is an ambitious song, filled with dynamic shifts. According to Peart, who penned this fantasy put to music, "We just invented these characters to have a bit of fun with, as a vehicle for some musical meandering. By-Tor is like all of us- sometimes he's good, and sometimes he's bad." For a listener like me, someone who has been weaned on to the more adventurous musical stylings of bands like Genesis, Yes, and Led Zeppelin, this particular song fits right into the wheelhouse of those musical sensibilities. Unfortunately, not all early reviews of this track have received the same kind of praise. For example, John Winger of the Kenmore Record Advertiser describes the song as "...some kind of absurd, medieval, cartoon rock song, about cartoon characters, singing about torchlights, centurions, and princes. This tune is so polarizing to listen to, having Barney Rubble sing it might actually have been an improvement...". Mr. Winger's review is in the minority, though, as the song has been lauded in other early reviews of the album across the U.S. and Canada.
Side two of the album opens up with the title track, "Fly By Night", undeniably the most radio-friendly song on the album. Hopefully AM radio will wake up to Rush, and to this new track in particular. It is more than worthy of airplay, and would sit comfortably in between the current AM rotation of hits by Elton John, Linda Ronstadt, and Stevie Wonder.
New compositions "Making Memories", the pensive "Rivendell", and "In The End" close out side two.
Rush have toured relentlessly in the last five months. The band learned a lot during that first tour with Neil Peart. As Geddy explained, "We didn't believe the reaction we got in the States. Especially in the Midwest. The kids are really hungry for music. They're not afraid to show you that they like you. In fact they go nuts if they like you. American kids are crazy. We love 'em." In addition, Geddy added, "When Neil joined, we became a very different band than we were on our first album. A lot in the way we were able to write music for this album. We felt like we could do anything."
"We felt like we could do anything." Perhaps it is that symbiotic attitude that has drawn me closer to Rush. When I began as that naive, green cub reporter just over five months ago, I, too, felt like I could do anything in this field. Lo and behold, here I sit, just over five months later, with a nameplate on my desk that now reads, "Raymond Michael: Assistant (to the) Editor". I feel like even greater things lie ahead for me still. For Rush, hopefully the publication of this latest feature will help give them a big kick in the direction they're going.
---
Rush - Geddy Lee, Neil Peart, Alex Lifeson
Road Master - Howard "Herns" Ungerleider
Roadcrew - Ian "Rio" Grandy, Liam "L.B.L.B." Birt, J.D. "Kool Mon" Johnson
Management - Ray Danniels, Vic Wilson
Art Direction - Patrick McLoughlin
Design - Abdi Moshiri
Original Cover Artwork - Eraldo Carugati
Photos Credit - Bruce Cole, Michael Capotosto, Fin Costello
Research - Ray Wawrzyniak, Skip Daly, Eric Hansen
Special Thanks - Doc Cooper
Lyrics reprinted with permission from Anthem Entertainment © 2020
---
Equipment Lists
Alex Lifeson
Guitars: 1968 Gibson ES-335 (Tobacco Sunburst), 1974 Gibson Les Paul Deluxe
Amplification: Fender Super Reverb, Marshall 50 Watt w/Single 4x12 Cabinet
Effects: Cry Baby Wah-Wah, Maestro Echoplex, Maestro Phase Shifter PS-1A, Morley Volume Pedal
Neil Peart
Drums: Slingerland, 3-ply shells of maple, poplar, and mahogany with chrome wrap. Rogers Dynasonic Snare, Concert Toms
Cymbals: Avedis Zildjian, Splash (2 x 8"), Crash (16", 18" 20"), Ride (22" ping), Hi-Hats (New Beat 13")
Percussion: Ludwig Cowbell, LP Agogo Bells, LP Rock/Bongo Cowbell, Wind Chimes
Heads: Evans All Weather Heavy Duty Rock Chrome Heads - 13" (2), 14", 16"; Evans All Weather Heavy Duty Rock Blue Resonant Heads - 13" (2), 14", 16", 22" (2 Bass Front 1975); Remo CS Black Dots - 14", 22" (2 Bass Rear); Remo Ambassador Snare-Side Head - 14"; Ludwig Weathermaster CH-Batter Silver Dot Heads - 6", 8", 10", 12"
Sticks: Promark Rock 747
Geddy Lee
Basses: 1973 Rickenbacker 4001, 1968 Fender Precision Bass
Amplification: Ampeg