Rush 1974 Tour Book (published in 2020)
By Raymond Michael, Courier Express, August 29, 1974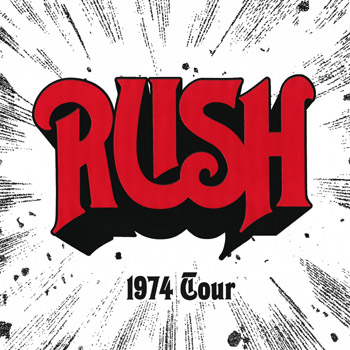 As described in a recent Moon Records press release, "Rush is a three-piece generator of energized rock". The band hails from Toronto, Ontario, Canada, and features Geddy Lee on bass guitar and vocals, Alex Lifeson on guitar, and Neil Peart on drums.
Rush formed in 1968, when school friends Geddy Lee and Alex Lifeson teamed up with neighborhood pal and drummer John Rutsey. While Rutsey can be heard on their recently-released debut album, Neil Peart, from St. Catharines, Ontario, is their new drummer, joining the band in July of this year.
From 1968 until the summer of 1971, Rush played coffee houses, churches, and school gymnasiums throughout the greater Toronto area. In July of 1971, the Ontario drinking age was lowered to eighteen, which allowed the band to begin performing in bars and nightclubs. Rush, who are managed by Ray Danniels of SRO Management, signed a major record-label recording contract with Mercury Records early this year, and will be touring throughout the remainder of 1974 in the United States and Canada, with booking by American Talent International.
In April of last year, the band released their first single on Moon Records, a superb cover of Buddy Holly's "Not Fade Away", with an original composition, "You Can't Fight It", on the "B" side. Both tracks were produced by David Stock.
The band's eponymous, electrifying, debut lp, "Rush", features eight hard-rocking gems. The riff-fueled opening cut, "Finding My Way", and the anthemic closing track, "Working Man", have begun to receive radio airplay on both sides of the U.S./Canadian border. You can expect to hear each one of those tunes tonight, and many more from their album, including "What You're Doing", and the seven-plus minute tour-de-force, "Here Again". Geddy Lee's soaring vocals, Alex Lifeson's powerful guitar playing, and Neil Peart's energetic drumming raise the level of those eight lp recordings to even greater heights when played in-concert. Their live performances have led to comparisons being drawn from Rush to the likes of Led Zeppelin, Cream, and The Who.
The "Rush" album was released in March of this year on LP, 8-track, and cassette on their own label, Moon Records in Canada. It is now available in the United States on Mercury Records. The album was recorded in February of 1973 at Eastern Sound Studios in Toronto, and at Toronto Sound Studios - the first multi-track studio in all of Canada - in November of '73. The album was produced by Rush, with seven of the eight tracks being credited to the writing duo of Lee and Lifeson.
The initiative to start their own label offers a glimpse into this young band's confidence, vision, and their drive for success. "We had offers from other Canadian labels, but we decided to do it ourselves," said Geddy Lee in the Mercury Records press release. "We did part of the album at Eastern Sound in Toronto in early 1973, but figured we could do better. So in November we went to Toronto Sound to re-record some of it and totally remix it."
Alex Lifeson added, "The first stab at the album was done in eight hours following a gig. We were warmed up after the show, and it came very easy. Then it was recut in November in about three days, including mixing time. We were lucky in that most of the songs came in two or three takes."
Rush have a quality and energy in their music that, as RPM Magazine put it, "defies passivity as a listener". Rush are a band to keep your eye on in the years to come. They seem to have a bright future ahead.
---
Rush - Geddy Lee, Neil Peart, Alex Lifeson
Road Master - Howard "Herns" Ungerleider
Roadcrew - Ian "Rio" Grandy, Liam "L.B.L.B." Birt, J.D. "Kool Mon" Johnson
Management - Ray Danniels, Vic Wilson
Art Direction - Patrick McLoughlin
Design - Abdi Moshiri
Original Cover Artwork - Paul Weldon
Research - Ray Wawrzyniak, Skip Daly, Eric Hansen, Mark Irwin
Special Thanks - Doc Cooper
Lyrics reprinted with permission from Anthem Entertainment © 2020
---
Equipment Lists
Geddy Lee
1973 Rickenbacker 4001
Fender Precision Bass
Ampeg Amplification
Neil Peart
Slingerland (maple, poplar, and mahogany with chrome wrap)
Rogers Dynasonic Snare
Avedis Zildjian Cymbals (8" splash, 16", 18" 20" crashes, 22" ride)
LP Rock/Bongo Cowbell
Evans All Weather Heads (Rock and Blue Resonant)
Remo CS Black Dots and Ambassador Snare-side Head
Alex Lifeson
Gibson ES-335
Gibson Les Paul Deluxe
Marshall 50 Watt with 4x12 cabinet
Effects include Echoplex
Maestro Phase Shifter PS-1a