Lee Takes Off Solo: Unexpected Hiatus Pushed Rush Veteran To Make Album
By Jordan Zivitz, Montreal Gazette, November 30, 2000, transcribed by pwrwindows
---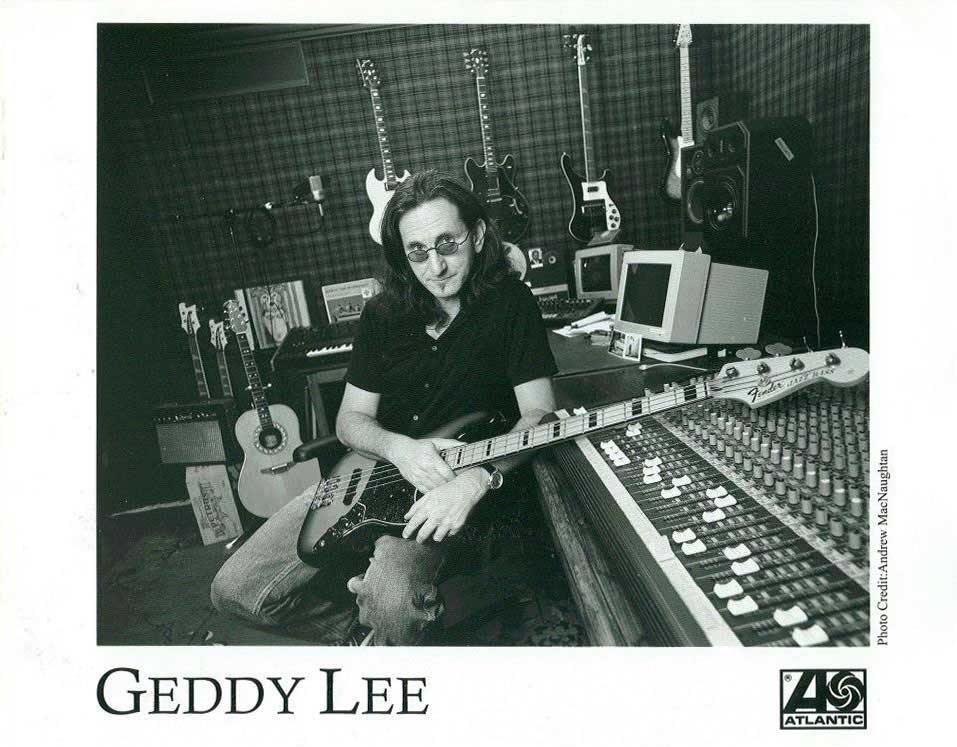 A solo album can be the ultimate narcissistic expression. But, fittingly for someone whose modesty is at odds with his success, Geddy Lee just needed something to do.
As bassist and vocalist for famed Canadian power trio Rush, Lee has always been creatively satisfied in his day job. As such, it was only when Rush was put on hold a few years ago that Lee began the work that would lead to his first solo album, My Favourite Headache (released this month).
Rush is a rarity in that it has maintained the same lineup - Lee, guitarist Alex Lifeson and drummer Neil Peart - for 26 years of its 27-year recording history (John Rutsey sat in the drummer's chair for Rush's 1974 debut). The band environment has been both fruitful (16 studio and four live albums) and unstifling. It wasn't until the mid-1990s that Lifeson and Peart worked on full-scale outside releases (the enigmatic Victor project and Burning for Buddy, a tribute to Buddy Rich, respectively). And until now, Lee's most noteworthy moonlighting excursion was his vocal on Take Off, Bob and Doug McKenzie's legendary hoser anthem.
But after the tour in support of Rush's last studio album, Test for Echo, wrapped up in 1997, Peart suffered a pair of tragedies: his daughter, Selena Taylor, died in a car accident that year, and his wife, Jacqueline Taylor, succumbed to cancer in 1998. Faced with a potentially long break from his band, Lee needed to find another way to expend his creative energy.
"If the hiatus hadn't occurred, I probably wouldn't have made this record," Lee admitted during a promotional stop in Montreal last week. "I had no burning desire to step outside my environment (with Rush). But I found myself with too much time and not enough outlet."
Lee got together with longtime friend Ben Mink, best known for his work with K.D. Lang. The two had discussed a musical partnership in the past.
"We threatened (to collaborate with) each other for years, but we're two of the laziest people in the music business," Lee said with a laugh. "We finally ran out of excuses."
Lee and Mink had modest ambitions - an album wasn't even on their agenda. When Lee put in an appearance at CHOM last week, one of his interviewers introduced the solo debut as My Favourite Mistake. Slipup or not, it was the perfect subtitle.
"(Ben and I) just thought that, if nothing else, working together would be a great excuse for a few laughs. So (the album) was like the joke that got out of control," Lee said.
"In all honesty, we started writing in hopes of creating some sort of production company together, where we could write songs for other people...But then a feeling of possessiveness started to take over. We both thought, 'I really like this song, and if I give it to somebody else to do, they're going to change it. And that would just be such a drag!' So then we said, 'OK; it looks like we want to make a record.'"
Solo albums often follow from a sense of foreboding about a band's future. That motivation would certainly have been a valid one for Lee considering the intensity of Peart's circumstances, but it actually wasn't a factor.
"I think it was simpler than that for me. But it was a confusing time, and there's no question that it was healthy for my mind and sense of self to be busy. Did I actually believe there would not be a Rush again?" Lee asked, then paused to mull over his own question. "It's possible, but I didn't really think that far ahead. It was more fascination with having a new writing partner that made this (project) so important to me."
Rush is an intimidating yardstick by which to measure any musician's worth, and Lee knew his hardcore fans (the only kind) would compare My Favourite Headache with his previous work. But ultimately, Lee didn't attempt to either conform or break from his tradition.
"At first I thought I was obligated to do something different (with my solo album). But the more I wrote, the more I realized so much of what I am surfaces in Rush. I didn't want to do a jazz record; I didn't want to go unplugged. I like making rock music ... and I think it's hard for me to play rock music - with my voice and my bass sound - and sound far away from Rush."
Lee's idiosyncratic grooves and distinctive vocals are present on My Favourite Headache, but the album also includes elements rarely heard in the context of Rush. Two subdued songs, Still and Slipping, have a vulnerability without precedent for Lee, musically and vocally (and are, coincidentally, the album's best tracks). And while Lee and Mink's songs take a few backwoods routes - particularly on the rugged terrain of the title track - their linear structures are a departure from Rush's meticulous arrangements.
Another departure are Lee's lyrics. For one thing, he wrote them (Peart puts pen to paper in Rush). Lee is no slouch as a wordsmith - often favouring a first-person perspective, in contrast with Peart's pragmatic ideologies - and holds up to what's sure to be close scrutiny; Rush is revered for the acute intelligence of Peart's lyrics second only to its first-rate musicianship.
"At first, it was kind of nerve-wracking, because I didn't have much confidence about (lyric writing). But I realized, 'Hey, I've got the luxury of time here. I don't have any deadline, and nobody knows I'm doing this.'
"I would pull (lyrics) out again in a few months (after writing) and if they weren't working, I would know immediately, because I'd start twitching out when I heard certain lines. When that didn't happen, I really got into it. I started carrying my notebook everywhere."
Lee hopes to tour, but cites scheduling difficulties as an obstacle. "If I had to give an answer today, I would say (a tour is) doubtful. But I'm going to see if I can find a few weeks to do some small-club dates. I wouldn't want to play for more than 1,000 people. I'd just keep it real fun and low-key." Lee's band would include Mink and Soundgarden/Pearl Jam drummer Matt Cameron, who plays on My Favourite Headache.
As for Rush, Lee will begin writing new material with Lifeson and Peart (who recently re-married) in the new year. The next Rush album could be released by the end of 2001, although Lee says that deadline is ambitious.
After a tumultuous few years for Rush, Lee is approaching the writing sessions with what could be described as eager trepidation. "I'm a little guarded about my optimism, but I remain optimistic," Lee said with a smile.