Caress Of Steel Tour Book (published in 2020)
By Raymond Michael, Courier Express, September 20, 1975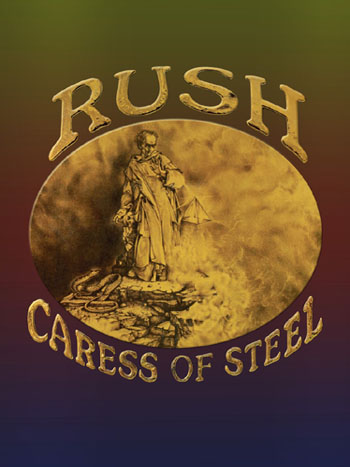 Anything that impresses me, inspires me to write. Even if I'm throwing caution to the wind, and ignoring the journalistic credo on redundancy, that inspiration cannot be ignored.
In my profession, redundancy is frowned upon. To go to the same well more than once might represent a lack of initiative, or creativity. Thus, when a directive was issued to me that I prepare yet another feature on the Toronto-based rock export, Rush, a band I have reported on twice already, I was understandably hesitant. After all, I had just written about the band in mid-February of this year. Could anything really have changed that much in just over six months? My professional intuition told me "no", but upon further review, that couldn't be further from the truth. The fact is, this young band continues to impress and inspire me.
It would be accurate to describe Rush- singer/bassist Geddy Lee, guitarist Alex Lifeson, and drummer Neil Peart- as a hard rock band. It would be just as accurate to identify them as "prolific", too. Within the span of a mere eighteen months, the band released a total of three studio albums. "Rush", their debut album, was released in March of 1974. "Fly By Night" was released in February of this calendar year. And now, their third LP, "Caress Of Steel", will be released on the 24th of this month. They are currently out on tour in support of "Caress Of Steel".
When I was first introduced to the music of Rush, I reported that they had a "bright future ahead". Truth be told, when I wrote that back in August of '74, their sound really wasn't too dissimilar from what some of their hard rock contemporaries were creating. But with the unveiling of their new LP, "Caress Of Steel", Rush have created a style that they can now most certainly call their own.
"Caress Of Steel" opens up with- what else?- an ode to the French Revolution. Care to guess how many other songs in the current Billboard Top 40 are dedicated to the fall of a tyrannical monarchy? That's right- zero. Is it any surprise then, considering its lyrical content, that this opening track, "Bastille Day", is not being heard regularly on AM radio, in between the likes of "Rhinestone Cowboy" and "Could It Be Magic"? What "Bastille Day" does represent, though, is a band with a collective disposition that's brimming with confidence. Rush will not pander to the lowest common denominator, just to score a "hit", and receive AM radio airplay. Considering the conviction with which they deliver a song about the storming of the Bastille, their unique style suits them just fine, thank you.
Rush are already being celebrated for what they have achieved musically. For example, early this calendar year, the band was presented with an award for the "most promising new group" at the Juno Awards held in Toronto. Due to the serious complexion of all three members, Rush will obviously never be celebrated by the Harvard Lampoons of the world. Yet with "I Think I'm Going Bald", which follows "Bastille Day" on side one of the album, Rush give us the slightest hint that there may be some sense of humor buried deep within their collective DNA. As humorous as its title comes across, perhaps the band's confident, unified, long term vision can be found within its lyrics. As lyricist Neil Peart writes, "But even when I'm grey, I'll still be grey my way...".
An ode to summers at Lakeside Park, near Lake Ontario in Canada, follows, with the third track on side one, called "Lakeside Park". This song is the most radio-friendly on the album, a fact even the band themselves seem to have recognized. Word has it that the legendary Horseshoe Tavern, in the band's hometown of Toronto, may quite possibly be the site for the filming of a new, promotional video for "Lakeside Park". Geddy Lee recalled the band's recent experience filming promotional videos for two tracks from their last album, "Fly By Night".
"We were in some town in Georgia, in the south, and we had a day off, and we were playing a high school gig. Behind the stage where we were supposed to play, was this play set up with a castle and all this stuff. Somebody said, 'Why don't we just film a song. Maybe we can use it for some promotional purpose on this castle stage.' There was a set already there, so we could pretend it's our set. So we did that." My source close to the band is yet to confirm the filming of this new video for "Lakeside Park". Understandably so. Industry insider Robert Wiley recently told me that production costs for promotional videos, "...can cost a young band or artist several thousand dollars! That's a lot of money even for established bands, let alone a young band like Rush." You and I can hope that a "Lakeside Park" video does reach our television screens one day soon. Until that time, though, we can anticipate being treated to a live performance of the tune in concert tonight. This new "Caress Of Steel" tour will spill over into 1976, so if someone can't get out to see the band in concert, a promotional video would serve the purpose of ensuring that the band is doing everything they can to reach each and every fan, one way or another. Fingers crossed.
Side one of "Caress Of Steel" ends with an epic track. Clocking in at twelve and a half minutes, "The Necromancer" is perhaps the track most emblematic of the band's unique style. While the song is equal parts Black Sabbath, Genesis, and Tunstall Road, it does equate to the full realization of what Rush must have envisioned for themselves when Peart joined the band. "The Necromancer" is intelligent, complex, and progressive. It also continues the story that Rush presented when they introduced us to "By-Tor and the Snow Dog", on their "Fly By Night" album.
You may recall "By-Tor" being panned by John Winger of the Kenmore Record Advertiser, as I had noted in my last feature on Rush. I couldn't help but think of Mr. Winger as I sat and listened to "The Necromancer", and noticed By-Tar's return. A long-distance phone call to Mr. Winger's office at the Record Advertiser connected the two of us, and we immediately began to exchange notes on the new album. "Oh, you mean 'Corrosive Steel'?", Mr. Winger asked. I guess some things never change.
Side two of "Caress Of Steel" is dedicated to one, long sustained piece of work, called "The Fountain Of Lamneth". Broken up into six parts, this adventurous piece shows the kind of originality and deter-mination that can only benefit the band in the long run. It is an impressive body of work. A risk such as this- an entire side of an LP devoted to one, long song- is one I'm not sure the band should consider doing again, if they're hopeful of ever getting on the radio. But they will ultimately learn from the experiment of this first and probably only attempt at devoting an entire side of an LP to one track.
Eighteen months later, Rush seems to have found their identity. Morale must be at an all-time high in the Rush camp. In the aforementioned interview with The Omega Monthly, Geddy Lee added that he wants to "...continue growing as a musician, and never to accept something that is second best." He added, "A career should be a journey. It should take you through changes."
One of my journalistic contemporaries recently wrote that, "Rush will have a very short shelf-life, one that's headed straight down the tubes..." I completely disagree. While I certainly don't expect to be still writing about Rush forty years from now, I do expect "Caress Of Steel" to be their biggest commercial success to date. Gone are the days when Rush play in front of fifty fans. From now on, I'm sure it will be more like 2,050, or 3,050 screaming Rush fans.
I guess I was right after all. It would seem that Rush do, in fact, have a very bright future ahead.
---
Rush - Geddy Lee, Neil Peart, Alex Lifeson
Road Master - Howard "Herns" Ungerleider
Roadcrew - Ian "Rio" Grandy, Liam "L.B.L.B." Birt, J.D. "Kool Mon" Johnson
Management - Ray Danniels, Vic Wilson
Art Direction - Patrick McLoughlin
Design - Abdi Moshiri
Original Cover Artwork - Hugh Syme
Photos Credit - Bruce Cole, Fin Costello
Research - Ray Wawrzyniak, Skip Daly, Eric Hansen
Special Thanks - Doc Cooper
---
Equipment Lists
Alex Lifeson
Guitars: 1968 Gibson ES-335 (Tobacco Sunburst), 1974 Gibson Les Paul Deluxe
Amplification: Fender Super Reverb, Marshall 50 Watt w/Single 4x12 Cabinet
Effects: Cry Baby Wah-Wah, Maestro Echoplex, Maestro Phase Shifter PS-1A, Morley Volume Pedal
Neil Peart
Drums: Slingerland, 3-ply shells of maple, poplar, and mahogany with chrome wrap
Cymbals: Avedis Zildjian, Splash (2 x 8"), Crash (16", 18" 20"), Ride (22" ping), Hi-Hats (New Beat 13")
Percussion: Ludwig Cowbell, LP Agogo Bells, LP Beauty Cowbell, LP Bongo Cowbell, Wind Chimes, Cluster Chimes, Temple Bells
Heads: Evans Heavy Duty Rock, Remo Black Dots, and Ludwig Silver Dots
Sticks: Promark Rock 747
Geddy Lee
Basses: 1973 Rickenbacker 4001, 1968 Fender Precision Bass
Amplification: Ampeg